by
March 18, 2022
According to Oberlo, Facebook ad revenues for 2022 amounted to a whopping $82.4 billion. This is 97.6% Facebook's total revenue. of Imagine how many individual ads were created for the top social media platform to earn that. If you're a small business or online store owner, how do you even begin to create a Facebook ad design that can make prospects remember you? We'll show you how.
Characteristics of an Effective Facebook Ad Design:
Before we start learning how to create Facebook ad designs that work, it is important to know the elements which make a good design possible :
Attention-grabbing
Informs readers about your company and what you can do to make their lives better
Lets them know what the next steps are
Penji's extensive experience with crafting Facebook ad designs gives us a good grasp of what works and what doesn't. Here are some valuable tips and tricks that will help you become an expert in designing ads for Facebook:
Know What Ad Format to Use
Before you go to the drawing board, you must learn about Facebook ad formats. Still confused about what to use? Below is a list of available set-ups:
Photo
Video
Messenger
Stories
Slideshow
Carousel
Collection
Playables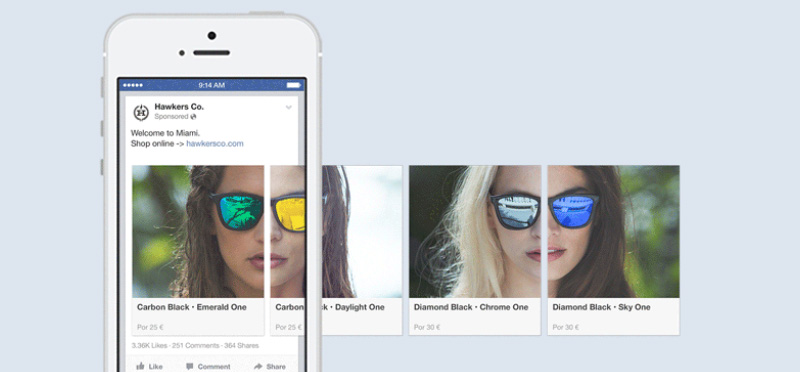 The purpose of having these choices is to find one that works the best for your marketing strategies. For example, you can use the Facebook carousel ad format to showcase your products. You can use the Stories format to show people how your company or product works, and so on.
Knowing the appropriate Facebook ad format will also let you see other crucial details, such as ad sizes and ad types.
Determine Where You'll Place Your Ad
Facebook ad placement is just as important as the format. Here are the choices available to you:
Desktop Newsfeed
Desktop Right Column
Mobile Newsfeed
In-Stream Video
Stories
Marketplace
Audience Network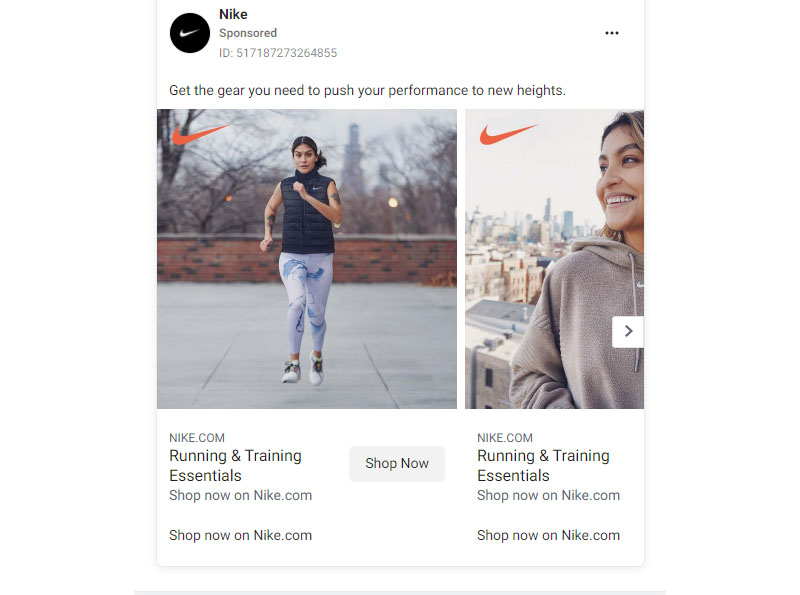 Be Clear with Your Unique Value Proposition
In this example from Babbel, a language learning app, it's clear what they offer. They added numbers in their post to back up their claim, in this case, the phrase 800 companies. This is a good validation and at the same time, shows trustworthiness and authority. The call-to-action is noteworthy, as it does not pressure the readers to buy anything. Instead, it simply prompts you to get a quote.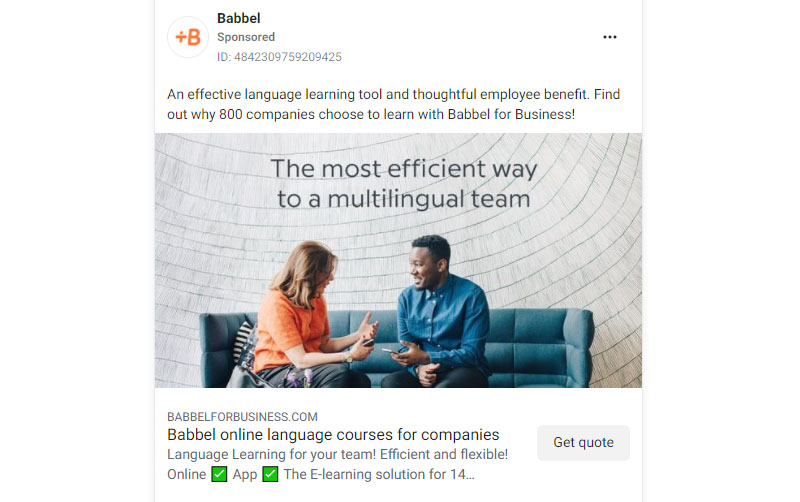 Consider Your Landing Page
Your landing page is what will bring your prospects to your Facebook page. Make sure that it matches your Facebook ad design to create a harmonious look across all platforms. This will avoid confusion and make this ad campaign a continuation of the landing page they clicked on.
Below is Shopify's landing page. It entices viewers to start selling with them: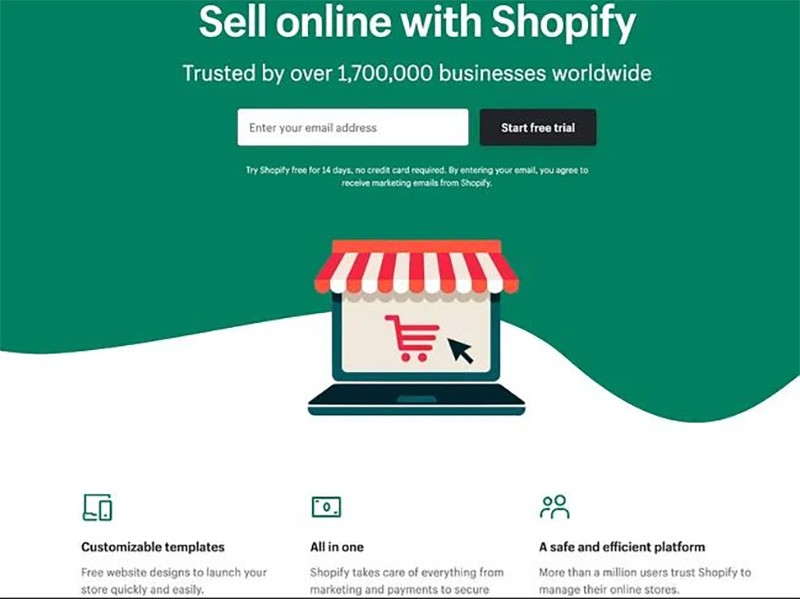 This is Shopify's Facebook ad design. It has the same marketplace illustration similar to what they see on the landing page. It has a pulled-together look that is seamless and just as exciting.
Having an exciting design is engaging for both your target audience and customers in general. Traffic data and engagement that you track will be your social proof. This will be essential in planning future display ads.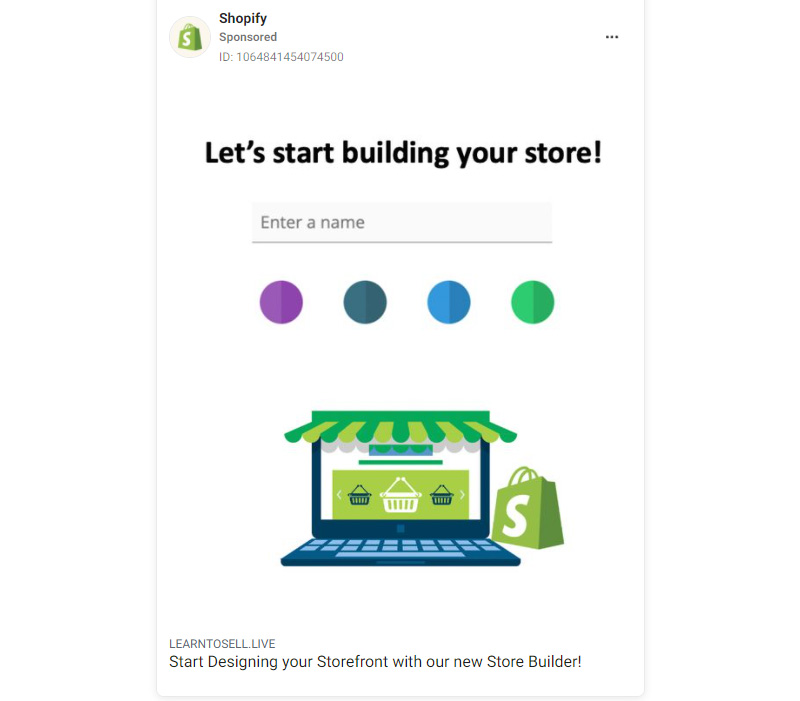 Be Careful with Your Images
Nobody wants to stare at a blurry image when considering a product. Ensure that the images you use are high-resolution, well-composed, and eye-catching. This way, you'll get readers' attention and make them click on your ad.
Ensure that you use the right images and the correct image sizes. Remember that the photos you use represent what your brand stands for, so choose them carefully. In addition, the right size images give a clearer view of your product or service.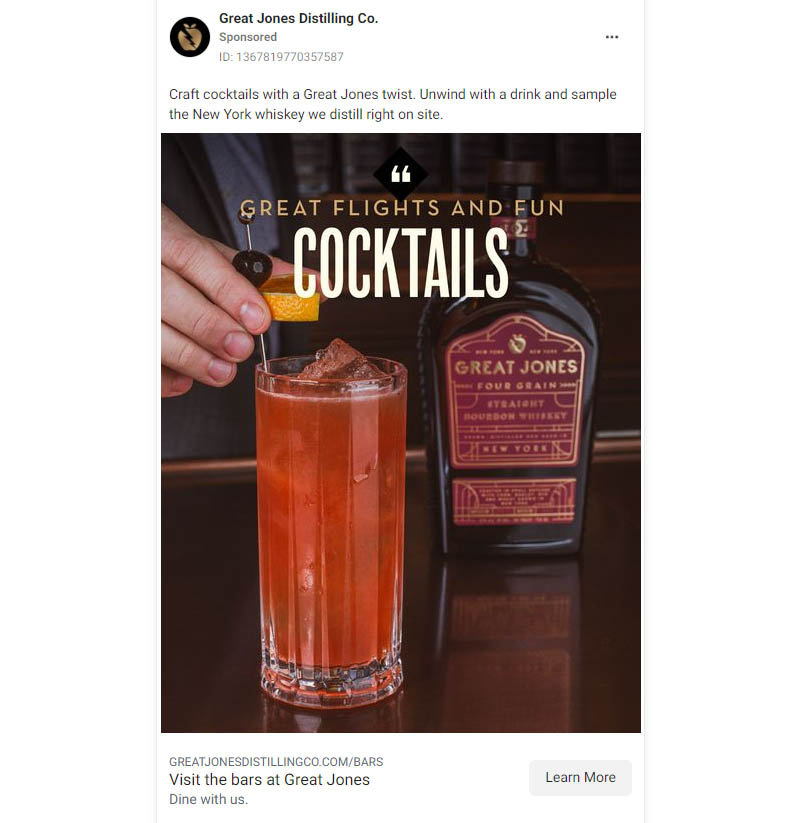 Go Mobile
When creating a Facebook advertisement design, don't forget to design for mobile users. According to SproutSocial, 98.5% of active Facebook users are on mobile. If there's any ad size you need to take note of, it's one for a mobile ad.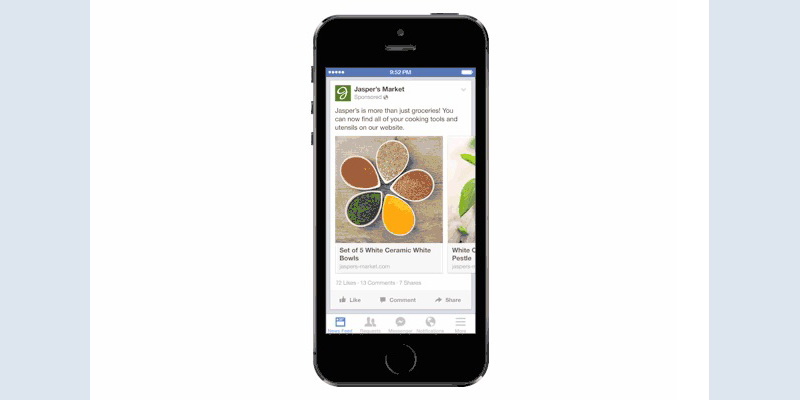 Test Your Facebook Ad Designs
The best way to know if your Facebook ad designs are working is to do some testing. This is called Facebook Split Testing, and there's a right way to do this. Learning about it can help you create the best Facebook ad designs, as it gives you insight into what works and what doesn't.
Additional Tips to Help You Create Effective Facebook Ad Designs
Design-wise, you can just leave what needs to be included in a good Facebook ad to your graphic designer. Make sure that your design corresponds to your company's brand guidelines. Staying consistent with this will help increase brand awareness.
Minimal Texts
People's attention spans are getting lower by the day, so it's essential to keep your ad copy at a very minimum. Avoid blocks of texts that will bore your viewers. Instead, write a short headline; one that hooks in the readers. Add compelling images or designs to make it more striking.
Use Readable Font Styles
Steer clear from overly ornate fonts that can impair readability. Use simple styles but can still give your ad the impact it needs. A combination of two font styles will do. If in doubt, ask your graphic designer.
Use Contrast in Your Facebook Ads
Contrast is one of the most vital principles of design. You can achieve this by using opposite colors (black/white), texture (soft/hard), size (small/big), and many others. This maximizes your ad's visibility, helps it stand out, and attracts attention.
This Facebook ad design from Starbucks hits the nail perfectly. It uses contrasting foreground and background colors. Also, notice how the butterflies come in different sizes and colors.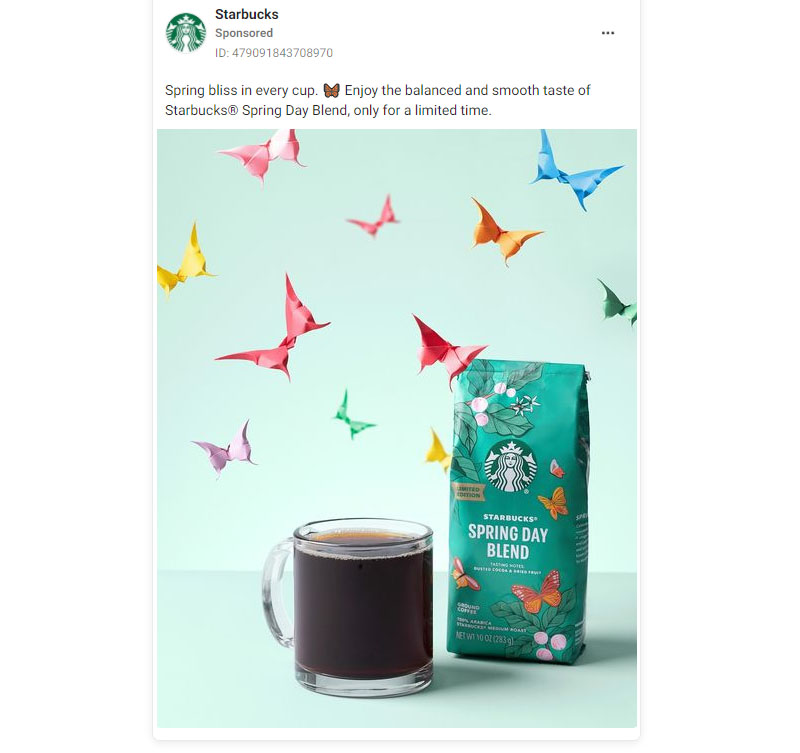 Learn to Experiment
After doing some tests on your Facebook ad designs:
Take note of what's working and what's not.
Experiment with different ad formats and placements, as well as with colors, fonts, and images.
Identify what your tried-and-true strategies are, combine them with new ones, and get the most out of your Facebook ad experience.
Final Thoughts
Creating a Facebook ad design is no small feat. It takes careful planning, strategizing, and research to get the ones that work towards your marketing goals. Why not make your life easier by delegating the designing side to our pro designers at Penji?
Facebook is a titan in the digital marketing world. Almost everyone has either heard of it or uses it. In fact, according to Oberlo, Facebook reaches the largest audience of any social platform. As of 2022, this is 2.11 billion people, or in other words, 34.1% people over 13. Facebook is the place to be.
Our designers are ready to take on all your Facebook ad designs. Click on this link to watch our demo video. Or you can start the design process by clicking here.