Creating engaging Facebook ads is essential in the fast-paced digital advertising world. Facebook advertising is an effective means of connecting with potential customers who are actively looking for products or services. Thankfully, various software tools are available to help you design captivating ads that stand out from the competition. Here are the top ten Facebook ad designer software to boost your ad campaigns.
1. Canva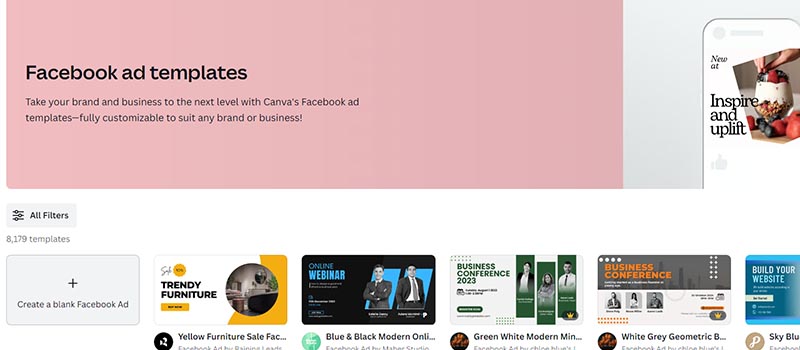 This platform is a user-friendly graphic design platform with a vast library of templates, images, and design elements. Canva simplifies the ad creation process for users of all skill levels. It provides a range of features specifically tailored to social media marketing, making it an ideal choice for designing eye-catching Facebook ads. See some Canva alternatives here.
Key Features:
Easy to create and customize
Beautifully designed templates are available
Presents styles suitable for any industry
It helps create a compelling call to action (CTA)
Easy to download and publish
Pricing:
Free: $0 (limited features)
Pro: $12.95 per month or $119.40 annually
Enterprise: from $30 per user/per month
Never DIY Ads Again
Try Penji risk-free for 30 days and get all the custom Facebook ads you need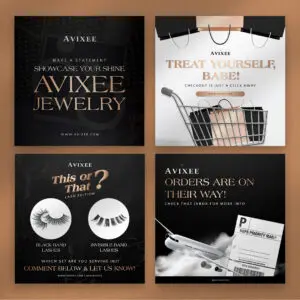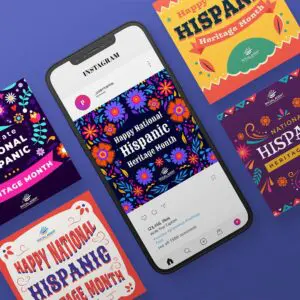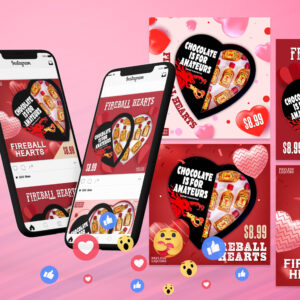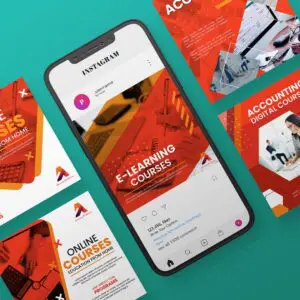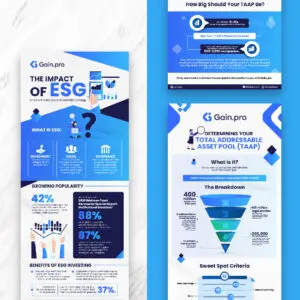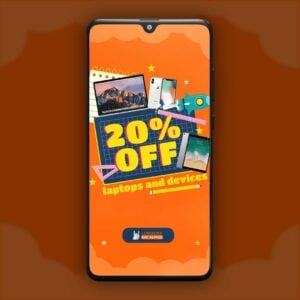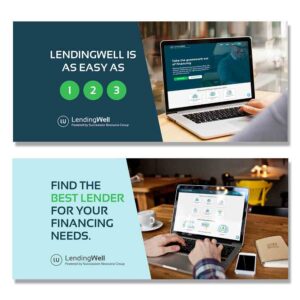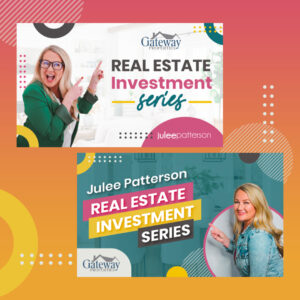 2. Adobe Photoshop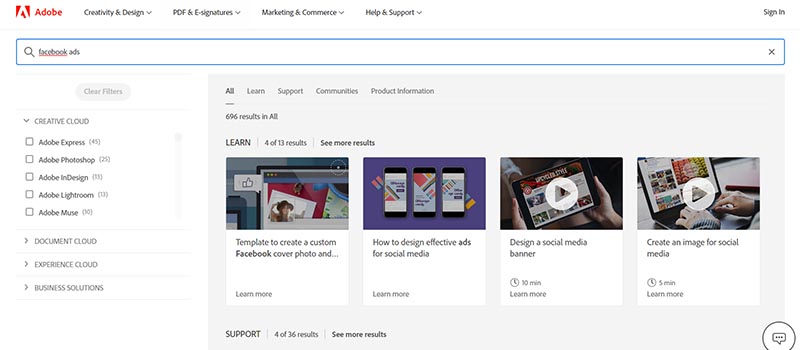 Adobe Photoshop is a powerful software known for its extensive design capabilities. While it may require design expertise, Photoshop can be effectively utilized to create high-quality visuals for Facebook ads and other social media content.
Key Features:
Advanced Image Editing
Graphic Design Capabilities
Smart Objects and Templates
High-Resolution Output
Pricing:
Adobe Photoshop Standalone app: US$20.99/month or US$239.88/year
Adobe Creative Cloud All Apps Plan: $49.99/mo ($599.88/yr)
3. Fotor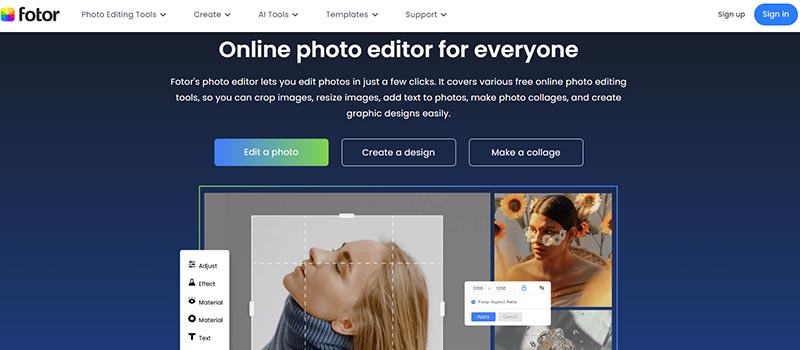 Fotor is a comprehensive photo editing and graphic design tool for social media ads. It provides pre-designed templates, filters, effects, and an easy-to-use editor to enhance your Facebook ad visuals.
Fotor provides a user-friendly interface, making it accessible to users of all skills. His web-based platform is also available as a mobile app for iOS and Android. These features allow users to edit photos and create designs on various devices.
Key Features:
Photo Editing
Graphic Design
Collage Maker
Batch Processing
High Dynamic Range (HDR) photography
Beauty Retouching
Pricing:
Basic: Free
Pro: $3.33/month
Fotor Pro+: $7.49/month
4. PicMonkey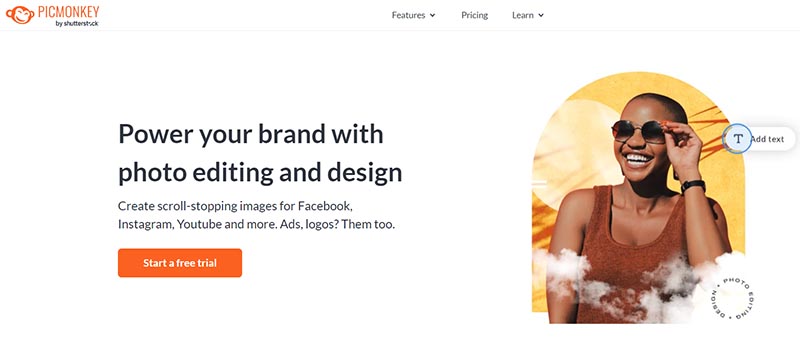 PicMonkey is a browser-based platform that allows users to edit photos, design graphics, and create professional-looking Facebook ad designs. It is an excellent tool for those not designing and editing pros. Create professionally-crafted templates for logos, social posts, ads, and banners with this intuitive graphic maker and Facebook ad designer!
Key Features:
Image editing
Social media integration
Template library
Drag-and-drop features
Collaboration and sharing
Pricing:
Basic: $72.00/year or $7.99/month
Pro: $120/year or $12.99/month
Business: $228/year or $23/month
5. VistaCreate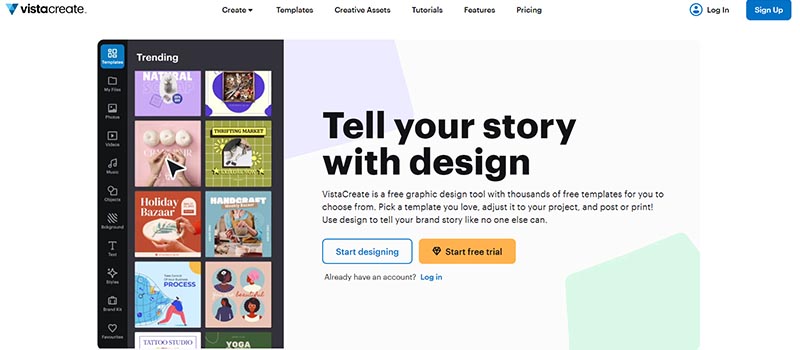 VistaCreate, formerly Crello, is an online design tool focused on social media graphics, including Facebook ads. Its versatile graphic design website allows users to create engaging projects for any industry regardless of their design skills. VistaCreate helps users quickly and effortlessly create visually appealing Facebook ad designs.
Key Features:
Over 150,000 template library
Photo editing tools
Video editing capabilities
Over 70 million royalty-free creative assets, including premium images, videos, and vectors.
Brand kit functionality
Pricing:
Starter: $0
Pro: $10/month
6. Design Wizard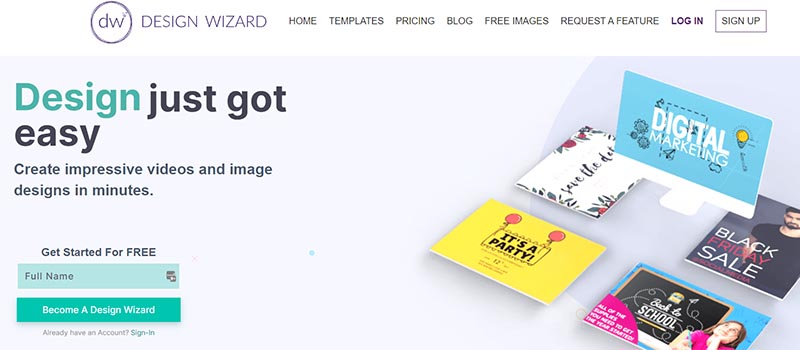 Design Wizard allows users to create, share, and download images in minutes easily. It provides a collection of templates, images, fonts, and a user-friendly editor that lets you design attention-grabbing Facebook ads quickly.
Key Features:
Templates
Image Database
Image Editor
Search/Filter
Asset Library
Asset Sharing
Pricing:
Basic: $0
Pro: $9.99/month
Business: $49.99/month
7. Snappa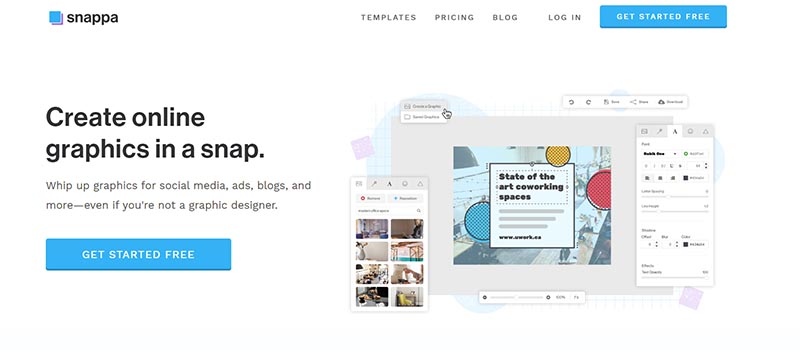 Create online graphics in a snap! That's Snappa's winning tagline. It's a versatile graphic design tool suitable for both beginners and professionals. It offers a wide variety of pre-designed templates, graphics, and fonts. Additionally, Snappa has advanced editing features to create visually stunning Facebook ads.
Key Features:
Perfect image dimensions
Premade templates
Free high-res stock photos
Add text, graphics, and effects in seconds
Remove image backgrounds
Schedule and share your graphics instantly without leaving the Snappa website
Pricing:
Starter: Free
Pro: $10/month, billed yearly
Team: $20/month, billed yearly
8. Placeit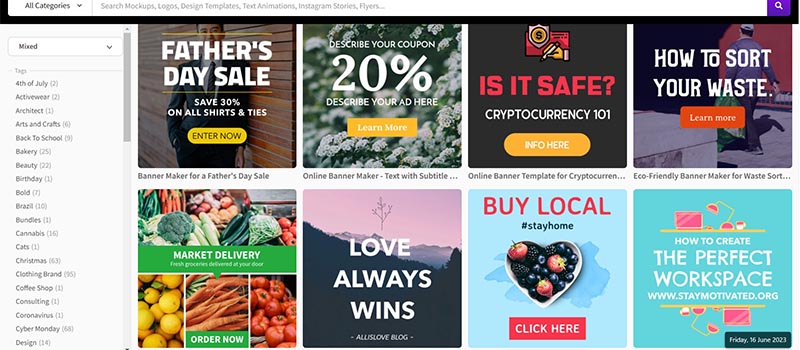 Placeit is a unique platform that specializes in mockup design and video creation. It provides users with tools for creating dynamic and interactive Facebook ad visuals. With its drag-and-drop interface, Placeit, you can make stunning logos, videos, and social media posts in a few clicks.
Key Features:
Mockup Generator
Logo Maker
Video Maker
Design Templates
Easy Customization
Pricing:
Unlimited Subscription: starts at $7.47/month
9. AdEspresso by Hootsuite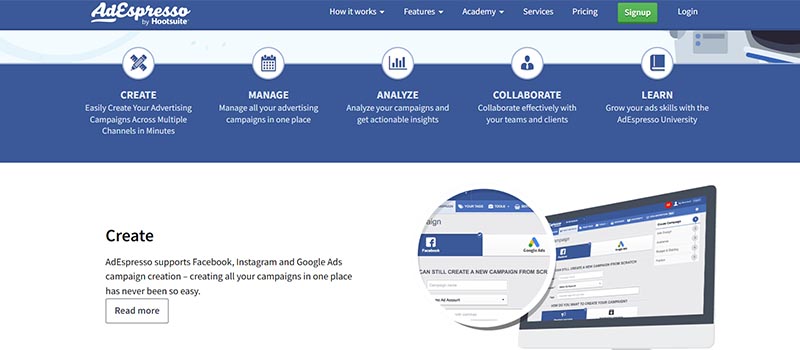 With AdEspresso, users can easily create and manage their Facebook ad campaigns. The platform offers intuitive campaign creation tools that guide users through the process, ensuring their ads are set up effectively. Additionally, AdEspresso facilitates extensive A/B testing, enabling users to experiment with different ad variations and determine which versions yield the best results.
Key Features:
Ad Creation and Management
A/B Testing
Automated Rules
Analytics and Reporting
Audience Targeting
Creative Tools
Ad Compliance and Policy Monitoring
Collaboration and Team Management
Pricing:
Starter: $49/month
Plus: $99/month
Enterprise: 259/month
10. Glorify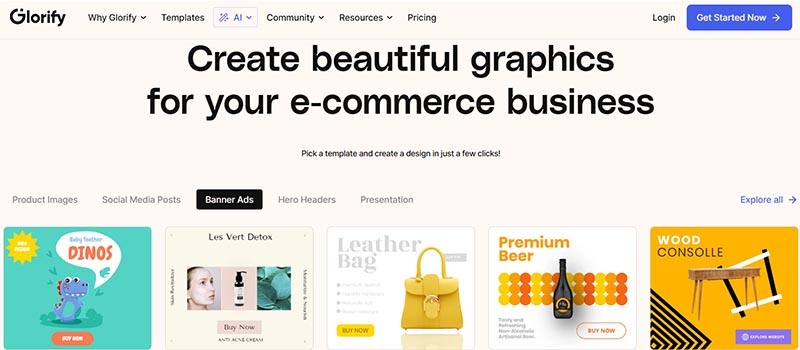 Glorify is all-in-one design software that lets you create social media posts, ads, logos, infographics, presentations, mockups, and more. It targets businesses and individuals involved in e-commerce, enabling them to elevate their marketing campaigns. You can easily choose your niche or brand theme by typing in the keyword or browsing the categories. And after choosing a template, make some tweaks to obtain the desired results.
Key Features:
Product Image Enhancement
Template Library
Design Elements and Effects
Integrations with popular e-commerce platforms like Shopify, WooCommerce, and BigCommerce
Branding and Consistency
Collaboration and Teamwork
Pricing:
Free: $0
Pro: $7.49/month
Business: $14.99/month
Get Better Results with a Facebook Ads Designer
Ready to supercharge your ad campaigns? Take advantage of the power of Facebook ad designer tools to take your advertising to a new level. These tools are perfect for creating eye-catching visuals and optimizing your campaigns efficiently.
Take advantage of the opportunity to boost your ad campaigns and drive results. Work with our expert designers at Penji to help you create excellent Facebook ads and other marketing graphics. Get a demo now to learn more about Penji's unlimited graphic design services.