Find A Graphic Designer That Will Transform Your Content
by Tori Buckley, 10/18/18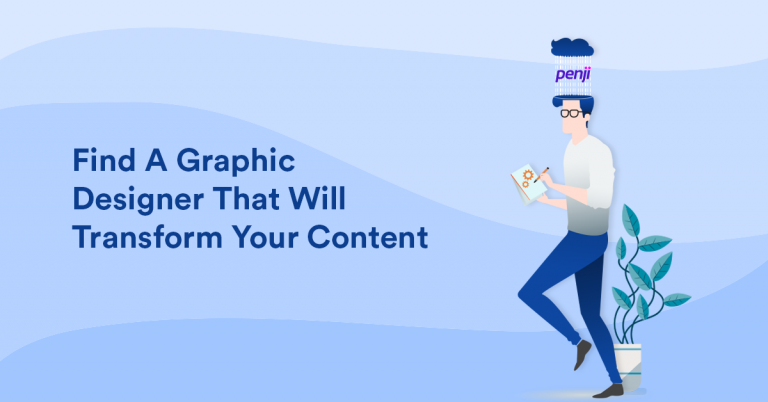 Everyday, the public and consumers are exposed to new products and companies. If you want your company to stand out, you need to have something special. Something different. You need to create a brand that fits your mission and vision. Find a graphic designer that can give you a show-stopping, fresh and creative brand. Create a lasting impression with graphics and visuals to attach to your company. Recruiting an artist to give you some graphic design help will go a long way in the building of your brand and business.
How To Know It's Time For A Graphic Designer
You're probably not satisfied with the images and identity your company has. Maybe your company has changed and the visuals don't reflect those changes, or maybe you've never even had a true brand or identity for your company. Perhaps your company doesn't have anyone with the skills needed to produce innovative visuals. If you find yourself lost in the sauce when it comes to creating insightful visuals for your company, it is definitely time to start looking for a graphic designer.
Finding Your Purpose
It can be hard to come up with a brand that speaks the message you're trying to get across to potential clients. When coming up with a brand, you need to find your purpose. Your "why". Why you're doing what you're doing and how it can benefit others. Your brand should represent a feeling. A sensation. A mood. Your brand should be the emotional connection between your business and consumers. A great brand will convey a feeling and will show your clients what you're all about just by looking at one clean cut visual.
What You Need
Cue the graphic designer that is about to rock your small business or startup's world. Finding a graphic designer will not only help you in creating an eye-catching brand, it will also help you grow the content your company is producing. A graphic designer knows how to get the attention of your audience. But not just any attention, the right kind of attention. The attention that will direct traffic to your company and your products. Find a graphic designer to help you transform your content into something memorable for a potential customer or current client to hang on to!
What A Graphic Designer Does And Doesn't Do
A graphic designer is there to support you for your graphic design needs. Not development, coding, sales, marketing, etc. Find a graphic designer that is focused on what they are good at. So while a graphic designer can design a website for you, they cannot code it as well. They are also not responsible for shaping your brand identity. Though some designers may have ideas, they are not marketers. Most designers will also have an area of expertise, so play into their strengths. If you need a specific project completed like a logo, hire a logo designer that understands what you're looking for.
How You Find It
Unlimited graphic design companies, like Penji, can offer you fast, affordable and professional designs. Not only that, but they can cut out half of the work for you! Find a graphic designer that will work with your wants and needs. That will help make your dream into a reality. A design company can take you to the next level of professionalism. The brand that they will create with you will give your company the opportunity to leave a lasting impression in seconds. A graphic design team can show audiences that you are established. Show clients that you are reliable and official with amazing graphics.
Understand Different Types Of Graphic Designers
To find a graphic designer that will best suit your needs, it's imperative to understand that there are many different types of designers. The term "designer" in the graphic design world is very broad. Designers can specialize in things like web and app design, logo design, identity and brand design, even packaging designs. Acknowledging the types of designers can lead you to finding the perfect designer for your project.
Further than that, designers could work as "freelance" or "contracted" artist. Freelance designers are typically designers who work for themselves and aren't necessarily attached or committed to one particular company or employer. Freelance graphic designers are amazing for companies who need a quick and easy, one-time project completed. A contracted designer is a designer that works for one design company. Design companies offer service to customers that are prone to have more than one design need/project. More than likely, contracted designers/companies will have a stronger relationship between with the client they are designing for.
Where to Find A Graphic Designer
Graphic designers can be found many ways. Business owners will often rely on colleagues to refer them to their trusted design teams. A faster way is to start a Google Search. The keywords you enter in your search bar will be depending on the services you require. If you need a designer for more than one project, I highly suggest you check out a design company that can offer you unlimited graphic design. This company will be there for you to reach out during every step of the design process and will provide you with unforgettable graphics and visuals. On the other hand, if you're looking for a designer that can get give you a fast, one-time project, you would look for a freelance designer. If you only need a logo, you can find a freelance logo designer that specializes in just that. When you search for a freelance design artist, you should expect to be taken to a results page full of agencies and freelance marketplaces, like these.
Working With Your Team
Once you find who you need, it's important to put together for your designer exactly what you need. Chances are, you probably already have some ideas flying around your head. You know your company. Trust yourself to know your style and trust yourself to follow your branding ideas. Use the themes of your company and add your personal flair when talking to your graphic designer.
Explaining Your Content
Graphic Designers are appreciative of clients who are specific with their needs. Provide your team with a clear description of your mission, target audience, and brand guideline if you have one. If you already have an established brand or logo, make sure you send it to your designer. When explaining your content and company, think back to what influenced you when you founded it. Colors, images, music, other brands that you like. Anything that you have in mind for your design, like fonts, themes and colors, give it to your designer! Even sending your designer things you DON'T like will be helpful. The more information you provide them, the more straightforward the design process will be.
Mistakes To Avoid
The thought of working with someone who isn't in your office to complete a project for your company could have you feeling a bit overwhelmed, maybe even underwhelmed. The biggest thing to remember is don't ever lose the line of communication with your designer. Avoid leaving emails from your designer unanswered. If you don't talk to your designer as often as needed, you won't be getting the designs that you ultimately paid for.
Communication is key when it comes to working with your graphic design team. With unlimited graphic design, you can have as many revisions as you'd like. This means that team can provide you with designs on demand as you please. Giving feedback to your designers means that you are 100% a part of the creative process. Use your unlimited designs until you are satisfied with your graphics and you can "feel" your brand.
Watching The Magic Happen
After you've given the reins over to your graphic design team, it's time to watch your company's success skyrocket. The internet is heavily used for easy marketing and exposure, and companies like yours should be taking full advantage of that! When you find a graphic designer, they can help take the information that your company is giving out, and make it more interesting to your customers and potential clients. Having an established brand will help you on all social media platforms when publicizing your company and will provide audiences the vision of your company, every time.