Every business owner thinks of ways to make their businesses more profitable. One way to do this is to save on things that they consider as secondary. Sadly, many believe that web design is one and isn't much of a priority. They look for ways to get it without spending too much. For this reason, they might overlook the value of getting a custom web design and settling for a website template.
But partnering with custom web design services, you'll see how beneficial custom web design is in the long run. Penji is one of the services that will create web designs unique to your business. And by subscribing to Penji, you can guarantee high-quality work with a quick turnaround. But before we dive deeper into how Penji can help you, learn why it's necessary to have a custom web design for your business.
Custom Web Design vs. Web Templates
Business owners have a lot on their plates. So it's no surprise if they wouldn't know the difference between custom web design and web templates. Here's a brief explanation of what these two are and how they're different:
Web Templates
As the name suggests, a template website lets you create your website from their libraries of templates. These are ready-made websites that you put in your business details and images. Most of them are drag and drop, so you get the results in minutes.
Pros:
Getting your own website is quick and easy with these web templates. Even without any tech or design skills, you can have one right away. And with a meager price tag, it's preferred by most small businesses or startups.
Plus, if you're in a hurry to launch a website, a web template can act as a placeholder. Whether you're thinking of getting a custom one or using a different template that matches your company's branding, you can choose any theme available with a touch of a button. You can simply replace the placeholder logo, links, and content, and you're all set to launch.
Cons:
Internet Live Stats tell us that there are over 1.7 billion active websites in the world. Imagine if all of these websites used a template. The chances are remarkably high that you'll have a website that looks similar to a hundred others. Using a web template won't guarantee you that your website will look unique or even professionally-made. And if you wish to stand out, using a template isn't the way to go. It could even cause confusion within your market.
Aside from that, you might have limited customization features when using a template. Sure, at first, it's free. But you might need to use premium templates to make your website stand out against your competitors. Even so, you might be losing money even if you use premium themes. After all, you want a custom web design that represents your business. And a custom website design can help solve that concern.
Another thing to note is how relevant the template would be to your business and its timeliness. While you shouldn't follow trends, the template you choose might not be updated. And it might not bode well for you if you choose an outdated template that would turn away customers.
Custom Web Design Services
When you hire a web designer to design your website for you, that is already the job of custom web design services. They create one from scratch using the information you provide them. It isn't just getting a design from a collection, then altering it to make it your own. It takes a considerable amount of time to brainstorm and to complete. Plus, by enlisting the help of a custom web design service, you can focus more on running your business, as the service handles the design work for you.
Pros:
You get a website that's professional-looking, unique, and stands out from the crowd. It allows you to incorporate your branding to make the site distinctively yours. This adds credibility that is the number one deciding factor that shapes prospects' opinion of your website, according to Blue Corona studies.
Apart from that, a professional can look ahead and address any possible user experience issues. Aside from having a well-designed website, you also need a functional one. By using a custom web design service, you can expect they have your users in mind. A template may only serve an aesthetic purpose. But a professional knows that having a beautiful and functional website will get you more clicks and visits.
Penji designers know they shouldn't only create a well-designed site but integrate user experience as well. Discover the custom designs they've created for our clients.
Cons:
Custom web design services can be expensive and perhaps, you are thinking of hiring a freelancer. But hiring a freelancer to do it can have many complications. We've been hearing a lot of unfortunate stories about business owners hiring random freelancers. At the onset, they thought it was the best deal. After all, they have cheaper packages. The downside is, most of them will provide mediocre output. In other cases, the projects are delayed. With that, they ended up looking for another person to work on their website. That's a total waste of money, time, and effort.
So what's the best solution for that?
We recommend that you work with Penji. With us, you won't have to worry about pricing and quality design as we have combined them in our services. Let's talk about it more in the succeeding sections.
Penji's Custom Web Design Service
Penji is an on-demand graphic design service that provides you with high-quality custom web design services as well. We can create unique web page designs for your business in as little as 24 to 48 hours. And the best part of it is you get unlimited graphic design for as low as $369 per month. That's a fixed fee so you don't have to worry about shocking bills every time you have a request. With this, you can manage your budget better and you can use the money to expand your operations.
If you wish to enjoy more features, then choose the Team or Agency plans. These are available for $499 and $899 per month. You can find more details below.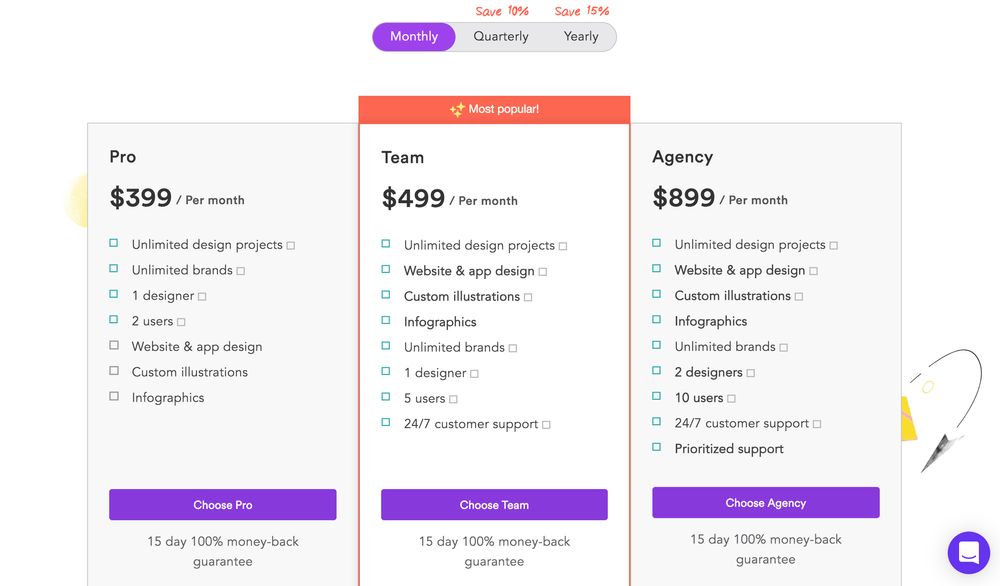 Again, hiring a freelancer to design your website has its benefits, but there's no guarantee that what you get is what you pay for. You'll never know if they'll just use the same web templates and pass the work as their own.
With Penji, you don't have to worry about our web designers doing that. Our high standards of recruiting designers ensure that you get all-original work. Our team of graphic designers is vetted to be on the top 2%, that's why.
Here are some samples of our previous work: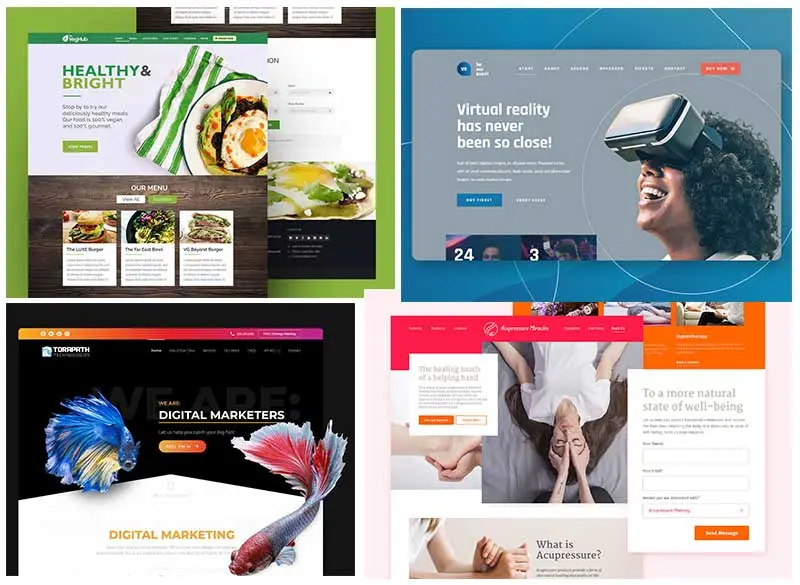 Is Custom Web Design Worth It?
With any other platforms, it's questionable, but with Penji, it's a resounding yes! With Penji's custom web design services, you'll get a one-of-a-kind website. One that can help you gain credibility, authority, and trustworthiness for your business.
While other channels give you only web design services, Penji can provide more. You can send requests for your graphic design needs, such as logo design or custom illustrations. Our Team and Agency plans allow you to have custom illustrations that you can use on your web page designs. All your graphic design needs can be outsourced to our team. Just imagine the convenience you'd get if you sign up for one of our plans.
Our business plans allow you to cancel any time should your workload decreases. There is no contract that you need to sign. You can sign up again once the number of your projects pick up. We offer you that flexibility as we want our services to be worry-free.
If you want to further understand our offerings, click here to learn more.
Benefits of Custom Web Design
Shopify estimates that there are about $4.9 trillion retail eCommerce sales from 2014 to 2021 worldwide. This is spread among the massive amounts of eCommerce stores around the world. The number ranges from 12 to 24 million online stores.
Any business owner worth their salt understands the challenge of competing against that vast amount. This is the reason you don't leave your website design to just anyone. It has to be designed by a professional for it to look professional.
A Business2Community study shows that 94% of people cite poor design to mistrust or reject a website. A custom-designed website includes all your branding assets that templates won't be able to do. The designs are made specifically to suit your business requirements.
Plus, you might not know it, but having a custom web design will help with your SEO efforts. Search Engine Journal states that having a fast, mobile-friendly, and "readable" website will earn you more views and visits. An experienced web designer knows how to create sites like these.
Penji's Website Creation Process
We want to give you an overview of how Penji will design your website. We're pretty sure you are going to appreciate the entire process as it is easy and highly efficient.
First of all, you have to sign up to get access to our app. Once you logged in, you will then see the dashboard. From there, you will already notice how straightforward our app is. You don't have to be a genius to know what's the next step.
The first thing our designers will ask you when you send a request for web page design are the following:
A short overview of your business
Your target market
Business goals and objectives
Your brand colors, typography, and other digital assets
It would be best to meet with your marketing team first to get the required details.
Once they get these requirements from you, they'll create "Wireframes/Low Fidelity Prototypes" of your website. These are like the blueprints when having a house constructed. This will give you an idea of how the web pages will work, how things are placed, and how many pages there will be.
They will do this in black and white to allow you to see the site's functions and behavior. This helps you to avoid being detail-oriented and see the main functionality of the website first. Then they will add in the details for you to see it in its full glory.
Unlimited Graphic Design and Revisions
What makes Penji the best source for custom web design services is our unlimited designs and revisions. You can have your designs revised as much as you need to. One of our objectives is to make you happy. We want to give you only the best designs, and this will only be possible if you're satisfied with our work. Now, in rare cases that you think the designer is not the best fit, you can just ask for a replacement. Take note that this does not come with a fee.
Our turnaround time is anywhere between 24 and 48 hours. For revisions, we strive to finish them within 24 hours. This may not be as quick as templates, but you're sure that what you're getting is worth waiting.
Requesting Your Web Design on Penji
To submit your web design request, go to the Penji dashboard. Here's what it looks like: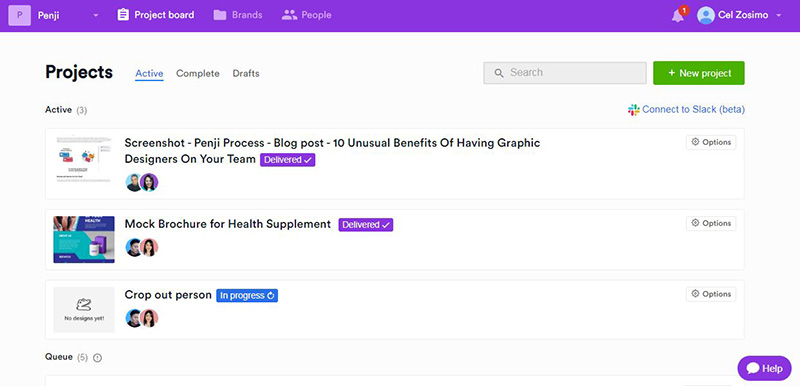 Click on the +New project button to start the process. This can be found at the upper right corner of your screen. Type in the project title and choose the category. If your project isn't on the drop-down list, click on the Create a custom project button. For web design, this is what you'll see on the dashboard: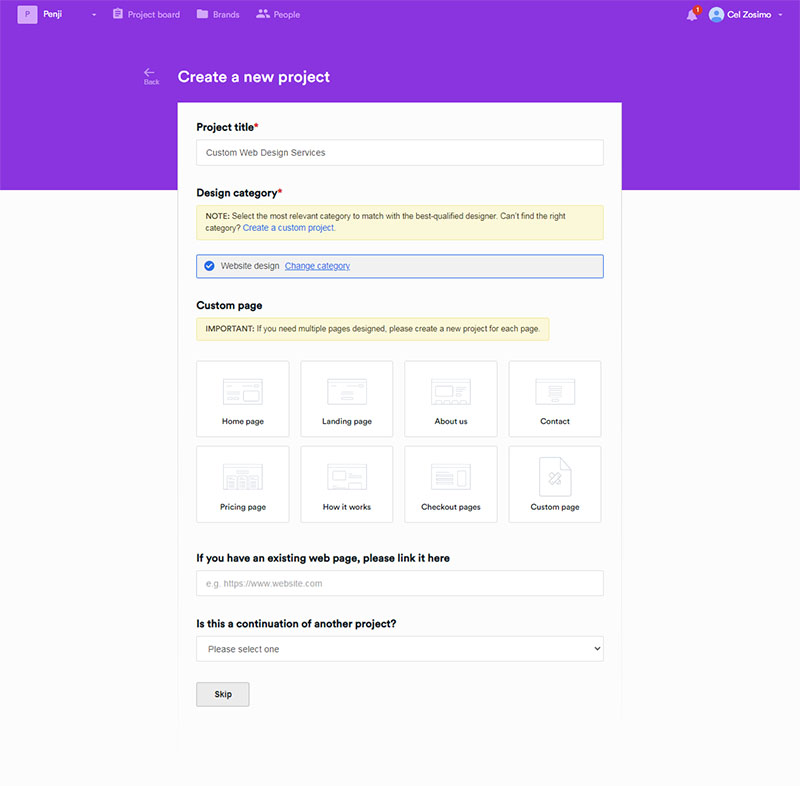 It will ask you for details of your project or links to your existing website if any. Click on Next. You'll then see the description box where you'll type in what you want to have on the design. This is also where you can include attachments that you wish the designers to use as references.
Select the level of customization, the file deliverables, and then the New brand folder. This is where you'll describe your brand and upload the associated files. Make sure to do this as this will make it easier for you when requesting your next projects.
If you will notice, the team provided a checklist so you won't miss any important details that they might need to start the web design.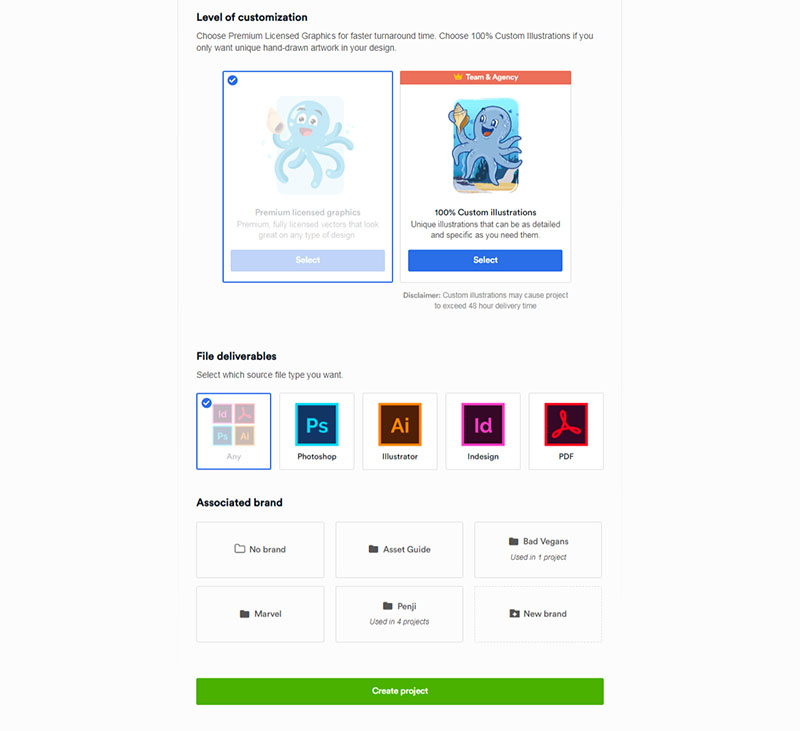 Click on the Create project button. Wait for 24 to 48 hours, depending on the complexity of your project. You'll receive email notifications about the progress of your request. You can also check the dashboard regularly to see how your project is going.
When you receive the design, you can now review it and send revisions if needed. We made it easier for you to provide feedback. The first thing you have to do is to enlarge the image and find areas where you think revisions are necessary. Hover your cursor and click these parts. From there, a comment box will appear. Type your feedback and send it to your designer. They will work on it right away.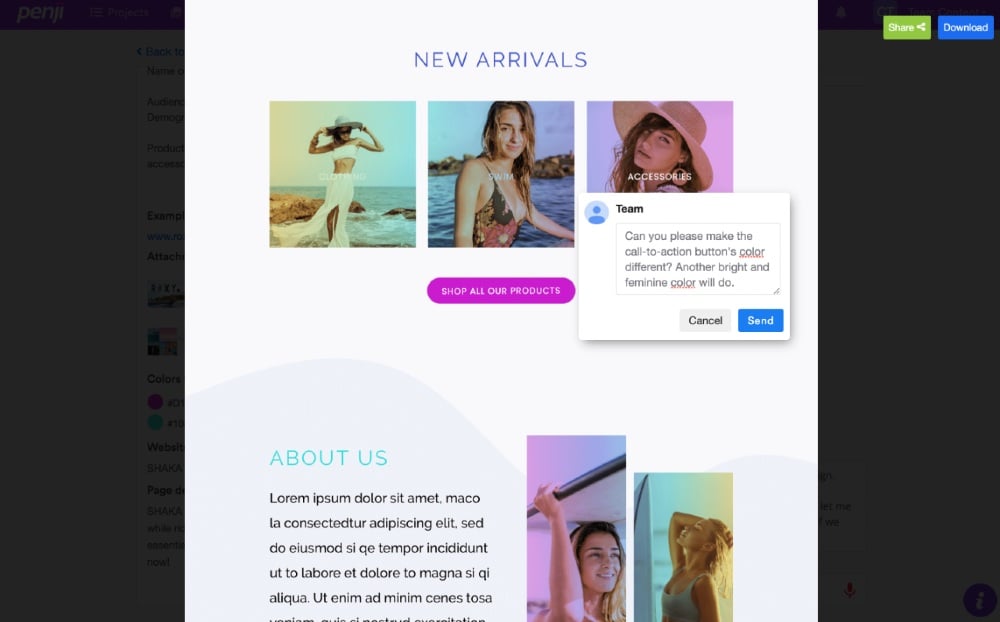 When satisfied with the work, you can now mark the project as complete. You can also leave feedback for the designer and the service in general. At Penji, we want to constantly improve our services. And that is why we encourage our clients to provide feedback when necessary.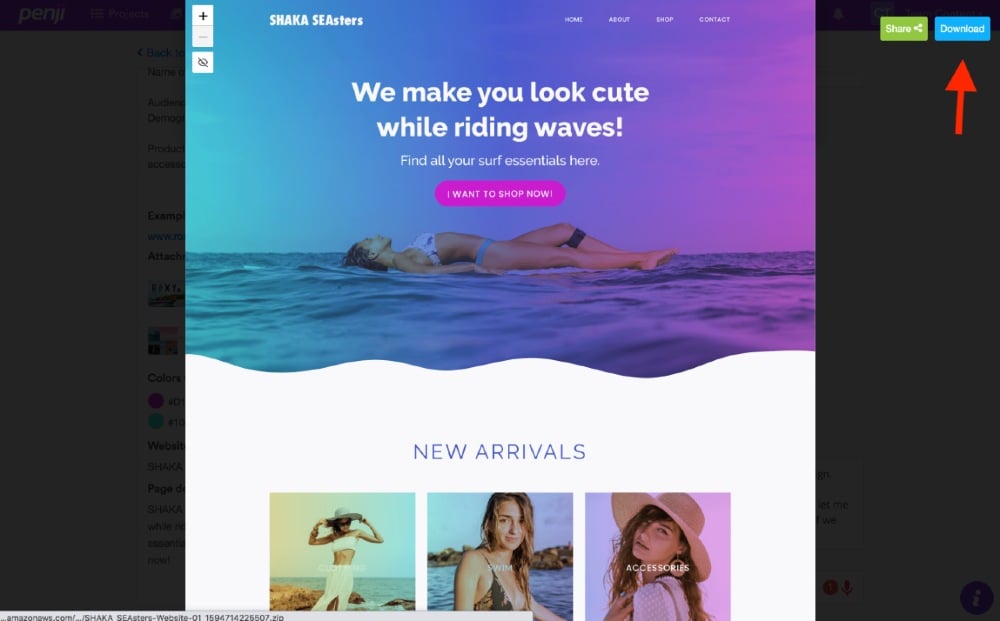 All your files will remain in our system for up to 90 days when you cancel your subscription. Otherwise, you can keep coming back to your files any time you need to. Also, everything you request will become your property. You get full ownership of the designs and use them for whatever purposes you have. And that means you won't see other people using your designs.
Final Thoughts
Finding a competent yet inexpensive web designer can be frustratingly difficult. Penji has made web and graphic design affordable and accessible.
Sign up for Penji's Team plan for only $499/mo. Aside from a custom web design, request illustrations, app designs, infographics, and more! Some design services will have you subscribing to an extra plan to get other inclusions. But with Penji, you can request all design types under one plan. You won't get this deal anywhere else. Subscribe now, and try the Penji platform 100% risk-free for 15 days.