Brand guidelines, also called brand style guides, are the standards set to define your brand's overall look and feel. It is an outline of your brand's colors, fonts, tone of voice, and mission and vision. This assures your brand of consistent visual assets across all platforms and whoever takes the helm of your design tasks.
Here are ten of the best brand guideline templates that you can use for free:
1. Green Beige Simple Structured Lines Food and Beverage Brand Guidelines Presentation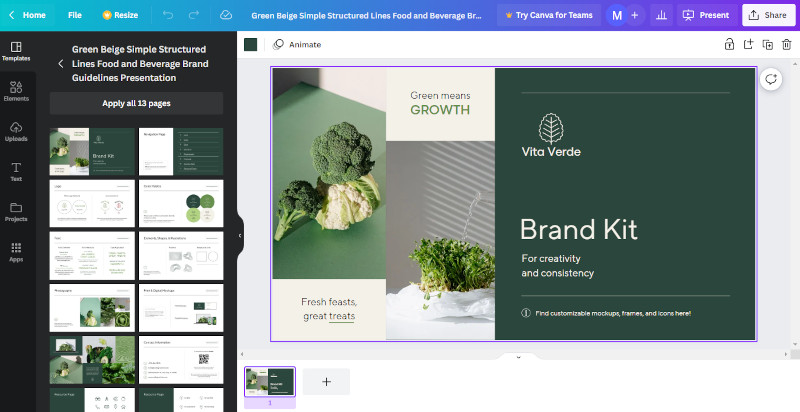 If you're in the food industry, this brand guide from Canva gives your business a fresh and lively personality. Its primary color is green, but it uses a few neutrals that add to its appeal. This is 100% fully customizable, so you can get the exact design your company needs.
This guideline template has 13 pages that are all consistent with each other. You have the option to use a few or all of them. It is free to use. All you need to do is edit, download, publish, and share anywhere you want.
2. White One-Page Brand Guidelines Template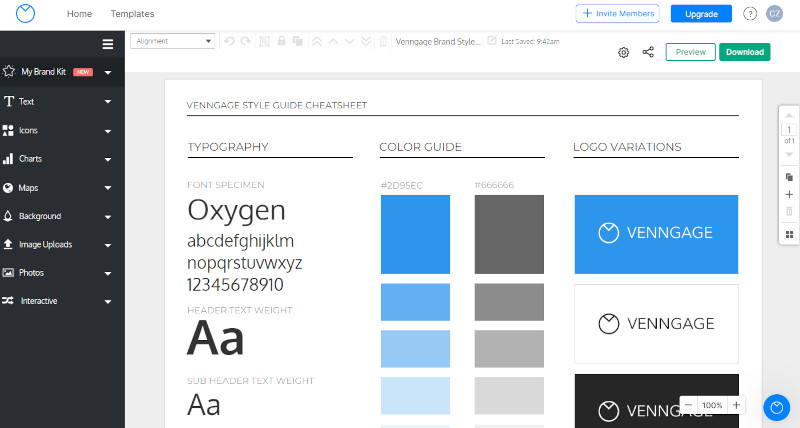 This clean and clear brand guideline template from Venngage is suitable for various niches. It is fully editable, allowing you to add fonts, colors, and images. It only has a single page if you want to make things straightforward and easily navigable.
Venngage has a wide selection of templates and is a good source for other design assets. You need to sign up, though, to get access to these. The templates are free, but if you want to download in high resolution or file types other than PDF and PNG, you need to upgrade to a paid plan.
3. Pink and Black Brand Guideline Layout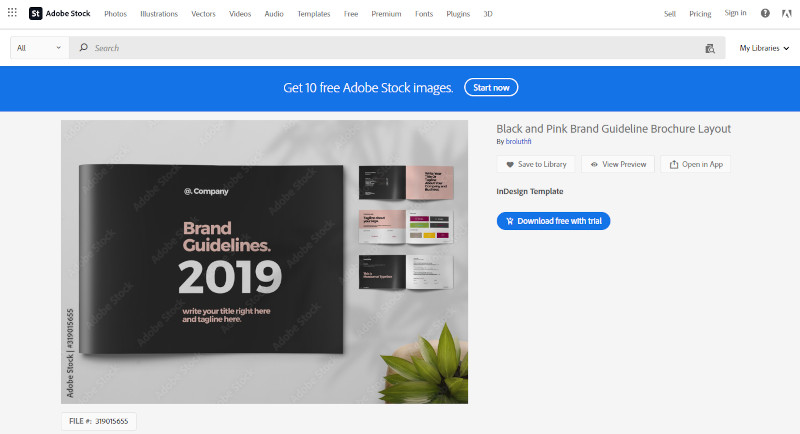 This beautiful brand guideline template from Adobe uses a black-and-white color scheme with the occasional pink added for accents. Its use of large fonts effectively draws the viewers' eyes where they need to be. It is an ideal template for fashion, cosmetics, and other similar businesses.
This template is fully customizable. You can add your images, texts, and other design assets. You can download your design for free if you avail of Adobe's free trial.
4. Tone of Voice Guidelines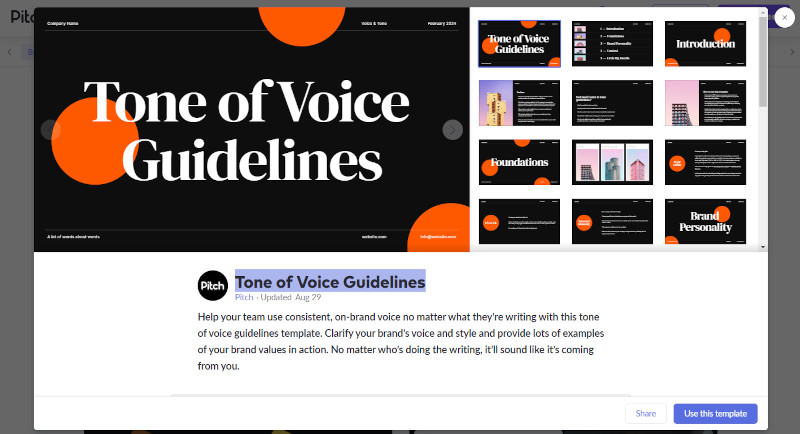 Your team will always know what tone of voice to use with this brand guideline template from Pitch. The layout is easy to follow, the colors used are bright and attention-grabbing, and the font pairing is on point. It includes colorful and creative images, adding interest to the template.
Pitch offers free templates but has two other paid plans that let you enjoy more amazing features. Starting at $8 per month, you will get access to hundreds of templates for different uses, such as presentations and reports.
5. Random Brand Identity Guideline from LTC Design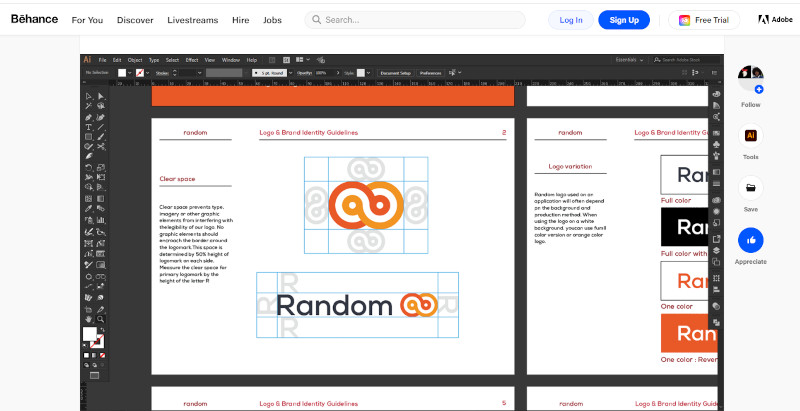 Founder Alaa Choichnioa of LTC Design offers this brand guideline template for everyone to use for free. It is already in high-resolution format and downloadable as an Illustrator file. It is easy to edit, so making adjustments to fit your brand will be quick and easy.
The layout is superb, the brand color choices are lovely, and the fact that the owner gives it for free makes this template more remarkable. There are no signups or attribution needed for you to use this template.
6. Purple and Aqua Gradient Brand Board Expanded
Another style guide from Canva, this Purple and Aqua template caught our eye and will do the same for your brand. And as it's from Canva, editing it to fit your specific brand is easy. Even without design talent or coding skills, you can have a brand style guide that looks professionally done.
This template is perfect for those in the restaurant and other food-related businesses. However, its free-spirited personality will also look suitable for fashion brands and those specializing in children's clothing.
7. Flat Design Brand Manual Brochure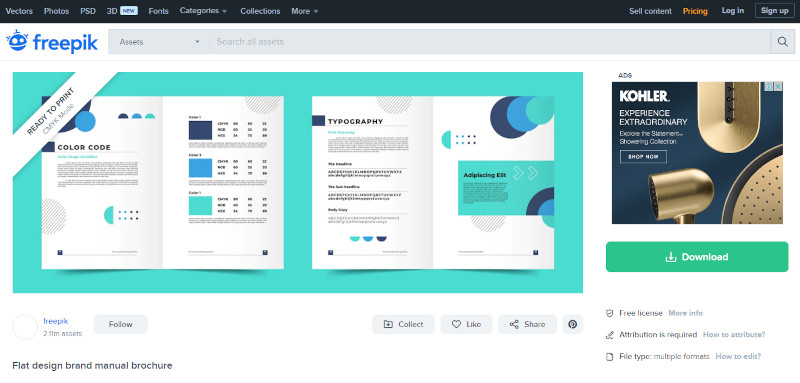 With plenty of white space around the design, this brand guide template from Freepik is ideal for various types of businesses. This design would be suitable whether it's a sporting goods store or a software company.
This brand style template is free to download and use, but you will need to give credits to the owner. If you wish to avoid attribution, you can always upgrade to a paid plan from Freepik. Pricing ranges from €9 to 15 per month if you pay annually.
8. Cool Blue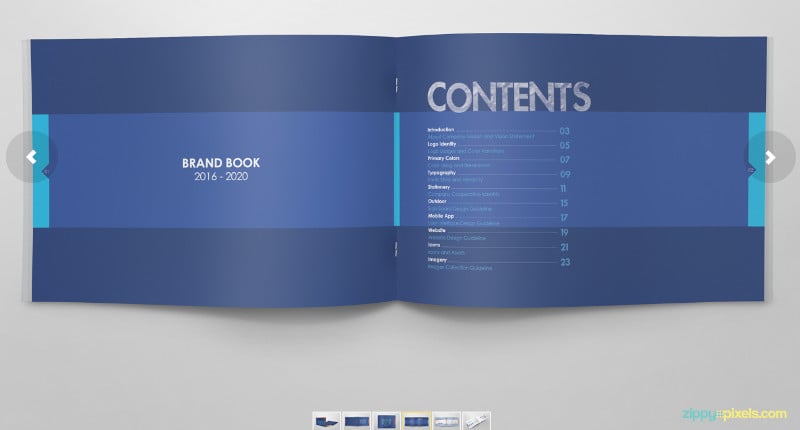 While the template's name is Cool Blue, this one from ZippyPixels is customizable. You can edit it using any color and font you want. It features valuable icons, breathtaking photos, and a responsive design.
This branding template has eight pages, but you need to upgrade to a paid plan if you want more. It has most of the topics you need, such as the table of contents, corporate brand mission, logo identity guidelines, and brand color specifications.
9. Talkie Brand Guidelines Template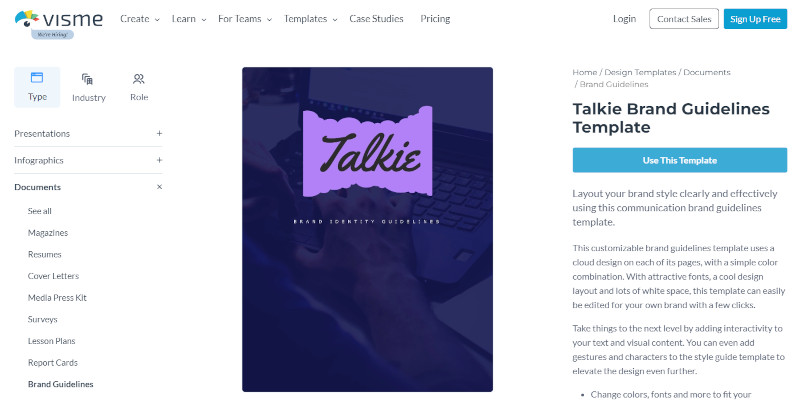 This Talkie Brand Guidelines Template from Visme is suitable for a wide array of industries. With its simple color combination, attractive fonts, and ample white space, this template is an excellent option for many businesses. You can customize it to make it unique to your brand.
This customization includes adding pages, interactivity, animation, color editing, and many others. It is free to download and use, you only need to sign up and create an account on the website.
10. Neutral Beige Vertical Brand Guideline Board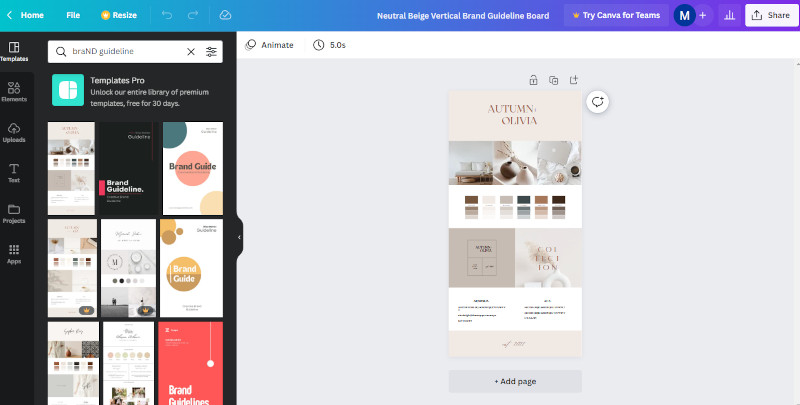 Whether you have an interior design company, a retail store, or a coffee shop, the Neutral Beige Guideline template from Canva is perfect. It exudes sophistication, class, luxury, and elegance. If you want these characteristics in your brand guide, this template is for you.
Since it's from Canva, it's free to download and use, with no need for attribution. However, signing up for an account is a must.
Final Thoughts
All these brand guideline templates are free to use. This means there will always be the chance, however slight it is, that you'll have someone to share a design with. So, if you want an original branding guideline, Penji is the best design partner you'll need.
Not only will you get a one-of-a-kind brand guide, but you can also request logos, illustrations, and many other design assets. Click on this link to get our designers working for you.