If you're one of the few entrepreneurs who still doesn't realize the power that packaging design has, you're in for a surprise. The consumer market is rapidly growing each year, despite the global situation we're currently in. Standing out from the competition has never taken a break and has even become stiffer.
To have a fighting chance, you need to use every available marketing strategy you can get. And packaging design can be an effective marketing tool. Let's learn about how you can use it to your advantage. We'll show you the resources you need and some of the best packaging design examples to inspire.
Penji: Your Best Packaging Design Resource
Package design is a complex process that requires the skills of professional graphic designers. With 72% of American consumers saying that package design influences their buying decisions, you need only the best designs for yours. For this, Penji is the solution you need.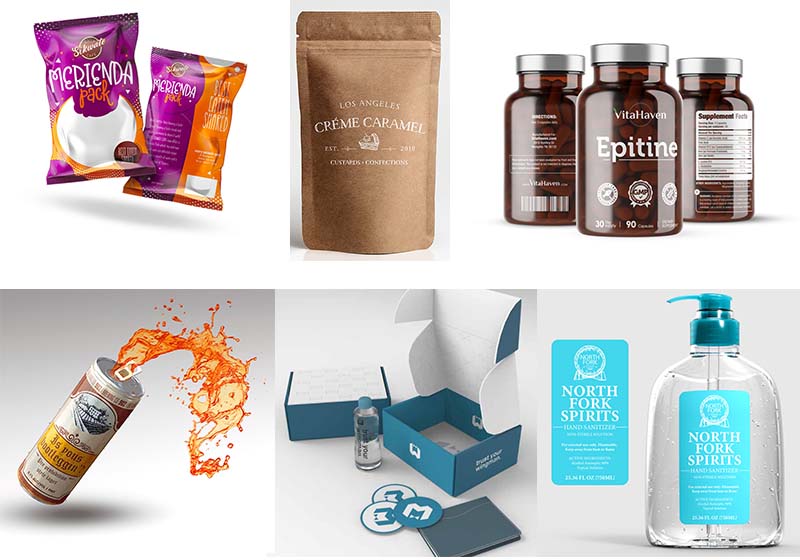 Penji is an unlimited graphic design service that can provide you with all the packaging designs you need. Our flat monthly rates mean you only pay a single fee every month. You can then send as many design requests as you can.
So, working with Penji gets you not only the best packaging designs but also other graphic design assets. From logos to business card designs, we can do them all for you. Watch our demo video here to know more about how we can help you.
Top Packaging Design Resources
After getting your packaging design from Penji, straight to the packaging manufacturer, you go. Here are some of the top packaging companies you can consider:
The BoxMaker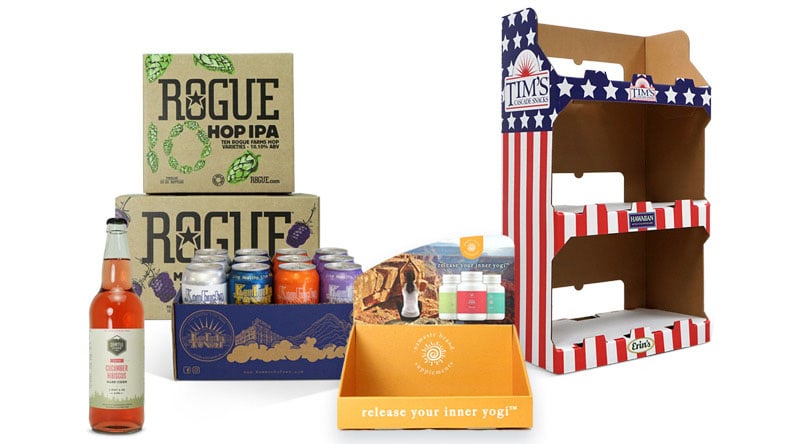 With 40 years of experience, The BoxMaker started as a small business. This is the reason they cater primarily to startups and small businesses. They understand the challenges, and so they crafted solutions specifically targeting these business types.
From custom boxes to sustainable packaging, The BoxMaker can provide them. They take pride in their state-of-the-art equipment. This ensures that you get the design you need at the quickest time possible. All you need to do is send them your design, and the rest is up to them.
There are no price lists on the website as you need to contact them to get a quote. They offer email and phone support, so reaching out to them is not a problem.
Packwire

Working with companies of all sizes, Packwire has an online design studio to help you create your designs. They have a 3D viewer that allows you to see your creation from all angles. Or you can also send them a pre-made design if you don't want to make your own.
After that, you can send them your designs and the quantity, materials, and other details. Once you add these to your shopping cart, you'll receive a price quotation. Shipping can take about 10-14 business days.
Their live chat customer support is ready to answer your queries. To give you an idea of their price, a mailer box with 6x4x2-inch dimensions will cost around $2.24.
Box Up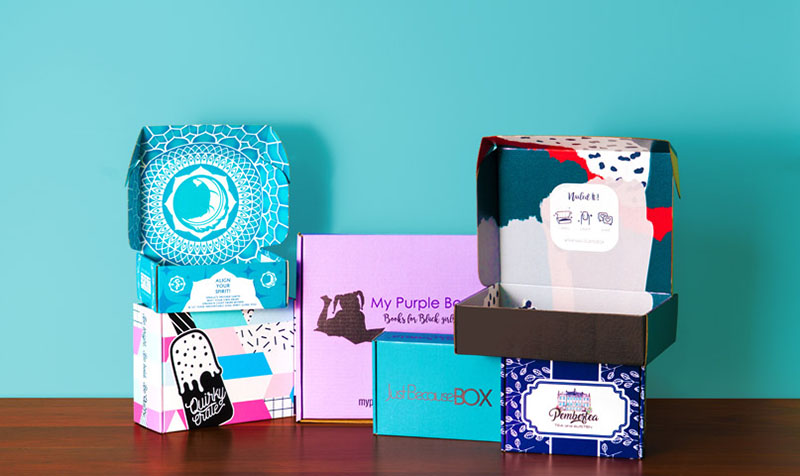 Using digital-printed packaging technologies, Box Up lets you have your custom packaging designs quickly. This allowed them to shorten delivery time to days instead of weeks. It also allowed them to lower the minimum order from one thousand to a single unit.
Box Up specializes in custom packaging and has the "Flex Editor" to help you do so. This company takes pride in being "corrugated experts." They claim to have one of the strongest corrugates in the industry.
A display mailer box with 6x5x2.25-inch dimensions starts at $1.64 per piece. Production time is approximately ten days, while shipping time can begin at five business days. They have no minimum orders and let you order one or a dozen units.
Northwest Paper Box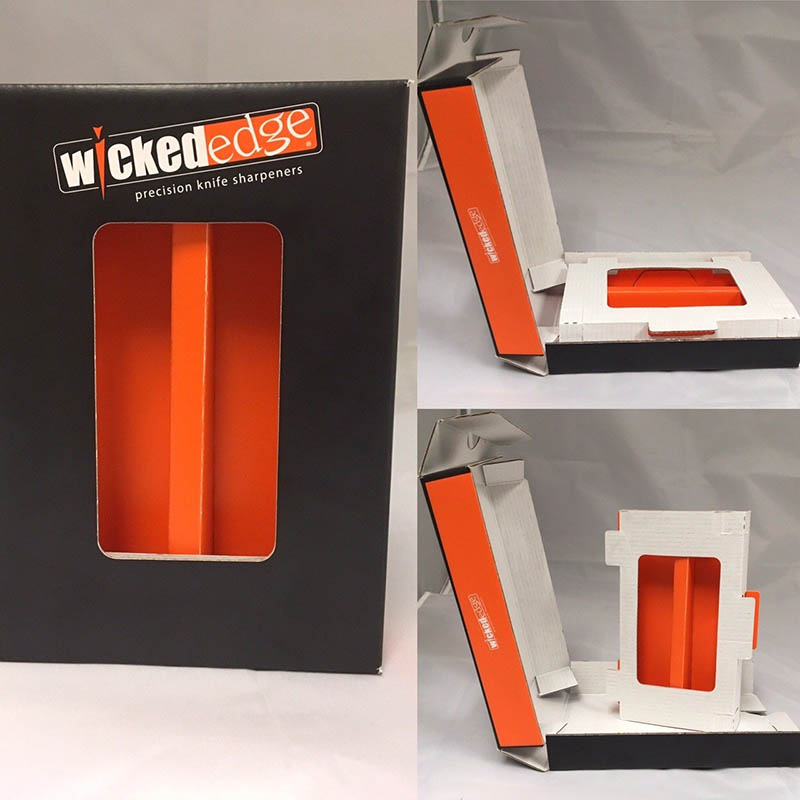 A subscription business favorite, Northwest Paper Box also caters to a wide range of clients. They promise quick turnarounds and high-volume manufacturing capability. They create custom-branded corrugated boxes as well as counter and floor displays, among many others.
Plus, they have no minimum or even maximum order requirement. All their corrugated boxes are 99% recyclable and use water-based inks. So if you're thinking of an eco-friendly solution, this is it.
There are no price lists on their website. Instead, there is an online form you can fill out, and they'll send you a quotation. They offer phone support during business hours if you're interested in knowing the prices.
Pakible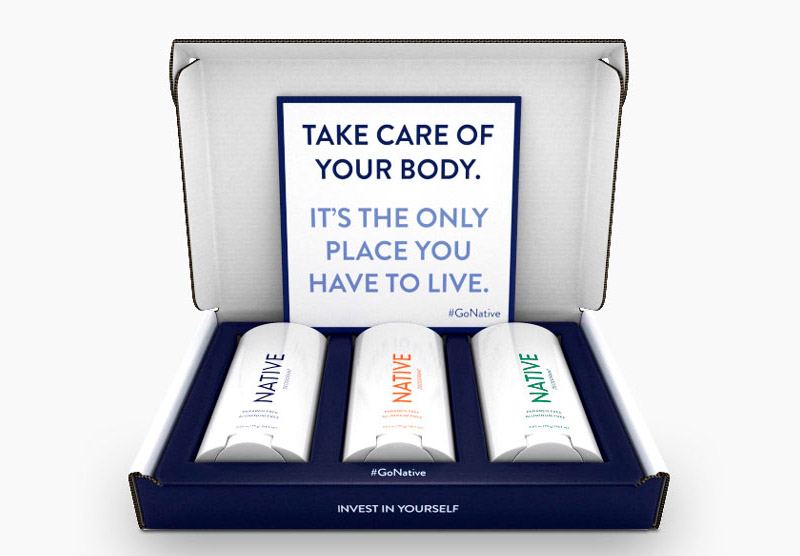 From custom boxes to poly bags, Pakible can create them for you. They offer samples and custom design prototypes free of charge. They have a feature they call "The Pricing Engine" as part of their process, which they claim to be easy and straightforward.
Additionally, they have a vetted network of over 400 manufacturers and suppliers. From this network, you'll receive three or more competitive bids for your packaging needs. After submitting your specifications and reviewing the proposals, they will deliver the prototypes to you. Upon your approval and payment, they'll start work and deliver your packaging.
Their bubbly/poly kits start at $29, while their box structure kits are $99 onwards.
Business Image Printing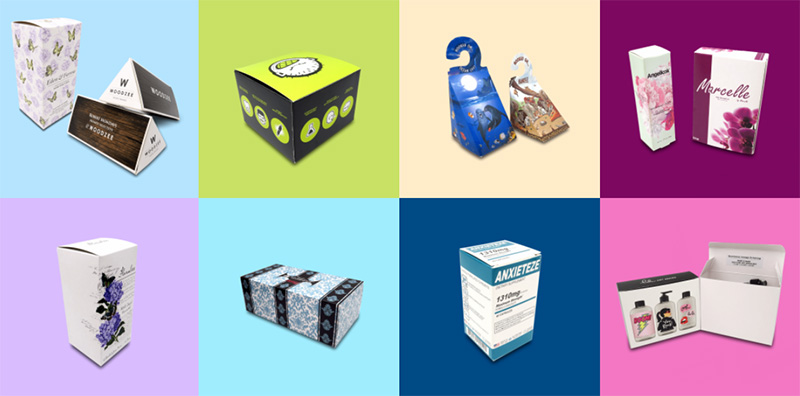 Their wide selection of packaging options makes Business Image Printing a good choice. Don't be deceived by the somewhat bland brand name and identity. This company has some of the best packaging designs you'll ever see.
They use soy-based inks for their boxes which offer better quality and less harm to the environment. They have an online form for custom quotations, and they have a showroom you can visit if you're in Southern California. Phone support is available during business hours, but you can contact them via email through their website.
DusoBox

If you're new to packaging design, DusoBox is worth checking out. They have the "DusoBox University" where you'll learn about basic and advanced topics about packaging. They are a G7 Master Qualified Facility, the standard qualification in the printing industry.
Their services include retail, direct-to-consumer packaging, and point of purchase displays. They don't have design tools available on their website so prepare to send your own designs. A few of their clients include those in the automotive, beverage, and e-commerce industries.
They have a contact form on their website if you want to know more about their services and pricing.
Related Post: How Much Does a Custom Box Design Cost?
The Best Packaging Design Examples
And now, for some inspiration. We gathered a few of the best packaging design examples to guide you in creating yours.
Hummingbird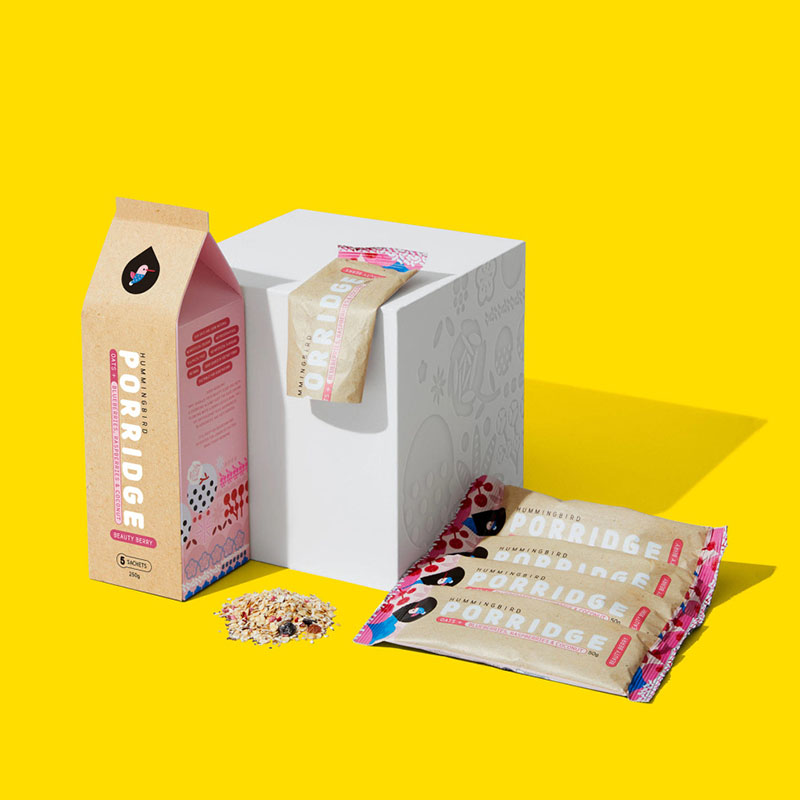 A breakfast options company from Australia, Hummingbird packaging designs are admirable. The company is dedicated to creating wholesome, natural, and delicious breakfast fares. Founder Benjamin Seer wanted to veer away from the usual bland toast and cereal in the morning. So he came up with the company that makes breakfast exciting.
Hummingbird uses custom illustrations for some of its packaging to create interest. This makes for a bubbly personality that matches the brand perfectly. The bright and lively colors and fonts add to the vibrancy of the company's brand identity.
The Prisoner Wine Company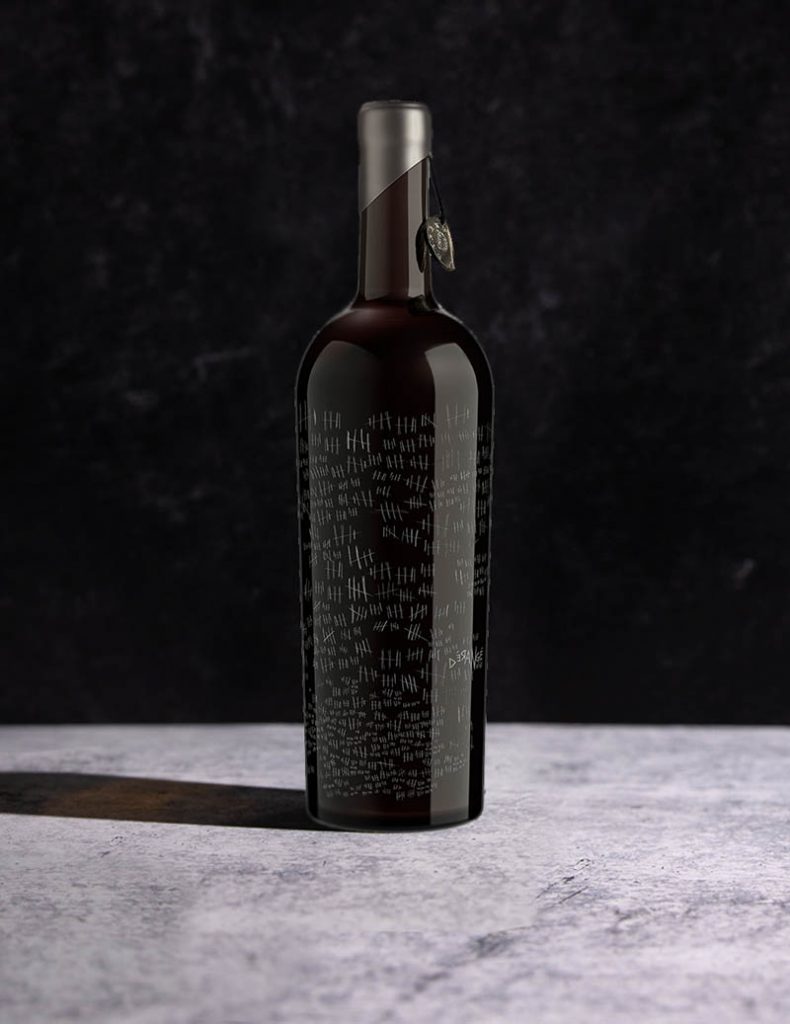 Passionate about making unique wine collections, The Prisoner Wine Company undoubtedly stands out. Their unconventional approach gave them an identity that isn't afraid to create enigmatic wine blends. Their products exude sensual, alluring, yet elegant notes.
We can see this in their packaging designs, most significantly, the Dérangé. They wanted it to have that regal sophistication, and the bottle design did a great job of radiating with it. It also has a hint of humor as it has tally marks all over it, as what we see from jail cells.
Thrive Market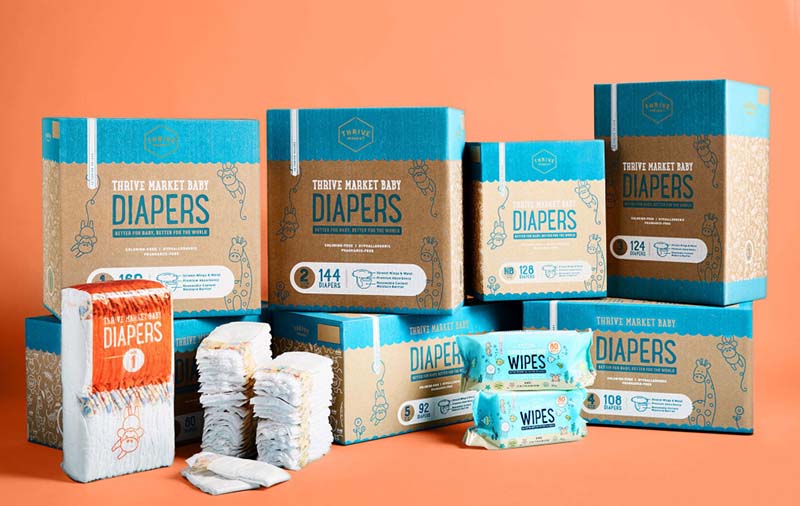 A membership-based online market, Thrive Market has a line of baby products that is packaging design brilliance. It has cute illustrations that appeal to children and colors that are gender-neutral. The color choice is representative of underwater adventures and sea creatures.
You can feel the playfulness, curiosity, and overall authenticity of the brand. All in all, the packaging design tells us that this is a brand we can trust. It's adorable and impactful with its strong sense of inclusivity.
Moodcast Fragrance Co.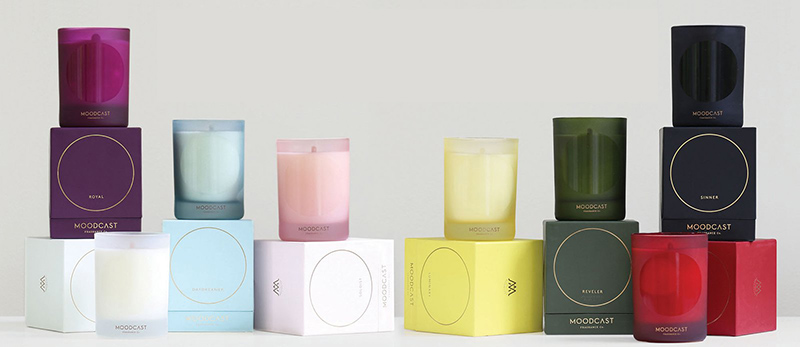 True to its name, Moodcast Fragrance Co. sells products that set moods. This home fragrance line uses packaging designs that exemplify simplicity quite well. The boxes use colors to match the spirit of the candles. And they're as beautiful as the scent they hold.
The minimalistic approach gives a no-nonsense and straightforward appeal. The matte finish of the box creates a sensual and elegant touch. You don't even have to light the candle inside to set the atmosphere. The package design has started it already.
Skin Crush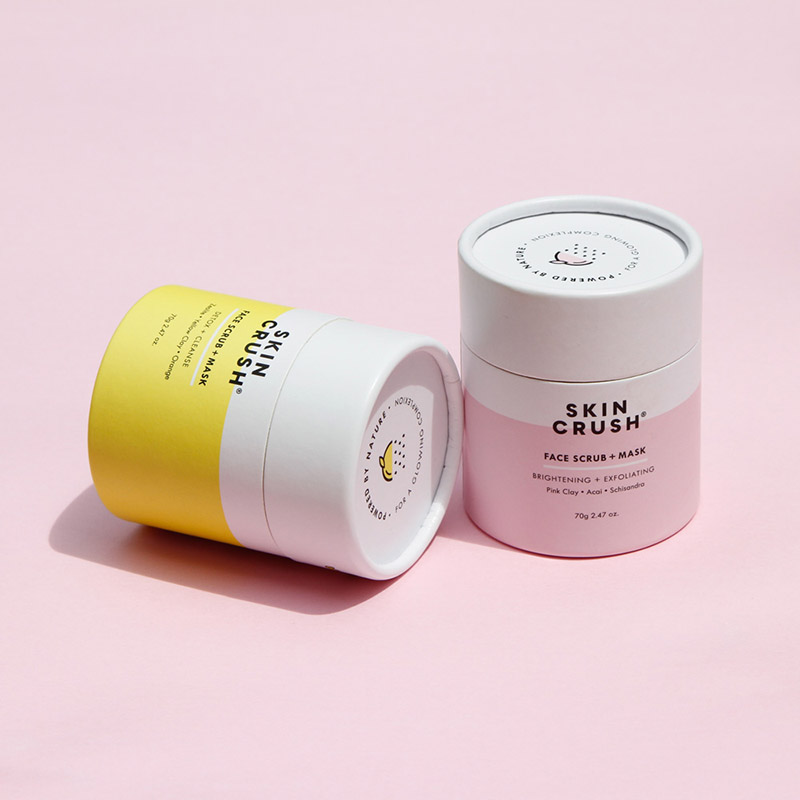 Exuding purity and freshness, Skin Crush packaging designs do justice to their products. They use solid and clean colors with minimal texts. The brand name and what little text you see lead the eyes to where they want you to. They are enough to describe what the package holds and creates a radiantly wholesome image.
The skincare company focuses on creating products that are natural, potent, and free from animal testing. Its packaging design projects precisely that—a company that cares for your skin and the environment as well. Thus, there is no need for elaborate designs that will only result in cluttering.
Ach Chocolate

Lithuanian chocolate maker Ach takes pride in its vegan and handmade creations. The company knows that their handcrafted goodies need only the best packaging design. And so they came up with these gems.
The designs come in different colors for their variety of flavors. They all have this seemingly hand painted look with fantastic color combinations. Elegant and exquisite, the designs capture the brand's vision of giving a taste of excellent chocolates without remorse.
Absolut Vodka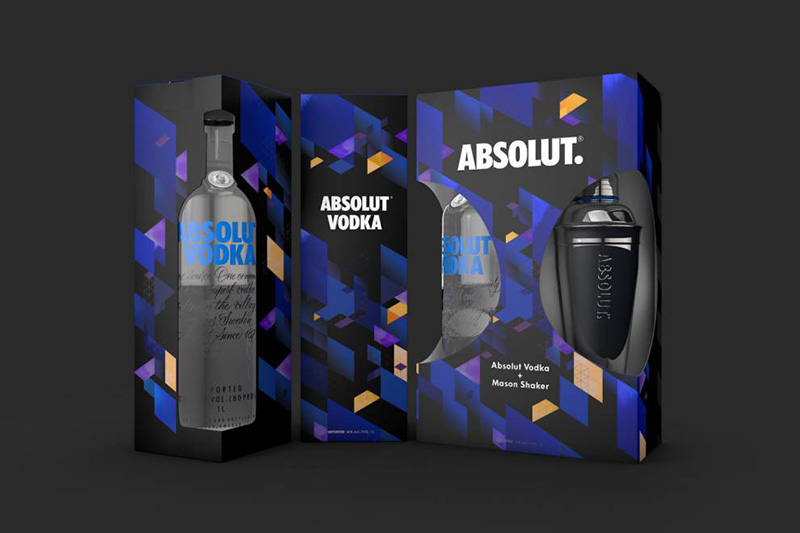 An icon in design, Absolut Vodka never fails to make any list of the best packaging designs. In the example below, the bottles come in a box that has a sleek and colorful design. The background color is black, but the design gives off a fun yet classy appearance.
The box is structured to allow the bottle to show through, giving us a sneak peek. The multi-colored geometric shapes that adorn it complements the bottle superbly—excellent design to lure us into a drinking spree.
Related Post: Tasty Food Packaging Design Examples That Will Make You Lick the Screen
Elements of the Best Packaging Designs
Looking at all these beautiful packaging designs, you'll find some common denominators among them. The elements of an effective package design include the following:
Clarity
When your product sits on a supermarket shelf, most likely, it is beside a competitor. Design clarity will make you stand out from them. The Skin Crush example shows us how to achieve this. It didn't need many design elements for it to be noticeably good-looking.
Transparency
Good packaging design must show transparency for consumers to give it their trust and business. According to Researchgate, not only does a see-through window give out transparency, but so does honesty. Show what your products are made of, as well as the production processes involved. Make known everything that people need to know about you to show transparency.
Authenticity
Being true to one's self is suitable for interacting with the people around us. Packaging design also requires this to grow to succeed. Authenticity is a must in building a business. More so in package design. According to Stackla, 86% of consumers list authenticity as a critical factor in their buying decisions.
Impact
Let's go back to the supermarket scenario. Your product has to have an impact for it to be chosen above all else. As mentioned earlier, a study found out that people buy something because of packaging. Make yours worth noticing.
Related Post: Mailing Box Design Ideas for Your Next Packaging Design
Final Thoughts
Package design entails careful planning and thorough research. However, it's not as laborious as some business owners may think. If you find yourself searching for ways to ramp up your package design, know that Penji is here. Our team of professional graphic designers understands packaging design. Let them do the hard work for you.
Sign up today for an affordable plan of your own. Start getting the package designs your brand needs.