Let's talk about the power of a company logo. It's like the face of your brand, representing its personality and identity. Get it wrong, and you might turn off potential customers faster than you can say "oops!" But fear not, my friends, because a great logo can work like pure magic. Using the best logo makers captures your brand message and acts like a magnet, instantly attracting your target audience and bringing them closer to that sweet conversion.
When choosing the best custom logo maker, you need to look for three elements:
Ease of use
Customization features
Price
Looking for an awesome logo for your brand? Check out Penji for unlimited graphic design services or one-off designs.
Need graphic design help?
Try Penji's Unlimited Graphic Design and get all your branding, digital, print, and UXUI designs done in one place.
Learn More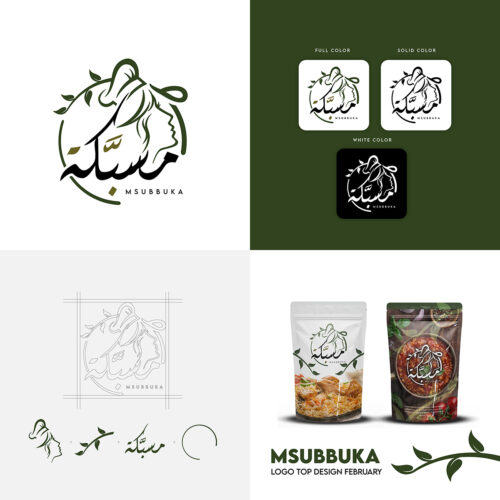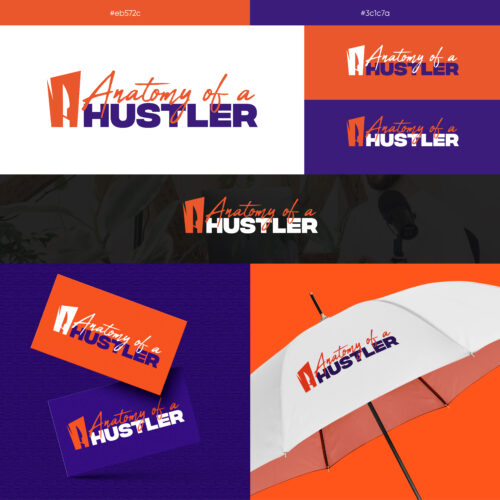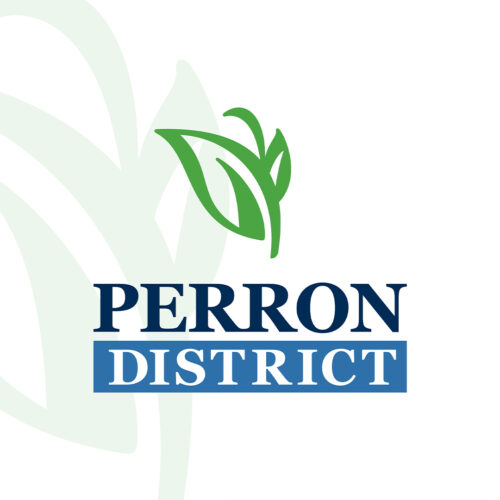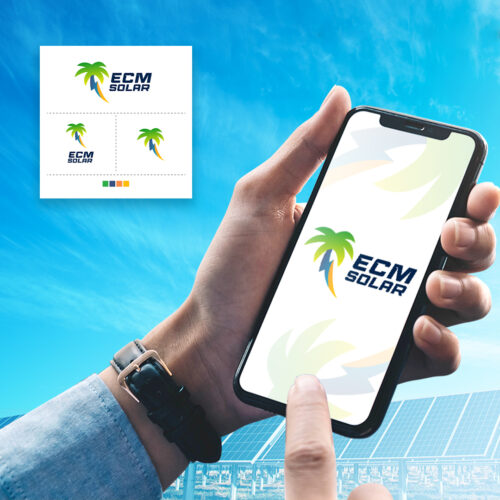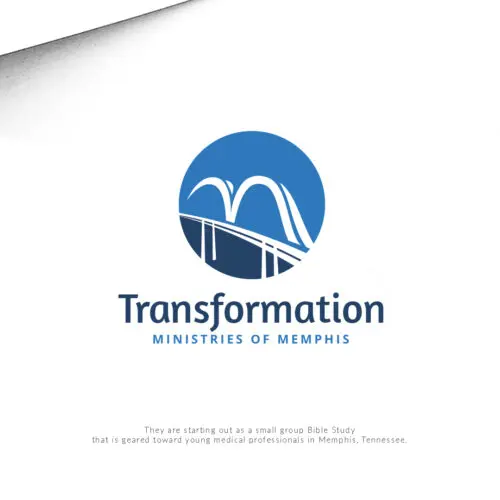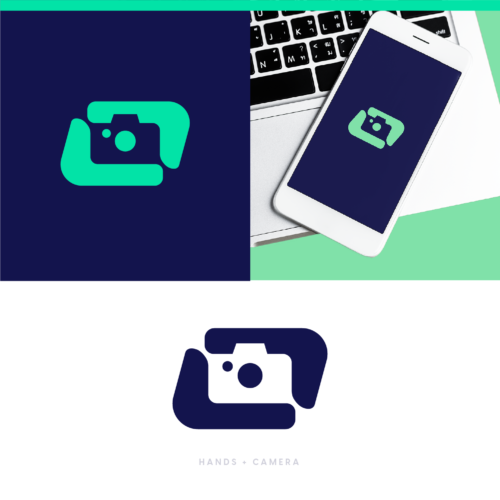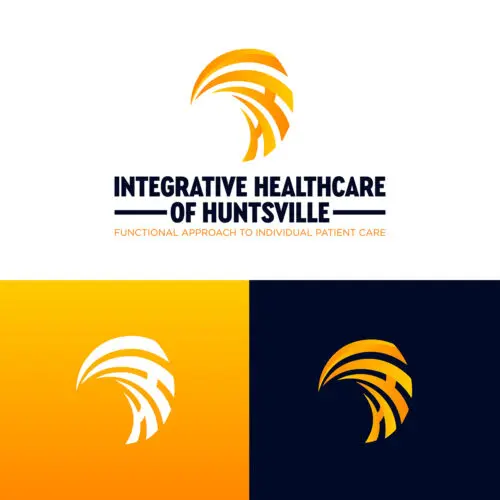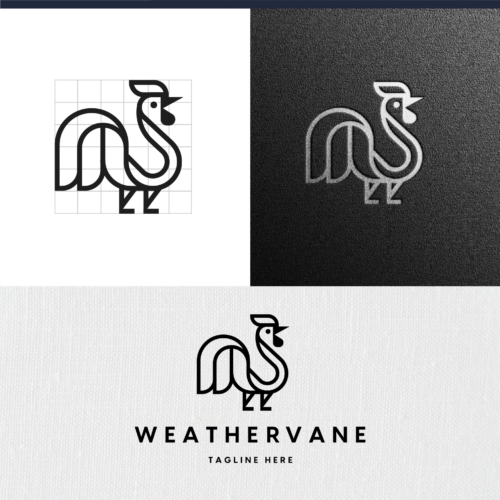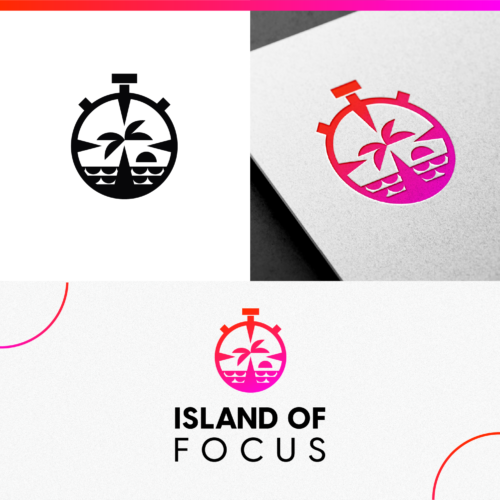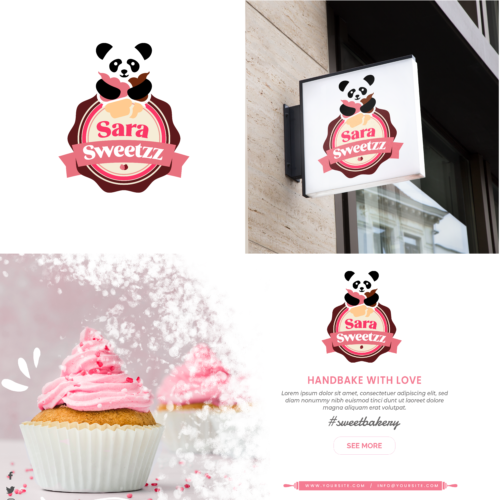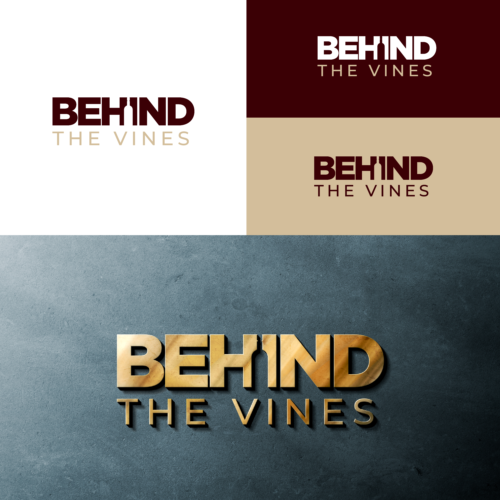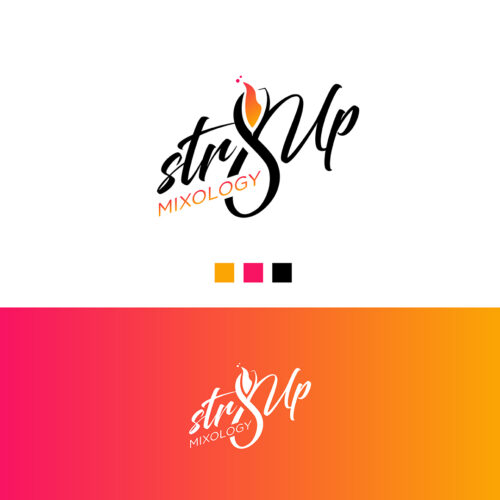 As for the last factor, scroll to the bottom if you want considerable savings in exchange for professional logos. We'll let you in on an irresistible promo code you can't say no to.
Meanwhile, check out 16 of the best logo makers you can find online.
1. Canva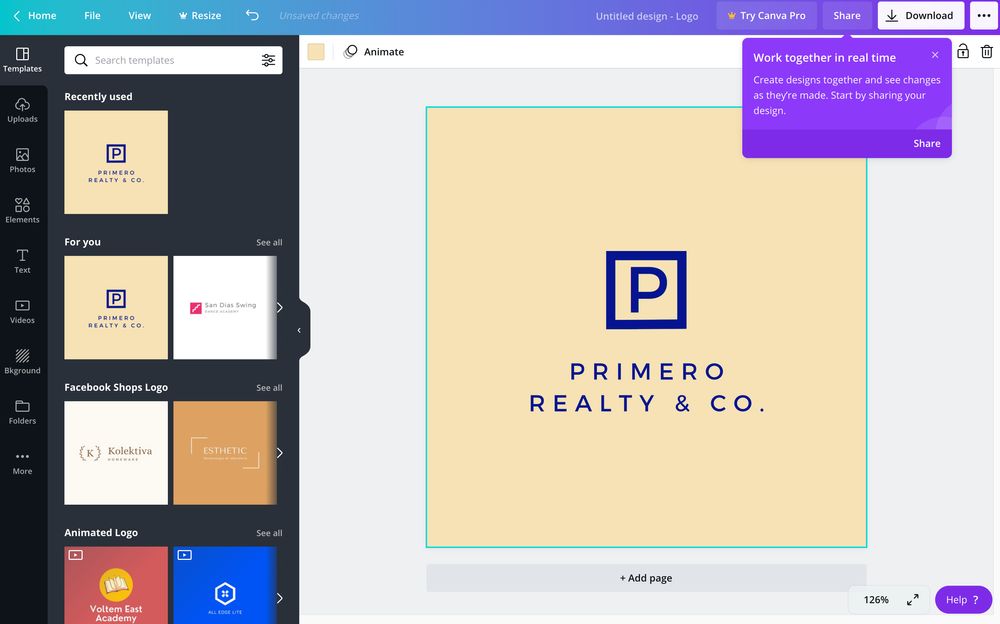 Canva is not only one of the best logo makers online, but it's also one of the most popular. Most brands or designers have undoubtedly come across Canva for some small or big design projects.
Canva boasts of designer-made templates that can make your logo look like it was designed by a professional. Canva is a DIY logo maker that lets you design logos from scratch by choosing designer-approved images, icons, and colors.
Also, Canva users can choose thousands of illustrations, icons, and layouts from their library. All you have to do is type in a keyword, choose from the different designs, drag it onto the empty creator, and drop. It's that easy!
Pricing: Free, Canva Pro at $12.95 monthly, and Canva for Enterprise at $30 monthly
2. Designhill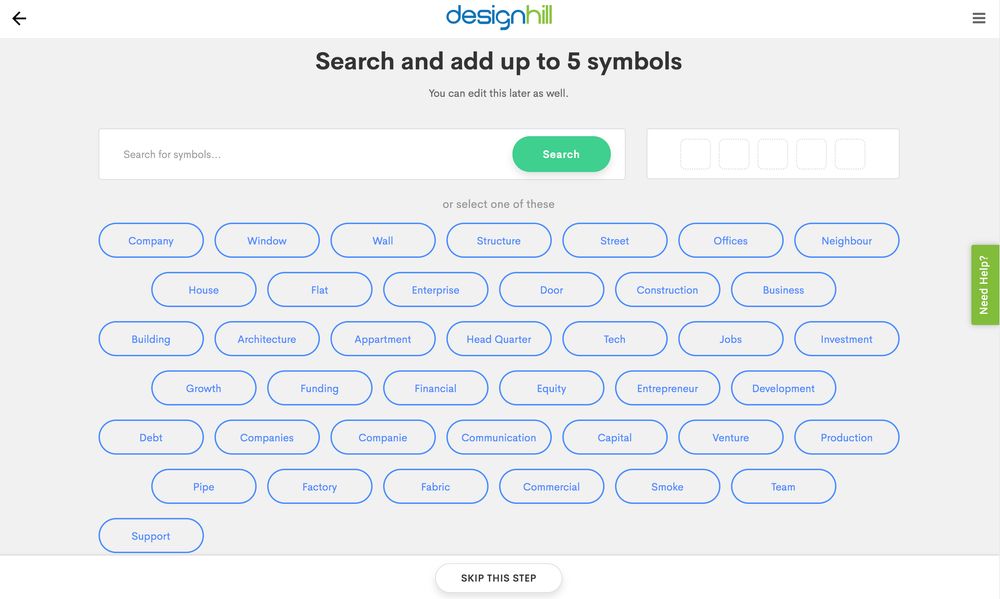 Designhill is a unique online logo maker as it uses AI technology to continually update its library of the best font and color combinations for logos. The tool is also a quick logo maker as it claims to let users create a logo in just under five minutes.
It deploys a user-friendly click-based interface that doesn't require any programming or technical designing skills. You can use the logo creator to edit, customize, and save your preferred logo.
On top of that, Designhill offers high-resolution logo files, full copyright, a complete social media kit, brand guidelines, multi-device support, 24/7 live support, and print-ready logo designs.
Pricing: Basic one-time fee at $20, Premium one-time fee at $65, and Enterprise one-time fee at $150
3. Logaster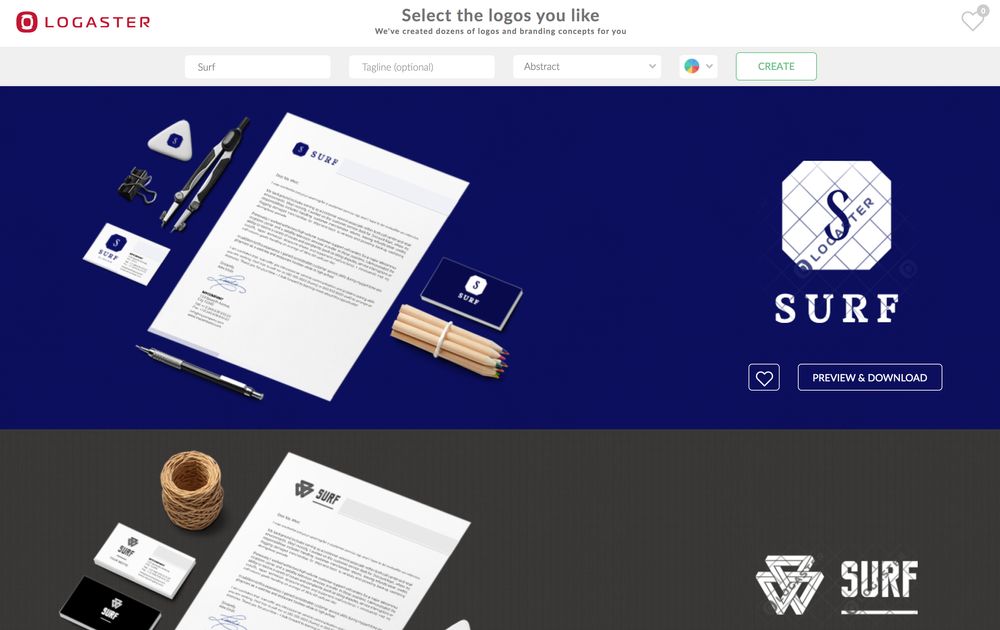 Built for startups and small businesses with a limited budget, Logaster boasts of a premium logo creator at an affordable price. You can get a professionally designed logo in low-resolution for free or grab the high-resolution version at $9.99.
Logaster also lets users download a small logo for free, excluding the watermarks. This is excellent if startups and small businesses would want to test and preview the logo they're aiming for, without the cost.
Pricing: Raster logo on a white background at $5.99 or Full logo package at $14.99
4. Tailor Brands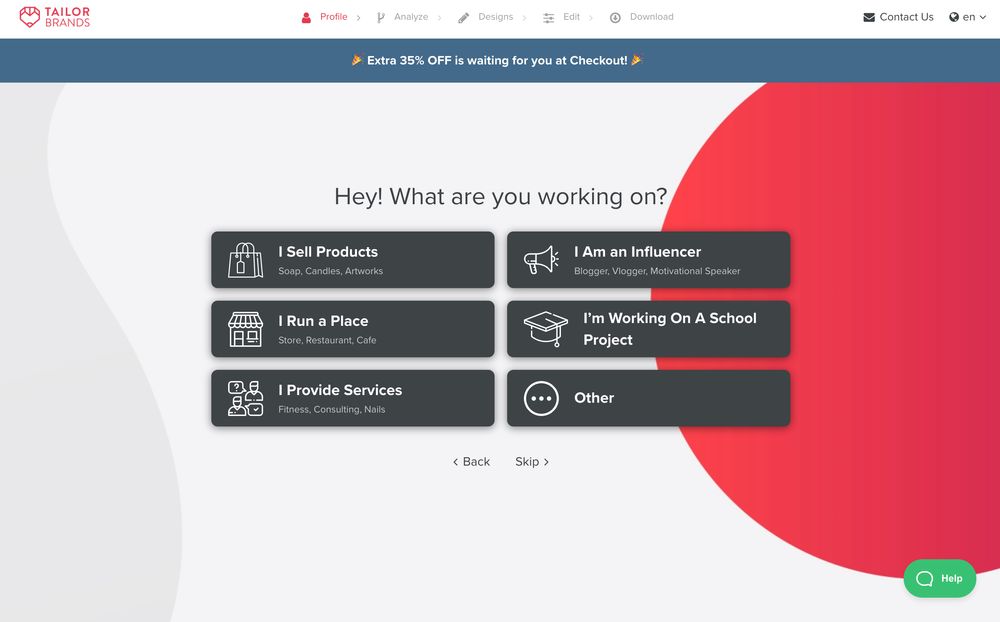 If you're running a business with formal branding, then Tailor Brands is the best logo maker for you. It takes pride in creating the most elegant logos in any industry. Moreover, the tool helps users figure out the most suitable style for their brand.
By entering the business's name and a few descriptions about it, the tool generates a few logo options. Users can also choose a particular logo type such as wordmarks, lettermarks, pictorial marks, and more.
Tailor Brands is one of the best logo makers because subscribing to the platform is like having an entire design studio in your hands. For one, it provides you with 21 resize versions for social profiles. Plus, you can store all your designs in a central location for easier management.
Pricing: Basic at $4 monthly, Standard at $6 monthly, and Premium at $13 monthly
5. GraphicSprings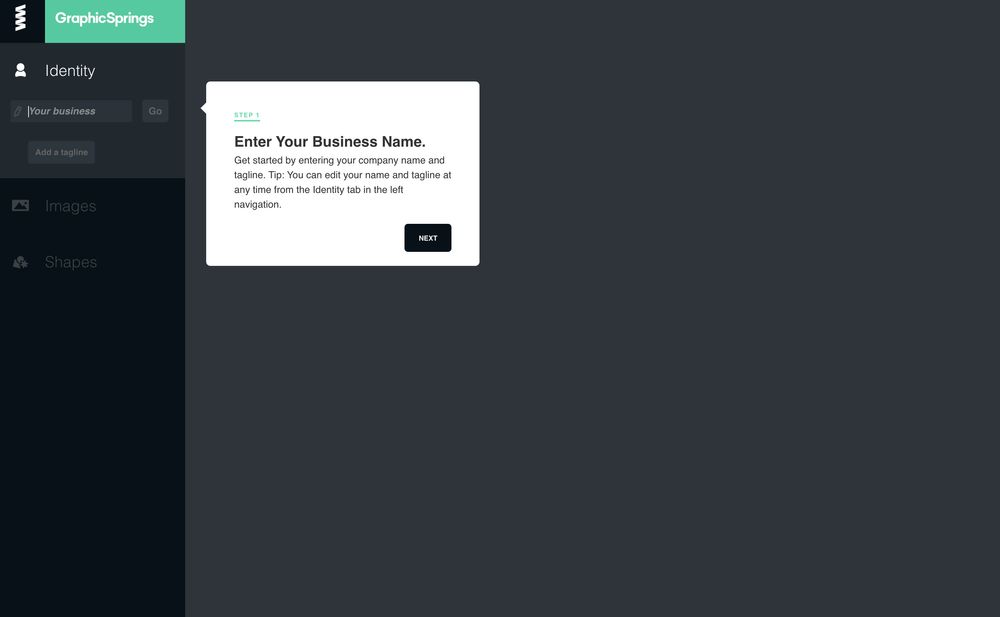 Using GraphicSprings' interface might look familiar to some who have created a website before. The logo creator's layout is similar to a page builder. For instance, the features are located on the left sidebar. Moreover, GraphicSprings also lets you select any logo form or shape, edit graphics, text, and more.
Everything you do on the GraphicSprings platform is made through a simple click-and-drag feature that anyone can use. The company's support is also top-notch. You get friendly branding support that can guide you in creating the perfect logo. Or you may also delegate the logo creation to their team of logo and brand designers.
Pricing: Unlimited and unrestricted access at $19.99
6. Squarespace Logo Maker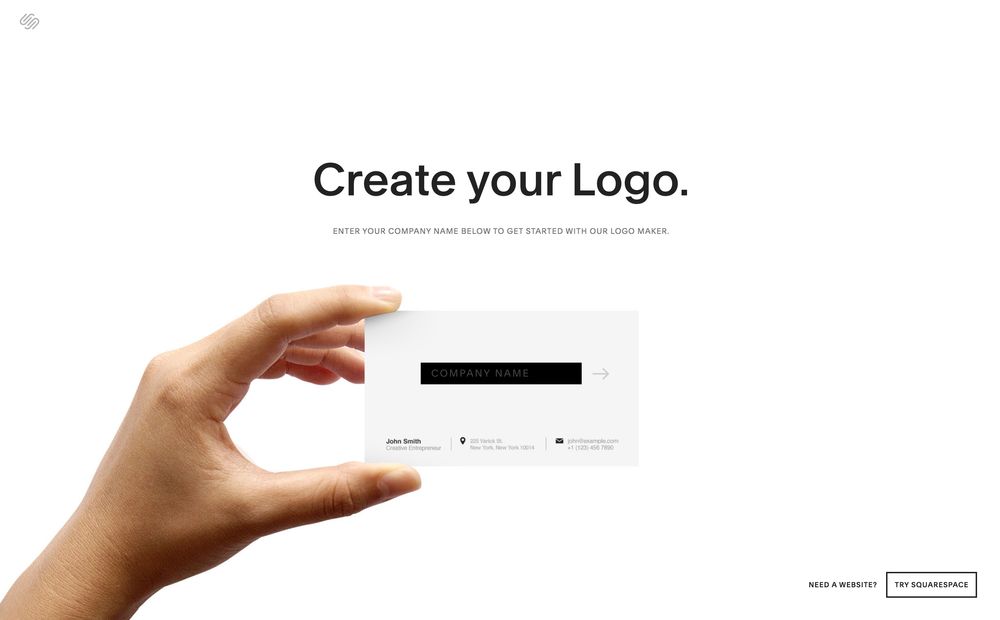 If you want a hassle-free logo maker that doesn't require you to create an account, use Squarespace. Users looking to create a simple yet professional logo from scratch can take advantage of their seamless logo creator.
Although downloading high-resolution logos is free, the icons will be limited according to Noun Project's restrictions. Noun Project owns all icons from Squarespace Logo Maker. That said, you'd have to check the licensing details of the icons you choose.
Pricing: Non-customers pay $10. Otherwise, it's free.
7. Shopify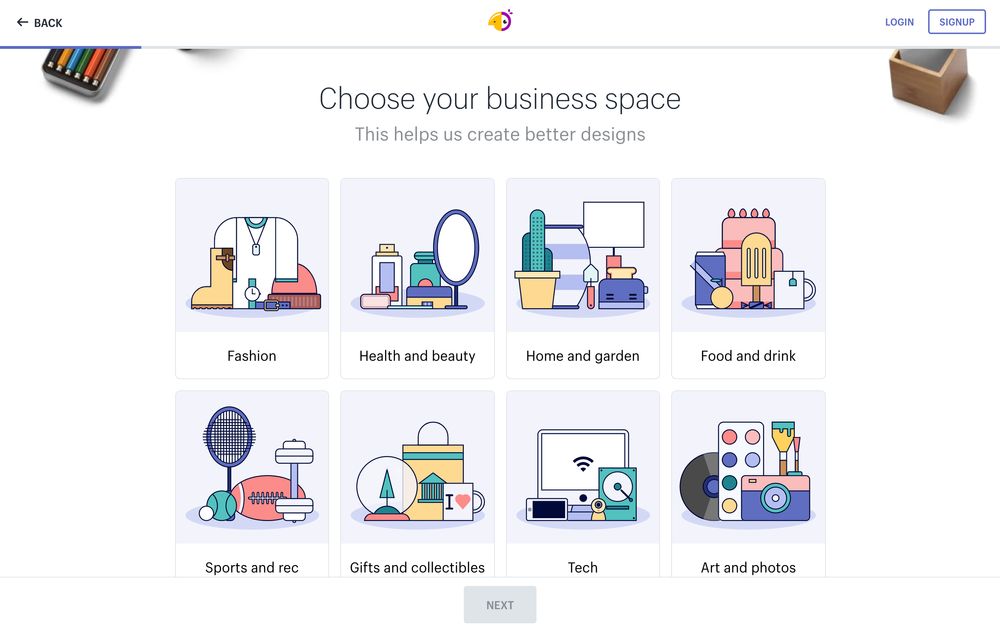 Trusted by over 140,000 business owners, Shopify is also another excellent logo maker for your business. The company claims you can create a logo in a few seconds and clicks. Shopify can be your "personal graphic designer" as the tool is easy to use, with no experience required.
When using Shopify's logo generator, you can save time and money, choose from hundreds of templates, use fully-loaded branding packages, have a user-friendly design studio, have custom-designs that are industry-specific, and overall, build brand recognition.
Pricing: Pay $19.99 to save logo files
Related Post: Brand Style Guide Examples Every Startup Needs to See
8. BrandCrowd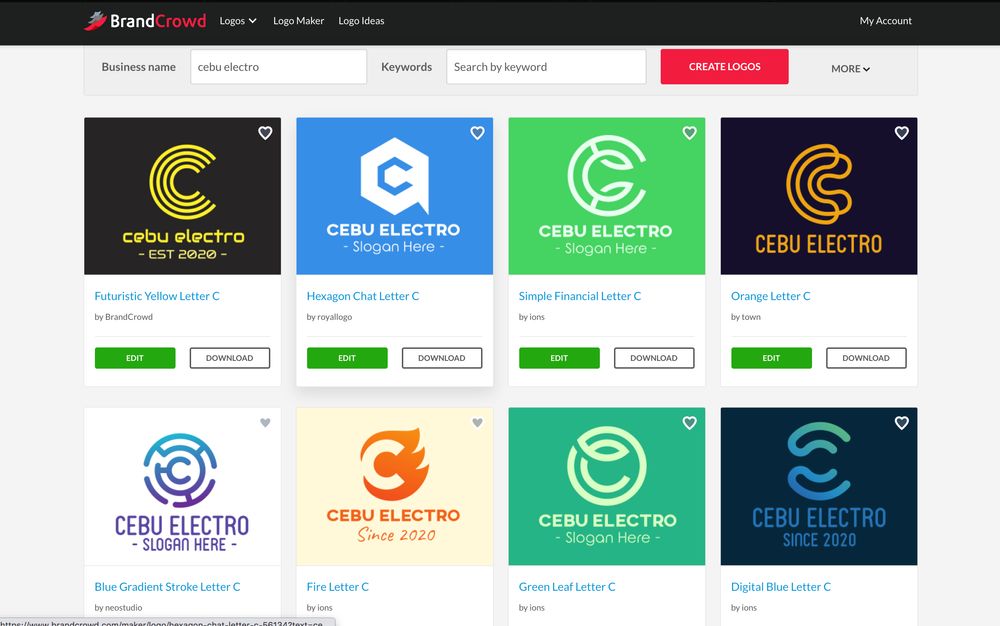 When choosing the best logo makers, ensure that the interface is straightforward. And BrandCrowd is one example of this. The logo creator has made over 22,000 premium logos all over the world.
It's so easy to use that the company claims to generate a logo in two minutes! The first step is to enter the business name. Then click on the preferred logo design from the many options on the results page. Customize your logo and download it.
Pricing: Premium Logo Pack at $15 monthly
9. DesignMantic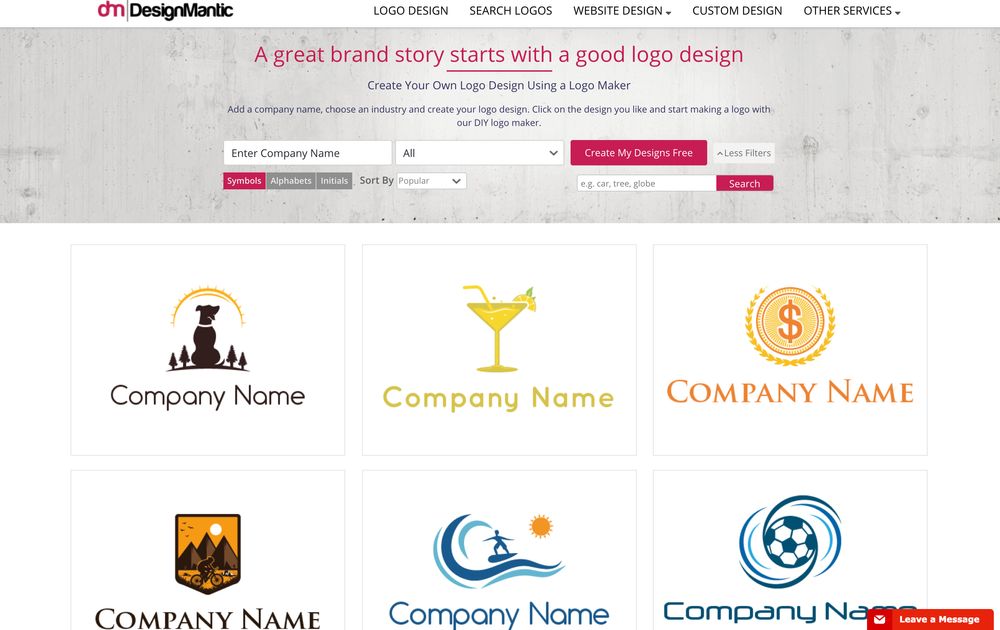 DesignMantic is a perfect choice if you want an easy-to-use and affordable logo creator. DesignMantic's tool takes a few steps to generate the logo suitable for your business. First, enter the company name into DesignMantic's logo creator. You will then be given a list of industries. Choose the industry your business belongs to. Click "Show My Designs," and you'll see different logo templates to choose from.
You can customize your logo by adding a tagline, shapes, text, or colors. DesignMantic also does branding, business card, t-shirt, letterhead, monogram, wedding card designs, and more.
Pricing: Quick DIY logo creator at $37. Custom logo from a designer at $47.
10. Logo Garden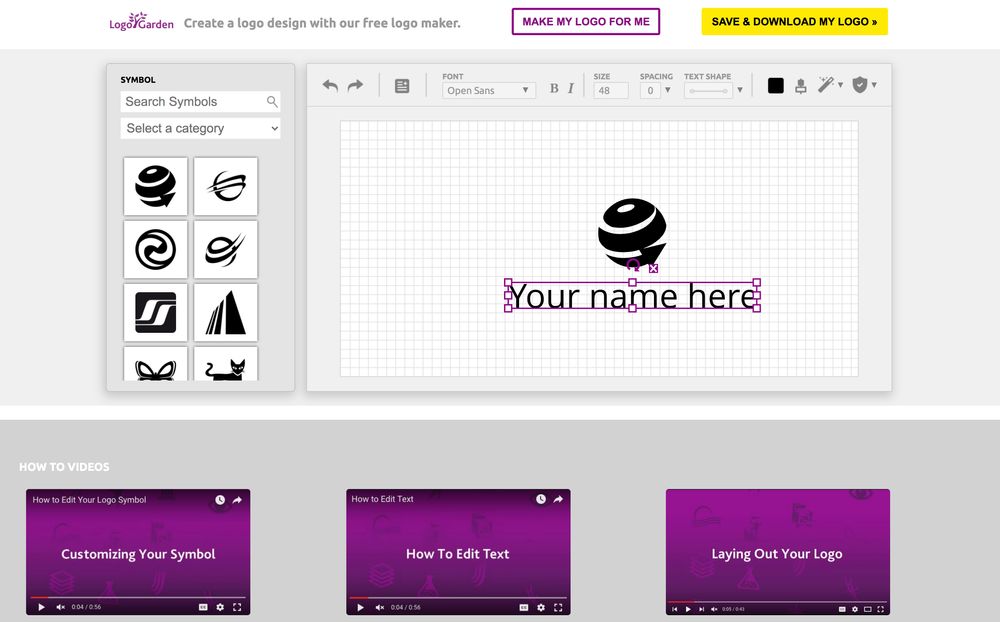 Launched in 2011, Logo Garden has created over 2.5 million logo designs worldwide. This tool is one of the most popular choices for best logo makers due to its seamless and cost-efficient factors.
You can browse through thousands of icons, fonts, and layouts. Plus, all logo designs are print-ready, allowing business owners to create their brand identity instantly. Don't have experience in logo design or design in general? Don't fret. Logo Garden includes design tips to guide you throughout the process.
Pricing: Quick DIY logo creator is free. Custom logo from a designer starts at $39.
11. Hipster Logo Generator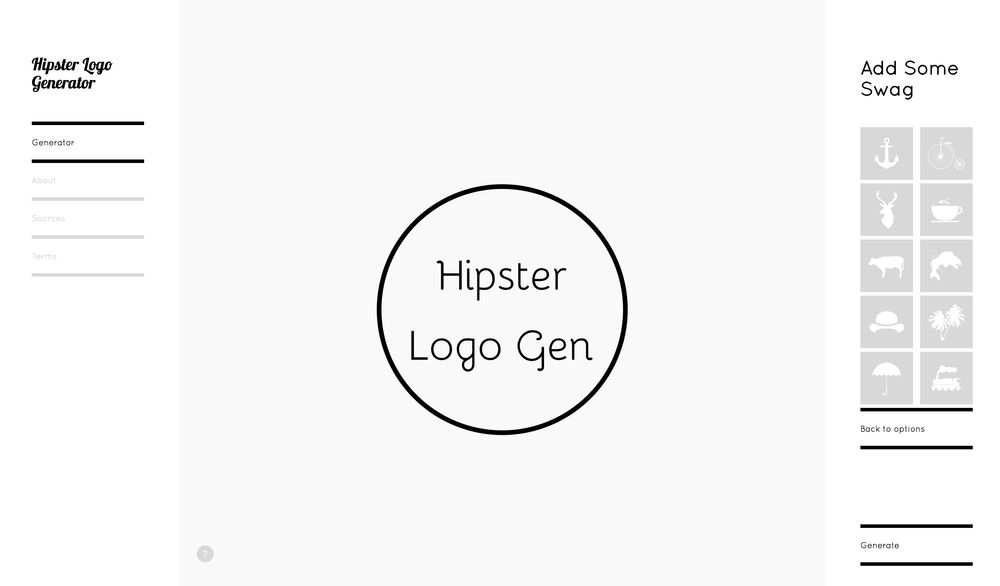 As the name suggests, Hipster Logo Generator is a perfect choice if you want a hip and stylish logo. Although the tool generates classic or modern logo designs too, Hipster Logo Generator has "hip" written all over its platform and outcome.
Even the instructions on their platform is built for the millennials and hipster business owners. Options such as "Lets personalize this shiz" and "Add some swag" will surely make logo creation fun and enjoyable.
Pricing: Pay $5 for a high-resolution file download
12. LogoMakr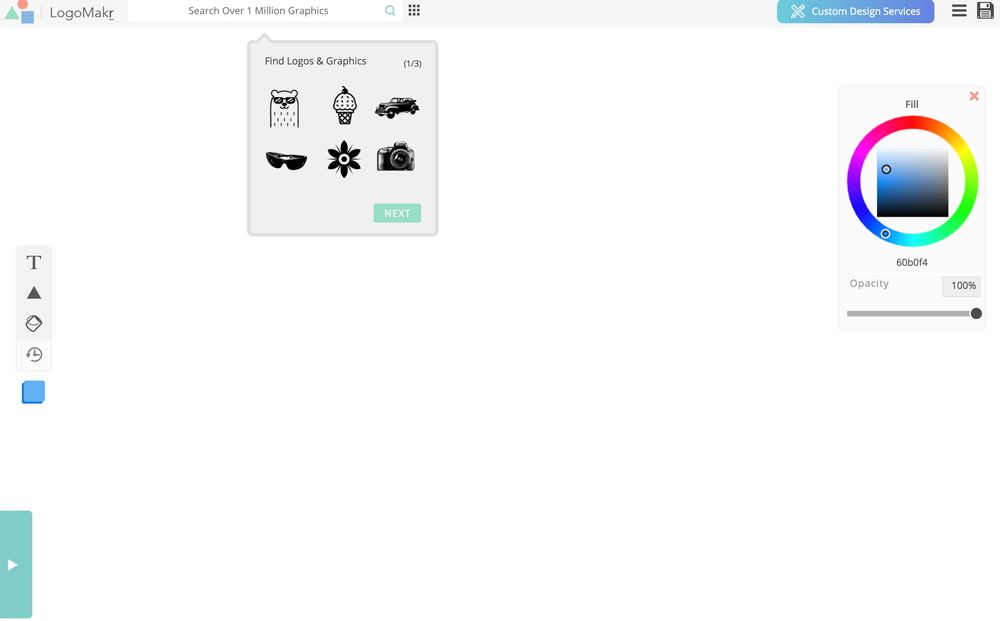 LogoMakr is another contender when it comes to seamless software for your company logo. It utilizes a simple drag-and-drop feature where you can drag your preferred shapes and text. After searching for shapes and icons on the search bar, drag your choices, and start editing.
You can edit the size, colors, font type, and more. LogoMakr also has a smart crop button that quickly crops your logo to give it a snug fit for every channel.
Pricing: Pay $19.99 for a high-quality version of your logo
13. Logo Genie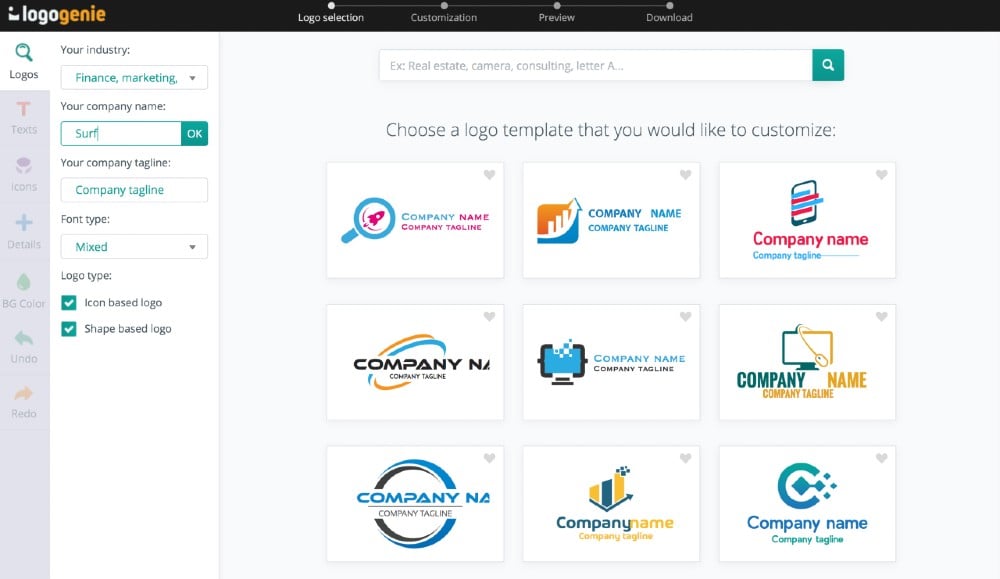 Logo Genie aims to help startups and small businesses establish their brand identity without breaking the bank. The tool lets users create cost-efficient logos without compromising quality. Three benefits of subscribing to Logo Genie are a fast and straightforward logo design pack, a simple design tool for every business' need, and reliable customer representatives ready to help you all the time.
Using the tool also lets you create a logo in three simple steps. Firstly, enter the company name and brand slogan, and choose the industry. Secondly, choose from hundreds of logo templates in the results page. Lastly, after customizing your logo's font, colors, and shape, preview and download if you're happy with it.
Other additional options of using Logo Genie are vector formats, social network formats, unlimited modifications, black and white formats, and personalized customer service. Finally, they also have an Exclusive option, where you can gain your logo's rights. Logo Genie will then remove all your logo designs from their website.
Pricing: Pricing depends on additional options with price range of $12 to $140
14. Ucraft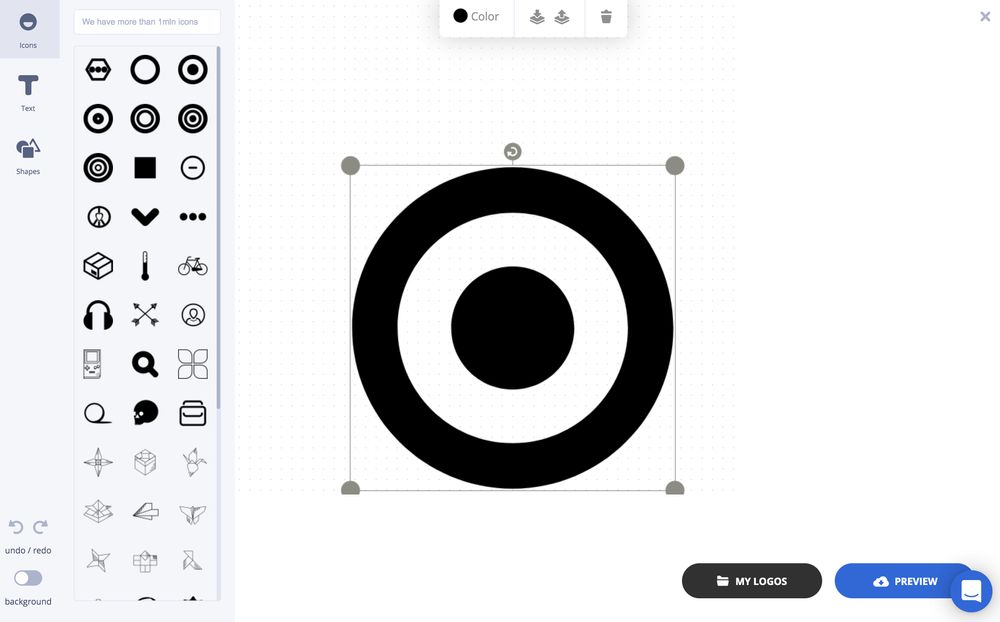 Ucraft deserves a spot on this "best logo makers" list due to its cool and professional logo designs. Users can enjoy over two million royalty-free vector icons. This ensures that the quality of your logo will not change wherever you upload or print it.
You can use the drag-and-drop feature from Ucraft, not only in their logo design tool but also in their web design platform. You may also export ready-to-use logo files and use them on your social media channels, website, or print collaterals.
If you're looking for a logo creator and web page builder in one, Ucraft is an excellent choice. Ucraft also provides a 14-day free trial with no credit card required to sign up.
Pricing: Free high-quality logo downloads
Related Post: Web Graphics: Why Your Website Will Fail Without Them
15. Looka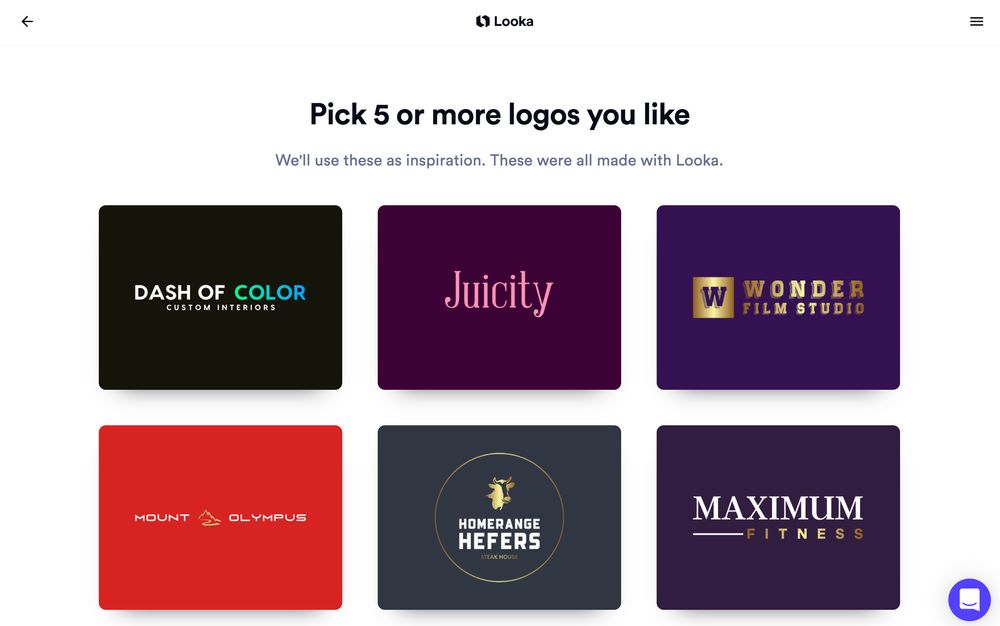 Looka has generated over 7,000 reviews on Trustpilot, and for a good reason. Its AI-generated logo designs will ensure that users get the most suitable logo fit for their branding.
Looka's logo maker is easy, fun to use, and it delivers high-quality vector files. You also get these benefits from using Looka: color variations, business card designs, social media templates, brand info, post-purchase changes, royalty-free logos, and lifetime logo support.
Pricing: Logo and brand kit at $4.99, $7.99, and $15.99 monthly or Logo only at $20, $65, and $80
16. Penji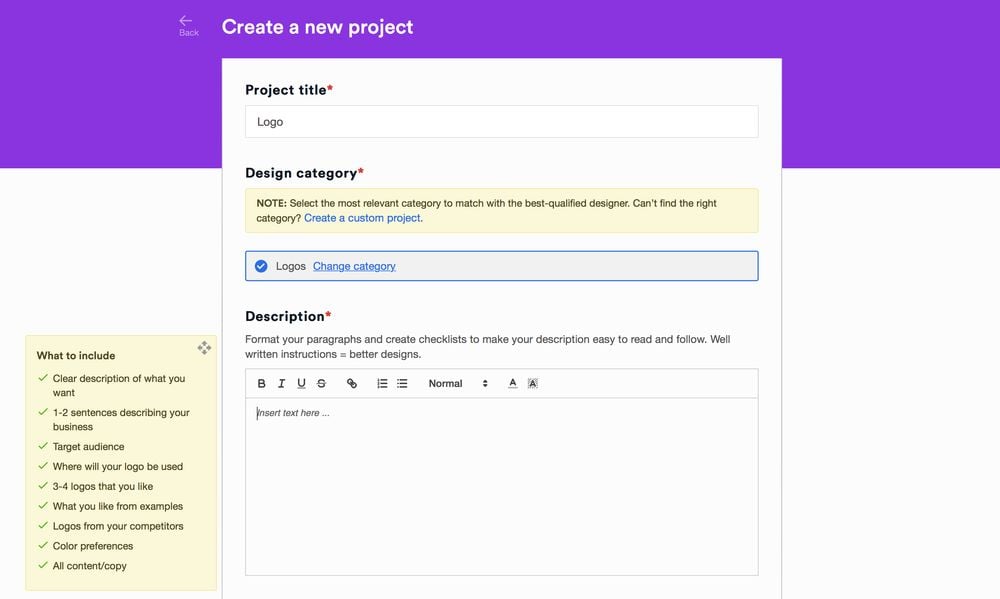 Considered one of the best logo makers by startups, small businesses, and agencies, Penji is an excellent choice if you want custom-made logo designs. While all the other logo makers on the list can be customizable depending on your color or font choices, Penji's designers customize the logos for you. This means you'll be working with real logo designers at a flat monthly rate. This ensures that the icons, templates, and designs you use are unique and professional.
Subscribing to Penji means you can request unlimited logo designs, graphic designs, web and app designs, and more. Like all the other logo creators, Penji also deploys a user-friendly design tool. On the platform, you can request logos, ask for revisions, and download files.
Pricing: Unlimited logos and graphic designs at $399 monthly
Conclusion
There you have it — the best logo makers that will establish your brand identity without costing an arm and a leg. If you're still unsure if you can DIY the logo design yourself, we suggest trying out Penji.
With Penji, you no longer have to check licensing details or use templates that other brands have used before. Every logo is unique and professionally made by its team of logo designers. Lastly, they offer a special promo code to make it worth your while. Use promo code LOGOMAKER to get 25% off your first month. Sign up now, and get unlimited design services or one-off designs.