When people need an answer online, they turn to Reddit. The front page of the internet has become a vital resource on everything from home repairs to business advice.
At Penji, we help marketing teams do more for less, and that includes social media marketing. That's why today, we'll be looking at Reddit's top tips and tricks for social media marketers.
11 social media marketing tips, courtesy of Reddit
They may not fit the stereotype, but plenty of successful marketers use Reddit. The semi-anonymous forum makes it easy for marketing gurus and beginners alike to share their tips and experiences.
R/SocialMediaMarketing is a great place to look for expert advice. These 11 tips were sourced from a few different subreddits, including r/DigitalMarketing, r/Entrepreneur, and r/Marketing.
What does r/ mean? Reddit is divided into forums called "subreddits," each of which touches on a specific topic. Each subreddit's URL is written as "reddit.com/r/____," so a specific forum is referred to as "r/_____." Usernames are often written as "u/____," rather than the @ symbol used for most social networks.
1) Post every day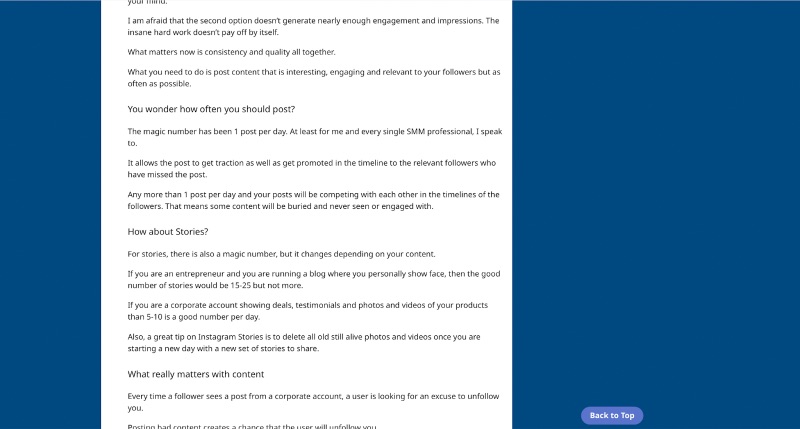 If you want to build a consistent following on a social platform, you need to be a consistent presence. As Redditor u/KlimYadrintsev noted in his social media marketing guide, the oft-cited "magic number" is 1 post per day.
If you want to establish a presence on Stories (Instagram, Facebook, Snapchat, etc.), they recommend posting 5-10 stories per day for a brand and 15-20 per day for an influencer.
2) Post a variety of content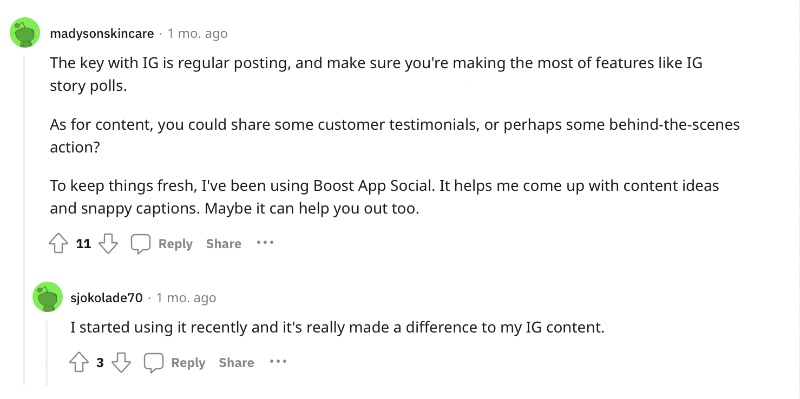 When Reddit user u/CertainAd1731 needed help with their social media strategy, u/madysonskincare came to the rescue. They recommended making use of Instagram's various features like story polls, and creating unique content like behind-the-scenes videos and testimonials.
Making different types of posts is a great way to get more followers. Some people might find your how-to posts useful, but others will be interested in behind the scenes insight, and others in humorous memes. See what type of content gets you the most engagement.
Social media graphics tailored for your brand
Boost your social media output with custom graphics from Penji, delivered in just 1-2 days.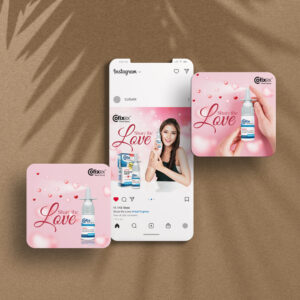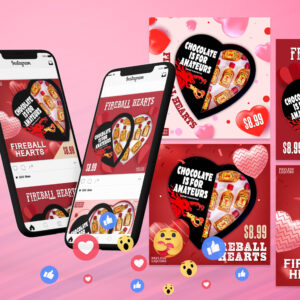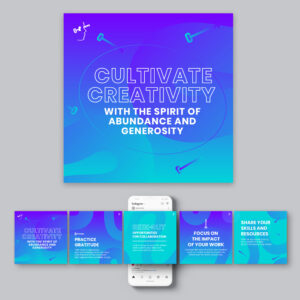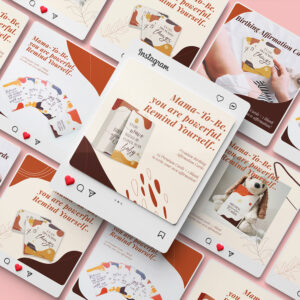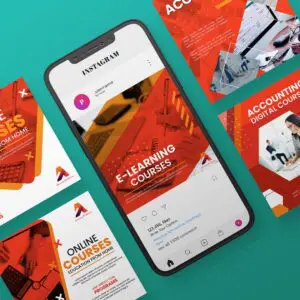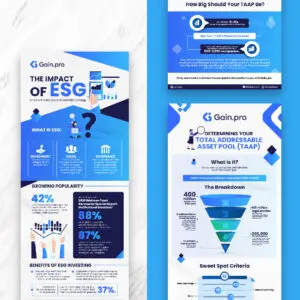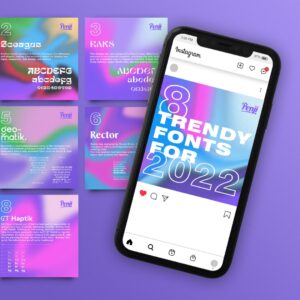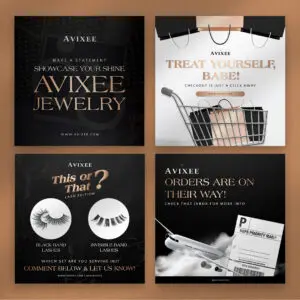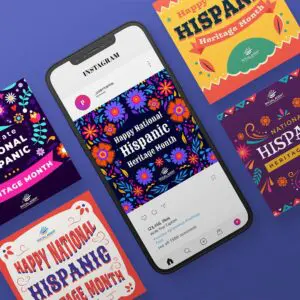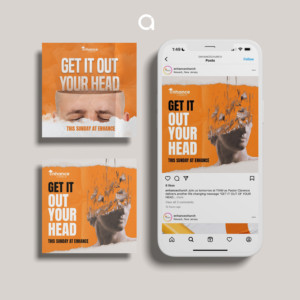 3) Give your customers what they want—not just ads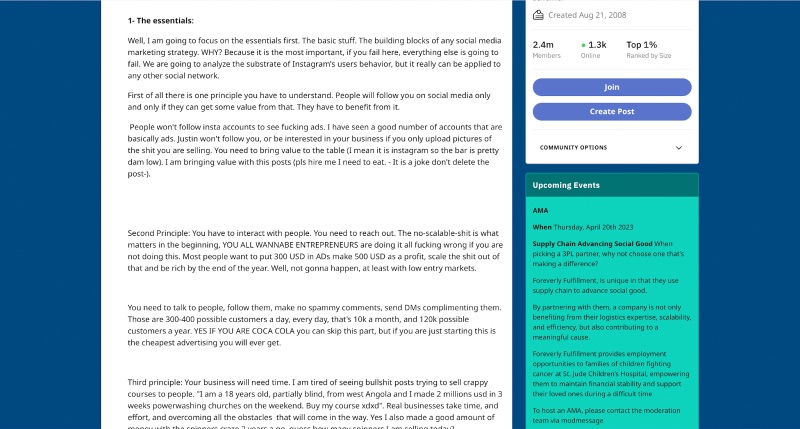 It's a basic principle, but one that's easy to forget when you immerse yourself in marketing: no one wants to see ads. A deleted user in r/Entrepreneur made this clear in their no-fluff social media marketing guide. People simply don't follow an account to see more marketing.
What they do follow an account for is useful content. Stuff that they can learn from, laugh at, or that they enjoy watching. What sort of content is most popular with your audience. Do they like informative blogs on Medium, or ASMR videos on TikTok?
4) Create an organized content plan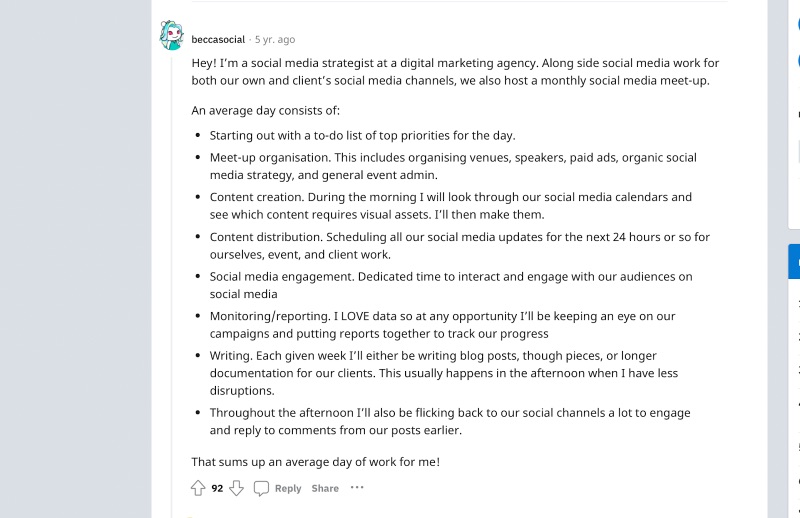 U/designer_by_day asked social media marketers a classic question in 2018: What does your average day look like? The response made one thing clear: insight-driven content planning is an absolute must.
You can find the planning strategy that works best for you, but we recommend starting big and continuing down. First, draw up your overall content strategy, based on your goals and research into what will help you achieve them. Then, plan your months, weeks, and days based around this strategy.
5) Be sure social media is the right strategy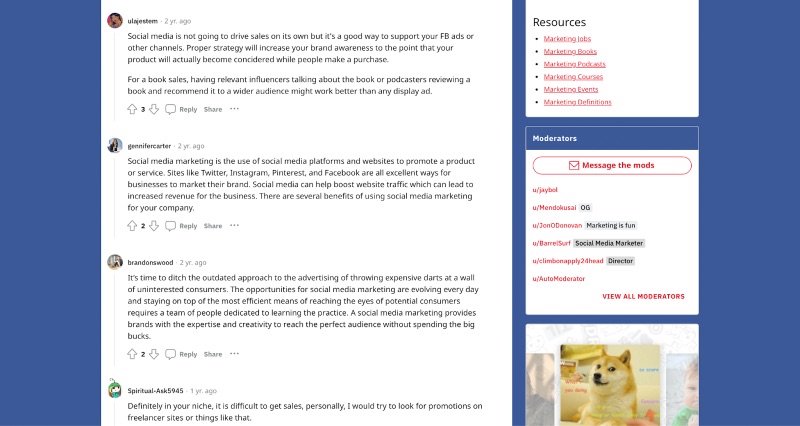 Pretty much every business owner and marketing team nowadays is investing in social media marketing. But the truth is, it's not a one-size-fits-all solution for every brand. U/Berabouman asked about how effective social media marketing would really be for improving their personal brand as a writer, and got surprising responses.
Like any ad medium, social media has its pros and cons. It's good for building a following, but it doesn't drive that many sales on its own. If you're an author promoting your book, for instance, having a following on Twitter (er, X) might help, but influencer marketing and traditional publicity could be more effective.
6) Engage with people directly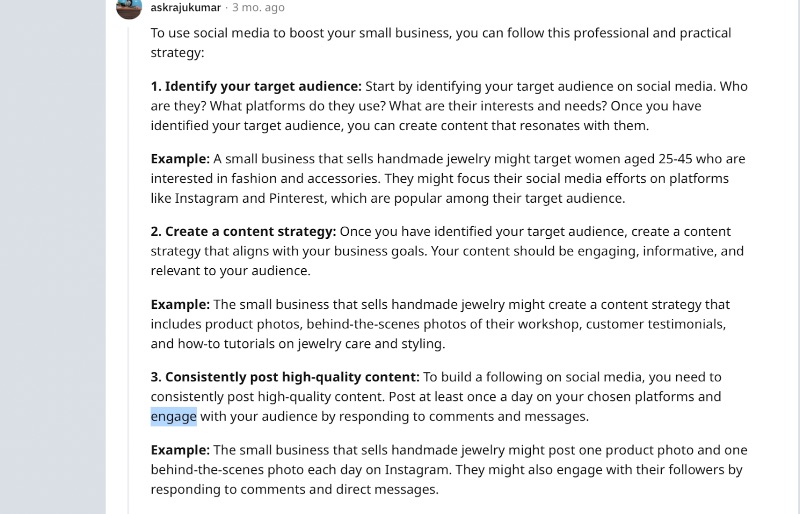 U/askrajukumar had a wide range of tips on how to use social media to promote your small business, but one stands out across the whole Reddit marketing world: direct engagement. If someone comments on your post, it means they want to interact with your brand. If you consistently respond to comments and DMs, they're much more likely to remain a follower.
Instagram has features like polls and questions to encourage direct engagement from your audience. When followers use these—and see themselves spotlighted—it increases the value they associate with your brand. Direct engagement is also a great strategy for less marketing-centric platforms, including Reddit itself.
7) Be human, not corporate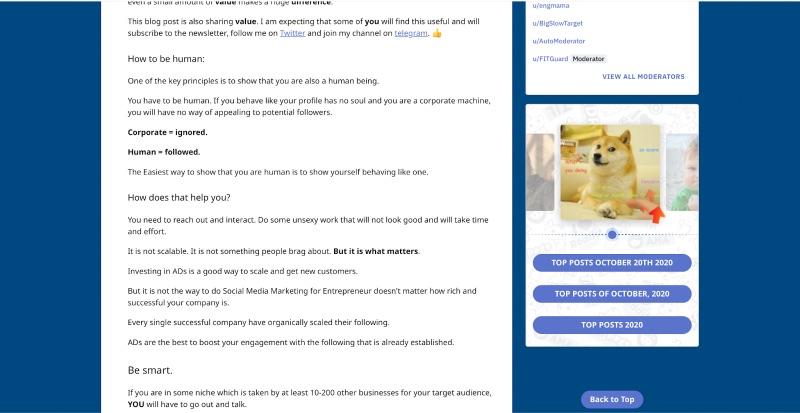 Direct engagement is definitely helpful, but it can also backfire. How? As u/KlimYadrintsev points out, just like people don't want to see ads, they don't want to waste their time talking to a faceless corporation. Whether you're writing your posts or responding to comments, you want to make sure that it sounds like a person is speaking.
How do you do that? Well, that's the tricky part. A skilled writer can come off conversational while still hitting marketing goals. But if you're just starting out, keep in mind that it's you talking. The person on the other end might not know who you are, but they know you're a person, and they don't want to feel like you're playing a character.
8) Always be learning

When u/wingardiumleviosa83 asked r/SocialMedia for advice on starting a social media marketing agency, they got a resounding answer: don't. Or rather, make sure you know your stuff first.
If you browse the various social media and marketing subreddits out there, you'll quickly find that people are always talking about courses they took, books they read, podcasts they listened to, etc. If you're starting with limited knowledge, don't jump into the deep end. Immerse yourself in the ins and outs of marketing.
9) Adapt to industry changes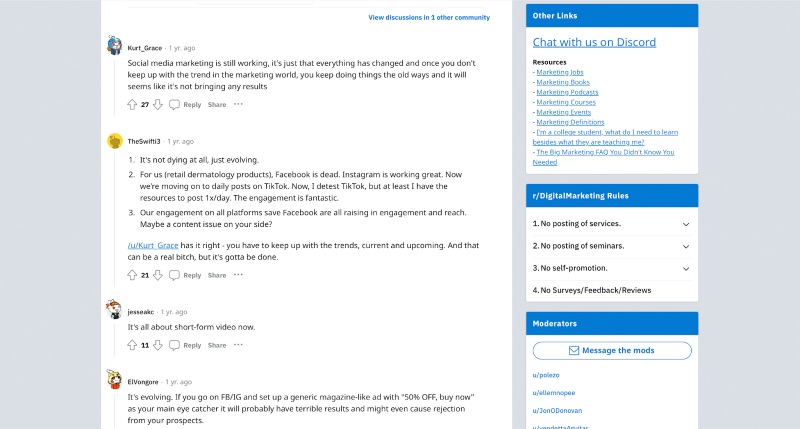 From Twitter's rebrand to its new competitors, big changes are coming to the social media sphere. Does that mean it's not as reliable as it was ten years ago? Yes and no, as commenters pointed out on u/TheDigitalBeast's post, "Is Social Media Marketing dying??"
Apps are changing. Algorithms are changing. The ways people use social networks are changing. And yes, it's fair to say that social media is no longer in a growth phase. But a strong social media marketer's job is to stay abreast of these changes. Keep up with new platforms and identify problems early.
10) Increase your reach with video

Why does video get more reach than text and images on social media? It's a long story. Social networks started introducing video features in the mid-'10s. They quickly started pushing them because, among other things, they encouraged people to spend more time on the sites, and their engagement is easier to track.
After the viral success of TikTok, platforms like Instagram and YouTube went all in to replicate it. Posting on Instagram Reels or YouTube Shorts can get you huge organic reach thanks to those platforms' desire to compete with TikTok. But be prepared to change your strategy over time.
11) Let the pros handle it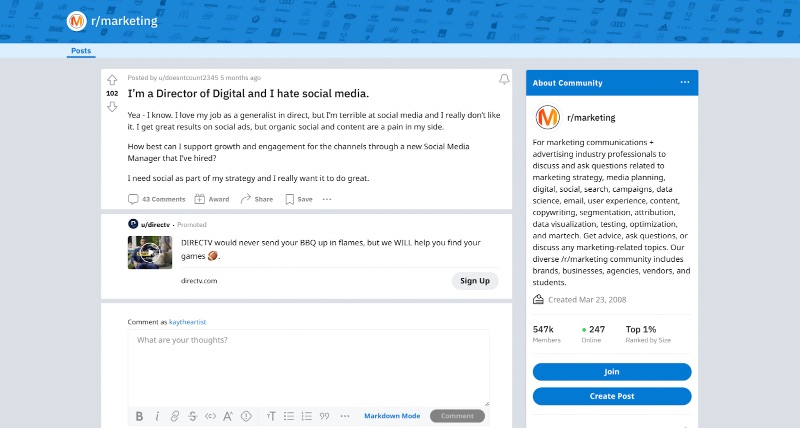 If you're a business owner, you've probably been told that you need social media. But even with these helpful tips from Reddit, getting started can be much harder than it looks. That's where marketing professionals come in.
If you can afford to hire a pro, don't do it yourself. And if you can't afford a full-time team, there are other options out there, like working with freelancers, contracting an agency, or signing up for a creative subscription service like Penji.
Penji is a must for social media marketing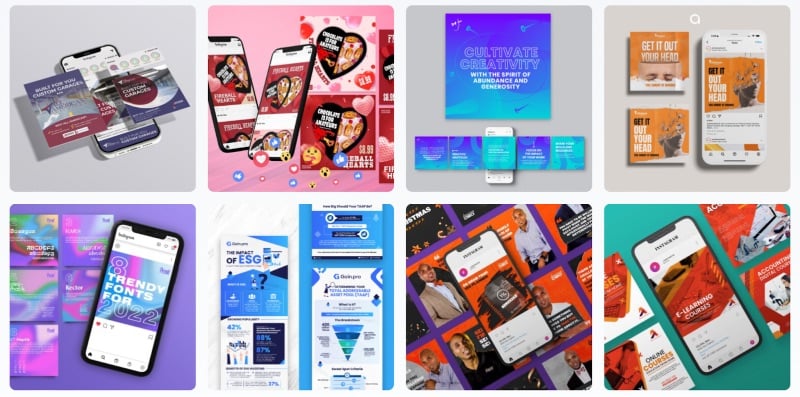 Reddit makes it clear: good social media marketing requires constant attention. Clear goals, daily output, and an ever-shifting strategy are needed to stay ahead.
How can Penji help with your social media marketing strategy? We keep up with the latest design trends, so you don't have to. Get a fresh logo design, header, and daily content for your social media needs, all for one monthly price. 1-2 day turnaround ensures that you meet even the tightest deadlines.
Not sure if Penji is right for you? Try it out with our one-time design marketplace, or sign up for a demo to see how it works.