Social media has become more than just a place to connect and socialize. In today's fiercely competitive world, it is now an essential part of any successful marketing strategy. Social media has stepped up to the challenge and are now offering businesses effective ways for them to create positive experiences for their customers. However, managing multiple accounts and creating content for each can be a tedious task.
Here are social media marketing automation tools to help you take advantage of these platforms to the fullest:
1. Hootsuite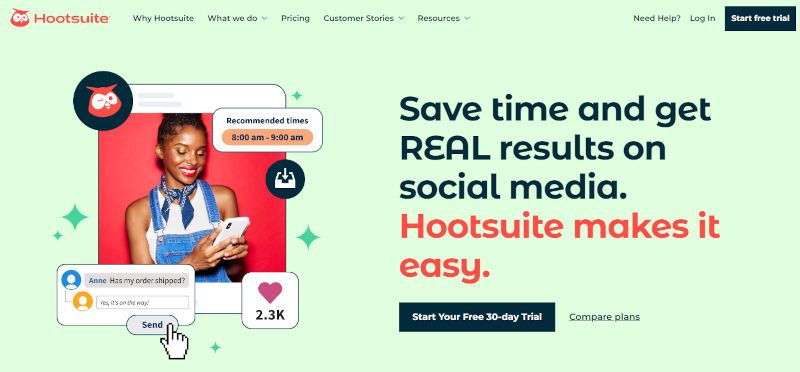 A popular name for many business owners and marketers, Hootsuite offers a wide array of tools to help streamline your social media strategy. With this social media automation tool, you can manage all your accounts from one central dashboard.
Hootsuite is ideal for medium and large-sized companies because of its higher-priced subscription plans. That said, it is feature-packed, letting you schedule posts, create content, collaborate with team members, and analyze campaign performance.
2. Sendible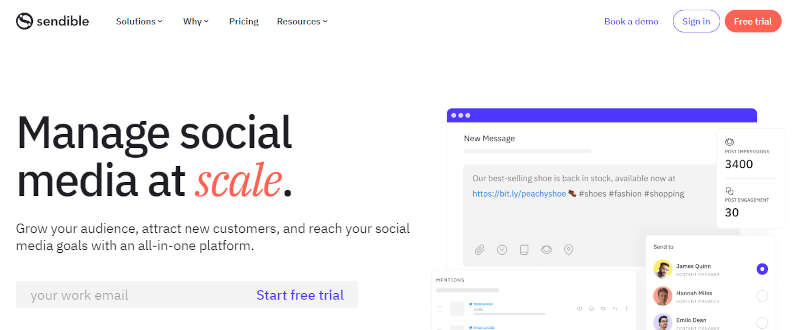 Known for its user-friendly interface, Sendible has advanced scheduling and automation features. It also has solid client management features that allow you to manage multiple workflows and accounts. It has an analytics dashboard that you can fully customize to display the metrics that matter most to you.
What makes it different from Hootsuite is that you can integrate it with Canva, a popular graphic design tool. This enables you to create and edit graphics directly from the platform.
3. SocialPilot

Another powerful social media marketing automation tool, SocialPilot, has several unique features that set it apart from the others. First is its white-labeling feature. This lets you customize the platform's branding and user interface with your own branding and logos.
It has a "client connect" feature that allows for collaboration with your clients on your social media campaigns. It also has bulk scheduling to help you schedule hundreds of social media posts all at once.
4. Buzzsumo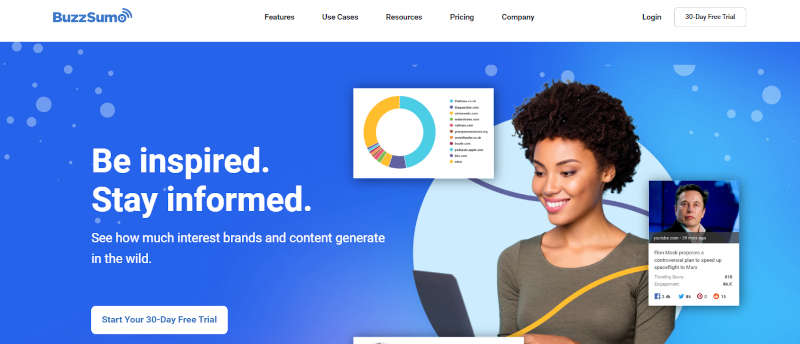 A content marketing tool, Buzzsumo allows businesses to analyze content performance, identify trending topics, and find influencers in the industry. Its main features include content analysis, influencer outreach, competitor analysis, and content alerts, among many others.
With Buzzsumo, you can analyze your content's performance and that of your competitors. This lets you identify the gaps and see opportunities you missed the first time. As content is its primary focus, expect to create engaging content, determine growth opportunities, and build relationships with influencers.
5. Sprout Social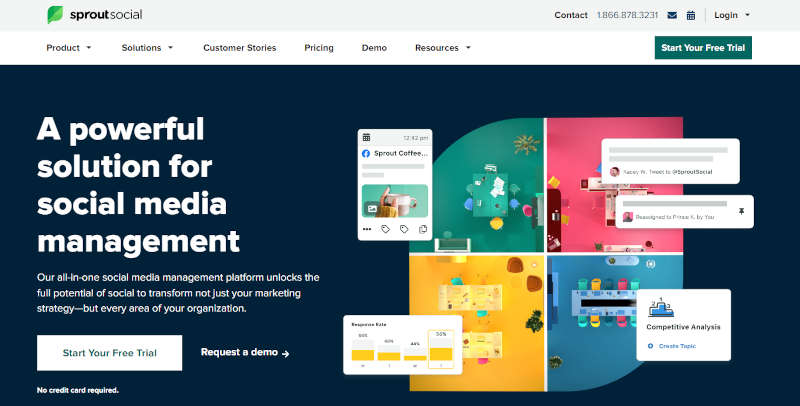 A social media management and optimization tool, Sprout Social is another great option. It provides businesses with unique features for social media publishing, engagement, analytics, and team collaboration. It has an advanced reporting feature to give you analytics that can help you track key metrics.
Sprout Social has an effective workflow management tool that lets you manage workflows and delegate tasks to your team members. Its paid social feature allows you to manage and optimize your paid social media campaigns across a wide array of channels.
6. ContentStudio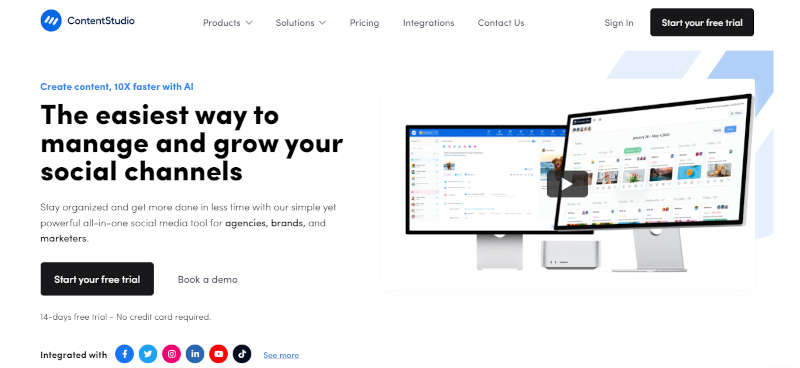 From content discovery to curation, ContentStudio has got your back. Some of its key features include multichannel publishing, content curation, automation, and collaboration. These allow businesses to streamline their content marketing efforts, save time on content creation, and create engaging and effective social media campaigns.
ContentStudio's social media content calendar lets you view, edit, accept, and reject posts easily and quickly. Thanks to its collaboration features, it minimizes the chances of sending erroneous content.
7. Zoho Social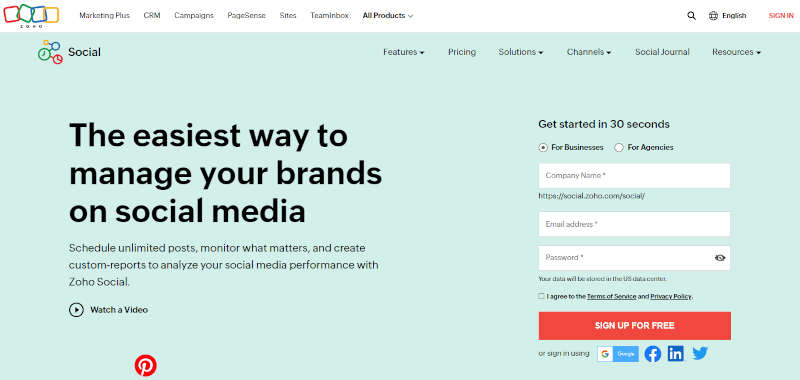 A comprehensive social media marketing automation tool, Zoho Special has a focus on scheduling, monitoring, analytics, collaboration, and CRM integration. Its features allow you to track social media engagement with your customers and prospects. This enables you to respond to inquiries, comments, and even negative feedback for damage control.
What makes Zoho Social is its brand sentiment analysis which lets businesses monitor brand sentiment and track how social media perceives their brands.
8. Agorapulse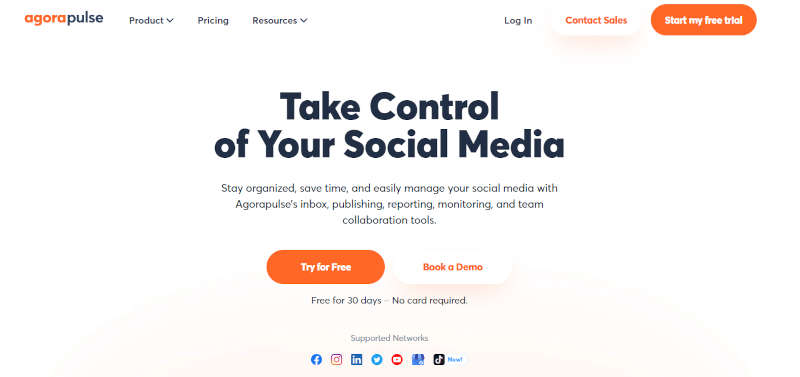 A social media management software, Agorapulse focuses on audience engagement, client management, and social listening. It offers the same features as the others on this list, such as social media scheduling, analytics, monitoring, and team collaboration. However, it has features that set it apart from the others.
Agorapulse offers a social media inbox that provides a centralized place that contains all your social media messages, comments, and mentions. This makes it easy for you to reply to inquiries and engage with your audience.
9. Buffer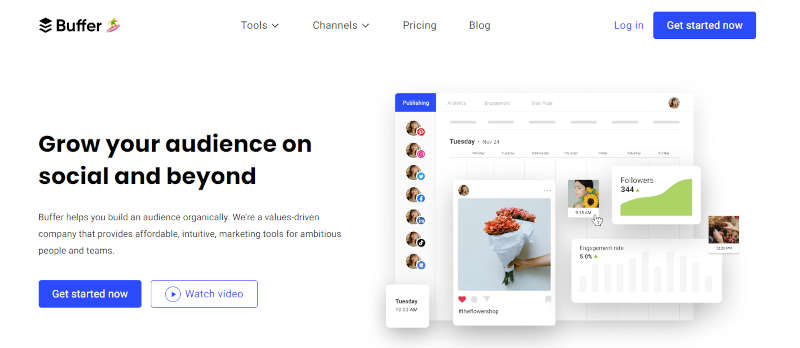 A marketer's favorite, Buffer is the social media marketing automation tool known for its intuitive and user-friendly interface. It has a focus on publishing, which lets you create and publish content without being slowed down by the monitoring and analysis of the activities connected with it.
Buffer offers flexibility like no other. It allows you to customize your social media publishing schedule on multiple platforms. It also integrates with various marketing and social media tools such as Canva, Feedly, and Pablo. Finally, it also boasts superb customer service that can help you answer any questions or issues you may encounter.
10. CoSchedule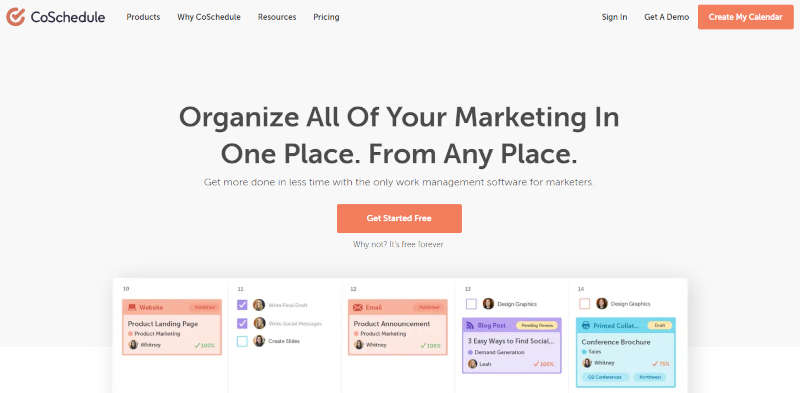 A social media automation tool, CoSchedule has features you need when scheduling your social media posts, publishing content, analyzing data, collaborating with your team, and managing your projects. One of its key features is its marketing calendar which allows you to plan and organize your social media campaigns in one location.
CoSchedule has its ReQueue feature that automatically fills in your social media schedule gaps with pre-approved evergreen content. This keeps your social media accounts always active, even in slow seasons.
Final Thoughts
Growing your business with social media has become more accessible and straightforward than ever. Thanks to social media marketing automation tools, running a campaign no longer requires much of your time and energy. The tools listed above offer different features and benefits that can help your business move toward success.
To make your social media campaigns even better, work with us at Penji. Our unlimited graphic design business model lets you get all the visual assets you need at an affordable price. You can watch our demo video to learn more about what we do. Click on this link to get our talented designers working for you.