Social media allows digital marketers to connect and engage with potential customers. With that said, you need to create appealing content, build communities, and analyze your data to maximize its benefits. Fortunately, automation tools can ease the daunting task of managing your social networks. Buffer is one of those tools, but you can also explore other similar platforms. Check out our top picks for Buffer alternatives.
What does the Buffer software do?
Buffer is a comprehensive social media marketing software that offers scheduling, reporting, and monitoring of social media posts. Buffer is divided into three sets of features:
Publishing is the core functionality of Buffer. This feature allows you to draft and schedule posts for sharing posts on different platforms, including Facebook, Instagram, Twitter, Pinterest, and LinkedIn.
Analytics is where you can see how your social media posts are performing. This feature allows you to analyze reports of each platform or give an overall insight from all your social media accounts.
Engagement is Buffer's business Instagram monitoring and engagement tool. They are specifically designed for large agencies to monitor conversations about their brand on Instagram.
Why consider a Buffer alternative?
The Buffer software is undeniably a prominent tool for social media management. While it offers free for limited functionalities, it might be expensive for small businesses to access more analytics capabilities.
If you are looking at Buffer, you may also want to explore similar alternatives to get the best solution. Who knows, you'll be able to fill the gaps from one of these alternatives or competitors.
Things you should know about Buffer alternatives
To find the best product for your business, you should consider these three factors:
The number of social media accounts you can connect
The Buffer small business plan allows you to add 25 social media profiles. Other social media management software applications let you connect less, while some use more than 25. That said, it's better to look for tools to add multiple social media accounts. This is important if you're a big company and must manage numerous profiles for different projects or events.
Comprehensive analytics and reporting
Choose a software with in-depth analytics features to help you effectively monitor your marketing efforts. Ensure that the platform gives detailed reports on your activities across platforms. And it provides you with an overall image of your social media campaign's performance.
Value for money
If you look at Buffer's pricing plans, it offers separate packages to users who want to access the pro and premium analytics on top of its primary pricing levels. Choose a tool that provides robust, all-in-one solutions at a price that matches your budget.
Top 10 Buffer Alternatives
1. HubSpot Marketing Hub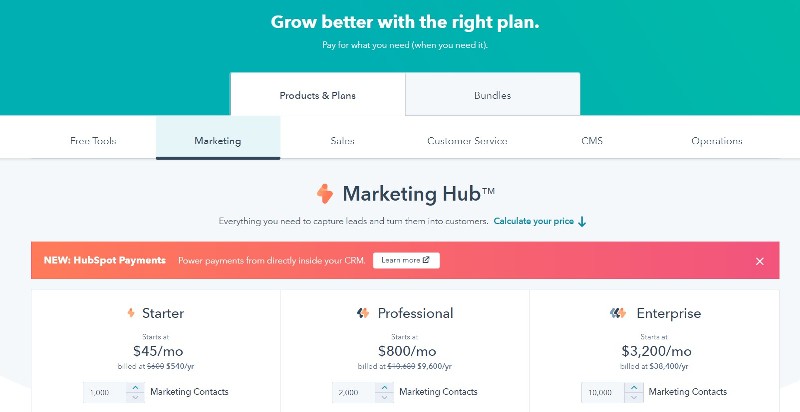 HubSpot Marketing Hub is a multi-purpose digital marketing solution offered as a cloud service. It combines customer relationship management (CRM), campaign automation, and email marketing into one powerful solution. With that, you'll save valuable time and get all the information you need that attracts and converts more visitors into customers.
HubSpot Marketing Hub provides free tools for generating new leads and measuring your success in terms of pricing. The recommended bundle is the starter plan at $45 per month. They also offer professional and enterprise plans at $800 per month and $3,200 per month.
2. Hootsuite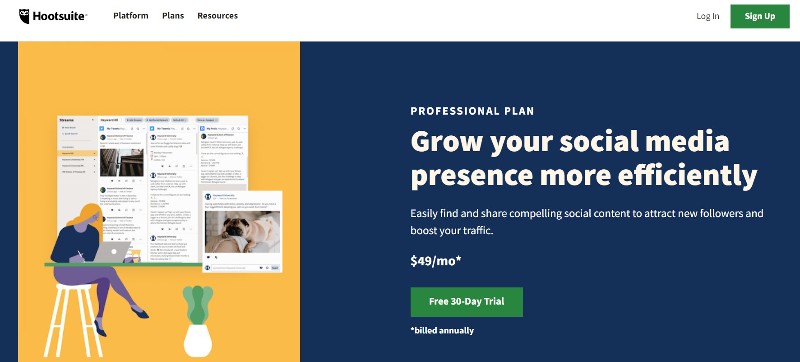 Hootsuite is a pioneer in social media management and is trusted by over 18 million users worldwide. With this software, you can schedule posts, engage in conversations, and monitor your performance all in one place. If your focus is on building customer relationships using social media platforms, Hootsuite may be a good choice.
Here are the core features of Hootsuite:
Connect with multiple social media platforms, including Facebook, Instagram, Youtube, LinkedIn, Twitter, Pinterest, and WordPress
Create, curate, and review content
Monitor and manage messages
Create and manage ads
Monitor conversation on essential topics
Measure and analyze social media performance
Hootsuite plans start at $49 billed annually for one user with ten social profiles, compared to Buffer's $10 for one profile.
3. SocialPilot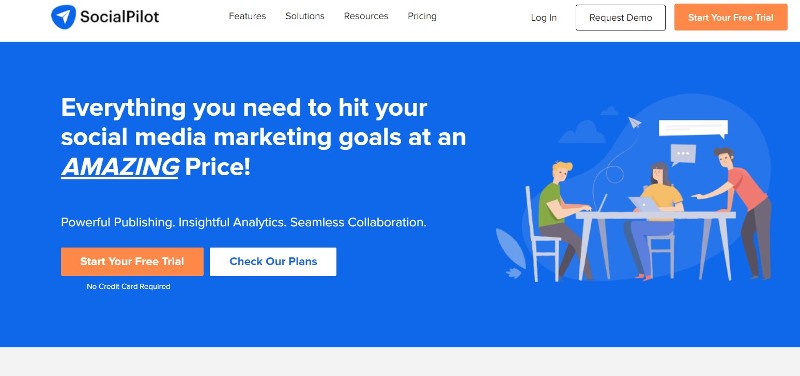 SocialPilot is designed especially for small businesses and agencies. This tool streamlines the social media management processes. SocialPilot offers scheduling and publishing of posts and in-depth analytics. Although there are a lot of similarities between SocialPilot and Buffer, the former covers a fantastic deal.
One, SocialPilot can connect to multiple social media platforms. And two, it can schedule up to 5,000 posts compared to Buffer's 2,000 posts. Apart from that, it provides extra features that Buffer doesn't, like allowing you to manage Facebook ads within the marketing tool itself. In short, SocialPilot is one of the best Buffer alternatives on this list.
SocialPilot offers $50 for 25 social media profiles recommended for small teams. Their pricing is lower than Buffer and other competitors.
4. Zoho Social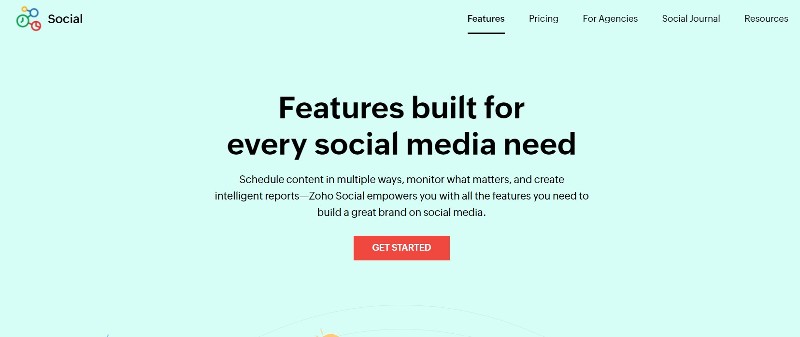 Schedule unlimited posts, manage social networks, follow conversations, and track performance from a single platform. Zoho Social is an inclusive social management tool designed and developed by Zoho.com for businesses and agencies.
The platform includes a Publishing Calendar, Bulk Scheduler, and Repeat Post. These features aim to empower users with all the social media publishing tools their businesses need.
Pricing starts at $10 per month for business and $230 per month for agencies, both billed annually. Zoho Social also offers a 15-day free trial.
5. Loomly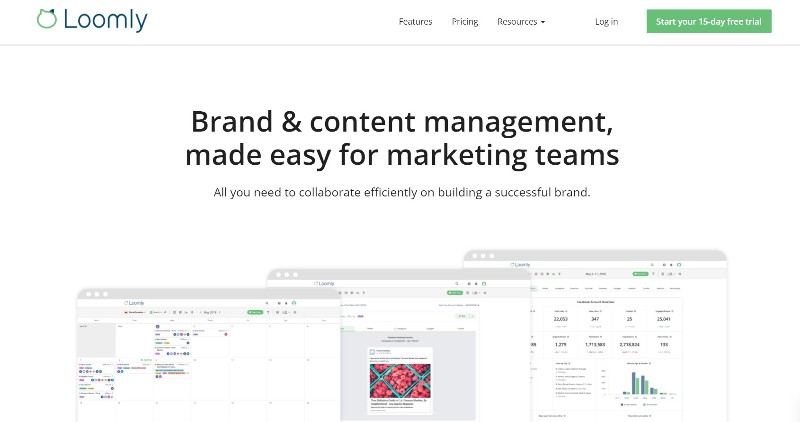 For ideas on optimizing content for your marketing strategy, Loomly is there to help. Here is what Loomly can do:
Manage your brand assets in a library
Fuel your storytelling by providing post ideas
Polish your content with post optimization tips
Monitor your brand messaging with post mock-ups and approval workflows
Reach your audience through post scheduling and targeting
Engage with your community
Measure your social media performance with advanced analytics
Loomly is available as a web platform with native mobile applications for both iOS & Android.
Loomly's price is $79 per month for up to six users, while its counterpart, Buffer is priced at $10 per month per social profile.
6. Sprout Social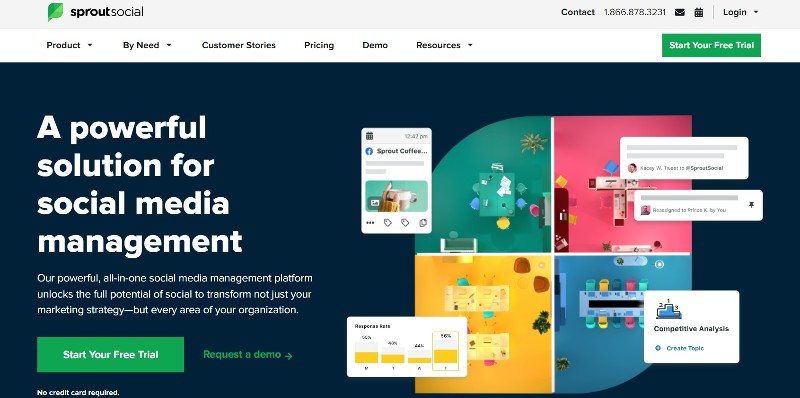 Sprout Social helps brands and agencies through publishing, engagement, analytics, and deep listening. The software also facilitates powerful CRM integrations to scale up its effectiveness.
Sprout Social's CRM function and listening add-ons can improve your marketing strategy through insights and conversations about your brand.
You can avail Sprout Social's services at $99 a month. You can upgrade to Professional and Advanced plans as your business grows, or you can cancel anytime. The platform also offers a 30-day trial, double the usual trial period automation brands provide.
7. Sendible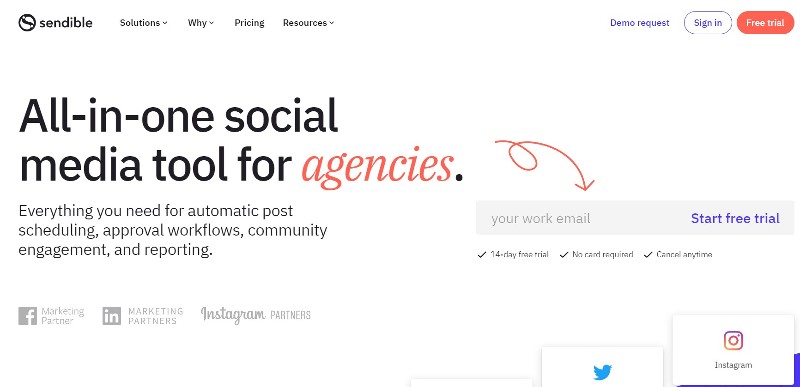 Sendible helps you intensify your brand's influence through genuine storytelling amidst overwhelming information available on social media. The tool was initially designed for agencies, but they also have subscription plans suitable for small businesses. Sendible's features extend beyond publishing content due to its CRM functionality. This unique feature allows users to send more personalized messages to their customers.
Sendible prices start at $29 for one user, which positions them slightly ahead of Buffer's starting plans. Similar to other tools in this compilation, Sendible allows a 14-day trial.
8. Agorapulse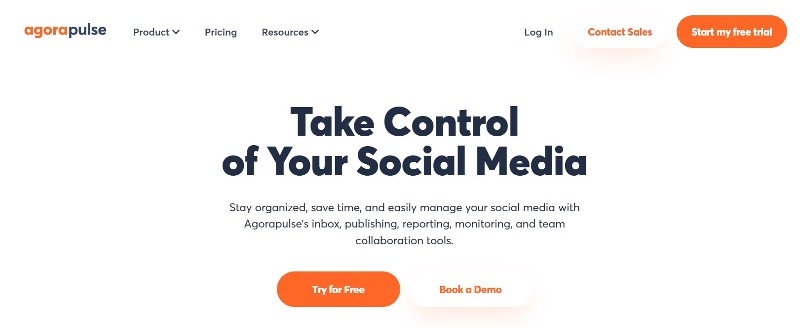 Agorapulse's inbox, publishing, monitoring, reporting, and team collaboration feature, allows you to stay organized and easily manage your social networks. Agorapulse supports Facebook, Instagram, Twitter, LinkedIn, and YouTube.
Social media management for small teams or the Pro account is $79 per month for the annual subscription. And the Premium account for agencies and growing teams is $159 per month. Agorapulse also offers a free 15-day trial.
9. Falcon.io
Falcon.io by Brandwatch is a platform for social media monitoring, publishing, analytics, engaging, and managing customer data. It allows brands to maximize the potential of digital marketing and advertising by managing multiple customer touchpoints on one platform. Falcon is powered by a highly intuitive and collaborative UI and is accompanied by comprehensive support and consultancy services.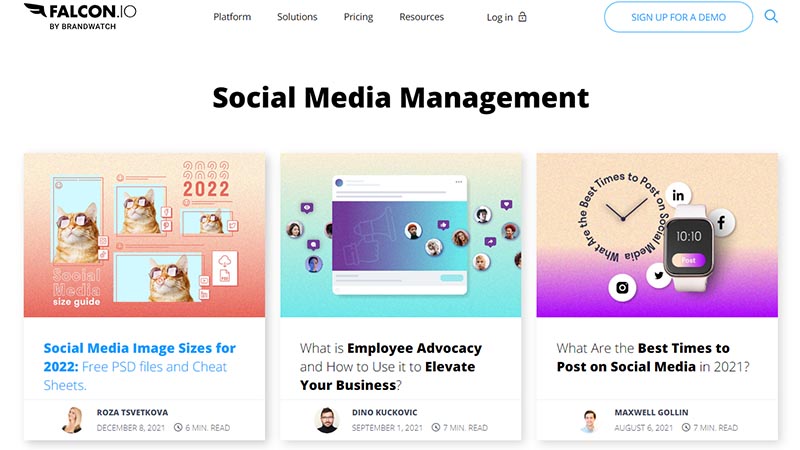 The price of Falcon Essentials starts at $108 per month, wherein you can connect up to five social media channels. If you want to test the platform's functionalities, you can sign up for the free 14-day trial.
10. Later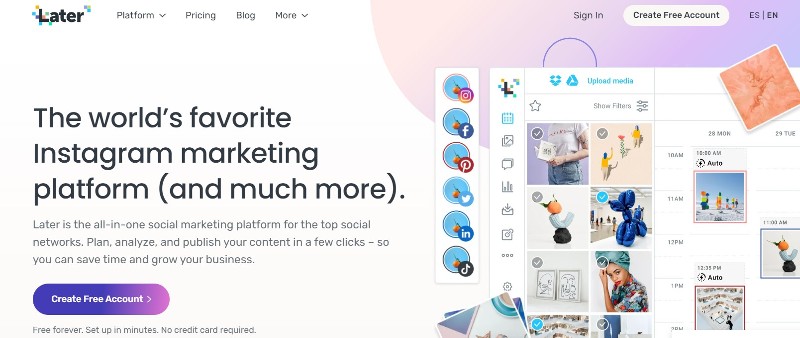 Later was initially an Instagram marketing tool and expanded its platform to include popular social media sites like Facebook, Pinterest, and Twitter. Their expertise focuses on:
Visual Instagram planning
Unlimited media
Instagram analytics
Hashtag suggestions
Instagram stories scheduling
This tool is ideal for those handling only one brand. But they also have other subscription plans to cater to the needs of more prominent companies. The price of Later starts at $12.50 per month for one user on an annual subscription.
Conclusion
The long list of Buffer alternatives we've provided will surely expand your options. It would help you discover the most efficient social management software for your business. Honestly, finding a suitable platform for your social media marketing efforts could take trial and error. That's why the right productivity tools you decide to use should support your entire implementation process. With this strategy, you'll be able to execute your social media marketing as seamlessly as possible.
Buffer is one of the most sought-after automation tools for this undertaking. However, other available platforms go beyond what Buffer provides at a more competitive price. So it's best to weigh each platform's pros and cons and select the best one for your business needs.