With the online advertising space being a fierce marketplace, it's hard for marketers to display online ads front and center. Many brands compete for the first three spots on search engine results pages (SERPs). And this is why online advertisers resort to search engine marketing for quick reach and effective campaigns. But what is search engine marketing or SEM? Why is it crucial in today's internet-driven commerce? And how can advertisers succeed in SEM? Read until the end to find out.
What is search engine marketing?
Search engine marketing, or SEM is also known as "paid advertising." It's a type of online advertising that relies on paid ads marketers create on platforms like Bing, or Google. The goal of SEM is for advertisers to make brands' websites rank in the top spots on SERPs.
Difference between SEM vs. SEO
Its counterpart, search engine optimization or SEO, is referred to as organic marketing. This means SEO is the non-paid version of SEM. SEO relies on keywords, on-page and off-page elements to get in the good graces of Google algorithms.
Search engine advertising once covered both paid and organic advertising. Today, all these buzzwords–paid search, paid ads, sponsored ads, or pay-per-click (PPC)–pertain to SEM. Increasing the brand website's visibility is crucial in SEM because it means you've won the bidding.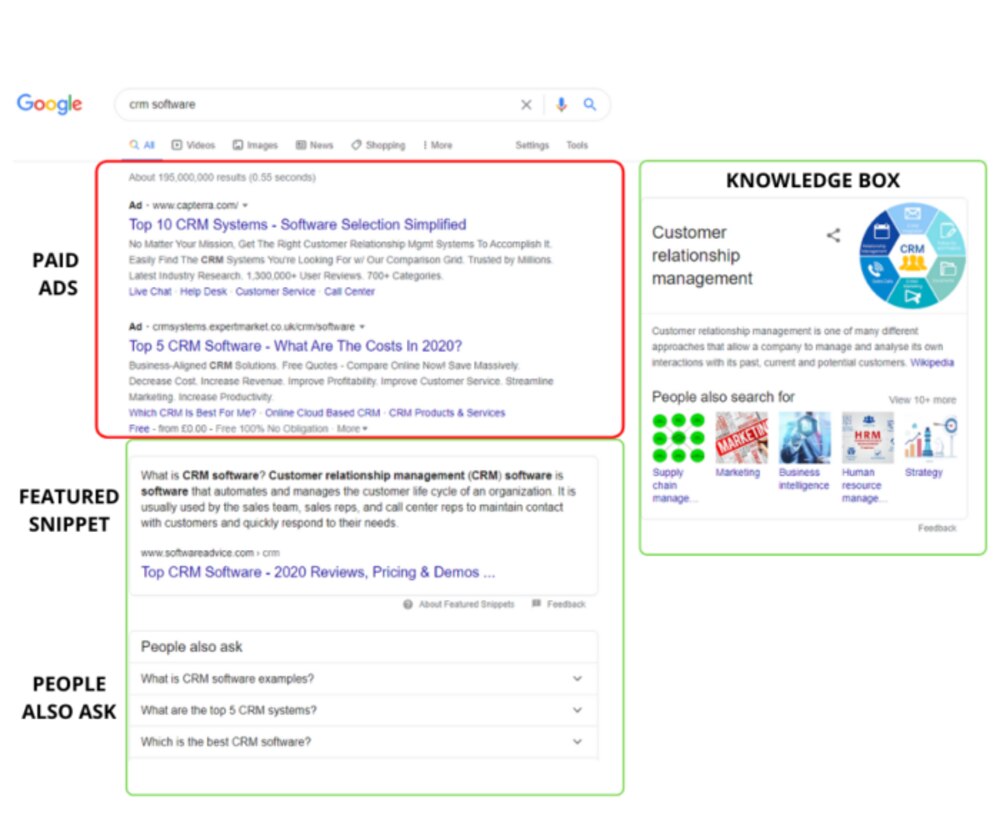 SEM ads appear at the top results before the organic results from SEO. The label "Ad" comes before the URL, and these ads are in sets of two or three.
How does search engine marketing work?
SEM or search engine marketing works by bidding on keywords so search engines display your website on the top spot of search engine results. When users type a keyword for their queries, platforms like Google or Bing search for the most relevant products or services.
That said, advertisers must be strategic regarding keyword research and integrating these keywords in their text ads. Optimizing SEM ads means including targeted keywords on:
Headlines or title tags (H1)
Subheadings (H2)
Meta description
URL hyperlinks
Website content
Call to action
Here's an example of a cleverly optimized copy with targeted keywords on headlines and meta descriptions: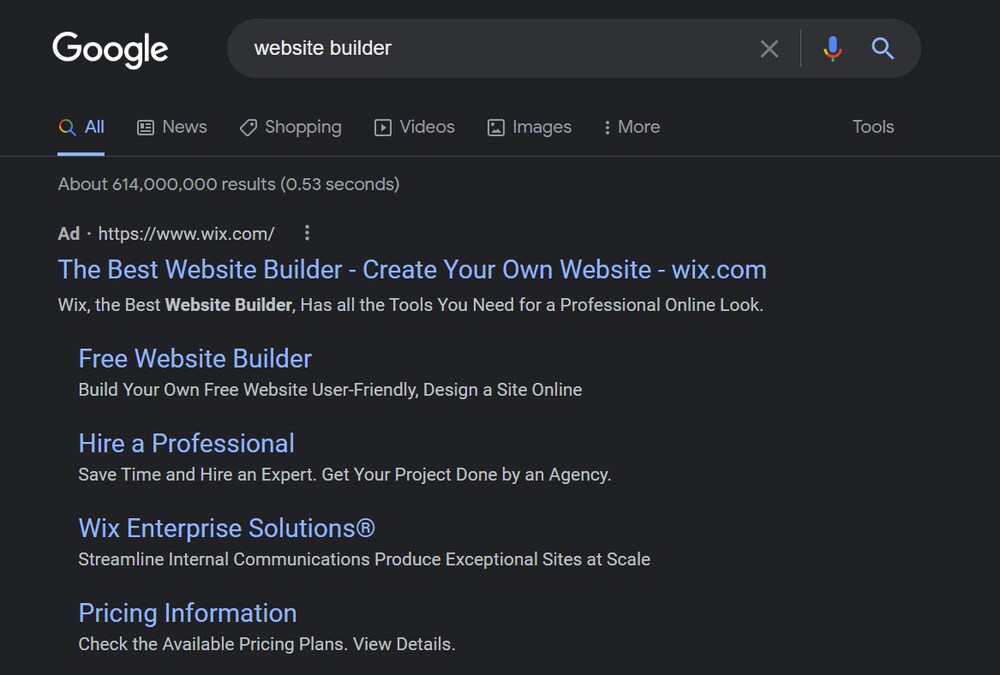 Their algorithms then choose the most relevant ones with corresponding keywords. Then advertisers bid on keywords that are most likely to get them conversions. The higher the bidding amount, the more chances your ads appear on search engine results along with the user's queries. However, marketers only pay every time a user clicks on the ad.
Advertisers can choose different SEM platforms to create paid search ads. Some platforms let you choose an ad format. However, SEM ads primarily consist of text. For instance, Google enables you to select a campaign type, such as video, text ads, image ads, product listings, and more. Here's a rundown on how to create a paid ad on Google Ads.
How to create SEM ads on the Google Ads platform
The initial search engine marketing step is researching keywords with large search volumes. When keywords have significant search volumes, it means many people are searching for them on search engines. This means more opportunities for your ads to match and appear at the top spots.
Google Ads is one of the most efficient marketing platforms for your paid search ads. Marketers can create different campaign types and formats that will appear on SERPs, maps, mobile apps, websites, listings, and more.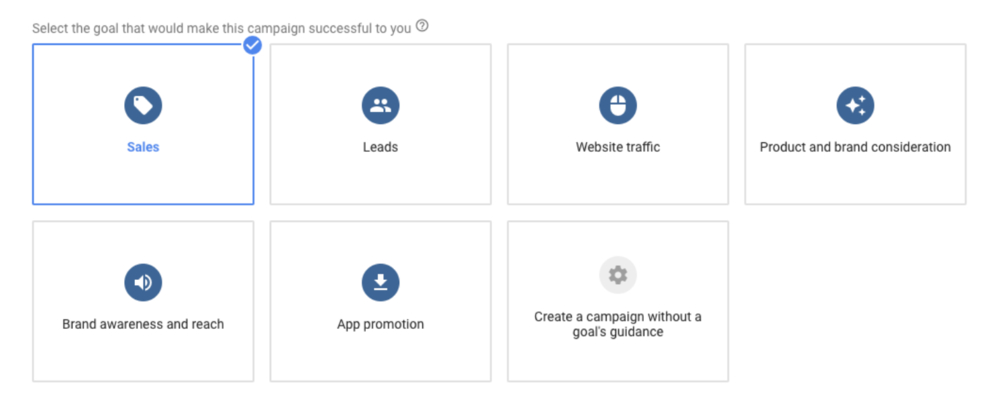 But for SEM ads, we'll choose the "Search" ad, a text-based paid ad on search results. Here's how to create a campaign:
Log in to your Google Ads account and click the Campaigns icon
Click New campaign
Choose a campaign objective and cmrketingonversion goals. You can add two or more goals depending.
Select Continue
Choose a Campaign type to identify where customers will see your ads (For SEM ads, choose the Search campaign)
Select the Search option for text ads on search results
Click Continue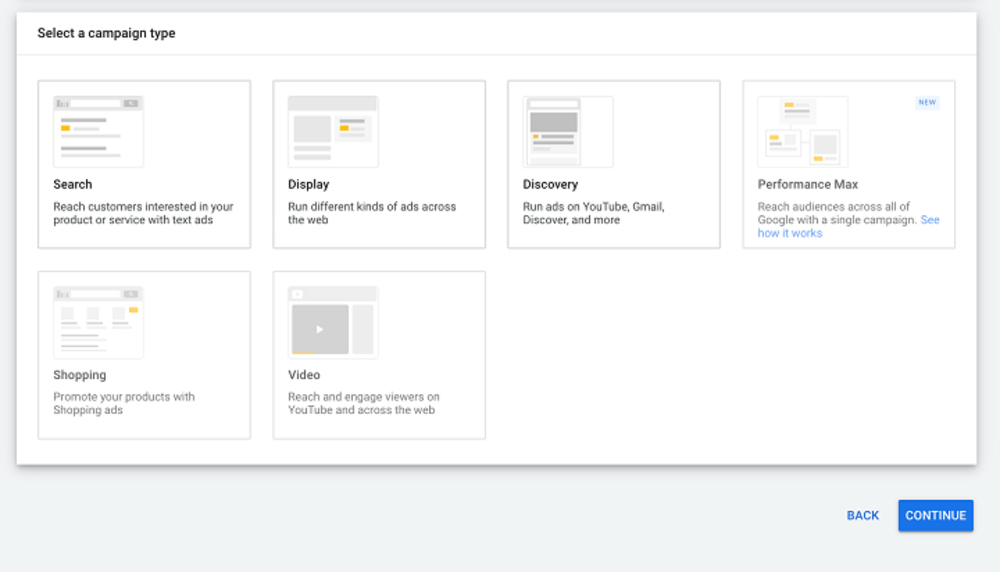 Setting up search engine marketing ads on Google lets you create ad groups for better visibility. If you're also creating other paid display ads, Google will provide campaign type suggestions based on your chosen marketing goals.
How to optimize search engine marketing ads
Optimizing your SEM campaigns will increase their chances of getting featured in the top sponsored spots. Other factors like your website's quality score also matter when bidding for search ads or SEM ads. Search engine algorithms sometimes select websites for their quality score, even with lower bidding amounts.
Landing page optimization is essential due to the following reasons:
Higher backlinks
Improves authority
Boosts ad position
Decreases bounce rates
To improve your landing page's quality score, do these tips:
1. Relevant landing pages
Your landing page must be relevant to user queries and intent. Send users to an exact landing page instead of a generic web page. Keywords on your landing page must match with those on the ads for ranking visibility.
Here's an example from Wix with a clear copy that tells what the brand is about: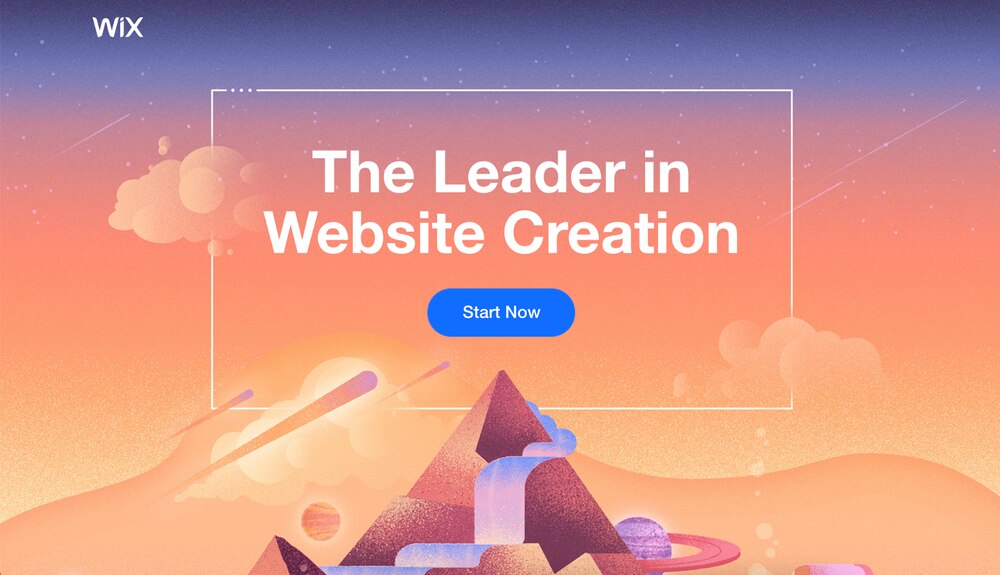 Pro Tip: Use ad groups and include targeted keywords in every ad group. For example, if you're running an online sportswear shop, create different ad groups for women's, men's, and children's wear.
2. Fast page loading time
Suppose you've won the bid and landed on the first sponsored spot. Excellent job! The next part is crucial, as you must ensure users stay on the landing page until they find what they're looking for. And some factors like slow loading time and annoying pop-ups make users abandon your page.
Optimize your landing page by making it load within three to five seconds. Compress images and ensure they're under 150KB, writing the proper image alt text as well.
Netflix's landing page doesn't have pop-ups or distracting forms, it takes you straight to a heading and call to action: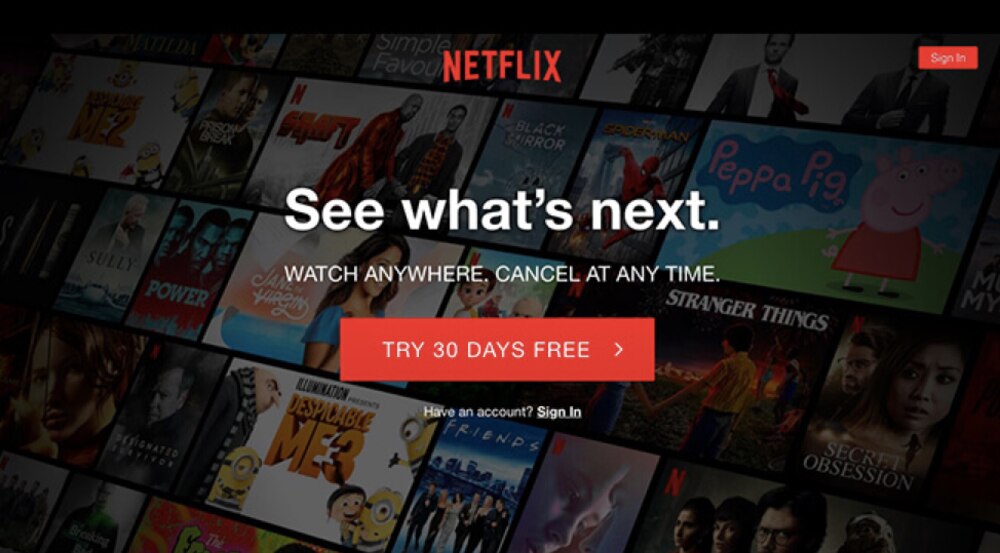 Pro Tip: Eliminate anything that slows down your site's loading time to prevent users from leaving, such as pop-ups and too much Flash.
3. Easy to navigate
Follow the three-second rule in web design navigability. Give your users what they want in the first three seconds after landing on your site. Keep your copy clear and concise, and avoid big chunks of text. Use bullet points to make text easily scannable and get straight to the point.
Check out CodeCademy's quick form, with only two fields, to make it easy for users to sign up: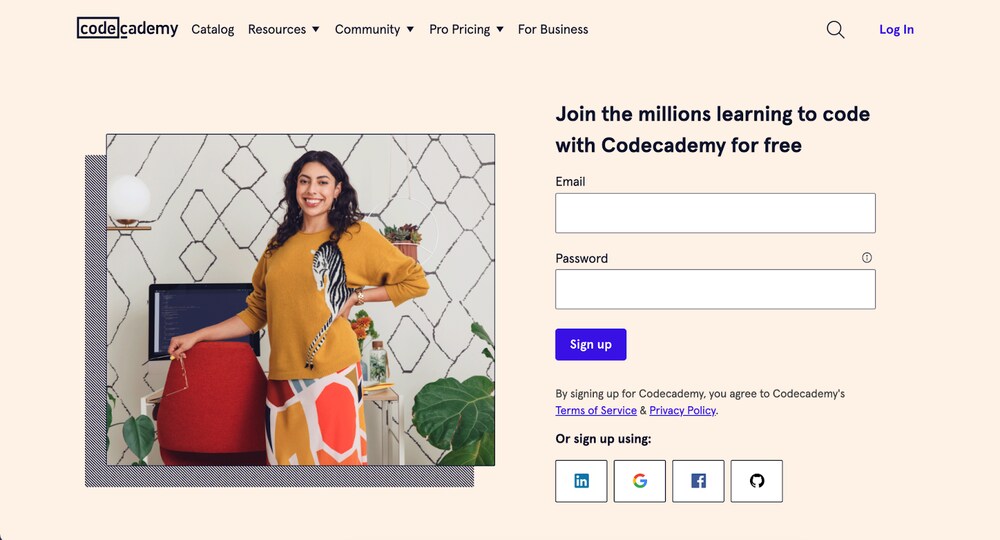 Pro Tip: Every landing page must persuade users to take action. Ensure your call-to-action buttons have a straightforward copy with contrasting colors.
4. Trustworthy and reliable design
If you're running an ecommerce shop, credibility is essential to make users trust you. Display social proof on your landing pages, such as reviews, testimonials, ratings, awards, badges, certifications, etc. Ensure your contact information is easy to find in case users need it.
Casper banks on social proof for credibility by featuring ratings, testimonials, and number of customers: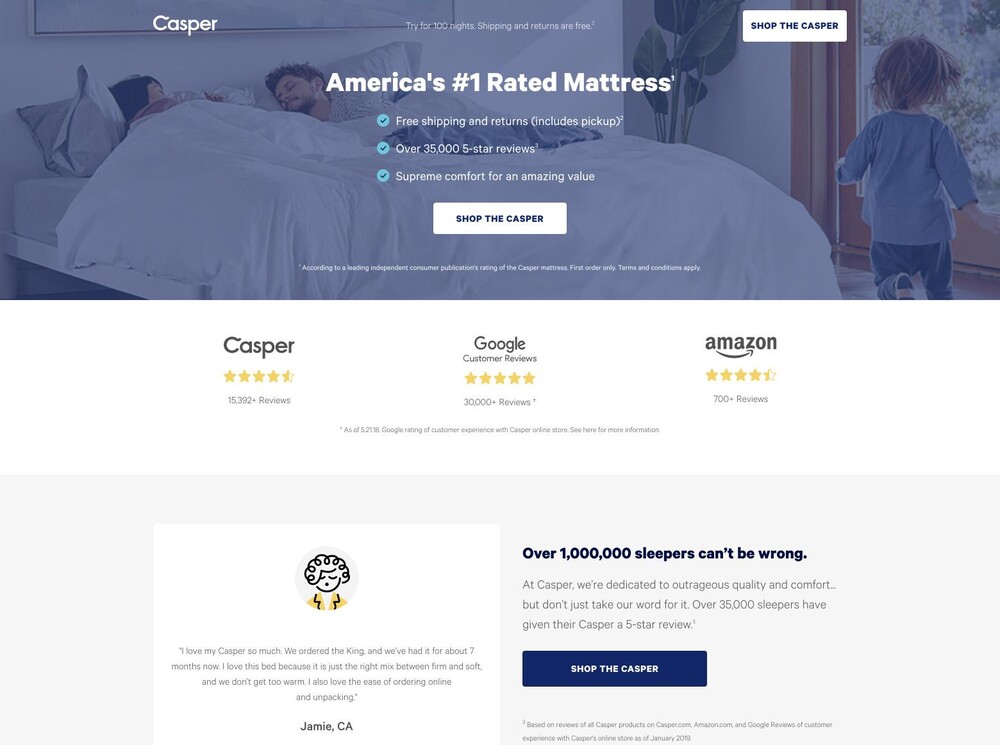 Pro Tip: Be transparent about your offers and pricing. Include applicable additional fees and provide an estimate of your product or service rates before the checkout process.
Final Thoughts
Search engine marketing is an effective way to put your brand out there. Strategic keywords and tactical optimization methods can increase quality scores and outbid competitors.
Finally, make your landing page hero images and illustrations speak to users. Visual communication is the first hook that persuades users to stay on the site longer. Make colors and typography influence users' purchasing behaviors by integrating marketing psychology. Our professional graphic designers know how to evoke user emotions by using appropriate color palettes and fonts.
Need help with landing page visuals for search engine marketing campaigns? Our reliable, professional graphic designers are ready to create your branding and marketing visuals. Sign up now for a special 15 percent discount!