In the ever-evolving world of online advertising, keeping up with the latest ad specifications is crucial for success. As we move into 2023, the Google Display Network remains one of the most effective ways to reach your target audience and increase brand awareness.
However, staying current can be challenging, with Google constantly updating its ad requirements and guidelines. That's why we've put together this cheat sheet to help you navigate the Google Display Network ad specs for 2023, so you can confidently create and optimize your campaigns. From image sizes to text limits, we've got you covered.
What is Google Display Network?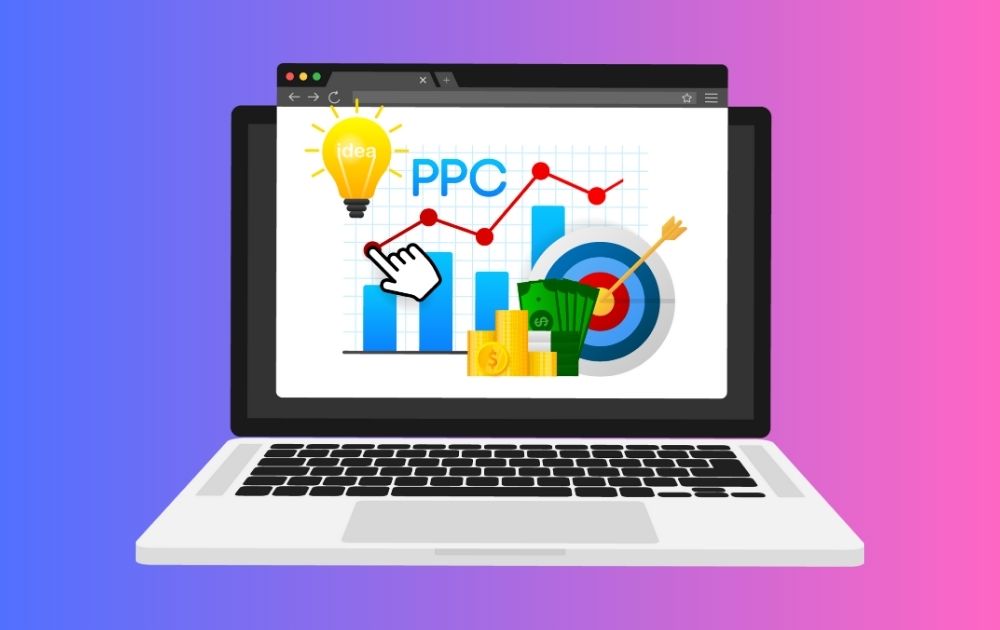 Google Display Network is a vast advertising network that allows businesses to place display ads on millions of websites, mobile apps, and video content across the internet.
It is a platform for advertisers to reach their target audiences by creating visually appealing ads that include images, videos, and text. Also called GDN, the network uses contextual targeting, meaning ads are displayed on websites or mobile apps relevant to the advertiser's product or service. GDN offers various targeting options, including demographics, interests, topics, and geographic locations, to ensure your ads are displayed to the right audience.
With GDN, businesses can increase brand awareness, drive website traffic, and generate leads and conversions. For instance, many of our clients here at Penji ask us to create display ad images for them. After all, they know just how a professionally-made ad creative can help lead audiences through the marketing funnel.
In Google Ads, display campaigns let users reach a relevant audience through visually-engaging ads. These ads are served to audiences as they browse websites and apps, including Google-owned properties like YouTube.
What are the Benefits of a Google Ads Display Campaign?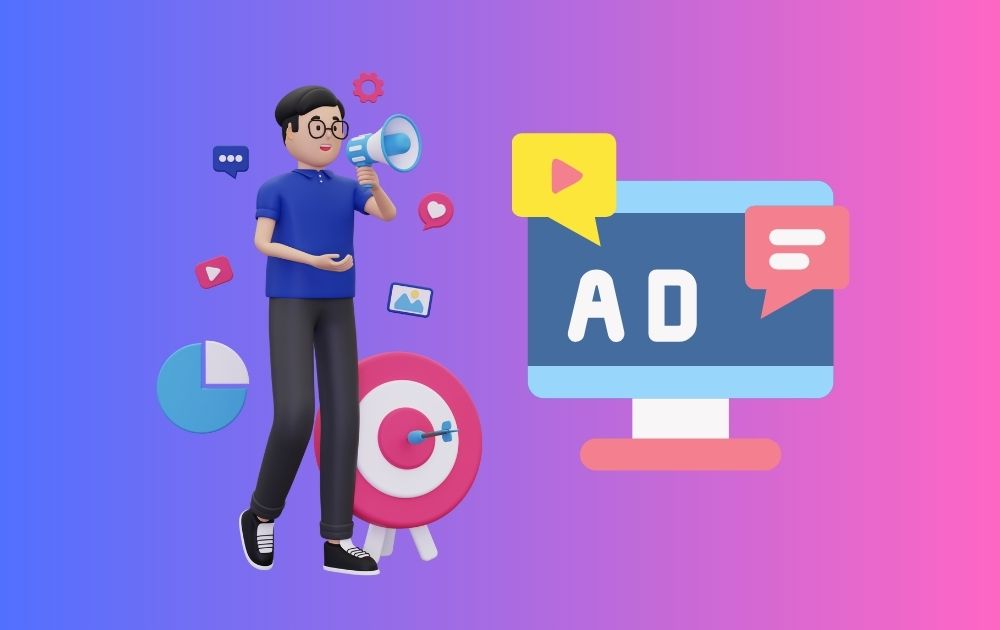 There are many benefits to using display ads on the Google Display Network. Here are some of the key advantages:
Wide reach. Display campaigns can reach audiences worldwide, including 35 million websites and apps. As a result, a display campaign will allow you to expand your reach beyond just Google Search. To ensure that you're using the right platform, you may want to review the difference between Google Ads vs. Facebook Ads and other platforms to advertise online.
Targeting options. GDN offers various targeting options, including demographics, interests, topics, and geographic locations. Because of these options, you can reach the right audience with your ads and increase the chances of conversions.
Multiple ad formats. GDN supports various ad formats, including text, image, video, and interactive ads. This flexibility allows you to engage your target audience effectively.
Cost-effective. Display ads on GDN can be cost-effective, with flexible bidding options and low minimum budgets. You can also track the performance of your ads and adjust your strategy based on results to optimize your campaigns and maximize your return on investment.
Brand awareness. Display ads can help increase brand awareness by placing ads on high-traffic websites and mobile apps relevant to your target audience. This can help your business gain visibility and credibility in your industry.
What are the specs for Google Display Ads?
What is the image size for Google Display Network? The answer depends on the type of ad you want to place on the network. For starters, here are the formats and maximum size you can upload:
File types
Formats GIF, JPG, PNG
Max. size 150KB
Here are the 2023 Google Display Network ad specs for display ads sizes, as stated in Google Ads. We've also attached a Google display ad sizes cheat sheet for every category for visual reference.
Square and rectangle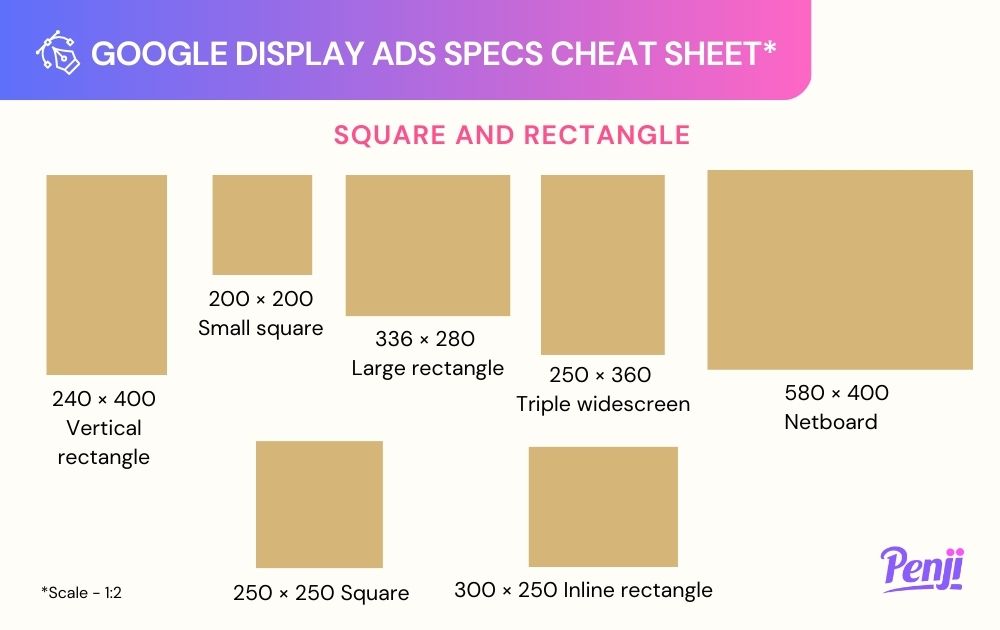 200 × 200 Small square
240 × 400 Vertical rectangle
250 × 250 Square
250 × 360 Triple widescreen
300 × 250 Inline rectangle
336 × 280 Large rectangle
580 × 400 Netboard
Skyscraper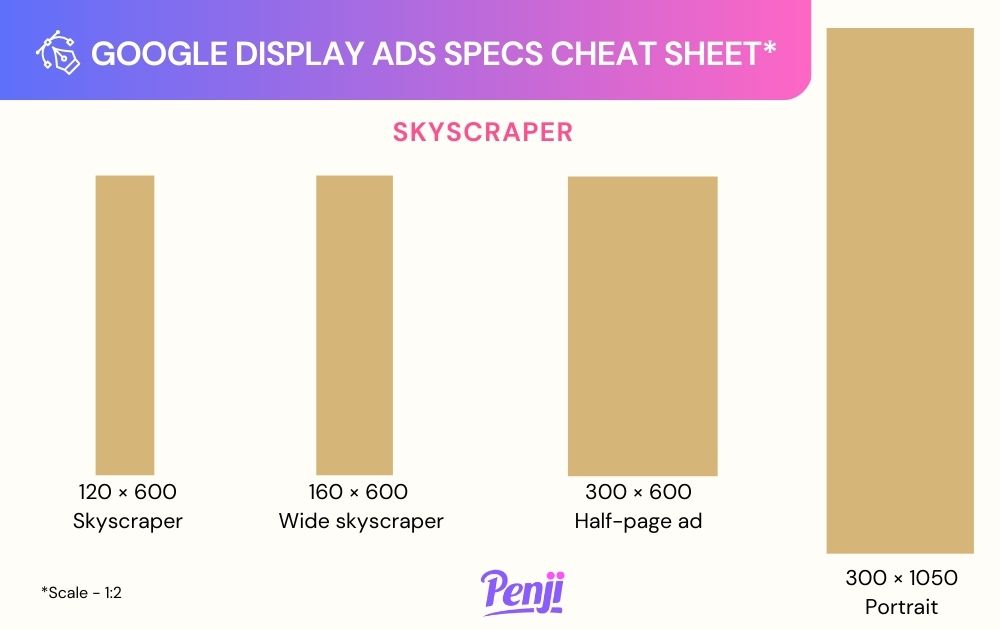 120 × 600 Skyscraper
160 × 600 Wide skyscraper
300 × 600 Half-page ad
300 × 1050 Portrait
Leaderboard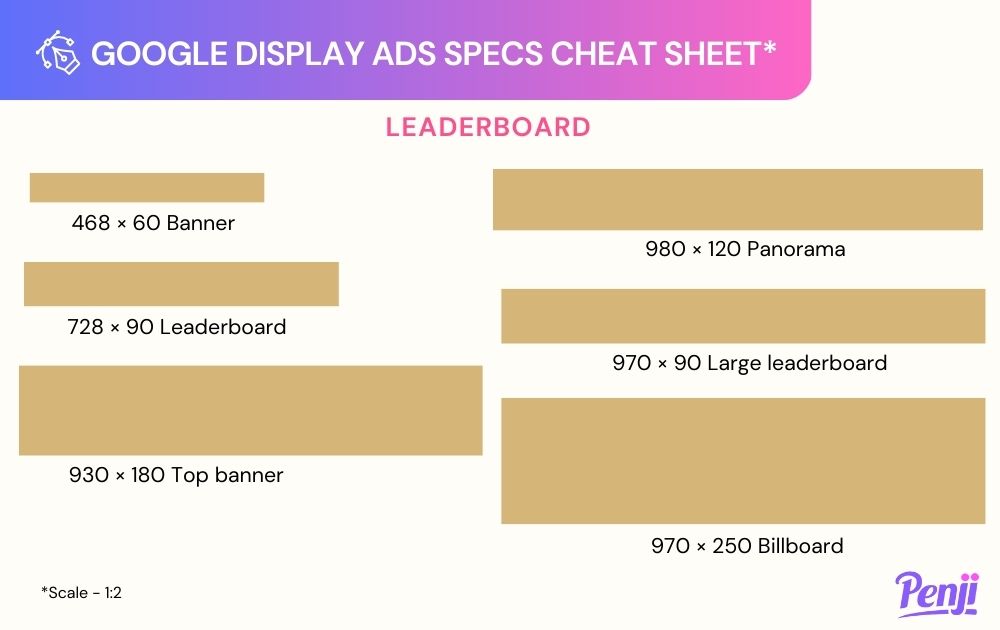 468 × 60 Banner
728 × 90 Leaderboard
930 × 180 Top banner
970 × 90 Large leaderboard
970 × 250 Billboard
980 × 120 Panorama
Mobile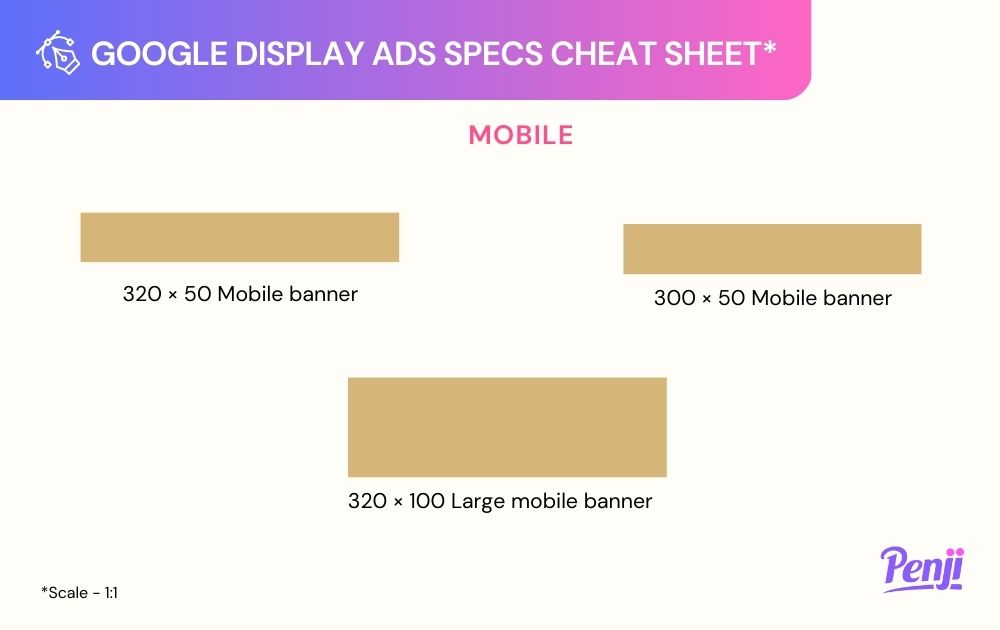 300 × 50 Mobile banner
320 × 50 Mobile banner
320 × 100 Large mobile banner
Knowing Google Display Network ad specs for GIF or animated ads is vital. For instance, the animation length must not exceed 30 seconds. This means advertisers must create concise ads and get their message across quickly.
Additionally, while animated ads can be looped, the animations must stop after 30 seconds. Finally, the speed of the animation is slower than 5 FPS. This prevents the animated GIF from being too distracting or annoying for users.
What resolution is best for Google Ads?
Aside from using the most common Google display ad sizes, the right resolution is also crucial. Google recommends a relatively high resolution for the ad, such as:
1600 x 1200
1600 x 900
1280 x 1024
1152 x 864
It's vital to remember that if the ad resolution is 1024 by 768 pixels or lower, you may not see the entire screen of Google Ads Editor.
What are the best-performing Google display ad sizes?
If you're wondering about the best Google Display Network ad specs or size, you don't have to look further than the search engine's internal data. Google ad sense mentions the following as top-performing ad sizes:
300 x 250 medium rectangle
336 x 280 large rectangle
728 x 90 leaderboard
300 x 600 half page
320 x 100 large mobile banner
Whatever Google display ad size you intend to use, you need to have relevant visuals to help capture the attention of potential customers. By using designs crafted by professional designers, you increase your chances of getting more clicks, engagement, and conversion. By outsourcing your ad image to design experts, you'll have more time and energy to optimize your ads and review analytics.