Your package should no longer just contain the product itself. Sure, you may have a stunning packaging design, but as a branding tool, it's no longer enough. Before you ship your next package to your customer, why don't you add packaging inserts? It's one small thing that could have a considerable impact on your small business or eCommerce store. Here's why you need them. Plus, if you have no clue how to design them, don't worry, we added 20 design examples for you to check out.
What Are Packaging Inserts?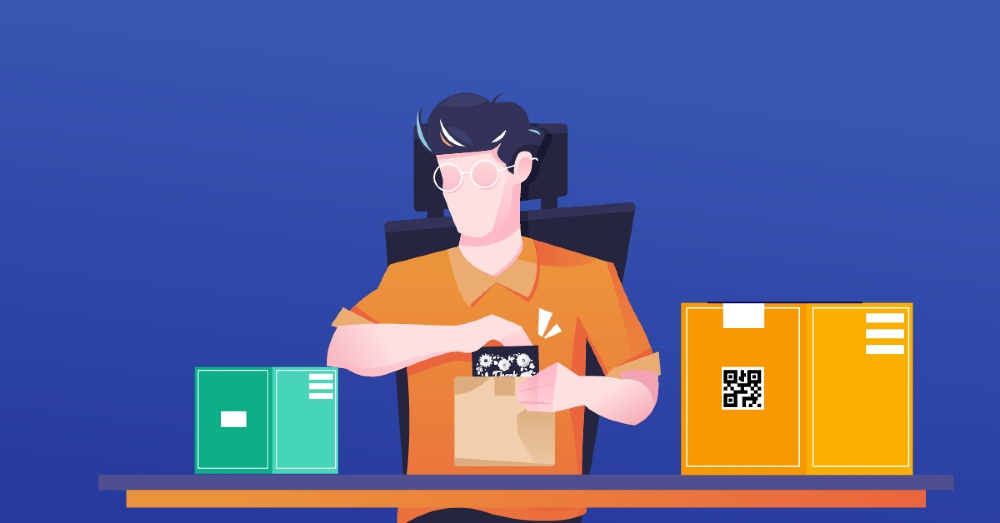 They are small text-heavy or visual cards or pieces of paper included in your packaging. Usually, it would thank customers for buying a product. But, in some instances, it asks customers to follow them on social media or leave a review on their site.
Entrepreneurs and marketing teams can use packaging inserts as a tool to increase customer loyalty. That's why it's crucial to be more creative when thinking of packing inserts.
There are seven common types of packaging inserts. These are:
Discount offers
Thank-you notes
Personal notes
Review request
Social media sharing
Product samples
Free gifts
What Should Be Included in A Packaging Insert?
There's no standard template to follow when designing a packaging insert. It's up to you what to write to your customers. Later, we'll discuss the examples of packaging inserts, but here's what's expected in most of them.
Website or store URL
Social media handles
Logo
Appreciation
Message
Graphics
What is the Purpose of Packaging Inserts?
Strengthen branding
Thank them for their purchase
Develop a better relationship with customers
Give them exclusive promo or discount codes
Encourage customers to write reviews
Request from them to follow you on social media for updates and news about your company
Benefits of Packing Inserts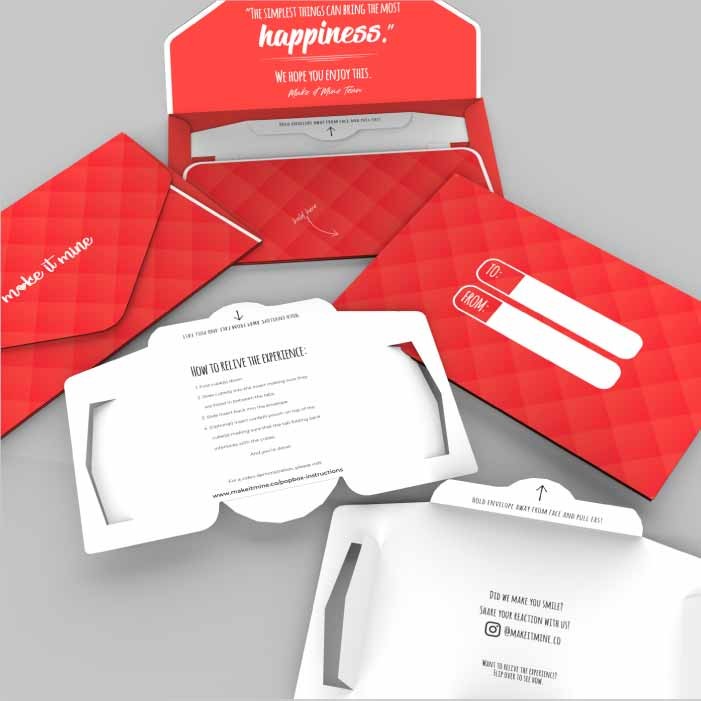 Packaging inserts or packing inserts can intensify the customer experience positively. Customers buy products mostly for the value it offers. However, the unboxing experience is also part of the buying process.
So why should entrepreneurs and marketing teams include a little surprise in packaging boxes? Apart from ensuring a memorable experience, here's why:
Unlike emails or social media posts that are either read or ignored by your audience, customers will surely read or scrutinize packaging inserts because they're tangible.
Packing inserts bring a lot of personalization to the customer journey. If a customer buys a specific product, you can tailor your message to add personal touch.
They are cost-efficient because you don't have to spend a lot on it. A nice piece of paper or a small gift will suffice. Moreover, you no longer have to pay for delivering your message as the packaging is already delivered.
Packaging inserts are excellent ways to cross-sell or upsell more products. In turn, this yields more sales.
It increases customer loyalty and gains affinity. Customers feel more valued when brands go the extra mile for them. A simple, warm, and enticing packaging insert will make your customers smile.
Packaging Insert Examples and Designs
Do you need packaging insert ideas for your small business or online store? Here are 20 examples of well-designed packaging inserts to inspire yours.
Thank You Card
Thank you cards are the most common form of packaging inserts. It's a small gesture, but a thank you card and a touching thank you message can help build trust and foster relationships with your customers.
Sisters & Stitches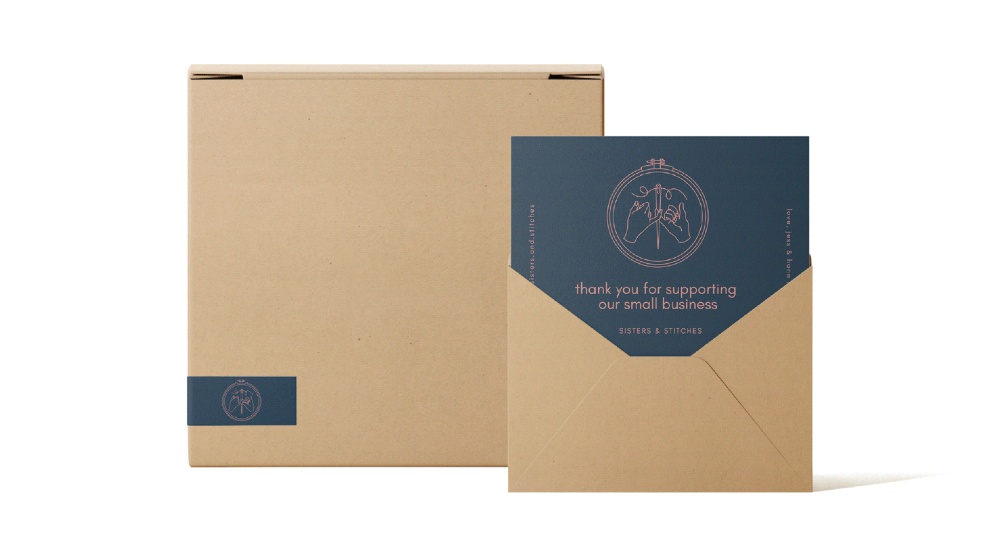 Image credit: Roxy Schoon
Sometimes, just saying thank you would suffice and you don't have to go overboard with the design. Here's an example from Sisters & Stitches to give you an idea of a minimalist thank you card. You'll see they added their social media handle on one side, and the other introduces us to the sisters behind the company.
Everlane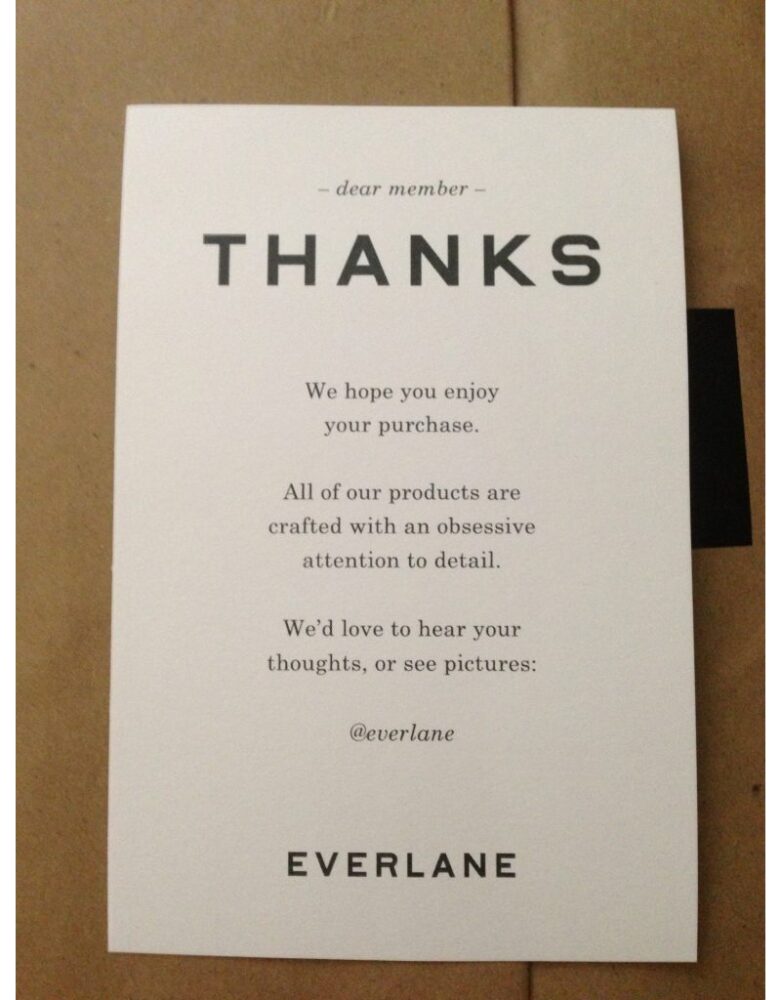 Image credit: Allthingsdreamy
Here's another minimalist thank you card, and this time it's from Everlane. It's one example you can follow if you want to have a black and white motif and write a short message about your brand and where customers can leave feedback.
Womanhood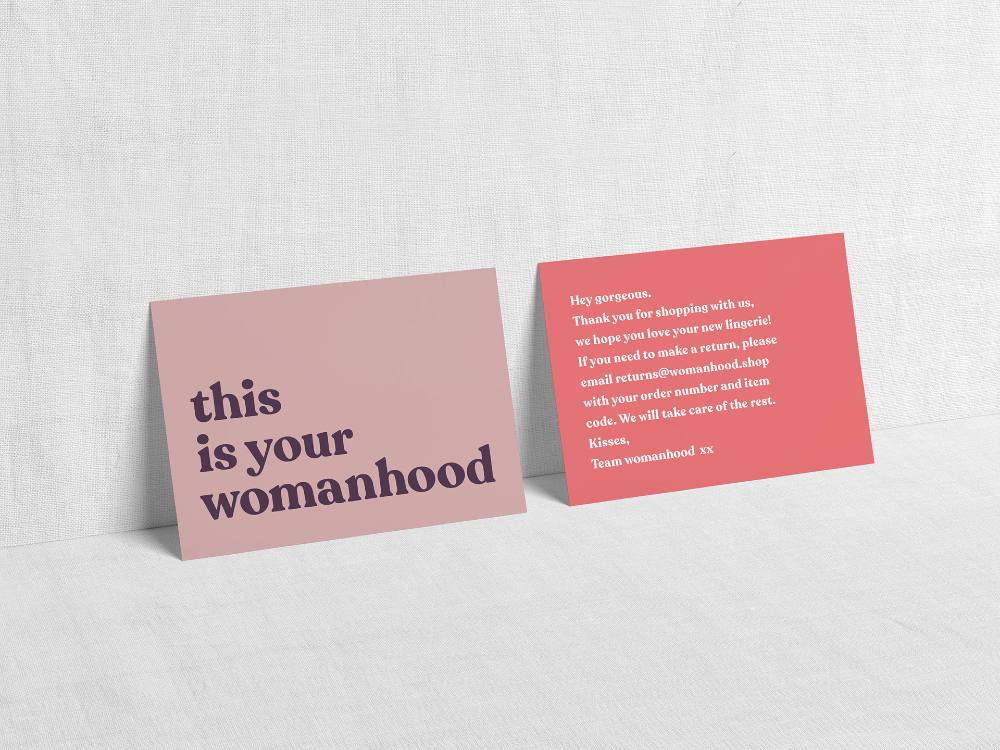 Image credit: Claire Hartley
Check out this other way to say thank you from Womanhood. It's short and sweet plus it offers customers a way to return an item if they need to. Plus, in terms of design, it's simple and it follows brand colors as well.
Post or Follow on Social Media
As an alternative to thank you cards, small businesses also use "post on social media" packaging inserts. Social media is one way to connect businesses to customers and vice versa. By adding this type of card to your packaging, you'll increase your followers. And those who receive this can post this freely on their accounts, which gives you free publicity. Plus, with their permission you can repost or share it.
Frank Body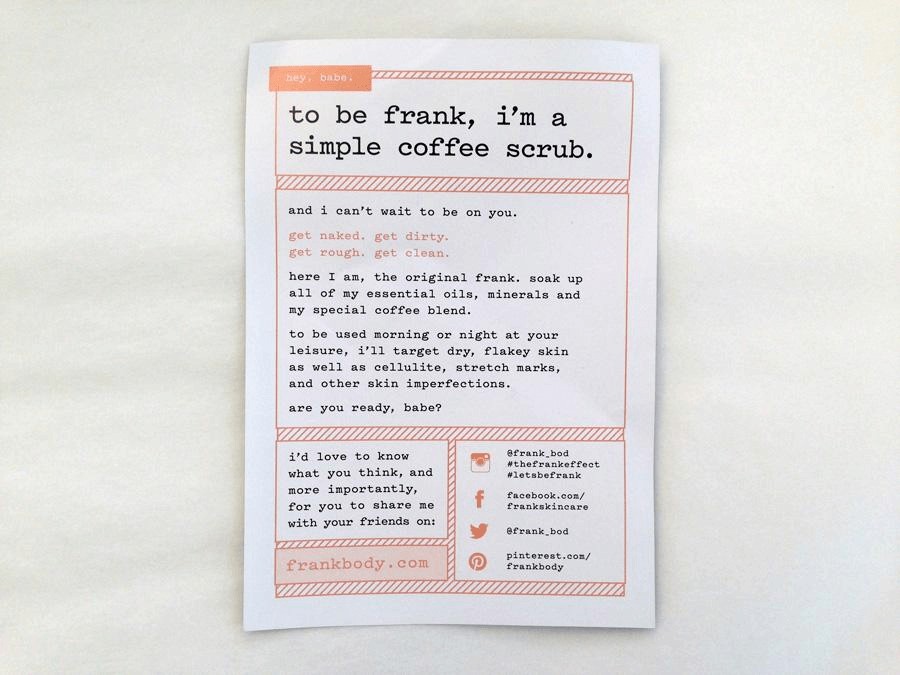 Image credit: CORE dna
You don't have to write a thank you message. You can compose a different message about your brand. And as a call to action for customers, you can add your social media handles and tell your potential followers to spread the word about your product.
Knot Bad That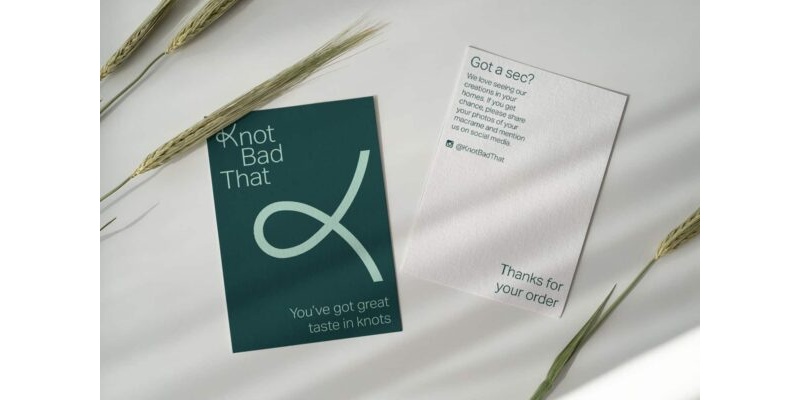 Reward Agency created the branding and packaging design for Knot Bad That. It has a unique design considering that the back side of the card doesn't use the middle area. But, as explained by the design agency, it was an homage to its geographical roots, located in Northwestern England.
Bett + Bee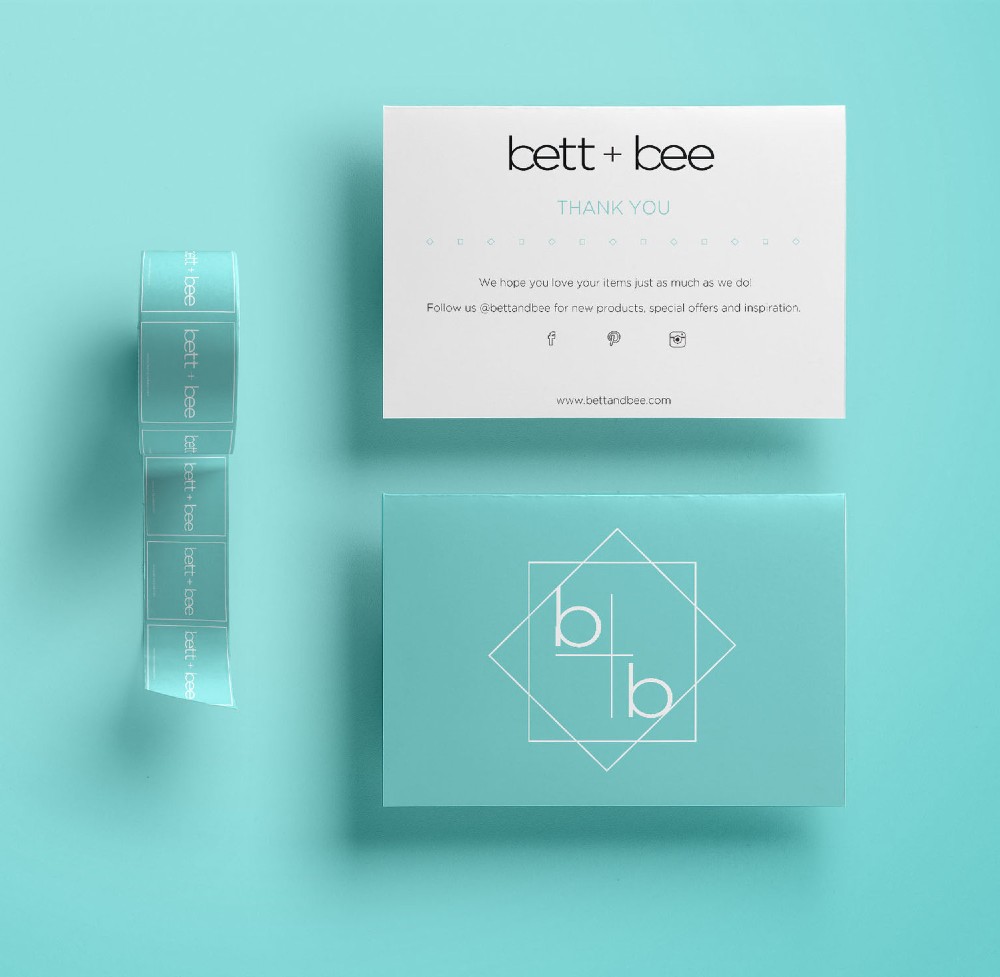 Connie Marturano produced this packaging insert for Bett + Bee. This is an excellent way of telling people to follow you on social media. Not only should they follow the company on social media, but also keep up with them for more news and promotions.
Leave a Review
Many businesses will need reviews of their products. Sometimes, customers don't always leave reviews no matter how good the product is. And a packaging insert will remind customers to do just that. This option is great when you're a new small business and need reviews from legit customers. With this in mind, it will significantly enhance the legitimacy of your online store.
Anker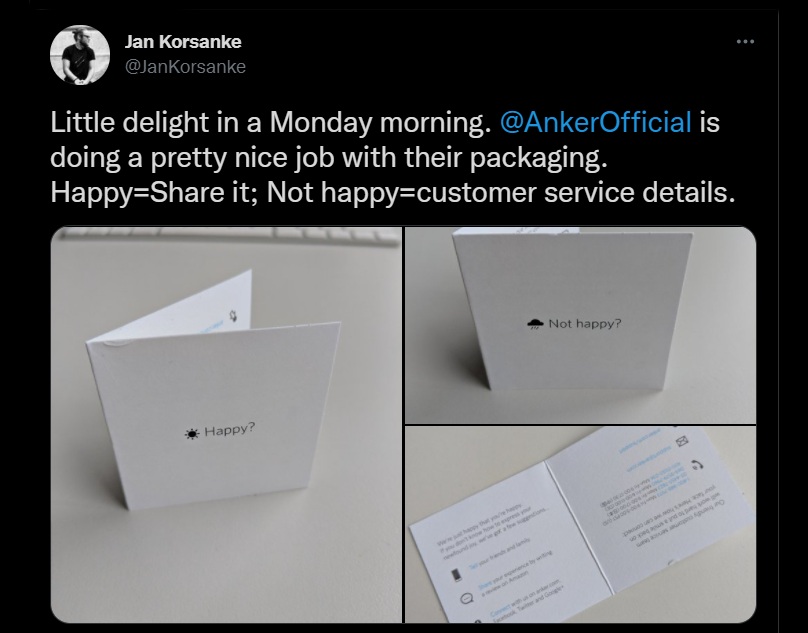 Here's Anker's take on a review card. It's a foldable card, with one side inverted depending on if you're happy about the product or not. As for design, they maximized the space and added icons on their card.
Levoit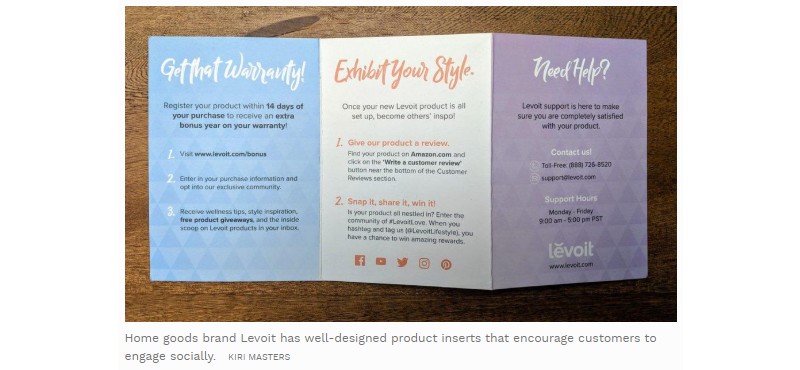 Here's a trifold packaging insert from Levoit. Aside from it being a review card, you can also get your warranty and contact the company for help. It's an example of a packaging insert to help customers decide and take action as necessary.
Rustic Farm Import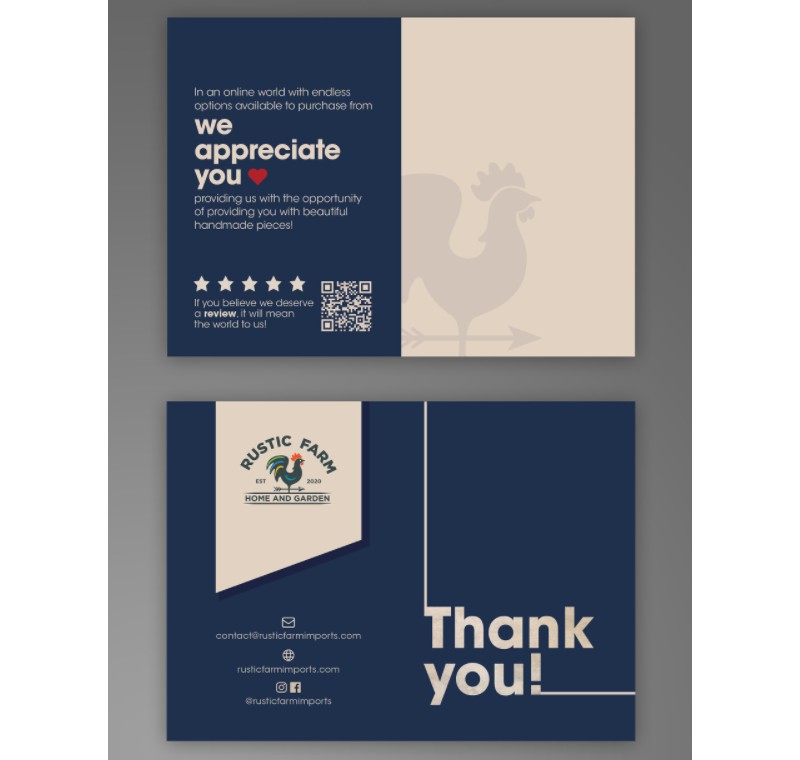 Image credit: Jovana Dobrilović
Here's another foldable review card, but this time it's from Rustic Farm Import. Instead of having the website inside the inner folder, they have a QR code which customers can scan. This will lead them to their website and leave a review. There's also a blank page, which customers can use to write notes about the product.
Promotional or Business or Product Card Info
You can include business cards or product info as your packaging insert. This type of packaging insert is best to send to first-time customers. It's one way to tell them other products you might offer. Plus, you can present how to use your products in a simplified manner.
Winneco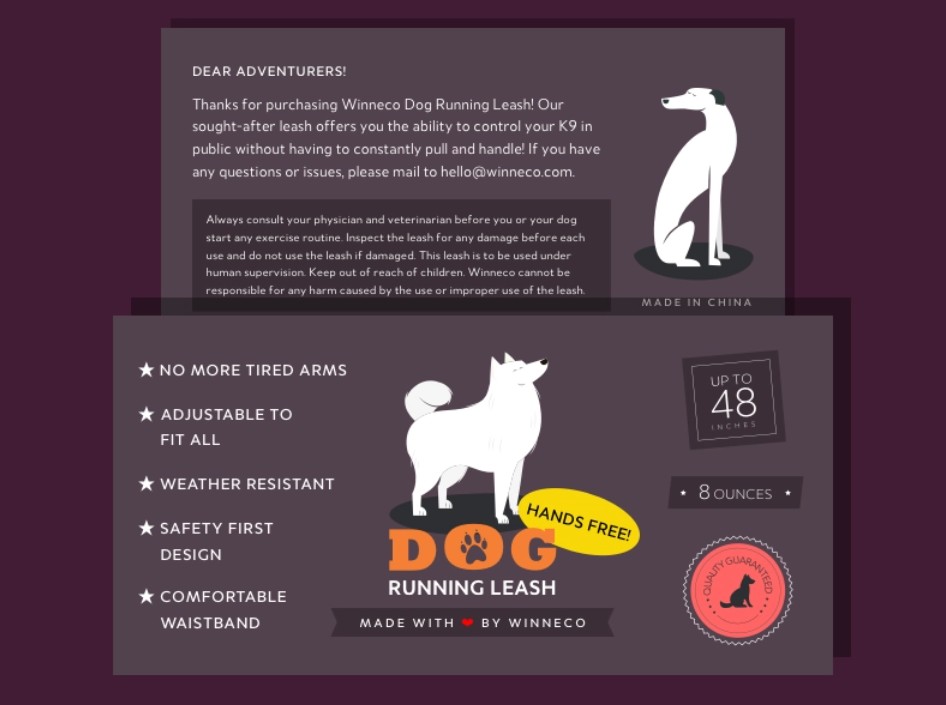 Image credit: Peter Yakovlev
When buying a product from Winneco, the product insert you might receive is about the leash you just bought. Of course, you might have read about the product online. But the card acts as a reminder of its features and benefits. Plus, it also includes a disclaimer before using the product.
Teespring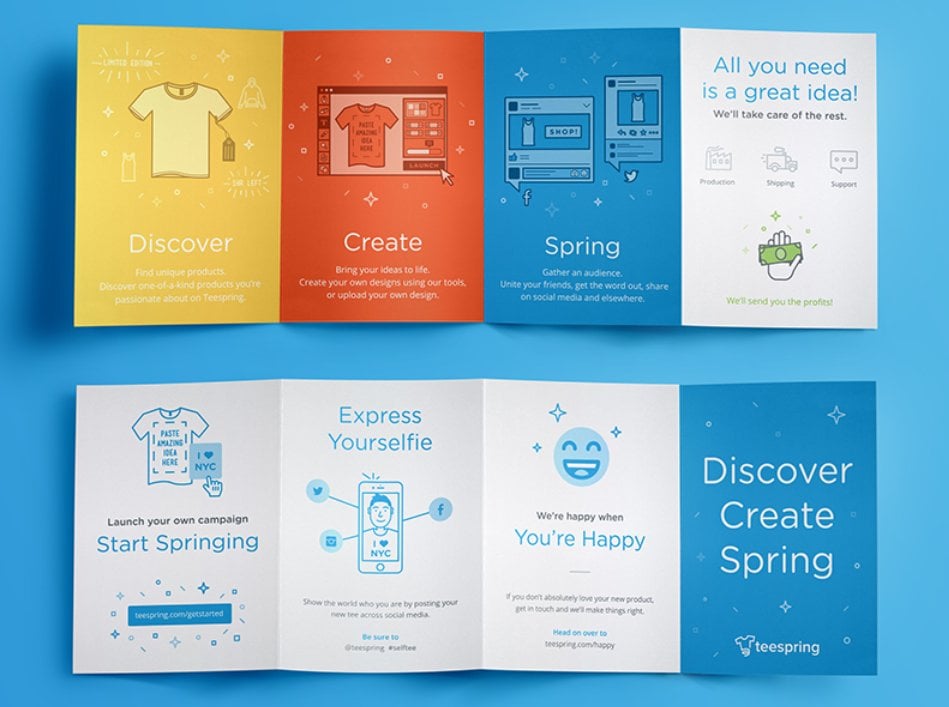 Image credit: Kyle Anthony Miller
This one from Teespring is ideal for new buyers and those who have awesome t-shirt design ideas. The insert informs you of what Teespring can do for you if you want to sell shirts. At the same time, they remind buyers to post their newly purchased shirt on social media or have it returned.
Mudroom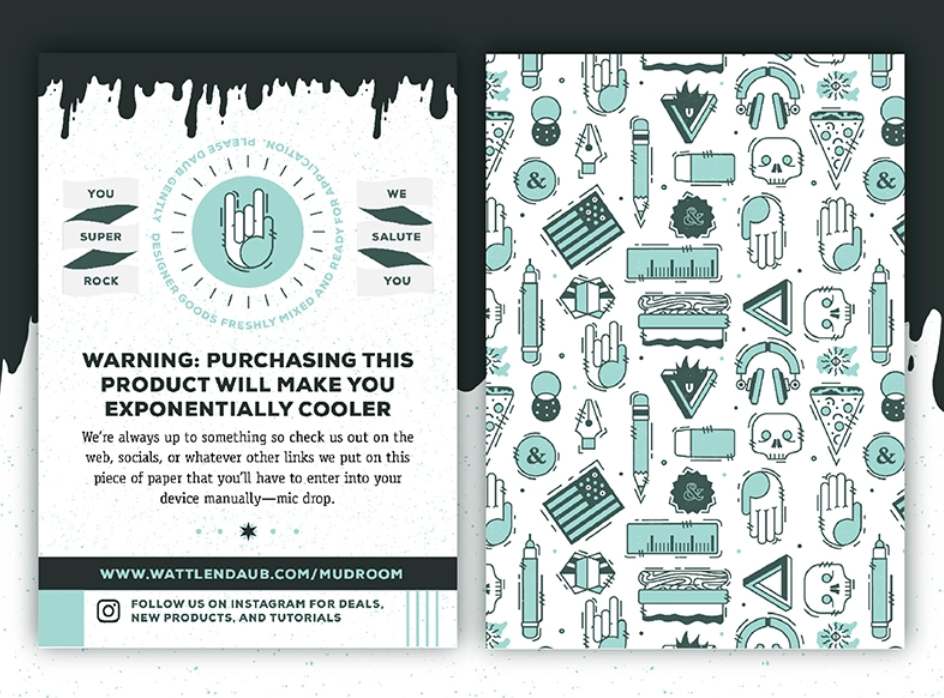 As a graphic designer himself, Brant Day knows that an insert can hook a customer to buy another product. From the heading to the content, he knows he can entice a customer to check his website and follow his social media accounts.
Discount Cards or Referral
Any customer will LOVE discounts. It's a sure way to get repeat customers and drive sales. Most discount cards will include the promo code and until when the customer can avail of the discount. On the other hand, referrals are another option to give your customers a discount. Instead of sending an email, the referral card will serve as a reminder and may motivate them to convince others to buy from your site.
The Gold Paperclip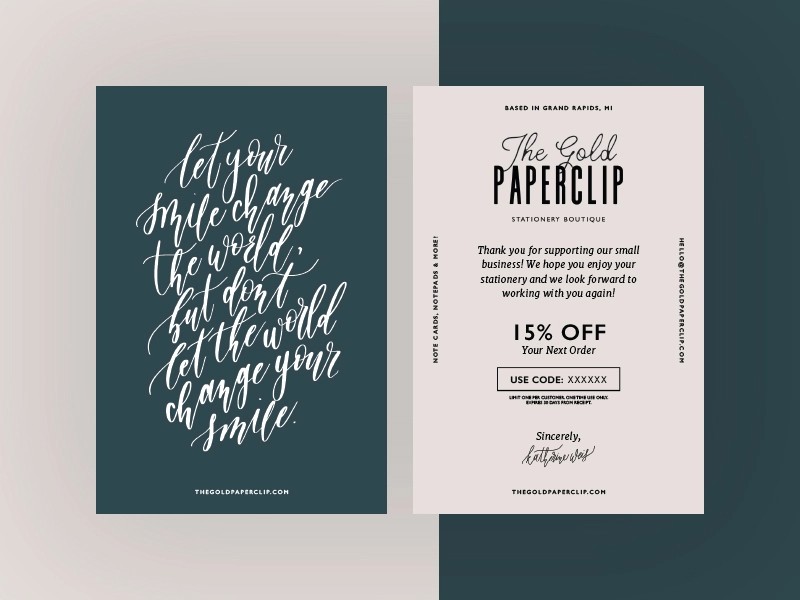 Image credit: Katherine Weis
This one combines both a thank you and discount card. Sometimes, it's important to have both. While you may want to give the customer a discount immediately, thanking them for the purchase first may make them happy. When they see the promo, all the more will their face light up and consider buying again soon.
Online Shoes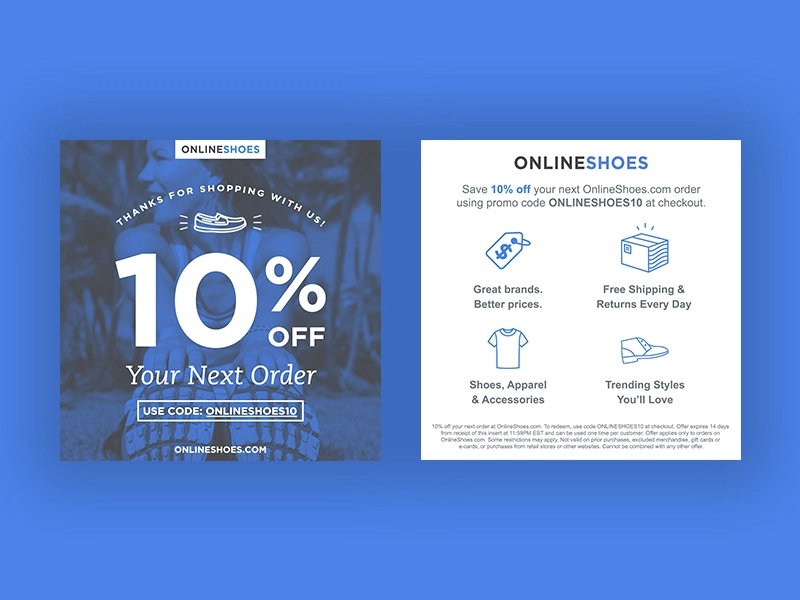 Image credit: Katherine Weis
If you're offering a discount on your packaging insert, make the discount visible like this one from Online Shoes. The branding stands out, especially the colors and iconography. Plus, it's great that they use only one discount code and place it on both sides. This avoids confusion and emphasizes the code before the customer checks out a new product.
West & Willow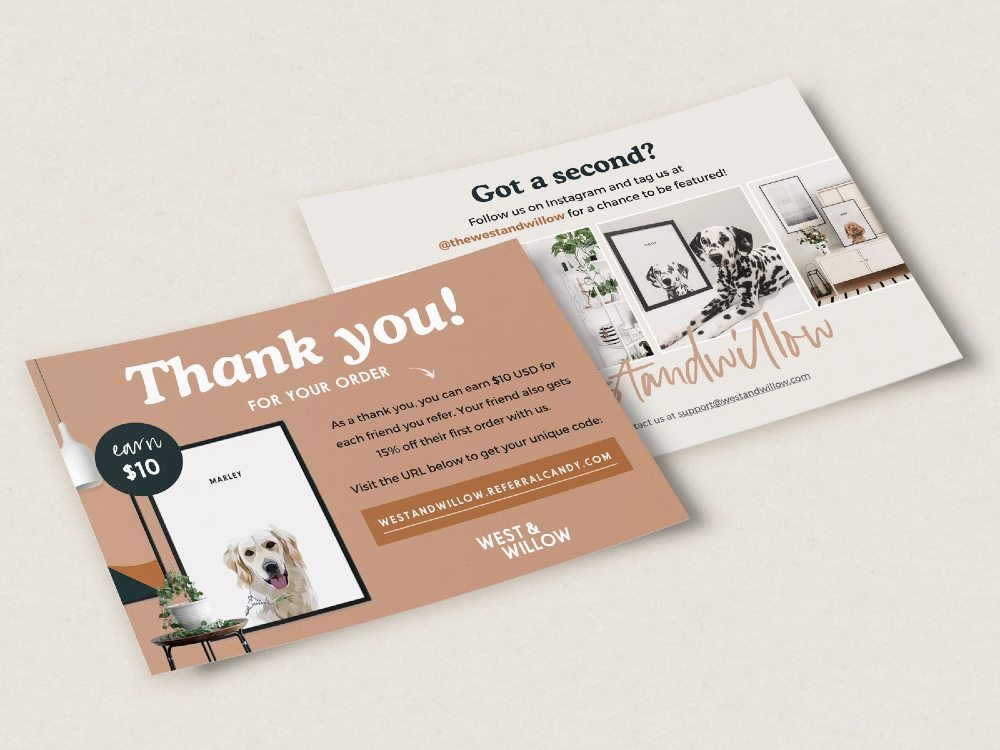 Image credit: Janna Hagan
Aside from thanking the customer for their business, the referral code from West & Willow can entice customers to get discounts. Plus, they can even earn $10 which they can spend from the store again. On the other side of the card, it also gives the customer an opportunity to get featured by posting on their Instagram page.
Trial
One rare type of packaging insert gives customers a chance to try a product first. It's ideal for new customers or if your products have an x-day trial before fully committing to the product.
Floravere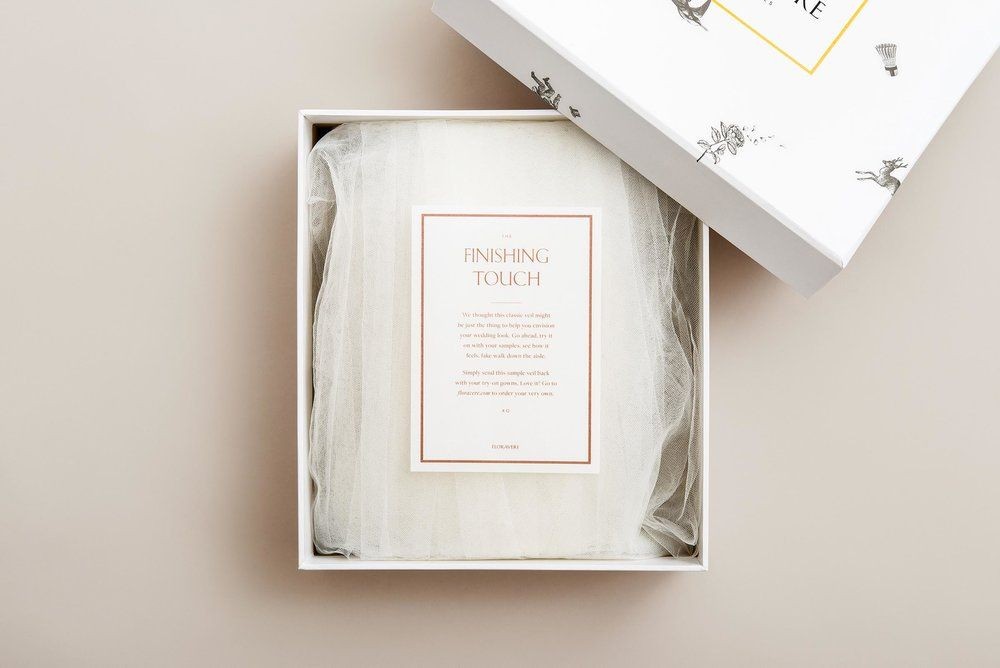 Image credit: The Dieline
This one by Floravere allows brides to try out wedding veils before the big day. If the bride doesn't like the veil they can take it back. And the packaging insert serves as a reminder and provides information regarding the product's trial period.
Warby Parker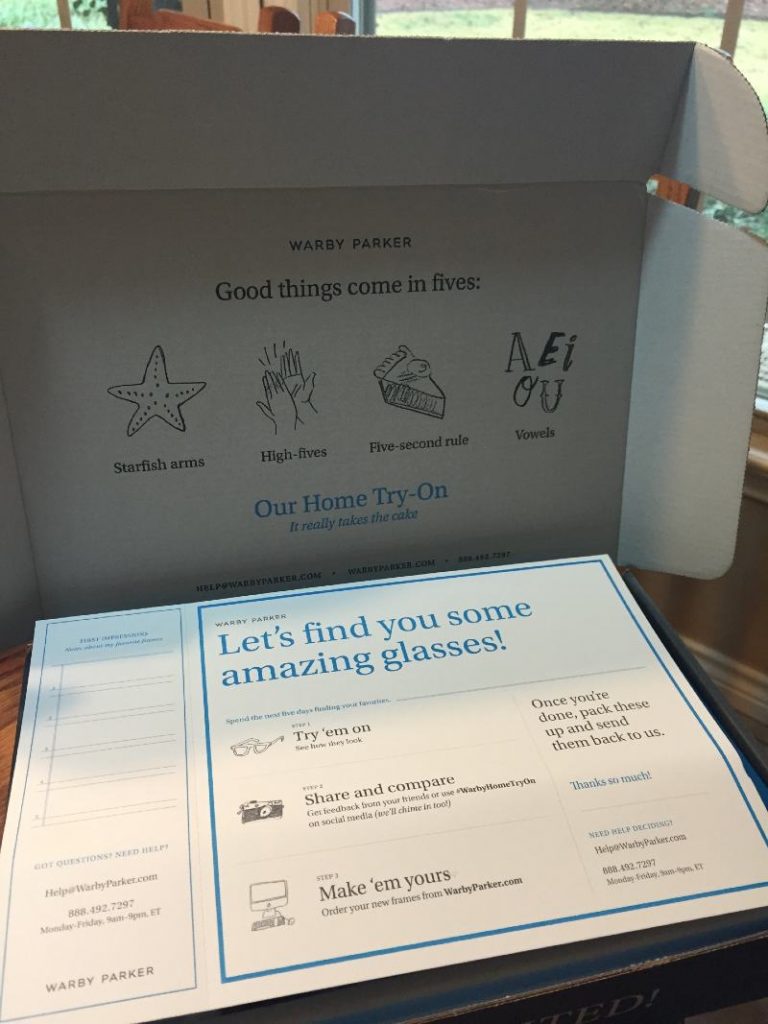 Image credit: Theresa Does Makeup
Items like glasses or clothes depend on the person's preference or the style that matches their face or body. Warby Parker allows customers to try their product before buying it. It gives them instructions and tells them to note which glasses they liked when they ship them back to the company.
Stationery or Freebies
Another unlikely packaging insert is that it doubles as a stationery. You might think how else you could use these items, but they're repurposable for personal use.
BeautyMNL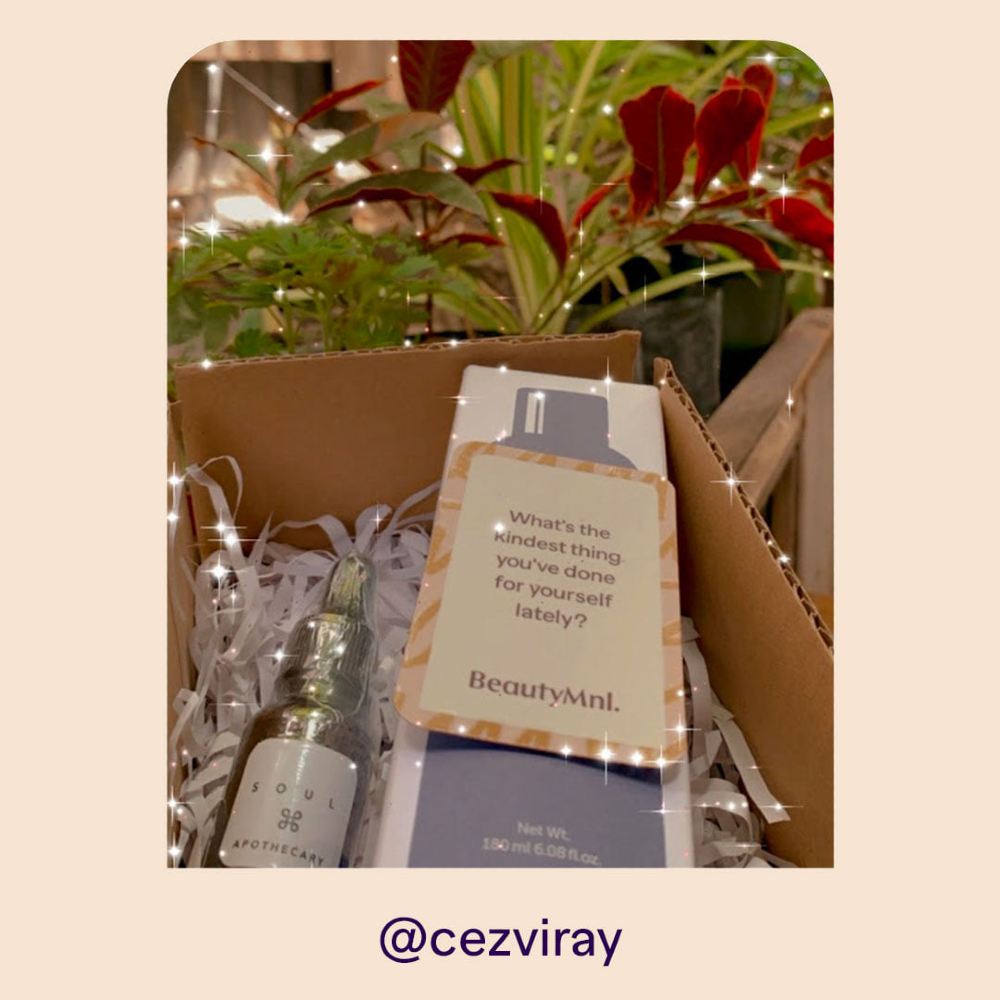 Image credit: BeautyMNL and cezviray
An example of using stationery as the packaging insert is from BeautyMNL. Sure, it will make you question if you did something kind for yourself lately. It's something to reuse for a journal or as a bookmark. Or perhaps, the customer will answer this question and post it on social media along with the stationery.
The Sill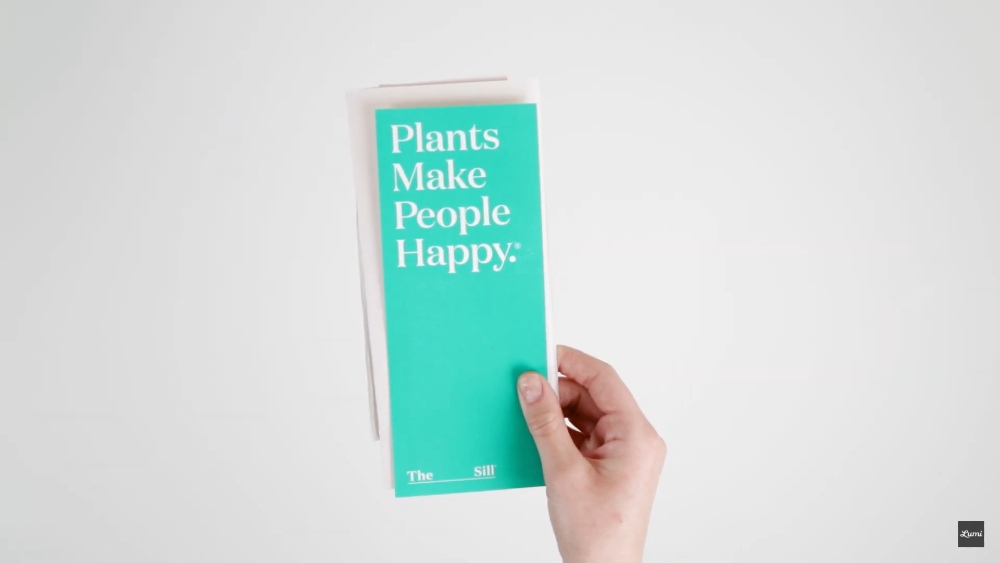 On Lumi's unboxing video of The Sill, the packaging insert provides information about the plant your customer will buy. But it can also act as a bookmark or something you can hang on your refrigerator for reference.
About Me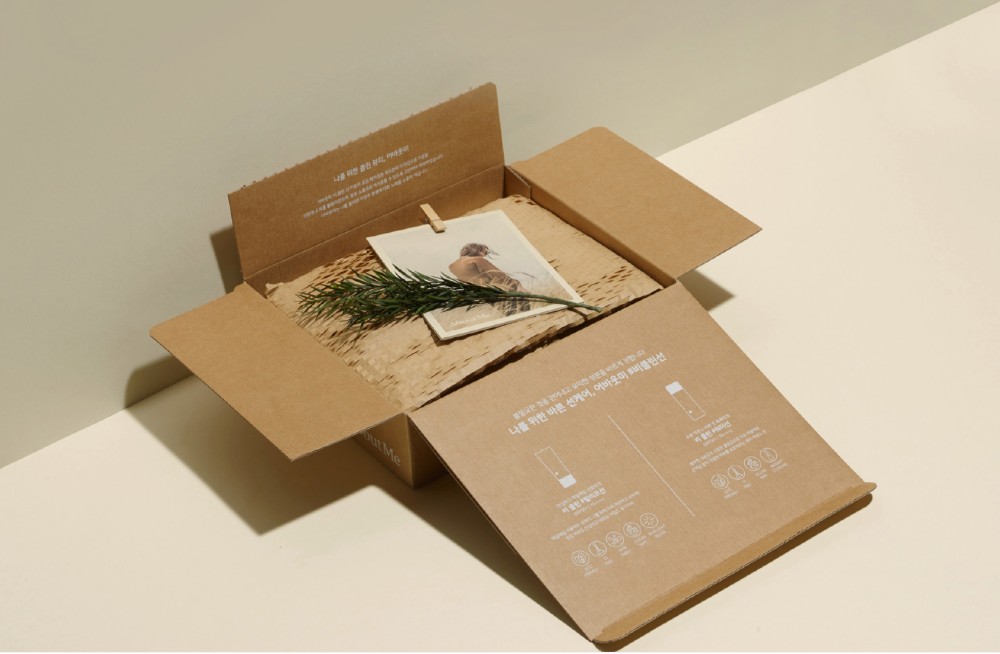 The About Me packaging insert looks like a postcard. Your customer could hang this somewhere or add it to their journal or scrapbook. Conversely, those who still appreciate the art of writing can use this to compose a letter to friends, and they can learn about your product that way.
Let Penji Design Your Custom Packaging Inserts
Your products are the star. But your custom packaging inserts are your customer's ticket to buy another product from you. Whether it's a freebie, a review card, or thank you card, they'll remember your brand more and consider buying from you again. And you can't do that with a template.
If you're on the lookout for a custom packaging insert, hand over the design reins to Penji. This opens up time for you to focus on your business. While you come up with ways to drive sales, Penji will work on your designs. What are you waiting for? Sign up and let Penji take care of the rest.