Packaging design plays a role in how customers would see your company and, in extension, your brand. For one, investing in great packaging would lead to customer attraction. Enticing packaging design can lead to increased sales.
In this article, we discuss the importance of packaging design in bolstering sales and increasing the visibility of products. We'll also tell you how Penji can help you stretch your buck to get a beautiful custom packaging design, as well as other graphics you need for your business.
Attract Your Consumer and Give A Strong First Impression with Your Packaging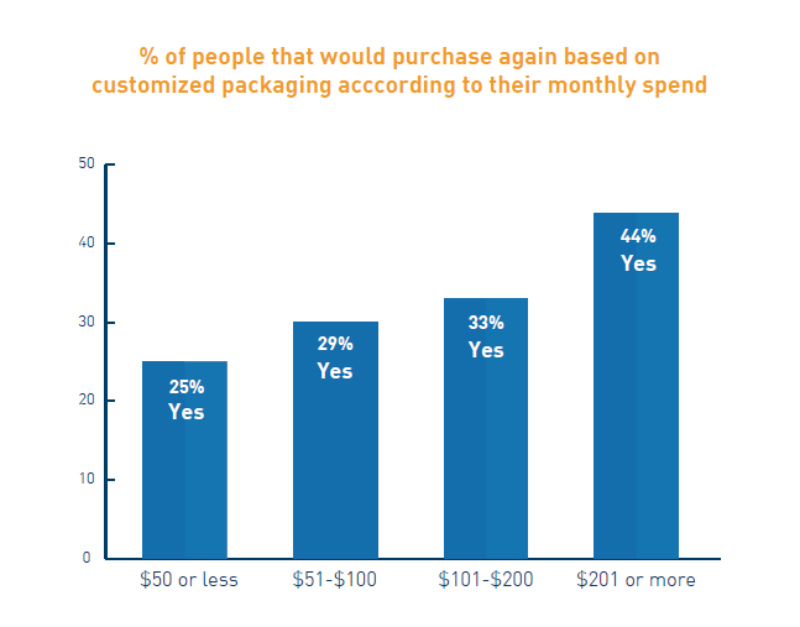 No matter what industry you're in, chances are you have competitors. How do you differentiate your product from the competition?
An Ipsos survey found out that 72% of American consumers say their purchasing decision is influenced by the packaging design. Because of this, your company should invest in custom packaging design for a better customer experience. Not only that, those who received packaging that wasn't easy to open were a dealbreaker for customers too.
Effective packaging is one of the ways you can stand out from your competition and attract customers. So, if you're selling in a brick-and-mortar environment, your packaging design is the first thing that a prospective customer will see on the shelf. Your customer may make their first impressions about your product and your company based on the way your packaging looks.
Although the total value of your product isn't determined by its presentation, this is the first (and sometimes only) chance you have to win over a customer. The graphic identity of your packaging must capture the buyer's attention.
Packaging Creates and Demonstrates Brand Identity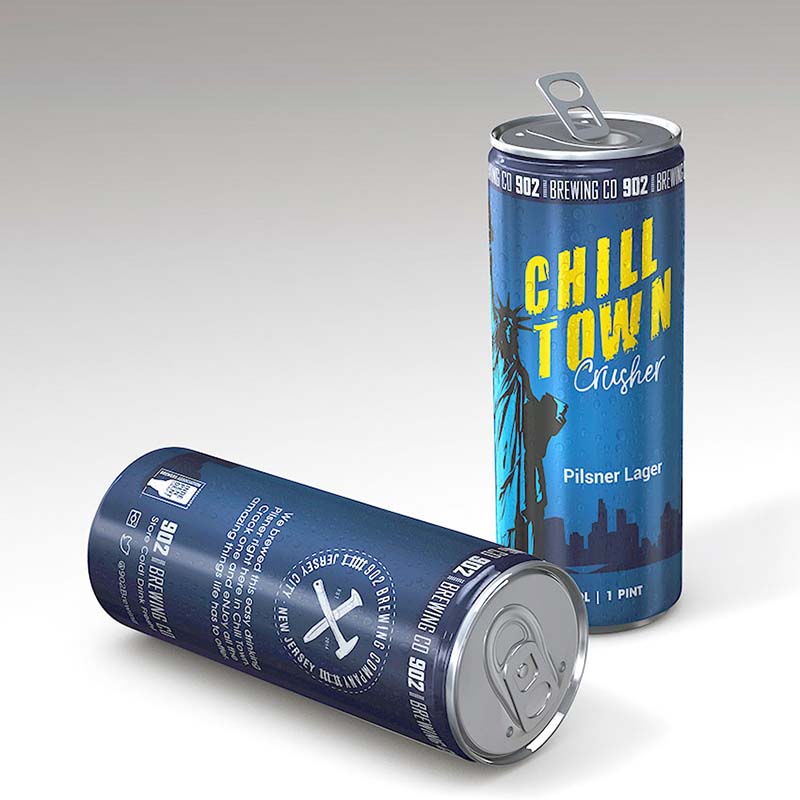 With an effective packaging design, you can reinforce your brand identity to connect with your customers.
It creates a clear impression of your company and products to new customers.
It reminds your customers about your brand and the products you offer.
Good packaging design is one of the keys to defining and shaping your brand identity. But to do this efficiently, you have to create a consistent impression that will result in the recognition of your brand and products.
If in doubt, ask yourself the following:
Does your package clearly display your company logo?
Does it make use of your company colors, fonts, and trademarks?
Does your packaging design elicit the right emotions?
Does it have an impact on new customers?
Does it rekindle an old memory from your loyal customers?
If you answered No to three of these questions, it's time for a redesign.
Related Post: The 6 Most Important Assets For Your Brand Identity
Your Packaging Communicates All the Information
Not all packaging are designed the same, but this is the one thing they all adhere to. Your product's packaging needs to be informative. Tell your user everything they need to know. Put all the answers on the outside, so they learn all about you and your product before they even open the box. So, here's a few customer questions that your packaging should answer:
Who is the product for?
What is the product used for?
Where can I learn more about the manufacturer and purchase companion products?
Does it have an expiration date?
Why do I need this product? How will it improve the quality of my life?
Become one of the world's most recognizable brands

Custom-designed packaging will take your brand to the next level. Don't miss out.

I want this!
Packaging Adds Value When It Works (Utility and Practical Applications)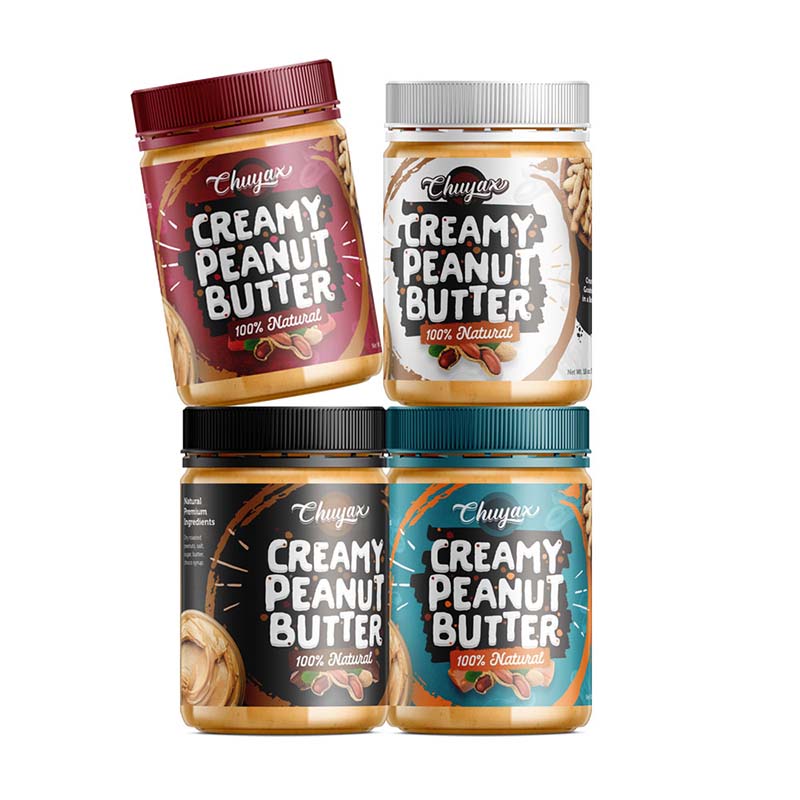 Up until this point, the benefits we've discussed focus around marketing. However, your packaging design also needs to be practical and functional. So, if your packaging provides a useful, utilitarian function to the customer, it can be just as valuable as the product itself.
During the production, sale and delivery of your product to the end user, your packaging provides three primary functions:
Protection
Without a safe housing for your product, it is vulnerable to several environmental hazards. Proper packaging design protects your product until the customer opens it.
Storage
Before the product is sold, it exists as inventory. Packaging design takes this into account, ensuring your product can efficiently stack, store and ship.
Transportation
From where the product is sold, to where it is purchased, and to the home of the customer, your packaging is the vessel that sees your product from Point A to Point B.
Now that you've learned why packaging is essential for your product, let's take a look at how you can improve it.
Pay Attention to Details
Don't brush off the small details in your packaging. Carefully planned package design lets your customers know that you mean serious business. Details such as FDA information and sustainability can help you gain your customers' trust and avoid getting recalled from the shelves.
According to the Paper and Packaging Board survey, switch to cardboard or paper if you want to have premium packaging since 63% of consumers perceive that. It would also influence them to buy more from the store or retailer.
Yorksaw finds that bold and bright colors are the trend in 2020. It's a way for brands to stick out from the competition. Without these bold colors, some might fall behind.
Consider Its Appearance on the Shelves
Think about where your product will be sold and use this as a guide in designing your package. Consider things such as fonts that will make it legible from a distance, or colors that will make you stand out from the rest.
Fonts
Think about where your product will be sold and use this as a guide in designing your package. The following are some of the factors you need to consider:
Fonts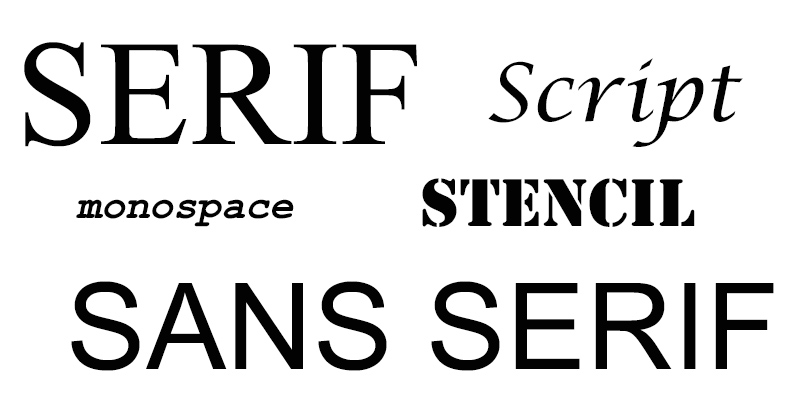 Fonts also hold weight in branding. Make sure that you use fonts that will look legible even when seen from a distance. Based on Nick Kolenda's research, Serif fonts look better on print. We won't go into technical details but think about Serif fonts as those presenting elegance.
On the other hand, sans-serif ones are those that communicate informality.
If your logo or typography doesn't fall under any of those categories, you can use sans serif or serif for other information in your products. For example, think of the nutritional values or ingredients. So long as it's the perfect pair for the font you typically use for your brand, it's good to go.
Related Post: Business Fonts Guide: How to Choose the Best Typeface and Fonts for Your Business
Colors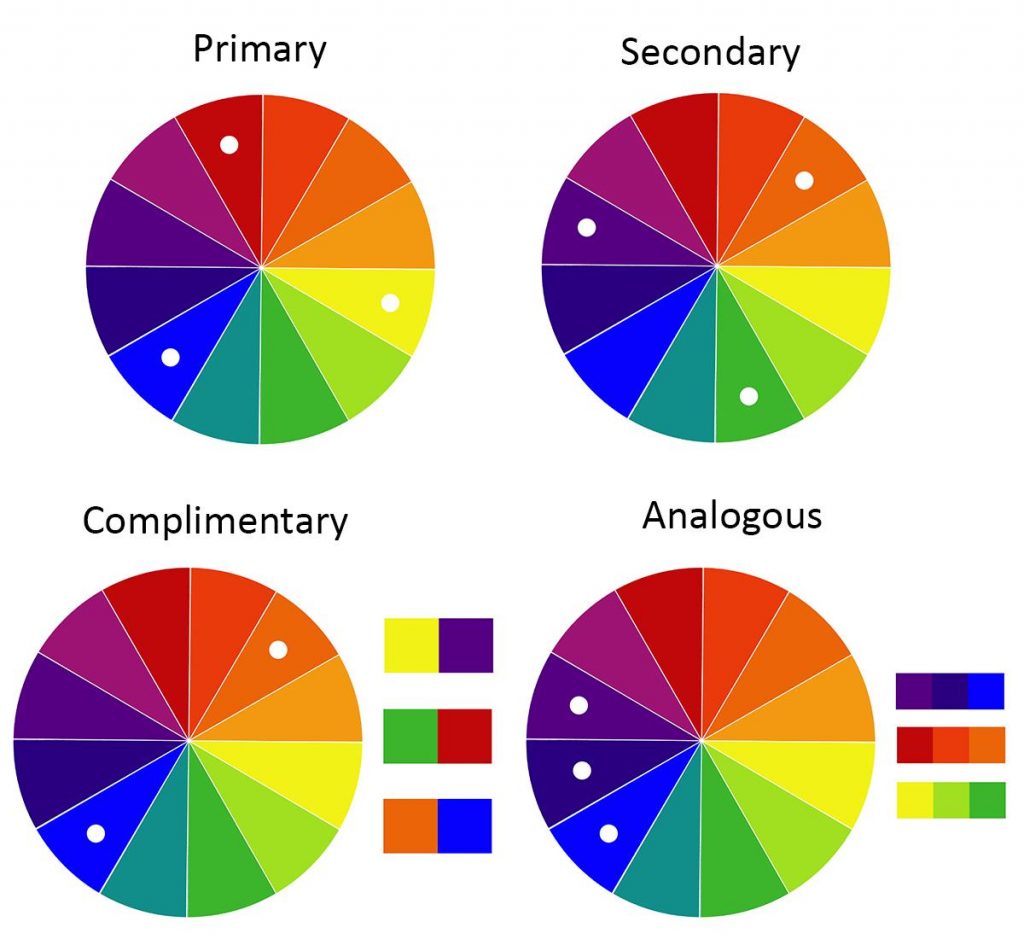 The use of the right colors and combinations can help your products stand out from the shelves. For this, you need to acquaint yourself with the color wheel. This is effective in knowing which color complements another. Say the color of your brand is orange, according to Apartment Therapy, you need to pair it with blue. If it's red, go with green. So on and so forth.
Understanding colors also involve knowing what the psychology is behind them. Color psychology helps consumers see the brand personality that you want them to have of your brand.
For example, if your brand has a bright color, which may suggest happiness, your product packaging should reflect that too. If it's on the cool side, your custom packaging should also have the same messaging.
Related Post: Color Theory 101 for Entrepreneurs
Add Versatility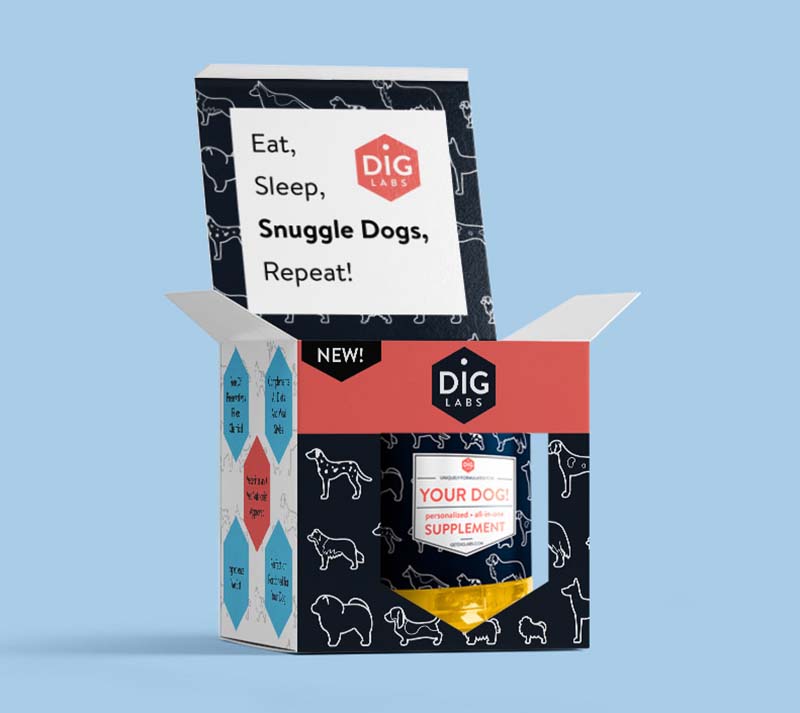 Design your package in a way that it can be upgraded or adjusted in case you want to add variations to your products. Make it versatile enough that it can be modified with very little alterations.
To make your packaging versatile, INC wants you to start with your audience. Who's your audience? Would they approve of cardboard or another eco-friendly option? How would you personalize your packaging? How would you make it user-friendly?
As mentioned previously, you need to ensure that functionality is part of your packaging design. You help your customers learn more about you and what your brand represents.
Invest in Professional Work
Professional graphic designers know their craft and they can give you a package design that works. Don't settle for less when it comes to your packaging as poorly designed ones can break you. Your packaging can create a good impression and can also create a bond that will keep your customers keep coming back for more.
How to Request Packaging Designs from Penji
Getting custom packaging designs is easy with Penji. Our expert graphic designers know just how to translate ideas into visuals. Our user-friendly platform will allow you to have the best designs in three easy steps.
Create
Log in to the Penji dashboard and click on the +New project button. The image below will show you what to expect, for first-time clients, this will be blank.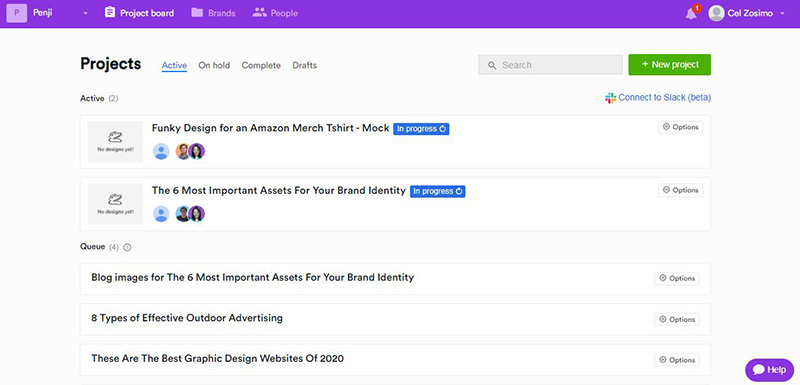 You'll be redirected to the next page where you can type in the project title. Select the category Packaging from the drop-down menu. Click on the box of the package you want to have designed.
Click on Next.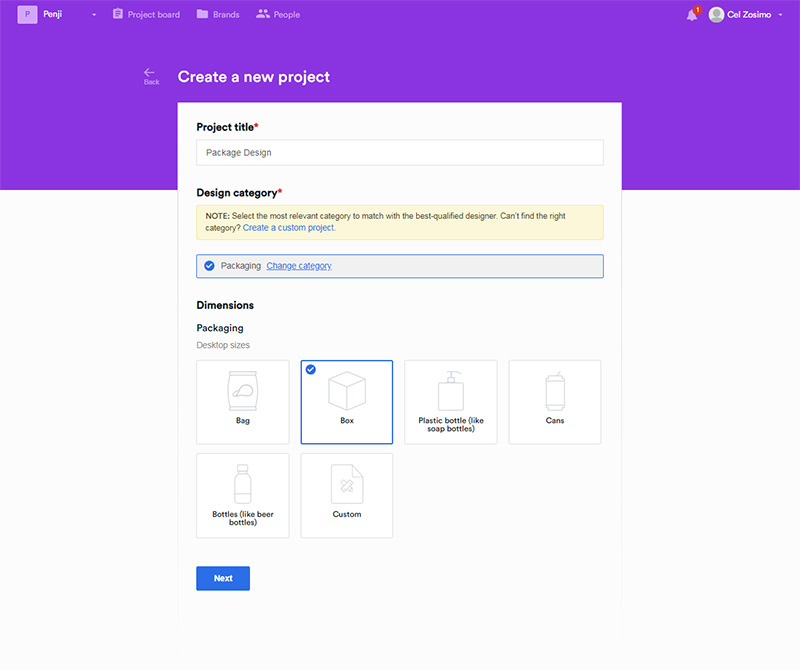 The description box will appear—type in your project details and instructions for the designer. You can send attachments such as files or links that the designer can use as references. You can also choose from our selection of royalty-free images.
Click on Next.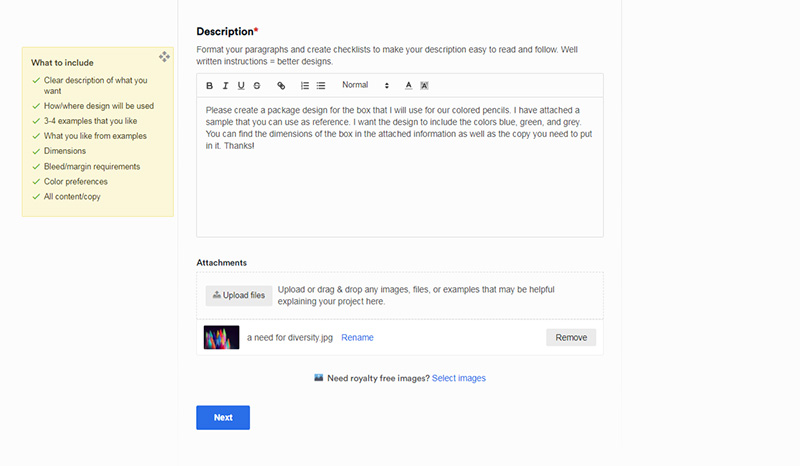 Our Team and Agency plans let you request for custom illustrations. Select which file type you want your project to be done. The Associated brand is our feature where you can store your brand assets, such as logos, color palettes, and other guidelines. You only need to click on that folder the next time you request for a design that needs your brand assets in them.
Click on Create project.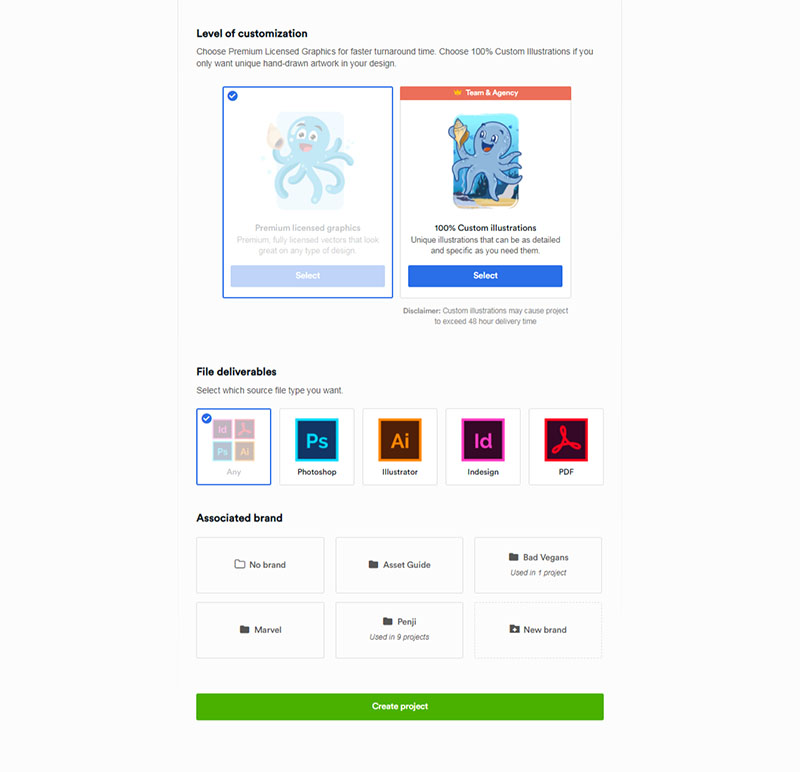 Your project is now in the queue. This will be worked on within 24 to 48 hours. You'll receive email notifications about the progress of your project. This is also where you can communicate with your designer.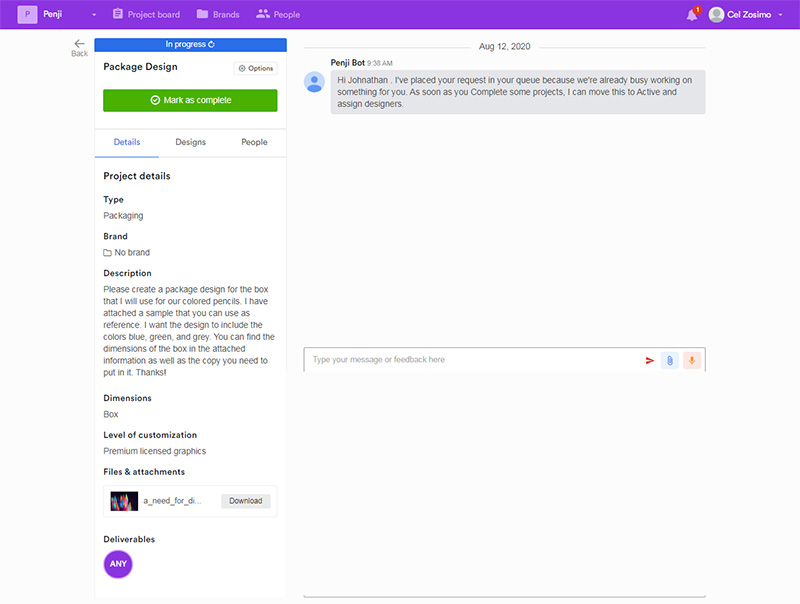 Review
Review the first draft. You can click on the design to view it and leave revisions. Just direct the pointer to where you want the changes and type in your comments. Click Send. Your designer will work on it within 12 to 24 hours.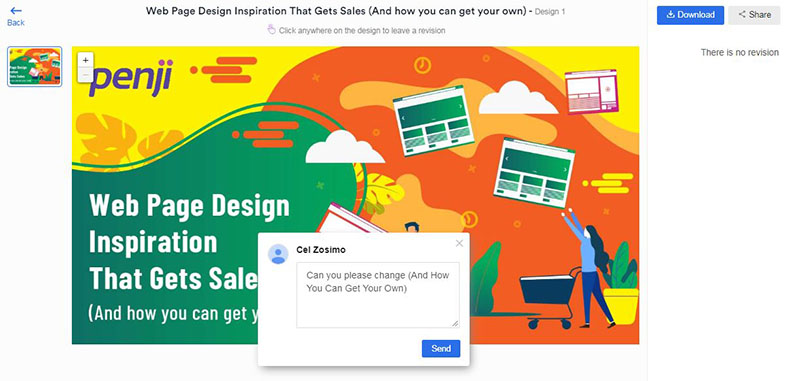 Download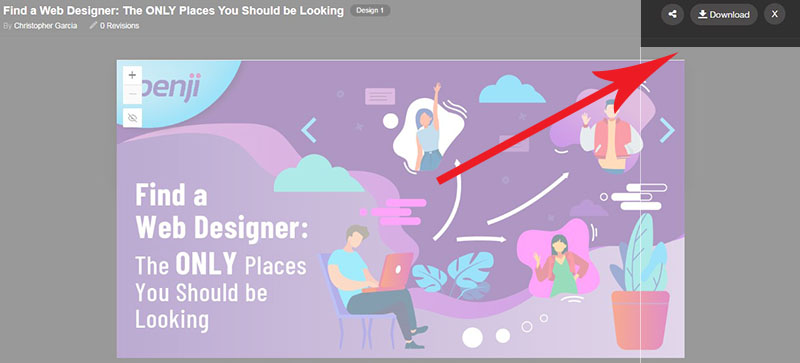 When you're satisfied with the work, you can now download it. Your package design will be directly downloaded to your computer. It's yours to keep and use anywhere. Getting a high-quality packaging design has never been this easy!
Penji Packaging Design Samples
If you find it difficult to plan for your package designs, let the experts do it for you. Penji's team of professional designers have the experience and expertise in custom packaging designs. Here are a few of our previous work: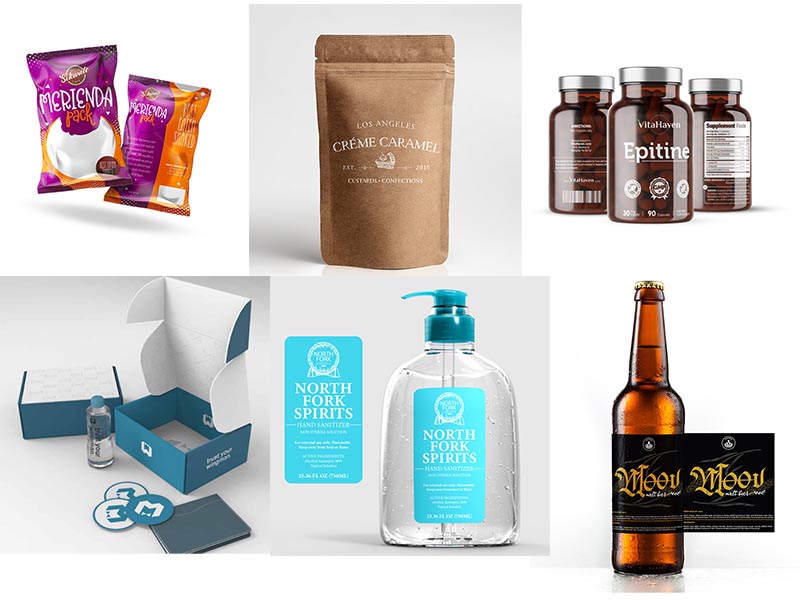 Key Takeaways
Packaging design goes beyond just colors and branding. There are many elements to consider to make your packaging special to your customers. Leave it to professionals to do it right the first time.
If you're looking to revamp your packaging or start your process in packaging your products, Penji's one click away. Know how we can integrate your branding into your packaging by trying our plans risk-free for 15 days. Watch our demo video here.
Updated December 17, 2020