Dogs are cute and friendly animals that evoke emotional responses from people. And this is why some brands choose dogs for their company logos. One of the breeds that represent physical strength and endurance is huskies, making this a favorite choice for business logos. A husky logo can convey messages of durability, reliability, and resilience for businesses. It can also symbolize ambition, a strong work ethic, and a drive to succeed. If you're considering using huskies to represent your brand, take a leaf out of these husky logos by Penji.
Need help with your husky logo? Let Penji create one-off projects or unlimited designs for you!
1. Chukcha Security Agency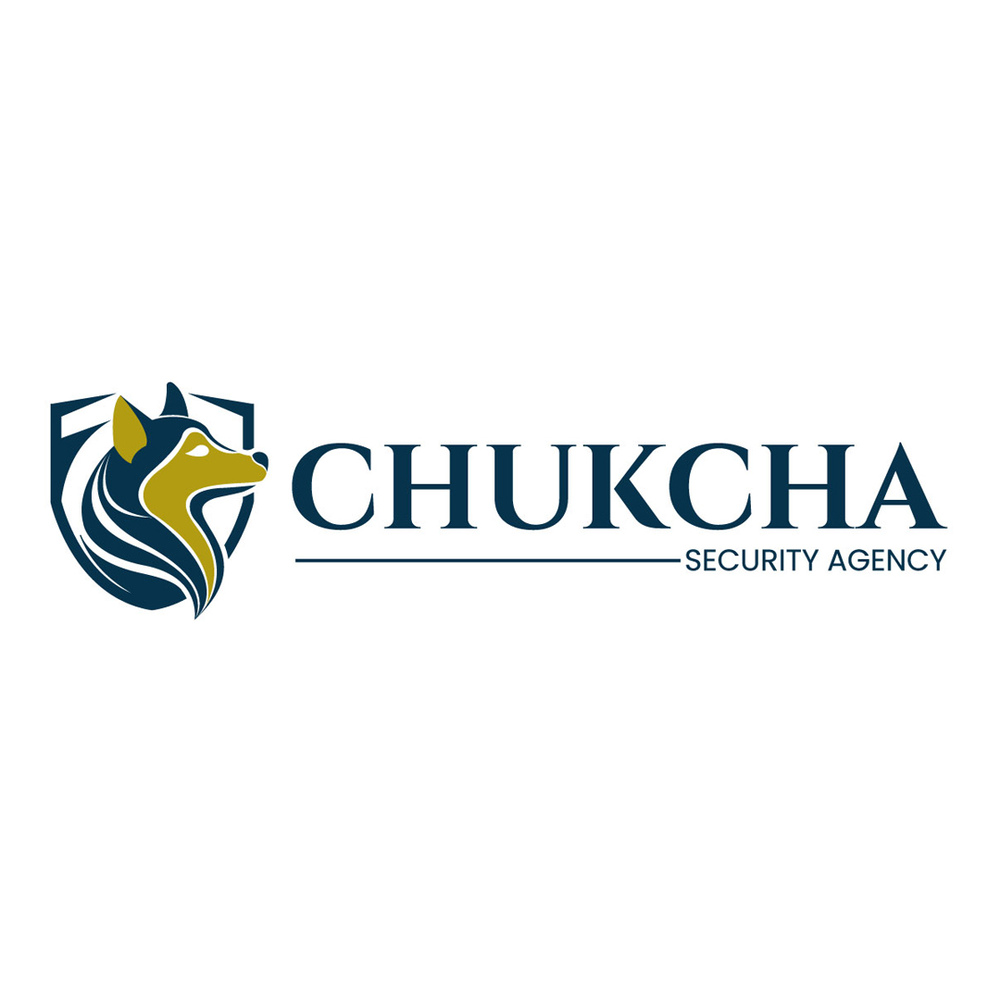 This Chukcha Security Agency logo exudes sophistication and strength. With its beautiful, flowing hair and commanding presence, it captivates attention. The husky's face and ears, colored in a striking army green shade, evoke a sense of authority and security. The logo's serif font adds a touch of classic elegance, emphasizing the professionalism and reliability of the security agency. This logo conveys a sense of trustworthiness and a commitment to excellence in providing security services.
2. Husky Pet Shop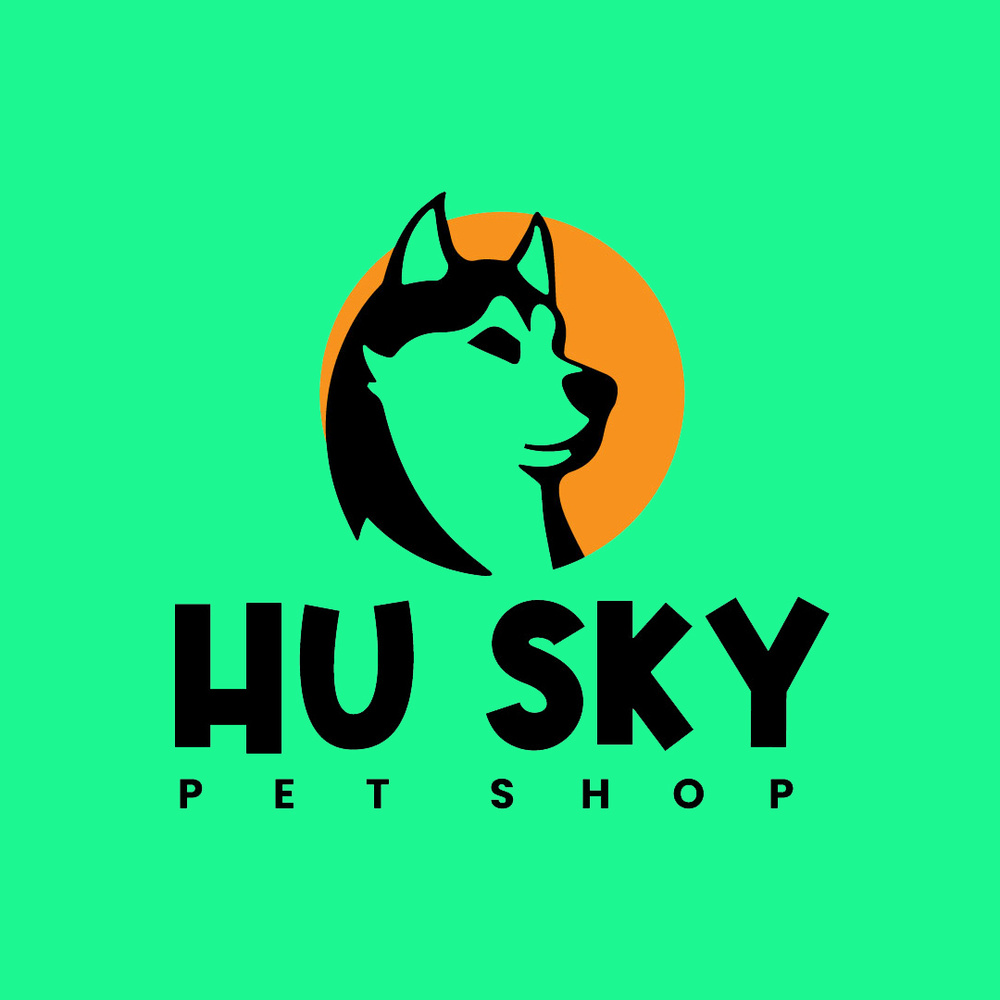 This Husky Pet Shop logo features a serious-looking husky with a commanding presence. The husky, portrayed strikingly, has a distinctive bright orange circular background. Its intense gaze and prominent, big black snout exude confidence and strength. The typography chosen for the logo is a bold and sleek sans serif font, adding to the logo's modern and professional appeal. To balance the boldness, a light-faced font is paired with it, creating a harmonious contrast. Overall, the logo conveys authority and professionalism while capturing the essence of the husky's solid and serious nature.
3. HusClick It Company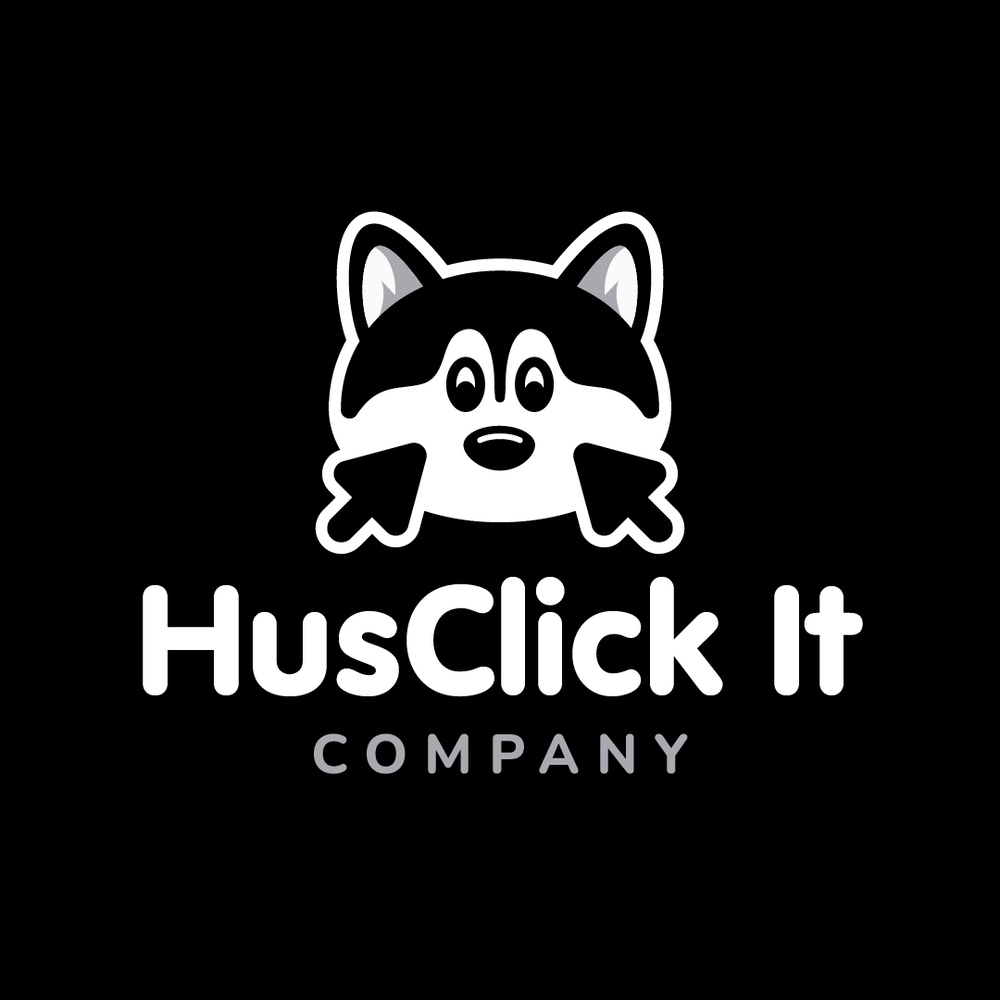 A whimsical husky logo for HusClick It Company captures a playful and tech-savvy spirit. The husky represents the company's reliability and trustworthiness in computer software installation and repair services. Adding mouse arrows pointing toward the husky's face instills a clever touch. They symbolize the tech company's expertise and ability to navigate through software solutions effortlessly. This logo design combines a sense of charm with a clear message of proficiency. It's an inviting and memorable representation of the IT company's services in the realm of computer software.
4. HusCute Kid's Apparel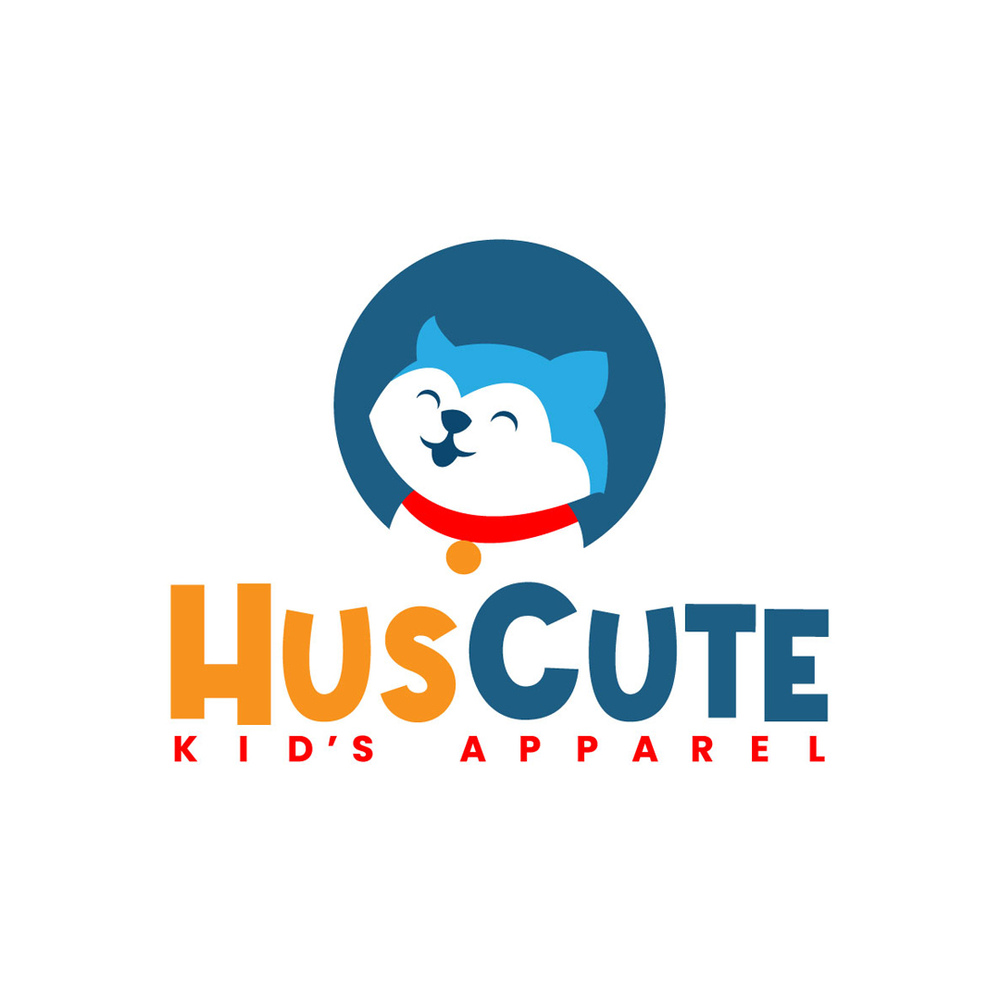 HusCute Kid's Apparel's logo features a charming, friendly husky with a vibrant smile. The husky's smiling eyes, and cute mouth exude warmth and approachability. This husky logo design is apt for a brand that caters to kids and children, as the husky exudes a welcoming vibe. The varying shades of blue create a soothing and harmonious color palette. Meanwhile, the red collar adds a striking contrast, drawing attention to the husky's cheerful expression. Overall, this logo captures the essence of a friendly and inviting brand, leaving a lasting impression on viewers.
5. Husk Kids Play House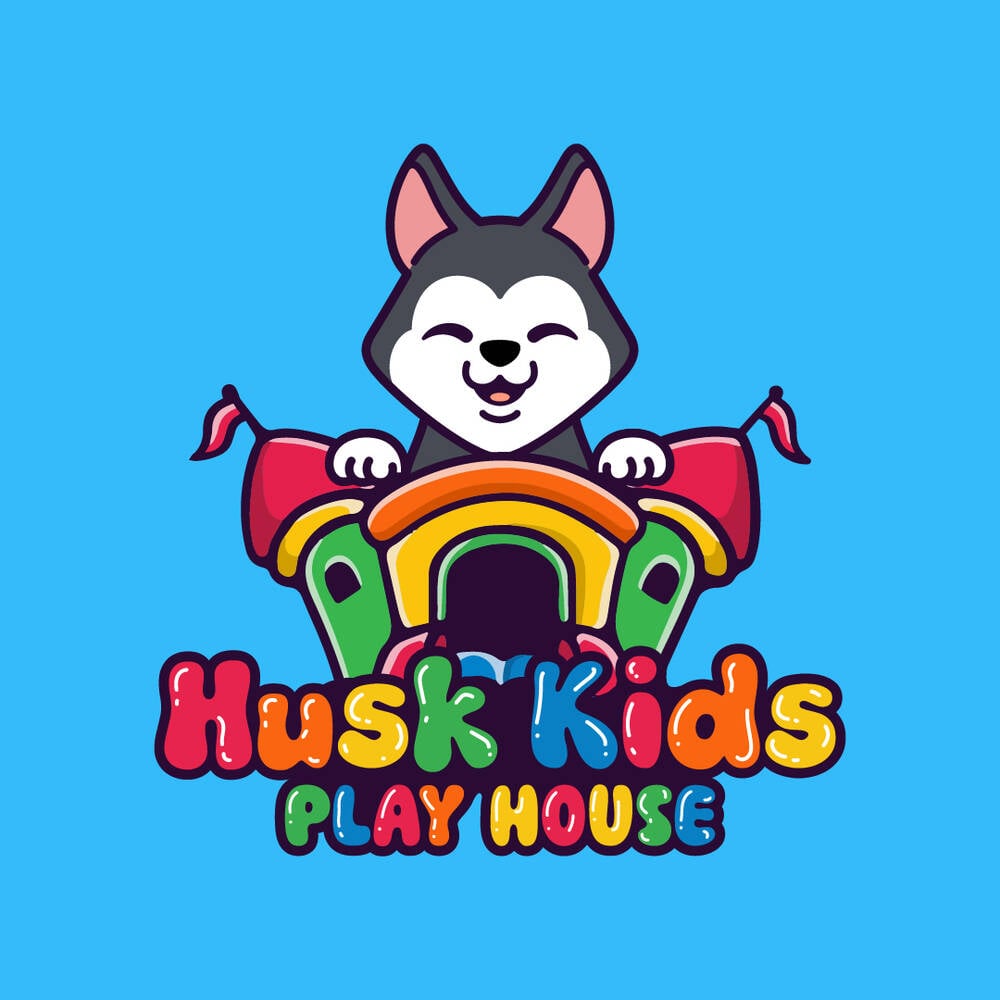 This company logo for a kids' play house features a vibrant and inviting design. A smiling grey husky takes center stage, with its paws playfully resting on a colorful playhouse. The cheerful expression of the husky conveys a sense of fun and excitement, creating an immediate connection with young children. The use of bright and varied colors adds to the playful atmosphere, capturing the target audience's attention. The stylized font with colorful letters reflects the brand's focus on creating an engaging and enjoyable experience for children.
6. HusKey Locksmith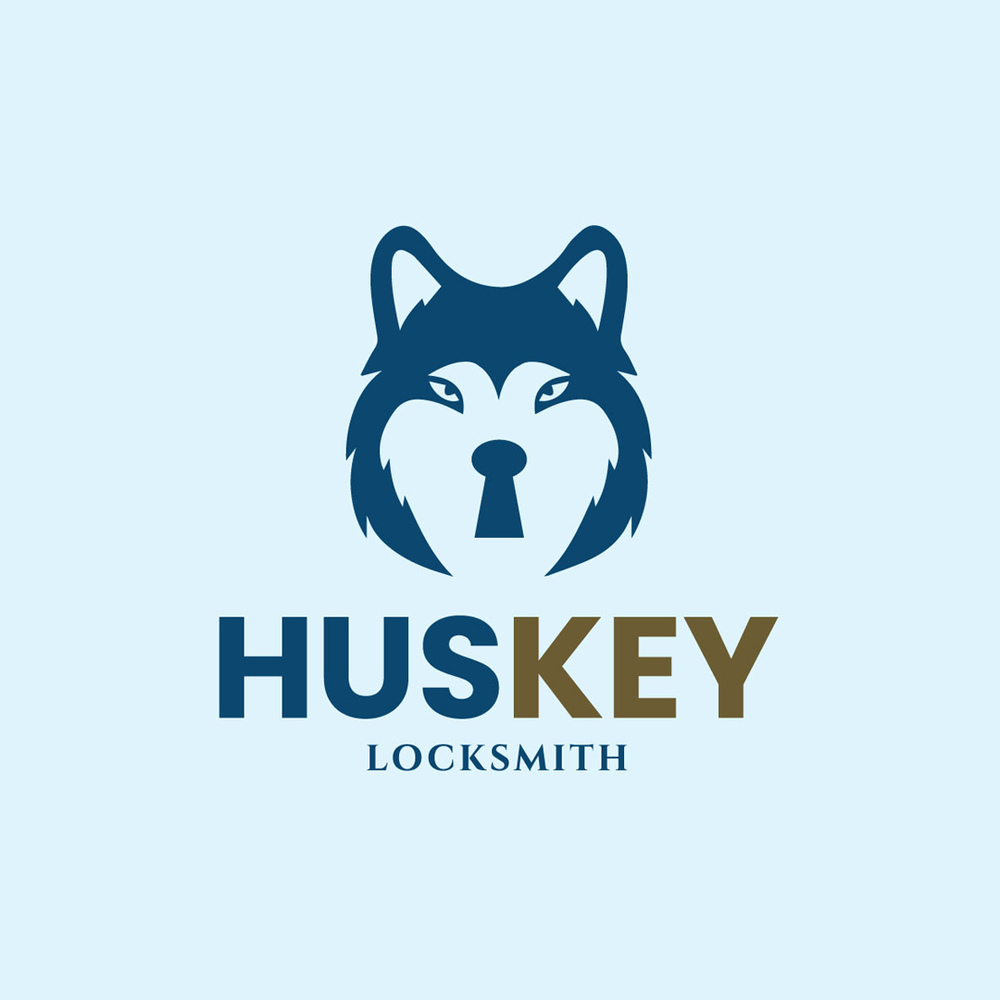 HusKey Locksmith's logo features a commanding and serious-looking husky, rendered in a striking shade of blue. The design incorporates the clever use of negative space, with the husky's snout cleverly resembling a key cylinder. This husky logo design symbolizes security and reliability. The bold sans-serif font adds a touch of modernity and strength to the logo. The combination of blue and army green colors in the font further enhances the logo's authoritative and dependable image.
7. Husky Sports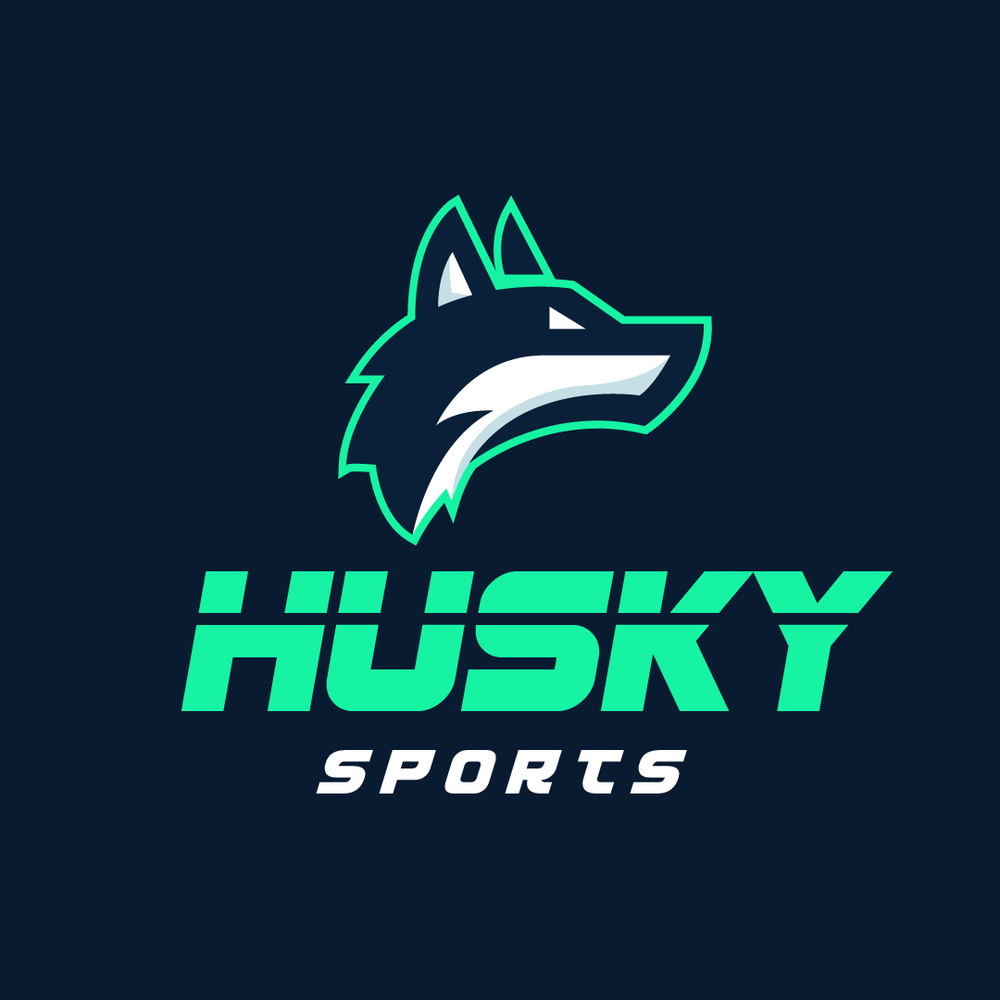 The company logo features an athletic-looking husky, reminiscent of the powerful and agile huskies seen on sports team jerseys. The husky is portrayed with dynamic and energetic lines, capturing its active and spirited nature. You will instantly notice the captivating bright green color that serves as the outline. It creates a vibrant and eye-catching contrast against clean white highlights. This combination of colors brings a sense of energy and excitement to the logo, reflecting the brand's competitive spirit.
8. HuskyDocu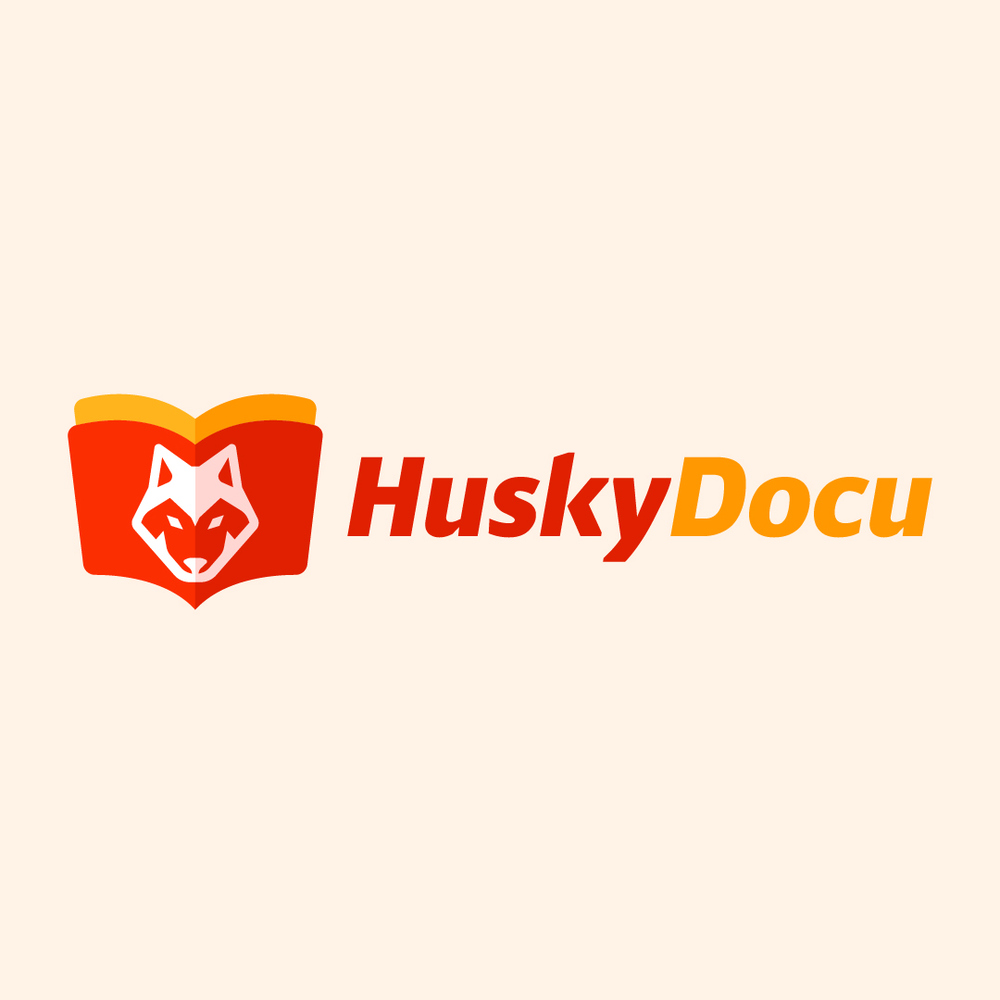 For a SaaS company offering document services, the open book in striking shades of red and orange is suitable. The book symbolizes knowledge, information, and the power of documentation. At the heart of the logo sits a husky image, representing loyalty, reliability, and trustworthiness. The husky's presence conveys the company's commitment to providing secure and dependable document services to its users.
9. Icon Clothing Line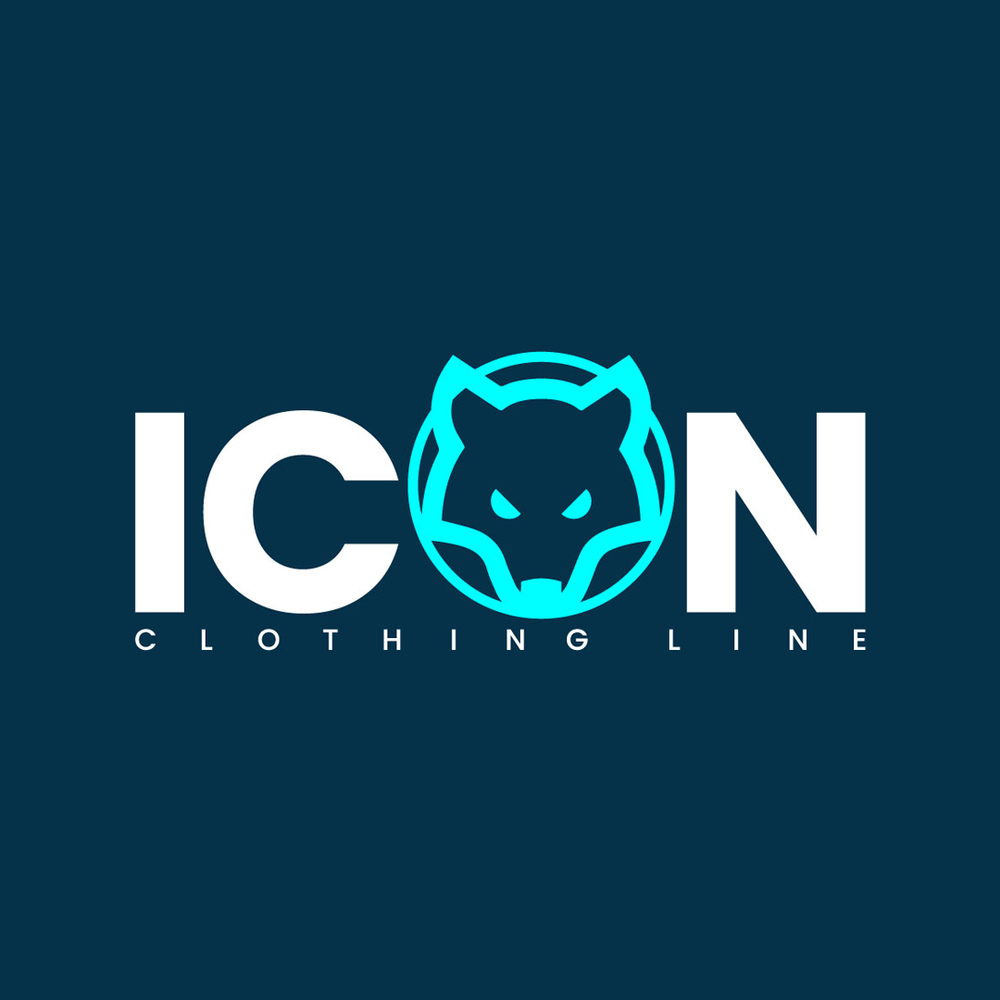 Husky logos will depend on what the brand's values are and who the brand's target audience is. The logo for this male-centric clothing line is a perfect blend of simplicity and strength. Its typography features a bold sans-serif font, exuding a modern and confident vibe. The standout element is the letter "O," cleverly incorporating an abstract husky image in a captivating teal color. The husky image represents loyalty, resilience, and adventure, appealing to the target demographic's desire for style and adventure. This logo captures the brand's essence, projecting a solid and stylish image that resonates with the male audience.
10. Wiseky Software Company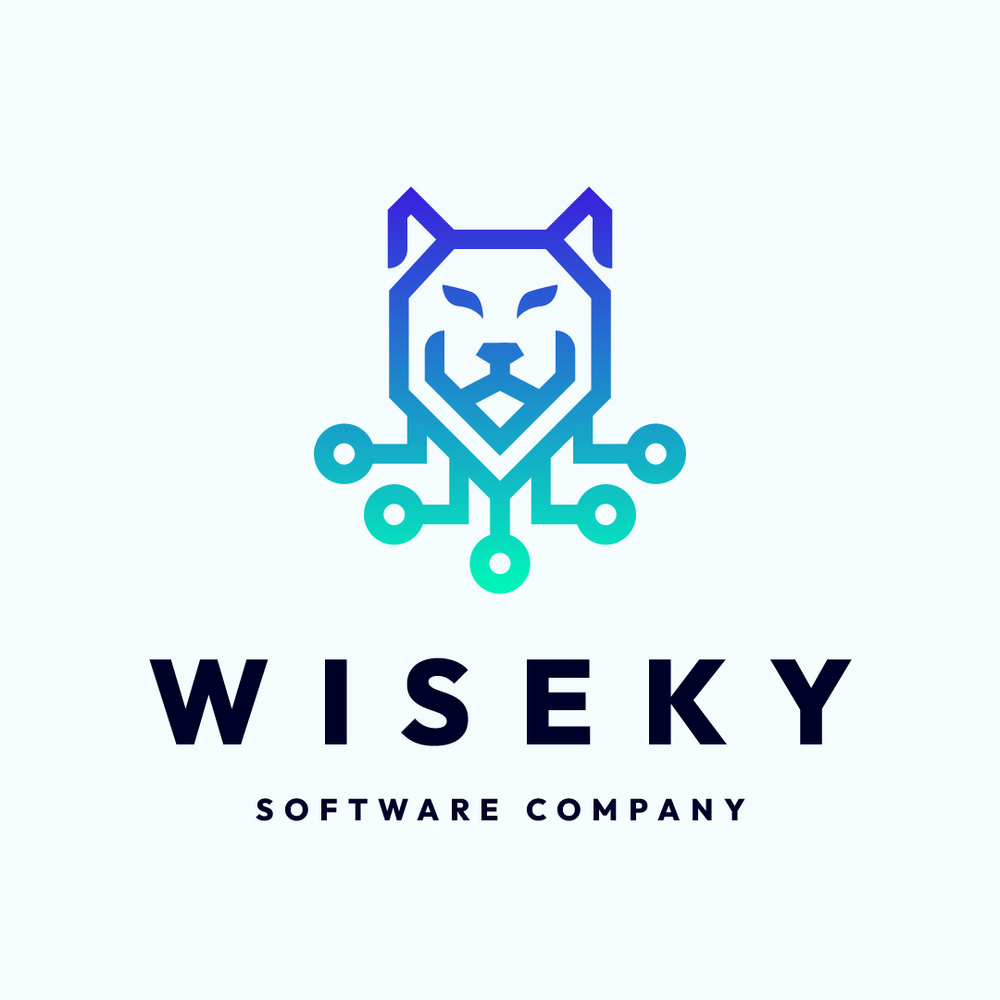 The company logo for this software company is a visual representation of its brand identity. At the center of the logo, a smiling husky captures attention with its friendly expression. The husky is creatively designed in shades of blue and teal gradients, giving it a futuristic appearance resembling a circuit. This unique combination of elements symbolizes the company's core values of reliability, innovation, and friendliness. The logo's vibrant colors and the husky's warm smile convey a sense of approachability and trustworthiness. Meanwhile, the circuit-like design signifies the company's expertise in the software industry. Overall, the logo exudes a modern and inviting vibe, appealing to existing and potential customers.
Get Your Husky Logos from Penji
Need help with your small business husky logos? Turn to no other than Penji, the most reliable unlimited graphic design service with a fast turnaround. Whether you need unlimited designs or one-off projects, Penji has every affordable deal for you.
Try Penji's hassle-free and efficient graphic design service for 30 days risk-free. Or sign up for a limited 15 percent discount now!