High-quality and affordable are two words you probably won't find together when describing graphic design. You either get one or the other. This may be the reason many people opt to DIY their visual assets.
Canva is one of the most popular choices when it comes to DIYing a logo or web design. It offers many options to create professional-looking designs without breaking the bank. However, a good contender for this scenario is Penji's unlimited graphic design services.
Let's take an in-depth look at each of these design resources and determine which one you should go for.
Competitor vs. Penji
What is Canva?
What is Penji?
Competitor vs. Penji
The Costs
The Sign-Up Process
Getting Your Designs
Final Designs
Getting a Second Design
Communications
Testimonials and Ratings
Fun Facts
Final Thoughts
Competitor vs. Penji
While Canva lets you do your own designs, Penji has a team of pro designers who will create the designs for you. What makes these two different is that with them, you can get good designs at a fraction of the cost—a complete about-face from hiring in-house designers or getting the services of a design agency.
Both design partners offer something different and valuable. It's a matter of choosing which one fits your brand the best. But before making a choice, it's only fitting to know what each has to offer. Read on as we get Penji and Canva head-to-head and see what makes them tick.
To get more savings, sign up to Penji by clicking on this link. Use the promo code: CAN15 to get 15% off on your first month.
What is Canva?
A premium software design tool, Canva lets you create designs by just dragging and dropping. This is an excellent solution for business owners who don't have the budget to hire a professional graphic designer. There is a free version, and then there's the pro, which we'll review here. It allows you to use all that Canva has to offer for a minimal price.
The pro version of Canva will give you access to the following:
610,000+ premium templates
3000+ fonts
100+ million premium photos, videos, audios, and graphics
100GB of cloud storage
Priority support
What is Penji?
An on-demand graphic design service, Penji offers unlimited graphic designs at flat monthly rates. On-demand because in just 24 to 48 hours, you'll get your design. No need for you to wait weeks to get what you need. Its fixed rates mean you only pay a single fee for all the designs you'll get in a month, revisions included.
In a nutshell, here's what you'll be getting when you subscribe to Penji:
120+ categories of custom graphic design services
100% custom illustrations
100% custom website and app design
Hundreds of vetted professional designers
Priority support
15-day money-back guarantee
Competitor vs. Penji
As mentioned earlier, both Penji and Canva have something good to offer. Below are features that most customers look for when searching for a graphic design partner.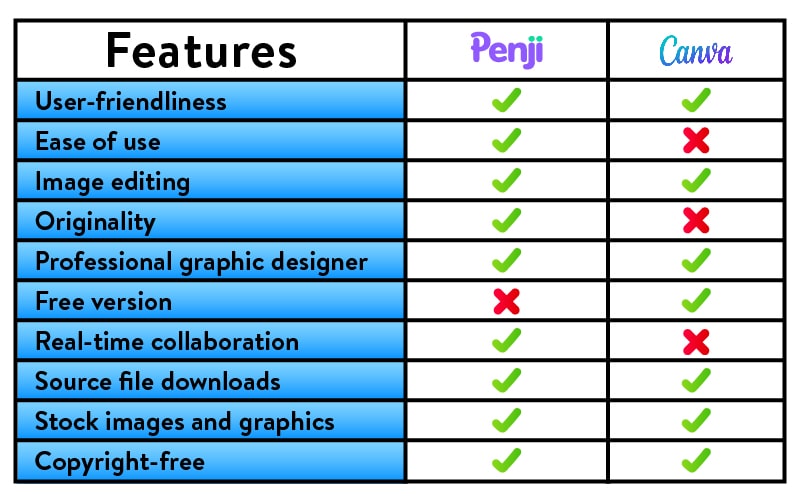 As you can see from this table, both offer something that the other doesn't. What's most notable is that Canva didn't make the grade for ease of use. If you have tried creating designs on Canva, you'd say that this is a mistake.
It's because, with Penji, all you need to do is submit a design request and wait for the designer to finish it. With Canva, you have to do the designing yourself. On the other hand, graphic design DIYers will tell you that Canva is the best all-in-one solution.
The Costs
As with many business owners or marketers, the cost of design is one of the most vital factors in choosing their design partners. Again, this is the primary reason most businesses on tight budgets decide to do the designs themselves. They have resigned to the fact that great design doesn't come cheap, and in most instances, this is true.
If you're looking for affordable designs that are high in quality, Canva and Penji are the top choices. Let's take a look at the pricing of both to give you an idea of which would be more cost-effective for you.
Canva Pricing
With unlimited access to its design tools and content, Canva's $12.99 monthly fee is a steal. You can add up to five people to your team, and everyone will get access to all that the plan has to offer. Take a look at their pricing plans: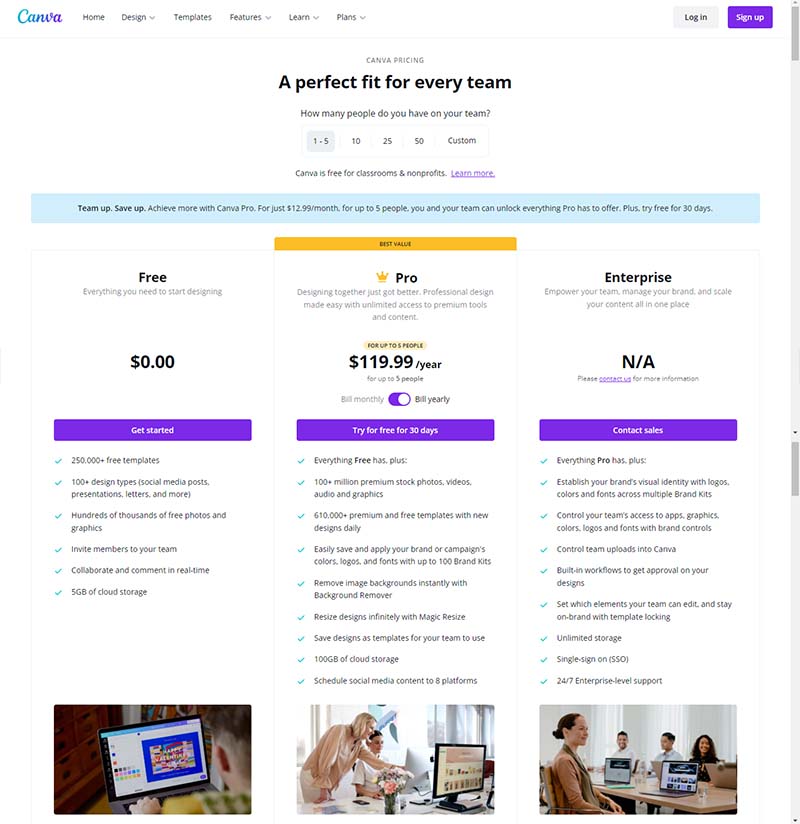 A 23% discount is what you'll get when you pay annually. While the free version offers impressive features, these are limited and can sometimes be frustrating, aesthetically speaking. A subscription will give you more design options, and with this discount, you can definitely get your money's worth.
Canva lets you cancel your subscription any time you need to. But the better option would be to pause it. Canva enables you to pause your subscription for up to three months and automatically resume after.
Penji Pricing
With three plans to choose from, Penji offers excellent graphic design services at affordable rates. Its pricing page shows us this: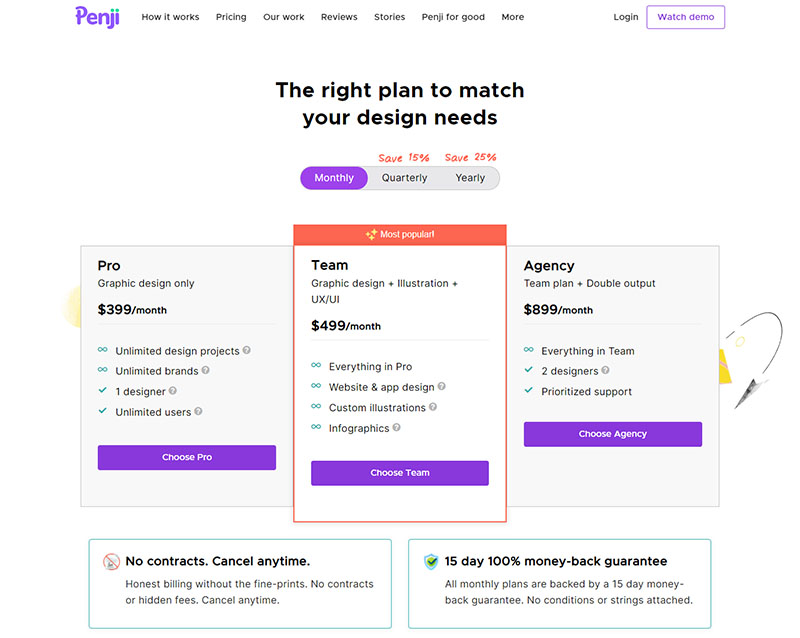 When you pay quarterly or annually, you can save up to 25%—up to $1,497.00 savings for the Team plan. Penji is offering a money-back guarantee after 15 days of use. This allows you to try out the service and see for yourself if this is what you need.
Also, Penji does not tie you down with contracts. You can cancel anytime you want to. After cancellation, Penji will store your designs for up to 90 days. This is especially helpful when your company's need for designs gets low. You can subscribe anew when the workload gets back up again.
Pricing Takeaway
When placed side to side, Penji's pricing plans may seem a little steeper than Canva's. This is because when you subscribe to Penji, more than a hundred professional designers are at your disposal. If you want a quick and easy way to get graphic designs and illustrations, Penji is the most suitable choice.
On the other hand, if you want to get designs with the least cash out possible, Canva is for you. It is ideal for those on a very tight budget but willing to spend time and energy designing. Instead of purchasing expensive software, Canva has made it simple for non-designers.
The Sign-Up Process
An easy and quick sign-up process can lead to more conversions. Customers are now becoming more web-savvy that brand loyalty becomes less and less critical. They now jump at every chance they get to the ones who can offer them the best deals.
Therefore, companies are ramping up every process they have to lure more customers and keep the loyal ones in. This includes providing a straightforward sign-up process that can be done in the shortest time possible. Let's look at how Canva and Penji fare in this category.
Canva
When you go to Canva's pricing page, click on the Pro plan to sign up. I have timed the whole process, and it took me about 2 minutes and 21 seconds to finish, notwithstanding internet connectivity and other factors.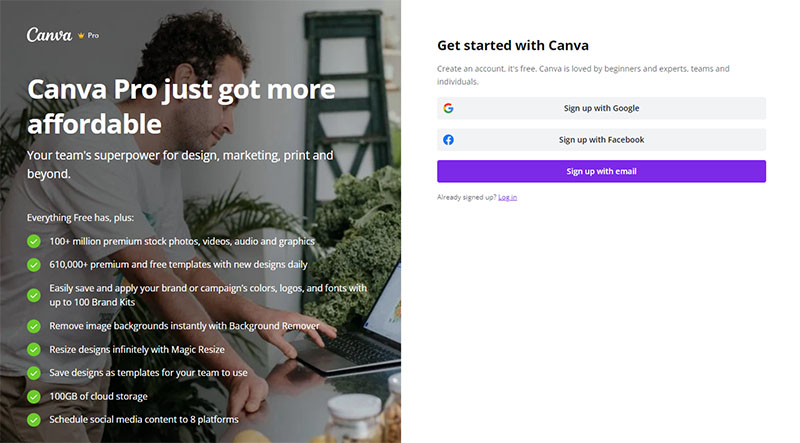 The site then sent me a code on my email address for verification.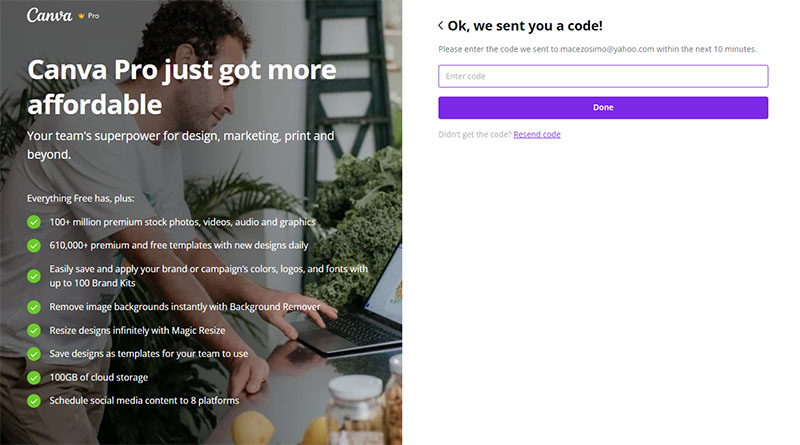 After doing so, you can now create your account.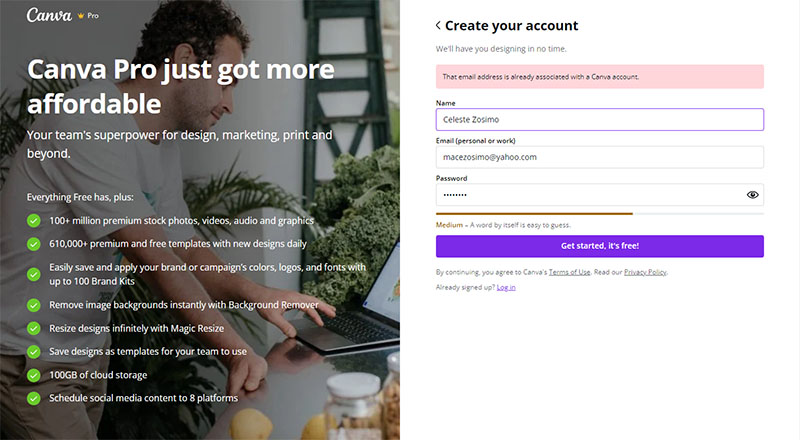 You can start designing now.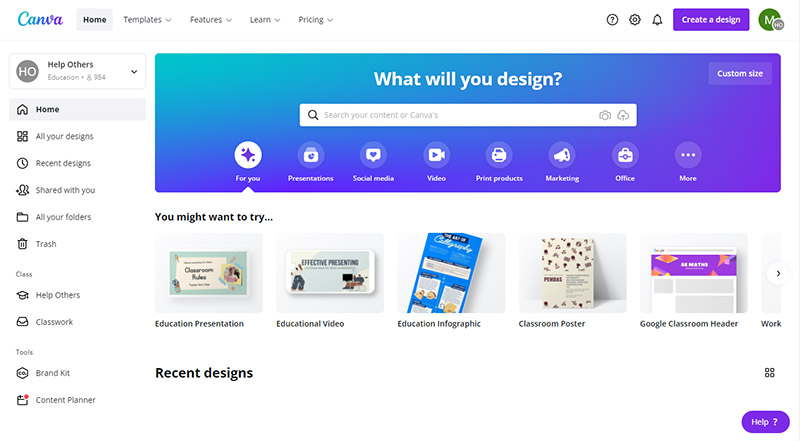 Penji
Not to be outdone, Penji's sign-up process took me about 2 minutes and 19 seconds to complete. It was relatively simple and is basically the same as Canva's. Here's how it went:
When you go to the pricing page, click on the Pro plan to sign up. Fill in the signup form with your details. Don't forget to key in the promo code to get your discount.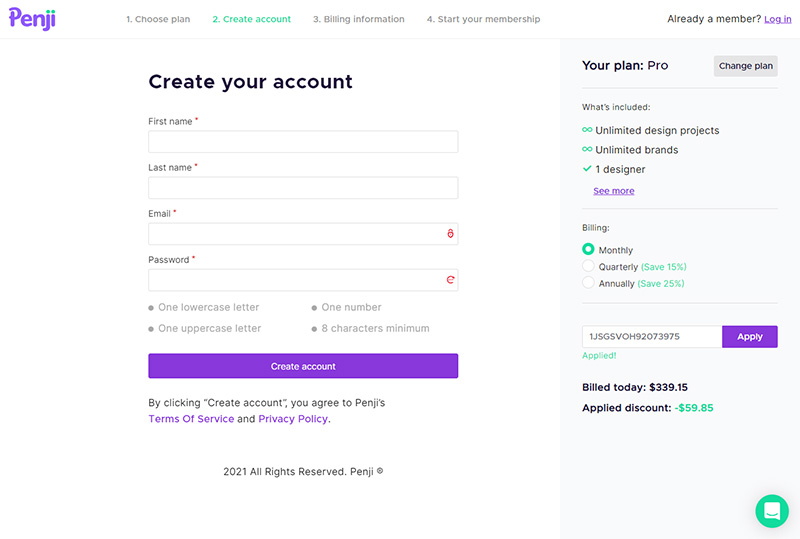 As with Canva, you need to enter your information and payment details and click on Finish and pay.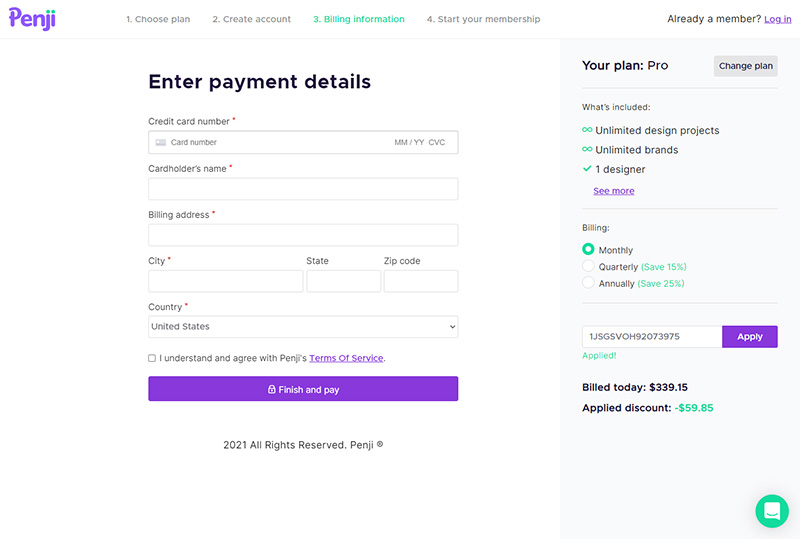 You can now request your first design.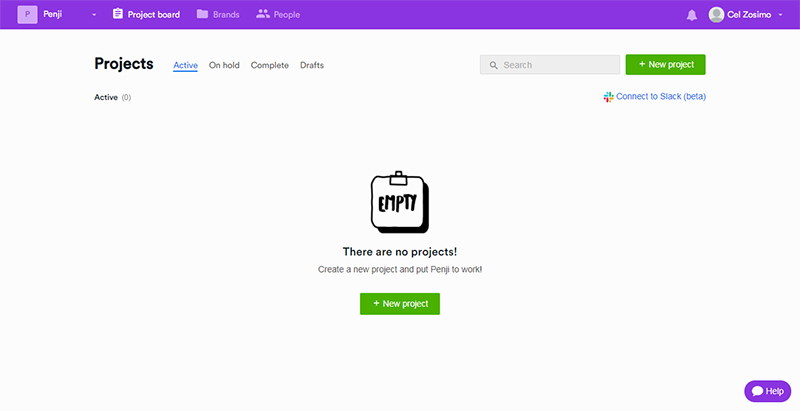 Getting Your Designs
This is the meat of the matter and should be your first and foremost consideration when choosing a design partner. Signing up for Canva and Penji made me realize that the two offer contrasting ways to get designs. Let's see by requesting/creating a logo using the same design brief.
Canva
When starting a design on Canva, you can enter the type of project you want on the space provided or click on any of the tabs you see on the page. I typed the word logo, and suggestions were displayed on the drop-down menu.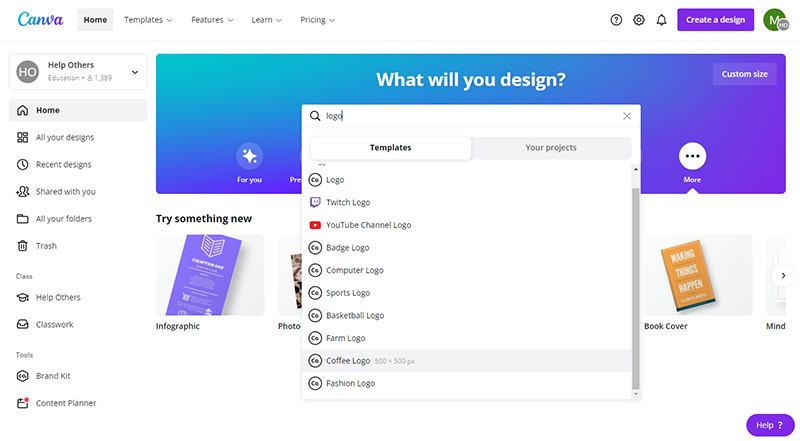 You can then see the logo templates that you can edit with your brand name or company fonts or colors. I clicked on this ready-made logo which prompted the website to open it on another tab, ready for me to edit it.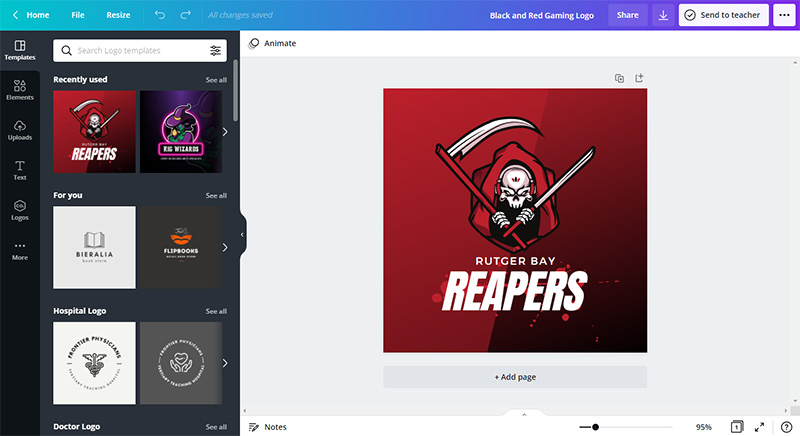 While the design above may seem good to go, you wouldn't want to use it for your business. It won't do well with originality and uniqueness. This is why using the option to create a blank design is still your best bet.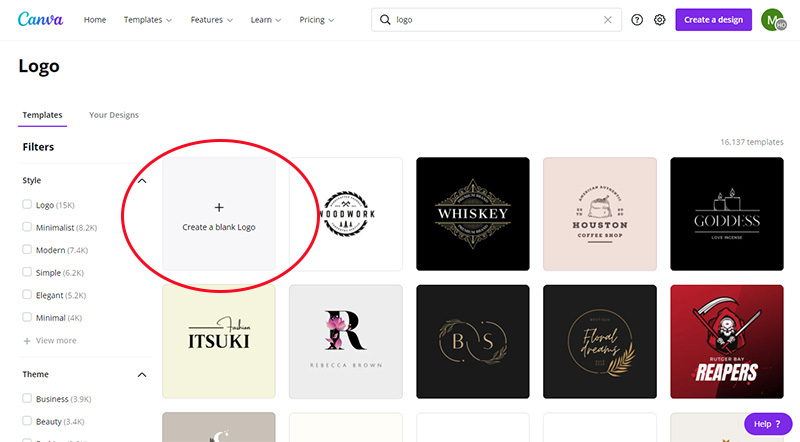 I then proceeded to create my logo, simulating how a business owner would do when using Canva. I chose to create a logo design for a coffee shop and chose this template: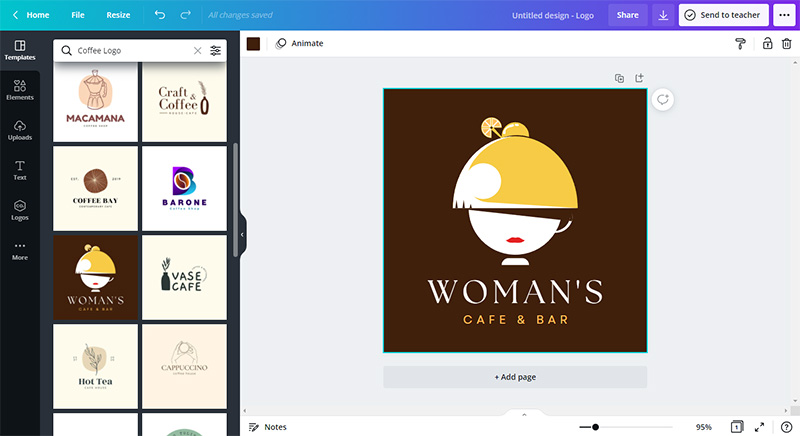 I edited the name and thought of changing the image, but the options weren't that impressive, so I left it alone.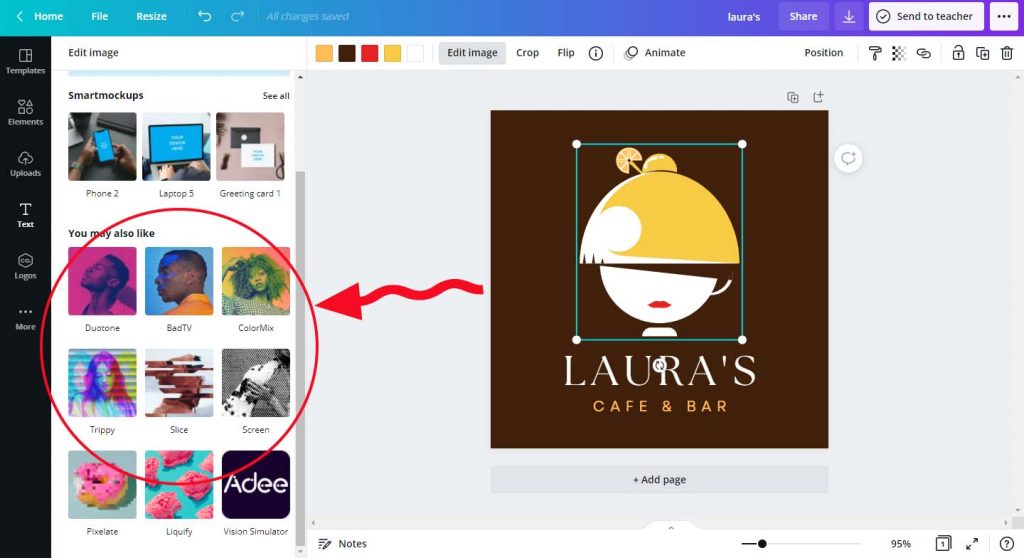 Next, I changed the font styles and specifically chose those that are only available for Pro plan users.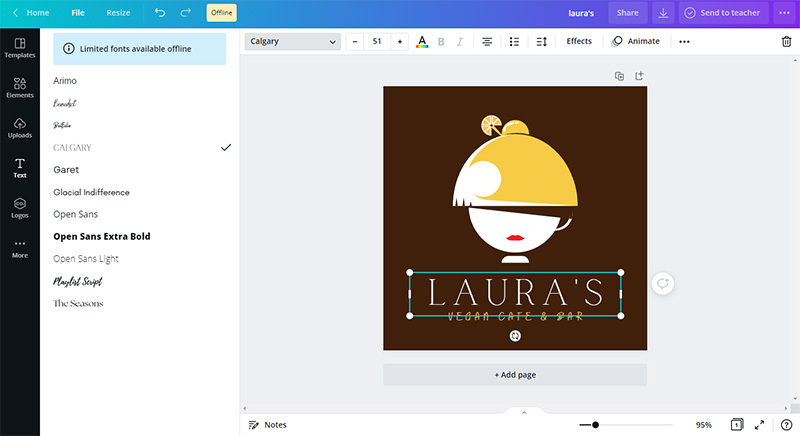 I played around with the background colors and found out that Canva has a Color Palette Generator, which you can find here. You can upload a photo, and Canva will create a color palette based on it.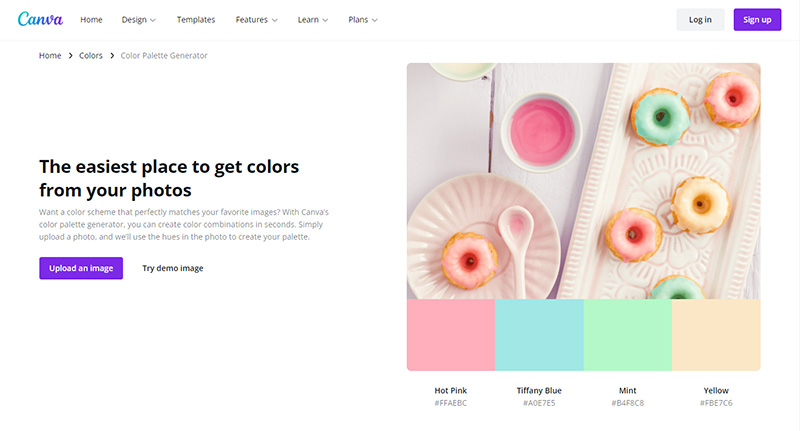 You can also choose a color from the existing combinations by copying the numbers and pasting it on the document you're working on.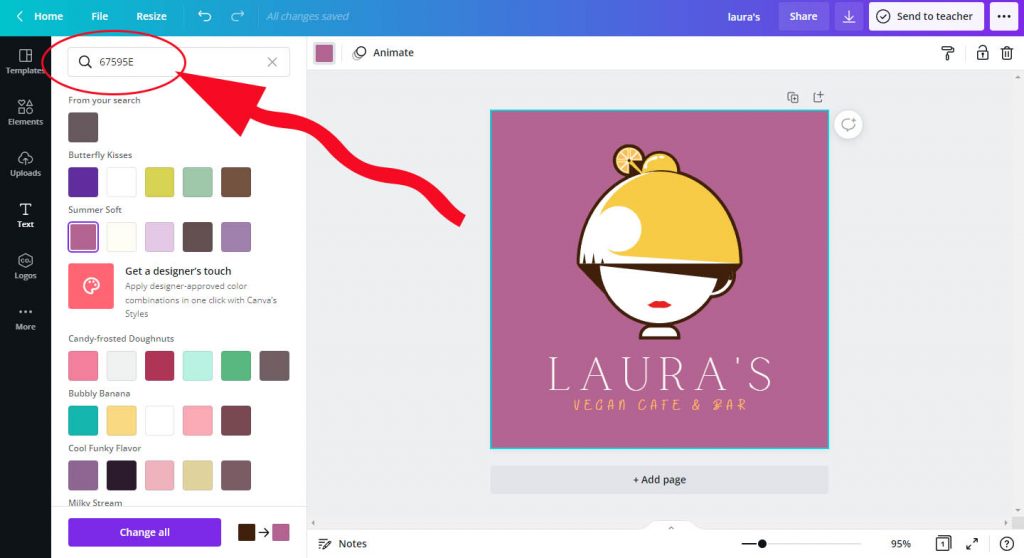 Once I was satisfied with the logo, I downloaded it.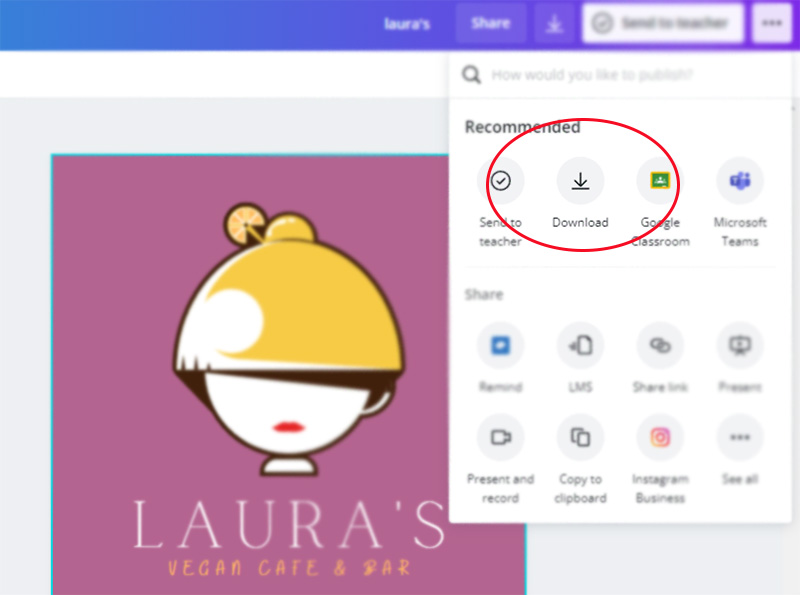 Penji
On the Penji dashboard, I clicked on the New project button to start the design process. I requested a logo for a vegan cafe and bar similar to what I have done on Canva. I wanted to see what the designers would come up with.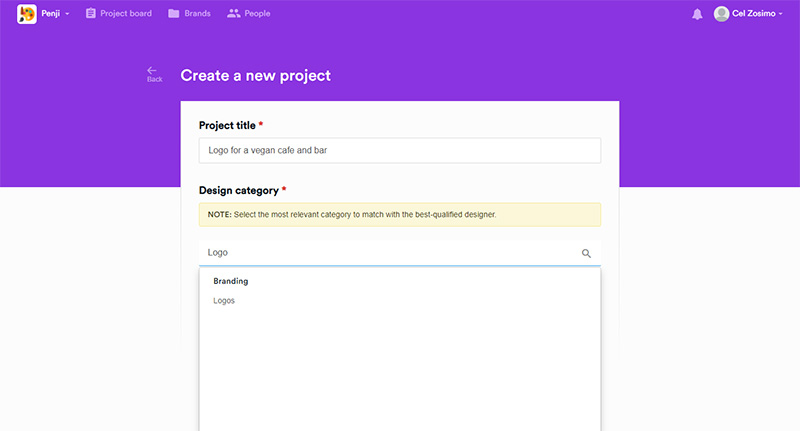 You will see category suggestions from a drop-down menu, and so for this example, I clicked on Logo. The description box will appear as well as tips on how to write clear project descriptions.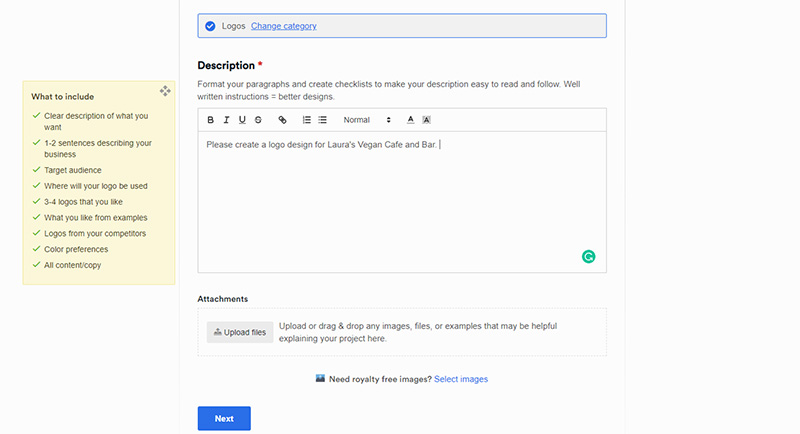 There is also an option to upload files that the designers can use as references and stock images and graphics that they can use.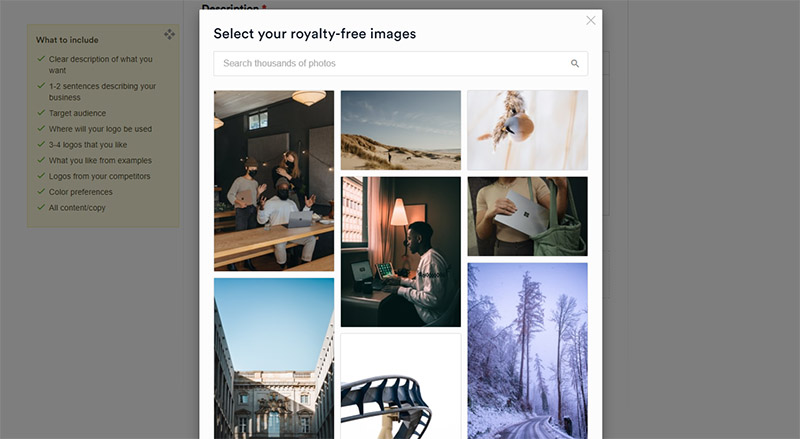 I clicked on Next then chose the level of customization and the file type I wanted the design to be in. Then lastly, I clicked on the Create project button and left it to the designers.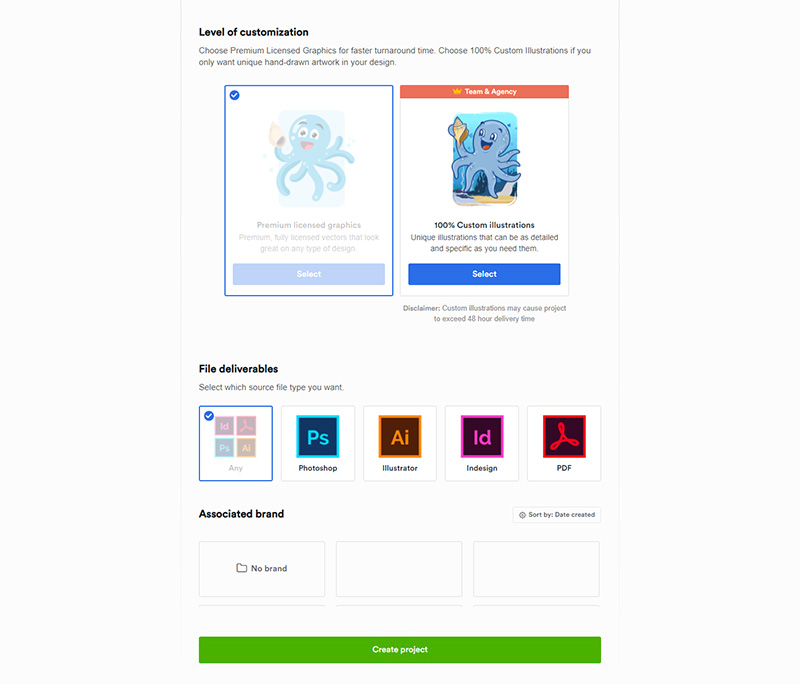 Final Designs
Getting the logos from Canva and Penji proved to be smooth and uncomplicated. I was expecting some kind of roadblocks for each and found out that there is none. The whole process was even enjoyable, especially when I saw the results.
Canva
In as little as ten minutes (maybe less), I created a logo from a template using Canva Pro. Here's what I got: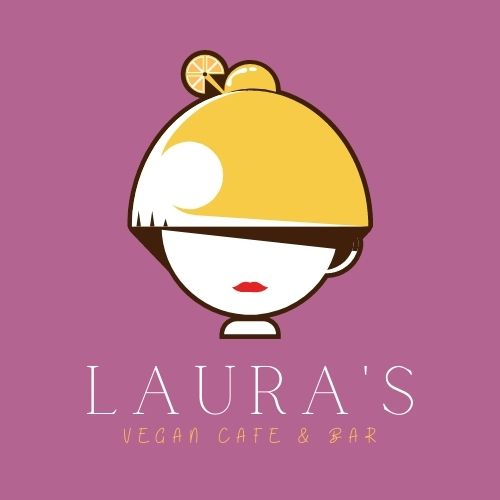 Penji
Submitting a request from Penji was effortless as compared to Canva. After I wrote a brief to describe what I wanted, the designers took the reins from there. I requested the designs at around one in the afternoon and got them when I opened the Penji dashboard in the morning. Here are the final results: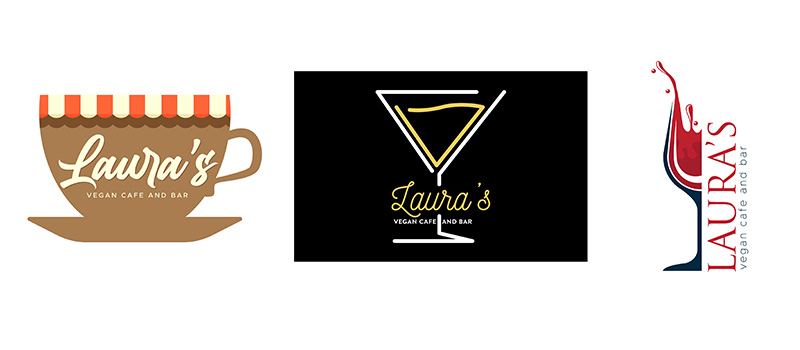 Getting a Second Design
Getting the next design is also crucial as this will determine if Canva and Penji can deliver during crunch times. I went on to create a new design on Canva, and rightly so, I got what I needed in just a few minutes. The only thing that kept it longer was my indecisiveness in choosing the templates, colors, fonts, etc.
As for Penji, not even 24 hours passed, and I got the logo I requested. However, I found out that you can already send a second (or even third) request even if the first isn't done yet. You can even line them up without waiting for one to get done. This will ensure that the designers will have something to work on as soon as one gets completed.
Communications
Contacting a design partner is also a significant factor when deciding on one. Good communication is the key to superb designs. This will get you excellent outputs right the first time. This will also keep you away from revisions which could take unnecessary time.
That being said, you won't be having communication problems with Canva as you alone will be the one responsible for your designs. You won't be working with a designer. Therefore, no miscommunication on Canva's part.
On the other hand, Penji has team members you will be chatting with. From your project description to revisions of your design, you will be communicating with Penji's designers. Here's how my experience was communicating with them.
I sent a second request for a featured image for this blog article, and this is a screenshot of the conversation: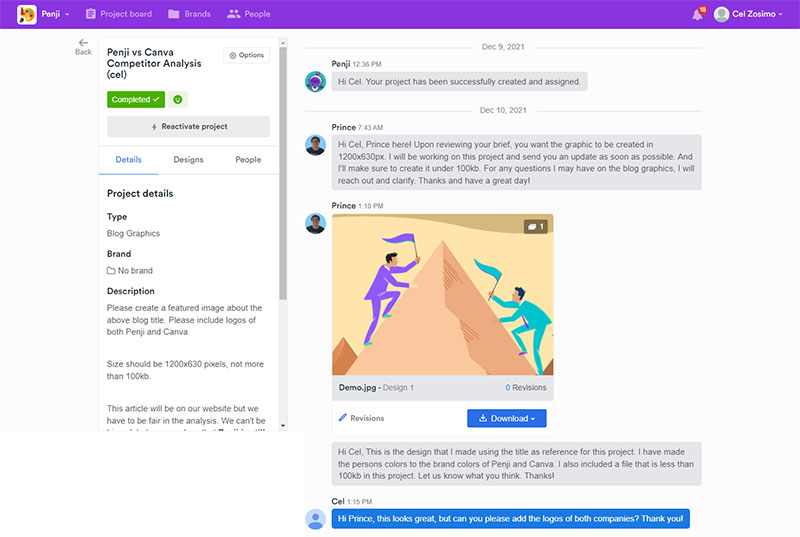 The design was submitted at the end of designer Prince's workday, but then I wanted a revision. I was thinking that I would probably get it the following day, but then Cristina took over. She did the edits, so I got the finished design in just a few hours.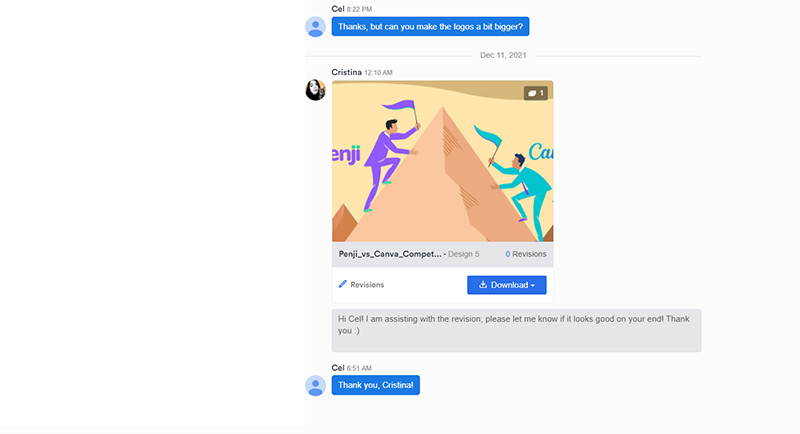 Testimonials and Ratings
To really know how effective Canva and Penji are, let's take a look at what others have to say.
Canva
On TrustRadius, 725 users gave Canva a rating of 9.1 out of 10, while on Capterra, it received a rating of 4.7 from 9503 users. On Google, Canva garnered a 4.7 rating from more than 6 million reviewers.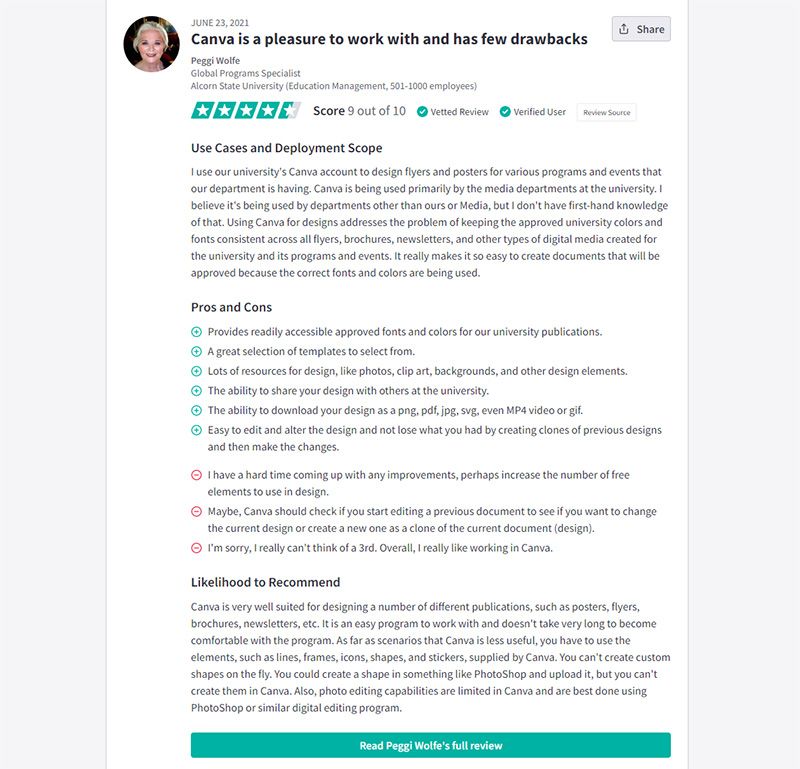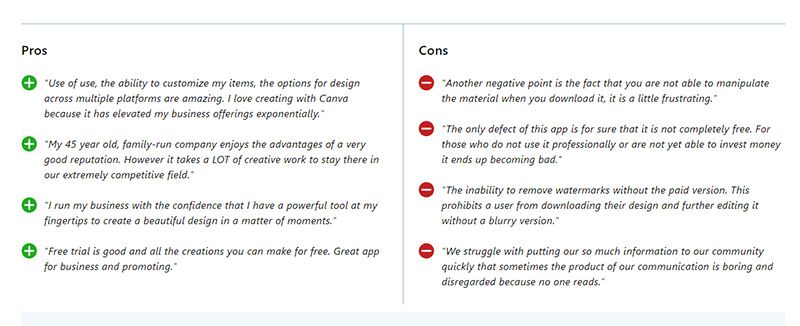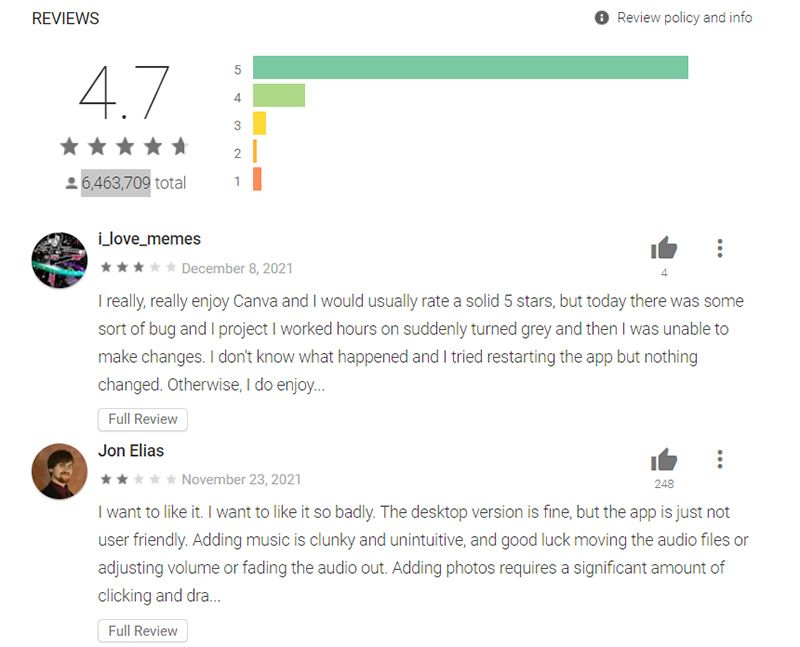 Penji
On Trustpilot, Penji received a total of 4.8 stars out of 88 reviews. It received the same 4.8 rating on G2 out of 51 reviewers and 4.9 from Google. You'll find most review sites giving favorable feedback and ratings for Penji. Here are a few of them: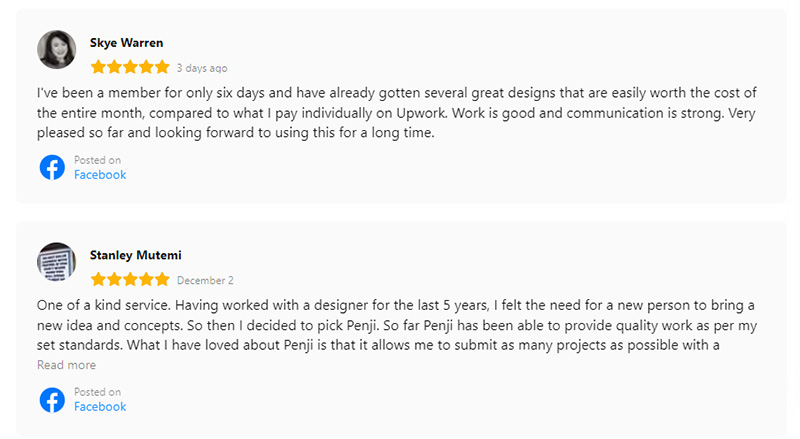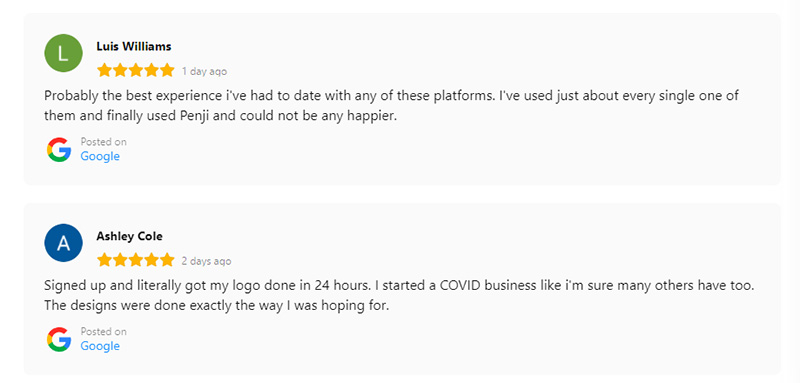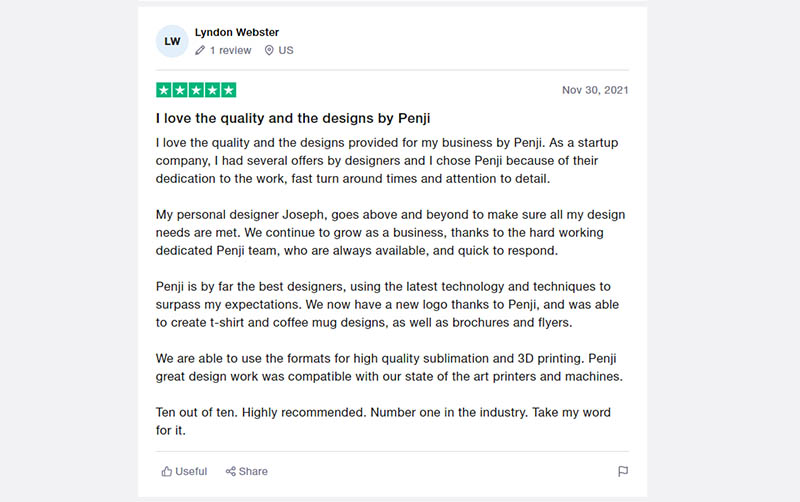 Fun Facts
On a lighter note, let's get to know Canva and Penji in a playful way. Here are a few fun facts for each:
Canva
Founder Melanie Perkins had no experience in marketing, tech, or business prior to creating Canva
CEO and co-founder Cliff Obrecht was known to make sandwiches for everyone on their team
Canva has users across 179 nations
It has more than 60 million active users each month
There are an estimated 2 billion designs created on Canva as of 2021
Penji
Penji was born in Camden, NJ in an attempt to help revitalize a city by hiring students and residents within the area
It began as a service to help nonprofits get access to affordable graphic design
Only started with 5 employees and grew to 100+ and growing
It has a global team in multiple different countries in the US, Asia, and South America
Minority-led company with a program that supports organizations fighting against racism
Final Thoughts
If you look at the reasons Canva and Penji were founded, you'd find out that they have a common denominator. The founders were frustrated with getting high-quality graphic designs that were affordable. But the similarities end here.
Canva is an online design website with tools to let you go DIY in your designs. It's free to use, but the paid version offers many possibilities that you wouldn't think about hiring a designer. With it, you can just do all the designing yourself.
As for Penji, there is a team of pro designers to create your designs. The ultimate difference here is the quality of the designs that you can get. This can never be done by non-designers, however good the software they use is.
I liked that with Canva, you're free to do whatever you want for just a minimal price. You can play around with colors, fonts, icons, images, and other visual assets. However, unless you're a professional designer, you'll encounter times when you'll get stumped.
In addition, designing will surely take up a chunk of your time when you could be doing something else for your business. Canva is so good that even professional designers love it. If you're on a budget with the slightest hint of designing talent, Canva is your best bet.
On the other hand, if you want to have unique designs with that professional touch, Penji is the best way to go. You'll have more time to focus on business instead of spending time designing a logo.
While you won't get your design instantaneously as with Canva, the output from Penji will definitely look better.