A whopping 2.14 billion people shop online. Consumer shopping habits have radically transformed since the days of strict in-store shopping. And especially since COVID, options like BOPIS (buy online, pick up in-store) have seamlessly blended the two. So it's no surprise online shopping apps have been popping up like crazy. Here are the top 15 online shopping platforms that are a cut above the rest.
1. Amazon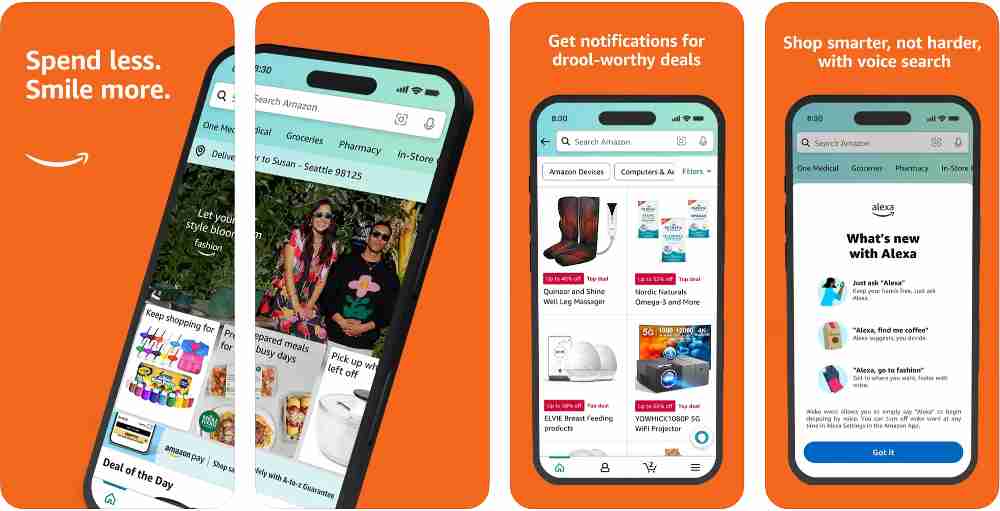 Everybody has heard of Amazon. It's not only the biggest ecommerce platform in the industry but also one of the most user-friendly channels. It has everything you need from books, clothes, cosmetic products, appliances, and more from international sellers.
Shoppers love Amazon because it's very user-oriented. It has excellent customer support, superior refund and return policies, free shipping on certain thresholds, and fast service. Even the arrow on the logo signifies they have everything from A to Z.
2. eBay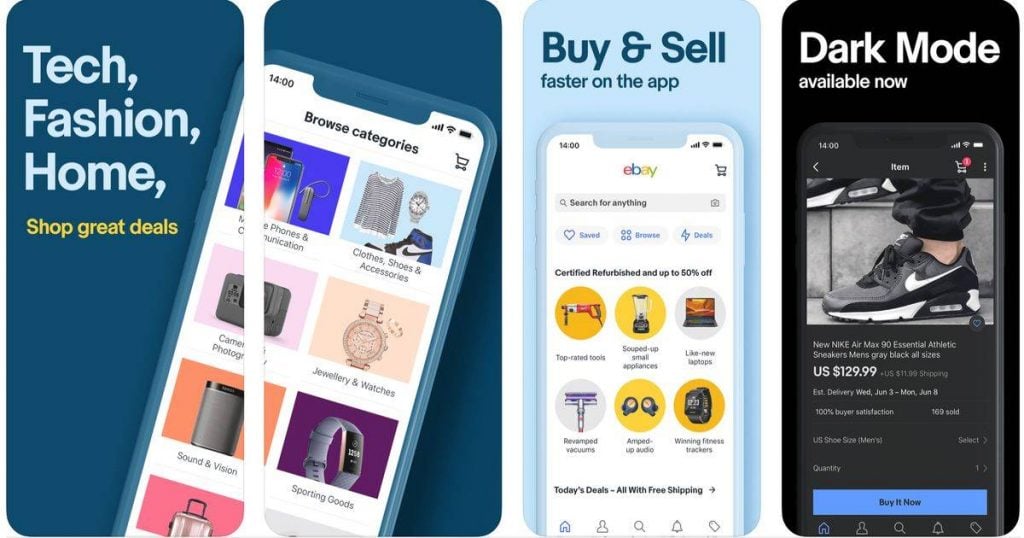 If you're a frugal shopper, you might just find a slightly-used signature handbag and any item on eBay. You can customize your shopping experience by choosing a price range that fits your budget. It even allows you to take pictures to search for items and a barcode scanner that lists items too. The UI is very easy to maneuver. That's why 43 percent of Android app users have this app on their phones and tablets.
3. Etsy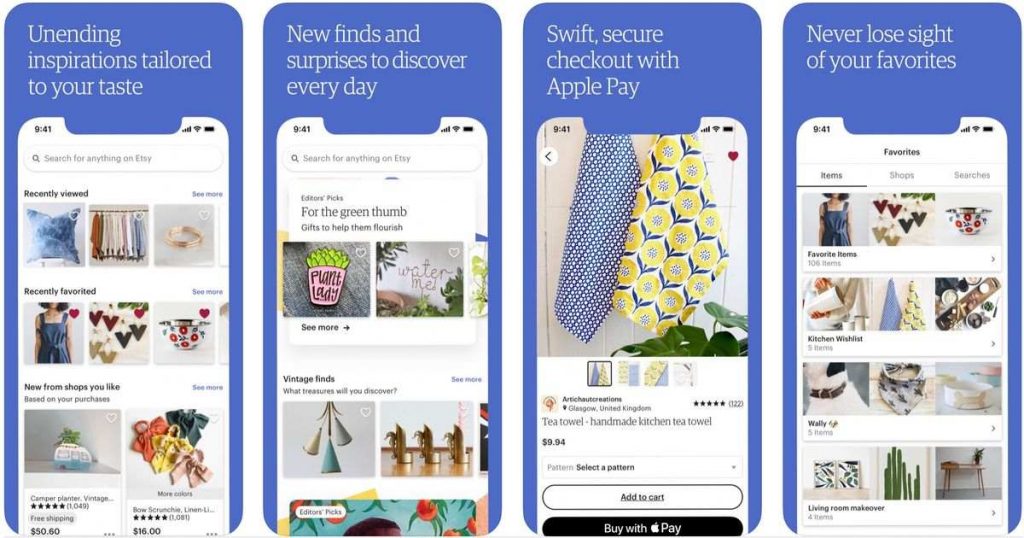 Etsy is a place for arts and crafts. This is where designers and manufacturers compete with one another through their creative juices. This is the place to be if you're looking for personalized artistic apparel, gifts, and vintage-inspired items.
In an industry saturated with online shopping apps, users are perpetually looking for unique items. They turn to Etsy for exclusive handmade and factory-made items.
4. Snapdeal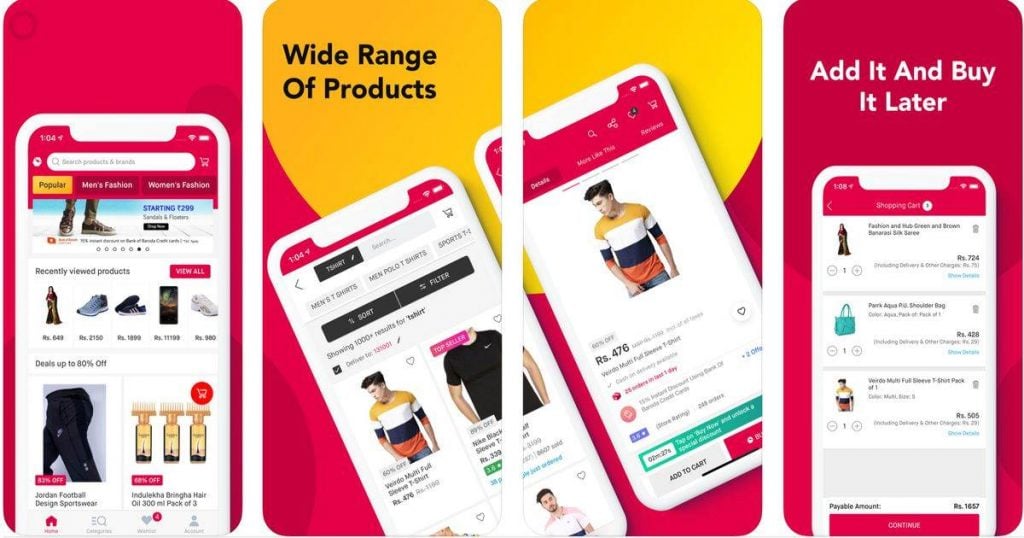 Deemed the largest online marketplace in India, Snapdeal offers irresistibly affordable items. You can find the right item from over 800 categories, from clothing and house appliances to electronics and accessories. It's a one-stop shop that entices customers through cashback and cheaper deals.
5. AliExpress
AliExpress is a China-based online shopping app, a subsidiary of Alibaba Group Holding Limited. It has helped various small businesses in China and other locations sell their products. When it started, it catered to businesses only, making it a B2B online shopping portal.
Now, it is a business-to-business, business-to-consumer, and consumer-to-consumer portal and offers cloud computing and payment services.
6. Flipkart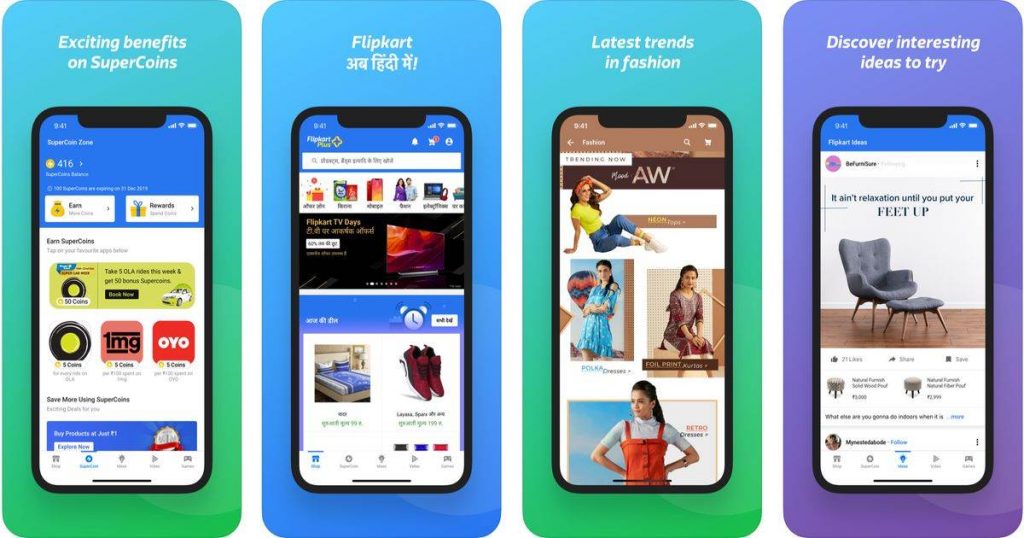 Flipkart is one of the leading online shopping apps in Bengaluru. It's neck and neck with its counterparts: Amazon Indian subsidiary and Snapdeal. Flipkart had a major rebrand in 2011. From a vibrant orange logo to a more professional yellow and blue logo, it's now clear the brand focuses on product quality and speedy delivery.
7. Zalora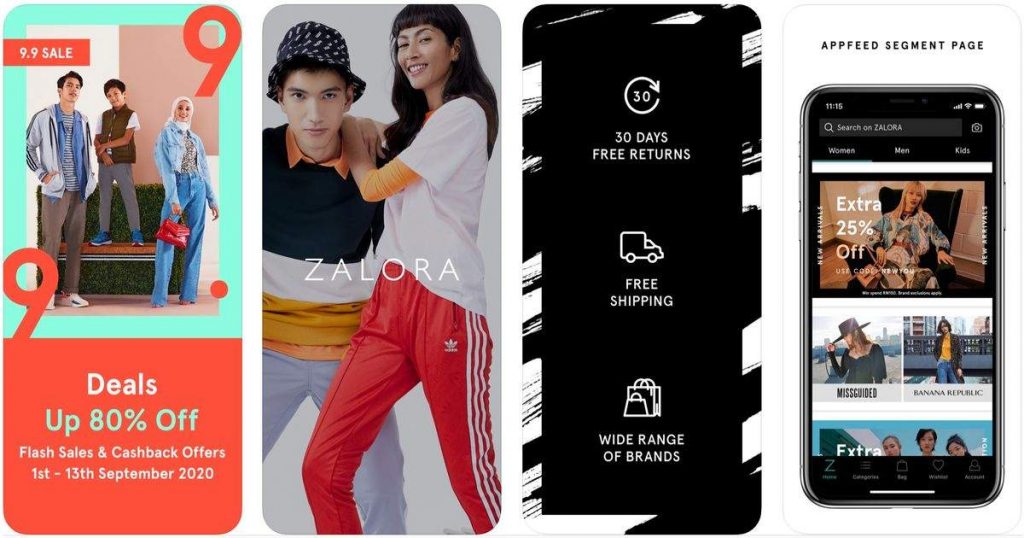 For all your fashion and makeup needs, tap on the Zalora application. It's a one-stop online shop with an interface that you can easily scroll through. It also allows for more personalized shopping through recommendations from your recent purchases and preferences.
It also has a visual search feature that other online shopping apps don't have. This system makes searching for an extensive collection of everyday fashion items easier.
8. OLX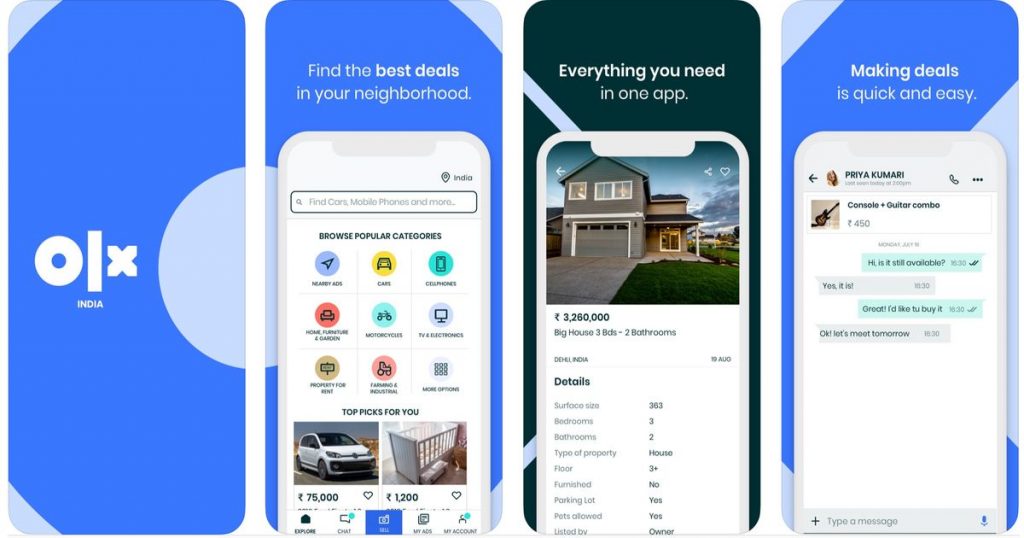 They say that one man's trash is another man's treasure. True enough, this platform is a treasure box of sorts. OLX was founded in 2006 and is headquartered in Amsterdam. You can buy and sell second-hand or new items here. From electronics, apparel, household appliances, cosmetic products, vehicles, or real estate properties, this is a go-to place for anyone looking for the best deals without going through agents or retail stores.
Since most people sell used items here, high-quality images are crucial to entice buyers. If you're marketing some of your e-commerce products here, investing in high-quality graphic design is vital to stick out from the competition.
9. Koovs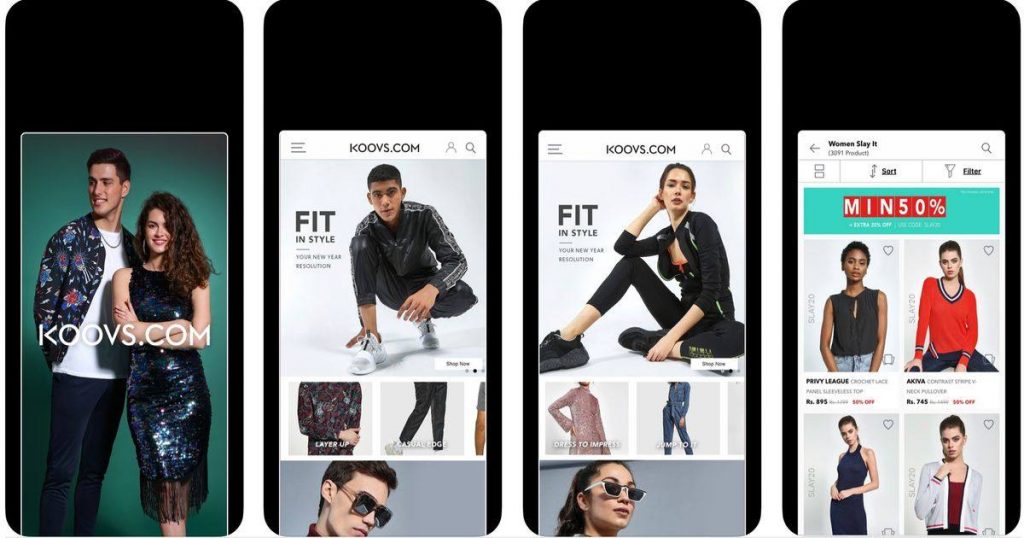 The most recent trends in fashion have never been made so accessible to the masses through Koovs. With an all-inclusive line of men's and women's wear, Koovs gives you the best styles from across continents. You can shop by style, color, brand, size, price, or occasion via a seamlessly easy checkout process. This app makes online shopping a walk in the park for newbies!
10. Facebook Marketplace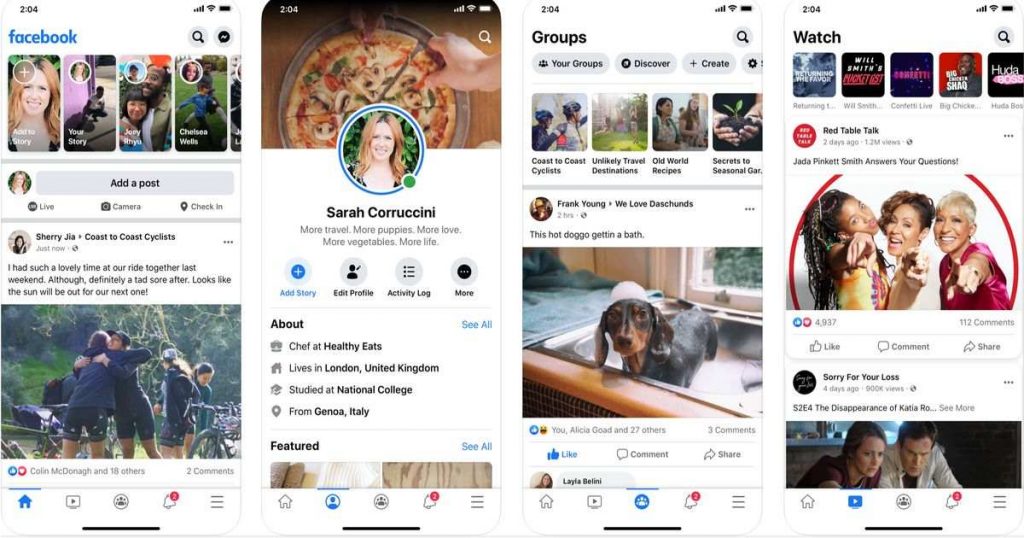 Of course, we wouldn't end the list without including the biggest social media, which now has an ecommerce app! This social media juggernaut introduced Facebook Marketplace in October 2016.
Within three years, Facebook Marketplace has been widespread across the United Kingdom, the United States, Asia, Australia, New Zealand, Africa, and more. This channel is among our top picks for the best online shopping apps due to its all-encompassing services and features.
11. Rakuten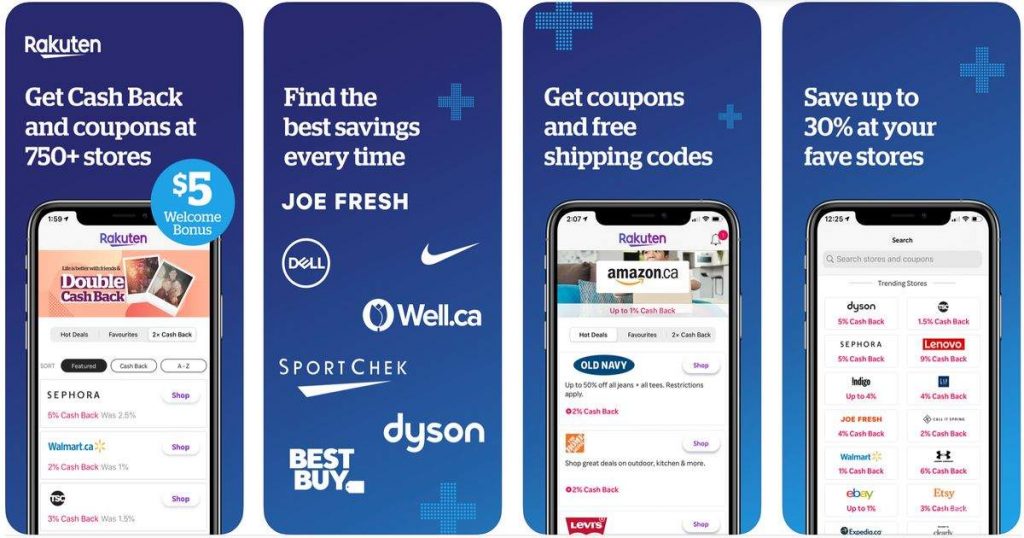 What if I told you shopping more can also earn you more cash back rewards? Let me introduce Rakuten, an online shopping app that rewards you with cashback through checks or PayPal deposits.
All you have to do is log into the Rakuten app or site on your mobile phone or computer. Then find your favorite stores. Next is to make sure you click on the referral link from Rakuten and shop through that link. Rakuten accumulates your cashback, which will be added to your account and sent to you quarterly.
12. Shein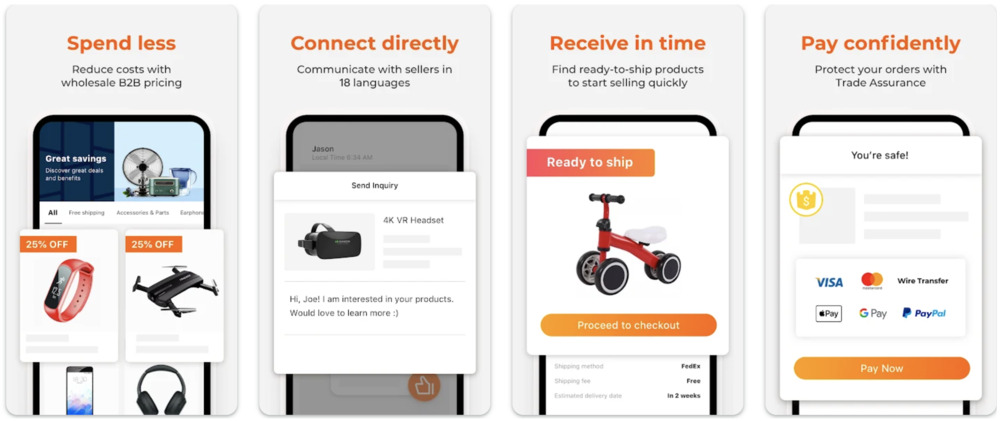 Shein's goal is to make fashion accessible to everyone. They deploy an on-demand manufacturing technology to cater to their agile operations. The brand reduces inventory waste and ensures they deliver products to customers worldwide. With customers from over 150 countries, this online shopping store has expanded within a decade. Due to its effective business model, the company now employs more than 10,000 employees.
The app's interface is user-friendly, making it easy to navigate through the app and find what you're looking for. The brand aims to disrupt the fashion industry by improving consumer, supplier, and manufacturer outcomes.
13. Alibaba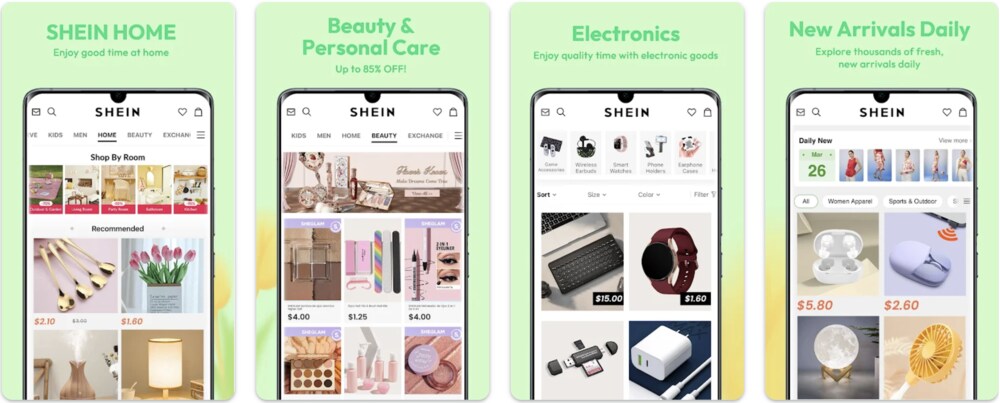 Alibaba is AliExpress's sister company and is the world's leading online wholesale trader. Alibaba is one of the go-to online shopping apps for businesses. Its B2B (Business to Business) brand model differs from AliExpress's B2C (Business to Customer) structure. Launched in 1999, Alibaba serves as businesses' one-stop shop to source millions of products.
The ecommerce store has over 40 categories, such as apparel, electronics, machinery, and more. Alibaba brings these products to businesses in over 190+ countries and regions.
14. Asos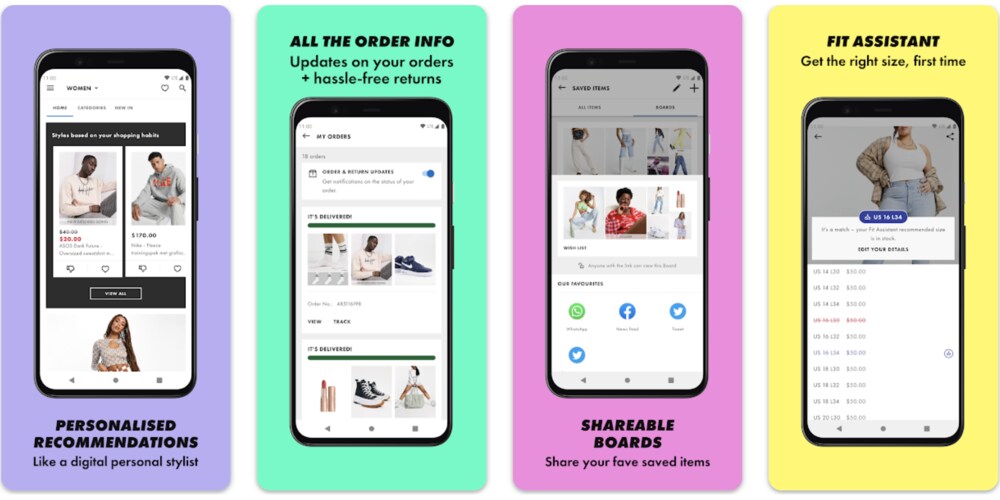 One of the most well-known online shopping apps that encourages diversity and inclusion, Asos believes in a world of freedom without judgment. This ecommerce company has more than 30 sizes at the same price. Asos helps customers worldwide find their fit and be more confident in their bodies, color, and ethnicity.
The company isn't conforming to any stereotype in the fashion industry. Instead, the brand promotes body positivity and planet protection. Implementing strict guidelines on materials and supplies, Asos aims to produce animal-free products.
15. RetailMeNot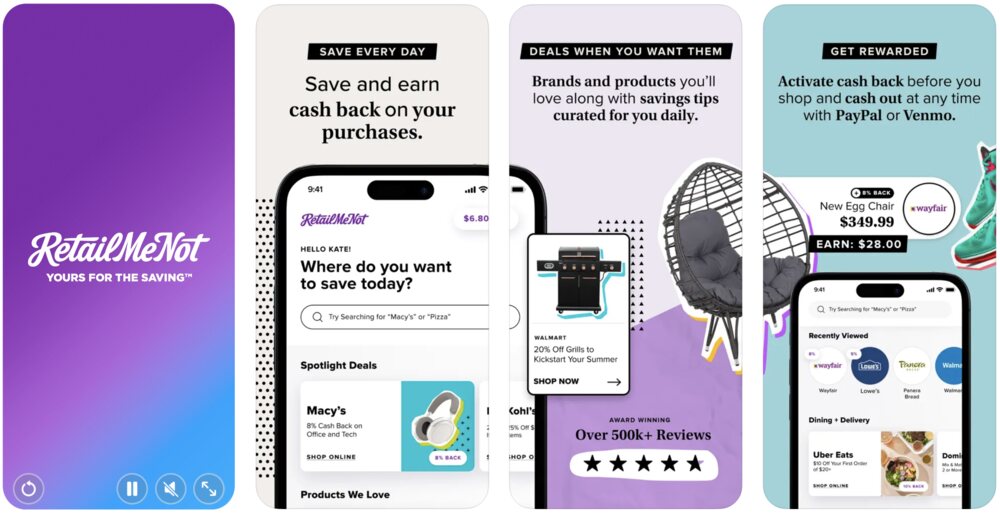 If you're looking for an online shopping platform that lets you shop and save money, download RetailMeNot. The online store provides you with cash back, so you can get a percentage of your shopping spend back in your pocket. RetailMeNot is an award-winning online shopping app that gets over 500,000 reviews from satisfied customers.
The app pays its members roughly $200,000+ monthly on average. Shop from your over 15,000 brands on the app and get enticing deals, like coupons, promo codes, free shipping offers, and more.
Custom App Design Examples by Penji
Apps are not one size fits all. And because of this, getting a custom-designed app is important for sales. There are different options for finding app design services: hiring an agency, working with an in-house designer, or signing up for a monthly graphic design membership like Penji. To give you an idea of what custom app design from Penji looks like, here are some examples:
App Design #1
App Design #2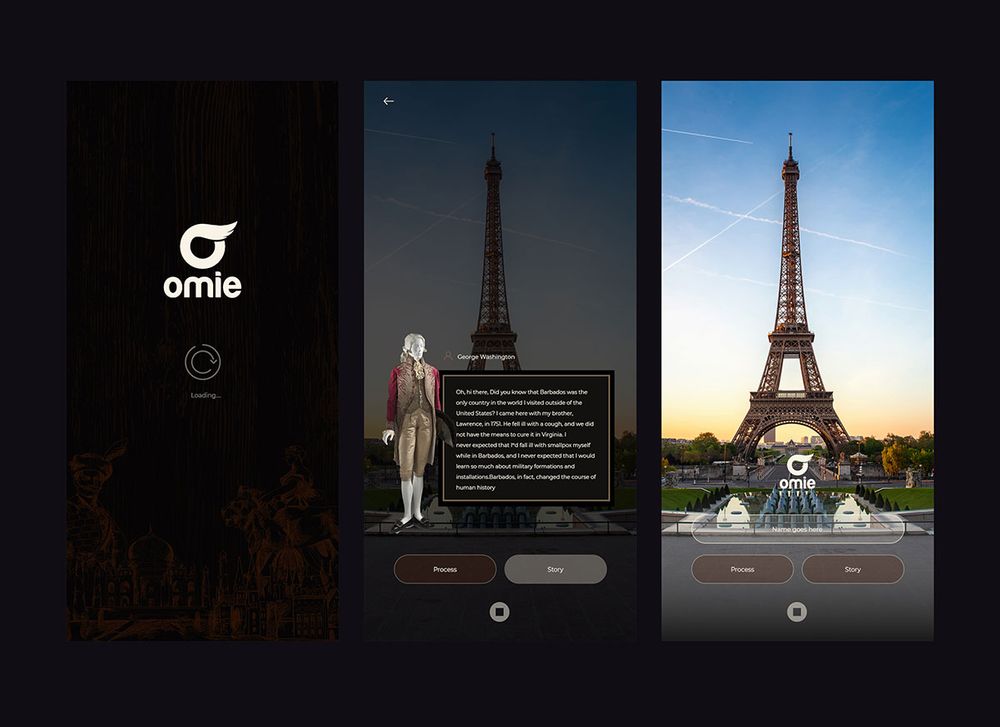 App Design #3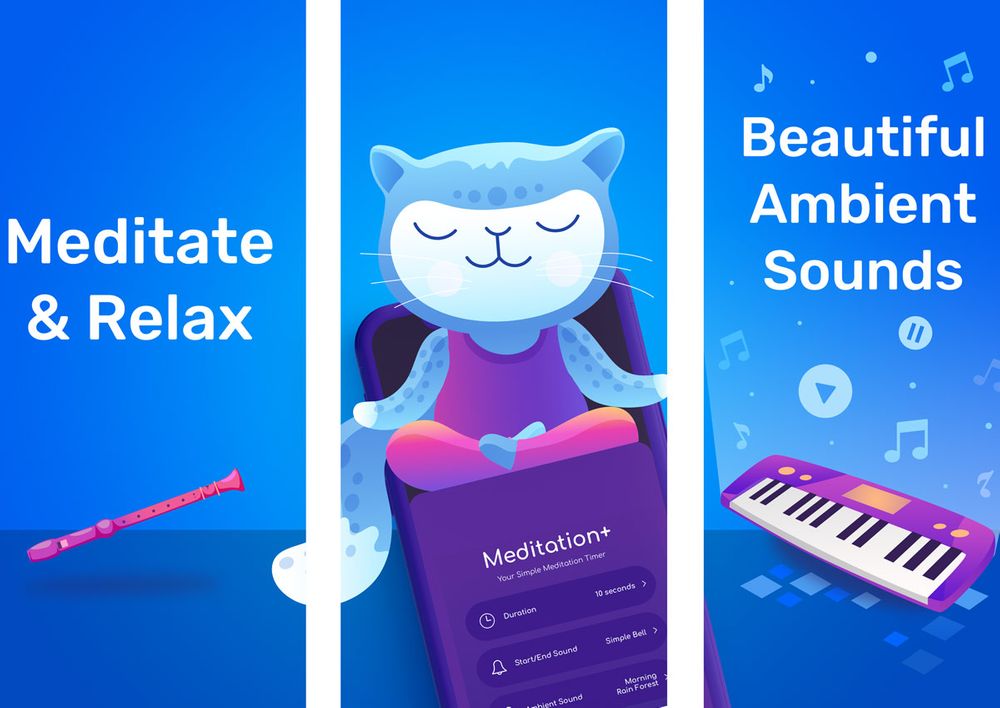 App Design #4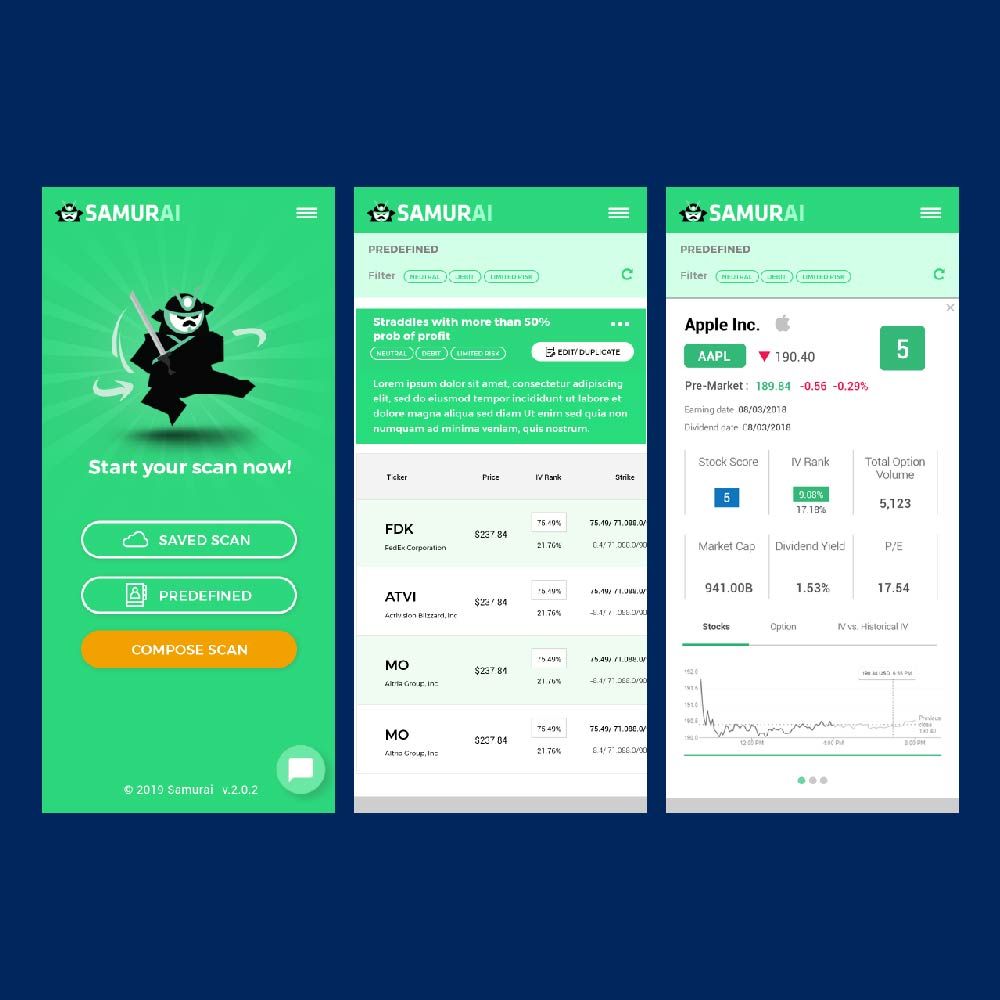 App Design #5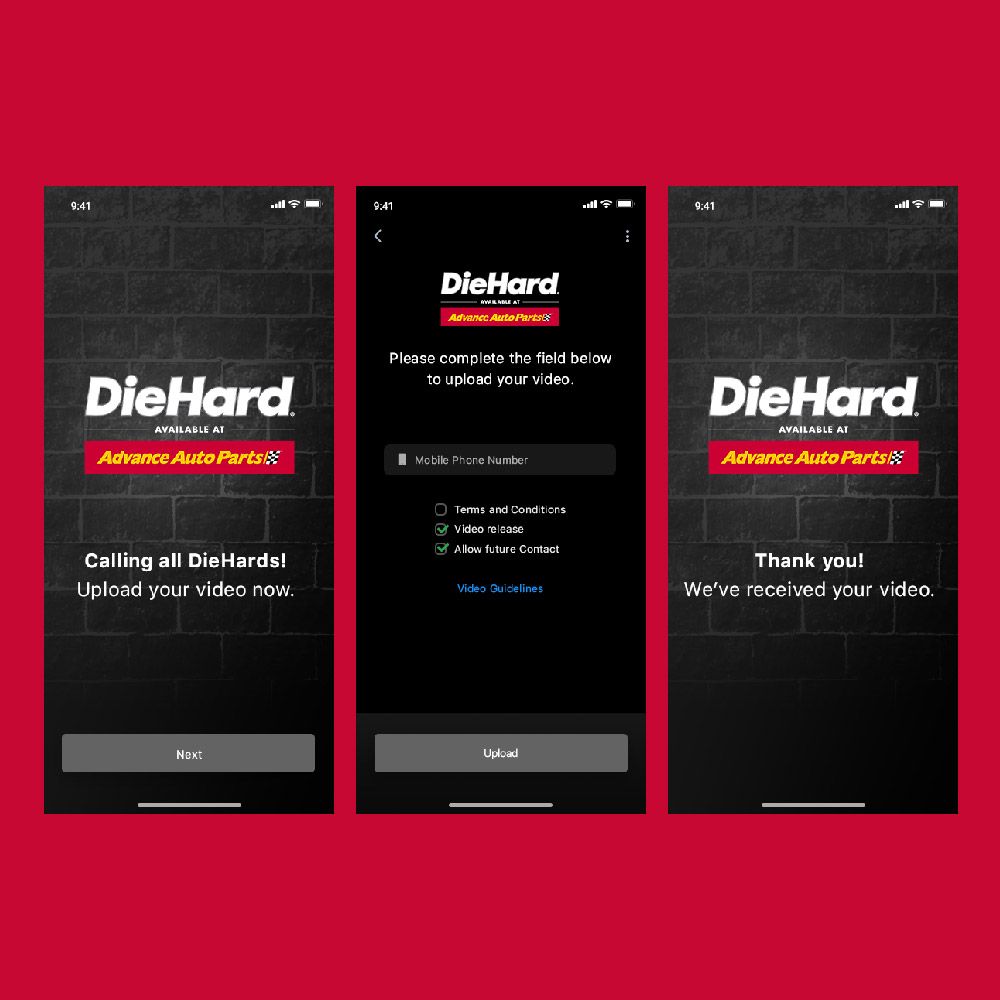 App Design #6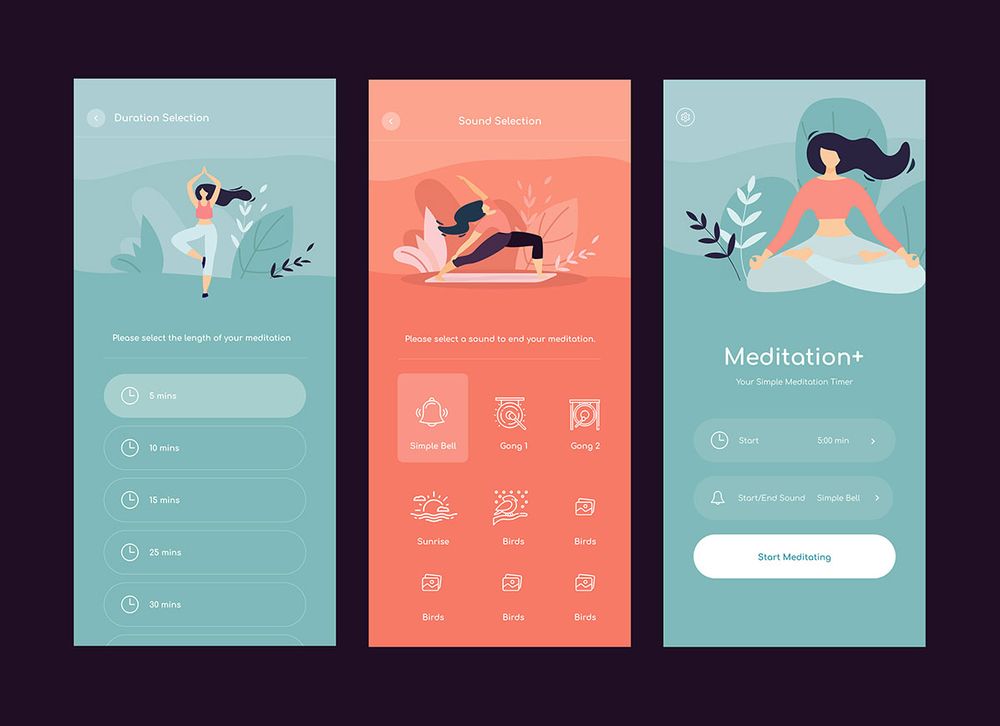 If you notice, all these mobile app designs have one thing in common and that is good design. No matter how enticing your offers are, if your app design isn't navigable, user-friendly, and visually appealing, users could abandon it in a snap of a finger. So why bother creating an app that can't increase your conversions?
Your app design should be created with the user in mind. And professional app designers from Penji know the ins and outs of high-converting app designs. Moreover, working with Penji is also smooth sailing. Our user-friendly design platform makes requesting app designs a breeze.
How to Request App Designs from Penji
Don't have the time to hire a freelancer or use a DIY graphic design service? Let Penji work on the app design that won't have users complaining. We only design the project, but we can refer you to our partners who can develop the app.
1: Create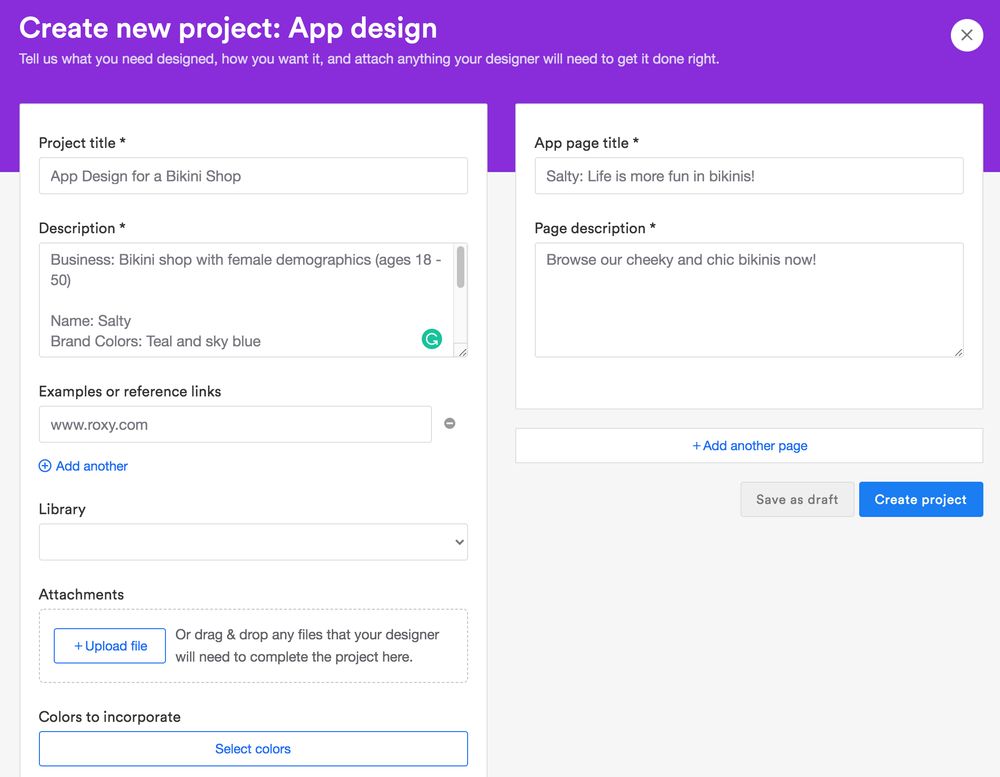 Once you've subscribed to either the Team or Agency plans, you can log in to the Penji dashboard. This way, you can finally Create a New Project.
After this, scroll down to the UX/UI category and click App Design. Get a preview of how your app designs would look like.
Once you've clicked on App Design, provide your design brief. Please make sure to be specific in the app design. This allows the designer how to produce a design in half the time. You can also request wireframes when you need them.
2: Connect
By using Penji, we guarantee you're paired up with the best designers in the industry.
Once you submit your project, we assign the most suitable designer to create your app design. This way, you receive a design your users will love.
3: Review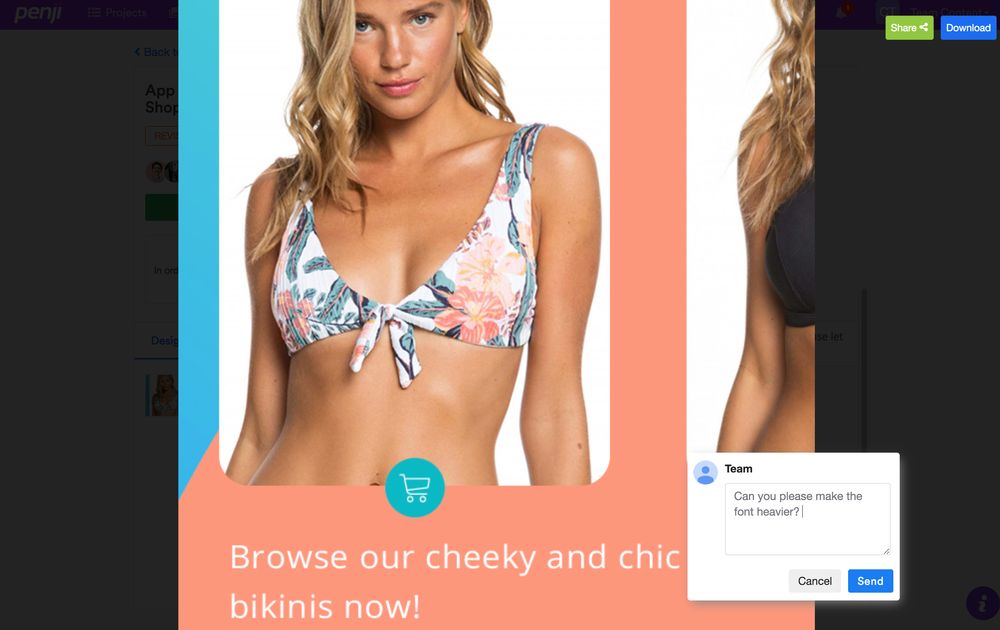 Once the designer submits the first draft of your app design, you can finally review it. If you want to receive the revisions within 24 hours, use the point-and-click feature. This way, your designer will know what to work on, reducing miscommunication.
Plus, on any Penji plan, you have unlimited revisions. So, in any case, if the designs need more work, revise them until you're satisfied.
4: Download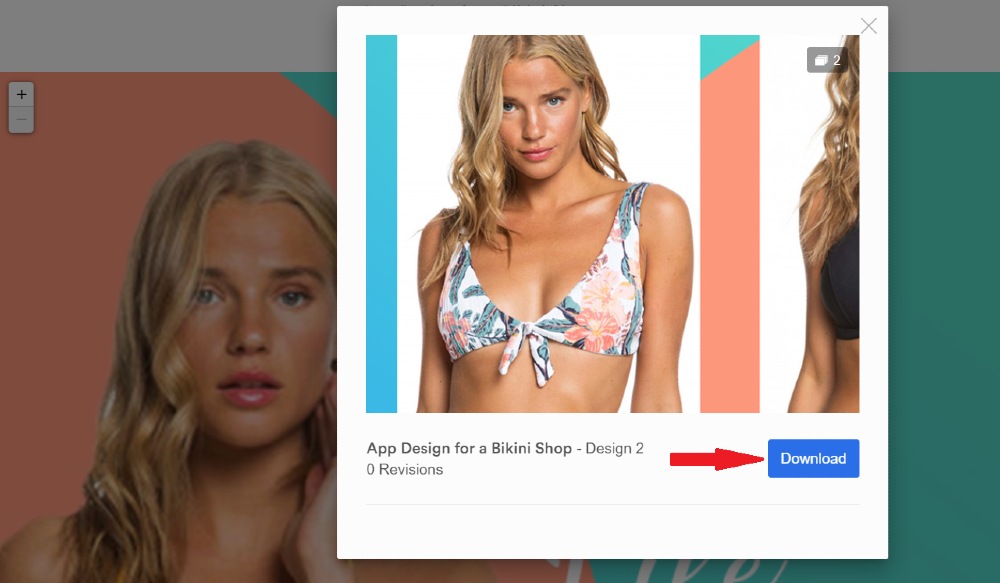 Love the overall design? Go ahead and download it. This way, you can have it developed at once.
Don't just request an app design. Promote your shopping app by creating an ad design, social media graphic, and more! Repeat the process and maximize your Penji plan.
Grab this Special Promo Code
Make Penji your graphic design partner for your shopping app or website. You won't have to spend more on finding different graphic designers for every project. Plus, be amazed by our quick turnaround promise that other graphic design services don't have.
Subscribe risk-free for 30 days. Get exclusive access to all design requests! Receive rave reviews and get the spotlight on the App Store or Play Store. Sign up now and get 15 percent off your first month!