As marketers, it is a must that you know the trends that will keep the audience interested in your products or services. The tricky part here, though, is that your strategies months ago might already be passé. For example, if you are still heavily posting static images on Facebook, you are not maximizing your brand's potential. Facebook interactive ads are the way to go, and we will explain the concept further and provide the best examples.
If you are new to this type of marketing strategy, Penji is here to help. We are a team of professional graphic designers and we help marketers create the best collaterals and visuals to increase brand recall and sales. The best part is, our pricing structure is fixed every month, so you don't have to worry about excessive charges. Many businesses trust Penji. Check out our works and learn why.
What are Facebook Interactive Ads?
Considering that Facebook is the social media giant, let us focus on the platform as we talk about interactive ads.
Interactive ads are created to be more engaging. It will require the market's participation and they will have to do more action as they see the Facebook ads. There are three popular formats available on the platform. These are the Polls Ads, Playable Ads, and Augmented Reality Ads.
To briefly explain, Polls Ads are effective to get consumer insights. For example, your company is selling food with various flavors. Your ad could ask your audience to pick their favorite. On the other hand, Playable Ads are effective not just for games and apps, but even for eCommerce. Your developers could create simple maze games that will integrate your brand and products. And lastly, we have the Augmented Reality Ads ideal for cosmetics or merchandise where people would like to see what the products actually look like when they try it on.
According to research, these interactive brands are more effective than the traditional photos and videos we see online. Companies have reported an increase in clicks and even in their actual sales. Obviously, these types of ads are harder to create and time consuming. But if you seek professional help from the Penji team, you don't have to worry about anything.
Simply put, interactive ads can be your brand's differentiator against your competitors. You can even increase the average time your market spends in an ad. Some shared that it could go as high as 47%. Thus, providing more brand information and increasing awareness.
Companies Using Facebook Interactive Ads
To date, big companies use this marketing approach – proof that it is effective in bringing more leads and sales to the business. Here are some of the best examples of Facebook interactive ads that could serve as your inspiration.
Audible France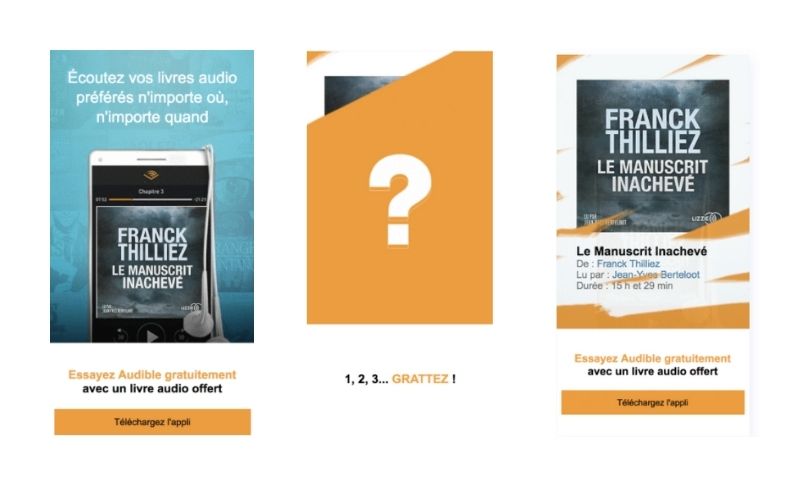 First on our list is Audible France. This is a good example of a non-gaming app using the playable ads to promote their products. With their campaign, they invited their audience to scratch the ad in order to reveal the audiobook. Once you are done scratching the entire screen, you will see the image of the audiobook plus a CTA button. According to the company, this increased their conversion rate.
Lendi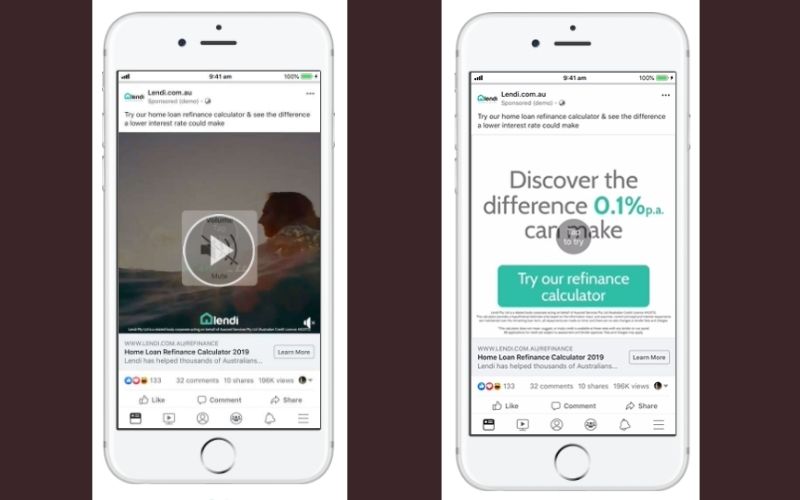 Who would have thought that a lending company can use the playable ads to gain traction? Lendi used this approach and it was successful.
The company created a playable home loan refinancing calculator where users can identify how to save thousands of money over their loan. The reports showed that there was a 20% increase in incremental leads.
Lifebuoy Vietnam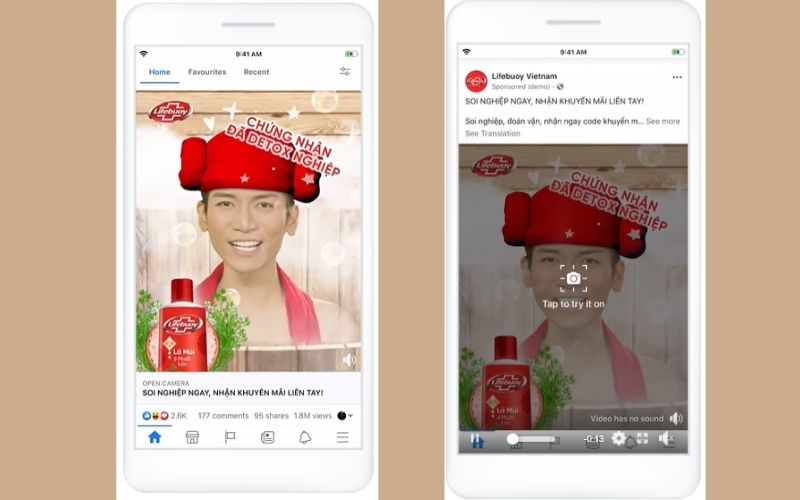 Now, let's take a look at Lifebuoy Vietnam where they took the Augmented Reality strategy in their Facebook interactive ad. In this particular post, they used a filter feature where you can see yourself surrounded by bad luck and you will notice a dark fog on your screen. As you move within the frame, the filter will then 'detox' and remove all the bad luck. The end result would be a shinier and glowier you.
The ad had a Happy New Year message and incorporated their new shower gel. It's simple yet highly effective. It targeted the younger generation, which was the original intention of the company's marketers.
Milo Malaysia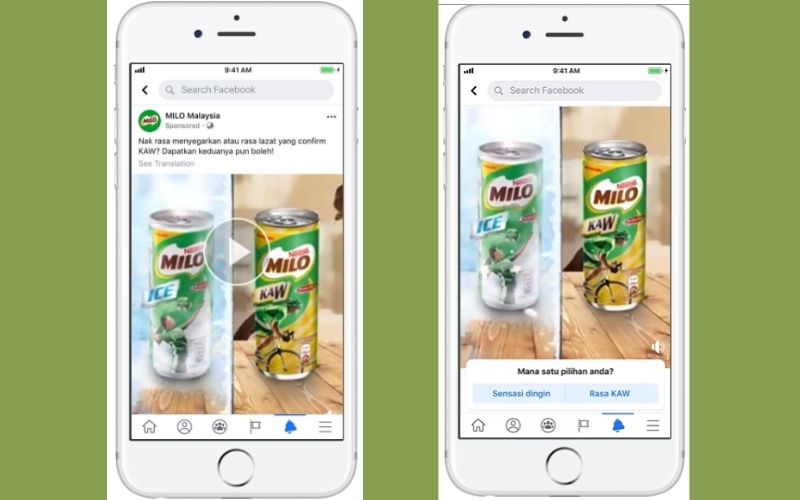 You can also use polls in order to generate engagement from your market. This is what Milo Malaysia used. To increase brand awareness, they created a video poll featuring Milo Ice and Milo Kaw flavors. They also asked the people which one they would prefer.
The Facebook interactive ad reached a whopping 7.1 million and had 221,000 sticker interactions.
Mercedes Benz, Taiwan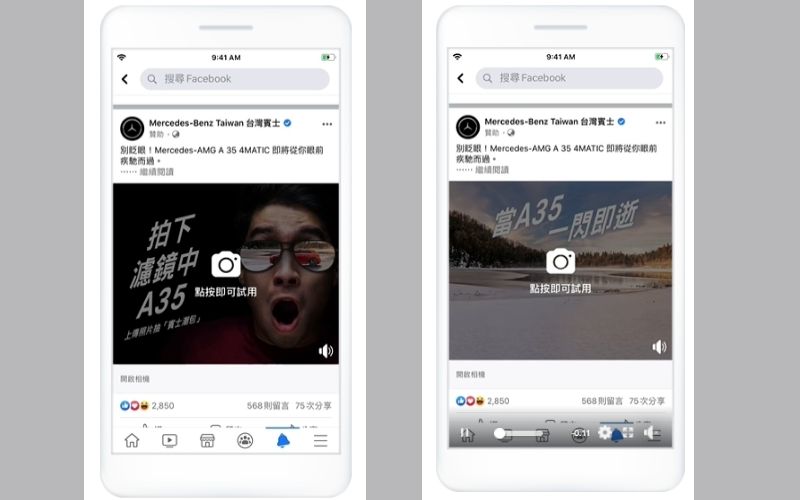 Another big brand that used a Facebook interactive ad is Mercedes Benz, Taiwan. The luxury car brand ran ads that gave its market an inside look at their new model. The users are prompted to use their front camera where you will have virtual sunglasses, reflecting the new car.
With their strategy, they were able to increase their participation in the market. And at the same time, had 100,000 augmented reality impressions in just 11 days.
We Make-Up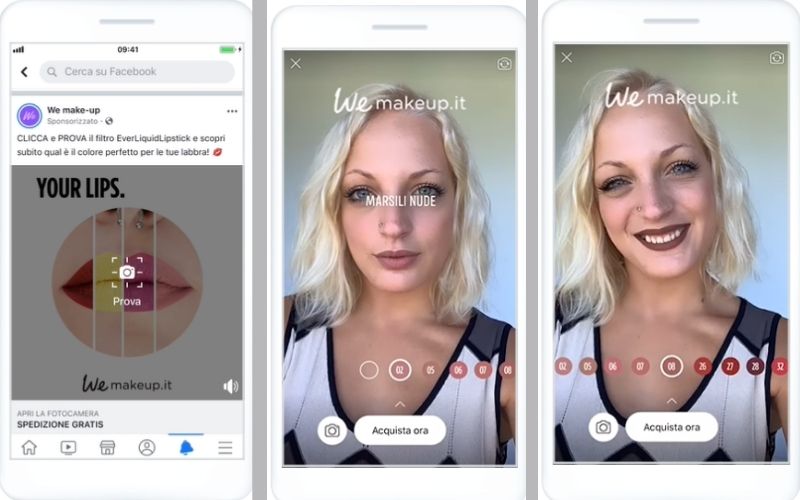 Ladies loved the Facebook interactive ad of We Make-Up where you can see how a lipstick shade looks on you.They were able to get new customers and it boosted their overall sales. The same could happen with your company if you just try this marketing strategy. Yet again, always find a design team such as Penji to work on your visual materials. Amateur designers might not be able to accomplish your goals.
How to Request a Facebook Interactive Ad on Penji
As a marketer, we understand that it can be overwhelming to work on a brand's marketing strategy. So if you need to execute a design, you might want to try Penji's services. Requesting a design from us is as easy as 1-2-3. Here's how you can do it.
Request for a Graphic Design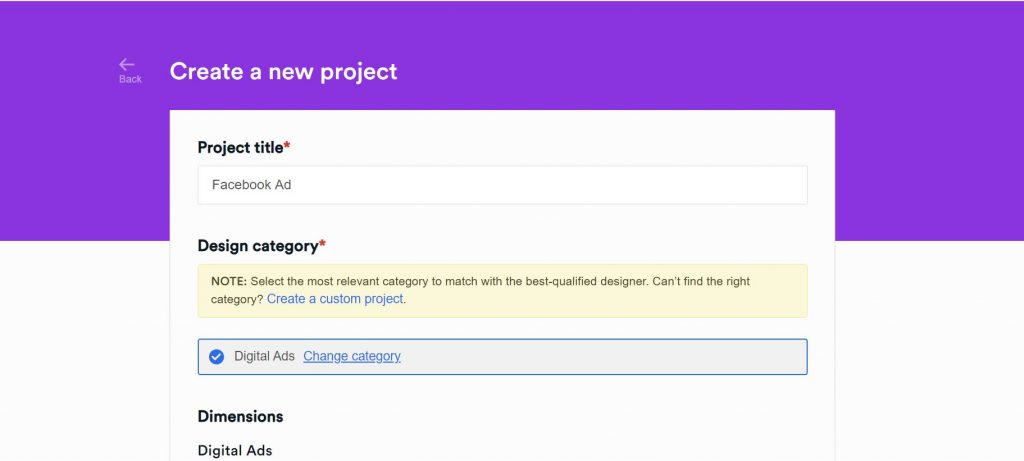 Assuming that you have already signed up with our team, you will have access to our app. From here, you can see a 'New Project' button. Click it, and you will be routed to a page where you need to supply your design requirements.
We recommend that you include additional information that could help our designers. For example, add links to your favorite interactive ad. If there are fonts or brand colors that we need to adhere to, include those as well.
Ask for Revision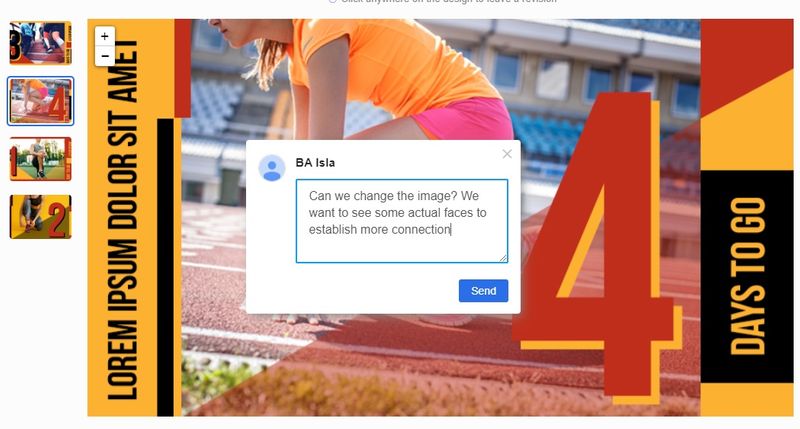 Your first draft will be delivered within 24 – 48 hours, and we made it easier for you to send points for revision.
When you check the image, you can just hover to the areas where it needs to be changed, click it, and type in your comments. Send it back to your designer, and wait for the final draft.
Use the Final Output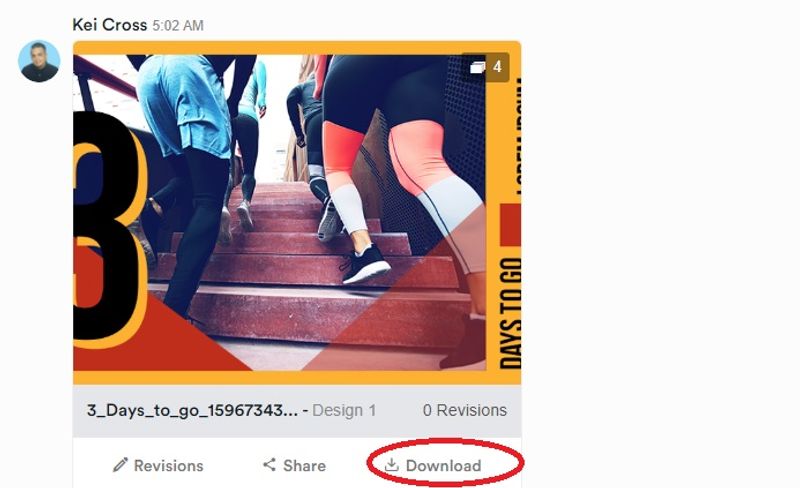 If you are already satisfied with the design, you can now download the files and publish your Facebook interactive ads. It's convenient and efficient.
Final Thoughts
While you can always have your Facebook interactive ads on desktops and tablets, your team should prioritize its mobile version. Knowing that people spend more time on their mobile phones, it is logical that you focus your efforts on that platform. And again, only work with experts such as Penji so that your interactive ads will create an impact and will be highly engaging. We have helped hundreds of startup businesses in increasing brand recall and sales through our carefully thought out ad designs. Sign up now and grow your company.