Elephants are known for their immense size and strength, which makes them a great representation of power. But it's not just the physical strength that elephants symbolize. They're also considered to be wise and intelligent creatures. Elephants have remarkable memories and display solid social bonds within their herds. This wisdom and social connection are often associated with stability and reliability in the business world.
If these traits describe your brand, get an elephant logo from Penji for only $75! Here are some of Penji's elephant logo examples.
1. Chuckle Calf Toystore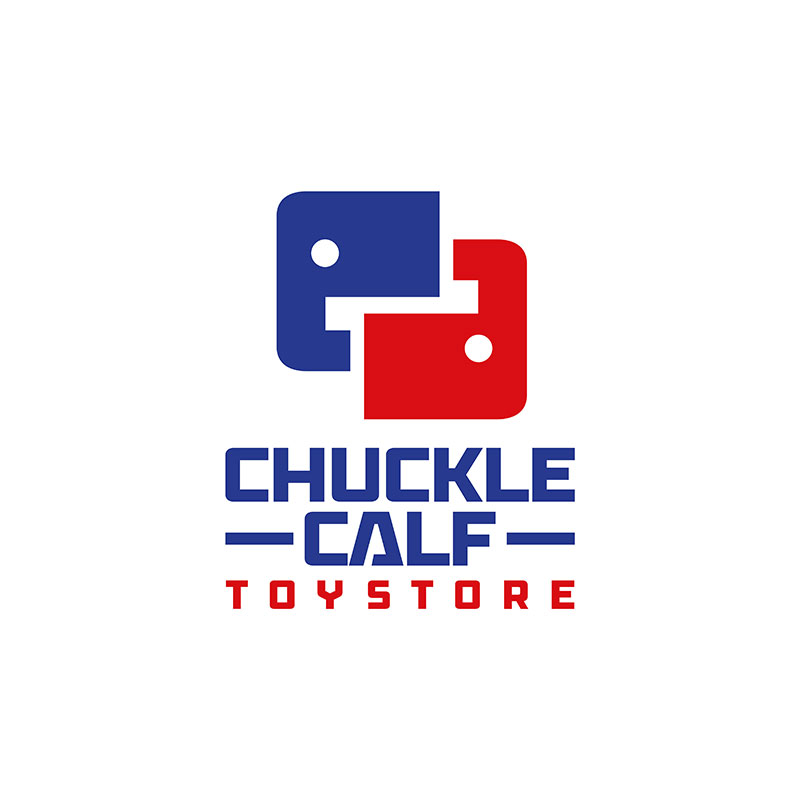 This logo designed for Chuckle Calf Toystore uses two icons of elephant heads similar to the symbol of Yin and Yang. It comprises two interlocking elephant heads, one in blue and the other in red. You would think a toy store would go for a more bright color palette, but this one fits the brand well.
The choice of blue, white, and red as primary colors is a nod to the toy store's flexibility in offering products that all ages can appreciate. Its font type is simple and easily readable to show its no-nonsense personality.
Unique elephant logos for your brand
Let professionals create an impressive elephant logo to stay on top of your competitors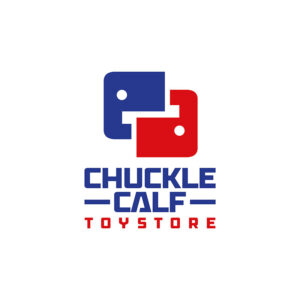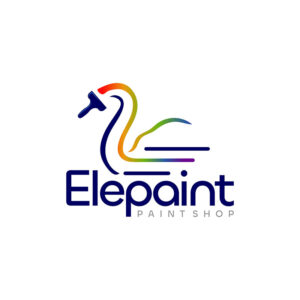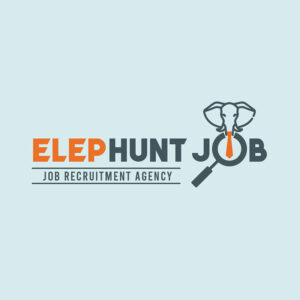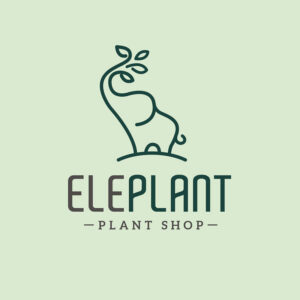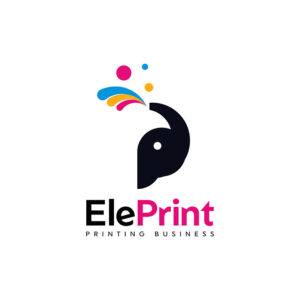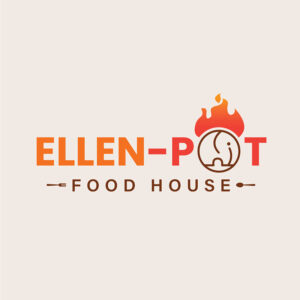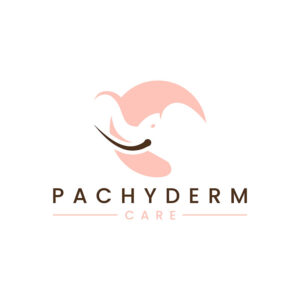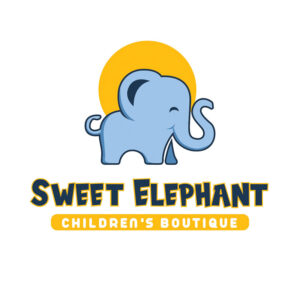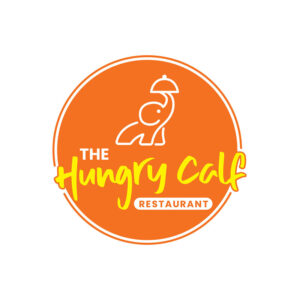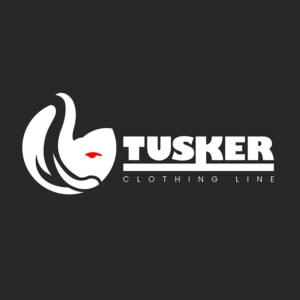 2. Elepaint Paint Shop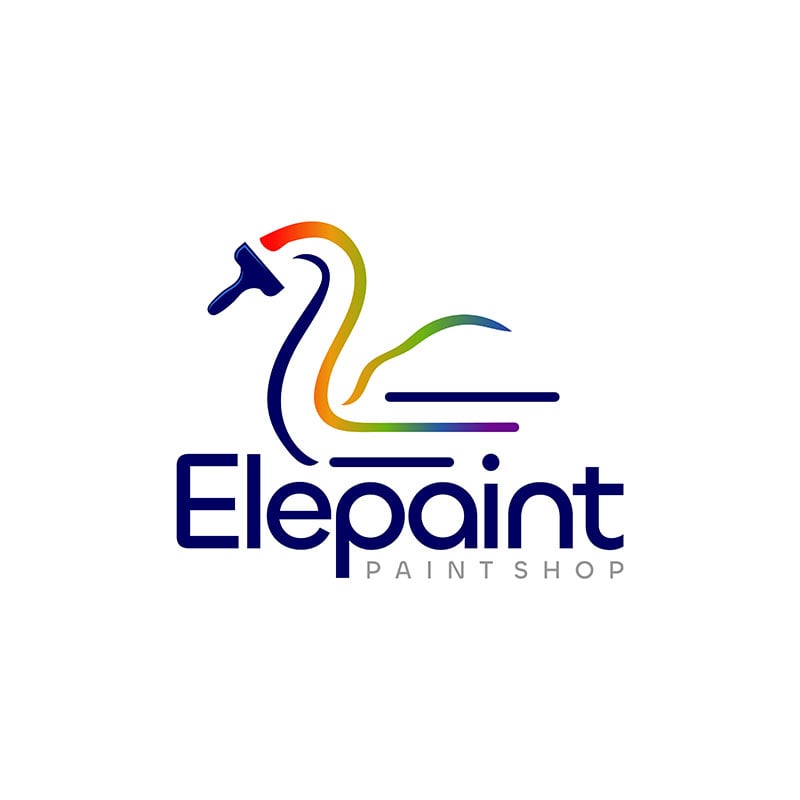 With the brand name Elepaint Paint Shop, you'd expect its logo to include an illustration of an elephant in it. And the logo designer did not disappoint. The brush with paint trailing at its end forms an elephant head with its trunk raised high.
The logo uses multiple colors, as can be expected from a paint store. The lines in the center part of the design are great in expressing movement and give it an authoritative air.
3. Elephunt Job Recruitment Agency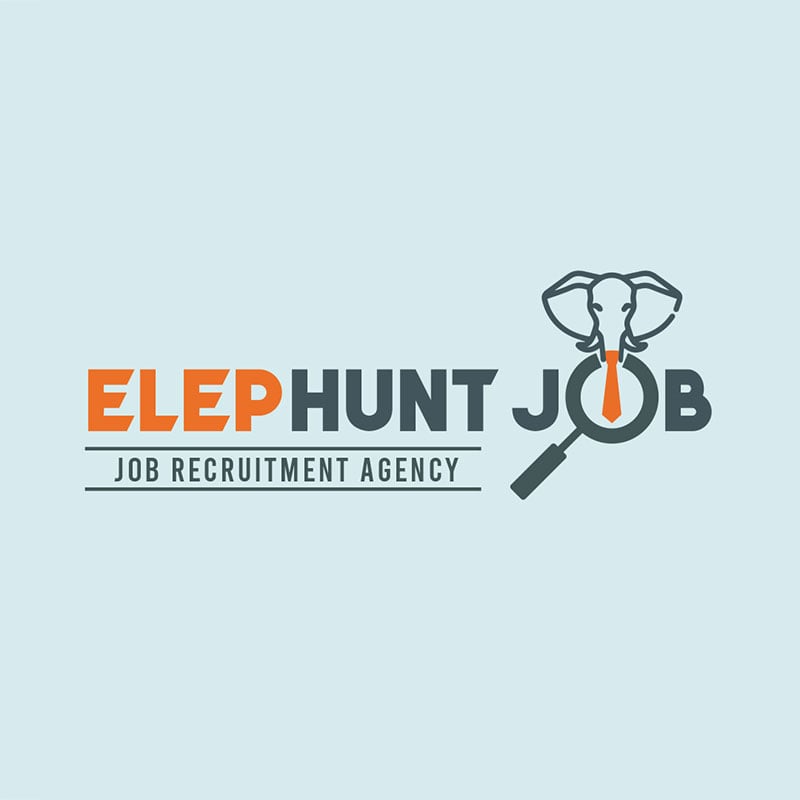 Combining the word Elephant and Hunt in this recruitment agency is a clever way to incorporate these gentle giants in their brand name. The Elephunt Job Recruitment Agency logo uses an illustration of an elephant wearing a necktie. The letter O in the word job was turned into a magnifying glass to symbolize search.
This design is an excellent example of a professional crafting your brand a customized logo. This is something that you won't get when you use online logo templates. Originality is affordable if you know where to find it. Click here to check out Penji's other works.
4. ElePlant Plant Shop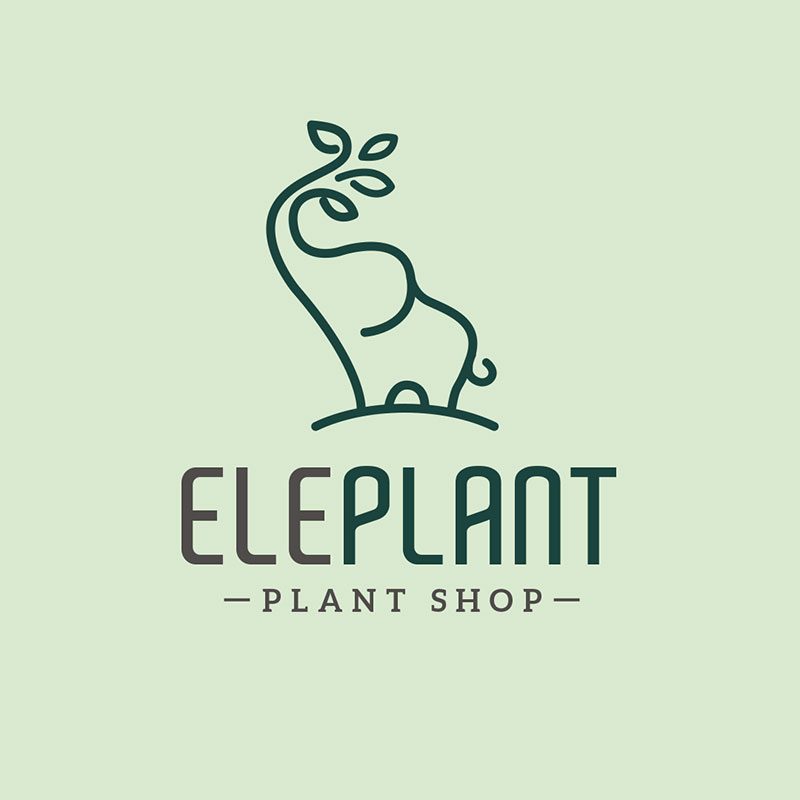 Another brand name that incorporates the term elephant into it is ElePlant Plant Shop. This beautifully-designed logo has an illustration of an elephant gracefully raising its trunk with leaves on it. And, of course, it uses various shades of green as its primary color as it is commonly associated with trees and nature in general.
The word plant is highlighted so we can see instantly what the brand is about. The simplicity of the font used balances the slightly ornate elephant icon.
5. ElePrint Printing Business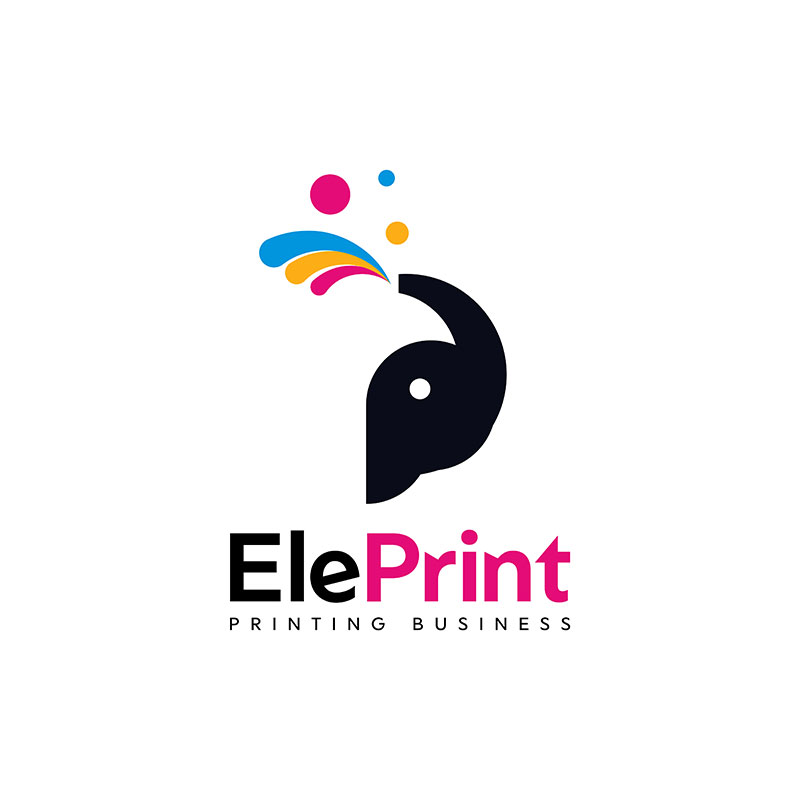 This colorful elephant logo is truly noteworthy as it clearly represents the printing business. It has splashes of bright colors alongside its use of black that emphasizes the vibrancy of the design. The elephant icon is streamlined to add a sense of innovation and a touch of modern style.
The font pairing is incredibly exceptional, combining a thick-lined type and the thin ones underneath them. In logo design, font choice is crucial as it plays a significant role in expressing your brand personality.
6. Ellen Pot Food House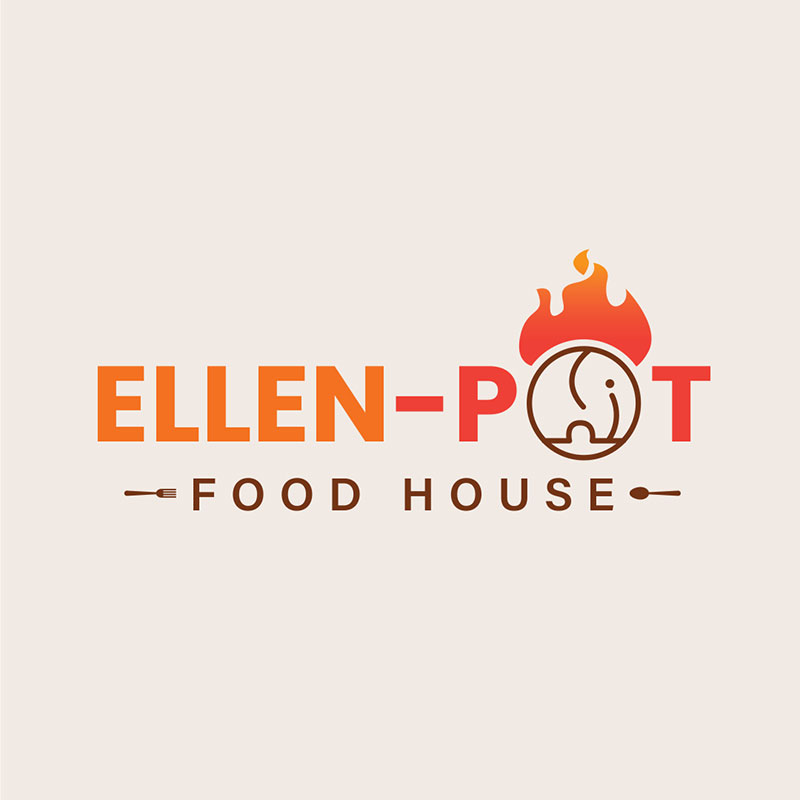 You can use an elephant in your logo even if it isn't included in your brand name. This Ellen Pot Food House logo design is such an example. It has an icon of an elephant conveniently enclosed in the letter O. On top of it is an icon of flames to show the brand's nature of business.
Orange is an excellent choice for a logo design for a food house as it has qualities that show passion for food, among many others. The font type used is simple, making it a highly scalable logo.
7. Pachyderm Care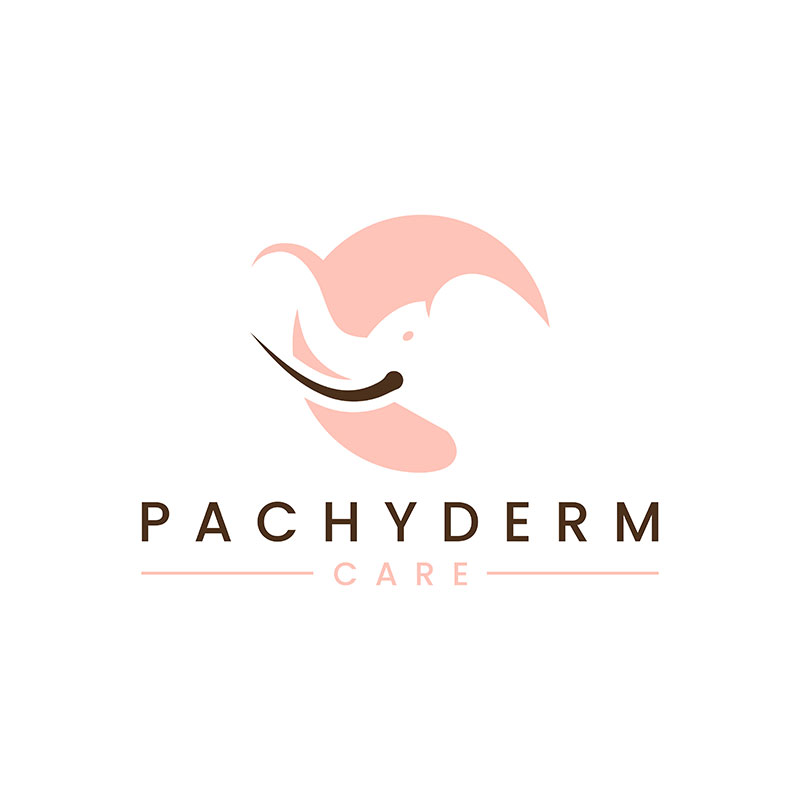 Using the scientific name for elephants and similar animals, the PachyDerm Care brand hits two birds with one stone. It blends skincare with the symbolism of the elephant. For its logo, of course, we'd see an elephant illustration in it.
For skin care businesses, it is recommended to use light colors that signify softness, care, and sensitivity. The peach color goes quite well with the brown, a great color combination for a brand that caters to the health and well-being of our skin.
8. Sweet Elephant Children's Boutique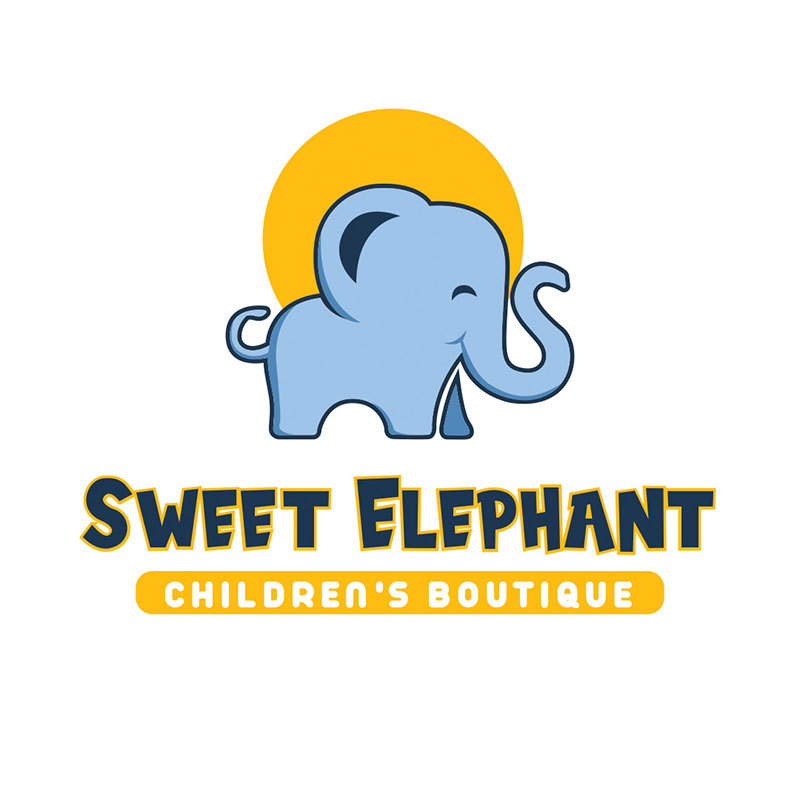 Kid-friendly font, light colors, and playful and fun elements should be your priority when designing a logo for children. This Sweet Elephant Children's Boutique logo uses a smiling elephant done in a cartoony finish to make it appealing to kids. It exudes simplicity in a highly spirited way to make it relevant to its target audience.
Its typography has an energetic and frolicky nature to show the brand's amiable personality. Remember that font choice is crucial in logo design as it can help reflect the brand's mission and values.
9. The Hungry Calf Restaurant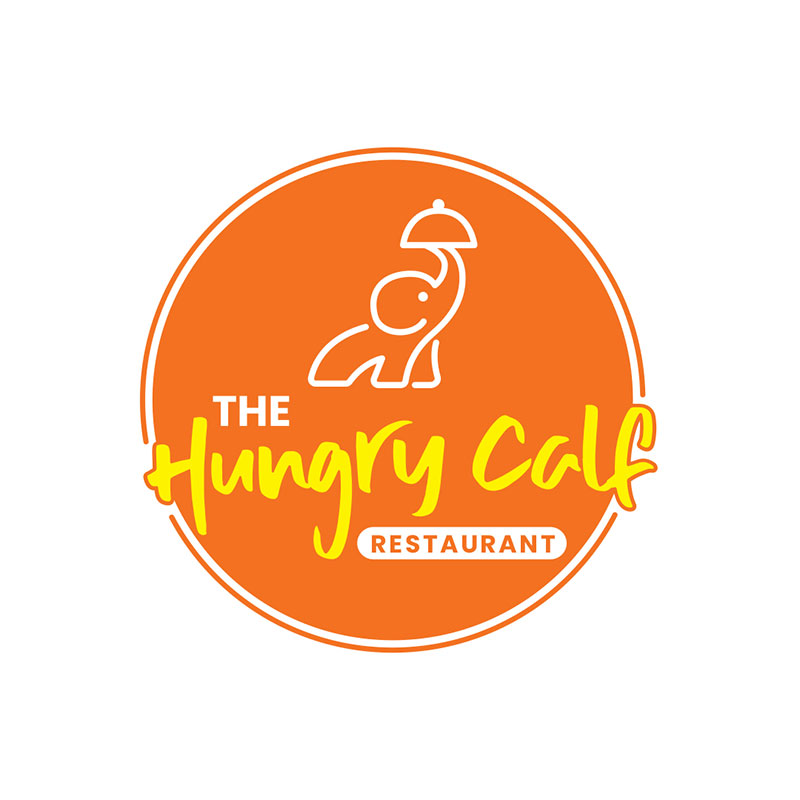 With a cute baby elephant carrying a food tray in its trunk, The Hungry Calf Restaurant logo is worth emulating. This is a highly flexible logo that would look good wherever you place it. The orange color scheme is highly appetizing, while its handwritten fonts add interest.
All the elements in this elephant logo make it an excellent example of a design that effectively conveys the strength, wisdom, and grace associated with the majestic animal.
10. Tusker Clothing Line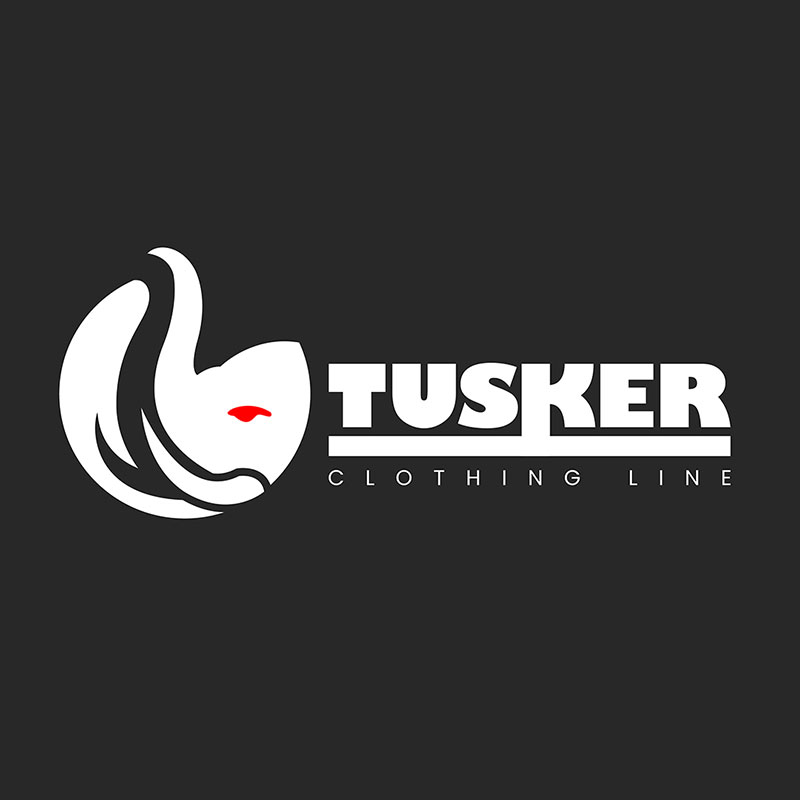 The Tusker Clothing Line logo has incorporated unique and memorable design elements that make it stand out in a crowded market. The elephant head is complete with tusks as a reference to its brand name. The eye is done in red to give emphasis and also a splash of bright color amidst the mostly gray color scheme.
Balance is essential in design, and this elephant logo is a perfect example. It has big fonts that go well with the smaller ones under it and plenty of negative space to even out the tight composition of the elephant icon.
Final Thoughts
A well-designed elephant logo can be the foundation of a memorable brand identity. Elephants are gracious animals that can help you project various brand personalities. If you need help creating an elephant logo for your brand, you can count on Penji's team of professional graphic designers.
Click here to get the design started and enjoy unlimited graphic design. Or get one elephant logo from Penji for only $75! Visit the website to get started!