Adding illustrations to your marketing and advertising campaigns offers many benefits. However, finding great illustrations at affordable rates can be laborious. Here are the top ten websites to download free illustrations for your brand:
1. Humaans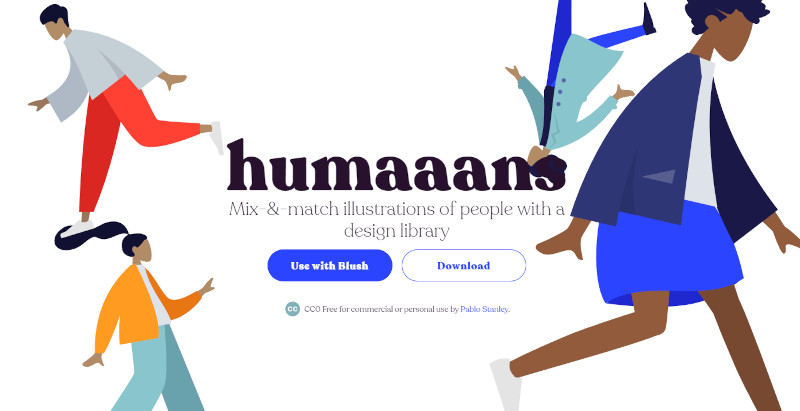 If you need trendy and upbeat illustrations of people, Humaans is the website you need. It has an extensive library of humans standing, sitting, walking, and many others. It has different clothes, hairstyles, and body parts that you can mix and match to create a unique human.
You don't need to sign up to create an account; all images are free to download. However, you need to credit the owner, Pablo Stanley, if you want to use the images for personal or commercial use.
2. OpenDoodles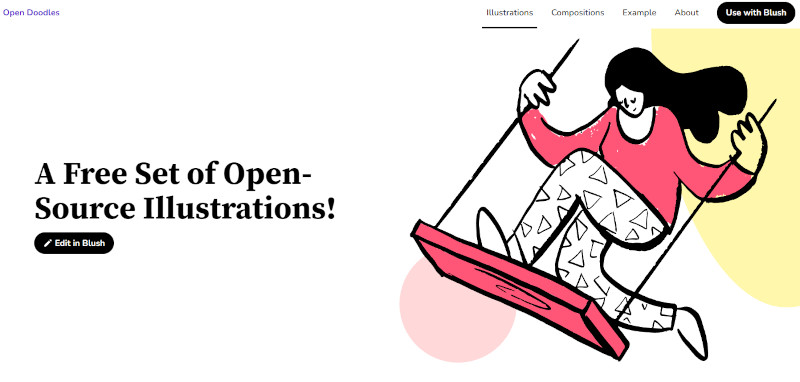 Another open-source website to download illustrations by Pablo Stanley, OpenDoodles, has some of the most awesome doodles. Thanks to their brush-stroked lines, the illustrations have that trendy yet warm appeal. You can change the background colors, but if you want more features, you'd have to get a paid Pro account.
These images are free to download and use, whether it's for personal or commercial use. You can choose to get the file in either SVG or PNG file. You also have the option to download a single image or go big and download the whole illustration pack.
3. Glaze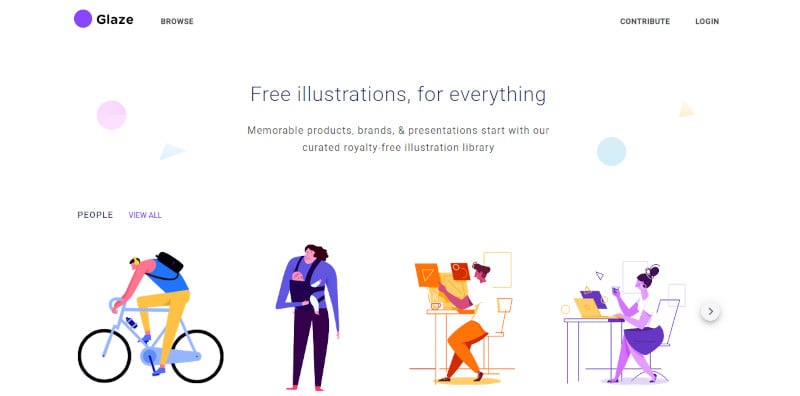 As its website states, Glaze provides you with free illustrations for everything. Its curated royalty-free illustration library lets you use high-quality illustrations for free with attribution. Choose from hundreds of illustrations of people, backgrounds, places, and other themes suitable for commercial or personal use.
While Glaze offers downloadable illustrations, artists and illustrators can contribute to its database, too. This is an excellent way to get exposure while earning from paid downloads and subscriptions. Just upload your illustrations and wait for them to review and publish them if applicable.
4. Mixkit

Boasting a wide array of illustration styles, Mixkit has hundreds of options, from astrology to safari. It has filters to help you narrow your choices with a brief description. The author's name is also included, but you can use the illustration even without crediting them.
Aside from beautiful illustrations, Mixkit is also an excellent source for videos, music, and sound effects. You can find hundreds of editable free video templates that you can use without attribution or sign-up. These templates are customizable to give you unique designs, all for free.
5. Absurd Design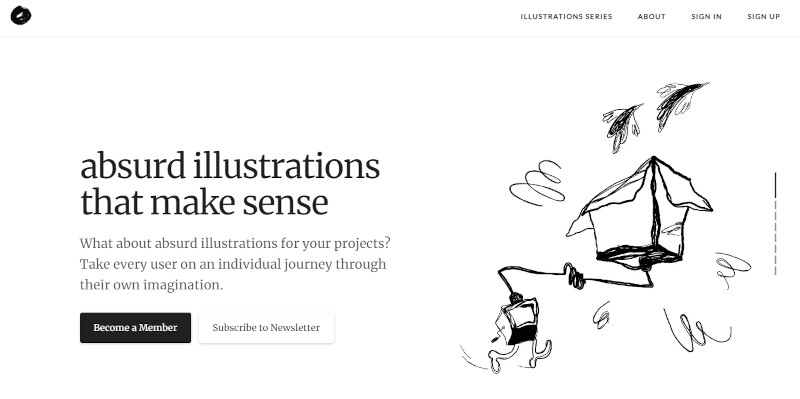 If you're looking for creativity bordering on the crazy, Absurd Design is the website to download illustrations from. The artworks are so simple yet thought-provoking and highly exceptional. And, just like all the websites on this list, you can download and use the illustrations for free.
The website has a membership plan that is limited to only 300 members. This way, the illustrations won't become generic and common. You have to pay the premium if you want to sign up. Whether it's a free or paid plan, you still need to credit the illustrators.
6. LukaszAdam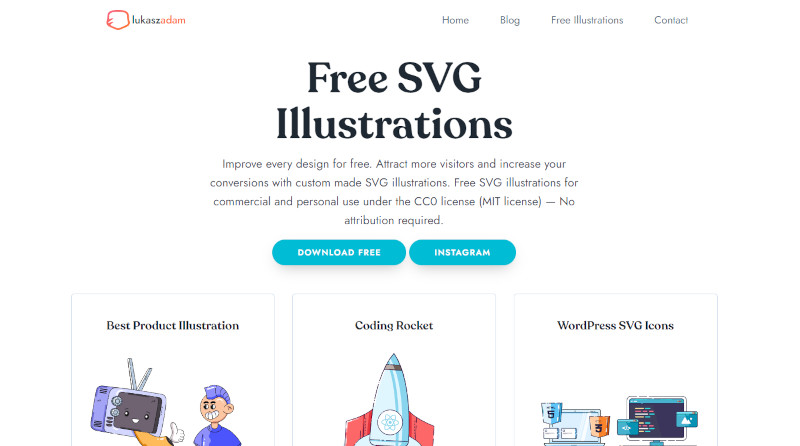 An independent web designer, Lukasz Adam gives out his illustrations for free via his website, LukaszAdam. His illustrations are primarily outlines, but you can find some with flat or 3D effects. The website also has icons you can download per design or the whole pack.
Illustrations on this site are free to use for either commercial or personal use. You don't have to create an account or give credit to Lukasz, but of course, it is highly appreciated. Just click on the Download button, and you're good to go.
7. LStore Graphics

For colorfully distinct illustrations, LStore Graphics is the website of choice. From abstract designs to 3D icons, the site is an excellent source of a wide selection of illustration types and styles. It has free and premium items that you can use for any design project.
Not only is LStore Graphics a great illustration resource, but you can also get many other digital assets from it. They offer UI/UX tools and mockups for your device and branding needs.
8. DrawKit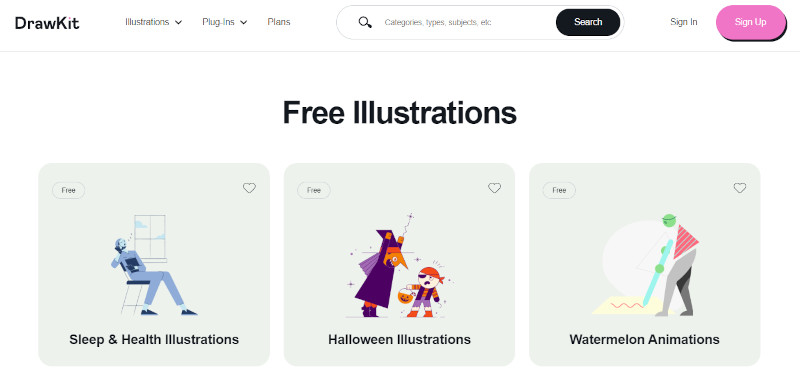 If attribution is a hassle for you, DrawKit is a great website to download illustrations from. You can use any of the sites' many illustrations without having to credit the illustrators. You can search for a wide selection of illustrations using the site's helpful filters.
While the illustrations here are free to use and download, DrawKit offers two paid plans. The Pro and the Lifetime cost $79 and $295, respectively. This website is a part of designstripe, which allows you to customize and animate your illustrations.
9. Ouch

From flat to 3D type illustrations, Ouch is an excellent website to get free downloadable artwork.
Aside from illustrations, it has icons, vector illustrations, stock photos, music, and AI-generated faces. The site also has tools that let you edit and customize the illustrations, even without a signup.
Ouch has monthly and yearly subscriptions that you or your team can get. For the free plan, you will need to include a license link, and author attribution and indicate if they made alterations to the artwork.
10. Penji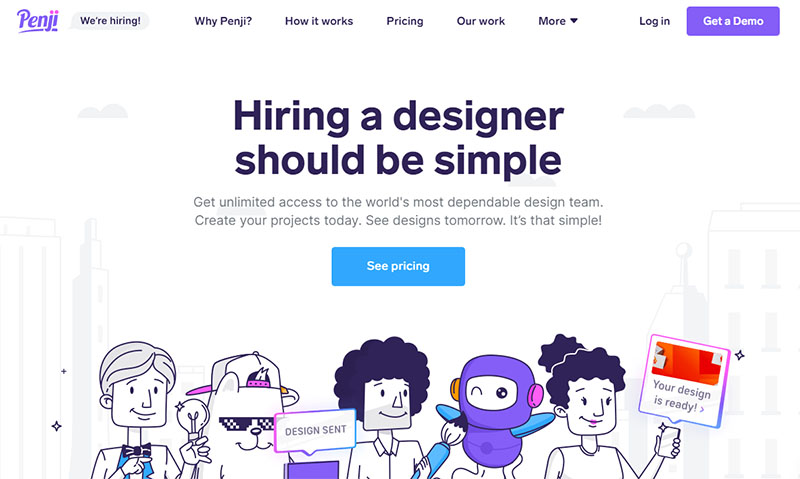 Of course, we can never forget Penji on this list of the best websites to download illustrations from. While most websites here let users use the illustrations for free, they are not original works of art. Even with customization features, you'd still share a design with many other users.
With Penji, you can get as many illustrations, logos, social media graphics, and many other visual assets for a fixed monthly fee. All these are designed specifically for you. You won't have to worry about copyright infringements or having other people use the same illustrations as you do.
Final Thoughts
Custom illustrations can impact your marketing and advertising strategies. They can express concepts and ideas that photographs can't. In addition, they can beautify like no other. If you want to know more about how Penji works, watch our demo video here.
Better yet, click this link to get our designers working for you.