Advancement in technology offers a plethora of benefits for businesses. AI makes it easy for anyone to create graphics and other visual assets. Even so, standing out becomes harder with each passing day. If you want to differentiate your brand and crush your competition, cool illustrations from the best illustrators are the way to go.
Here are some illustrations from world-famous illustrators to inspire you. We also included Penji's works to show you how you can achieve the magic of custom illustrations without spending a ton of money!
Maurice Sendak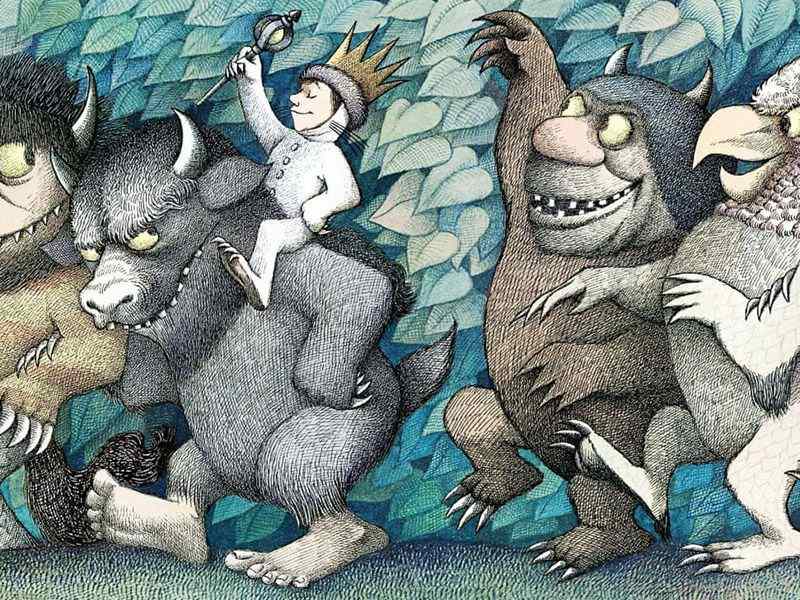 One of the most influential illustrators the world has ever known is Maurice Sendak. He authored and illustrated over 80 children's books. This includes the book he was known for, the well-loved Where the Wild Things Are published in 1963. He stirred quite a controversy during his time. This is due to his dark and sometimes moody illustrations that didn't fit the stereotype of cutesy children's book illustrations.
Some of his book titles include Outside Over There, In the Night Kitchen, Chicken Soup With Rice, and Kenny's Window, among many others.
Iker Ayestaran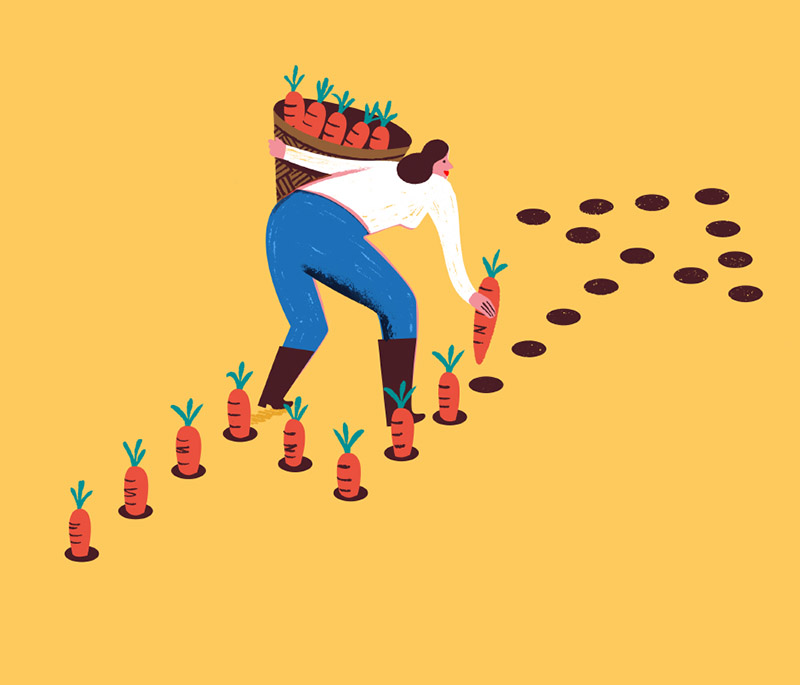 Based in San Sebastian, Spain, Iker Ayestaran specializes in gouache, digital, and graphic art. His artwork uses vintage colors, soft lines, texture, and ample use of white spaces. Overall, his style is minimalist, with a full touch of color. He has several awards under his belt and is internationally renowned for his editorial illustration ideas.
You can find his work in major publications such as The Washington Post, Fortune, The Boston Globe, Variety, The Daily Telegraph, The Economist, and many more.
Vedran Klemens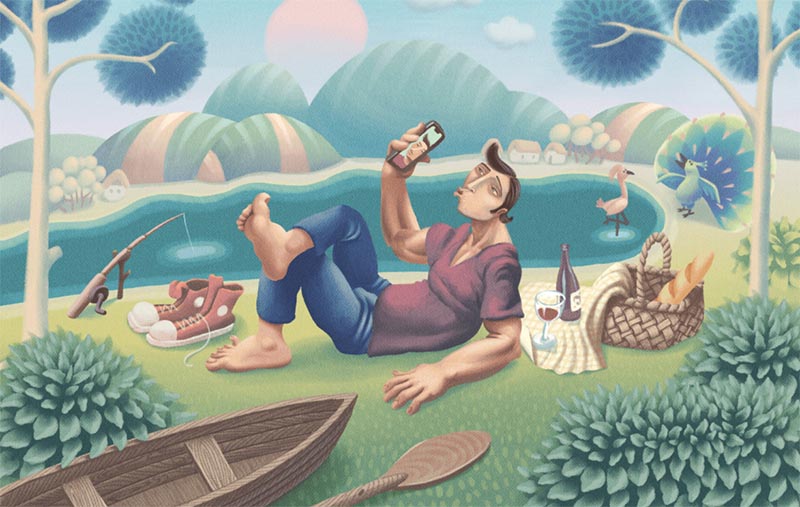 Art director, illustrator, and graphic designer Vedran Klemens is from Zagreb, Croatia. You can see his country's culture in the majority of his works. His cool illustrations use various art styles, primarily a blend of old and new, resulting in hybrid artworks.
Klemens once worked as an art director and an advertising agency designer. He left those positions to pursue his dream career in illustration and graphic design. This multi-awarded illustrator has extensive experience in illustration, design, advertising, and branding. His most famous work is that of Vučko and friends. Vučko is the official mascot of the 1984 Winter Olympics held in Sarajevo.
Helen Green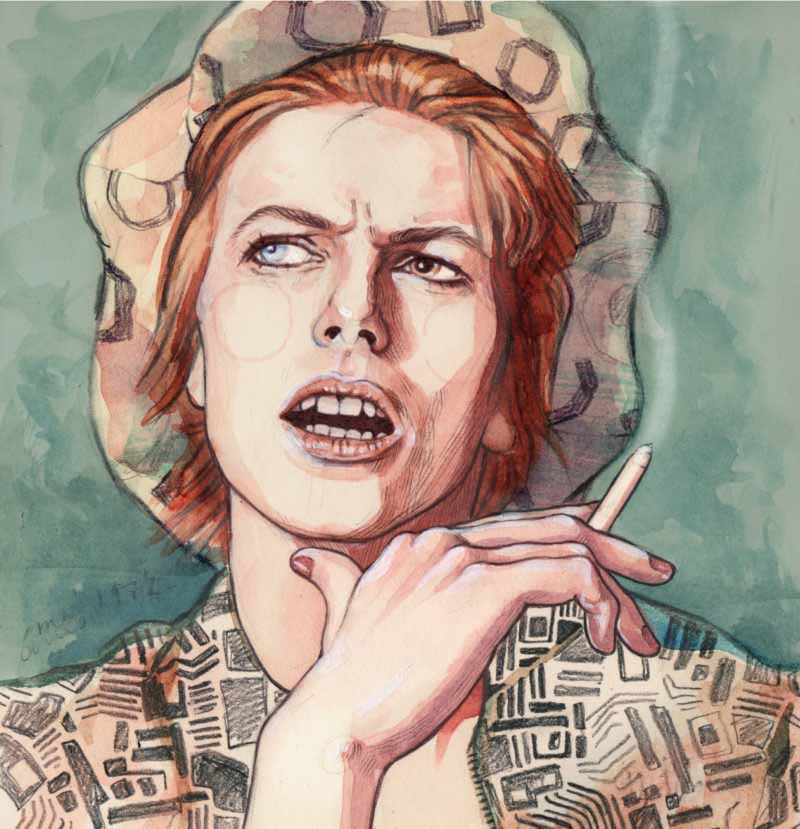 Specializing in portraitures, Helen Green creates photorealistic illustrations that are full of life and personality. Being a lifelong fan of music, she has a collection of illustrations of rock stars. Her most notable works are that of David Bowie and Lady Gaga, who admitted to being a fan of hers.
Green, a native of Birmingham, UK, has a long list of editorial and book covers and merchandise. You can find her work on Billboard, Glamour, Time, The Guardian, and many others.
Hayao Miyazaki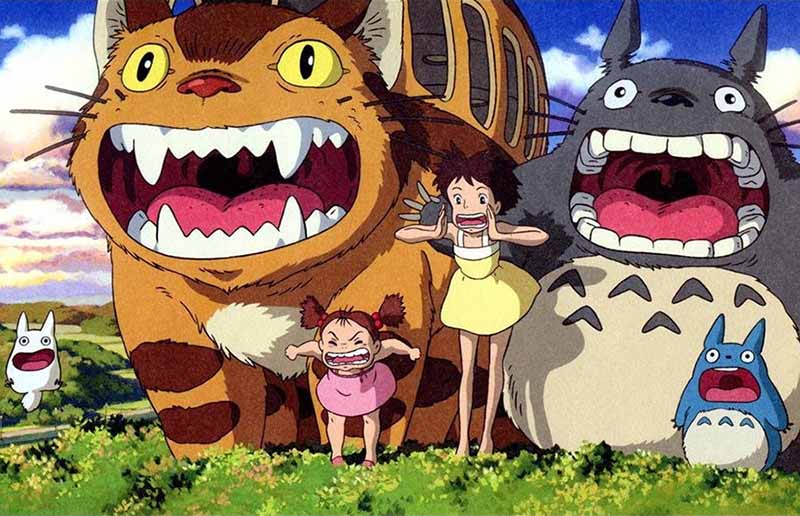 When it comes to anime and manga, Hayao Miyazaki is a big name. This film director, animator, and illustrator combines soft backgrounds with simplified characters. He has influenced famous directors such as John Lasseter of Toy Story and Guillermo del Toro of Pan's Labyrinth.
Miyazaki started his career in 1963 as a studio animator and did some work on many Japanese animation classics. Miyazaki's 2001 film Spirited Away is the first anime film to win an American Academy Award. Other titles include Princess Mononoke, My Neighbor Totoro, Castle in the Sky, and so much more.
Hsiao Ron Cheng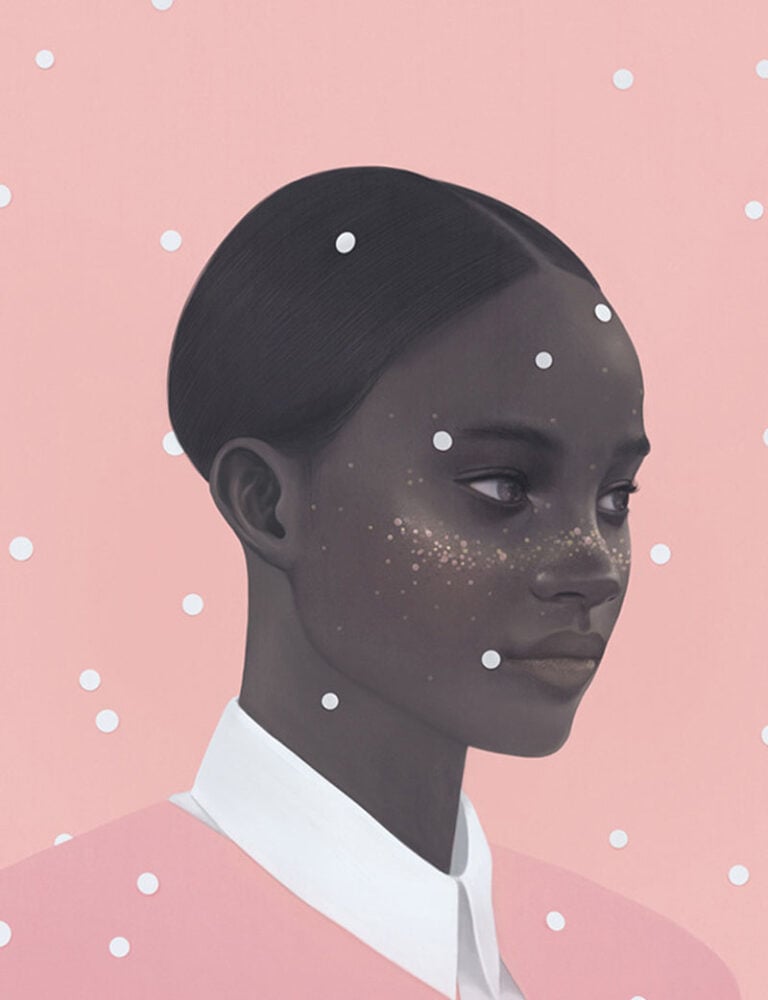 Photorealism mixed with magic is what best describes Hsiao Ron Cheng's artwork. Her use of pastel colors creates brilliance and tranquility. Cheng takes the boredom out of hyperrealism and boasts not only skill and patience but pure talent and imagination.
Cheng started as a freelance illustrator back in 2012. Soon after, she got international attention. She illustrates editorials, album covers, prints, and wall art, among many others. This Taiwan-based illustrator shot into international fame with her dreamy illustrations. She now works with design agencies and fashion brands worldwide.
Paul Davey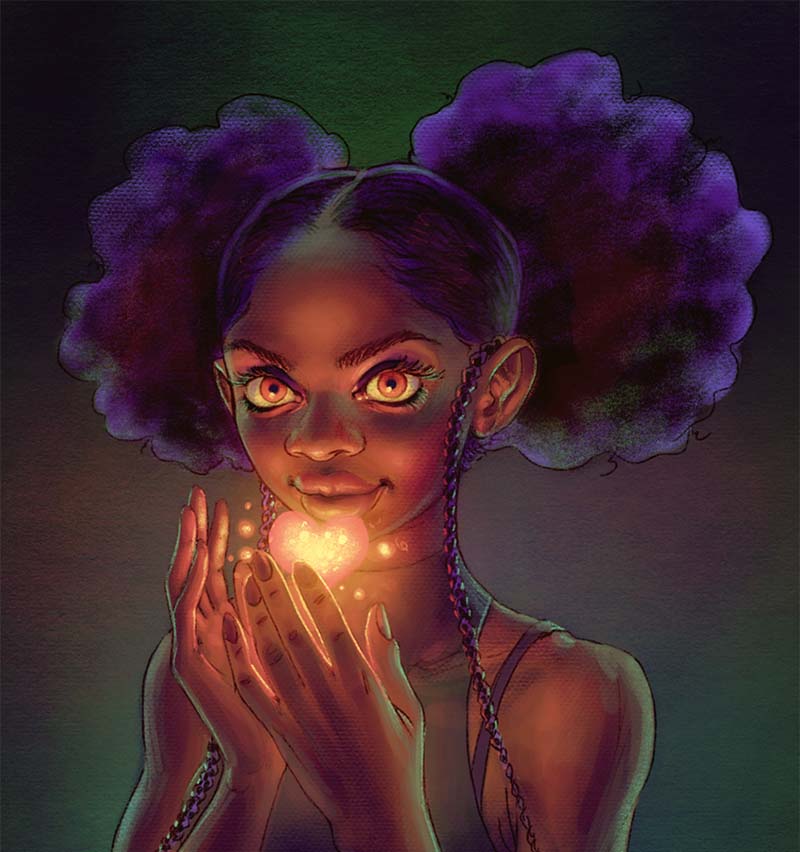 A digital painter/illustrator based in Miami, Paul Davey was born and raised in Jamaica. You can see from his works that comic books and surrealism primarily influence him. His illustrations are captivating and enigmatic, using a semi-realistic style with hints of painterly elements.
Paul Davey is a self-taught artist represented by Shannon Associates. He even has a game centered around his illustrations. You can find his work in EarthNight, a 2D dragon apocalypse game.
Malika Favre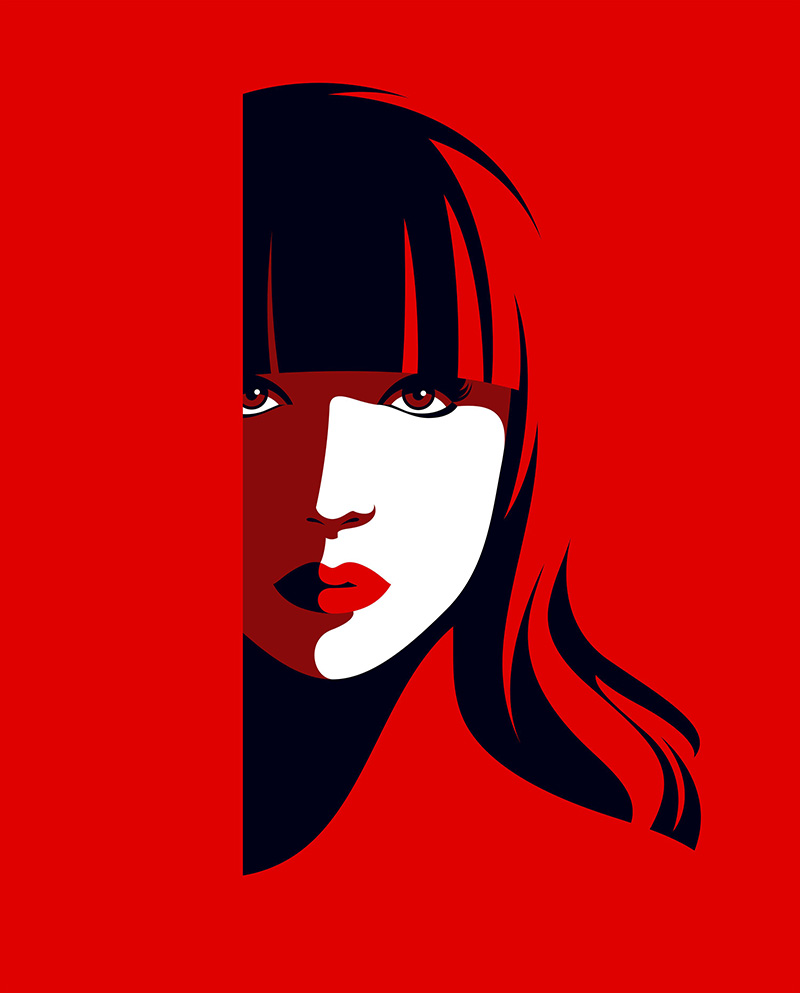 When you see Malika Favre's illustrations, you'll instantly associate them with The New Yorker. It comes as no surprise as she has more than a few illustrations made for the publication. Her style uses a minimalistic approach with women empowerment as a recurring topic. Her work is a combination of simple illustrations donning geometric patterns, negative and positive space, elegant structures, and bright colors.
Although she uses flat shapes and colors, her illustrations are larger than life. Her other clients include Penguin Books, Sephora, BAFTA, Vogue, and many more.
Thomas Ehretsmann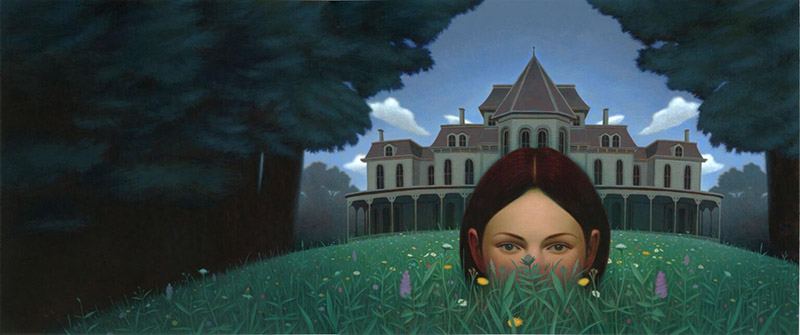 Primarily using acrylics in his illustrations, Thomas Ehretsmann has some of the most hauntingly beautiful works around. The pseudo-realism is alive in his works, giving the viewers a wild mix of weariness, bewilderment, and tranquil nostalgia.
This France native has led a successful career in illustration since graduating from The School of Decorative Arts in Strasbourg. Since 1998, he has conducted illustration and sketch workshops in Italy and has flourished in his career ever since.
Jason Seiler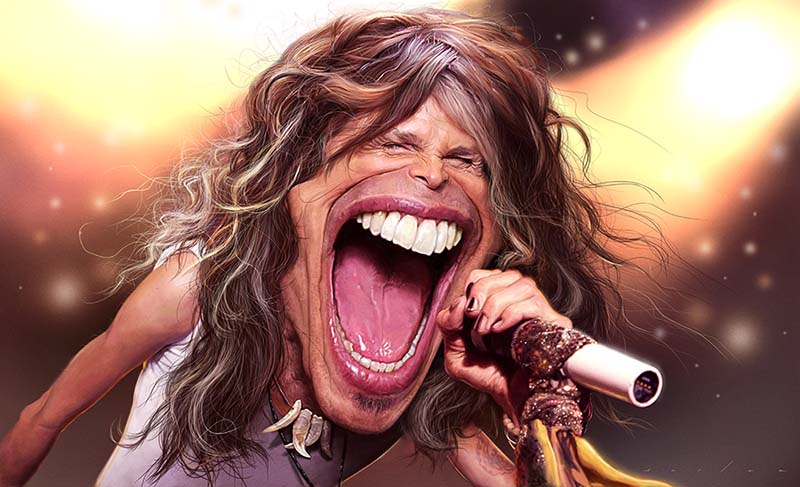 An award-winning illustrator, Jason Seiler specializes in creating artful caricatures of celebrities. He is very much into the traditional style of painting but it is done through digital media. His caricatures are accurate and grounded. This is the main reason he was given the coveted Person of the Year cover of Time magazine.
You can find his other works in Golf Magazine, Sports Illustrated, Mad, and many more. Here's a fun fact: Jason Seiler once drew parodies of his high school history teacher, and got in trouble for it. He was then hired to draw the faculty members' portraits.
Quentin Blake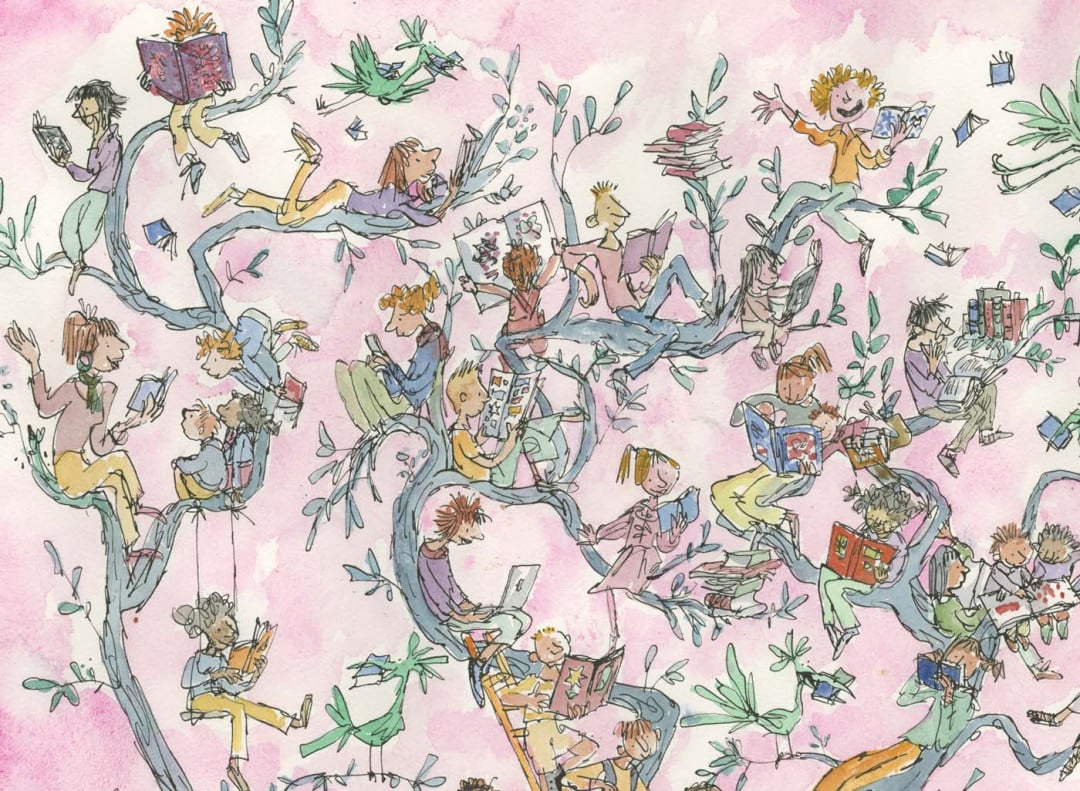 English cartoonist, caricaturist, illustrator, and children's book writer Quentin Blake is a living legend. Born in 1932, his first published cartoon was when he was 16. He illustrated more than 300 books using his signature quirky and chaotic style.
His collaboration with author Roald Dahl continues to capture children's imaginations the world over. He won the highest award in children's book illustrations in 2002 — the international Hans Christian Andersen Award.
Kirsten Ulve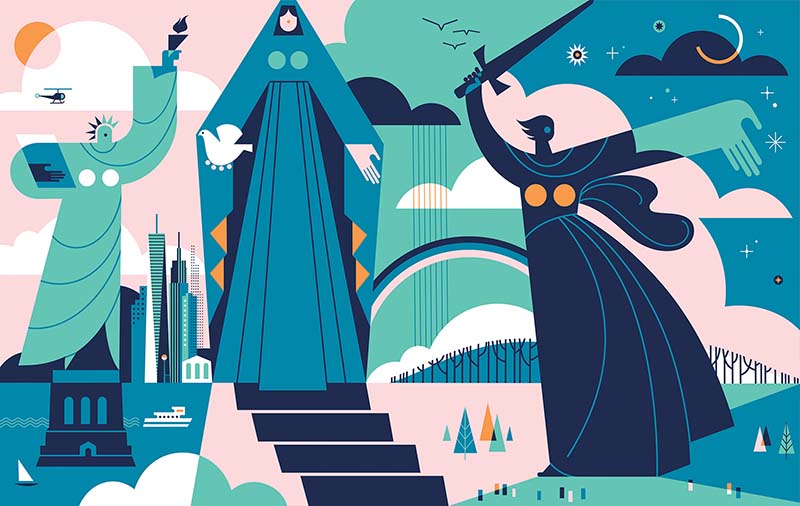 An illustrator and designer based in New York City, Kirsten Ulve is well known for her editorial illustrations. Her conceptual design uses bold and bright colors, sharp shapes, and an edgy spirit. Most of her work can be seen in games, fashion, and lifestyle.
Ulve's clients include Volvo, Glamour, InStyle, and The New Yorker, among many other international brands. She is best known for her work doing caricatures of various notable people. She also did a Broadway marquee and the United States Post Office stamps.
Aysha Tengiz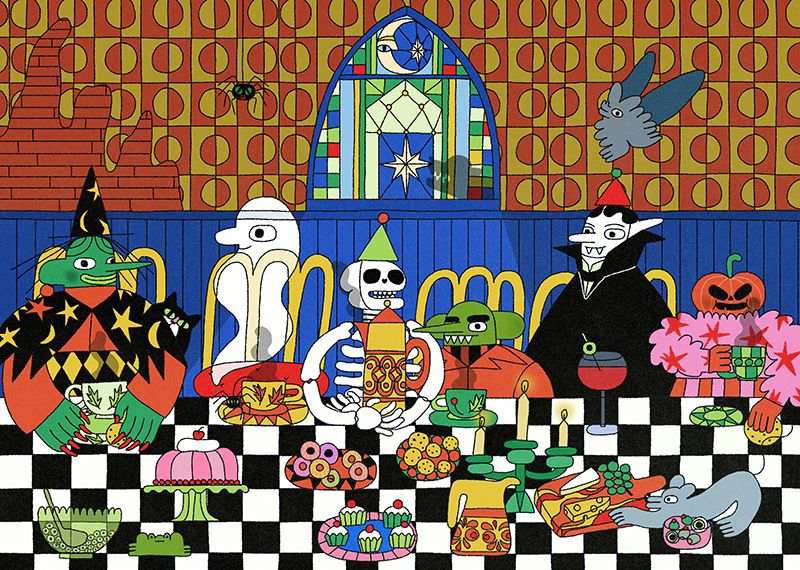 London-based Aysha Tengiz is an illustrator, designer, and animator. Her editorials, children's book covers, web illustrations, and animations are all whimsical and lighthearted. Her style focuses on people, animals, and landscapes using an abstract and linear approach.
Tengiz lists some of her clients as The Washington Post, King's College London, and The New York Times. She snagged several awards under her belt, including the AOI World Illustration Awards 2020.
H.R. Giger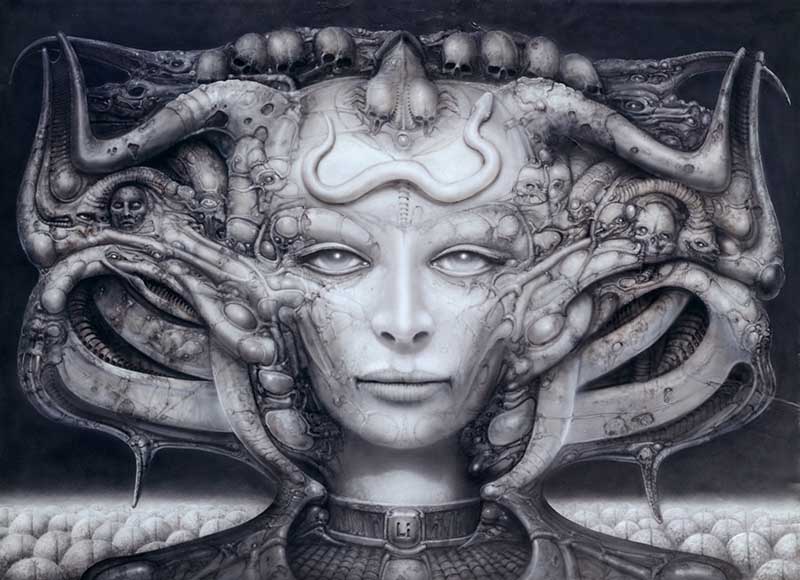 Swiss illustration legend H.R. Giger may have passed away in 2014, but his works are timeless. His airbrushed images of humans and machines go beyond the "cool illustrations" description. His role in the special effects team of the 1979 movie Alien earned it an Academy Award for visual design.
Moreover, his style is described as monochromatic, surreal, and even nightmarish. The H.R. Giger Museum in Gruyères, Switzerland, displays his most notable works.
Morten Mørland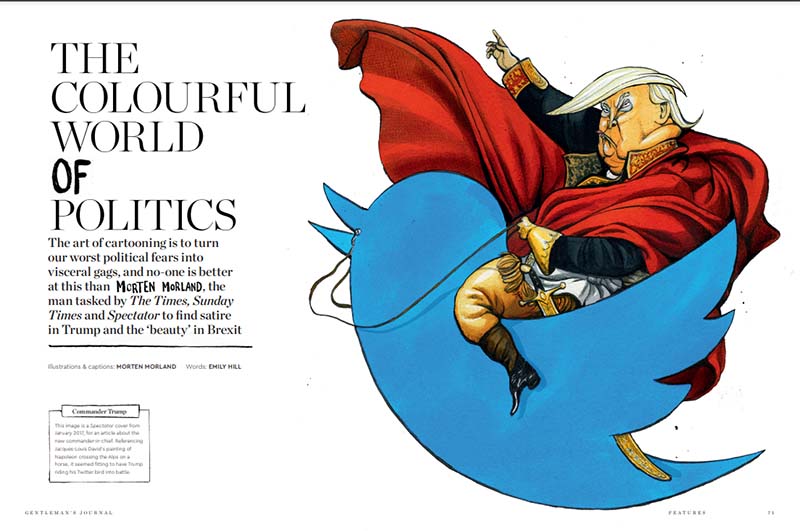 A Norwegian political cartoonist, Morten Mørland, is now based in London. Since 2002, he has been the cartoonist for The Times' online and tablet editions. His illustrations perfectly capture our times and effectively communicate a complex story without any text or speech bubbles.
This multi-awarded illustrator has a long list of clients, which includes The Spectator, The Sunday Times, GQ, Penguin Books, and Harper Collins, among many others.
Alexis Marcou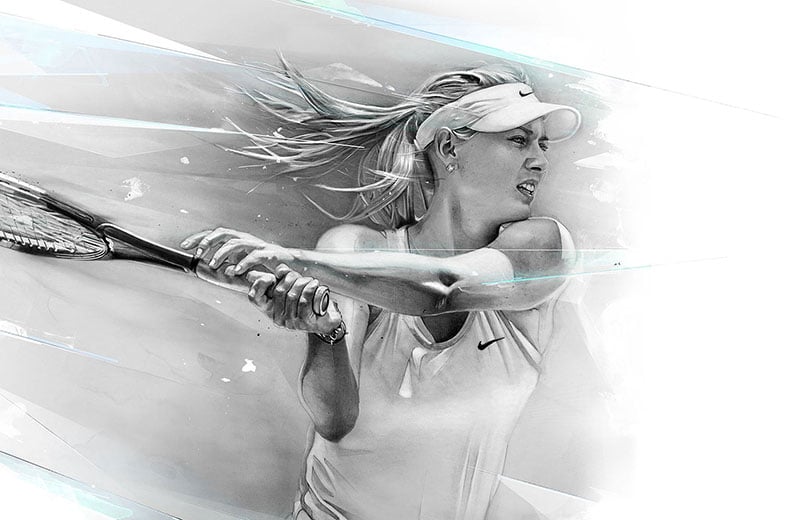 Graphic designer and illustrator Alexis Marcou mixes traditional and digital forms of media to create awe-inspiring art. Graphite, watercolors, and inks used with blending stumps and brushes make up most of his works. His influences include cubism and realism, as can be seen in most of his works.
Marcou's most prominent clients include Nike, BMW, Cisco, ESPN, PepsiCo, and Hewlett Packard, among the long list. In 2008, he created a notable project, Panda, a series of images that were in the market as limited edition prints.
Beatrix Potter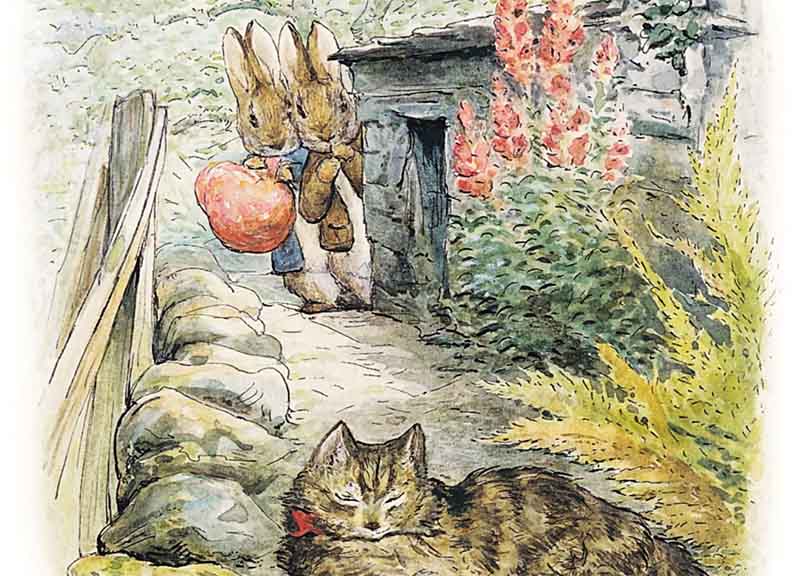 The words cool illustrations aren't enough to describe Beatrix Potter's notable works. Decades after her death, people are still enthralled by her illustrations. The most significant of her works is the 1901 best-selling children's book The Tale of Peter Rabbit.
Potter's works were inspired by nature and wildlife. She grew up being with governesses and isolated from other children. Her love for nature led her to become a scientific illustrator, which prompted her to write a paper entitled "On the Germination of the Spores of Agaricineae."
Shenho Hshieh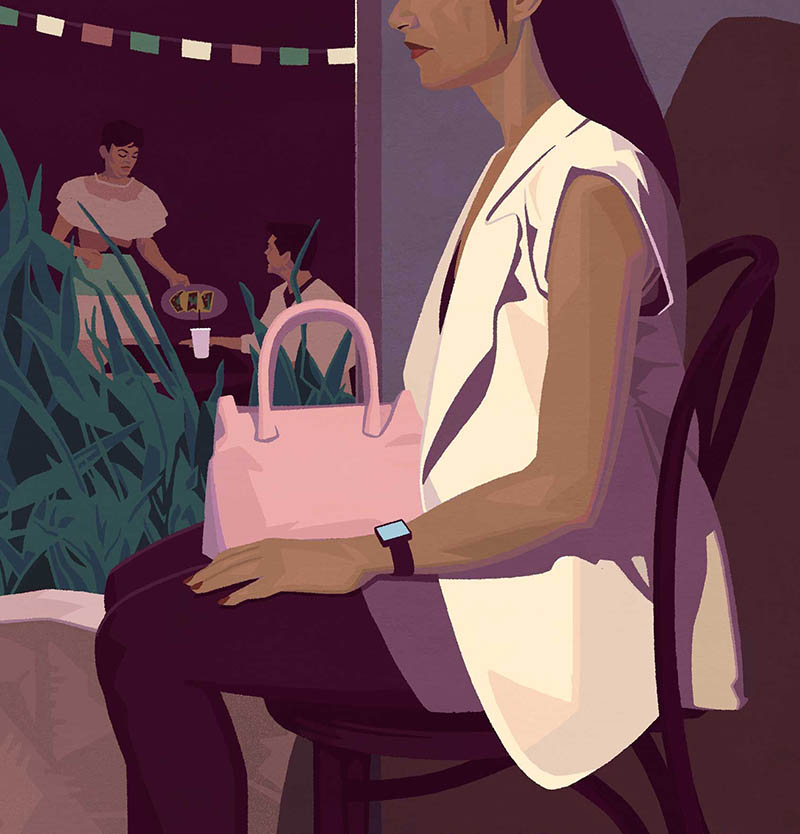 Illustrator, painter, and art instructor Shenho Hshieh was born and raised in California. He specializes in narrative illustrations commissioned for publishing. His works take inspiration from Western cartoons, Japanese anime, and 1950's illustrations. He didn't plan on setting out to be a professional illustrator until the age of 21.
Hshieh's client list includes the L.A. Times and the Dallas Observer. He is also a figure drawing/painting workshop instructor at ArtCenter College of Design.
Richard Corben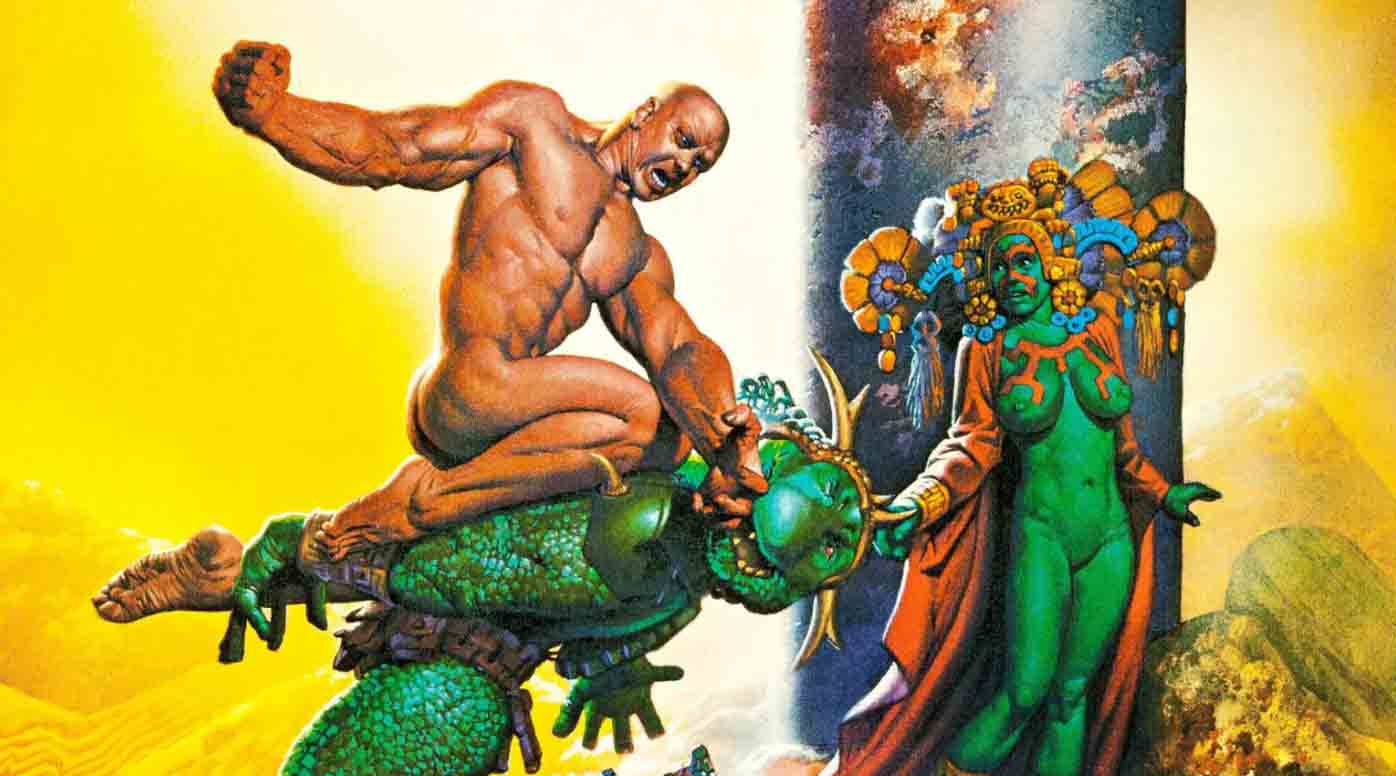 Any true-blue comics fans will know who Richard Corben is. His dramatic illustrations and stories are well-known in the pop culture and graphic novel world. Corben was considered the heart and soul of Heavy Metal magazine, with which many associate his work. The Den Series was the most notable one, featured in 1981.
Corben, who passed away in December of 2020, has his legacy live on with his work printed in Marvel, DC, Vertigo, Dark Horse, and so much more. Plus, he has received accolades and recognition over the years, including the prestigious Angouleme Grand Prix.
Maja Andersen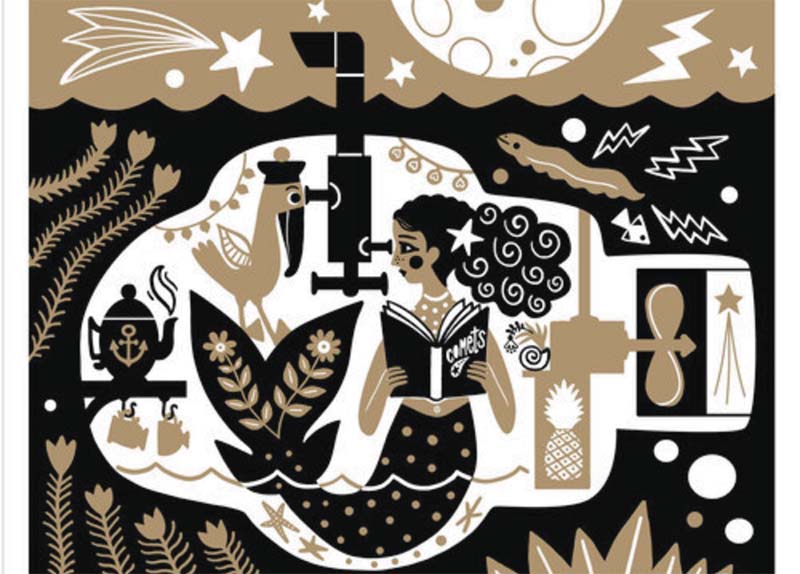 An illustrator, designer, and lettering artist, Maja Anderson was born and raised in the US to Danish parents. Her work is inspired by retro-Scandinavian modern design, eclectic music, folk art, and dance, among many others. Her notable works include illustrations for greeting cards, apparel, home decor, posters, and books.
Andersen worked as an illustrator for Hallmark Cards. She also illustrated for American Greetings, Pelican Publishing Company, and Chronicle Books, to name a few. She was given the "Pippi Longstocking" Danish version when she was young. It was illustrated by Ingrid Van Nyman, and that has served as her inspiration ever since.
Jean Jullien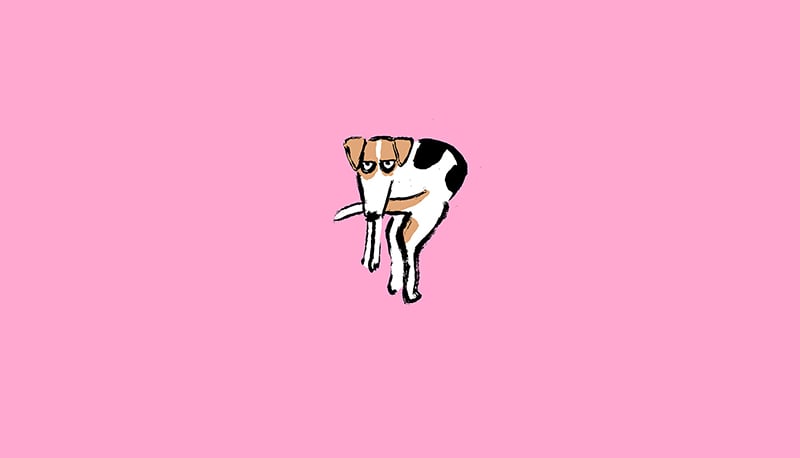 French graphic artist and illustrator Jean Jullien is based in Paris, France. He is famous for his thick lines, vibrant colors, and whimsical style. Aside from illustrating, he practices photography, videos, book writing, poster making, and clothing design.
Jullien's work is on display at several museums around the world. His client roster includes The Guardian, the New York Times, RCA Records, the New Yorker, and so much more. His 2015 peace symbol imploring the Eiffel Tower went viral on social media.
Bijou Karman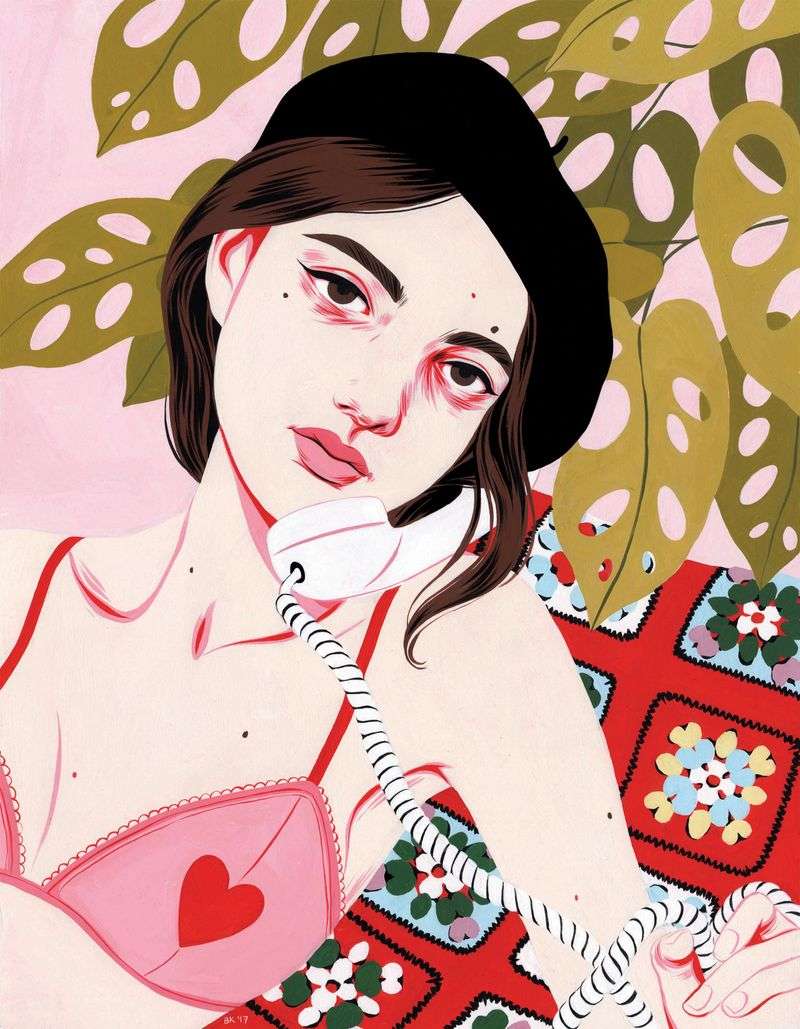 Los Angeles-based illustrator and designer Bijou Karman's work often revolves around strong and beautiful women. Her style is best described as vintage, psychedelic, and chic. She also loves to illustrate plants, prints, and patterns using edgy shapes and bold colors.
Karman has a long list of clients, such as Prada, Harper's Bazaar, The Atlantic, National Geographic, and so many others. She has also received attention from famous pop singer Rihanna, and they even collaborated on a marketing campaign.
Bruno Mangyoku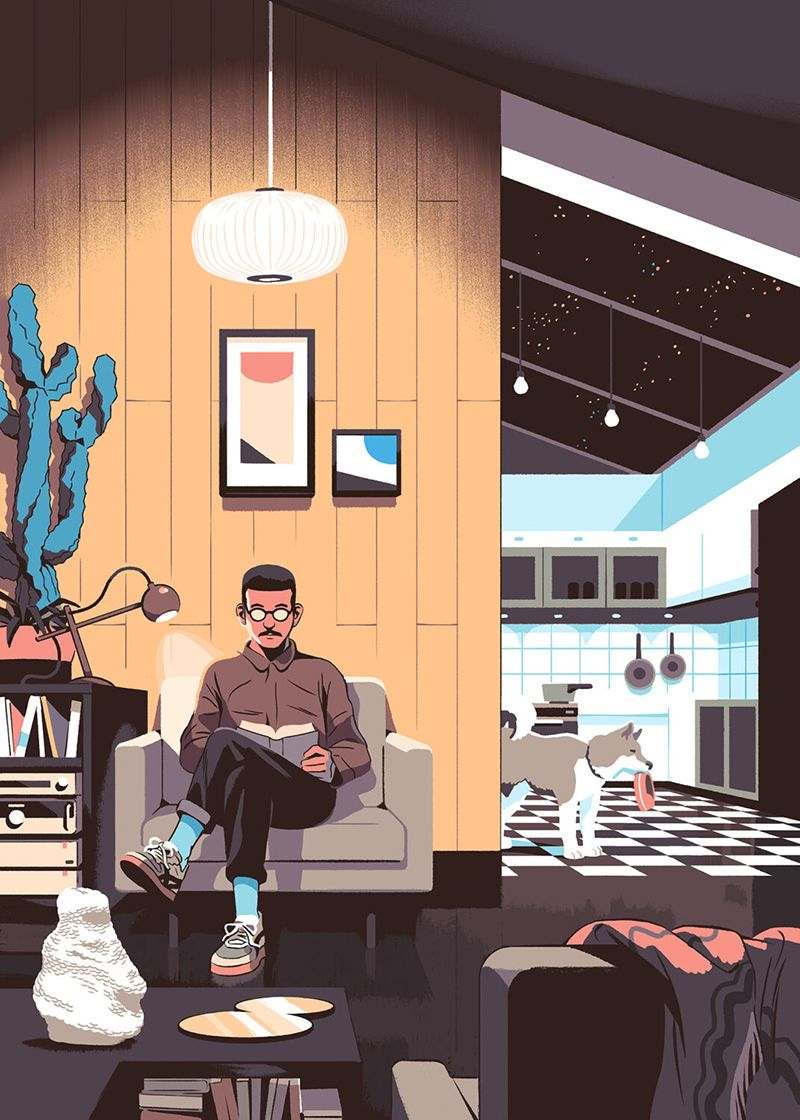 Famous for his minimalist illustrations, Bruno Mangyoku is a French illustrator based in Paris. His cool color palettes, clean shading, and ultra-cinematic backgrounds are what shot him to fame. His influence comes from American graphic novelists such as Adrian Tomine, Daniel Clowes, and Charles Burns.
Mangyoku's works can be seen in The Telegraph, Forbes, and Medium, to name a few. His love for cinema and inspiration from American cartoonists of the 90s and 2000s are what fuel his illustration works.
Adrian Tomine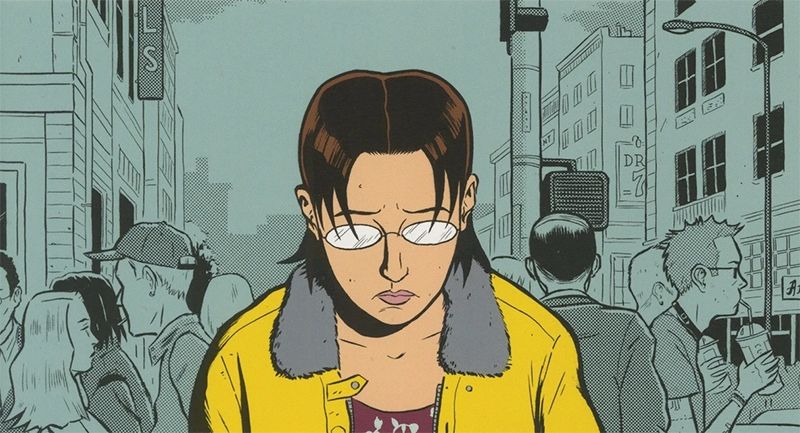 American cartoonist and illustrator Adrian Tomine also writes graphic novels, some as early as high school. His style uses a streamlined, calm, and smooth approach, much like what you can see from the ligne claire style of comics art in Europe.
Tomine is famous for his work in the comic book series he called Optic Nerve. His six-story collection titled Killing and Dying gained him a spot on the New York Times Bestseller list.
Alva Skog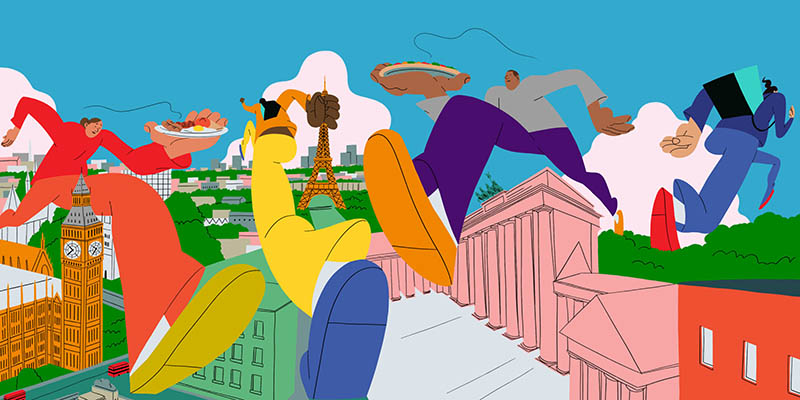 Swedish illustrator Alva Skog is currently based in London, UK. The non-binary Skog is innately interested in intersectional feminism, eliminating stereotypes, and queer studies. Their style distinctively uses bold and vibrant colors, shrunken heads, and ginormous hands.
You can find Skog's illustrations in big-name brands such as Apple, Coca-Cola, The New Yorker, The Guardian, and so many others.
Penji's Custom Illustrations
Many business owners and marketers shy away from using cool illustrations because of the misconception that it is expensive and hard to find. With Penji's unlimited graphic design service, you can send as many requests for custom illustrations as you can in a month at fixed and affordable rates.
Below are a few examples taken from Penji's portfolio of works. We presented different styles and genres to show you the diversity of our illustrators' skills.
Whang Od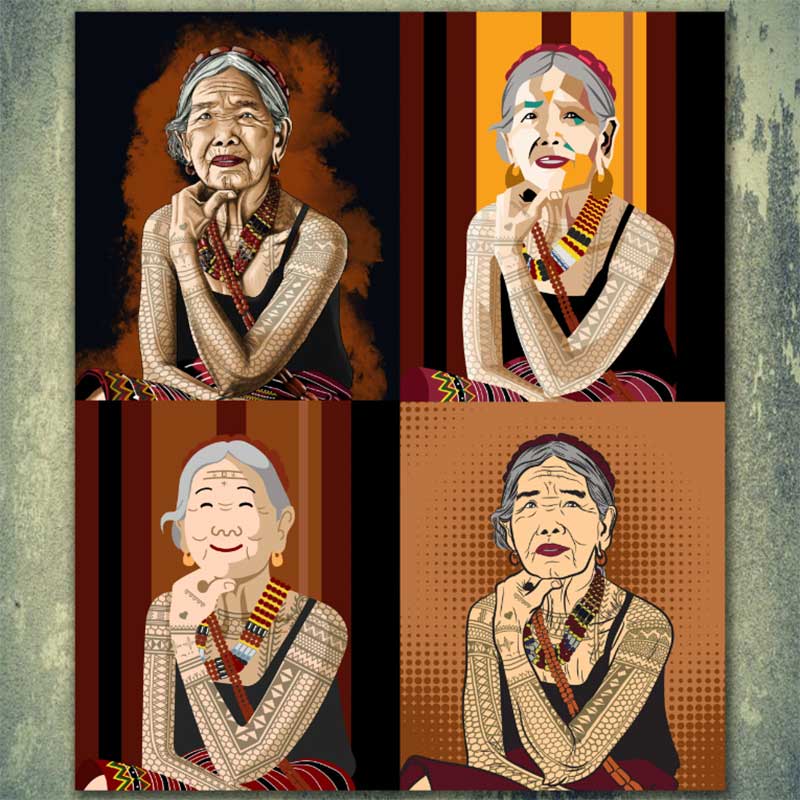 This illustration of Whang Od, a world-famous tattoo artist from Kalinga, Mountain Province, in the Philippines, tops our list. Made by one of Penji's top illustrators, she is depicted in this image in four different art styles. This image alone showcases the many skills our talented designers have.
Mary, Merry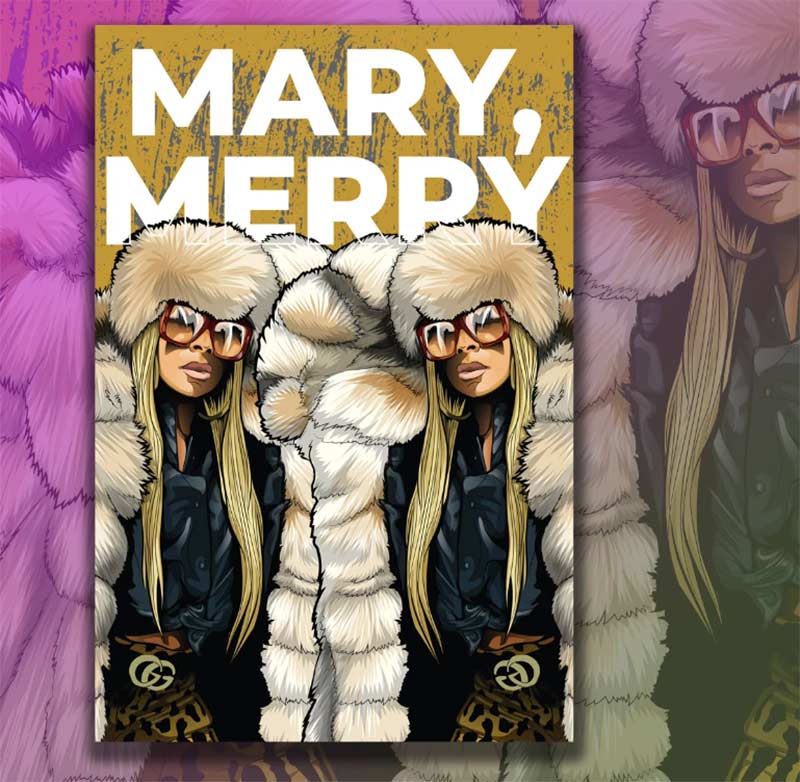 Whatever project you have, Penji can create fantastic illustrations for them. This Mary, Merry image is trendy, modern, and fits the bill of a cool illustration. Our subscription plans include illustrations among the many designs you can ask for. This, while other unlimited design services, require you to pay for illustrations separately.
Dragon Illustration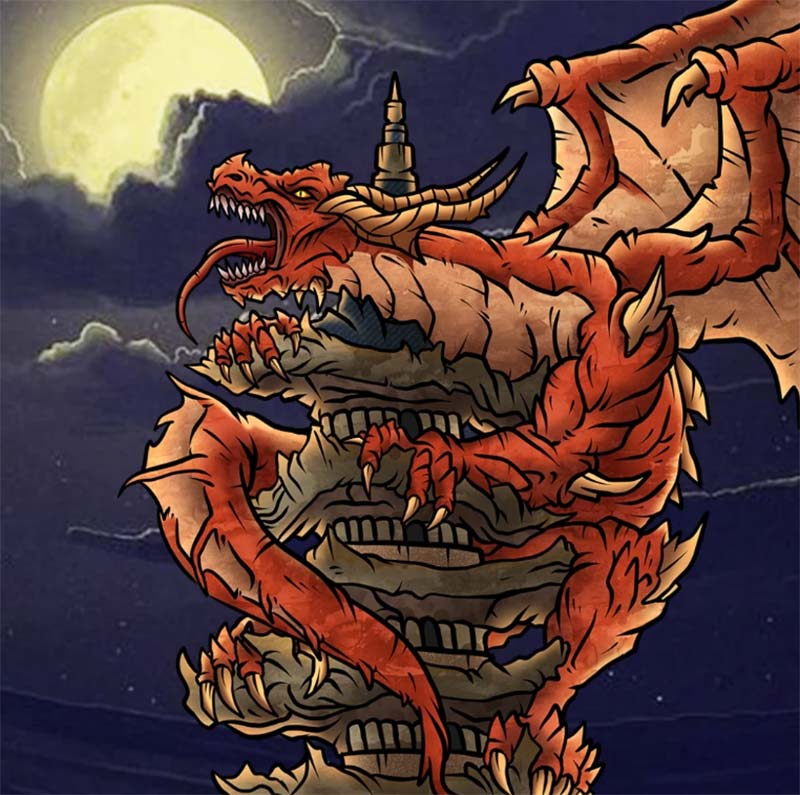 Custom illustrations are ideal for book covers, blog images, packaging designs, and many other uses. This dragon illustration is perfect for that short story, social media post, or cover image for your blog. All you need to do is write a brief description of your project on our dashboard and wait 24 hours for the first draft.
Ballet Dancer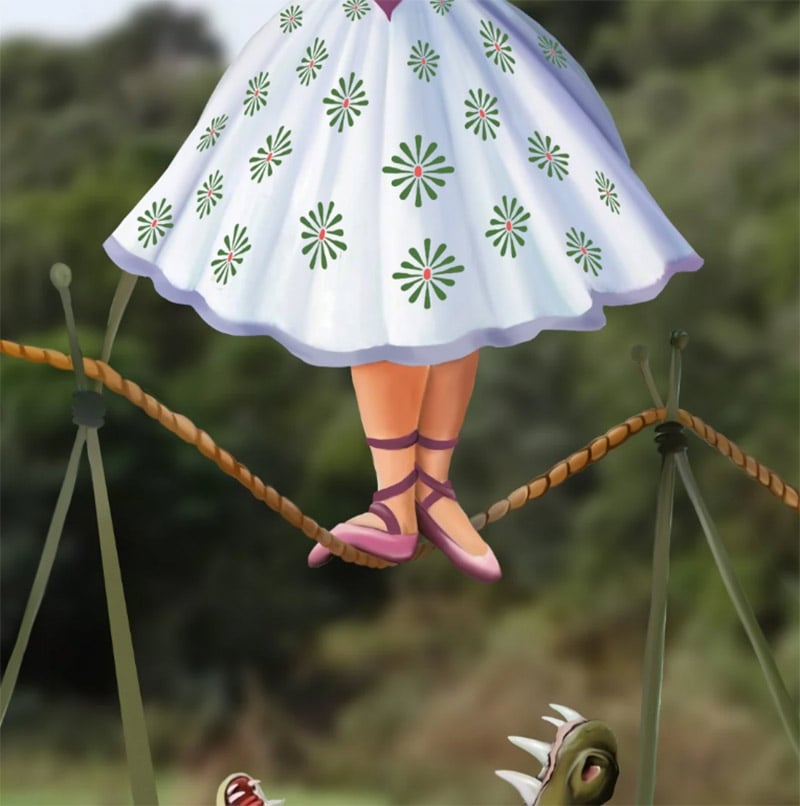 This is another cool illustration that is suitable for a variety of purposes. This dainty illustration of a ballet dancer is contrasted by the viciousness of an alligator mouth gaping underneath it. While AI can generate illustrations like this for you, it still doesn't compare to what a human illustrator can do.
Dino Illustration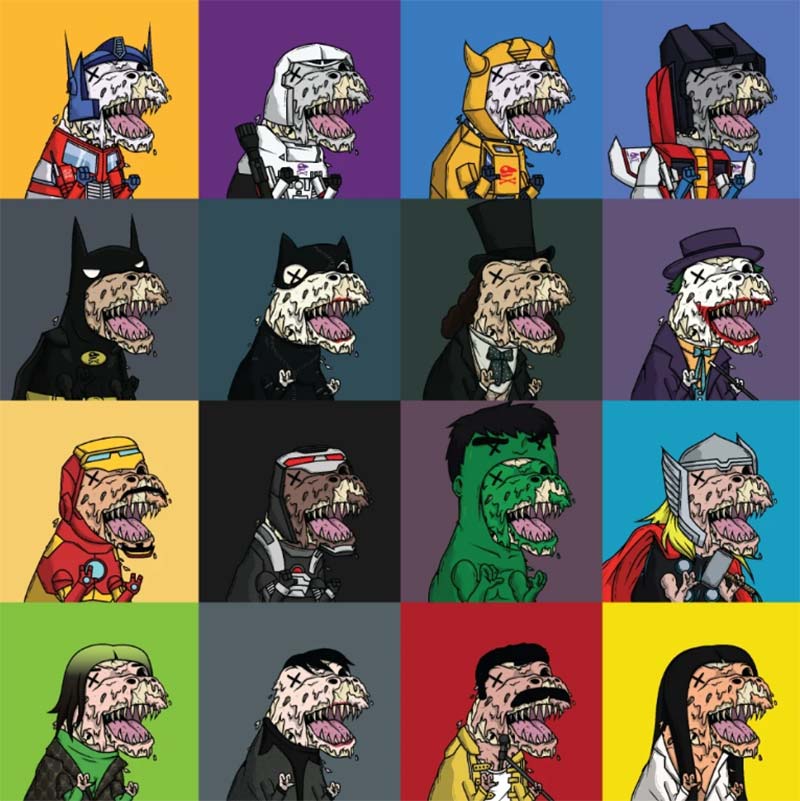 If you're into NFTs, these dino illustrations will remind you of The Bored Ape Yacht Club collection. You can work with Penji's illustrators to create artwork such as this and turn it into NFT art that you can sell or trade. Additionally, these illustrations are also suitable for many other uses, such as branding, marketing, and advertising materials.
Coca-Cola Illustration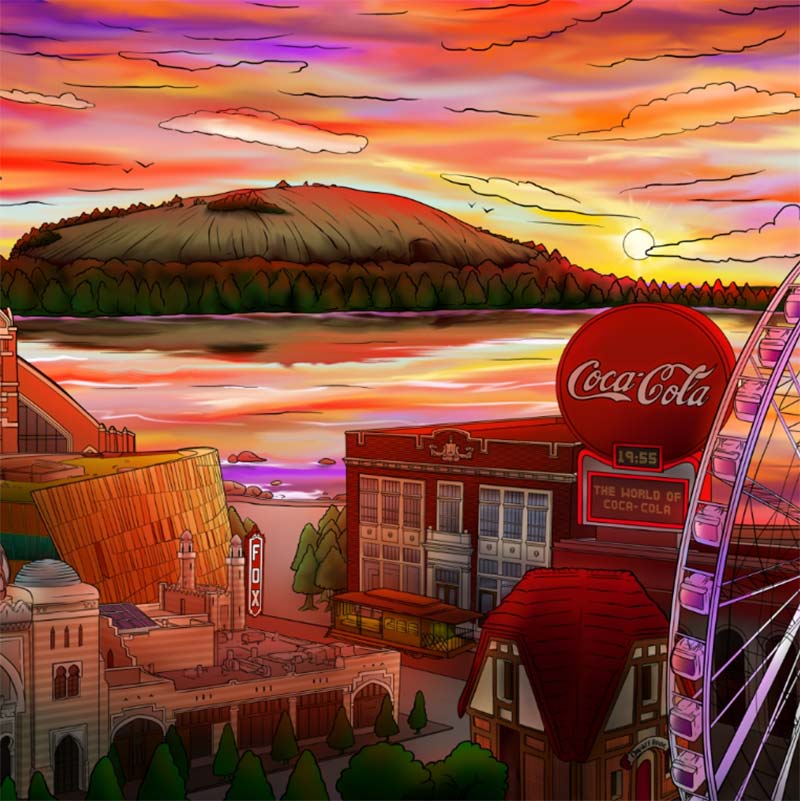 Custom illustration allows you to create worlds straight from your imagination. This Coca-Cola world image is a great example of cool illustrations you can use for magazines, books, e-books, blogs, and many other uses. This example also proves that you can use illustrations to convey and explain abstract concepts quite well.
Chicken Mascot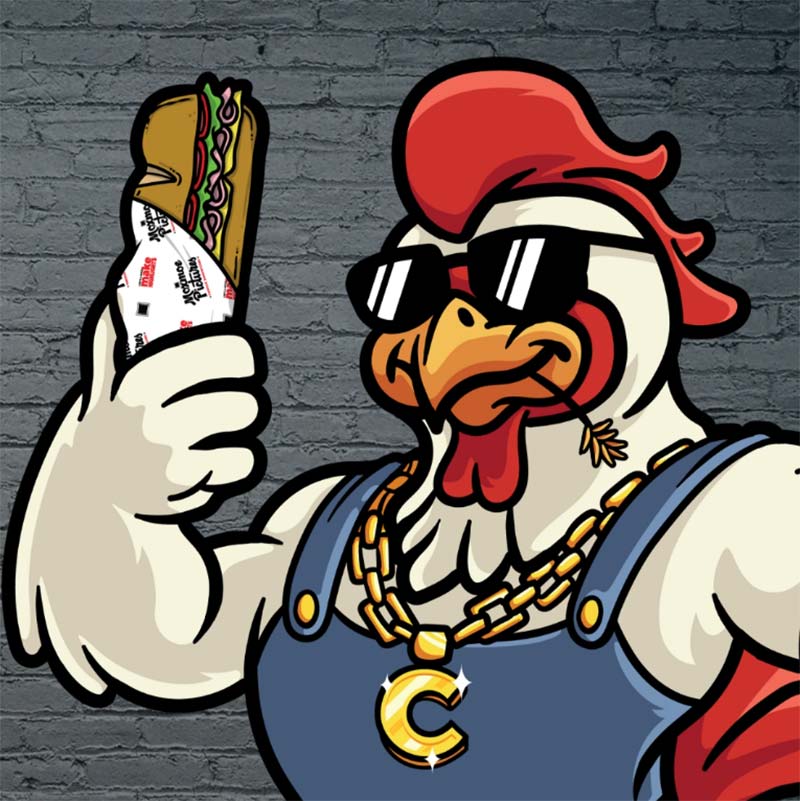 Penji illustrators are also experts in creating mascots and avatars for your brand. You can use this chicken mascot as an excellent inspiration. Let our illustrators create one for you and use it as your brand ambassador. You can use this for branding, social media platforms, and blog graphics.
Lady Illustration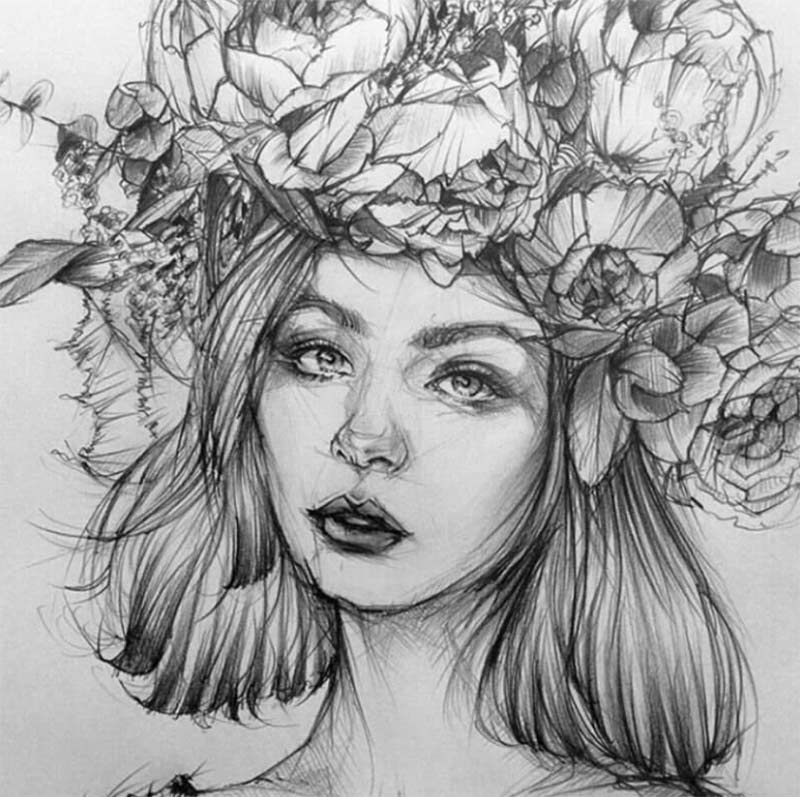 This pencil drawing of a girl with flowers on her head is a perfect image for many platforms and uses. You can have one designed for your blogs, book covers, or social media posts. Our team of illustrators can draw one for you, and if you're not satisfied, you can request a different illustrator for your project at no extra cost.
Caricature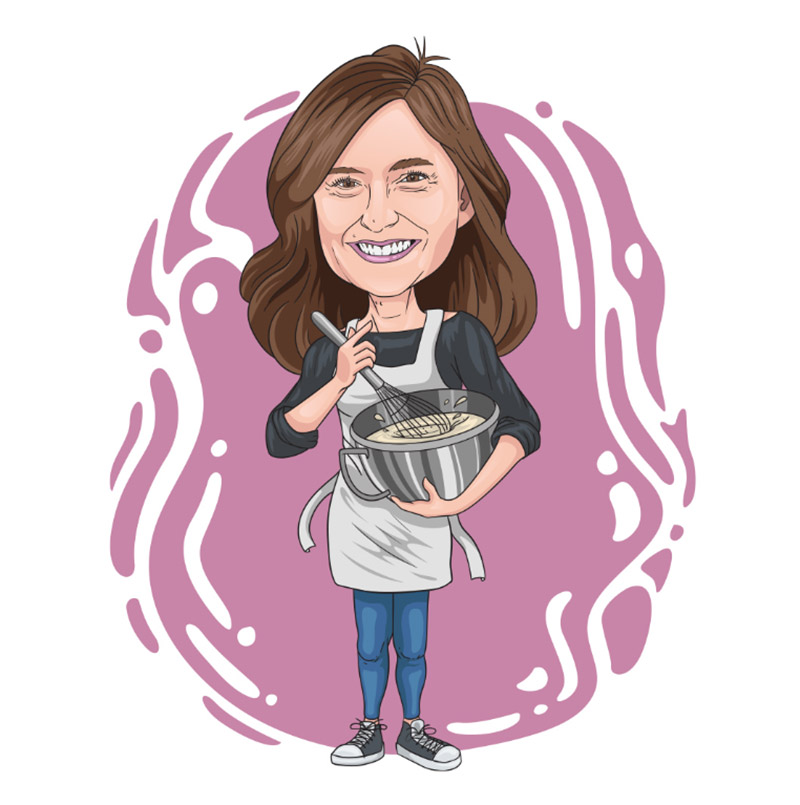 Penji also has caricature artists on our team, should you need one. This example will show you how talented our illustrators are. All you need is to provide a photo of the person you want a caricature done for, and our illustrators will take care of it. The turnaround time is within 24 to 48 hours.
Penji Illustration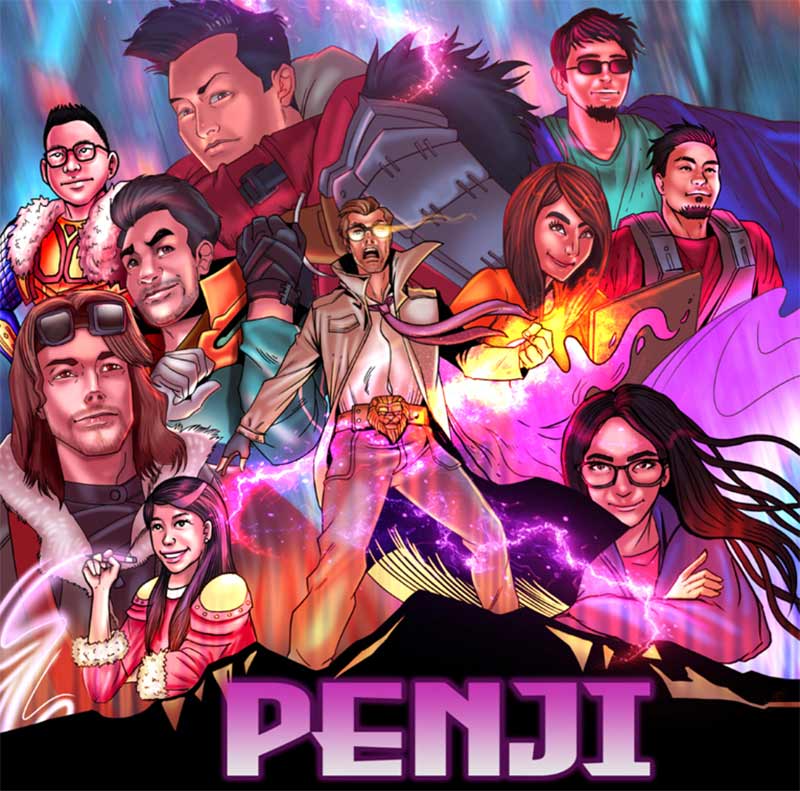 This cool illustration is reminiscent of a sci-fi film poster that features people from Penji. This pokes fun at some members of our team and the illustrators themselves by depicting them as superheroes. You can have an illustration done in the same futuristic style or whatever style you want.
Final Thoughts
From these 25 cool illustrations, you can see the many uses illustrations can give your businesses. Get inspiration from these and have your marketing visuals stand out from the crowd. And as seen from the samples above, Penji's team of brilliant illustrators can help you create impactful art for branding, marketing, and advertising.
Sign up today to get your own cool illustrations and a 15-percent discount from your first month!