Startups face the burden of working with a shoestring budget. However, startups don't have to be at their wits' end all the time. All it takes is a compelling and impressive startup pitch deck to WOW angel investors.
But what is a startup pitch deck? And why do startups need it?
In a nutshell, a pitch deck is a short presentation to show investors that your startup is promising. The pitch slides contain every aspect of your business — from the company vision down to the competitors and market. Here are some reasons why startups need to create the best pitch deck:
Pique the investors' interest and hopefully get funding.
Get ahead of the competition if funding is approved.
Get the investors talking about your new venture.
Your startup will get noticed immediately, given you have a unique value proposition.
Showcases your startup's products and services
Pitch decks with graphics tell your brand story that no other presentation can.
Great startup pitch decks can lead to the next meeting.
And speaking of the leading to the next meeting, this should be your pitch deck's primary goal. Unless you get lucky and get funding after the first pitch presentation, then you'll have to create a captivating pitch deck that puts your startup in the best light possible.
If you need help with stellar pitch deck presentations, you can rely on Penji. One element of a compelling pitch deck is graphic design. That's why entrusting your pitch deck to experts will likely get you funding. Stick until the end as we show you how easy requesting a pitch deck presentation from Penji is.
To give you an idea of what slides your pitch deck should have, here are the only 12 crucial slides you need.
1. Company overview and vision/mission
Your pitch deck should be able to explain what type of startup you have and why you've established the business in the first place. In your company overview, state the purpose of your business and your value proposition. Moreover, you may also add your company vision and mission. The mission is the summary of your company, while the company vision is where your startup is going in the future.
Example:
Mission: "Our mission is to offer a happy and affordable dining experience to consumers of all ages."
Vision: "We aim to be everyone's go-to fast-food chain."
Pitch decks should not be more than 15 slides. And this first page that contains your company overview will make or break the investors' interest. Make this slide incredibly compelling and leave room for questions.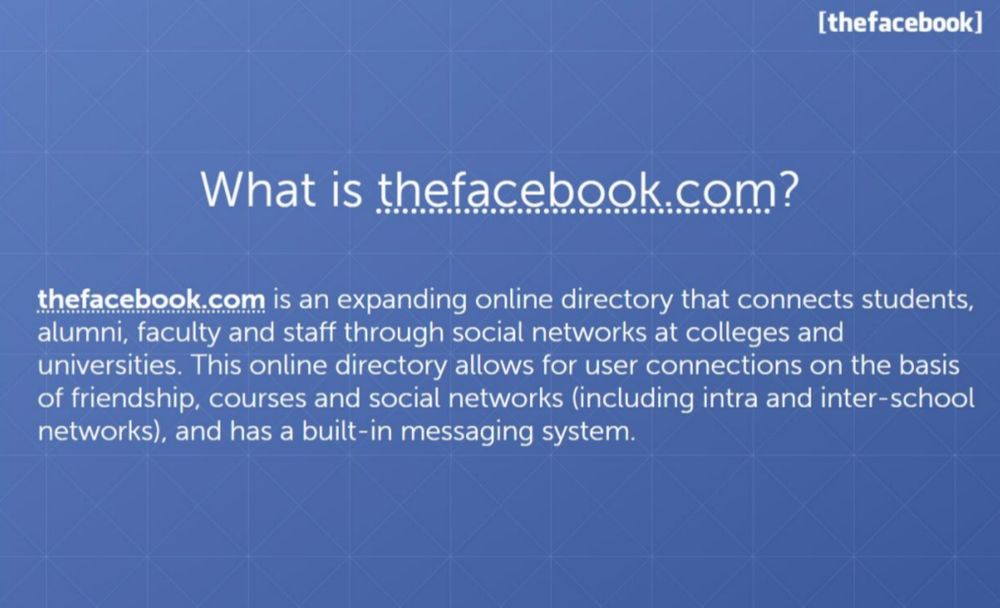 Here's an example from thefacebook.com's succinct overview. It's a two-sentence description of what their company does. Maintaining brevity in every slide is more critical than writing every detail on one slide.
2. Team members
After briefly explaining what your company does, you want to introduce the people behind your startup. A startup pitch deck may have less credibility than other pitch decks for established businesses. And this slide should tell the investors that you've got a great team that will forge the company forward. Here are some things you need to include in this slide:
Team members' photos
Designation
Years of experience
Expertise and major achievements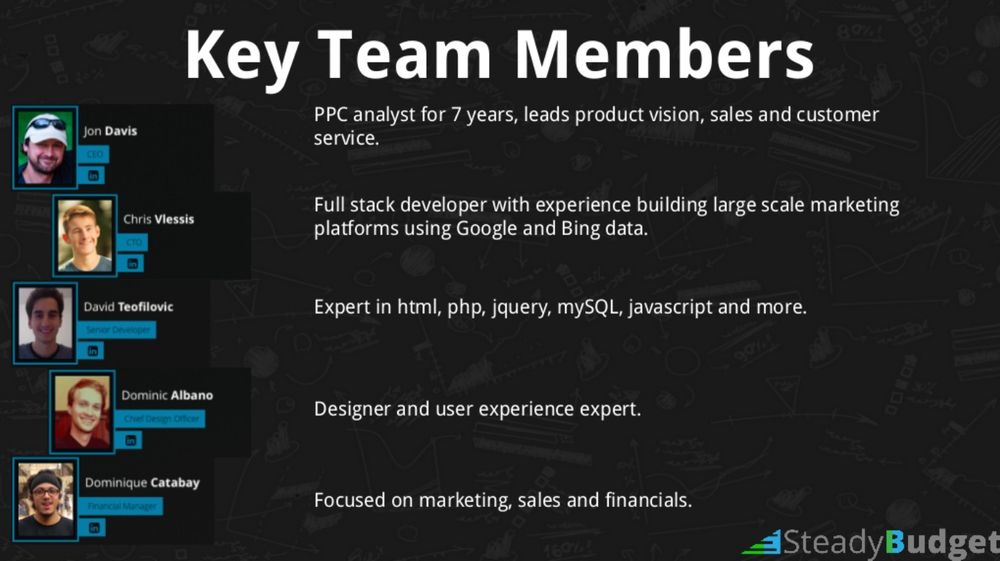 SteadyBudget's "Team" slide provides short and sweet information about the key people in their company. It even has their LinkedIn profiles in case the investors want to scrutinize their social channels.
3. Problem
State the problem your startup is trying to solve. Your startup revolves around your customers' pain points. Without a problem, the investors will not realize the value your company brings to the market in the first place. Make them see how important this problem is. The more they see how vital the issue is, the more they'll build interest in your startup's solution—State the problem, who you're helping, and how significant the problem is.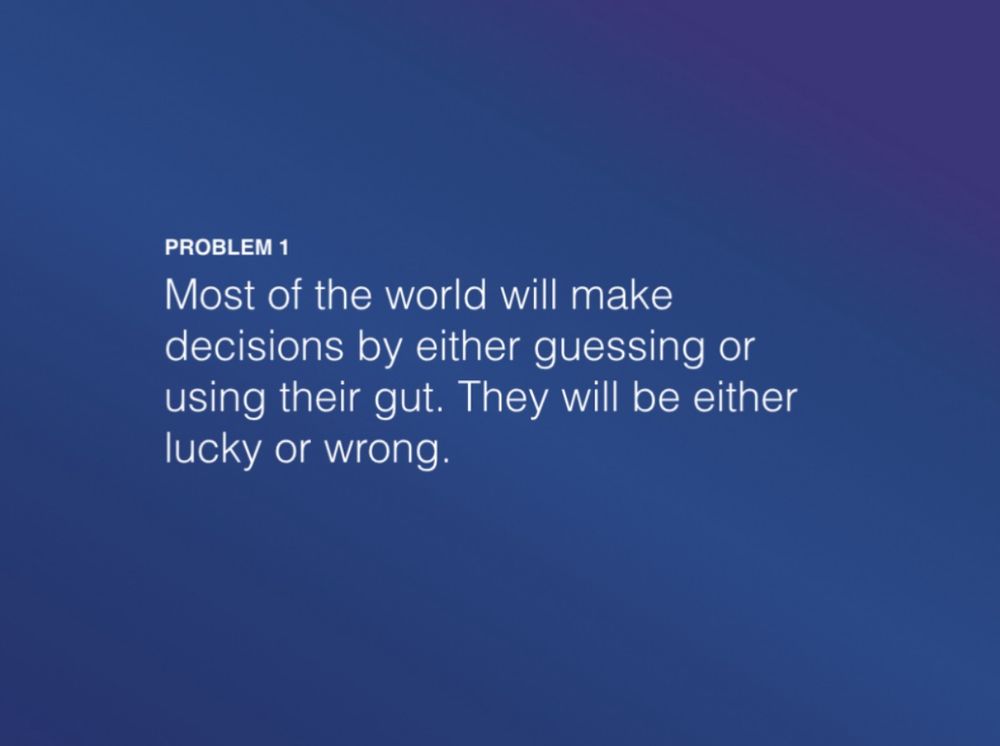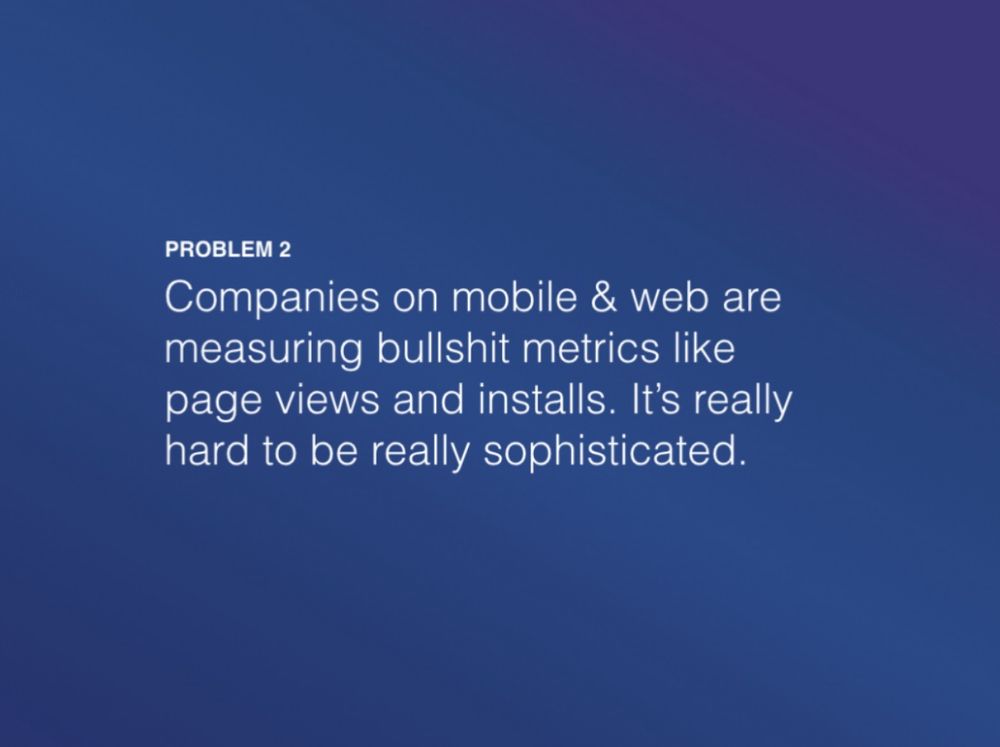 MixPanel presented two problems from the people's side and the companies' side. They kept it simple and straightforward by using a large font and plain background. Using images is also better to add emotional impact. Whether you need help with your startup pitch deck graphics or startup website design, Penji's graphic designers can deliver quality and professional designs. Check out their portfolio here.
4. Solution
After stating the problem, the next slide should present the solution concisely. You may want to grab their attention regarding what makes your solution better. Then elaborate on it on the next slide.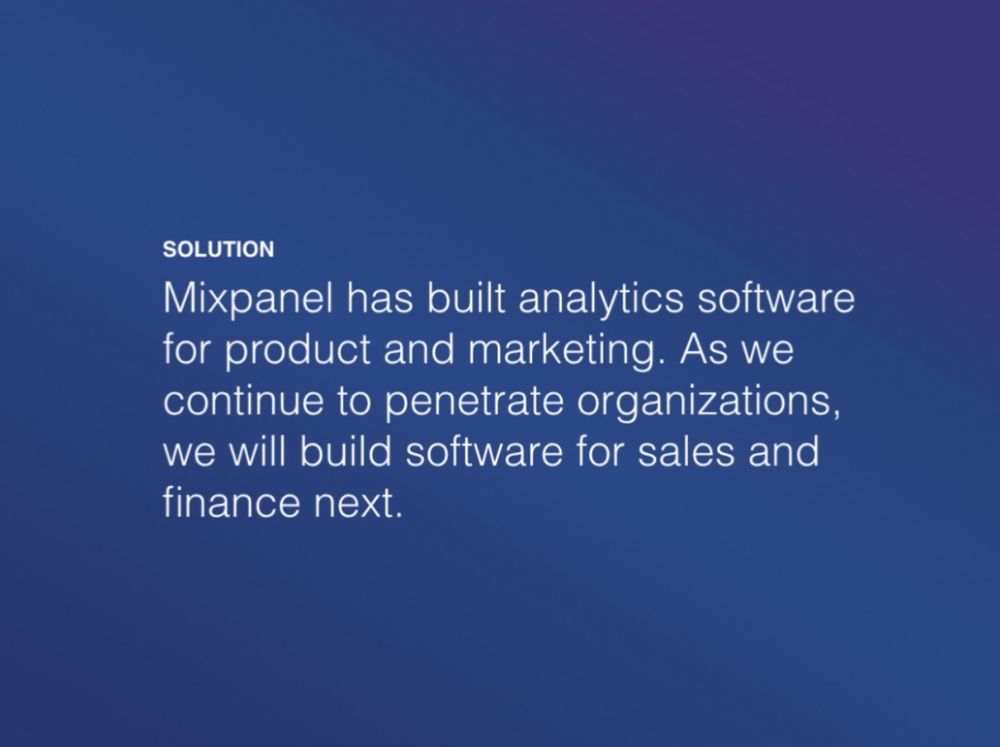 MixPanel is a startup that is currently innovating solutions to make consumers' and marketers' lives easier. They present their offer of providing product and marketing analytics. Plus, they also promise analytics for sales and finance down the road.
5. Product
The next part should present your product or service. Captivate the investors' interest by stating the key features of your offer. It's crucial to use images or videos to give investors an idea of how it looks and how it's used.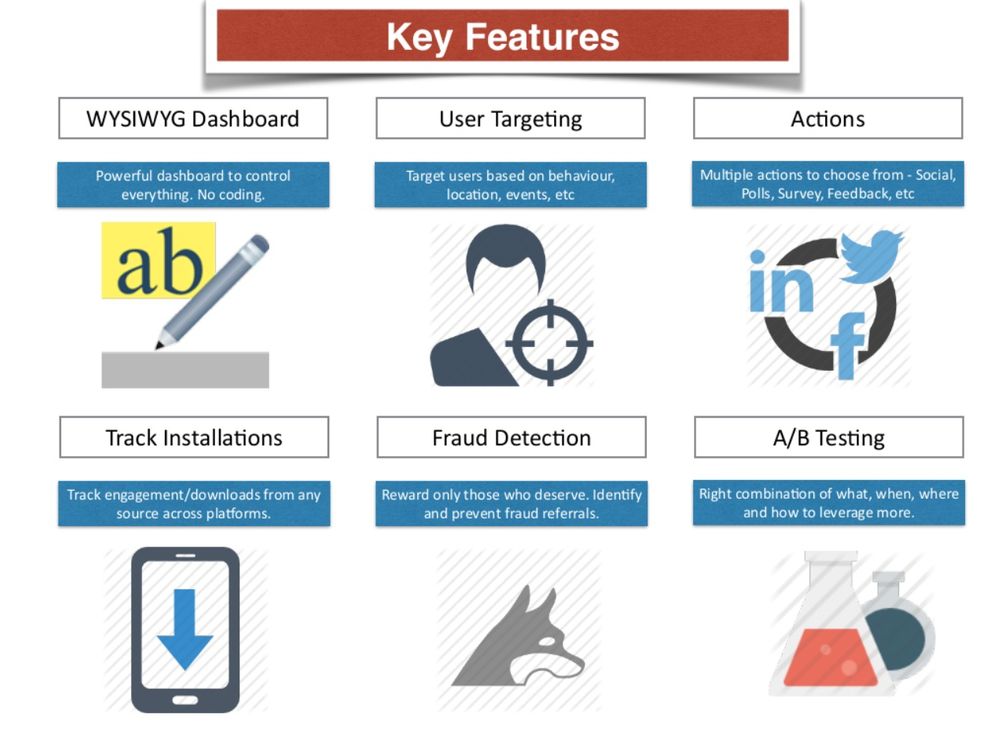 AppVirality is a referral marketing platform. Their Product slide is impressive with a clean structure and relevant icons for clarity.
6. Market opportunity and target audience
The only way to get investors to fund you is if they get something in return. Put yourself in the investors' shoes and ask yourself, "What's in it for me?" Explain the current market and how your startup's offer is going to make waves in your industry. You want to show investors that by funding you, they'll get an opportunity to garner higher ROI.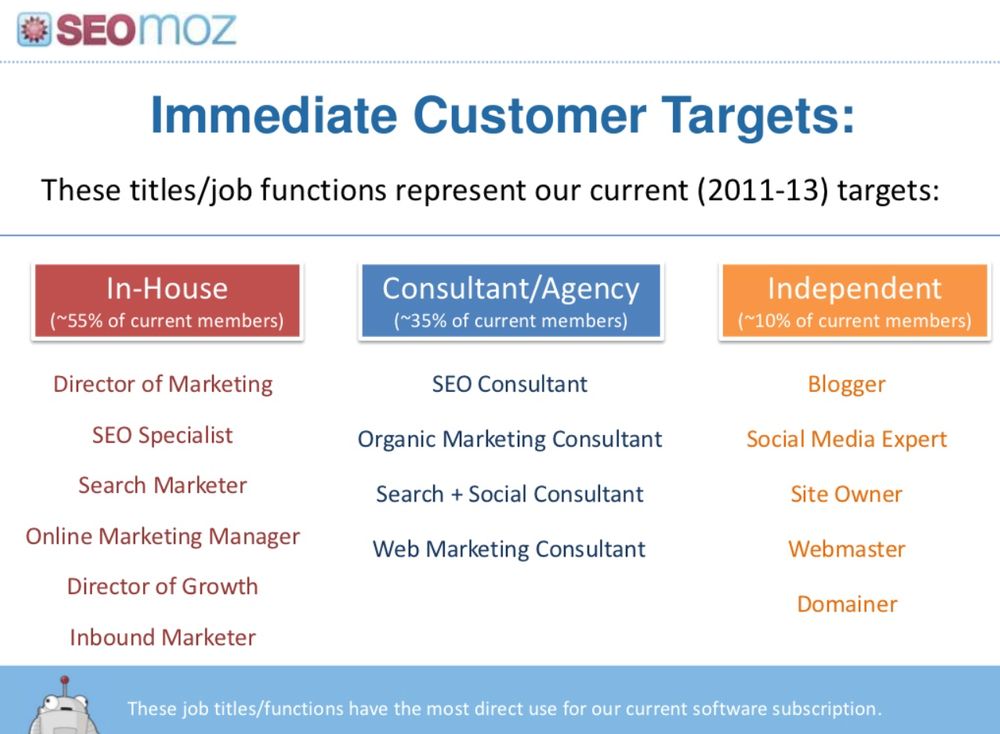 Additionally, state who your target audience is. This is also something that investors can relate to. Some of these investors might even be your target market. Check out Moz's example for their Target Audience slide.
7. Competitors
Investors gravely consider where you are in the competitive landscape. Even though you've presented an extremely excellent product or service, investors would want to know your competitive advantage over others. If they see your startup's potential, this will make them realize that you're on top of things.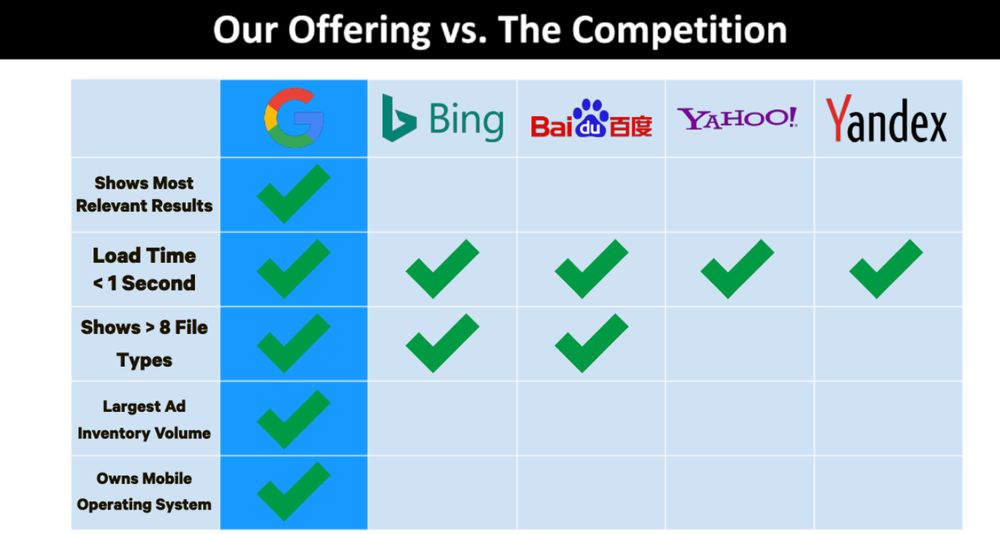 Here's an example from Dreamit. Using a checklist of how Google is ahead of the competition is a smart idea. It's also easy to understand even without too much text.
8. Business model
Investors would want to get down to the nitty-gritty of your pitch. How does your company make money? How will the investors make money after investing? Other things you want to include on this slide are the customers' long-term value and your pricing model.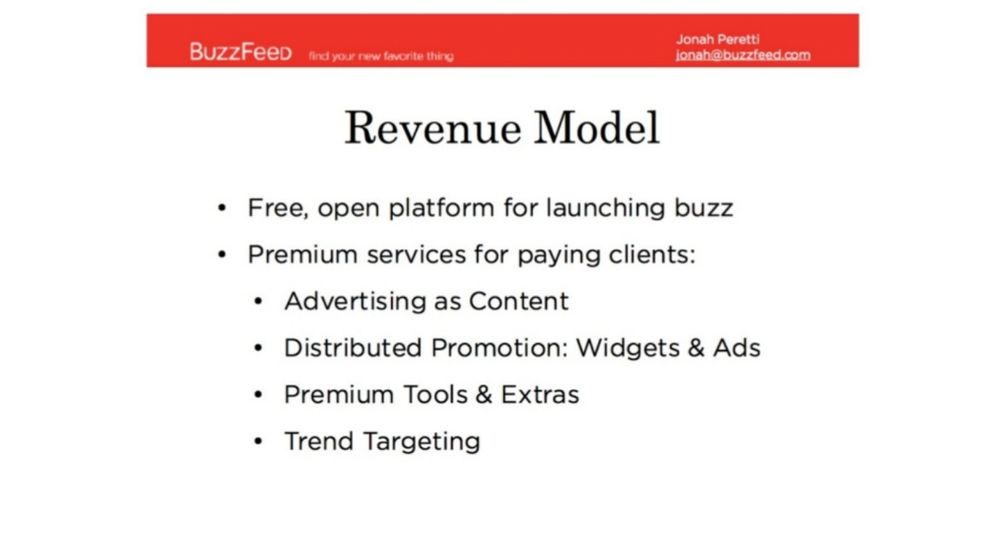 BuzzFeed kept their Revenue model simple by using a bulleted list with minimal copy.
9. Progress of your startup
Since your business is still trying to gain traction in the market, this slide may or may not be included in your startup pitch deck. However, you want to show as much credibility to the investors to make a good first impression. If you have minor or significant progress in your startup journey, include it on this slide.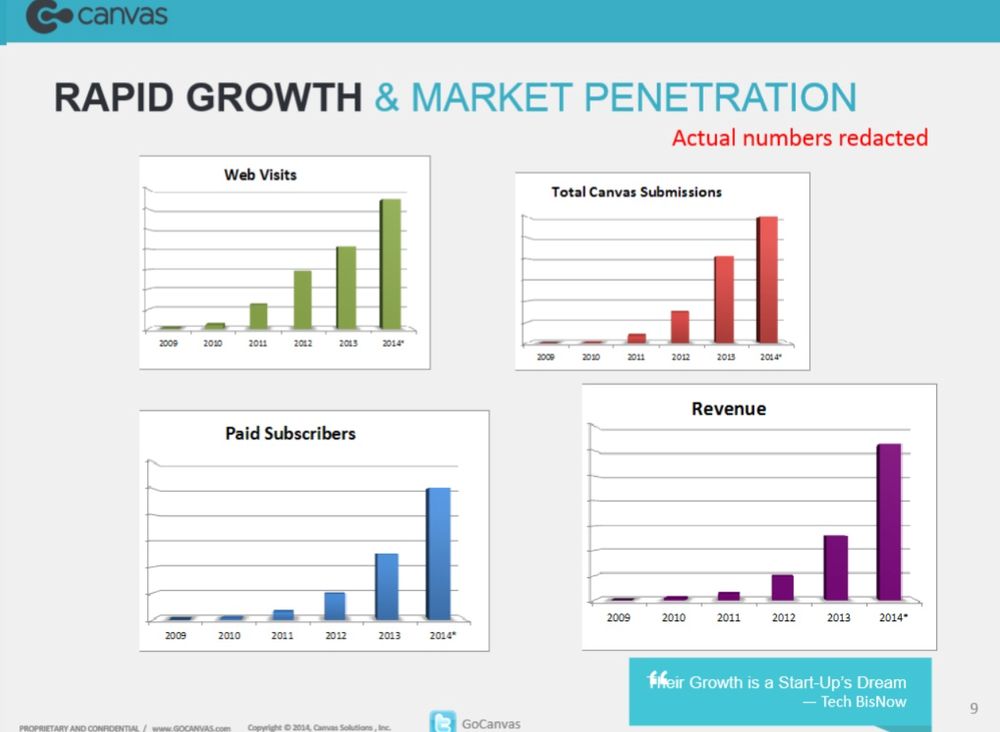 Progress can include increasing website visits, more app downloads, higher engagement, or booming sales. Also, include any partnerships you've garnered and social proof. Here's an example from Canvas.
10. Marketing and sales strategy
Show investors that your marketing game plan is on point. One of the investors' primary concerns is how your startup can grow through advertising. Without a solid marketing strategy, your startup will stay stagnant. And you want to show investors how you're planning to build your company.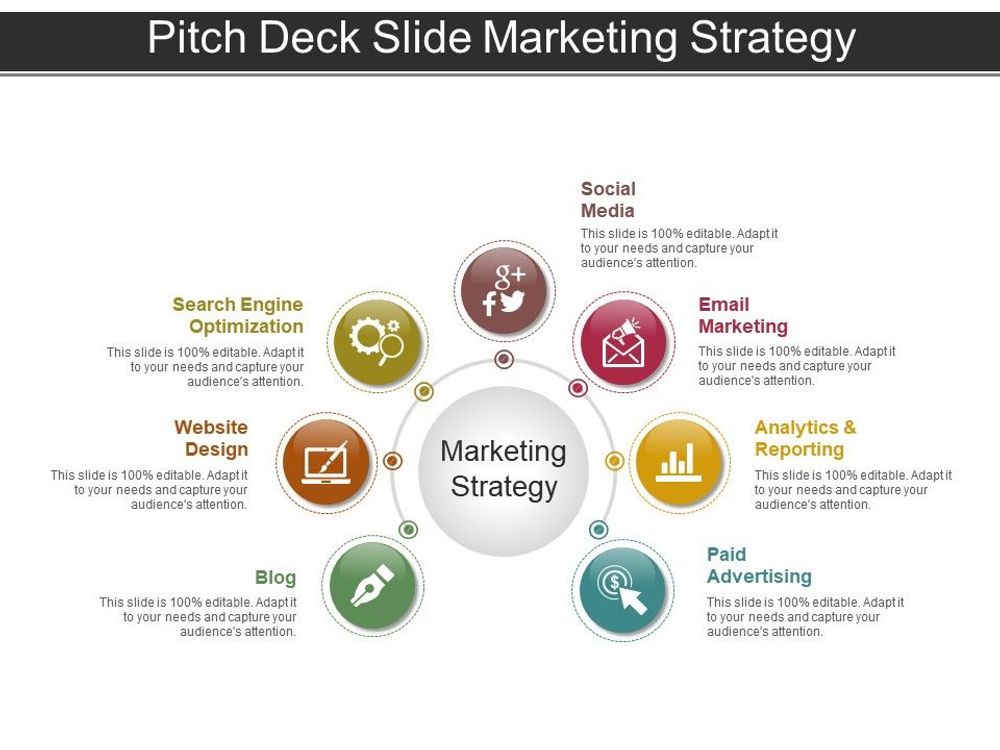 Here is a template example of a marketing plan from SlideTeam for your startup pitch deck. It uses icons and hierarchy by using different font sizes and colors.
11. Company's financial situation
On this slide, you want to show investors your current financial situation. Show them a snippet of how your startup is doing in terms of sales and customer acquisition. Spreadsheets are commonly used to present the financials. But keep it to a minimum without overwhelming the investors.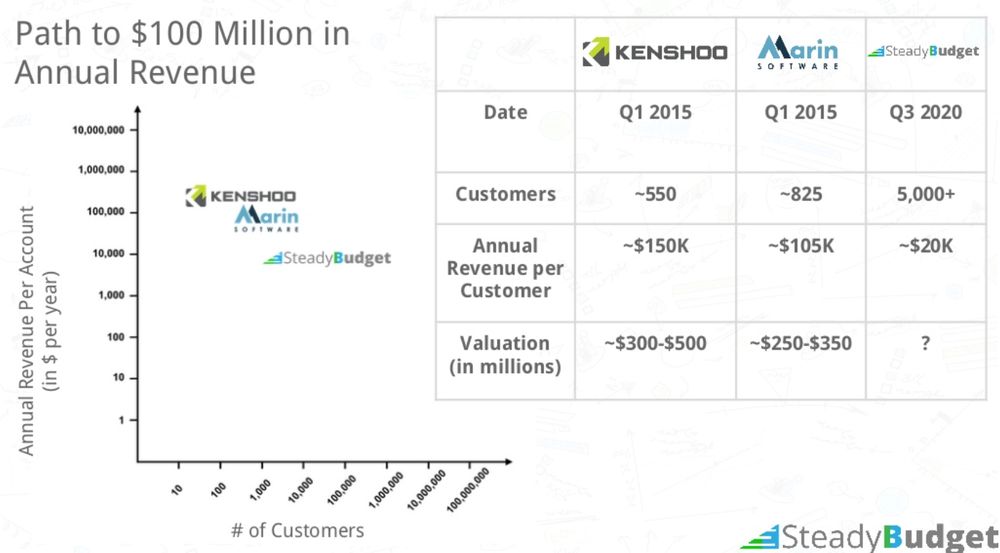 Show your startup's cash flow in the last few months or years, such as sales, overhead expenses, profits, and an increasing number of customers. Moreover, set a realistic goal on financial projections in the next three to five years. Here's how SteadyBudget used a graph and chart to show their financial situation and goal.
12. Funding request
We've come to the last and most essential part of your startup pitch deck — asking for the funding. When asking for funding, make sure to include these details:
Investment amount (set a range if you can't specify an exact amount)
Financing duration
How you'll spend the investment (marketing, production, technology, operations, etc.)
How the investment will create new company milestones
Current investors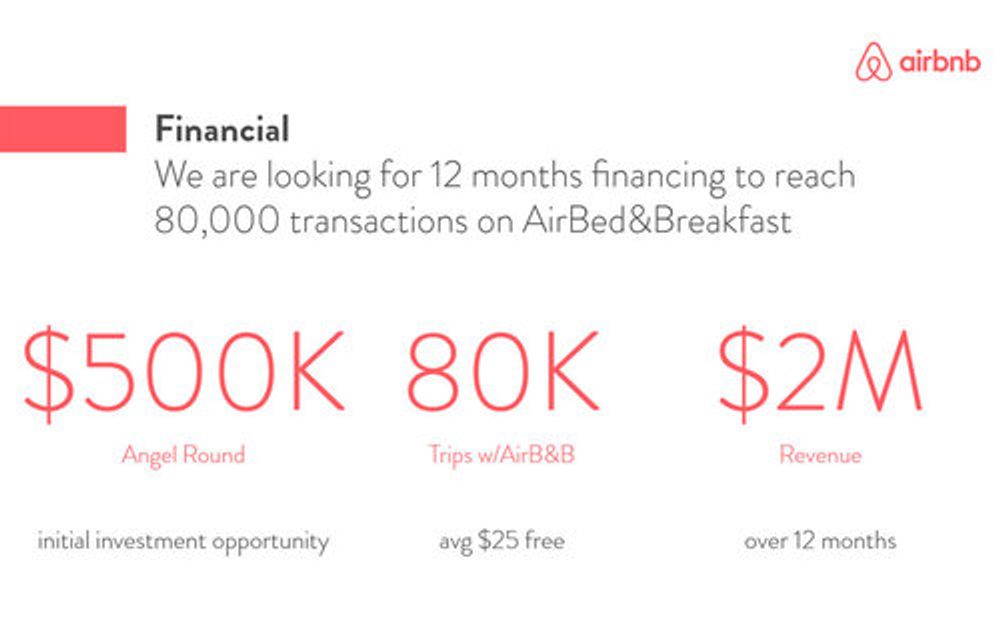 Make the asking investment realistic and rational. The most vital part here is to explain and make the investors see how you can augment the company's bottom line through their support. Here's Airbnb's winning investment request slide that made the rounds online.
Related Post: Professional Pitch Deck Design Tips That Will Get You Funded
Startups would need all the help they can get when creating a persuasive pitch deck. And choosing your design service is vital. Invest money in professional graphic designers that can make your pitch presentation a success. Choose Penji's affordable and user-friendly process to ensure you stay on track. Here's how to use Penji's design platform.
How to Request Pitch Deck Designs from Penji
Penji's bespoke design tool is fast and efficient. All it takes is three steps:
1. Submit a new pitch deck request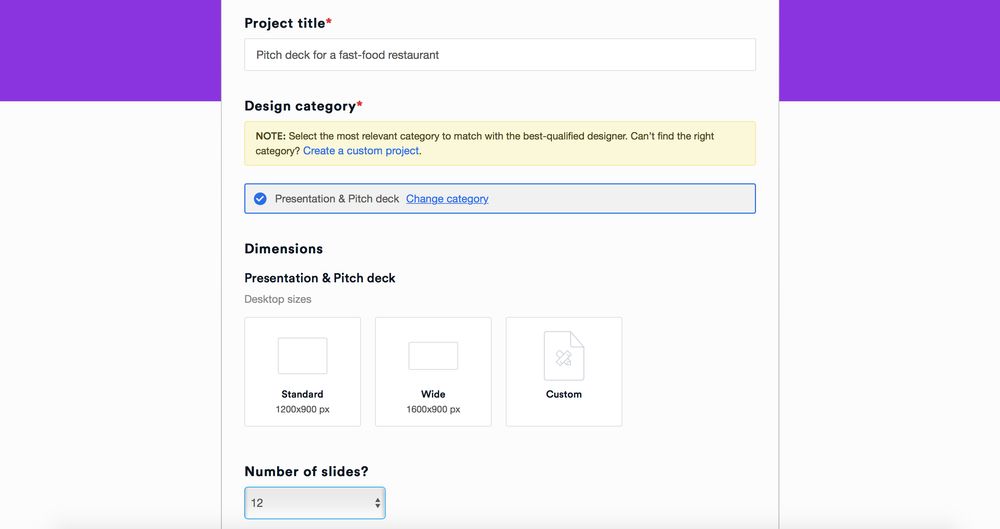 On the dashboard, click + New project. Input the Project Title and select the dimension and the number of slides from the drop-down menu.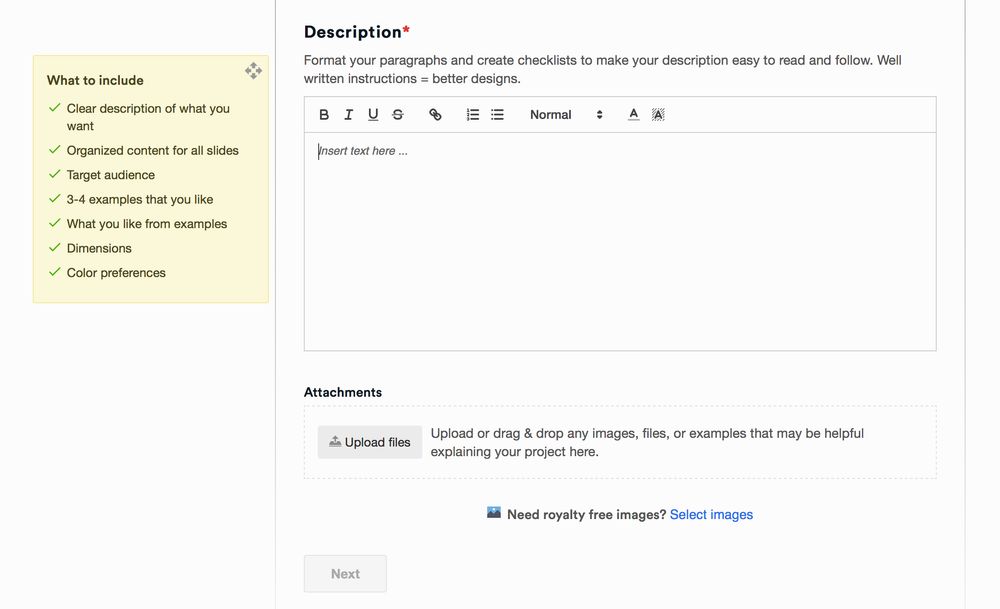 Fill out the Description form and include all the necessary details, which are instructed on the left part.
2. Wait for the first draft and ask for revisions
The turnaround time is 24 to 48 hours. You will be notified via Penji's platform or email, so it's recommended to check the messaging system for updates regularly.
If you're not 100 percent happy with the design, you can use the point-and-click feature to ask for revisions. All plans come with unlimited revisions, so feel free to revise until you're satisfied with the design.
3. Download and save to your computer
Once you're 100 percent satisfied with the design, click the Download button, and it will automatically save to your computer. You'll own all rights and licenses for all designs created. Feel free to use them commercially.
Sign Up to Penji for the Best Startup Pitch Deck
Startups need to take their pitch deck design very seriously. A lousy startup pitch deck will reflect on your business and the investors' decision. If you want a professionally-made pitch deck, let Penji handle the design process. Moreover, Penji's pricing plans are affordable for all startups. For as low as $399 a month, you can have as many pitch decks as you want. Sign up and try Penji for 15 days risk-free.