AI is moving fast, and some people are afraid of what it means for the future of business (if not the future of humanity). When it comes to AI graphic design, the tools out now are impressive, but the ones to come could be mind-blowing.
As with any tech innovation, the companies that stay afloat are the ones that lean in. If you use graphic design, you need to streamline your process, and AI is one of the best ways to do it. Here are 13 of our favorite AI graphic design tools on the market.
What is AI graphic design?
If you've been online in the past few months, you've no doubt heard about AI art tools like Midjourney and DALL•E. These illustrations fall under the umbrella of AI graphic design, but that's not all.
AI graphic design can be broken down into 3 categories:
AI tools and plug-ins that make graphic designers' work easier
Tools that generate design elements, such as fonts and color schemes
Tools that generate full-fledged, editable graphic designs
These services can vary in terms of pricing, quality, and access, but they all use machine learning to generate graphic design elements on the fly.
What are the benefits of artificial intelligence in graphic design?
As of now, AI creations lack the internal logic and creativity that human designers can offer. However, AI has gotten incredibly good at synthesizing new content. This means that you can go from an idea to a tangible product in the blink of an eye. The possibilities are endless.
13 AI graphic design tools for your team
1) Designs.ai — AI digital media graphics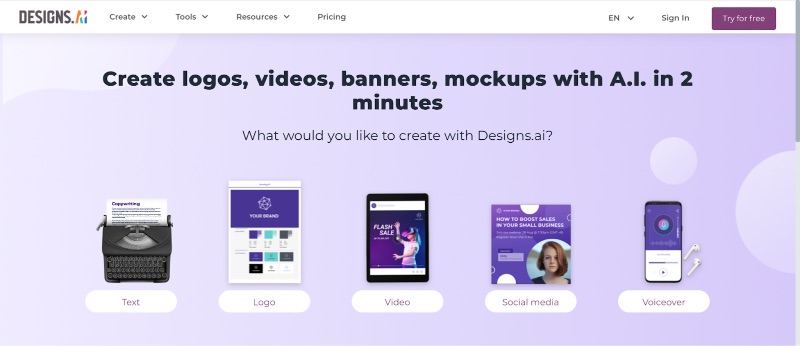 Founded in 2019, this company is one of the first places you'll end up if you're looking for AI graphic design. They offer AI-generated social media graphics, logos, videos and more. If you're trying to boost your presence on social media, Designs.ai has all the tools you need.
Pricing: Designs.ai offers three pricing options.
Basic: $29/mo
Pro: $69/mo
Enterprise: Contact sales for pricing
Platform: Browser-based.
Need graphic design help?
Try Penji's Unlimited Graphic Design and get all your branding, digital, print, and UXUI designs done in one place.
Learn More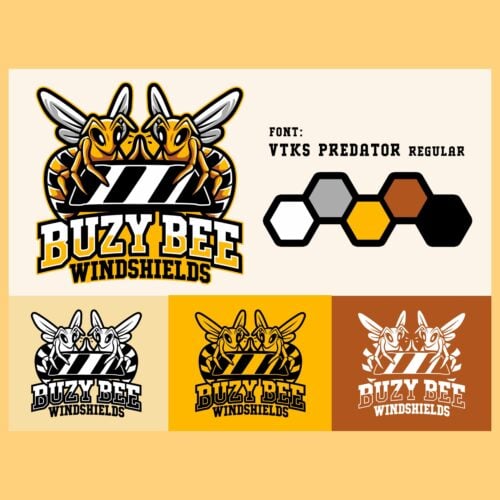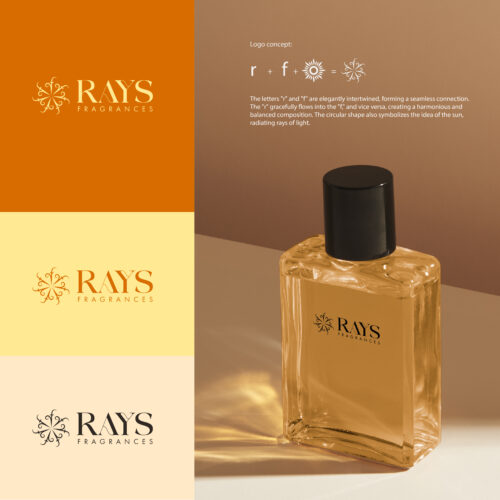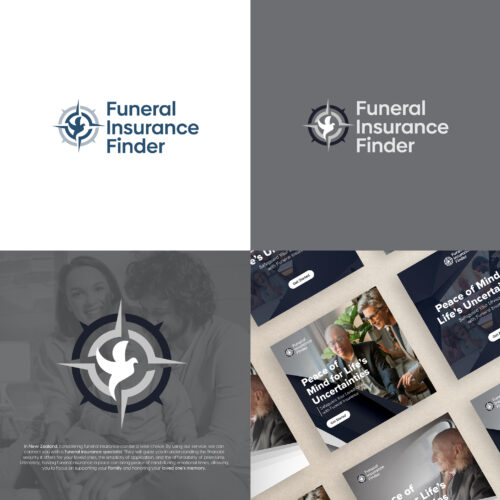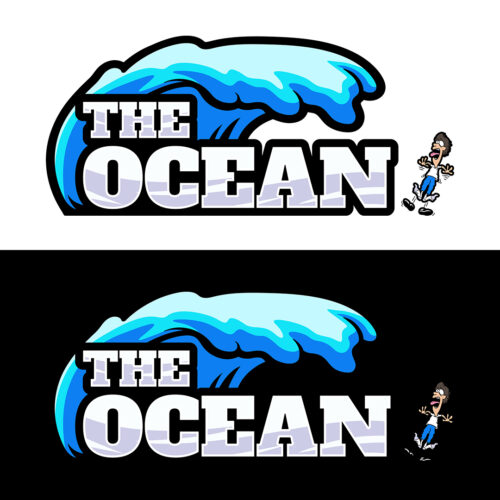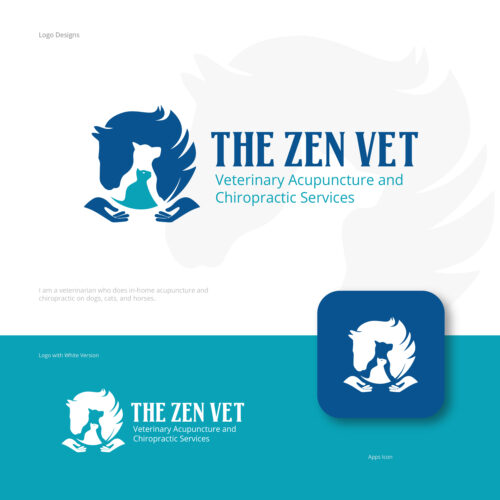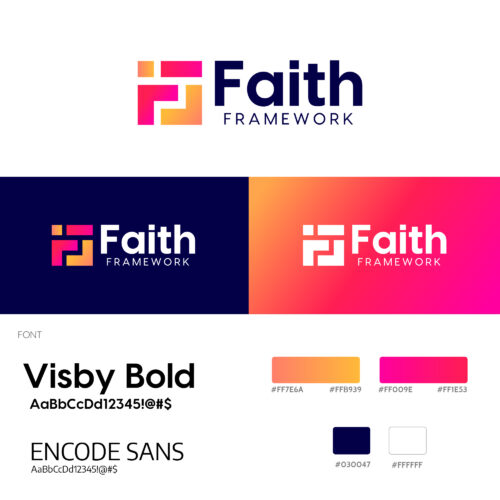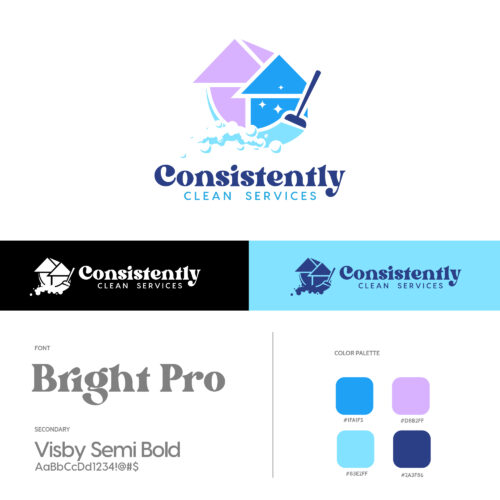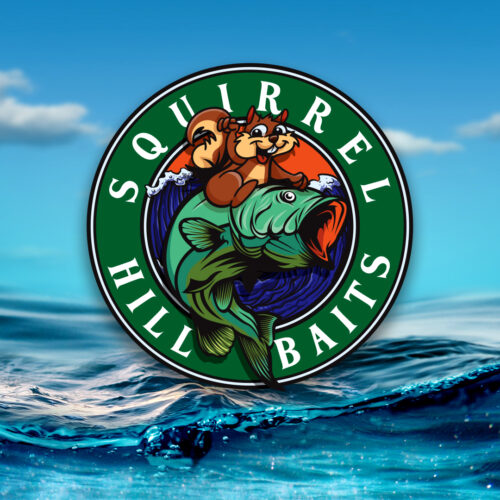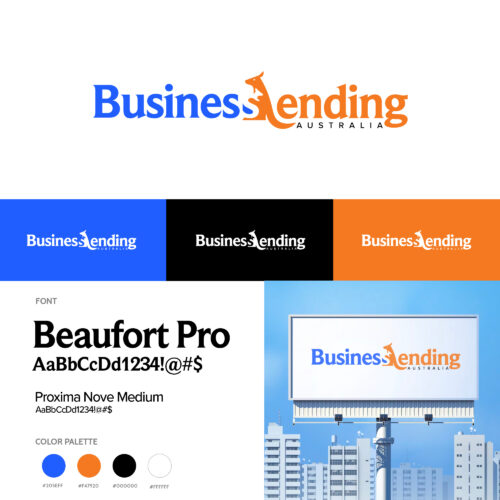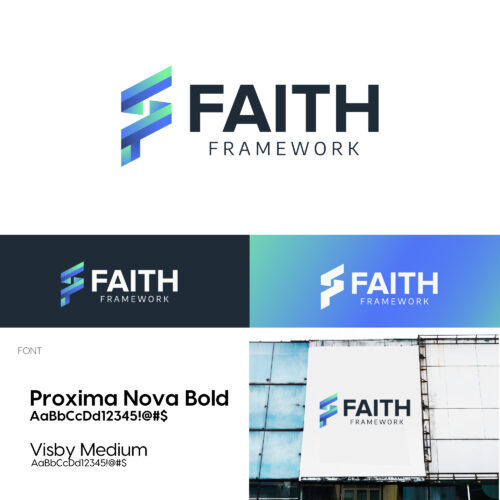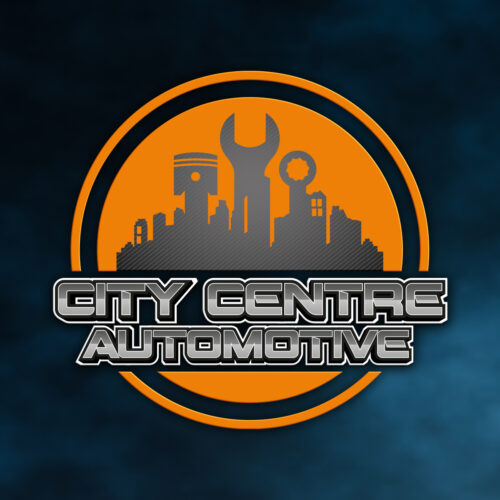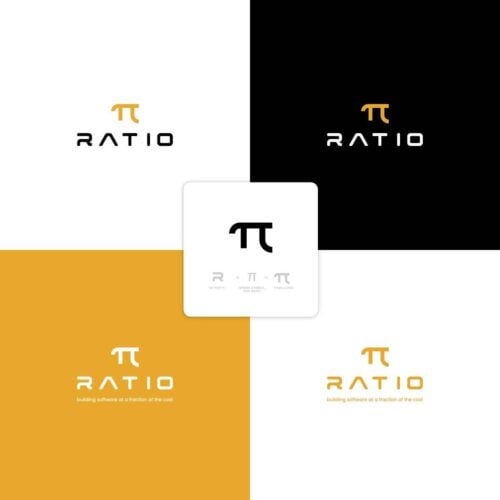 2) Uizard — AI graphic designs for UI/UX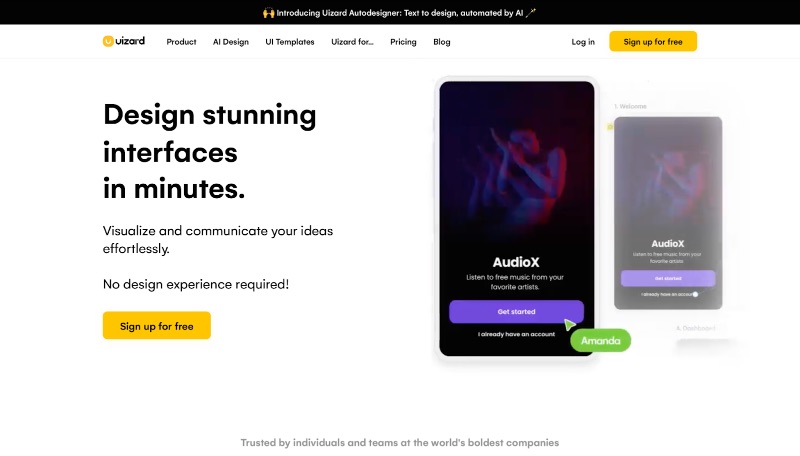 If you're wondering just how powerful AI is getting, try this on for size. Uizard can turn a hand-drawn sketch—or a simple text prompt—into a fully editable UI design. Beyond that, their AI tools make app and website design easy, even with zero coding knowledge.
Pricing: Uizard offers 4 pricing options.
Free: $0/person/mo, limited use of AI design assistant
Pro: $12/person/mo
Business: $39/person/mo
Enterprise: Contact sales for pricing
Platform: Browser-based.
3) Khroma — AI-generated color schemes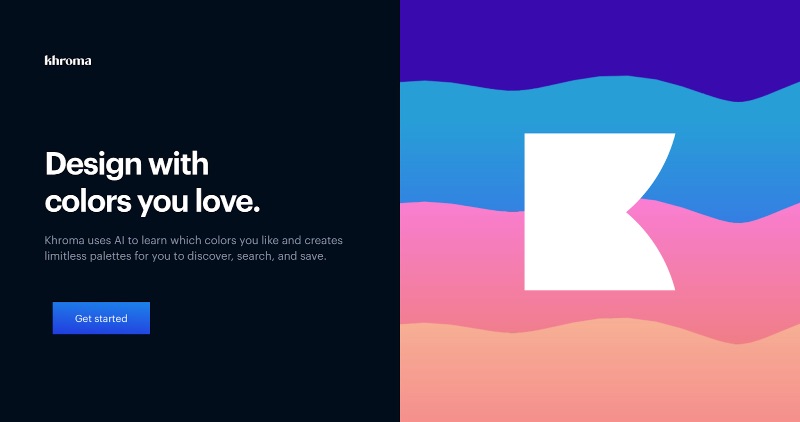 This helpful tool is great for creators and businesses alike. You'll get a personalized algorithm to share color palettes that suit your preferences. You can view them as palettes, gradients, typography and more—plus save them to use them whenever you want.
Pricing: Khroma is now available as a free beta.
Platform: Browser-based.
4) Looka — AI graphic design for logos and branding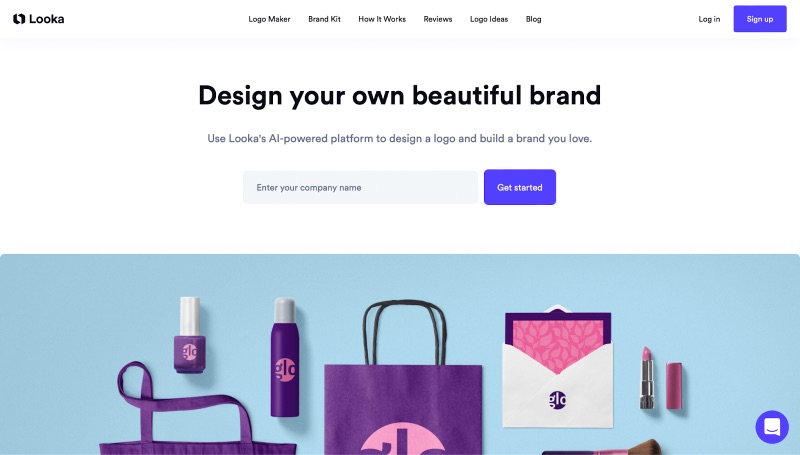 Branding is one of the key areas where AI can boost efficiency for design teams. When designing branding, it's not just about the logo, it's about every email, packaging, social media post, bumper sticker… everything that logo appears on. AI tools like Looka allow you to see it all in a fraction of the time.
Pricing: Making logos on Looka is free—but branding packages cost money. They offer 4 pricing options.
Basic logo package: $20 one-time purchase
Premium logo package: $65 one-time purchase
Brand kit subscription: $96/yr
Brand kit web subscription: $192/yr
Platform: Browser-based.
5) Simplified — AI graphic design for presentations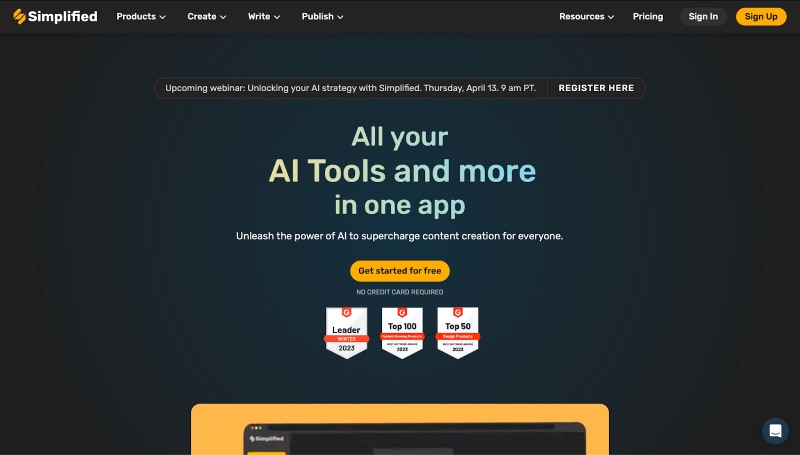 Simplified isn't just an AI presentation maker. They're an all-in-one graphic and video editing program with tons of AI tools to help creators. But they do offer an AI presentation maker, and one of the best ones out there.
Pricing: Simplified's AI presentation maker is free, but their overall package comes with 5 pricing options.
Free: $0/mo
Small Team: $30/mo
Business: $50/mo
Growth: $125/mo
Enterprise/Agency: Contact sales for pricing
Platform: Browser-based. Also available as a Chrome extension, Shopify app, WordPress plugin, iOS or Android app.
6) Flair — AI product photos for marketing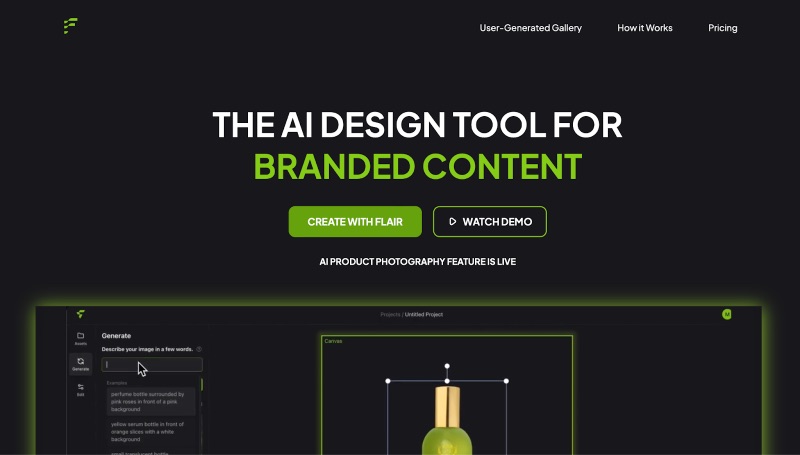 Flair is an AI tool with branded content in mind. It allows you to turn your mockup into stunning AI-generated photography, perfect for a product launch or ad campaign. You might also want to check out Booth, a product photo tool tailored specifically for ecommerce.
Pricing: You can create your first 30 images with Flair for free. Past that, there's 2 pricing options.
Professional: Starting at $10/mo
Custom: Contact sales for pricing
Platform: Browser-based.
7) Adobe Sensei & Firefly — AI graphic design tools for Adobe users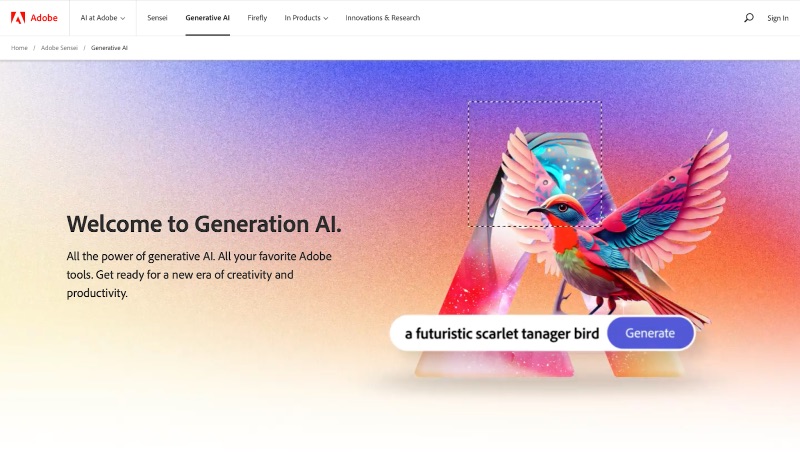 Always ahead of the curve, Adobe is rolling out generative AI for all of its popular graphic design tools. For Creative Cloud, Firefly can generate everything from illustrations to templates to full 3D images. For Experience Cloud, Sensei enhances both customers' experiences and marketing insights.
Pricing: Adobe is integrating AI into their existing products. Check out their pricing page for info on their various pricing packages.
Platform: Available for Mac, Windows, or in browser.
8) Fontjoy — AI font pairing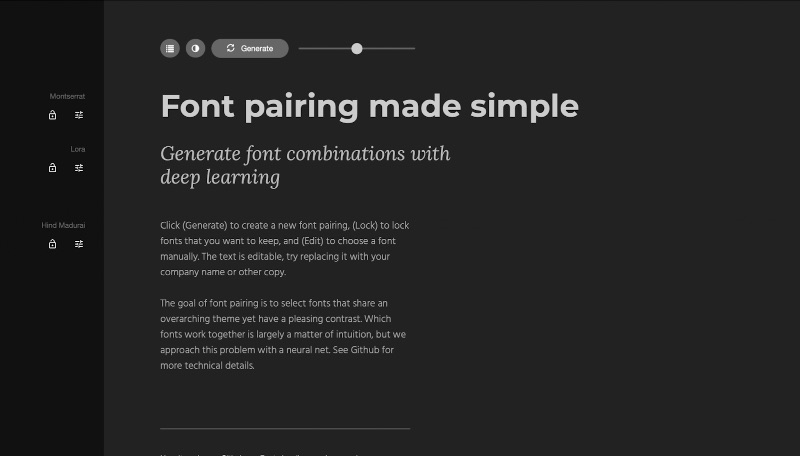 This simple tool uses AI to find the perfect match for any font you throw at it. There are typography rules that not every designer knows, but this handy program makes it simple to generate compelling font combinations.
Pricing: Fontjoy is free.
Platform: Browser-based.
9) Blend AI — Automated AI ad campaigns for ecommerce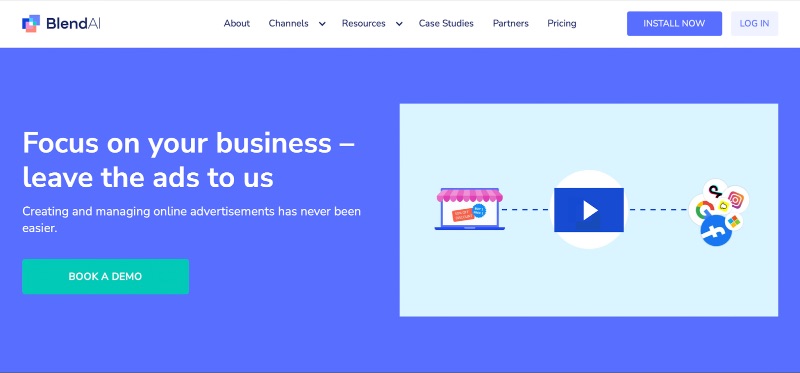 This tool for ecommerce makes online ads a breeze with the power of AI graphic design. Available for Shopify, Maropost, Shopline, and WooCommerce, Blend allows you to create automated ad campaigns and track key data to broaden your store's horizons.
Pricing: Blend charges 10% of your ad spend.
Platform: Available as an app for Shopify, Maropost, Shopline, or WooCommerce. Wix integration coming soon.
10) Visily — No-code app wireframes with AI design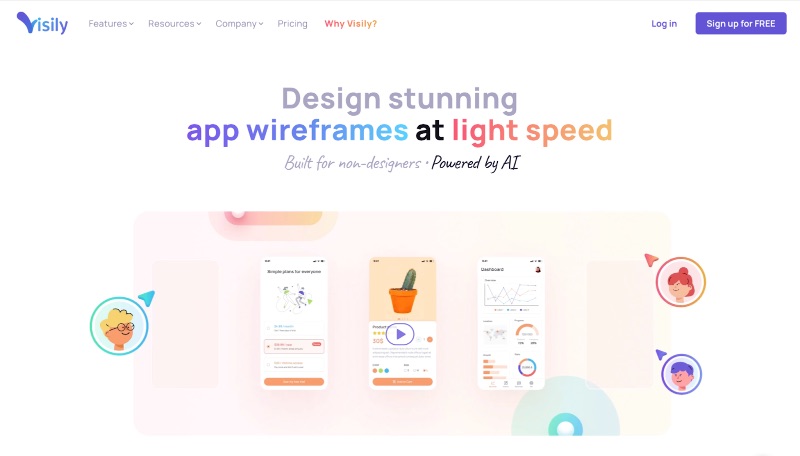 Visily is an app design platform with non-designers in mind. You can create wireframes in a snap and turn screenshots into fully editable templates. Plus, it allows you to collaborate with your team in real-time, so you can design the next great app from anywhere.
Pricing: Visily is currently free, but plans to introduce paid subscriptions.
Platform: Browser-based.
11) Rosebud — AI graphic design for game assets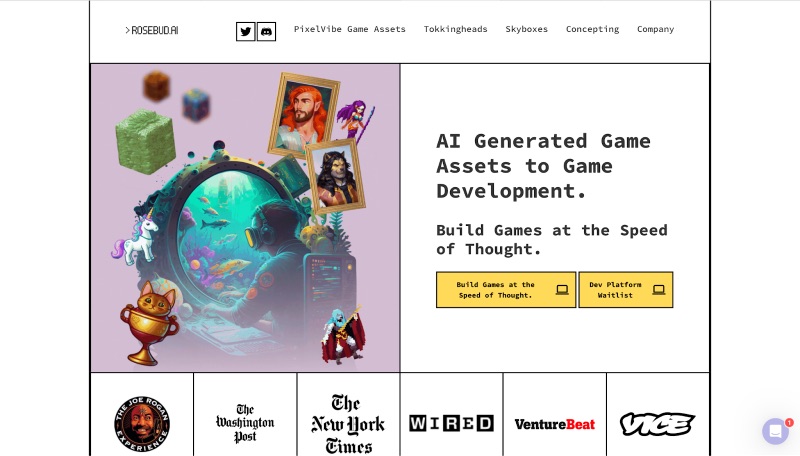 Do you have a vision for an inspired video game? AI can help you make it a reality. Rosebud can generate images and text to help bring your game to life, but it also lets you make custom avatars, game assets, environments, and skyboxes, all with AI.
Pricing: Rosebud AI tools are currently free.
Platform: Game asset and skybox generators are browser-based. Animation and concepting tools available for iOS, Android, or desktop.
12) Magician — AI graphic design plugin for Figma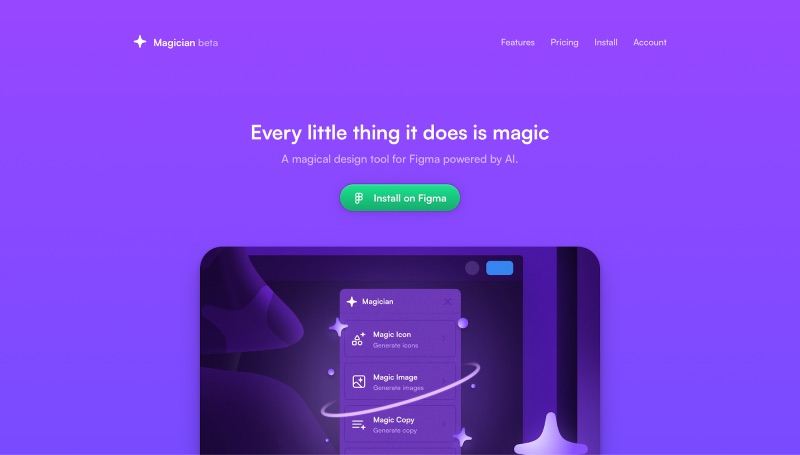 While some AI programs claim to do all the designing for you, the most useful ones integrate seamlessly into your existing design processes. If your team uses Figma, Magician can take you to the next level. Use AI to generate images, copy, and icons that you can drop right into your project.
Pricing: Magician's public beta is currently $9/mo, with a 21-day free trial.
Platform: Figma.
13) Tome — AI graphic design for brand storytelling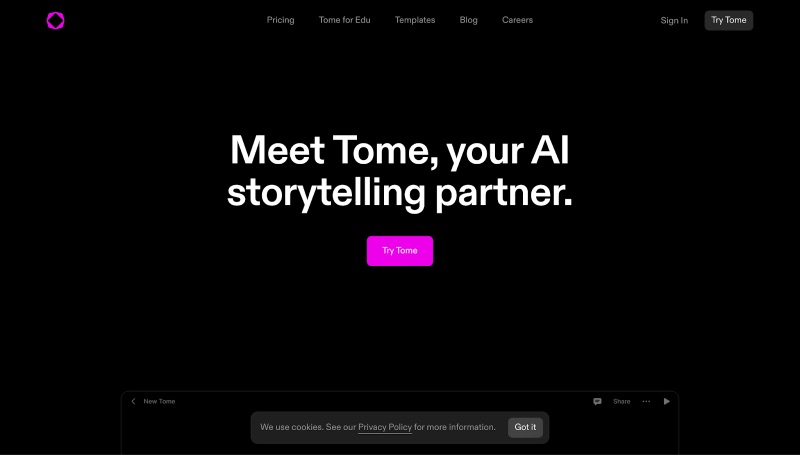 This is one of the most impressive tools out there for design teams looking to add AI to their flow—and it's mostly free. Tome is designed to help with product launches, pitch decks, and other presentations. Type in a one-sentence pitch and it'll produce a full, editable slide deck on the fly, and that's just one of its many offerings.
Pricing: Tome has 3 pricing options.
Free: $0/mo
Pro: $8/mo
Enterprise: Contact sales for pricing
Platform: Browser-based.
Conclusion: will AI art replace graphic designers?
AI is growing at an unprecedented rate, but for now, no, it can't replace your whole design team.
A generative AI program can't create consistent branding, or go above and beyond your instructions. Human designers will be valued as long as creativity is valued, but AI can turbo-charge your design processes and allow more people access to high-quality design.
If you're looking for more ways to speed up your designs, why not give Penji a try? We use AI to match you with the perfect designer from our vetted team, who'll deliver your project in as little as 24 hours. Check out a demo to see Penji in action and sign up today for a 30-day money back guarantee.