Affilliate marketing offers a variety of benefits to content creators. It's the go-to strategy for passive income, and it allows people to diversify their income streams. If you're generating leads and getting sales through your own business, this is a great way to pad your earnings without doing much work. For those who want to start an affiliate program, we've compiled the top ten affiliate marketing examples from B2C and B2C companies.
Top 10 Affiliate Marketing Examples
1. Amazon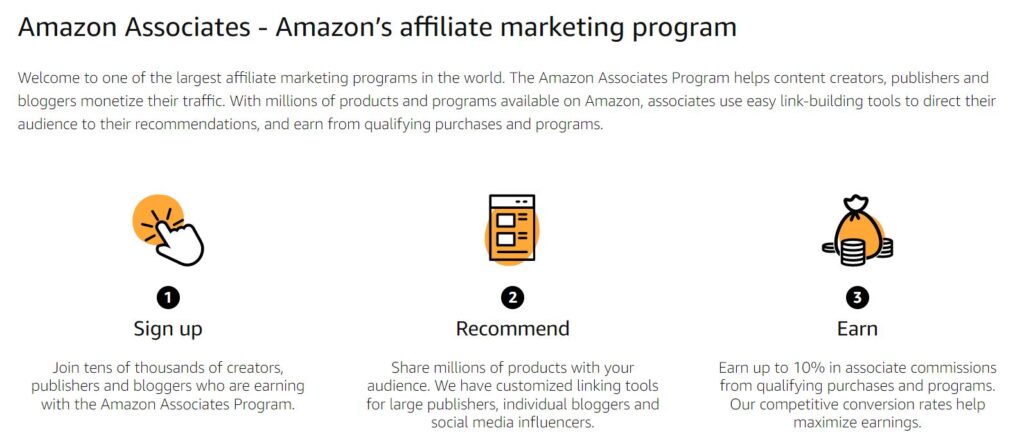 Amazon has one of the most successful and popular affiliate marketing examples. Its affiliate program of the largest online shopping platform has undergone many transformations. Today, it is known as the Amazon Associates program.
Features and Benefits:
Being a credible affiliate program makes it easier for affiliates to promote the brand.
Millions of Amazon products to promote
Various affiliate linking tools available for larger websites, individual bloggers, and social media influencers.
Offers up to 10% commission
2. Skillshare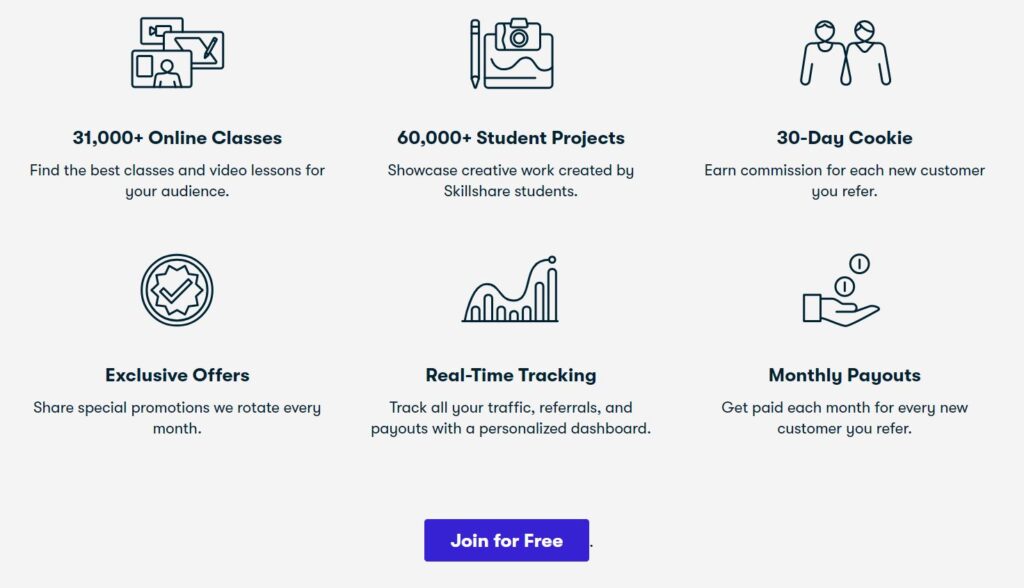 Skillshare is a US-based online learning community that offers management, photography, and visual arts courses. The Skillshare Affiliate Program has gained recognition as content creators use it to promote the brand on their social networks.
Features and Benefits:
Affiliates earn a commission both on free trial signups and paid subscriptions.
A personalized and real-time dashboard for tracking traffic, referrals, and commissions
Reliable monthly payouts
Affiliates can share exclusive monthly rotating offers to engage their audience.
Accessible Skillshare catalog
Affiliate links have a 30-day cookie life.
3. ActiveCampaign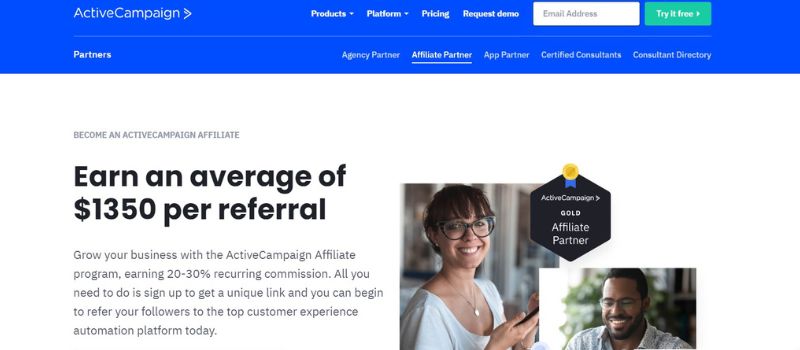 The ActiveCampaign automation platform offers CRM, email marketing tools, and marketing automation tools under one roof. Remarkably, the ActiveCampaign affiliate program ensures recurring commissions, long-lasting cookies, and a reliable library of resources. Here are some features of this affiliate marketing example:
Features and Benefits:
The platform's top software ratings make it easier for affiliates to promote the brand.
Offers 20%-30% tiered commissions.
Lifetime recurring commissions on new sign-ups and renewals.
A robust affiliate portal lets affiliates easily track their sales.
Graphics, videos, whitepapers, and webinars are available.
90-day tracking cookie life.
Open to affiliates worldwide.
4. Leadpages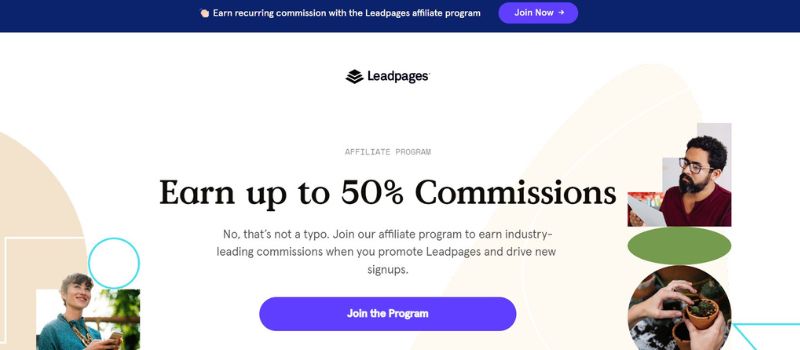 Leadpages solutions enable businesses to create, optimize, and track the success of landing pages. It also includes pop-ups and lead bars. Reviewers say it is currently the most competitive affiliate marketing program.
Features and Benefits:
Leadpages affiliate program offers 10-50% recurring commission.
Tiered commissions
Supported by a proven product that's easy to sell
Affiliate dashboard
Exclusive Leadpages deals and packages for top-performing affiliates
Affiliate links have a 30-day cookie life.
5. Aweber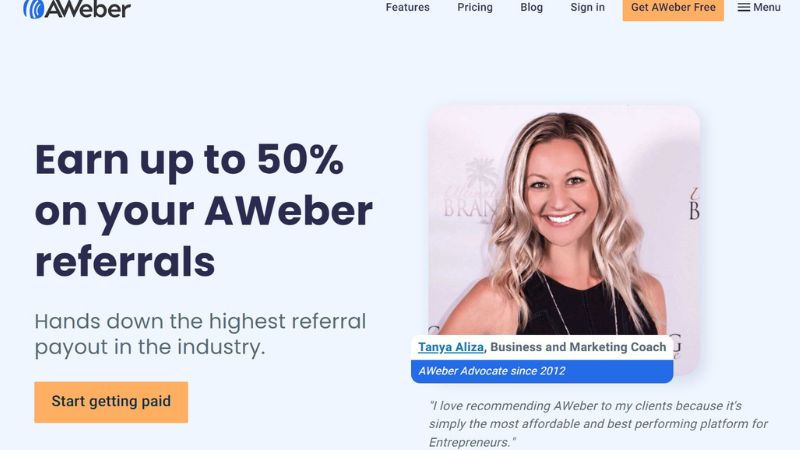 The AWeber affiliate program is exciting. They call it a "referral program" and "advocate program" despite their recurring commission scheme based on the standard affiliate model. Still, the program is well-designed and has some significant advantages. That's why we have chosen it as one of the top affiliate marketing examples.
Features and Benefits:
Impressive call to action for interested promoters
Offers A 30% recurring commission
Easy tracking of clicks and sales for specific periods
Provides a playbook for new advocates starting their partnership with AWeber.
Continuous affiliate training
Hosts an affiliate website with promotional resources
Affiliate links have long-lasting cookie life
6. Convertkit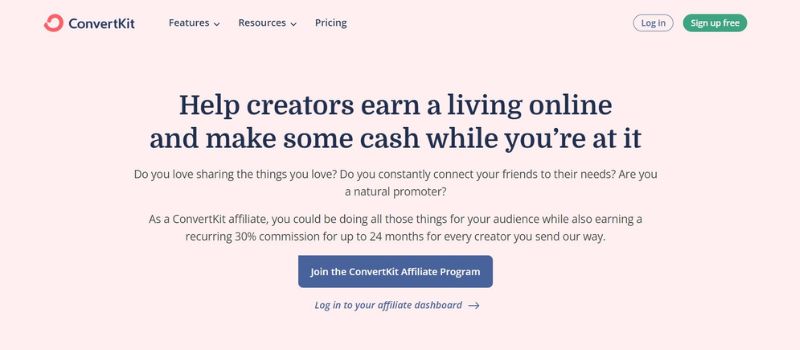 Convertkit helps content creators expand their business via email marketing design. Similarly, its successful affiliate program has helped grow its brands and increase the revenue of its affiliates.
Features and Benefits:
Offers a 30% recurring commission
Detailed qualifications ensure better chances of sales success
The call to action focuses on usefulness before monetary benefits
An affiliate dashboard for tracking conversions from individual affiliate links
The top affiliate may host an affiliate training course
A knowledge-base that includes videos, graphics, and webinars
7. Unbounce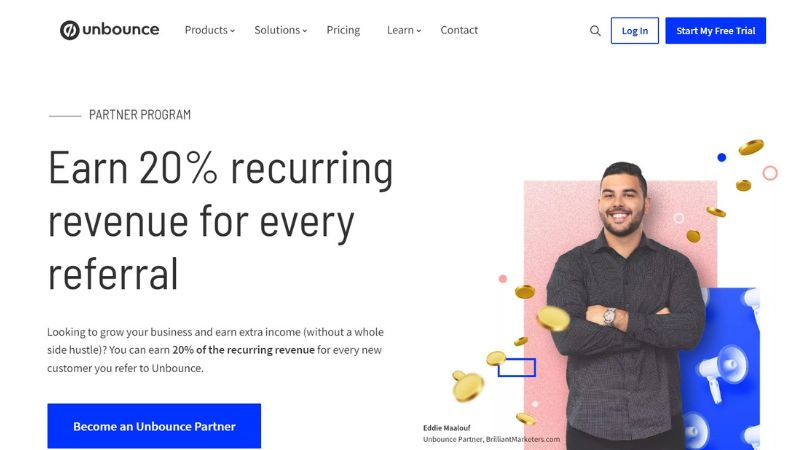 Unbounce Partner Program is designed for marketers to help other marketers. So, if you are an affiliate marketer, agency, or happy customer, here's another excellent affiliate marketing example to explore.
Features and Benefits:
Offers a 20% lifetime commission
A dedicated partner coach guides successful affiliates.
Custom dashboard for tracking clicks, purchases, revenue, and strategies
Promotional and training materials are available.
Flexible payment options are available
Customers who purchase through an affiliate link also get special assistance and extra benefits.
8. BigCommerce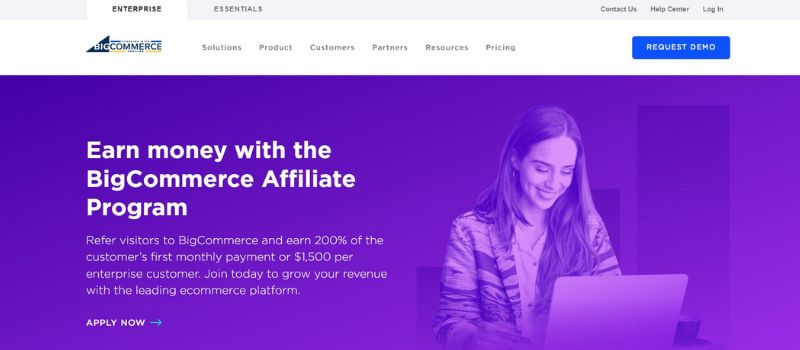 Ecommerce platform BigCommerce's people-focused method, competitive commission, and well-known products help make their affiliate partner program enticing for affiliate marketers.
Features and Benefits:
Offers a 200% commission for affiliates on the first month of standard subscriptions
No commission caps or minimum commitments
Higher commission tiers are offered to top affiliates.
Reliable payment schedules
Provides an affiliate dashboard to monitor clicks, free trials, sales, and commission/payouts.
Pre-made banner designs, emails, and other promotional materials
A dedicated affiliate expert helps each affiliate achieve its goals.
9. Wix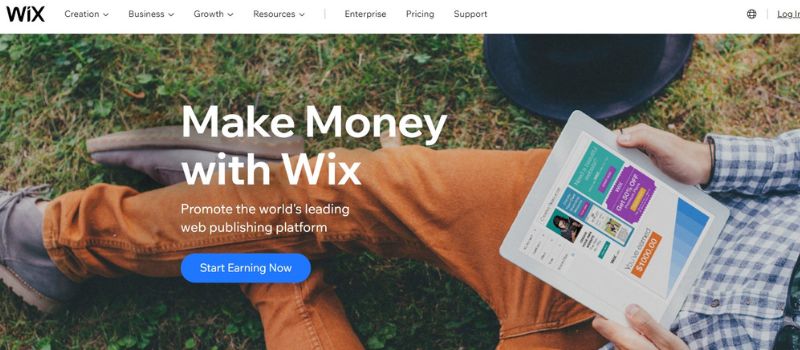 Wix is a free website design and publishing platform that makes site-building beautiful and easy. You've probably seen famous YouTubers using this affiliate marketing example. When Wix users sign up to promote the platform as affiliates, the product often markets itself. Its user-friendly dashboard contains all the necessary information and creative materials to drive sales.
Features and Benefits:
A $100+ commission payout and potential bonuses
Easy-to-access affiliate terms and conditions
Interactive affiliate knowledge base
An intuitive dashboard for tracking traffic, conversions, and more
Affiliate landing pages and promotional banners are available in multiple languages.
10. Hostgator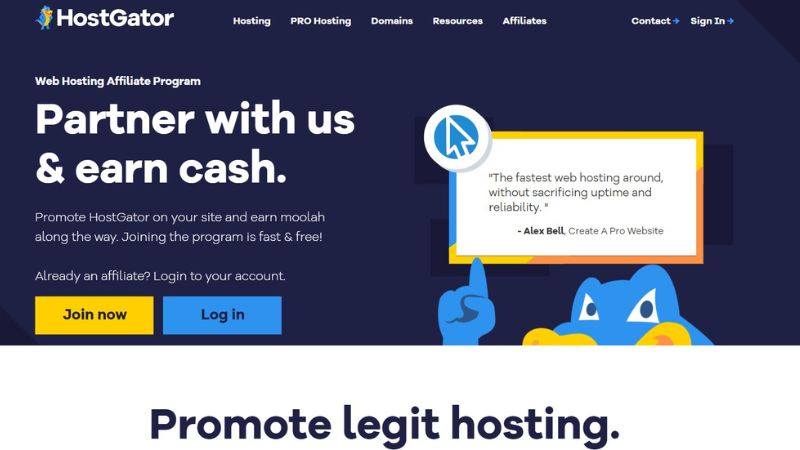 HostGator offers WordPress web hosting for businesses and individuals. Its affiliate program is the best among WordPress hosting providers.
Features and Benefits:
Tiered commission structure
An attractive earning potential on the promotion page motivates affiliates to join
Straightforward guide on the affiliate program promotion page
Accessible affiliate program terms and conditions
A reliable affiliate dashboard for referral tracking and promotional resources
A knowledge base contains complete resources for affiliates
Get Started with Affiliate Marketing
Of course, we can't finish off the article without mentioning Penji's own affiliate marketing program! If you have a platform, you can promote Penji's graphic design service and earn passive income. Whether you're a content creator, someone who sells complementary products, or even a business that uses Penji, you're invited to become an affiliate.
Or if you need a website for your affiliate program, you can work with some of the top designers in the world to create your affiliate marketing website. When you sign up with Penji, you're entitled to a 30-day money back guarantee, so there's no risk to try it out.