Today, 8 out of 10 brands implement an affiliate marketing program. This marketing strategy allows them to grow brand awareness and increase sales with less effort and a minimal budget. So, if you are among the few remaining brands who want to jump on the bandwagon, check out the best affiliate marketing websites to explore this year.
1. Tapfiliate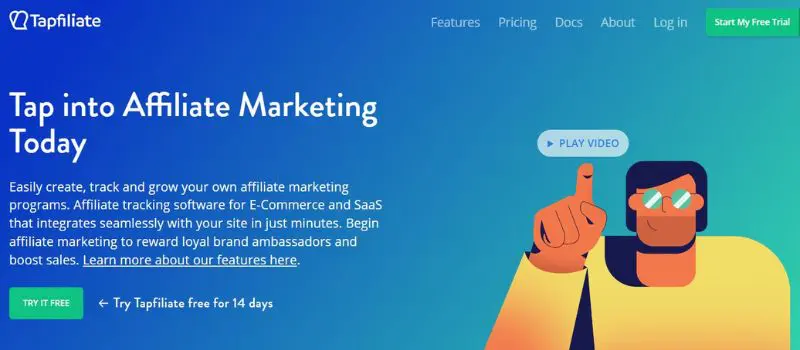 Tapfiliate is a reliable affiliate marketing software that helps businesses to recruit affiliates and increase sales. Freelancers and businesses of any size benefit from Tapafiliate's flexibility in running an affiliate marketing program.
The platform can be easily integrated with your website. It works with over 30 platforms, such as Shopify, WooCommerce, and Zapier. Tapfiliate allows you to generate unique code and tracking links for your affiliates.
Key Features:
Advanced Analytics
Affiliate/Commission Groups
Affiliate Management
Coupon Codes
Integrated Payments
Price: Starts at $89/month
2. Refersion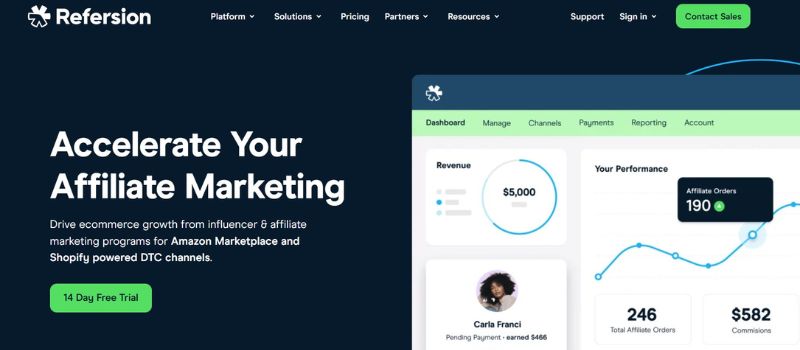 Refersion is designed for business enterprises looking to drive e-commerce growth through the ambassador, influencer, and affiliate relationships.
It is a complete software that enables you to do everything from onboarding your affiliates to paying commissions. Finding affiliates and other partners and tracking performance is more efficient because of its user-friendly interface. And it allows you to integrate your e-commerce platform and external platforms such as Shopify, BigCommerce, Magento, and WooCommerce.
Key Features:
Automated Recruiting
Content Library
E-commerce Tools
Product/Gifting Tools
Forms and Compliance
Price: Starts at $99/month
3. Post Affiliate Pro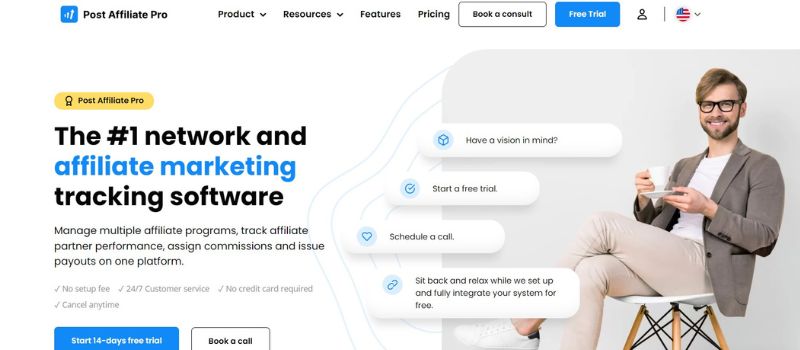 Post Affiliate Pro is the best bet for startups and SMEs. Small enterprises planning to implement it find it attractive because of its scalability. Like other affiliate marketing websites, Post Affiliate Pro helps businesses run their affiliate program. It assists in managing affiliates, tracking performance, and creating campaign materials. Likewise, it supports over 170 integrations, such as Shopify, OpenCart, 3DCart, and Magento.
Key Features:
Advanced Tracking Links
Advanced Analytics
Affiliate/Commission Groups
Coupon Codes
Scam/Fraud Detection
Price: Starts at $129/month
4. Affise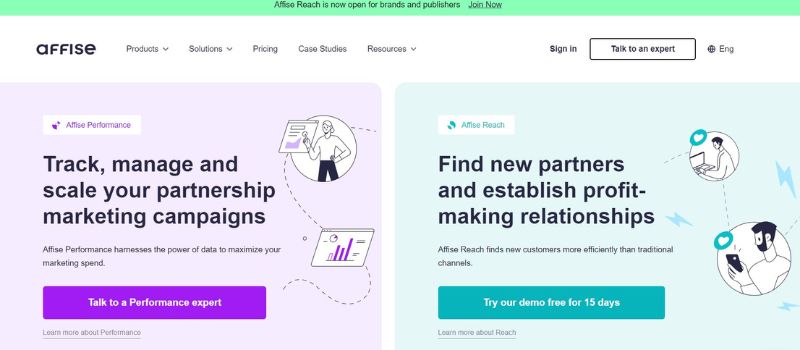 If you are looking for an innovative solution with rich features and tools for affiliate marketing, Affise is the right choice. The platform enables multi-currency and flexible payouts. It also allows third-party integration and anti-fraud protection. With its intuitive UI, you can easily set up and personalize dashboards to manage the performance of affiliates and advertisers better.
Key Features:
Tracking and Attribution
Analytics and Reporting
Automation
AI-enabled Fraud Prevention
Price: Starts at $500/month
5. ShareASale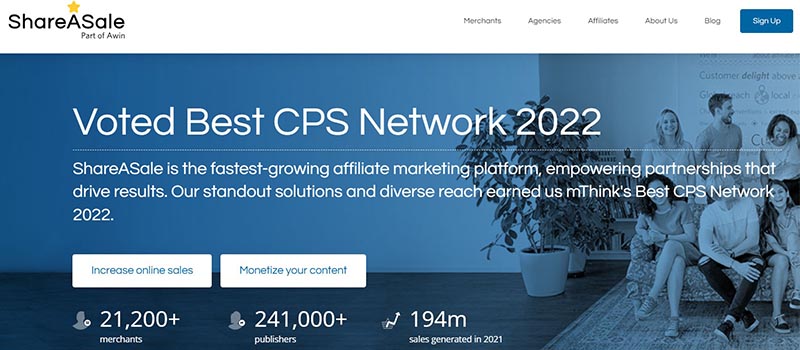 ShareASale is a marketing network that helps merchants and business affiliates boost revenue. It enables you to find the right affiliates, influencers, and creators with whom you can build partnerships and grow your business. Also, it equips you with the tools needed for onboarding, monitoring, and decision-making. More importantly, it gives you real-time insights to optimize your affiliate marketing program.
Key Features:
Real-Time Click Tracking
Clickstream Report
Affiliate Diagnostics
Program Training Tool
Affiliates Segmentation
Program Diagnostics
Merchant Recommendations
Custom Link Creation
Best Practices Resources
Price: Starts at $600/month
6. TUNE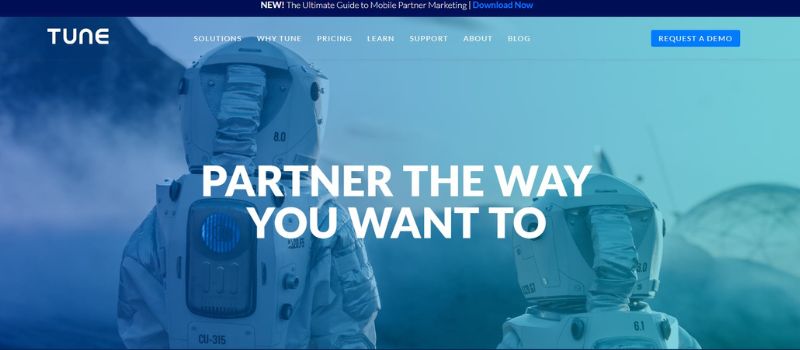 TUNE is one of the first cloud-based SaaS platforms to support affiliate marketing. With its fully customizable interface, TUNE enables you to fine-tune your affiliate marketing program depending on your needs and preferences. You can build your tools from its vast collection of advanced automation tools.
Key Features:
Personalized dashboards and interfaces
Advanced automation tools
Cloud-based infrastructure
Global support system
Fraud prevention
Price: Starts at $899/month
7. EverFlow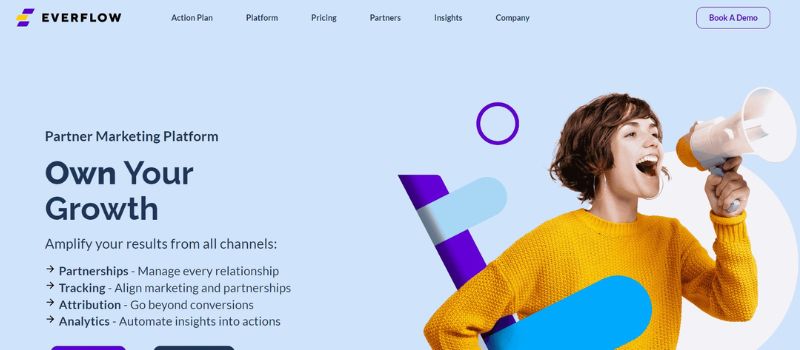 Everflow is another cloud-based performance marketing website offering affiliate marketing management. Brands, ad networks, or agencies can monitor their alliance program through EverFlow. It provides affiliate marketers with some of the best analysis and automation tools and streamlines their day-to-day activities.
Key Features:
Affiliate Management/Tracking
Email Campaigns
Commissions Management
Engagement Monitoring
ROI Tracking
Banner Management
Fraud Detection
Price: Starts at $395/month
8. LeadDyno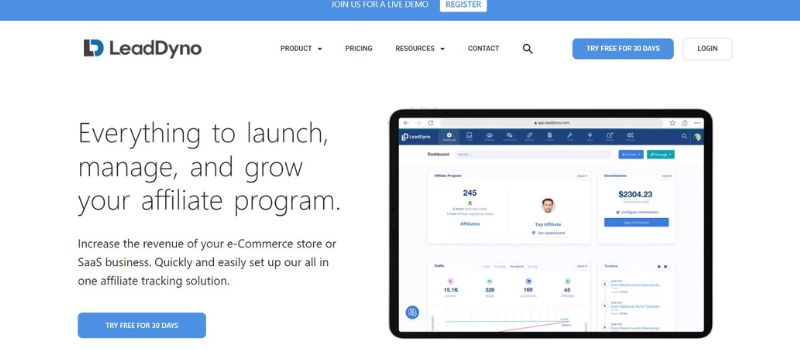 LeadDyno is one of the most straightforward affiliate marketing websites to use. You simply need a few clicks to integrate it with email platforms, payment processors, management systems, and e-commerce platforms. Fortunately, the setup takes a few minutes and requires virtually no technical expertise.
LeadDyno has essential tools to assist new businesses in jumpstarting their affiliate program. Aside from that, it also has advanced instruments which enable customization, such as setting up tiered payment schemes and evaluating insights from data analytics.
Key Features:
Affiliate Recruitment
Affiliate Website Management
Commissions/Payouts
Lead Management
Marketing Tracking Campaigns
Price: Starts at $49/month
9. Affiliatly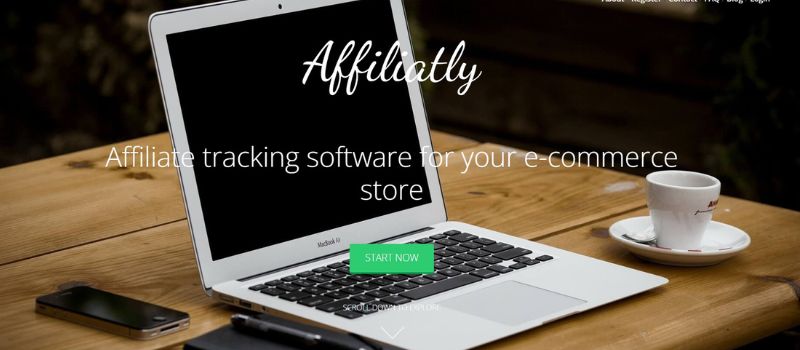 If you're looking for affiliate tracking software for your online store, Affiliatly is the answer! It is one of the most accessible affiliate tracking software to use and is best for small businesses implementing affiliate marketing.
The Affiliatly platform lets you focus on running your business by letting your affiliates do the marketing for you. It also enables you to offer affiliates your store gift cards as payment for their referrals. It also supports integrations with e-commerce platforms such as BigCommerce, Shopify, Magento, WooCommerce, and CrateJoy.
Key Features:
Activity Dashboard
Affiliate Management
Alerts/Notifications
Bonus Management
Contact Management
Conversion Tracking
Customizable Branding
Data Import/Export
Price: Starts at $16/month
10. Rakuten Marketing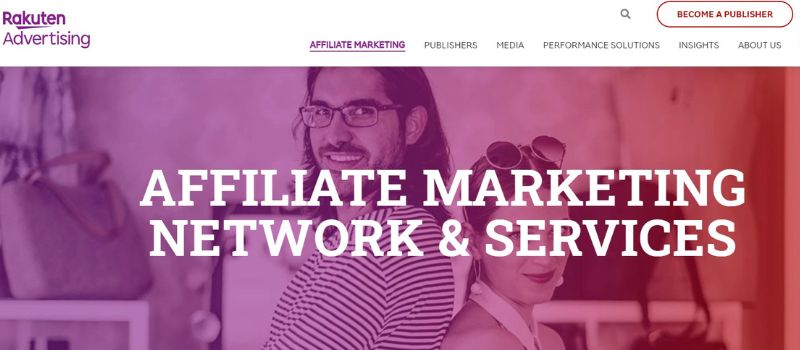 Rakuten Marketing Affiliate is an international affiliate network that allows marketers to get involved in a consumer's customer journey and enables publishers and advertisers to forge partnerships. The platform connects businesses with affiliates, content creators, and influencers who can widen their reach in a particular niche.
Key Features:
Account Management
Attribution & Insights
Payment Processing
Feed Management
Affiliate Screening & Monitoring
Affiliate Marketing Tools
Brand Protection
Price: Offers quote-based plan. Contact the agency
Penji Creates the Best Affiliate Marketing Websites
You are ready to build your affiliate website after you've learned much from affiliate marketing websites to explore in 2023. Look no further, do it with Penji – the home of expert web designers. Penji offers flexible pricing packages that suit your graphic design needs. Sign up today and enjoy our 30-day money-back guarantee.