Is YouTube your primary platform to connect with audiences? Although you publish engaging videos, what about those who have stumbled on your YouTube channel before watching your videos first? One way to catch their attention is through your YouTube banner. And if you need spectacular YouTube banner ideas, scroll down below to find the best ones!
Steps To Creating a Captivating YouTube Banner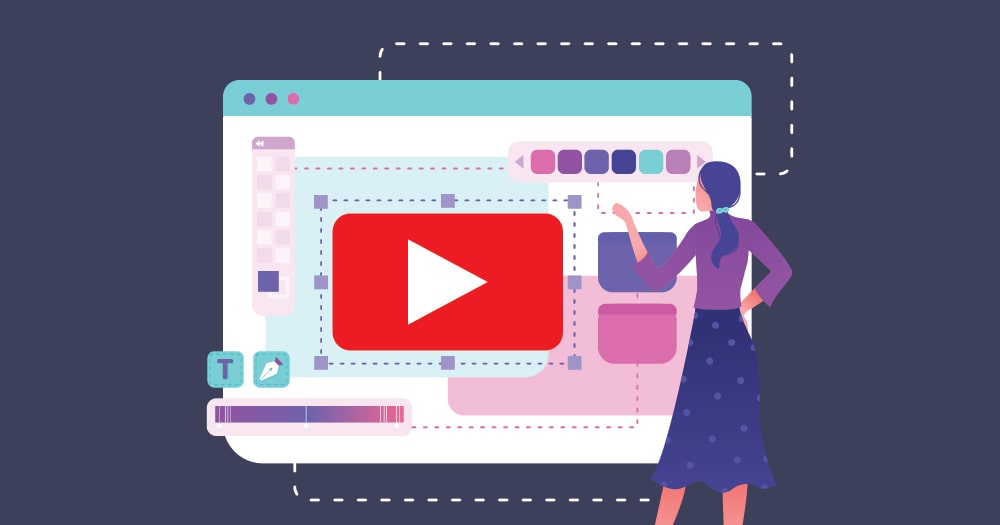 Step 1: Know Your Brand and Content
Before you can create a captivating YouTube banner, know what makes you different from other YouTubers. What do your subscribers associate your channel or brand with? Being funny? Being educational? How about content? Is it something about travel? General knowledge? With this in mind, you'll know what to include in your YouTube banner.
Step 2: Learn Image Specs
Have you ever seen any YouTube banner that looks stretched out or pixelated? No, right? One of the first things to remember when creating your YouTube banner is knowing the correct banner size. Google Studio says that the minimum dimensions are: 2048 x 1152 px. This has a 16:9 ratio, which is proven to be the best for YouTube.
Step 3: Use Graphic Design Tools or Services
When you've figured out the content of your YouTube banner, it's time for you to bring it to life. Many YouTubers or businesses may rely on using DIY YouTube banner design tools. They have pre-made templates, and all you have to do is customize them to your brand.
But not everyone has an eye for design or the time to do this, so, hiring freelancers or using graphic design services can save you time and money in the long run. While you're here, put Penji on the top of your list of graphic design services to subscribe to. Not only can Penji create a YouTube banner design for your business, but you could also request custom thumbnail designs, merch, branding assets, and more!
20 YouTube Banner Ideas
Now that we have gotten the nitty gritty out of the way, we'll show you some excellent examples to serve as inspiration.
1. Buzzfeed Video

One common practice for most YouTube banner ideas is promoting videos, shows, or personalities. Buzzfeed Video executes this well by highlighting one of their prominent personalities on the banner. On their banner, they used a beautifully-drawn illustration then added the schedule of their Mom in Progress videos to those who want to catch up.
2. Blogilates

A simple way to make your brand known on your channel is to display your logo, tagline, and an image of you, like this one from Blogilates. It's a great way to introduce new subscribers to your channel or reinforce your branding to your current subscriber base. The image of a woman doing Pilates also paints a picture in viewers' heads, which is a good way to introduce your product or service.
3. Expedia

Take notes from Expedia's YouTube banner design if you want to further brand recognition on your YouTube channel. Expedia shows consistent branding by using the brand's color — yellow. It can help establish your brand outside your website and social media sites.
4. Yuya

Illustrations are one of the few YouTube banner ideas implemented by many vloggers. This one by Yuya is an example of how you can show concept illustration on your YouTube banner while promoting your other social networking sites. But if you're not an illustrator or designer, some YouTubers would ask permission to use fanart or get custom illustrations for their channel.
5. The Craft Beer Channel

The Craft Beer Channel may seem like it's overloaded with information. But it's a clever YouTube banner idea because new subscribers or visitors will know you in one look. For one, you will know from the get-go who the stars of the channel are. Two, you learn what content they publish. Finally, you can support the guys behind the YouTube channel by going on their Patreon page.
6. George Benson Travel

Sometimes you don't need to add images to your YouTube banner. This one from George Benson Travel tells you what type of content they post on their channel. Try to go for straightforward copywriting that will suffice without the need of visuals. Plus, you can even catch George Benson on other social media channels and connect with them there.
7. GoPro

Brands that constantly update and improve their products showcase new products on their YouTube banner, like this one from GoPro. It's a subtle way of promoting a product. And it could enable subscribers or visitors to learn more about their new offering on the website or through videos. Moreover, by using high-quality product images, you're initially enticing users to find out more.
8. Red Bull

Red Bull doesn't just sell energy drinks; they have also become a leading name in sports. And their YouTube banner tells us what sports they're involved in or they're sponsors of. Plus, even if you're not a big sports fan, their YouTube banner gives you a hearty welcome to their exciting and adrenaline-filled content. It even shows various athletes that are all advocates of this brand.
9. Binging with Babish

Go for something minimalist like this one from Binging with Babish. Though it's a simple design, the brand added a nice twist by replacing the letter "I" with a whisk. Additionally, they have acquired a big viewership base after recreating recipes from famous TV or movie shows. Avid TV or movie fans can expect a video from him every week as written on his YouTube banner. Plus, subscribers will also know where to buy his merch and get updates on his official website.
10. How to Cook That

Many YouTubers have landed successful book or TV or movie deals, and How to Cook That wants to show us they did it through their YouTube banner. Their banner acts as a promotional visual to let subscribers know where to buy the book. Also, it lets new visitors get acquainted with the famous cook.
11. Mixed Makeup

Here's one of the best YouTube banner ideas you could apply to your channel. Aside from adding your logo and schedule to the banner, give them a preview of what types of content you publish through images like this one from Mixed Makeup. In addition, including smiling faces of people can impart happy emotions within your viewers.
12. Entertainment Weekly

Entertainment publications like Entertainment Weekly have one of the best YouTube banner ideas here. Anyone who follows Hollywood will know the famous faces in their banner and expect other big stars to appear on their channel. You can apply this on your channel if you do interviews or podcasts.
13. eBay

One of the best YouTube banner ideas to try out is using different colors. eBay takes it a step further by following a rainbow scheme. It looks pleasing to the eye, and it makes you want to buy something from the eCommerce company. The bright, various colors also have excellent contrast that makes the overall design attractive.
14. Starbucks

Fall has once again graced its presence, and the Pumpkin Spice Latte is back, and who better to advertise the limited-edition drink than Starbucks itself. There's no need to add typography because the imagery speaks for itself. Their YouTube banner is effective because it could alert those who visit their channel and may even purchase Pumpkin Spice Lattes directly in their store.
15. Baumgartner Restoration

YouTube banners don't need copy sometimes, as showcased in some banners here. And in one image, you can tell that Baumgartner Restoration improves the look of any photo. It's a self-explanatory photo that can pique new visitors' or subscribers' interest.
16. XHit

The XHit banner design cleverly uses the logo. Instead of it being added to the graphic, they used it to divide the brand's colors. Not only that, they have arrows pointing to a specific link too. Always ensure to stay on-brand when creating YouTube banners because it's one way to instill top-of-mind awareness within your audience.
17. The Swoon

One way to utilize a YouTube banner design is by reminding people which channel they're in. The Swoon is a Netflix-owned channel. While you may associate Squid Game with Netflix, The Swoon logo reminds us we're browsing on their channel and view other Korean content as well.
18. New York Magazine

Corporations or businesses with subsidiaries can have a dedicated YouTube channel for their group of companies. The YouTube banner for the New York Magazine gives us an idea of what other media outlets are part of their group and to know what other content we can watch from them.
19. Lilly Singh

Many of Lilly Singh's subscribers would know that her YouTube banner is on-brand. Since she's a comedian, she's not afraid to show a goofy side and aims to bring joy to her subscribers. And it shows on her YouTube banner design. Showing your brand's real personality will resonate better with your audience.
20. TBS

Get into the fall season like this YouTube banner from TBS. Even without the TBS logo, you'll see they incorporated the shape from their logo, and the branding is present. The use of leaves signals that it's fall, and you can expect fall and Halloween-related content from them during the month the banner is up. Plus, TBS encourages smart copywriting.
Let Your YouTube Banner Idea Come to Life with Penji
We know that you're busy ideating your next viral video on YouTube. That said, your time is better spent on creating hit videos for your subscribers as you grow your channel. Instead of doing everything yourself, why not take a shot by subscribing to Penji?
Big brands, small businesses, and up-and-coming influencers or individuals use Penji for their design needs. Whether it's for branding or advertising purposes, Penji will help them every step of the way. Click that "Choose Plan" button and subscribe to Penji today.