The only way to capture your audience's attention and increase those conversions is through extraordinary advertising design. A design that speaks volumes, tells a brand's story, evokes emotions, and strikes up conversations–with or without copywriting. Additionally, your advertising design must stay consistent in all marketing materials to achieve top-of-mind awareness. Don't know what type of advertising design to start with? Don't fret. Here are 12 advertising design types to kickstart your marketing campaigns.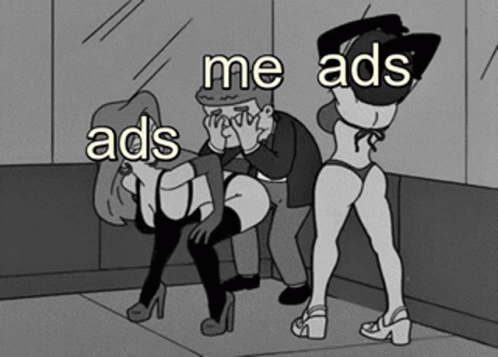 1. Branding assets
Before anything else, start with your branding assets for distinction. Your branding assets are your initial advertising collaterals. Branding assets include:
Logos
Business cards
Letterheads
Stationeries
Pitch decks
Catalogs
Brochures
Creating a corporate style guide is vital for brand recognition. That said, entrepreneurs and marketers should look into creating branding designs when establishing a new business. Here are the benefits of prioritizing branding designs:
Lets your audience remember your brand. Exposing your target audience to your logo will make them remember your brand more.
Instills branding consistency. Branding consistency is imperative for brand recognition. Using your brand colors, icons, or taglines will gain more exposure for your brand.
Communicates with your target market. You communicate the right message to your target audience when you create visuals that relate to them.
Establishes authority. When you have a timeless logo, you establish authority for your brand. And we all know that credibility and authority are two vital factors that impact buyers' decisions.
Conveys your brand identity. Consumers select brands that align with their values, principles, beliefs, and personalities as well.
Examples:
Logos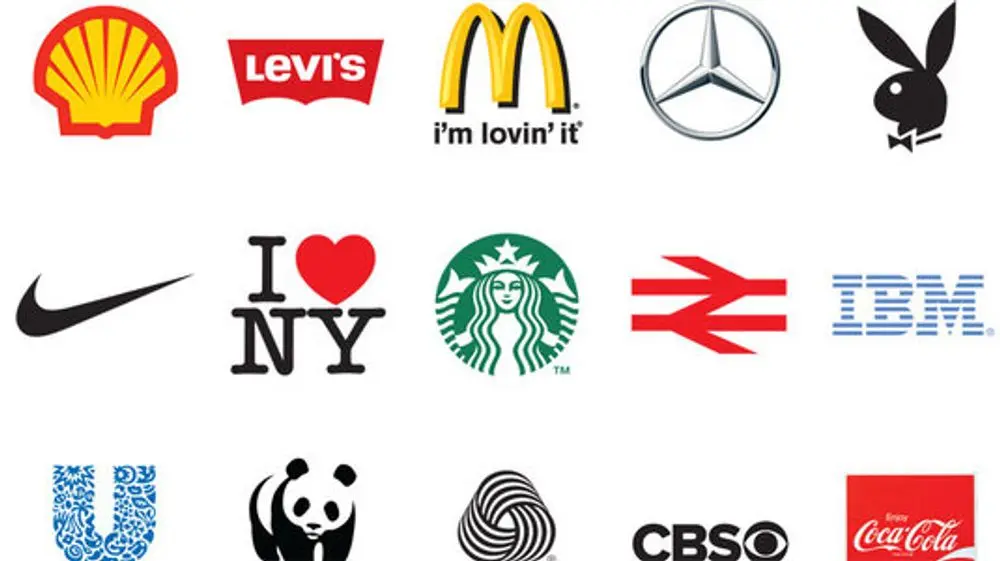 Here's an example of the best logos in various industries. If you achieve a versatile, memorable, and timeless logo, your brand could become an industry leader.
Business card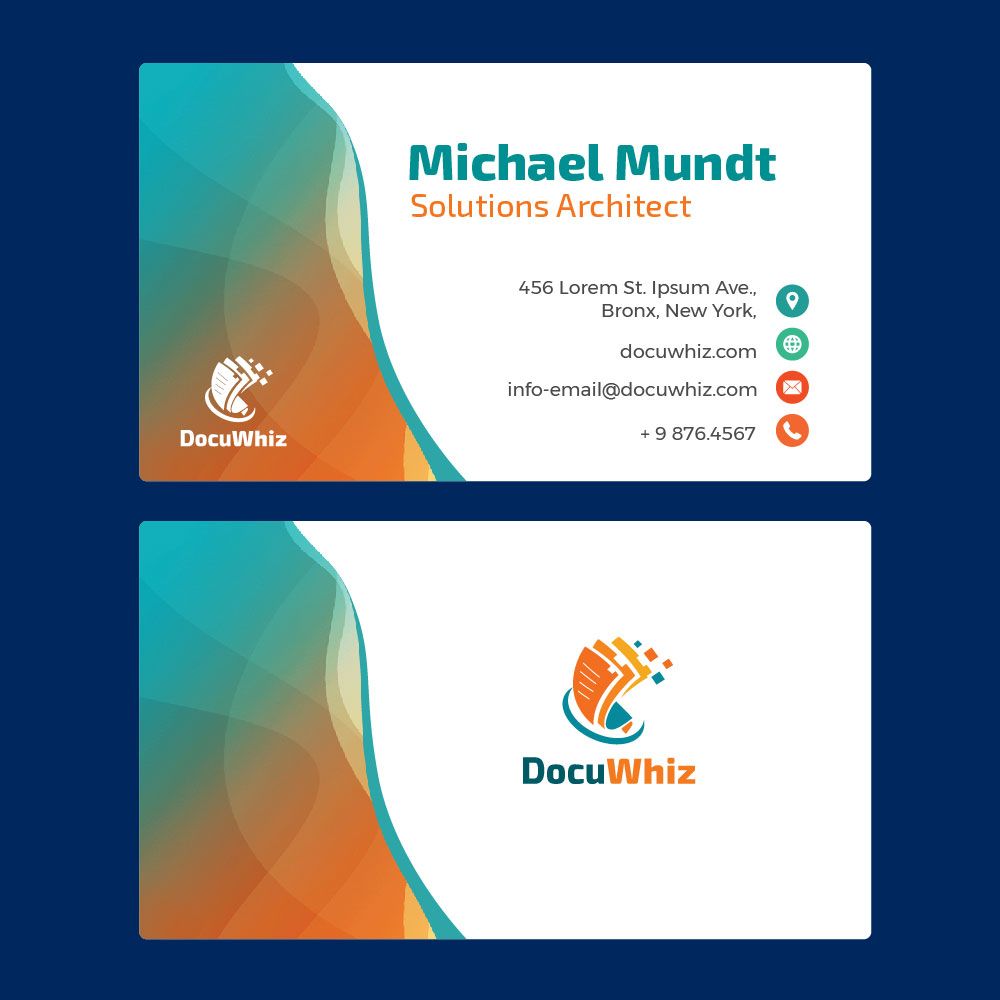 Another crucial facet of branding designs is your business card. Some companies still give out printed business cards instead of digital ones. After all, print business cards are more tangible, allowing customers to get a feel of what your brand is like from the graphics.
2. Display ads
Any seasoned advertiser knows Google Ads is the holy grail of all display ads. There are two ways you can market on search results:
Paid advertising — Marketers pay per click, per impressions, or conversions for every ad
Organic advertising — Marketers optimize content for SEO to rank on search engines' first pages
When you choose the Google Ads platform for paid advertising, you can invest in ads in two ways as well:
Google Search Network Ads — These are ads that show up on search results after users type in their queries via matched keywords.
Google Display Network Ads — These are banner ads that pop up on similar or relevant websites to what users are currently browsing.
Advertising on platforms like Google Ads, Yahoo!, or Facebook ensures that millions of people worldwide will see your ads!
Examples:
Search ad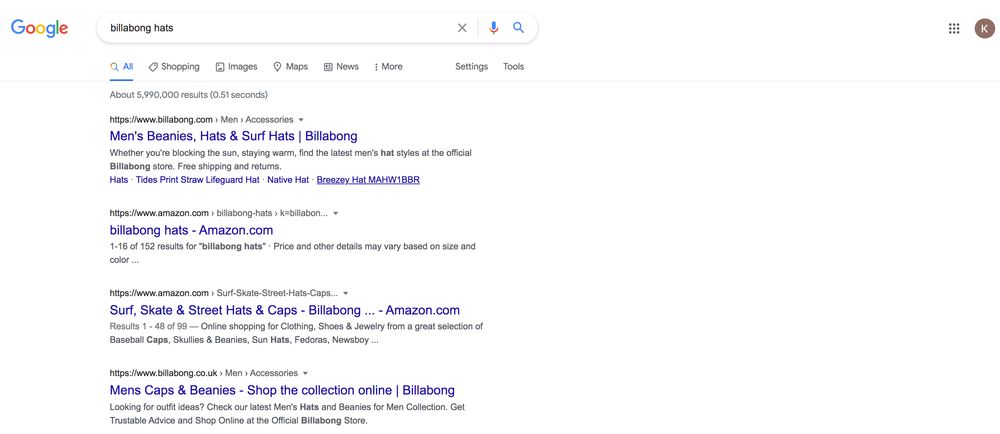 This is the result once I typed in "billabong hats" on Google. These results are all organic, which means these content types are fully SEO-optimized. For paid search ads, you'll notice an "Ad" symbol in bold on the upper left side before the headline.
Paid banner ad

This is also an example of a banner ad from WebMechanix. If you want users to click on your banner ads, entrust your advertising design to experts. Hire professional graphic designers like Penji. Watch our demo video for a snippet of how our easy design process works.
3. Social media ads
Social media marketing is all the rage these days. That's because almost half of the world's population are active social media users. And these users consume an average of 147 minutes browsing social media channels daily.
Promoting your wares on social media brings vast opportunities for your company. Plus, advertisers can diversify their marketing campaigns due to different ad formats and placements. This allows them to reach different types of audiences who browse social networks using various media types.
Example:
Facebook Image ad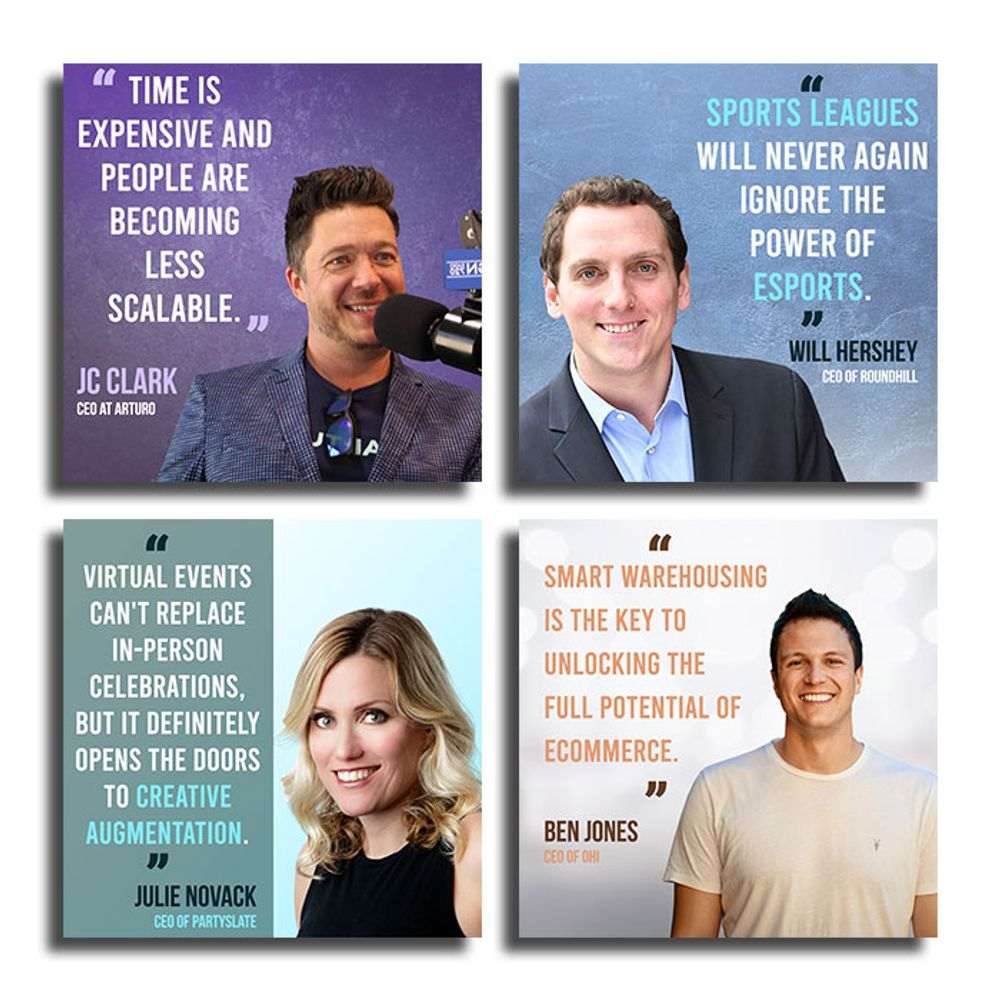 Here's an image ad from Penji. Social media ads should be compelling enough to make users stop scrolling. This particular example features industry leaders. The composition is simple: Images of the entrepreneurs and a motivating quote, complemented by pastel background colors.
4. Video ads
Video ads are also another effective advertising design type that allows brands to simplify complex topics, product demos, or services. Moreover, marketers can play around with their video ads by integrating humor and storytelling for a more impactful effect.
Example:
YouTube video ad
In light of the current COVID-19 pandemic, Uber hit the nail on the head with this YouTube advertisement. The brand showed its genuine concern for seniors who must stay at home. So they captioned the video with "Thank you for not riding Uber." Plus, they incorporated emotional marketing to make the video get the message across dramatically and persuasively.
5. Outdoor ads
Did you know that 71 percent of consumers check out roadside billboard messages? This goes to show how effective outdoor advertising or out-of-home advertising still is. Outdoor advertising might be relatively more expensive.
However, the extensive reach your brand is getting is incomparable to other offline advertising tactics. Imagine putting up your billboard on a busy intersection or highway. The conversion rates will tell you how effective this advertising design type is!
Other outdoor advertising methods are:
Flyers
Posters
Guerilla marketing
Stunt advertising
Car wraps
Examples:
Billboard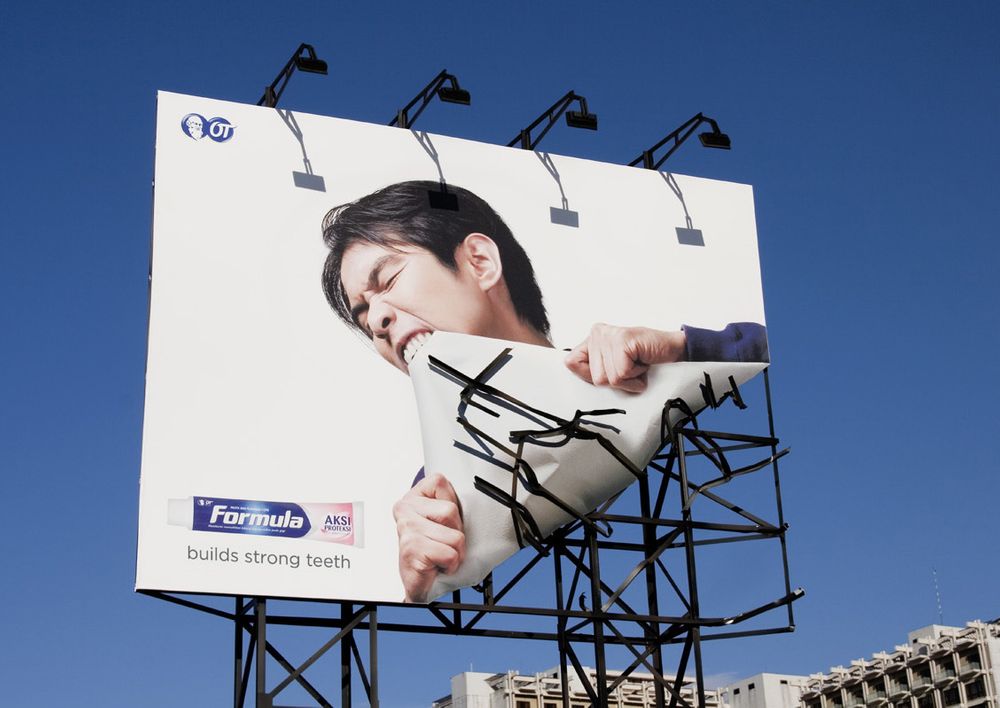 This example is from a brand that promises strong teeth for its target audience. Formula creatively depicted the benefits of buying their product by creating this billboard. It features a person seemingly biting one corner of the billboard, implying that his teeth don't break that easily.
Car wrap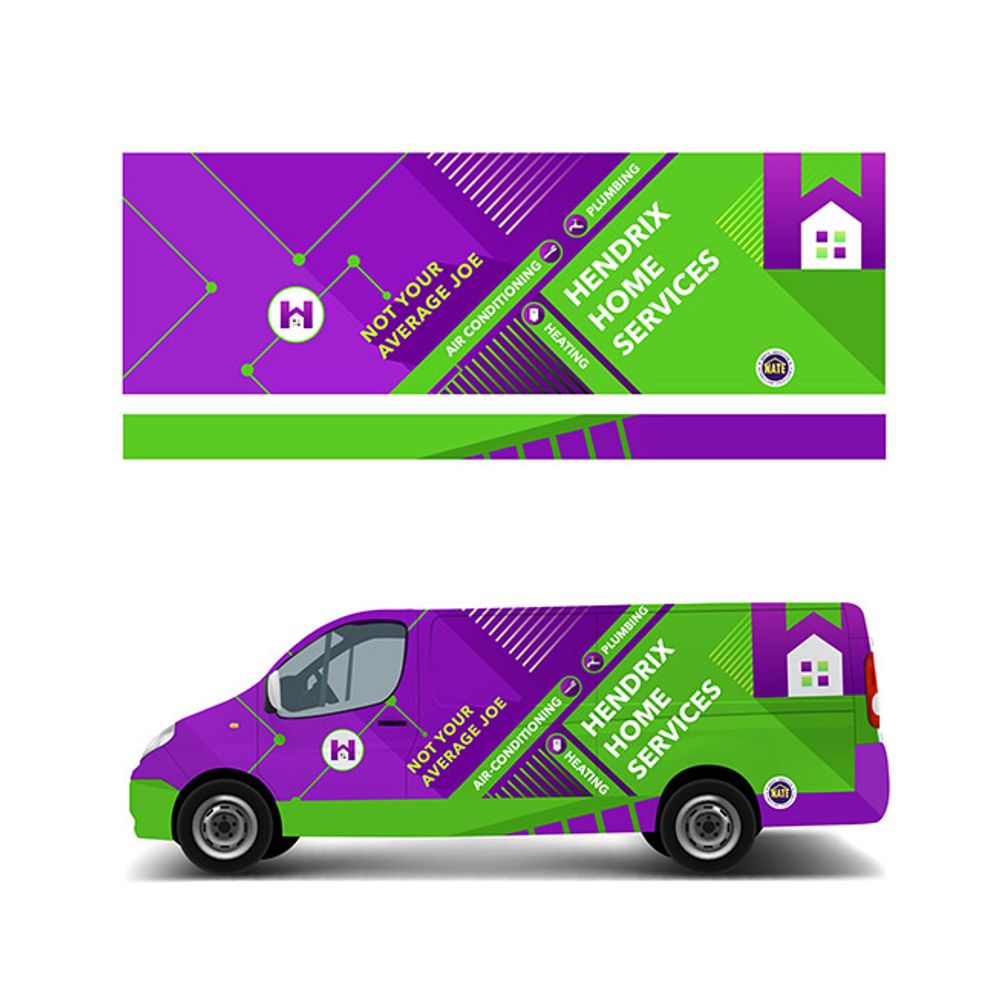 Another excellent advertising design type that offers infinite marketing for your brand is car wraps. This advertising design must catch every onlooker's attention as vehicles move from one place to another. Here, at Penji, we make every marketing design you can think of. From logos, business cards to online ads and car wraps, it's possible with our designers' versatile skills. Try Penji's 30-day money-back guarantee now.
6. Promotional merch designs
Promotional items are cost-efficient and valuable marketing materials you can give away during trade shows or launchings. Think of a useful item, and make sure to show off your brand's logo. This way, this marketing strategy will move mountains for your brand as consumers keep promotional items for at least six months if they offer value.
Some promotional materials you can give to prospects are:
T-shirts
Caps
Mugs
Water bottles
Tote bags
Ballpens
Sanitizer
Keychains
Penlight
Stickers
Koozie
Wall clocks
Mobile phone case
Relevant Article: 13 Most UNCOMMON Small Business Promotional Items
Examples:
Sticker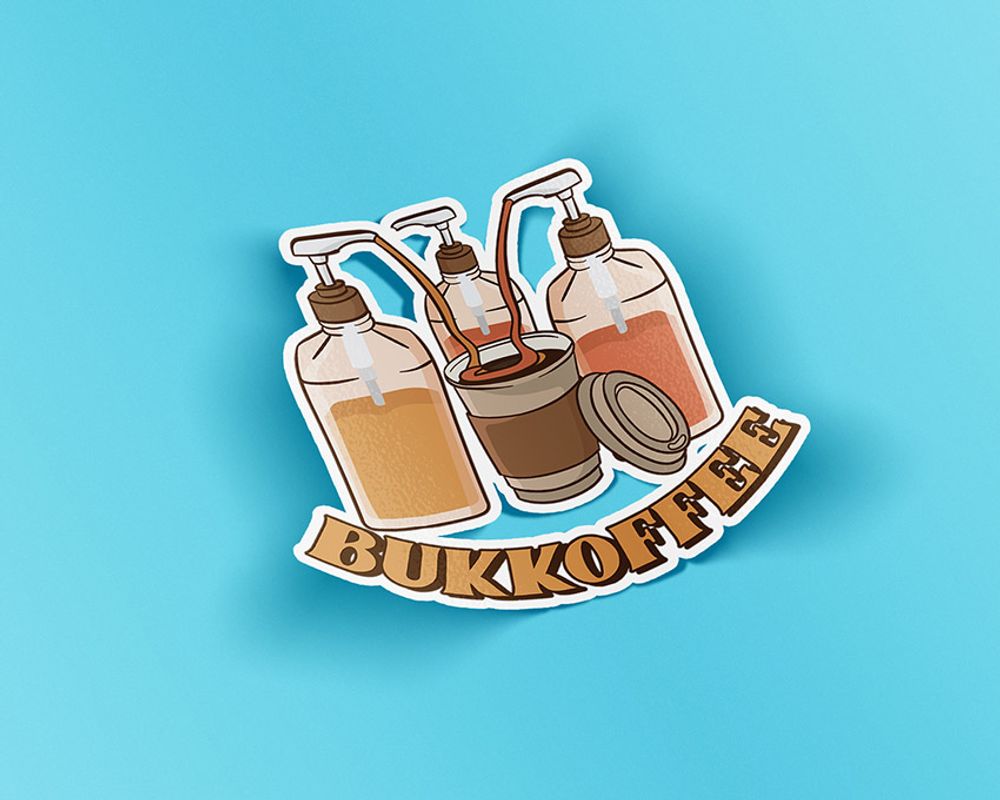 Here's Penji's example of a sticker design that's cute for your laptops and notebooks. Sticker marketing is cheap and convenient for both marketers and consumers.
T-shirt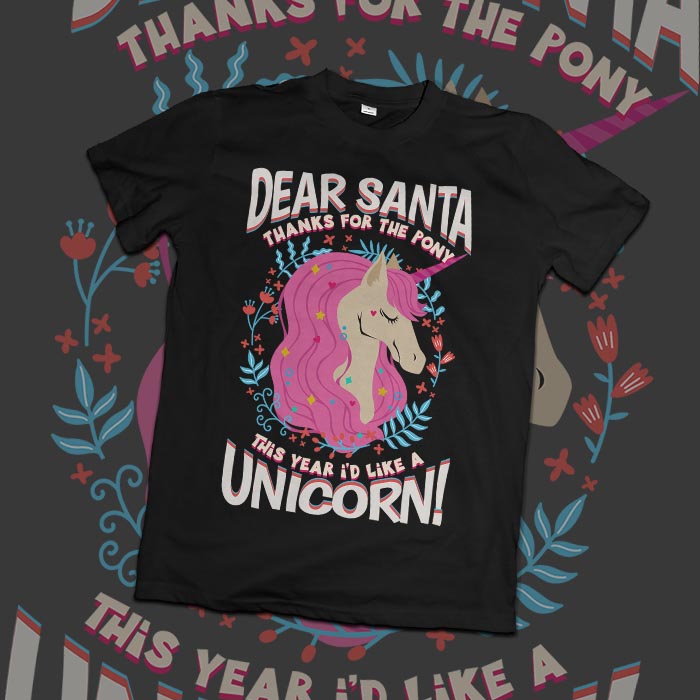 Shirts are one of the most common promotional items that brands choose. Due to their usability, people would wear them to work, in malls, or in public places. And this gives your brand marketing mileage, provided that you include your logo, brand colors, mascots, and whatnot.
7. Packaging designs
Your packaging shouldn't only protect your product. However, it must also promote your product in the best light. Creating a unique packaging advertising design will make consumers grab your product instead of your competitors.
Tips for creating the best product packaging:
Make the visuals pop
Create texture and structure
Make your packaging extraordinary
Consider multi-functional packaging
Create unique and authentic packaging
Be transparent with product descriptions
Think of shelf impact
Consider sustainable packaging
Example: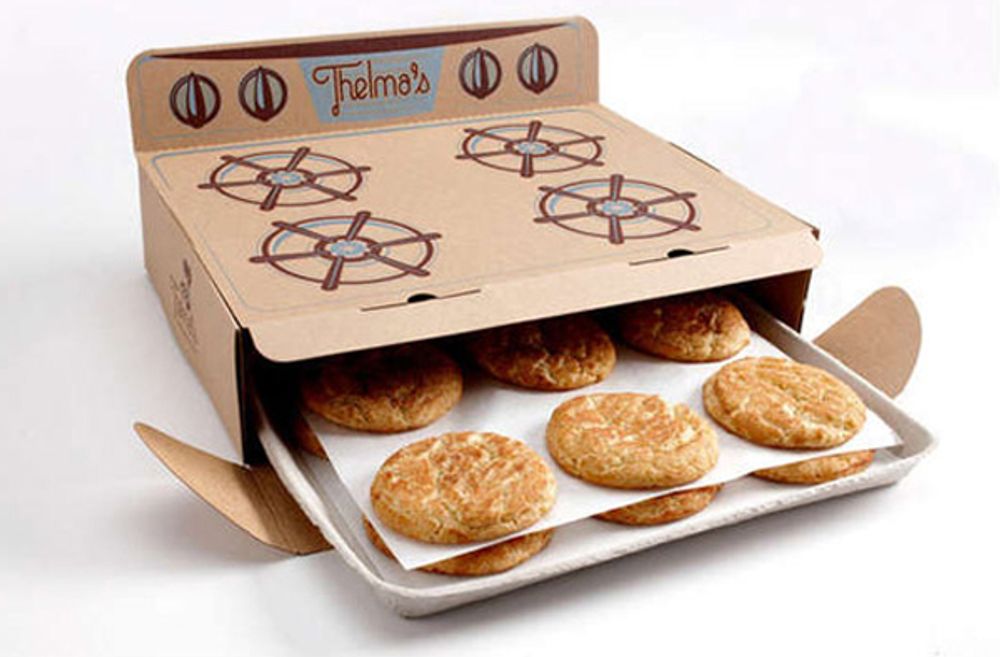 This excellent and unique example from Thelmas shows the company's branding right off the bat. It's an oven that implies warm cookies are better than cold ones.
8. Email advertising designs
Email marketing lets you personalize your messages to each recipient. Since consumers want to feel special, especially from a brand that they love, personalization will boost that connection with your customers.
That said, try to use analytics and segmentation when sending out your email newsletters. Here are some tips for creating an email that converts:
Create structure (Heading, subheading, content, call to action, etc.)
Use the recipient's first name in the email subject line
Use your brand colors
Upsell products customers might be interested in
Make your emails interactive by using animation and AI
Grab readers' attention with your email subject line
Make your point and offer concise
Include high-quality images, illustrations, and graphics
Keep your email simple and easy to digest
Example: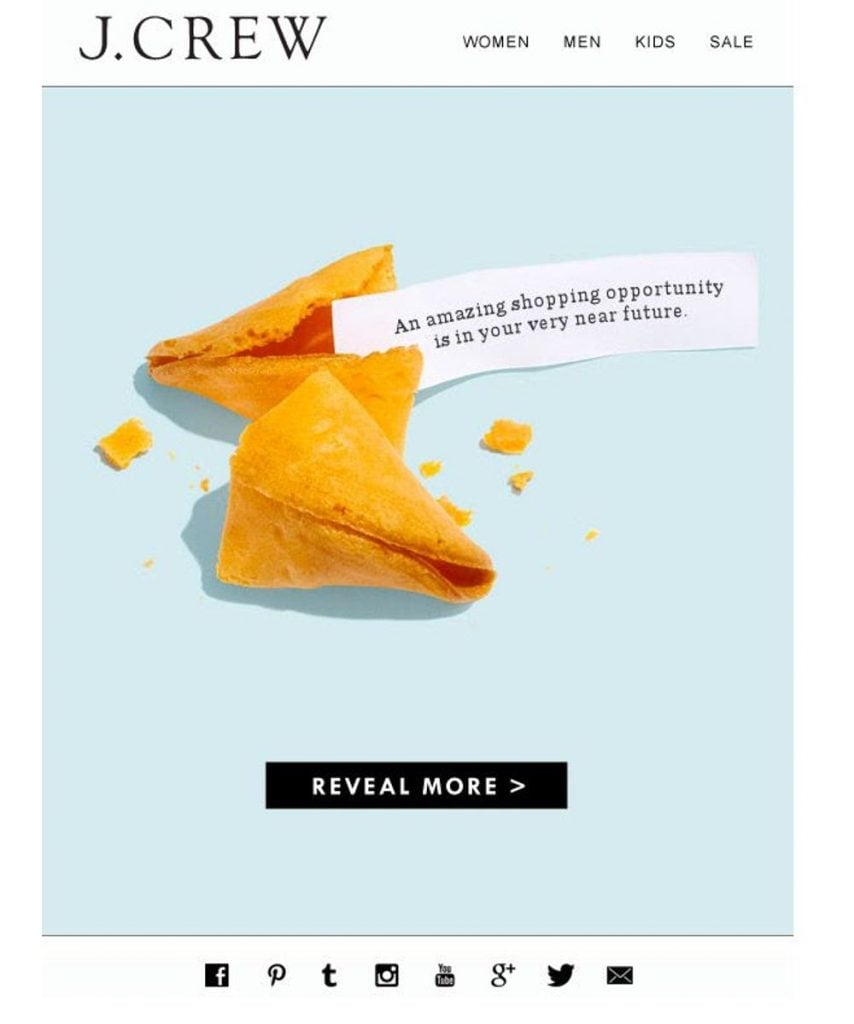 Speaking of simplicity in emails, J.Crew created this email superbly. It's simple, with only a teaser headline and a call to action. Remember to make your copy persuasive, just like J.Crew's primary headline, which entices consumers with an "amazing shopping opportunity."
9. Direct mail ads
Who says traditional mail doesn't work? As long as you have an irresistible offer, coupled with a well-thought-out advertising design, consumers would still be interested. People will appreciate brands that go the extra mile to nurture customer relationships. That said, if you're personalizing your mail offers, you're likely gaining brand loyalty from your audience.
Example:
Customized map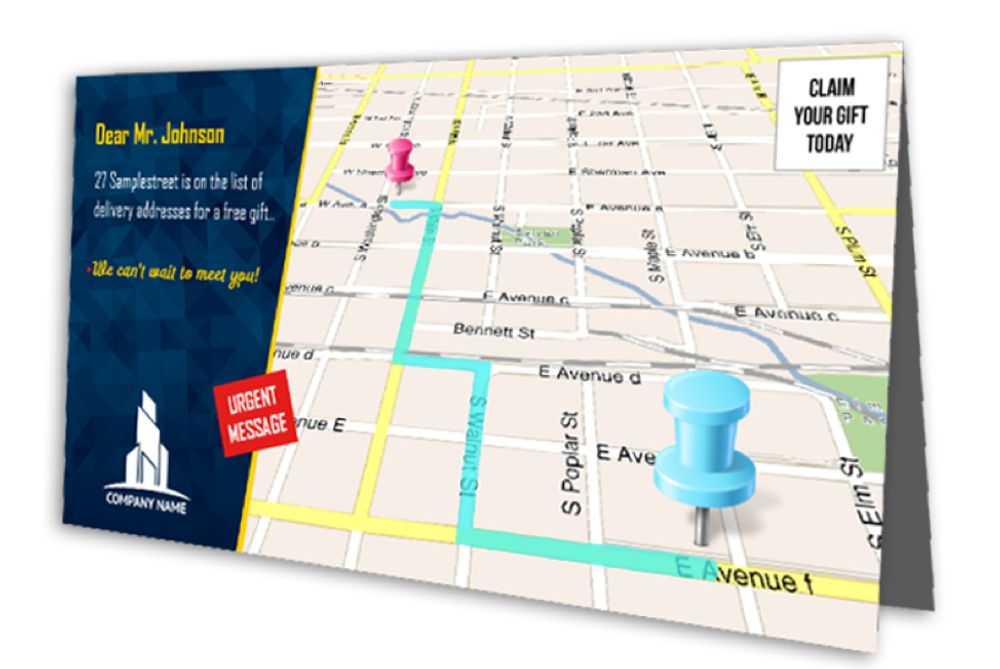 Maps4Mail did a great job with this direct mail advertising design. It teases readers with a clear heading that says, "Claim your gift today." Plus, there's a customized map to show where the store is located.
10. Magazines, books, newspapers, etc.
Your advertising design must look good on printed materials such as magazines, newspapers, books, and whatnot. Investing in print marketing collaterals is recommended to cater to conventional people and older audience demographics who prefer tangible items.
You may also create eBooks with similar advertising designs to entertain your online readers.
Examples:
Book cover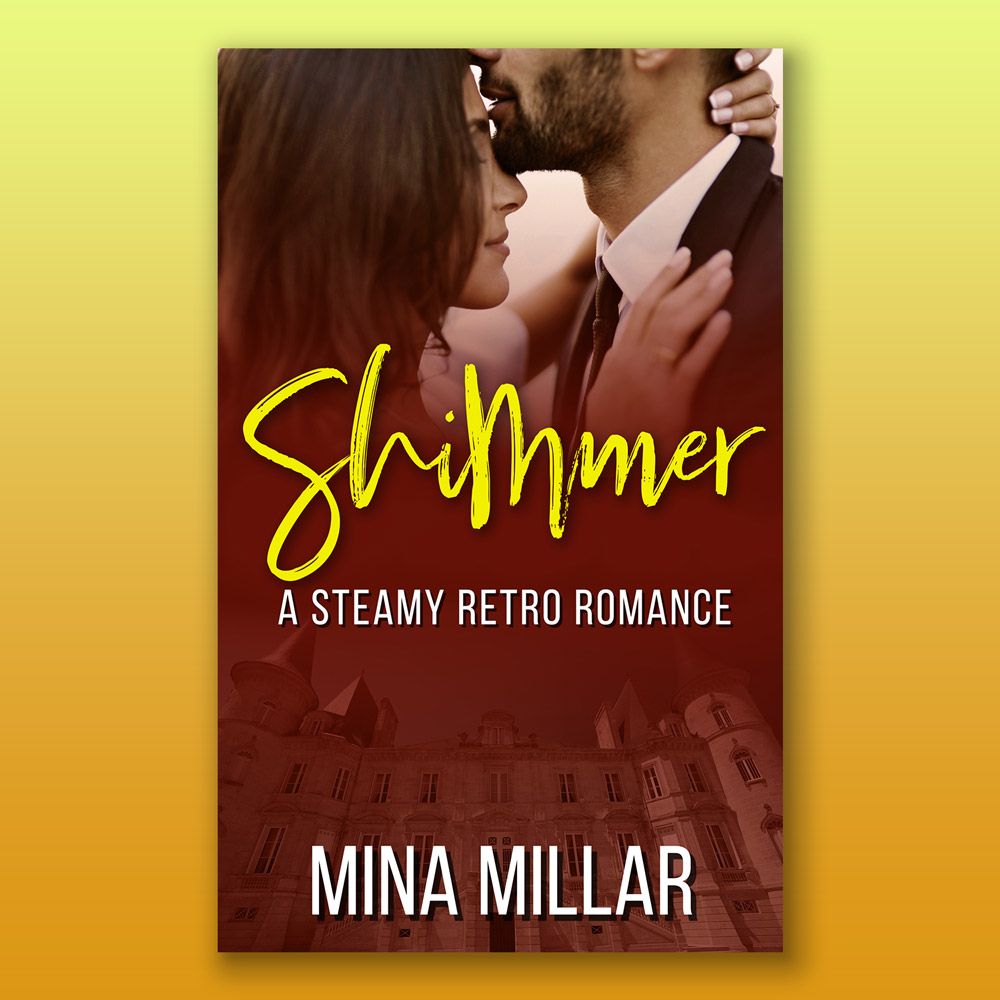 Here's one from Penji. This book cover design has nice hues that complement the overall imagery and title. The yellow text also sticks out from the darker background color.
Magazine cover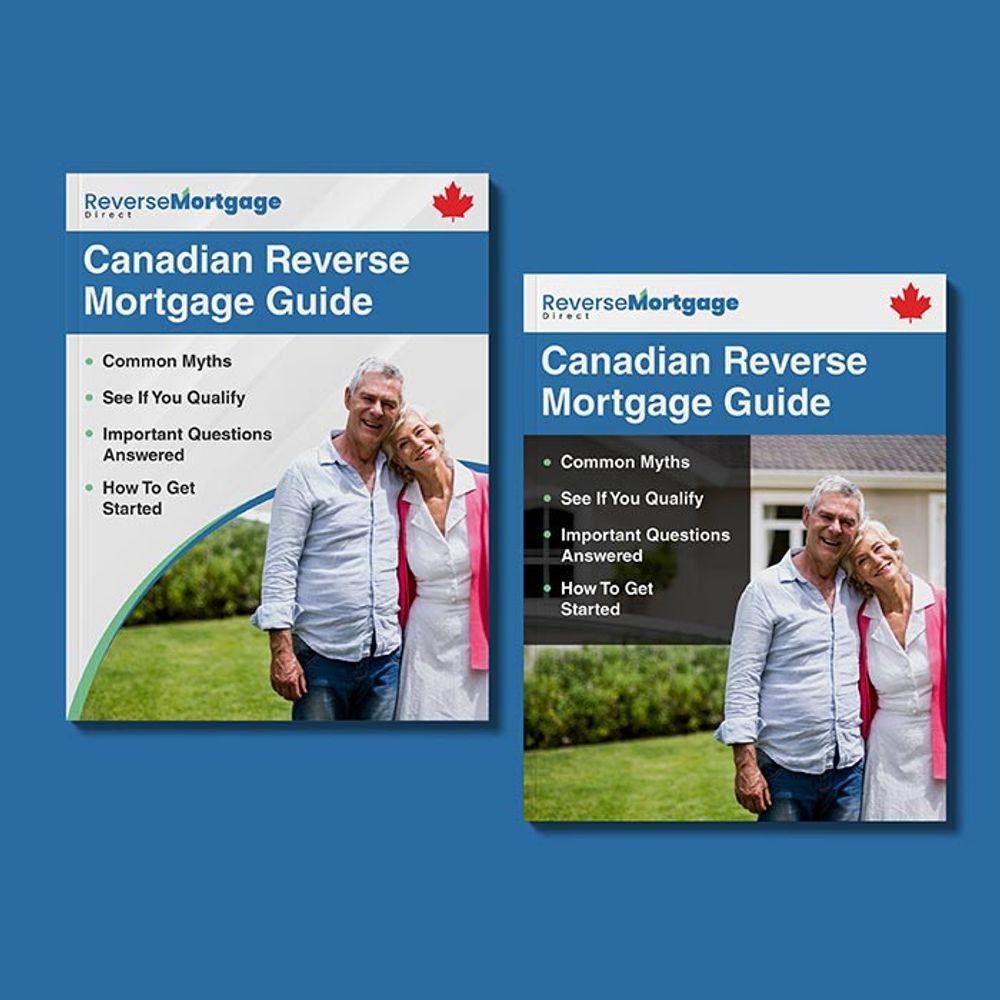 Penji keeps it simple with this easy-to-digest magazine cover design. The color palettes are suitable for financial institutions, which is apt for this mortgage guide. Plus, the bullet points tell interested readers what the contents are at a glance.
11. Web and app designs
A company website is an extension of a brand. Without a website, brands won't reach their online prospects. And when it comes to website design, the user interface is a priority. Ensure that your interface is user-friendly to make for a seamless browsing experience.
App designers know that the user interface is a vital design element to make users keep the app on their phones. Designing an app is not easy and you may have to work with professionals to create one. Penji's expert app designers let you request unlimited app designs at affordable costs. Here's how it works.
Example: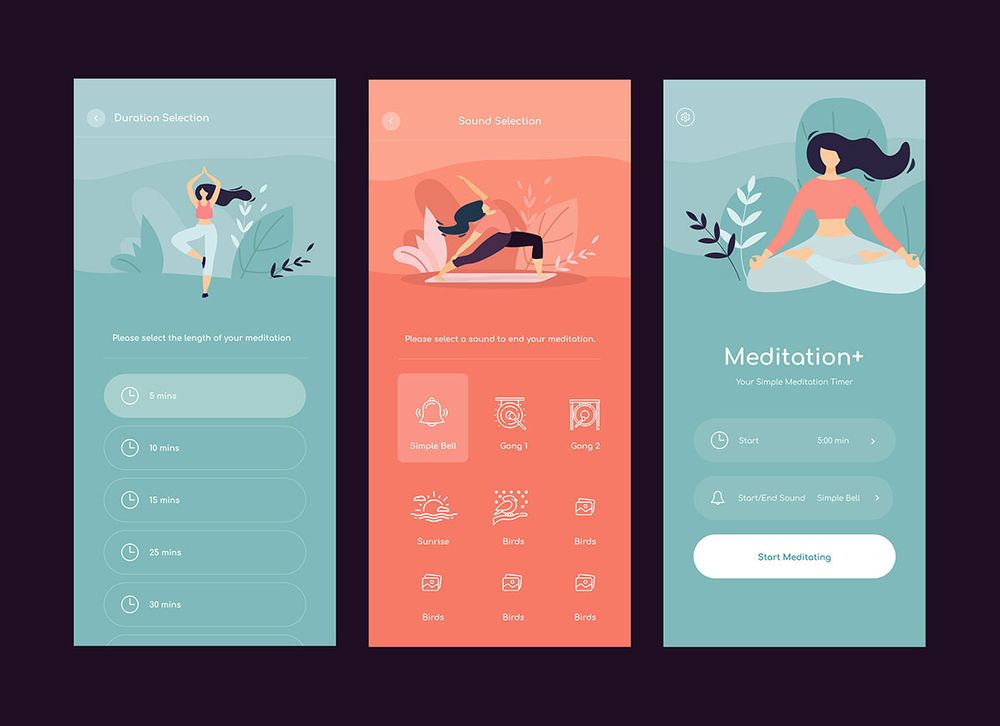 Here's a stunning design from Penji for a meditation app. The soft color palettes remind you of warmth and sunshine, perfect for browsing the app pre-meditation. The interface is easy to learn and understand. Finally, the illustrations convey motion and add a nice touch to the app's overall appeal.
12. Event ads
Some brands regularly organize events to help with brand awareness. May it be in the form of trade shows, product launches, charity, or sports events. The most crucial thing to remember when holding events is to put your brand front and center via roll-up banners.
Roll-up banners are huge and catch anyone's attention easily if the advertising design is done right.
Example:
Roll-up banner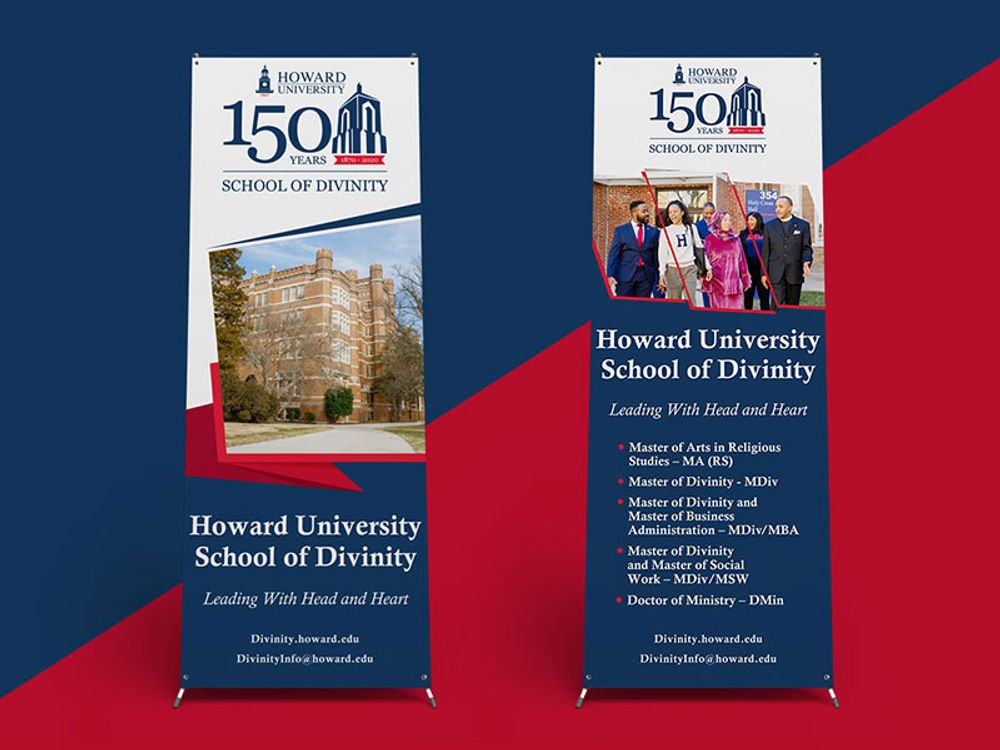 Make sure to maximize the space you have. Create a design structure so your banner is easily understandable. Take a leaf out of Penji's roll-up banner for Howard University. It may seem like there's too much information. However, the copy, structure, colors, and bullet points are a clear-cut definition of a digestible banner advertising design.
Conclusion
These 12 types of advertising design should kick-start your business journey. Start with your branding designs and move on to the essential ones as you strategize your marketing approach. Overall, creating advertising designs is time-consuming and might deviate you from managing other essential business tasks.
Let Penji's graphic designers take care of this colossal task so you can focus on other business aspects. We offer a 30-day money-back guarantee so you can try our service risk-free. And if you sign up now, this limited 15 percent discount will undoubtedly make it worth your while!