You may have heard of the latest craze in the cryptocurrency phenomenon, which is the NFT. Then you read about a pic collage that fetched $69.3 million and ask yourself, what's happening here? That piece of a digital asset is what's known as an NFT or non-fungible token. Let's dig deeper and get to know what the fuzz is about.
What is a Non-Fungible Token?
An NFT or a non-fungible token is a cryptographic, verifiable asset that cannot be traded or replaced with something else. It is the opposite of a bitcoin or any other cryptocurrency that you can sell and get the same thing in return. Therefore, a bitcoin is fungible while an NFT is non-fungible.
An NFT is stored on a blockchain network and comes with a unique identifying code and metadata that distinguishes it from others. This includes proof of ownership, transaction history, and the creator's name. And as an NFT is a digital asset, it can be copied, shared, or downloaded, but its ownership proof is on blockchain and nowhere else.
What is the Difference Between Fungible and Non-Fungible Tokens
To help you better understand what a non-fungible token from a fungible one is, cite their differences. We call a token fungible when it has the capability for interchangeability with another asset for the same value. Cryptocurrencies, money, and gold are great examples of fungible assets.
Non-fungible tokens, on the other hand, don't have any inherent values. These only gain value from the assets or goods that they represent. Thanks to its one-of-a-kind nature, no two NFTs are alike, precisely the trait that makes them valuable. Excellent examples are NFT art, which we'll show a few examples of later in the article.
What Do You Get When You Buy a Non-Fungible Token?
As mentioned above, an NFT can represent a variety of real-world objects. Some of these include but aren't limited to the following:
Art
Graphic design
Music
Videos
Sports highlights
GIFs
Avatars
Memes
NFTs are bought, sold, and traded on NFT marketplaces such as Opensea or Raible. They are typically traded using cryptocurrencies such as Ethereum and Bitcoin. In essence, an NFT is a collectible but in a digital form. When you buy an NFT, you will get a digital file instead of an oil painting that you can hang on your wall.
Some Examples of Non-Fungible Tokens
As promised, here are a few examples to better illustrate what a non-fungible token is:
Death of the Old by Grimes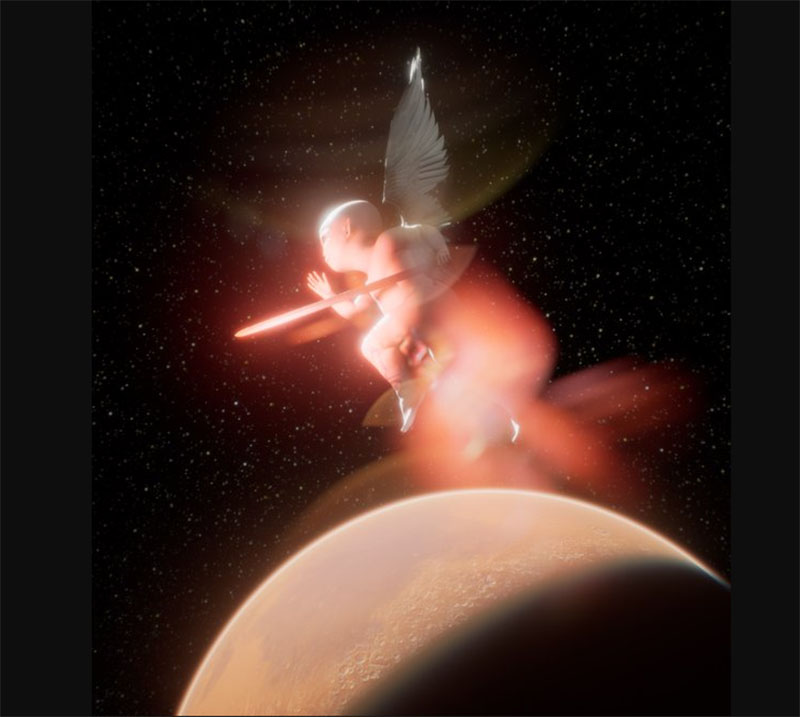 Image Source: Nifty Gateway
One of the fastest-selling NFT arts is the work done by the artist Grimes. Having sold approximately $6 million worth of digital art a day after putting them up for auction. The video below, entitled Death of the Old, has cherubs and glowing lights, went to the highest bidder for $388,938.00!
Jack Dorsey's First Tweet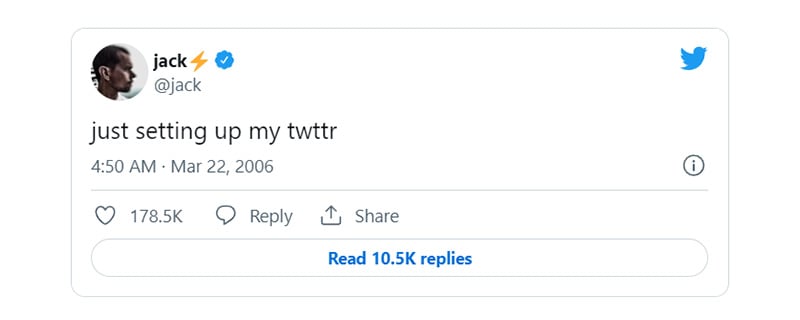 Image Source: Jack Dorsey Twitter
The first-ever tweet from Twitter CEO Jack Dorsey was sold as an NFT with a final bid of $2.9 million. It was published on March 21, 2006, with more than 120,000 shares and 160,000 likes. Crypto entrepreneur Sina Estavi was the winning bidder and is reselling it and donate a portion to charity.
The EverLasting Beautiful by FEWOCiOUS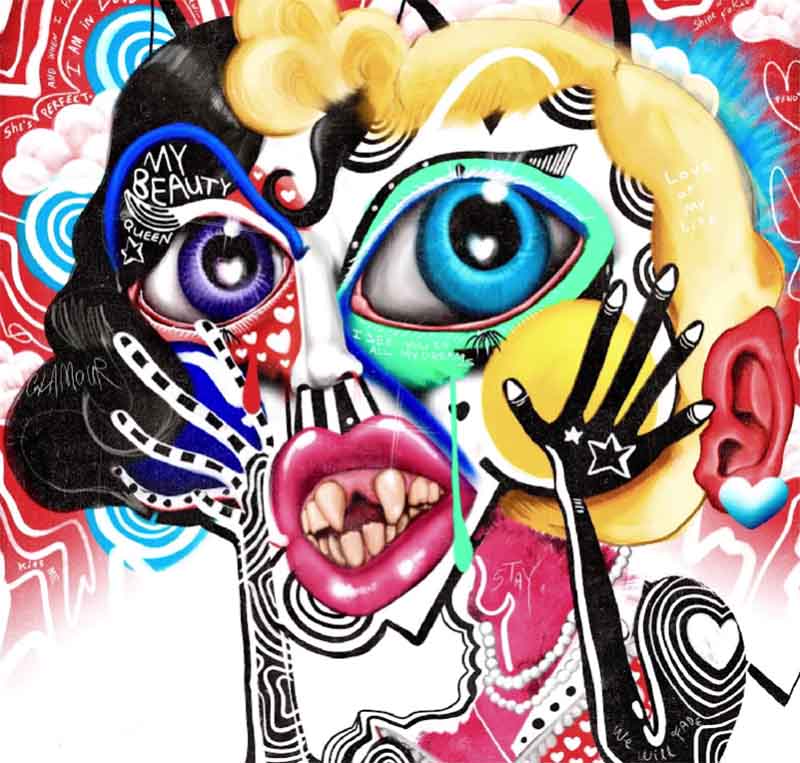 Image Source: FEWOCiOUS Website
Before hitting it big time with this NFT, FEWOCiOUS was basking under his semi-anonymity as an 18-year-old artist from Las Vegas. After learning about NFT art which a friend suggested, he started creating unique digital art pieces, this one being the most expensive at $550,000.
Non-Stop Nyan Cat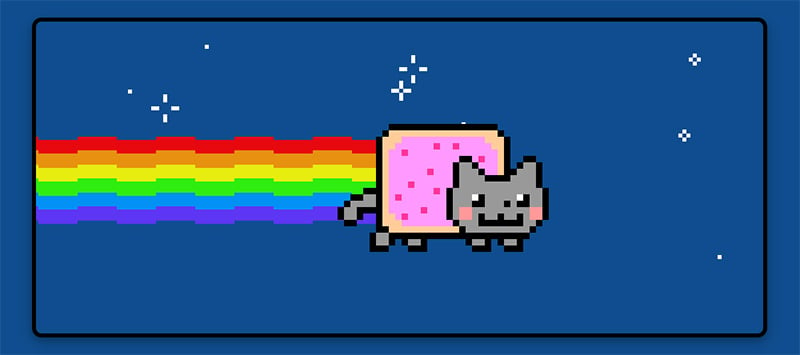 Image Source: Nyan Cat Website
This cute-as-a-button GIF of a running cat, Nyan Cat, from 2011 has been sold for $600,000. It is an animation of a cat with a pop tart body running on a loop with quirky music that you can use to annoy people. The theme features a Japanese pop song with the word Meow in it.
Heir to the Throne: An NFT in Celebration of Jay-Z's Reasonable Doubt 25th Anniversary by Derrick Adams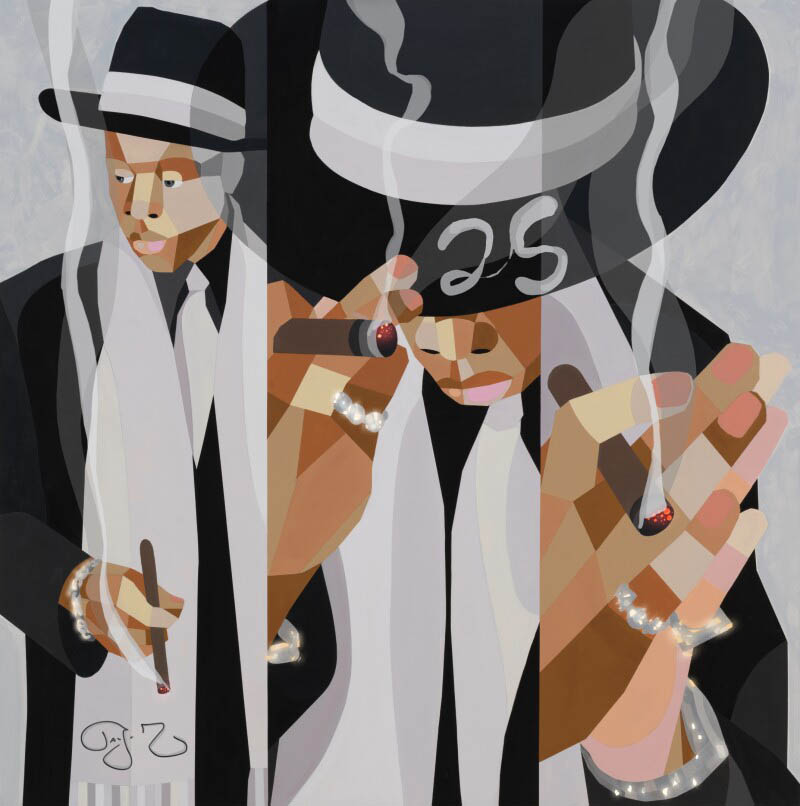 Image Source: Sotheby's
In commemoration of Jay-Z's debut studio album "Reasonable Doubt," which turned 25 years in June of 2021, visual artist Derrick Adams created this NFT. It was auctioned at Sotheby's and was a successful sale as the NFT fetched $139,000.
How Can I Buy NFTs?
If you're interested in trading NFTs or creating one (the proper term is minting), here's what you should do:
Go to an NFT Marketplace – Check out NFT marketplaces and find one you like. Some of the most popular are Mintable, Rarible, and Opensea
Get a crypto wallet – you will connect this to your NFT marketplace account to store cryptocurrencies that you will use in your transactions
Browse your NFT marketplace's collections – find an NFT that you'd like to buy or place a bid for
Pay for your NFT – you can either pay for an NFT with cryptocurrencies (ETH being the most common) or any other mode of payment
Sell or hold – you now have the option to resell your NFT or wait for it to increase in value
Are Non-Fungible Tokens Safe?
When explaining what is a non-fungible token, you'll always see blockchain technology in almost the same sentence. It's because this is where NFTs are stored the same way that cryptocurrencies are. So to answer the question, it is generally safe as the distributed nature of blockchain makes hacking difficult.
With that being said, always tread with caution as you would in any investment involving money. One of the risks you may face trading them is probably when the platform that hosts your NFT goes out of business. This will mean that you could possibly lose access to your NFT.
Final Thoughts
While NFTs have transformed many digital artists' lives because of humongous sales, it isn't a guarantee that you'll also strike it rich. However, NFT has become popular because it gives artists of all kinds and genres the chance to sell their art at prices they want. Plus, non-artists can also cash in by trading NFTs the same way they do with stocks and cryptos.