Technology advances rapidly that almost every aspect of our lives has gone digital. An excellent example of this is the advent of NFTs. We now see artists and other creators find homes in a new platform taking the world by storm: NFT marketplaces. Let's find out more about two of the most popular: Mintable vs Opensea.
What is Mintable?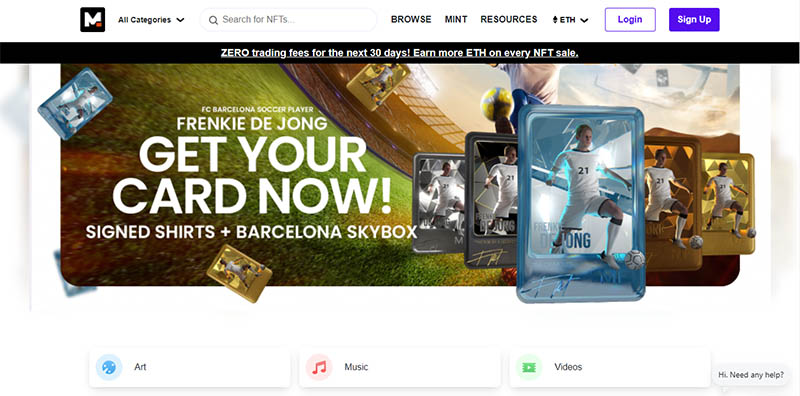 A platform built on the Ethereum blockchain technology, Mintable is a trusted marketplace to trade NFTs (non-fungible tokens). Users can create, buy, sell, and hold NFTs and other digital collectibles in a variety of categories such as art, music, videos, ebooks, and many more. Launched in 2018, it was created primarily as an alternative to Opensea, which we will discuss later in the article.
Mintable claims to be user-friendly, which means that this is the ideal platform for beginners in the NFT and cryptocurrency landscape. The name Mintable most probably came from the fact that this platform allows users to "mint" their creations to get them ready for trading.
For those who don't have a clue what minting is, it is the process of verifying information on the blockchain. This is the method that converts a digital asset into one that's stored on the blockchain, making it ready to be bought and sold. In short, minting turns digital assets into commodities.
If you're new to minting your artwork, Mintable is the best place to do it, as one of its best features is its easy-to-use minting process. After minting, you can readily sell your NFTs on the platform. The central concept of Mintable is to trade NFTs and take a commission from transaction fees.
In a nutshell, the process is pretty straightforward: upload your content, write a product description, select a price you want to sell it for, and the app will issue it as an ERC-721 token on the Ethereum blockchain. Depending on the type of transaction, Mintable takes 2.5%, 5%, or 10% marketplace fees.
To start your Mintable journey, you need to create an account. After this, you need to connect your crypto wallets such as MetaMask, Trust Wallet, or Rainbow. You can now buy an NFT using your crypto wallet or credit card to pay for your purchase. If selling, all you need to do is list your item for sale.
Pros
Simple and user-friendly processes
Easy NFT creation without gas
Allows creators to set the royalties they want
A pro version gives you access to advertising tools, stores, and 24/7 customer support
Multiple payment options (cryptocurrencies, credit cards, bank transfer, PayPal)
Registration is free, and anyone can use the platform (no expertise required)
Free listings are available
Cons
Supported currencies are fewer than in other marketplaces
No mobile app
It offers no affiliate programs
What is Opensea?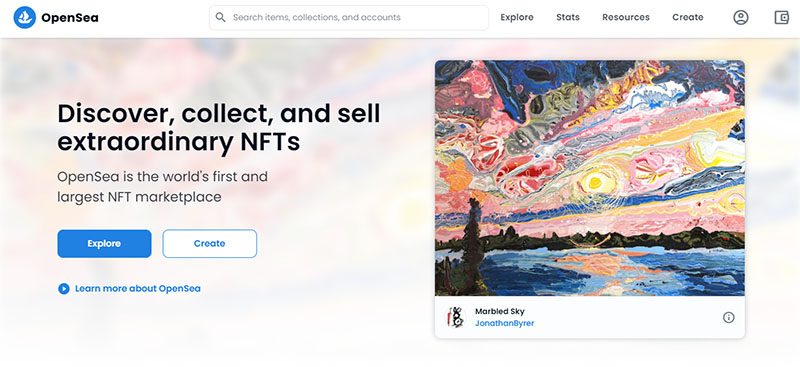 Founded in 2017, Opensea is the first and largest marketplace for trading NFTs and other crypto collectibles. It is a peer-to-peer platform where two individuals can trade directly with each other. It means that the intermediary entity is taken out of the equation.
Opensea is developed using the NFT technology, which is decentralized and home to over 200 categories of digital collectibles. It is secured by the Ethereum blockchain, which means that all the computers on the network contribute a large amount of computing power. These do the job of verifying and securing every transaction, making it impossible for third parties to interfere.
When you place Mintable vs Opensea in a head-to-head challenge, you'll find many similarities and very few differences. Since Opensea has been around longer than Mintable, it's only natural that this platform has a broader range of investment options than Mintable. But judging from the basics, both these platforms offer excellent opportunities for minting, buying, selling, holding, and trading NFTs and many other crypto collectibles.
Initially, Opensea was started as a place to sell the cute game about cats called CryptoKitties. In a matter of months, the project skyrocketed with over $10 million in sales. Project after project came to being, and soon enough, Opensea grew to what it is today, a $13.3 billion industry as of early 2022.
As with Mintable, you need to create your account on Opensea to trade NFTs. First, you need to connect your crypto wallet and make sure it has funds. Once you do this, you can now create an NFT by minting it, buying, or selling one.
One of Opensea's best features is its low transaction fees. It only needs to take a 2.5% commission on the price of the NFT you trade (no service charge for buyers).
Pros
Has the widest selection of NFT collectibles and items
Allows you to mint with zero gas fee with its Collection Manager feature
Lets you choose royalties of up to 10%
Buyers are allowed to make secondary sells
Has over 150 payment options
Has a mobile app for iOs users
It offers a high level of security for every transaction
Cons
Customer support is very limited
Low royalty rates than Mintable and other NFT marketplaces
Mintable vs Opensea: Who Wins?

NFT marketplaces boomed as many artists and creators found selling their wares on them profitable. Here, they can sell their creations at competitive (sometimes even hefty) prices. And hearing news about creators' lives suddenly changing because of a single NFT makes them scramble to get in on the good deals.
The bigger question is, what should they choose between Mintable vs Opensea. The answer will depend on what you plan to do on the platform. If your goal is to get high royalties for your work, then Mintable is the better option. If you want to try your hand at NFT trading and enjoy lower transaction fees, then go for Opensea.
Final Thoughts
While both platforms offer something different, they are excellent options to consider if you want to create, buy, sell, or trade NFTs. As you can see from above, they each have their ups and downs. Finding out which is the best choice will depend on user preference and your goals for selecting a platform.