In today's digital age, having a visually appealing website is crucial for businesses to stand out and attract customers. However, not everyone has the skills or resources to design a professional-looking website themselves. Fortunately, there are countless website graphic designers available online who can create stunning websites tailored to your specific needs.
Below are the top places to find one:
1. Fiverr
One of the most popular online marketplaces around, Fiverr, has a variety of talents available. It is home to thousands of experienced graphic designers from all over the world who specialize in creating unique and professional websites. You can browse a vast selection of portfolios and reviews to find a designer with the skills and experience you need.
Fiverr has a user-friendly interface that makes it easy to navigate and provides clear pricing and timelines. The platform lets you communicate with your prospect helping streamline the collaboration process to ensure you get the website design you want.
2. Twine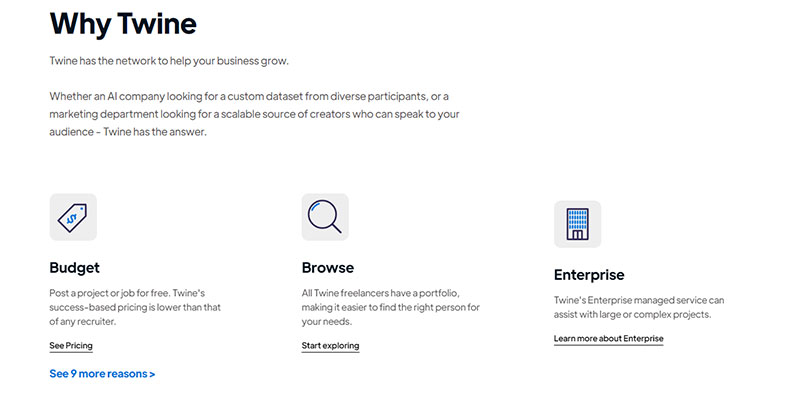 A freelance platform that connects businesses with creative professionals, Twine also has a multitude of website graphic designers on its roster. One of the advantages of using Twine is its focus on quality. It carefully curates its pool of freelancers, ensuring that only the best and most skilled designers are available to clients.
The platform provides tools for tracking the progress of your project and communicating with your chosen designer. This helps ensure that the project stays on track and that you receive a website design that meets your specifications.
3. LinkedIn ProFinder

With a focus on professionalism and quality, LinkedIn ProFinder is a great option for businesses looking for a website graphic designer. Freelancers on ProFinder undergo a rigorous vetting process. They must demonstrate a proven track record of success before they're accepted onto the platform.
This means you can be confident that the designer you choose from LinkedIn ProFinder will have the expertise and experience. The platform integrates with LinkedIn's professional networking site. This lets you view a designer's LinkedIn profile and see their professional experience, recommendations, and other relevant information.
4. Coroflot Freelance Design Hotline

Created by designers for designers, Coroflot is another excellent way for businesses to find website graphic designers. It allows you to browse designer portfolios, reviews, and project history to find a designer that fits your needs. It also lets you communicate directly with them through the platform.
In addition, Coroflot offers project management tools to help you manage the design process and ensure that the project is completed on time and within budget. As all designers on the platform are vetted for their design expertise and experience, you can be sure to have access to knowledgeable and highly skilled designers.
5. Authentic Jobs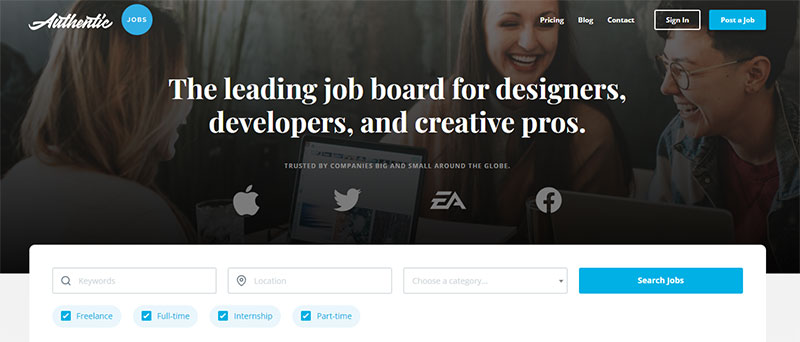 Specializing in connecting businesses with designers and creative professionals, Authentic Jobs provides a high chance you'll find the right fit for your brand. Only experienced designers and creative professionals are allowed to post on the platform. This means you can trust that the designers you find on Authentic Jobs will have the necessary skills and experience.
Another benefit of using Authentic Jobs is the platform's commitment to customer service. This helps businesses navigate the hiring process and find the right designer for their needs.
6. Freelancing Females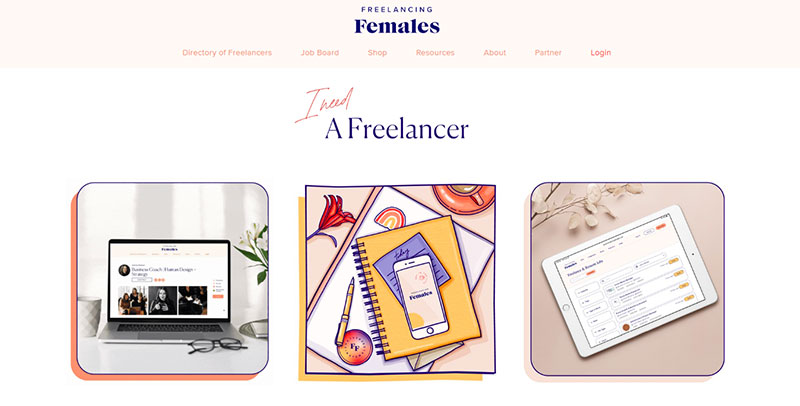 As its name suggests, Freelancing Females is a platform designed to find female freelancers. It is committed to promoting female freelancers and providing a supportive community for women in the freelance industry. If you want to have diversity and inclusivity in your business, this is the platform you need.
Moreover, Freelancing Females provides networking events and other business opportunities to interact with designers. It has many resources to help you find the right designer, including job listings and designer profiles. Plus, the network's talent has been thoroughly vetted, so each profile has been checked for accuracy.
7. Krop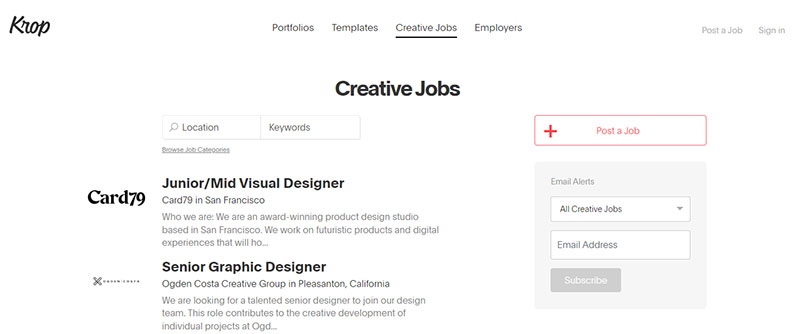 If you're looking for a seamless hiring experience, Krop is the ideal place to find that elusive website graphic designer. It is a versatile platform used by designers of all experience levels and businesses of all sizes to connect and collaborate. It may not be as popular as Fiverr or Behance, but it has an extensive job board that features a wide range of design talent from around the globe.
The platform features only highly skilled designers carefully selected for their expertise and experience. This ensures that you'll have access to some of the best website graphic designers available.
8. The Design Kids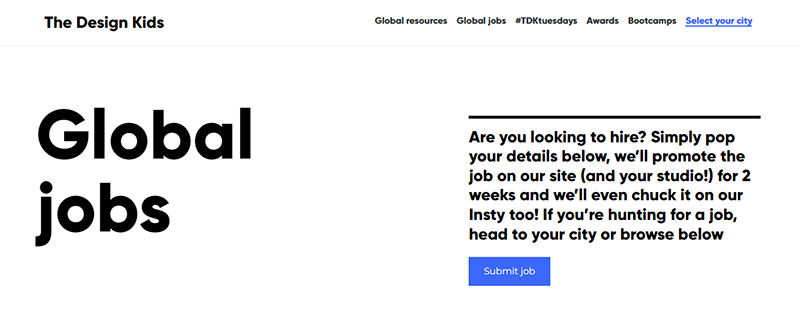 For small businesses or startups, The Design Kids is an excellent choice for finding a graphic designer for your website. This online resource holds thousands of student and graduate visual designer profiles. It is an ideal platform for hiring entry-level and upcoming designers or even internships.
This platform is particularly valuable for businesses seeking a unique and creative design perspective. This is because many designers on The Design Kids are early in their careers and have a fresh and innovative approach to design.
9. Behance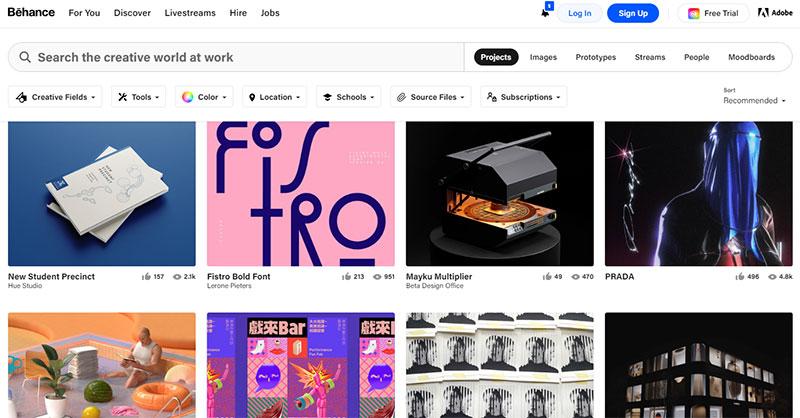 An online portfolio website, Behance is home to a community of over 18 million creatives. This includes designers, artists, photographers, and more, making it easy to find the right website graphic designer for your specific needs.
Also, Behance is an excellent resource for businesses looking for inspiration and ideas for their website design. The platform showcases some of the most innovative and creative design work from around the world, making it easy to find new and unique design approaches that can help your website stand out from the crowd.
10. Penji

While all of the above platforms will have you searching for the right fit, Penji's approach is differently unique. When you work with us, all you need to do is write your project brief and send your request through our dashboard. The system will find the most suitable website graphic designer for your brand.
After this, you'll wait for the first draft to be completed, typically within 24 to 48 hours, depending on the project's complexity. No more browsing through resumes and portfolios or vetting and interviewing. Penji has done that for you to let you focus on what matters most in your business.
Final Thoughts
Finding the right website graphic designer need not be tedious. This list of the best places to find the right candidate will make it easier for you. However, to make it even easier and faster, work with us. We only hire the top 2% of designers to assure you that our team is the best one you'll find. Watch our demo video here to know more.
Or better yet, click or tap on this link to get our talented designers working for you today!