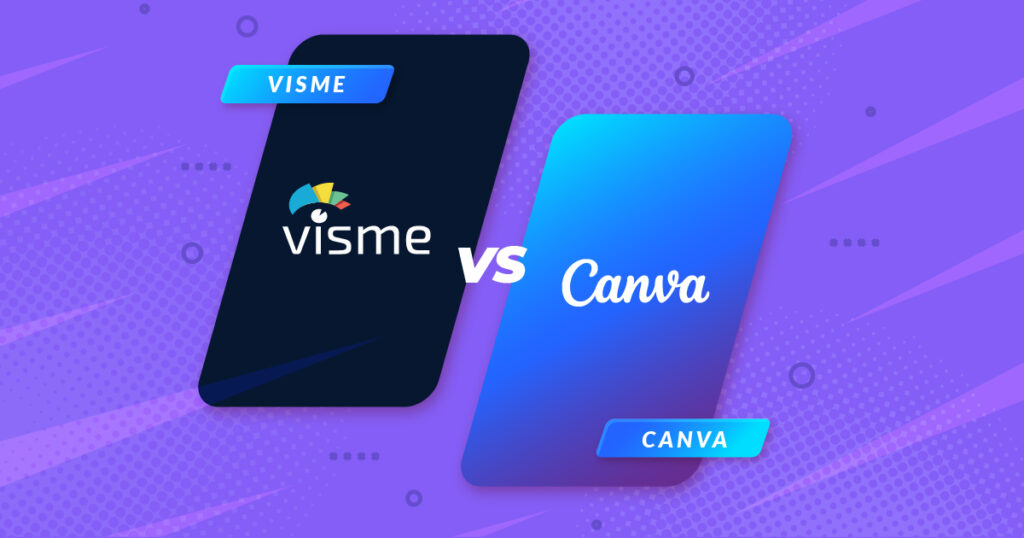 Are you shopping for a DIY graphic design tool that can do it all? Comparing Visme vs Canva for your business isn't super straightforward – 1) because the platforms are so similar, and 2) because you have to narrow down what's most important to you. For example:
Do you want the simplest tool?
Do you want a tool with the most free designs?
Or maybe you want the tool that's best for collaboration?
Much of this will be a matter of opinion, as both tools are pretty user-friendly and offer a lot. You don't have to worry about being design-savvy with either Canva or Visme. All the heavy lifting is done for you.
Shared Features
Let's start with basic features. When comparing Visme vs Canva, there's obviously plenty of overlap. On both platforms, you'll find an intuitive interface that allows you to pick up where you left off or start a brand new design.
Drag & Drop Editing
If you're looking for a reliable drag-and-drop design tool, both Visme and Canva will deliver.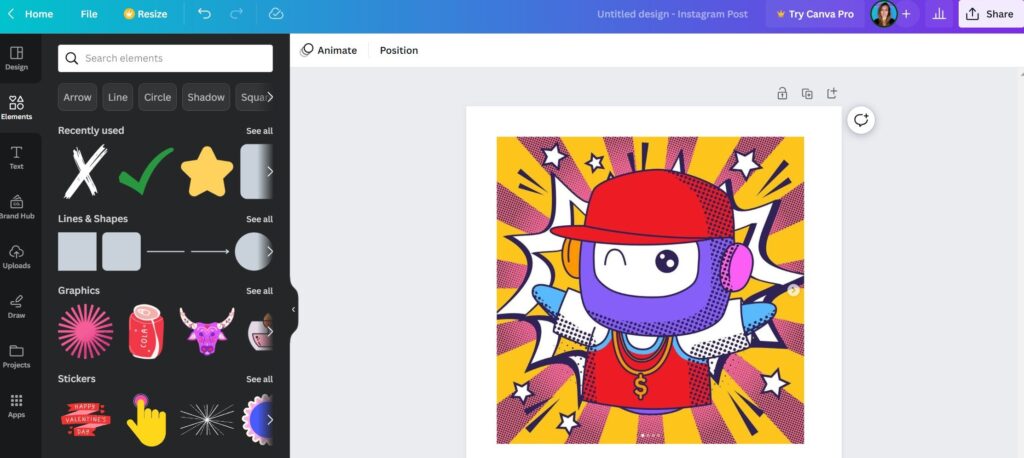 Both Visme and Canva have a menu on the lefthand side, but the grouping of features is unique. On the far left of Canva (above), you'll find an Elements section which includes just about anything you might want to use for a design: graphics, tables, photos, videos, and even audio. Canva's Brand Hub is a place where you can store visual assets like logos, colors, templates, and presentations. You can store projects and import media in the Upload section.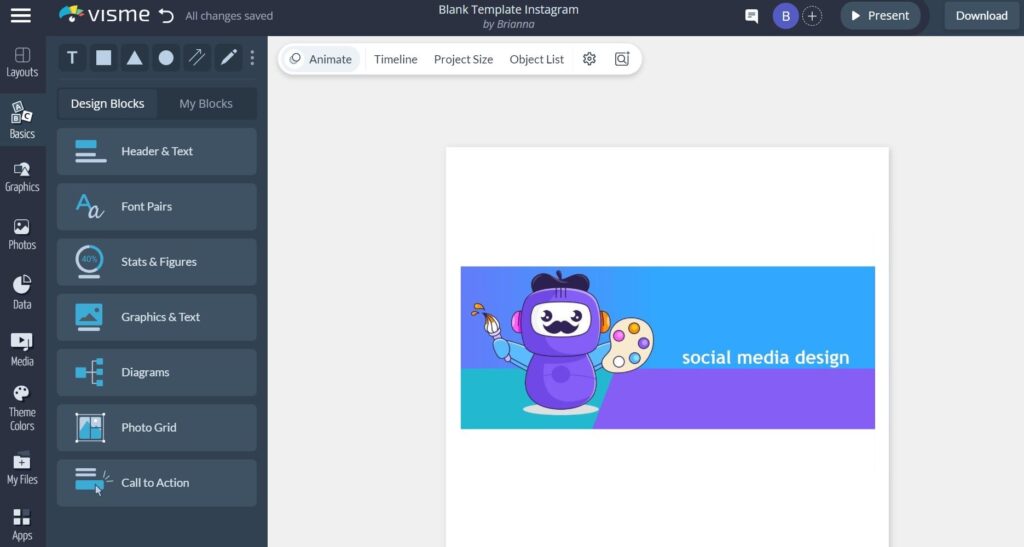 Upon opening a blank template in Visme (above), you'll see a similar dashboard. Visme's menu is broken up a little differently, and you'll noticed it's a bit less creative and more business-oriented (eg. the Call-to-Action, Diagrams, and Stats & Figures sections). While Canva is like an explosion of creative options, Visme is a bit more refined. Even their graphics section is more uniform, but still has a plethora of options.
Both dashboards house everything you need to start creating designs right away.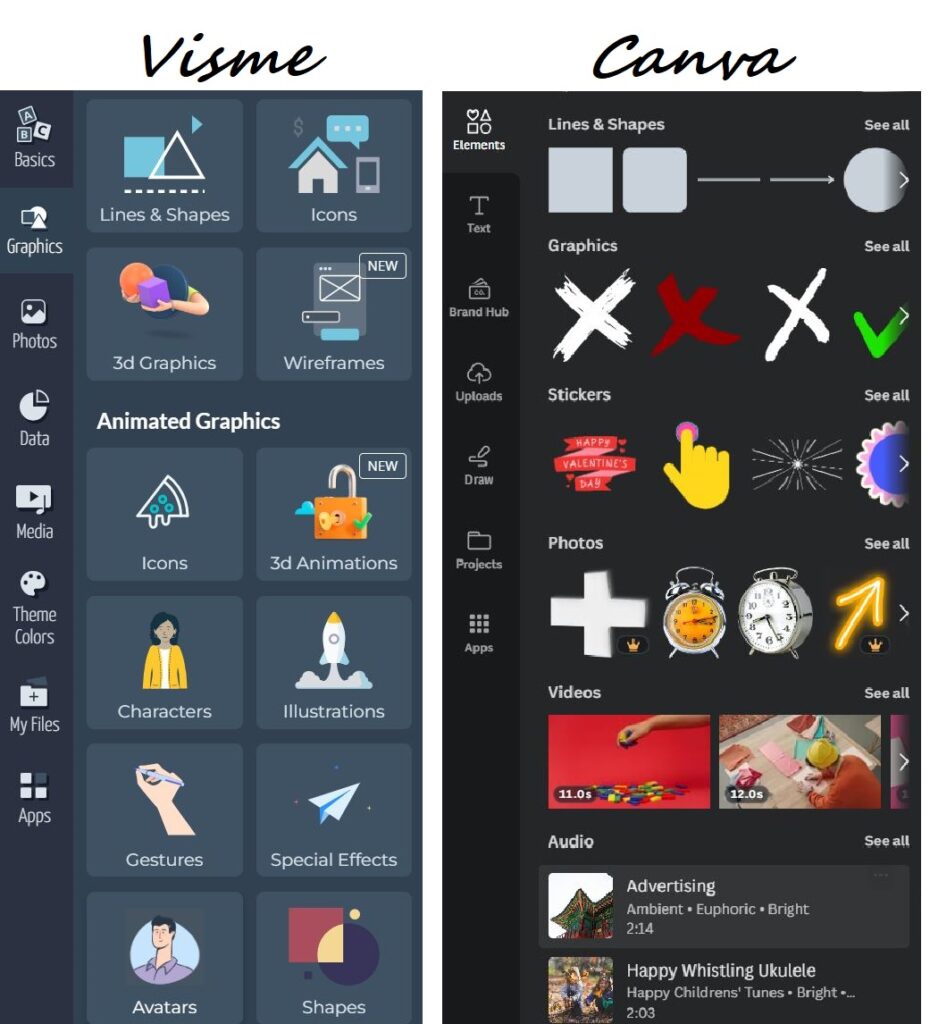 In Visme, the far-left menu splits elements into graphics, photos, and media. So while Visme segregates types of elements, Canva has them packed in one place with a search bar that helps you locate things faster.
Collaboration
Both of these platforms provide space for collaboration with teammates. With Canva and Visme, you can:
send designs to teammates by email

give edit or view access

engage in real-time collaboration with others
Tired of DIY?
Outsource all your design needs to the pros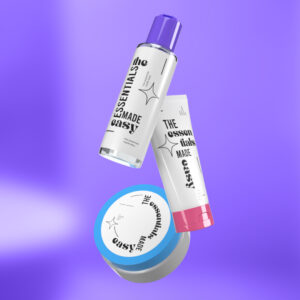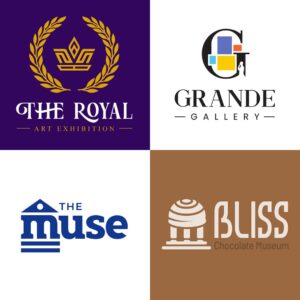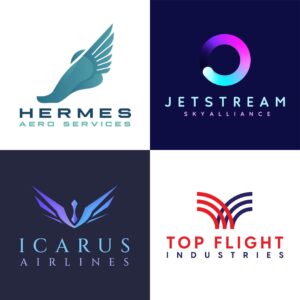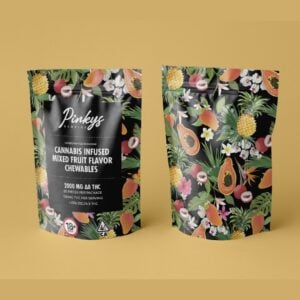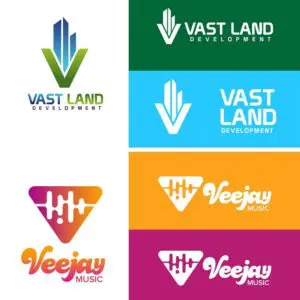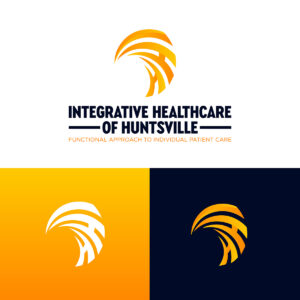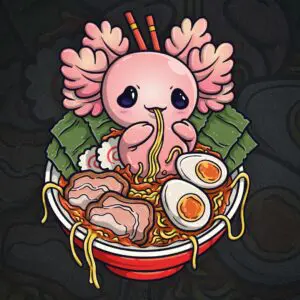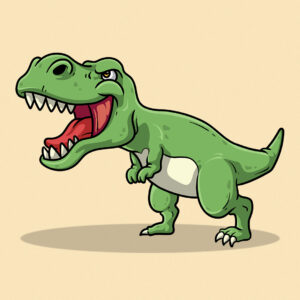 Visme and Canva offer point-and-click comments in which you can tag other team members. Select who can view, edit, or comment on projects and then invite them to join in (via link or email). Both platforms also offer digital whiteboards where teams can visually brainstorm and share ideas in real-time.
Unique Features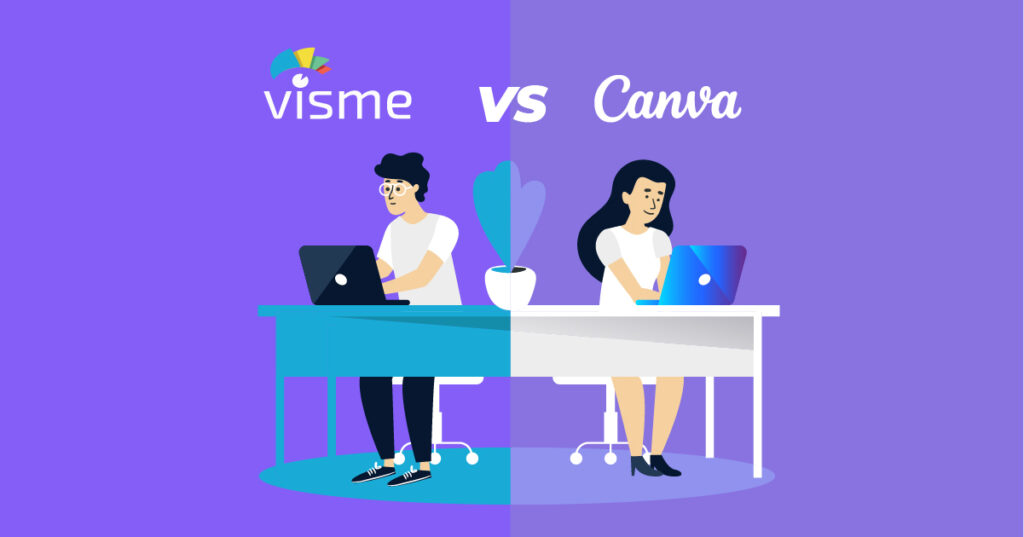 Here's where the bigger differences come in. Canva offers over 250,000 templates on its free plan and over 610,000 on its first tier paid plan. Meanwhile Visme offers around 10,000 templates. In this case, you're still getting a load of templates, but if you want your content to be original, you might prefer Canva's larger selection (eg. less chance that your competitors are using the same templates as you). But if you struggle with analysis paralysis, extra options may just weigh you down.
Visme shines in the area of data visualization. Of course, you can still create data visualizations in Canva, it's just not the platform's specialty.
Storage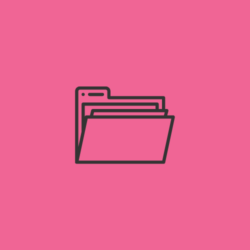 Canva gives you 5GB of cloud storage on its free plan, and 1TB on each of its paid plans. Once again, Canva defeats Visme by a landslide in this category. Visme offers just 100MB on its free plan. Its paid plans offer 250MB, 3GB, and 10-25GB as the tiers go up.
Of course, if you want to use a free plan, you can get around the storage issue by simply storing your media elsewhere – or not storing it at all (eg. once you post it on social media, that's that). If storage is important to you, this feature may be the dealbreaker. Assuming you store high-resolution images at about 5MB each, you could save around 1,000 images with 5GB of storage. If you have a lot of video or audio content, you might eat up space faster than most users.
Pricing

Above is Canva's annual pricing, which allows you to save about 16%. Their monthly cost is free for basic Canva, $12.99 for Canva Pro, and $14.99 for Canva Teams.
Visme is easily the pricier of the two, but some Visme users claim it's worth it for a higher quality tool. Visme's monthly pricing is free for basic, $29 for Starter, $59 for Pro, and custom pricing for Teams. Keep in mind, you'll pay half this price if you opt for Visme's annual pricing (seen below). So if you choose Visme and you're using it for more than a couple months, definitely pay annually. Your bank account will thank you.

Fortunately, you can try out both Canva and Visme's free versions and see which you like better. Canva offers a free trial for both its paid plans, so you have nothing to lose.
Software & Integrations
In the battle of Visme vs Canva, another big selling point of Canva is that it integrates with Facebook, Slack, Google photos, Mailchimp, and YouTube to name just a few. Visme can also be integrated with several apps including YouTube, Hubspot, Salesforce, and Zapier. But in this area, Canva is the clear winner, integrating with many more apps. Canva also offers interesting add-on apps for creating product mockups, image frames, QR code generators, and more. So if you like testing out design-related apps to enhance your content, Canva is like your personal candy store.
Canva runs on desktop for Windows, Mac, iOs, and Android.
Visme runs on Windows and Mac.
So if the ability to use a design tool on various types of software is vital to your productivity, you should lean toward Canva as a solution.
The Final Verdict: Visme vs Canva
The choice between Visme and Canva for a business depends on various factors, including specific needs, preferences, and budget considerations. Both of these tools have a ton of potential, but at the end of the day, Canva's accessibility can't be matched. If you're looking for a versatile design tool to help you create social media posts, logos, graphs, book covers, presentations, infographics, and more, Canva is an affordable solution.
Canva is known for its user-friendly interface and is often preferred by those who want a quick and intuitive design experience. Visme also offers ease of use but may have a steeper learning curve for more complex projects. If cost is no issue and you want to spend some time learning a more advanced interface with impressive data visualization features, Visme might be the right choice.
Want to see our comparison of Canva vs Adobe Express?
Done-for-You Designs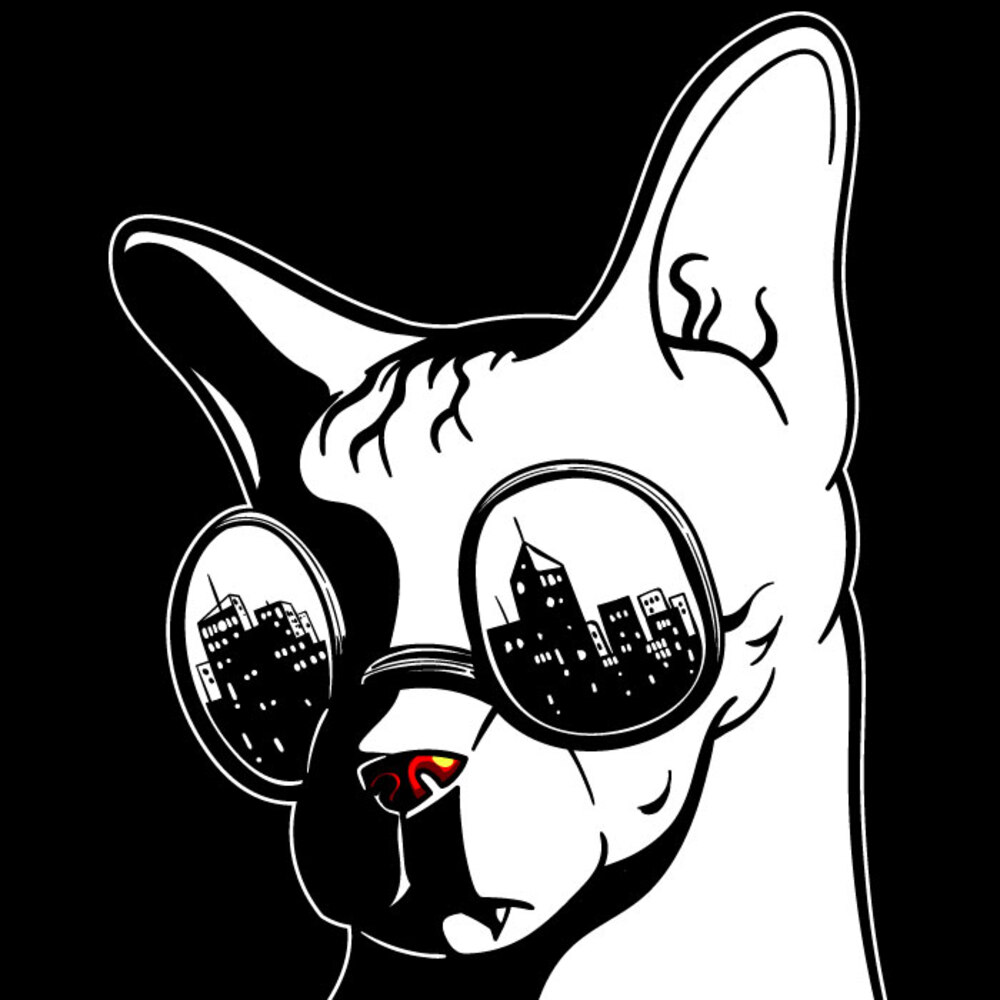 Do you ever wish you could outsource your design tasks to someone reliable and never have to DIY again?
Is cobbling together designs eating up all your time when you/your team have more important things to do?
If you're seeking a design solution that's better than DIY, more effective than freelancers, and cheaper than full-time designers, Penji is your dream come true. Get unlimited graphic designs for a flat monthly fee – totally customized! You can upgrade, downgrade, or cancel anytime to ensure your design budget is well spent.
With Penji's end-to-end design service, you can save time, streamline your design process, and confidently rely on us to pump out stunning graphics for your business all year long. Simply sign up and start putting in design requests today. See how unlimited graphic design works.