One of the most popular graphic design platforms, Canva lets everyone create stunning visuals with or without designing experience. You can make a wide selection of graphics, from social media posts to website building. If you're new to this platform, here's how to use Canva for beginners:
Step 1: Sign Up and Log In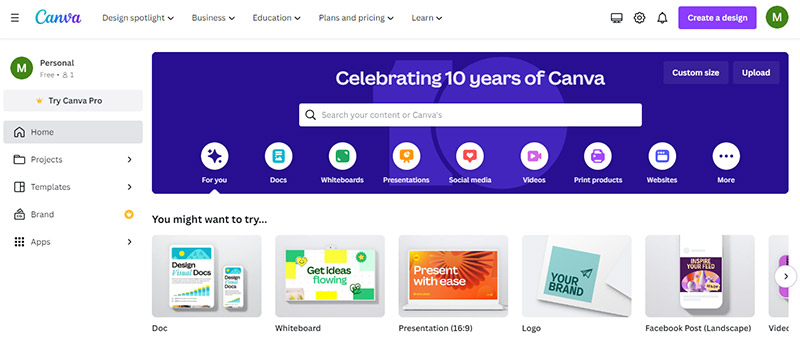 Go to the Canva website by clicking on this link. Create your account using the Sign Up tab in the upper right corner. You can use your email address or any of your social media accounts. Follow the prompts, and log in to your account once you have signed up.
Step 2: Select Your Design Type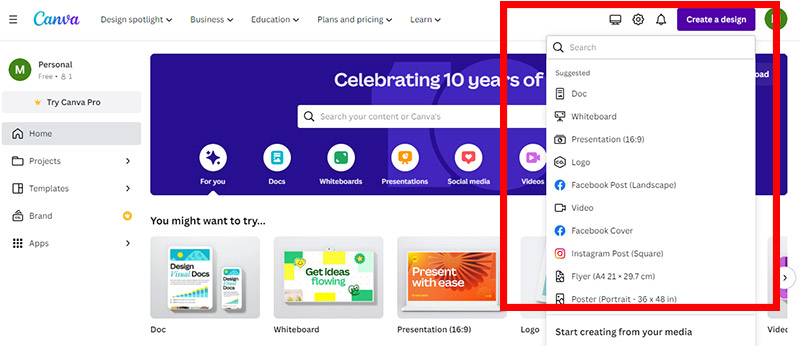 Once you log in, you'll find the Canva homepage. To start your project, follow these steps:
Find the Create a design button in the upper right-hand corner. Click on it to begin the design process.
You'll find a dropdown menu wherein you'll select the design type.
Pick your design subcategory by choosing from the list within that category.
Step 3: Choose Your Template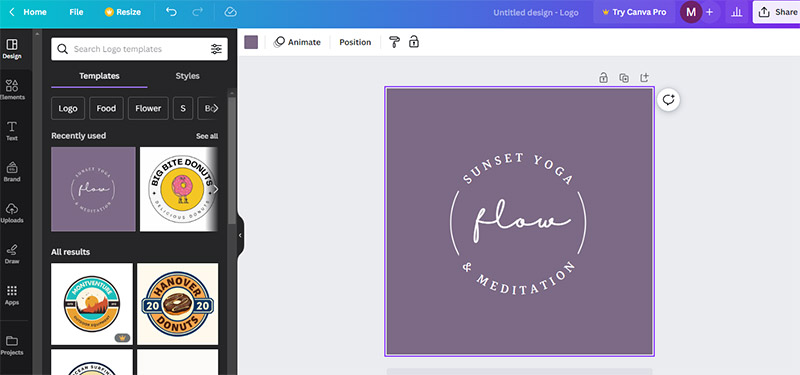 Canva has an extensive library of pre-designed templates for various projects. Here's what you should do:
View Categories: Canva's templates are categorized depending on the design purpose. Click on the category that your project is under.
Explore the subcategories: within each category are subcategories you can choose from.
Preview thumbnails: you'll find many thumbnails or templates within a subcategory. Scan through them to find one that you want to work with.
Use the search bar: you can also specify a design or style by using the search bar. Type in what you're looking for and find the matching templates. Once you find a template, click on it to open it in the Canva editor.
Customize the template: you can now start customizing the template to suit your preferences. You can edit every part of the template, such as the colors, texts, images, and more.
Step 4: Customize Your Design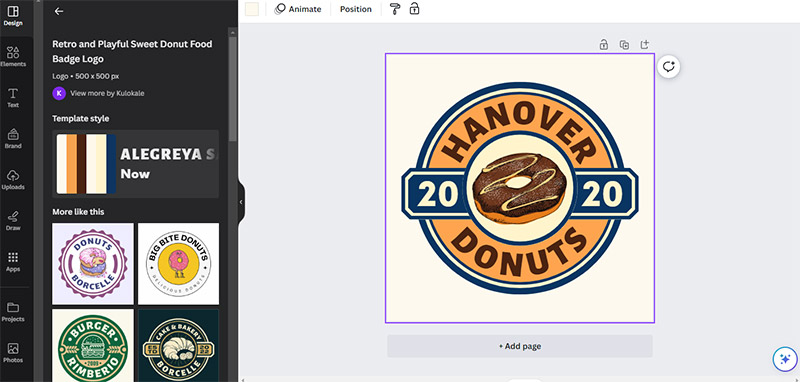 Now that you're inside the Canva editor and have found a template, you can begin customizing your design. Here's what to do:
Explore the Canva Editor
Left Sidebar: you'll find a vertical sidebar with options that include Elements, Text, Brand, Uploads, etc. Use these to modify your design.
Canvas area: the center part where you'll create your design.
Toolbar: the toolbar at the top offers options for editing your design.
The Editing Elements
Selecting elements: click on an element within the template to select it. This can be an image, a text box, or an icon to select it for editing.
Modifying elements: when you select an element, you can modify them using these tools. After clicking on the text box, you can edit it simply by typing.
Moving elements: click on an element to drag or reposition it within the canvas.
How to Add New Elements
Access "Elements": click the Elements tab in the left sidebar.
Browse categories: choose from Shapes, Icons, Illustrations, and others.
Add elements: click on an element to add it to your design. You can then modify it, reposition it, or customize it.
How to Edit Text
Text customization: click on the text box, then delete or modify the text.
Text formatting: use the top toolbar to format your text. You can also edit, resize, or change the font colors here.
Step 5: Upload Your Images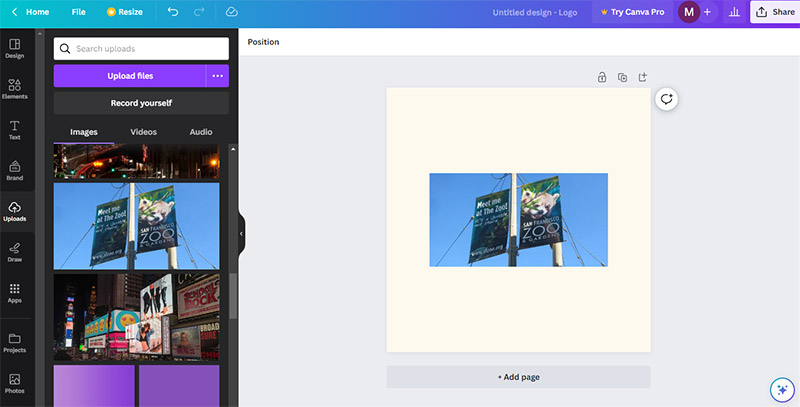 You can also use your own images for your design. To do this, follow these steps:
Click on "Uploads": on the left sidebar, access Uploads.
Upload your photos: click on Upload files or Record yourself, then choose your images from your device or take a video of yourself.
Add the image to your design: drag and drop your uploaded image onto your design. Resize and reposition as needed.
Step 6: Edit and Arrange the Design Elements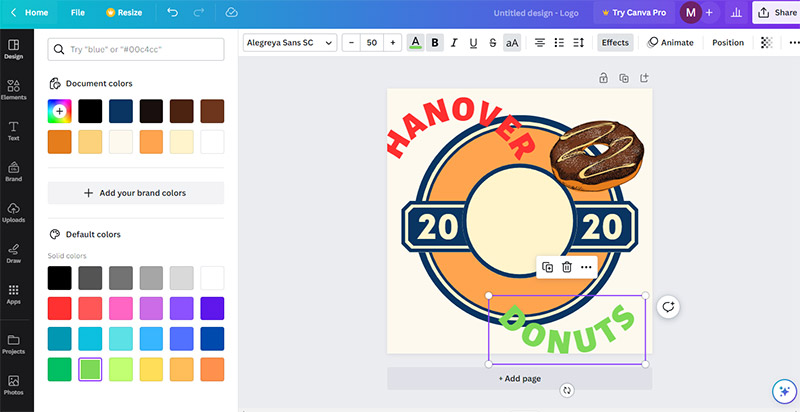 Move elements around to find the best layout and edits. The following can help you:
Position: drag the elements around until you find the best location.
Edit: click on an element to access the editing options at the top toolbar.
Image edit: adjust filters, brightness, or transparency.
Text style: edit the font, size, color, or add effects to the text boxes.
Customize shapes: change shape properties, gradients, colors, and more.
Step 7: Preview and Save

Once you are satisfied with your design, you can now preview it. Follow these steps:
Preview: click Preview to see your design before finalizing it.
Download: click Download if you're happy with the design.
File Type: choose your file type (PNG or PDF).
Quality: choose from standard or high-quality.
Save: click Download to save your design.
Step 8: Share Your Design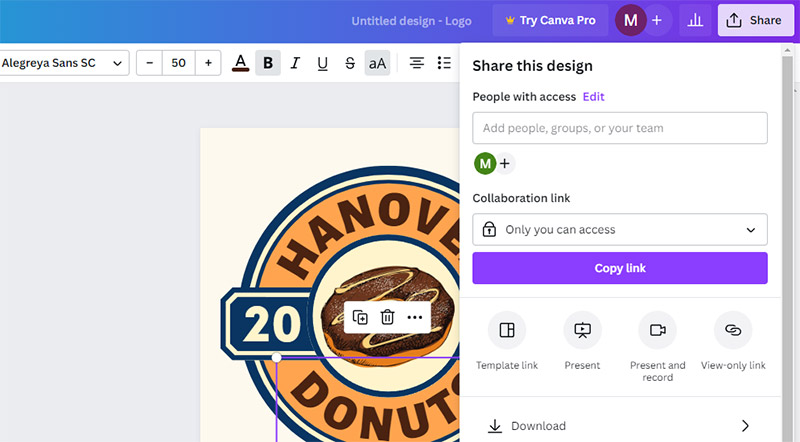 After you finalize your design, it's time to show it to the world. Click on the Share button and pick your sharing method. You can share it via email, social media, or by generating a link.
Final Thoughts
This how to use Canva for beginners guide will help you start designing your graphics quickly and easily. It can be an enjoyable experience as you explore and experiment with colors, fonts, shapes, and many other design elements. However, there's always Penji to create all your graphic design assets for you.
All you need to do is write your project brief; our talented designers will handle it. Click on this link to watch our demo video, and click here to get the design started.