The active mobile social media population as of October 2020 is now at 4.14 billion users globally, according to Statista. This places high importance on social media ads designs. There is definitely a strong correlation between this type of ads and conversions.
When you create ads for social media, you're opening up to an audience that's bigger than any other platform. Sadly, it isn't just about creating ads. Your social media ads design has to make people pay attention and click.
Your ads should be the perfect blend of great visuals and substantial texts. If not, it's all a waste of time and resources. For this, you need professional graphic designs that are affordable and fast. That's where Penji comes in.
We are an on-demand design service that offers unlimited graphic design and revisions, all for a fixed monthly rate. Watch our demo video today to learn more.
The Importance of Marketing on Social Media
Social media has become a part of our daily lives. Because of this, it's hard to believe that many businesses still aren't taking advantage of it. A study conducted by Visual Objects, a portfolio website, found out that 40% of small businesses don't have social media accounts. This despite social media's accessibility and popularity.
If you're one of these businesses, it's high time you rethink your marketing strategy. This article will show you the importance of using social media for advertising. We'll also give you examples of the best social media ads design examples to get inspiration from.
Increasing Traffic
If you have a website and want to increase traffic quickly, use social media. Link your website to it and see how fast the word about your brand gets spread around. On the other hand, if you don't have a website, you need to get one ASAP.
Related Post: Find a Web Designer: The ONLY Places You Should be Looking
Product and Service Promotion
The real relationship between online shopping activities and the use of social media may be unclear. But one thing is for sure, social media paves the way for consumers to discover and learn about new products and services. Social media ads designs can be an excellent way for you to expose your brands to new leads.
Grow Brand Awareness
Marketers know for a fact that consumers buy based on trust. An Edelman study shows that 81% of consumers need to trust a brand before buying from them. When you build trust, your customers will reward you. And what better way to build trust than to create social media ads designs that speak to your audience.
Related Post: Key Social Media Questions To Ask To Really Get To Know Your Client
The Top Social Media Ads Designs
Now that we've learned how essential social media is for advertising and marketing, let's look at some examples.
Google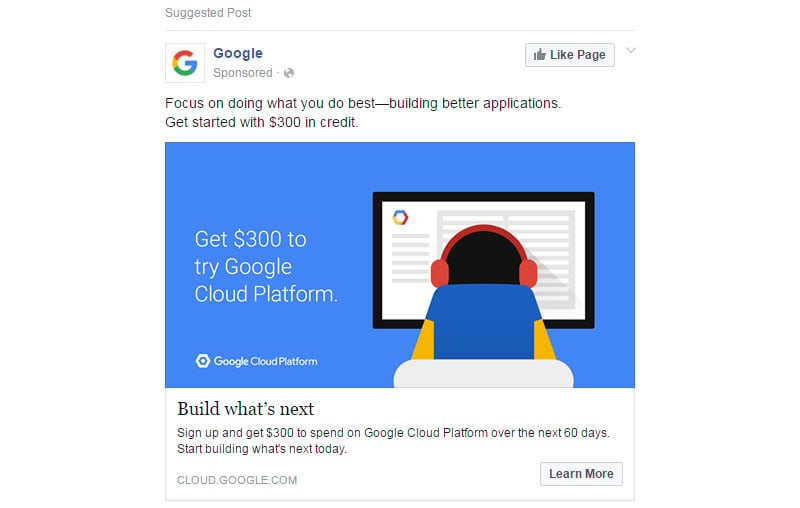 The Google ad you see below may seem plain. But it proves that Google is a social media ads design master. The tech giant uses colors, texts, and visual elements that clearly aligns with their identity.
The offer to try the service is so tempting that even non-cloud users will take notice. Its use of the color blue matches with Facebook's, resulting in eliciting positive emotions. Blue and green both signify the trust and stability that these companies are known for.
Intercom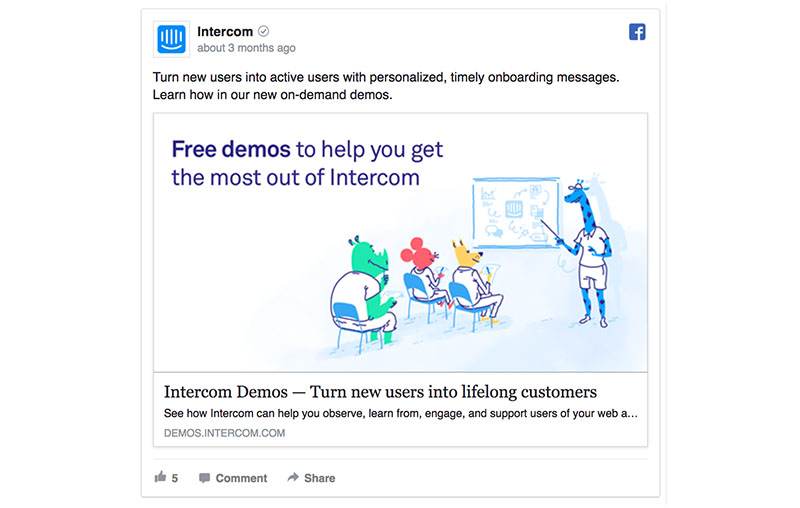 To introduce their new feature, Demo, messaging company Intercom turned to Facebook. The ad has a cute drawing of an animal speaking to an equally adorable group of creatures. Once the reader clicks on the ad, they'll be redirected to the company's landing page.
The New Yorker

A few years ago, The New Yorker published a Facebook video ad to promote their $6 subscription. The ad featured the outfit's signature style of using humor and smarts, as shown in the illustrations. Six seconds in its entirety, the video is fast-paced and required little to no texts, but it still offered a significant impact.
MOO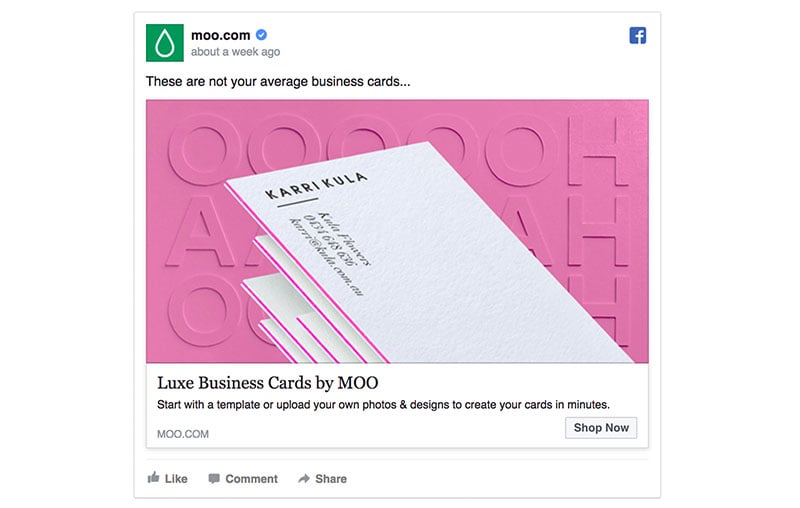 Online printing company MOO uses retargeting measures to make their ads more effective. But a look at their social media ads design will tell you that design-wise, they're doing a great job. The one below was about their business cards.
They chose to upsell and retarget their customers who availed of the offer. They showed them another ad, this time that of a notebook.
Deliveroo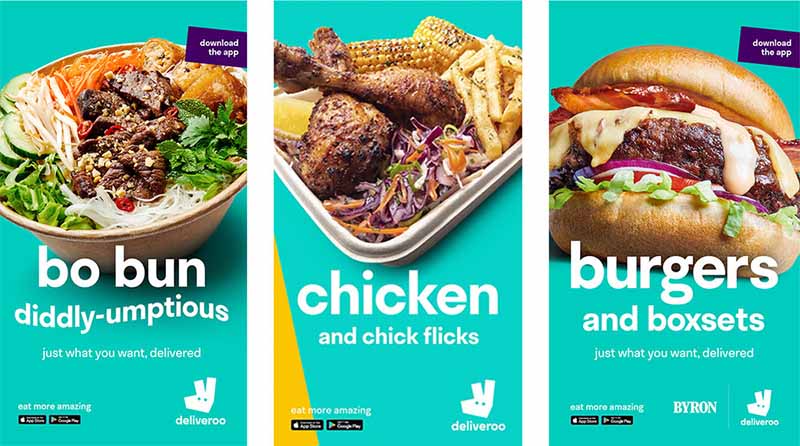 UK food delivery company Deliveroo's Instagram ads deserve their spot on this list. The ads use the company's colors so well, giving them a bright and sunshiny look and feel. The use of amazing photos is what gave the ads the irresistible appeal. The call-to-action buttons are clear that you can't possibly miss them.
Infusionsoft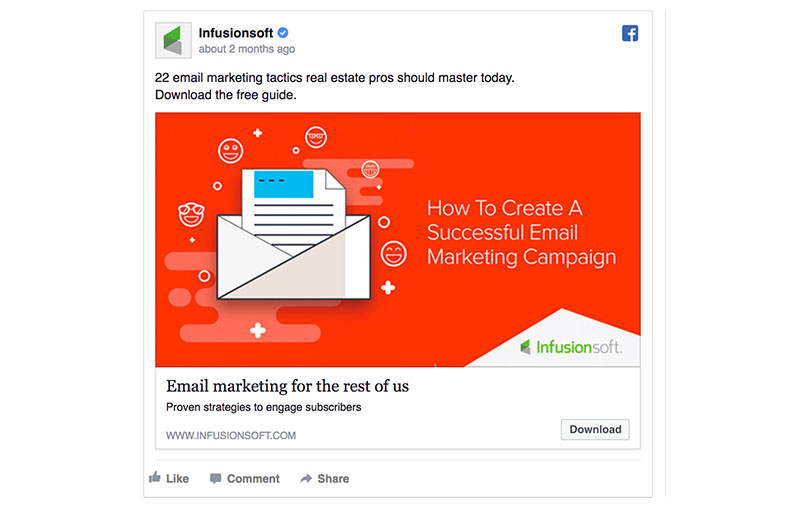 Facebook has different types of ads that businesses can use for a variety of goals and purposes. One of these is the Facebook Lead Ads, which you can see on this ad from Infusionsoft, now named Keap.
They offered an ebook, and viewers will have to click on the ad to get their copy. This strategy is ideal for SaaS companies and great for redirecting them to your website's landing page.
WeWork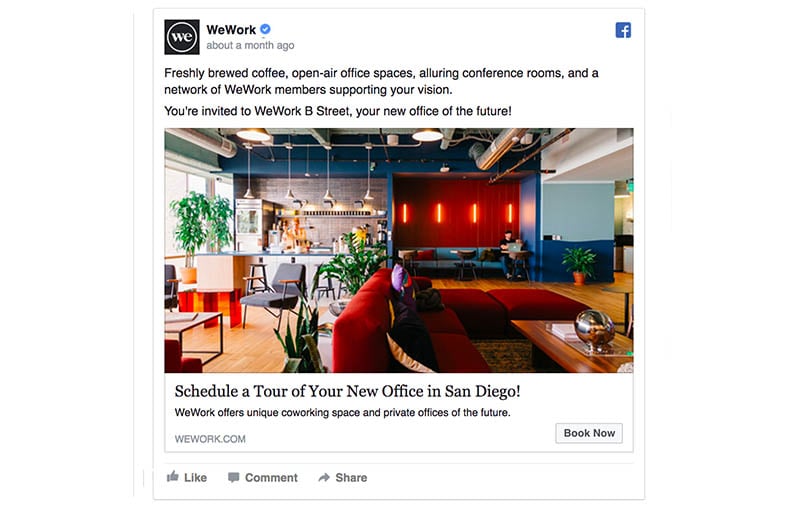 One of the beauties of social media marketing is that these platforms show consumers companies they may not be aware of. This Facebook ad from WeWork introduces you to the world of shared workspaces. The photograph of an office leaves little to the imagination. It is the right combination of a beautiful visual and compelling text.
Chipotle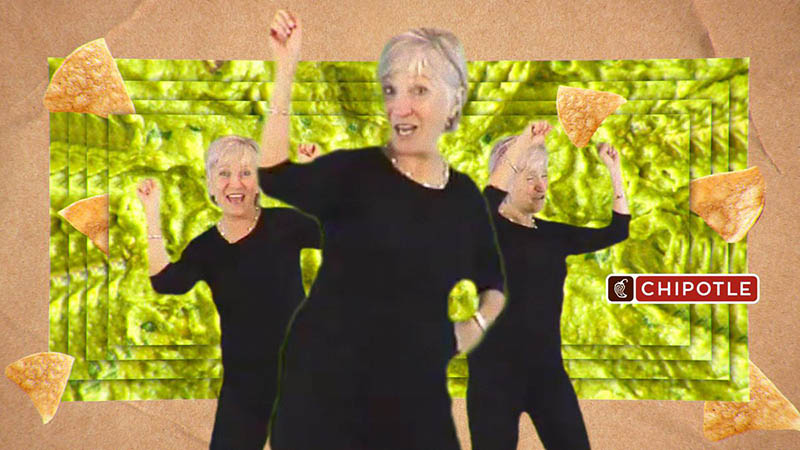 Knowing what social media platform your target audience hangs out in is crucial in placing ads. The majority of brands go to trusted ones such as Facebook or Instagram. Chipotle treaded the uncharted waters of TikTok, and they couldn't be happier. The video gained more than 230 million views.
GILT
Instagram lets businesses showcase multiple products with their ads. Its potential advertising reach is a whopping 849.3 million active users, says Hootsuite. Many companies advertise there using video ads. But a static one, when crafted beautifully, can also create impact. Take this Instagram ad from Gilt as an example of this:
The items in the ad were laid out in such a visually appealing way. The colors brown and blue complement each other well, making the ad stand out from the rest.
JustFab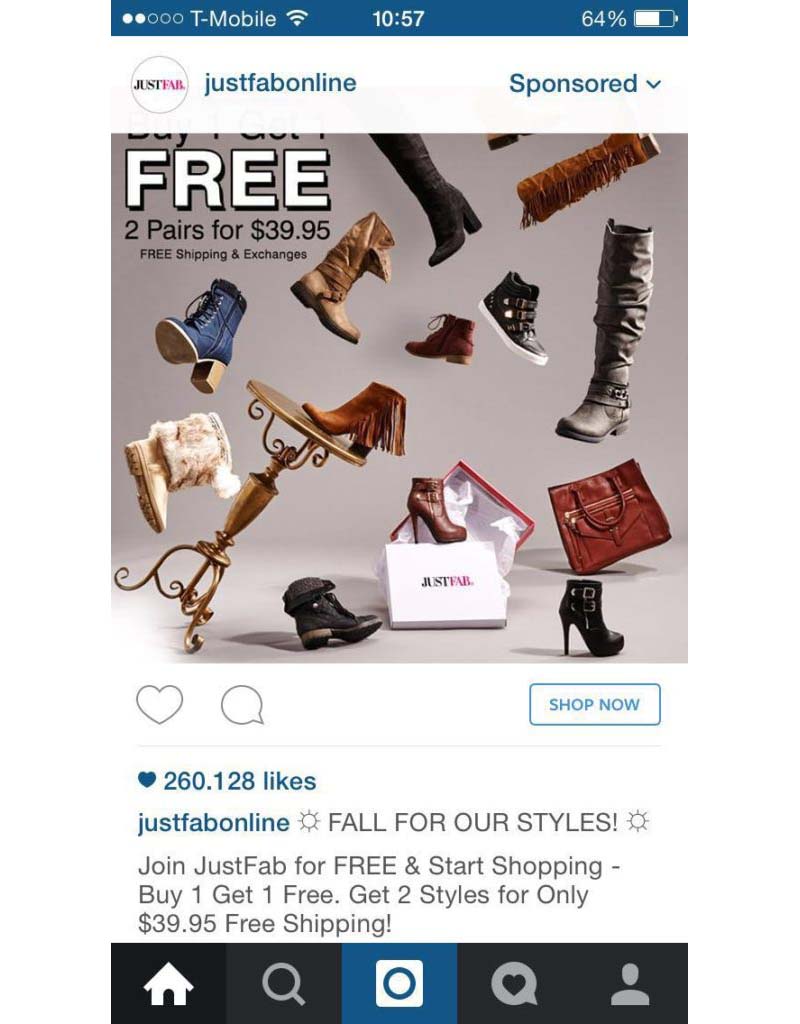 For the fall season, JustFab published the ad below on Instagram. It is cleverly designed as the shoes are falling and are being scattered throughout the layout. This causes the eye to go from one shoe to the next, thus, scanning the whole ad.
Also, the word free is written boldly, that it's impossible to miss. The offer of getting another pair for free is just too tempting to ignore.
Athos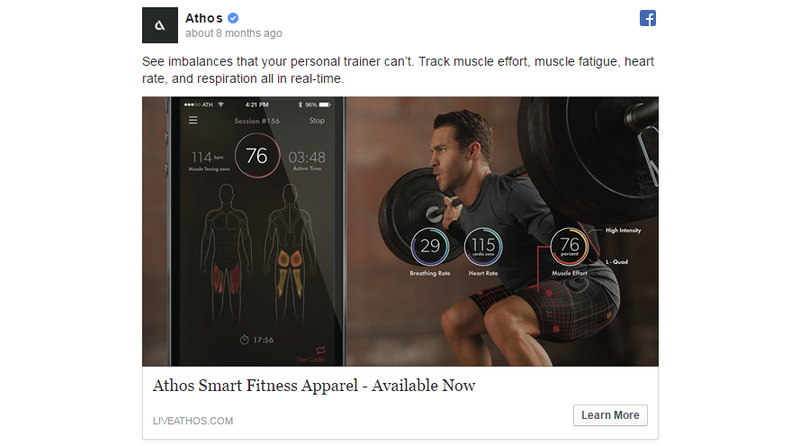 With compelling copy and engaging images of the app and the apparel, Athos created a social media ads design worth emulating. It shows how the use of their products and app can help you get the best workout.
Apple Music

This ad from Apple Music is the height of simplicity and straightforwardness. Their 60 million songs offered ad-free and written in white text is highlighted against the black background. Their use of neon hues for the images makes it more appealing.
This ad, released on TikTok, proves that you don't need to spend a ton of money creating one. Social media ads design need not be elaborate to get people to notice it. Apple Music included only what's essential, and with a catchy tune, it's all they needed to be effective.
Shopify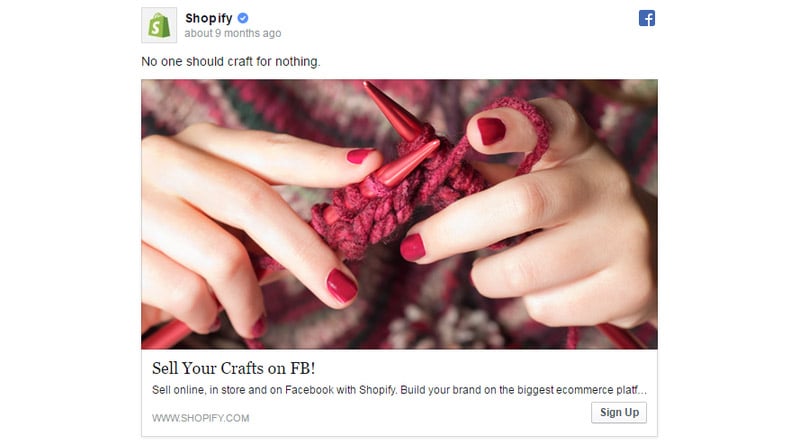 This Shopify Facebook ad clearly shows that the eCommerce platform knows its audience exceptionally well. The caption, "No one should craft for nothing." speaks precisely to their intended viewer. They know that hobbyists, knitters, and other artisans won't mind earning from doing their craft.
The written content is an excellent invitation to sell their wares online. The ad features an image of knitting hands but done with eye-catching colors. The combination of well-thought-of text and crisp photography makes this ad noteworthy.
Netflix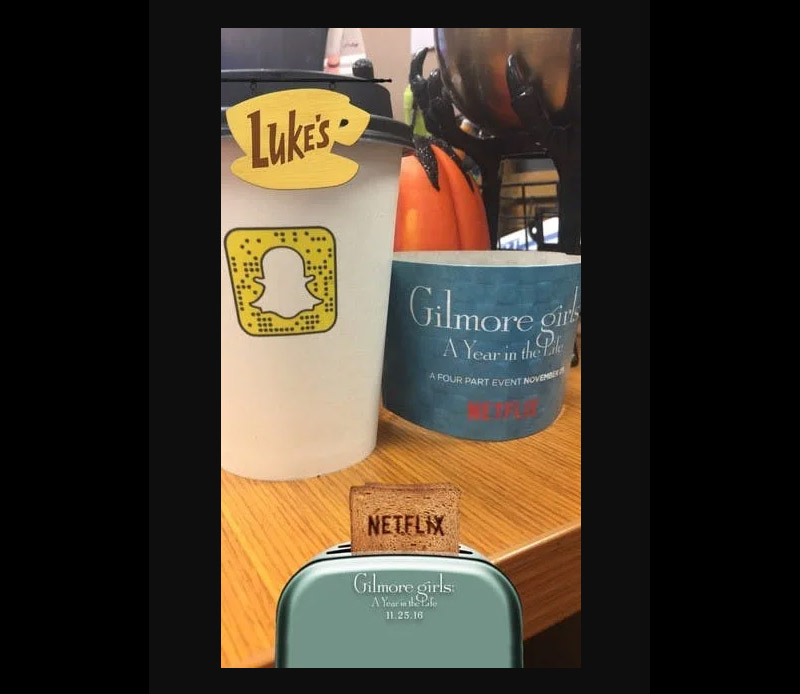 Another social media to design an ad for is Snapchat. By 2021, Snapchat advertising revenues are expected to reach $2.62 billion, says Hootsuite. Of course, the platform you choose depends on who your audience is. But if you're thinking of an alternative to the most popular ones, Snapchat is the right choice.
Netflix used the already strong fan base of one show, in this case, The Gilmore Girls. The campaign included giving out free coffee cups as well as filtering ads. It focused on the brand identity rather than showing snippets of the show.
Heal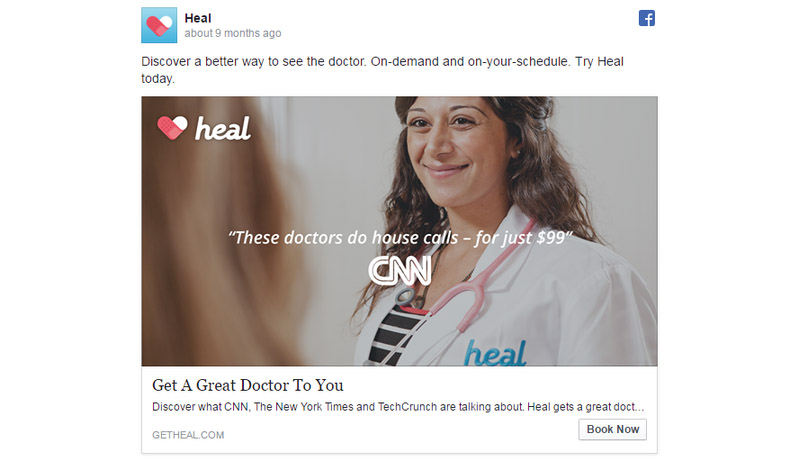 Social media is a great way to get to audiences that you don't usually reach. People are there to socialize and wouldn't expect to be sold to. This Heal social media ads design on Facebook is a perfect example.
Going to the doctor can be terrifying for some. Placing an ad on social media can make it less distressing. This Heal's ad features a smiling doctor. It gives the company an approachable and friendly image.
Petsmart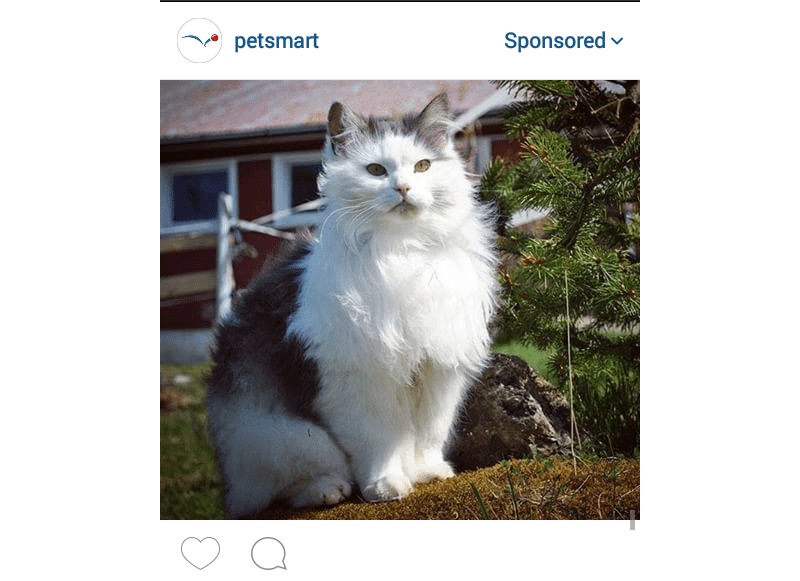 User-generated content can be a great way to get people's attention. Petsmart used a follower's picture for this Instagram ad. This helps build good customer relations while establishing the brand as the go-to for pet supplies.
The Body Shop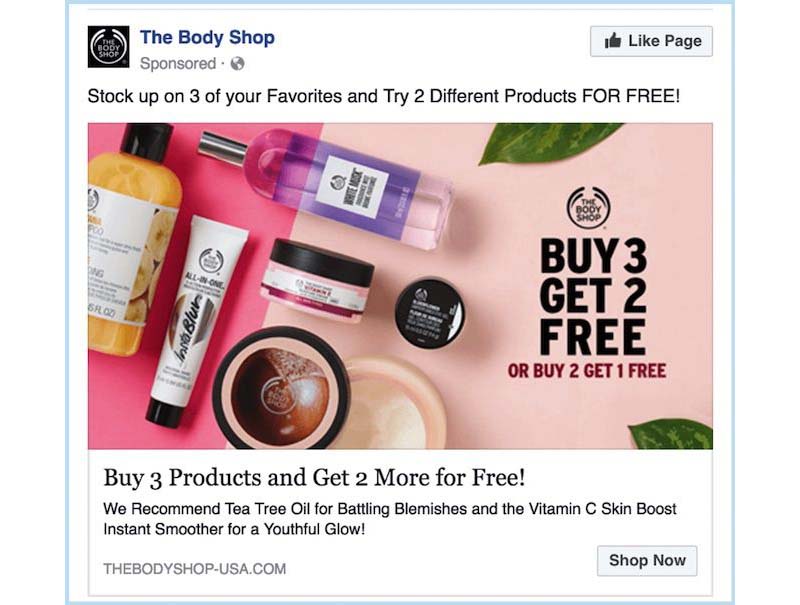 When creating social media ads design, don't ignore the importance of a good layout. This The Body Shop Facebook ad shows exceptional layout and design skills. It leads the eyes to what the brand wants viewers to know.
Adidas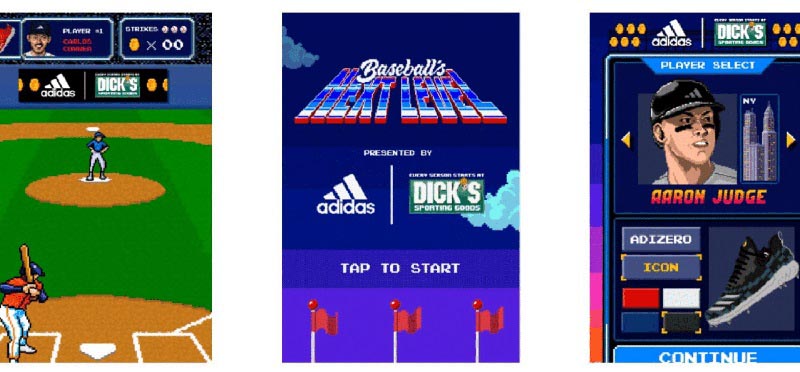 Snapchat may be the last place you'd go to for shoe shopping. But Adidas made it look easy and cool with their playable ad. This social media ads design they created appeals to nostalgia by bringing back the look of old computer games.
Airbnb 19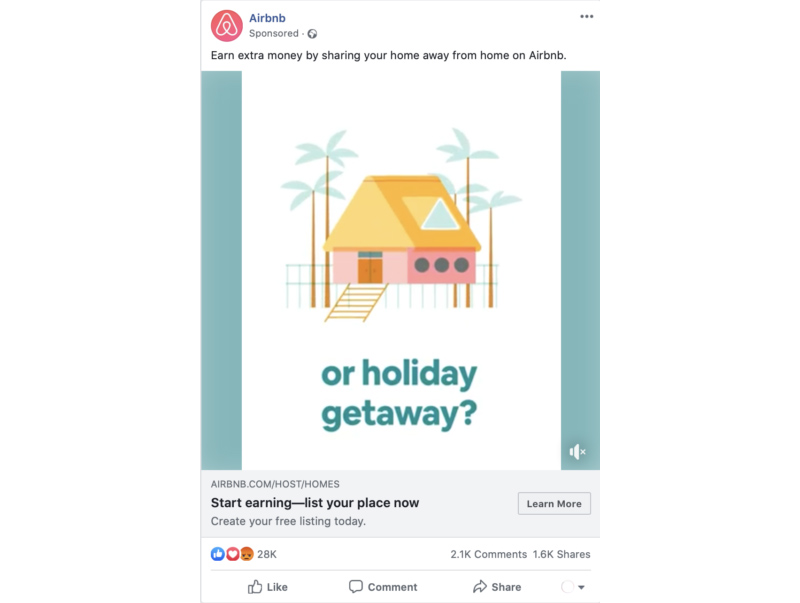 The trick to this Facebook ad from Airbnb is the question they posed as a caption. This engages the viewer, and if they answer yes to it, chances are they will read the rest of the text.
Facebook Blueprint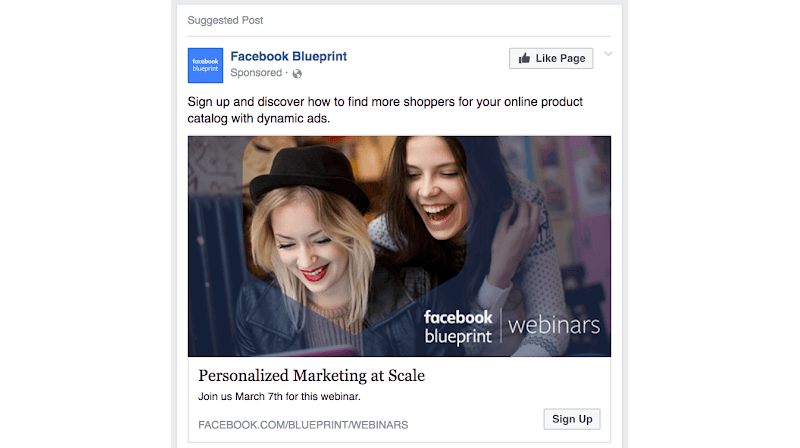 When creating social media ads design, be candid, just like what we see here on this Facebook Blueprint ad. Straight away, you'll see the benefits of the webinar they're offering. It shows that they have a good understanding of their target audience.
The ad also shows that no one knows Facebook ads better than themselves. So, take a cue and learn from the experts.
Nike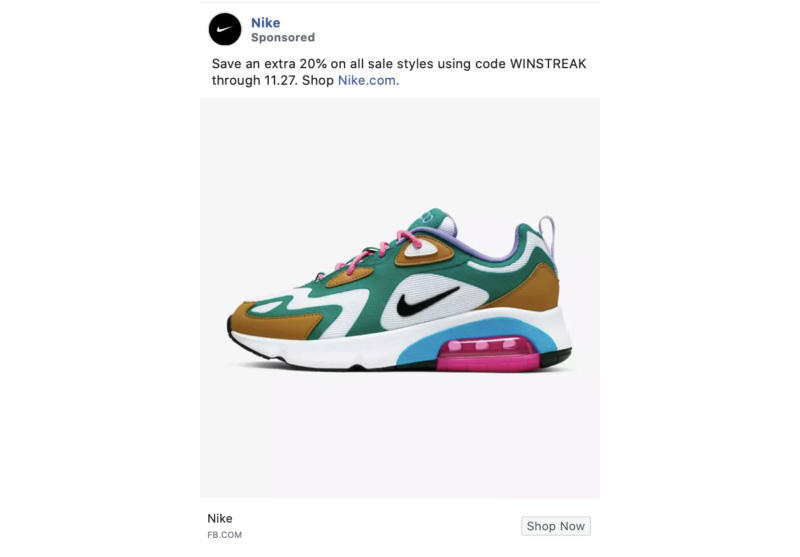 One of the big named brands that have a strong brand identity going for them is Nike. This ad they released on Facebook shows a colorful shoe that's sure to get any sneaker lover's attention. Not only that, the discount code seals the deal so well.
The Economist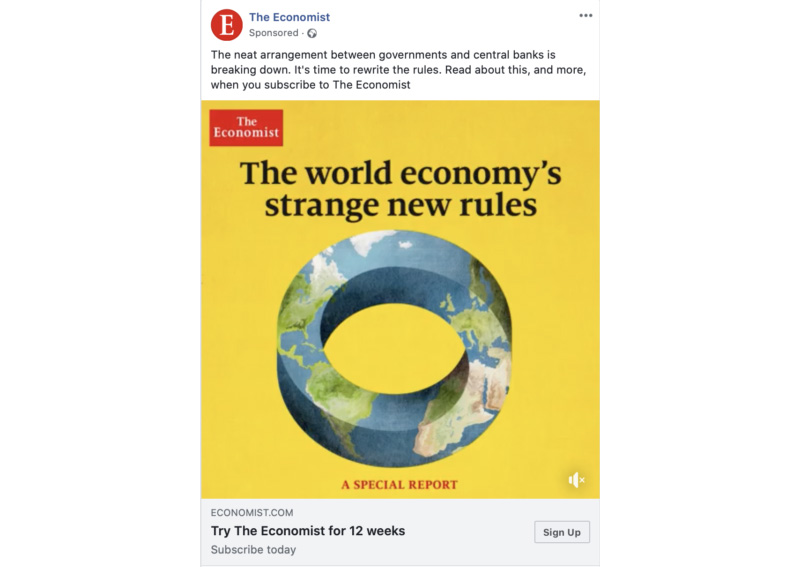 The use of brightly colored ads can also be a great way to grab the attention of social media users who scroll down like crazy. In this ad, The Economist used an optical illusion amidst a yellow background. It's not the publication's brand color but does well in creating interest for the brand.
Sprig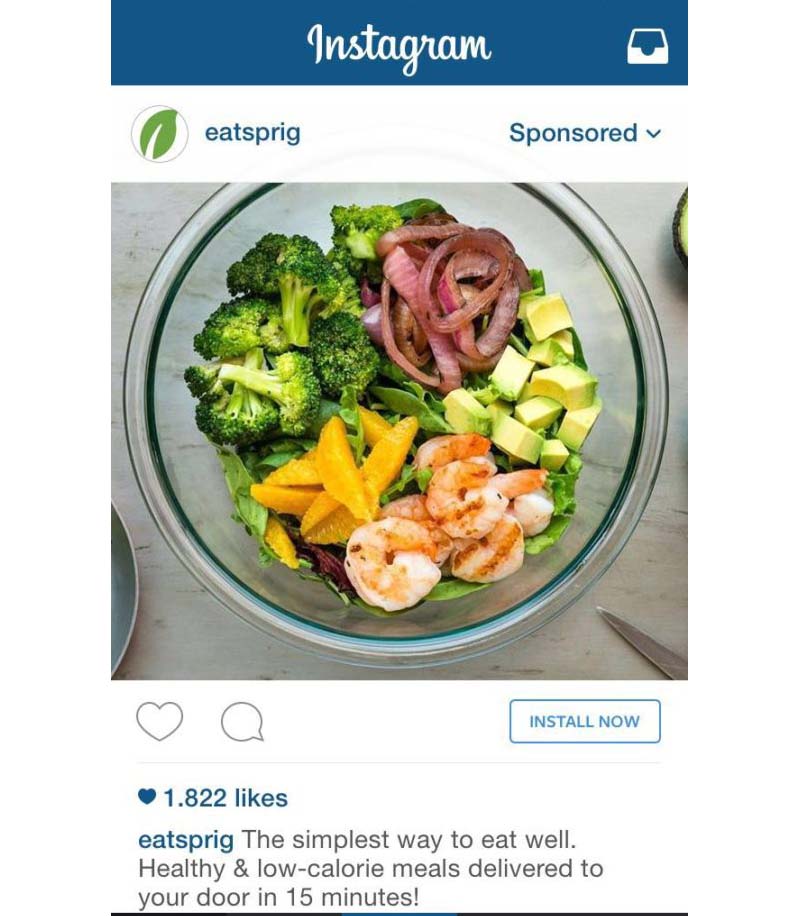 This Instagram social media ads design from delivery app Sprig is another excellent example. Their use of the color green in this ad is done intentionally as it is mostly associated with health and well being. It's mouthwatering, and the offer of quick delivery makes it even more tempting.
Blue Bottle Coffee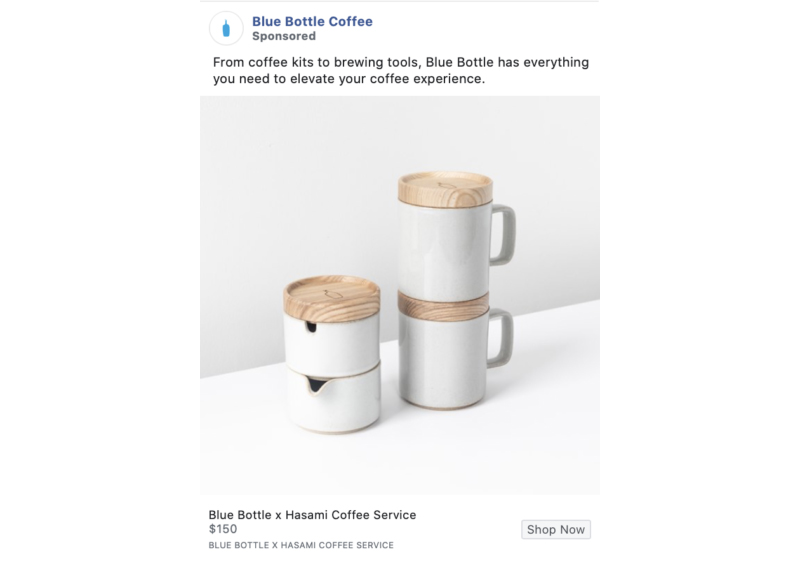 Using Facebook's carousel ads allows you to showcase different products or services. But, their single-image product ad can also do wonders for your sales. Take this great example from Blue Bottle Coffee. The ads show only one of their many offerings.
A good idea is to create social media ad designs and place them in various ad types. This way, you'll know which ones get more engagement and where to place your ads the most.
Touch of Modern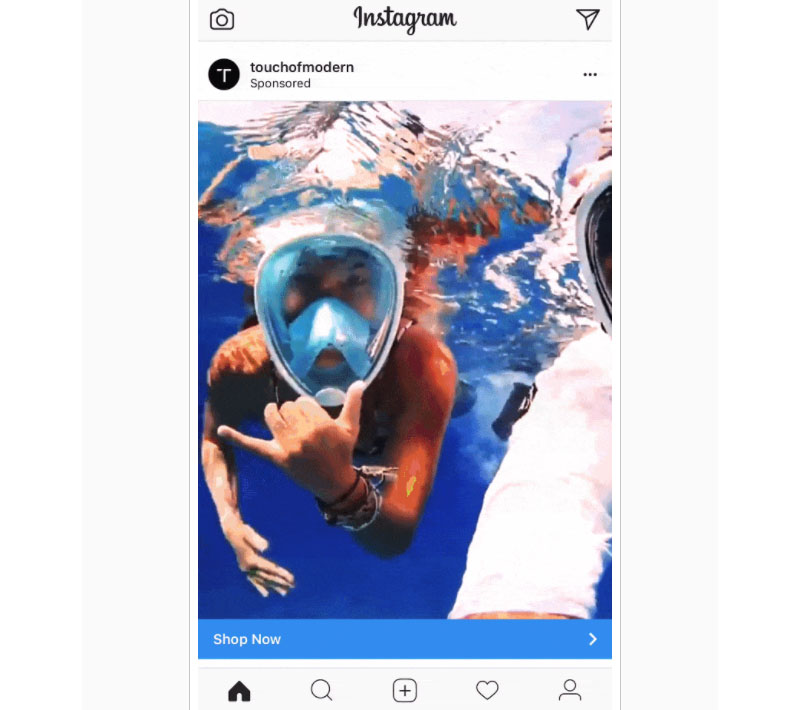 The key to placing ads on social media is to make yours stand out from all the personal pics. This is what Touch of Modern did so amazingly well. There wasn't any caption, just a video of a luxurious vacation experience.
If you want to create social media ads designs such as these, turn to Penji's unlimited graphic design service. Sign up today to start the design process.