Having an Instagram strategy is important if you want to grow your follower base. Sure you can just buy ads, however, that's an expensive strategy without a strong base of followers already willing to engage with your content.
That's why you need to post scroll-stopping content. Penji can help you design stunning images that will make people engage and interact with your posts. Request all the designs you need to deck out your Instagram page and be at the top of your followers' feeds. Watch a demo about Penji and learn more about how we can help your business thrive on Instagram.
In this article, we'll discuss the dos and don'ts of using Instagram for marketing this year as well as share with you 10 proven strategies to grow your follower base organically.
There could be changes in the platform's tools and the way it publishes creative images this 2020, so don't skip that part. We'll also discuss some tips to keep in mind to enjoy a surge in followers for free.
Instagram Business Profile vs. Instagram Personal Profile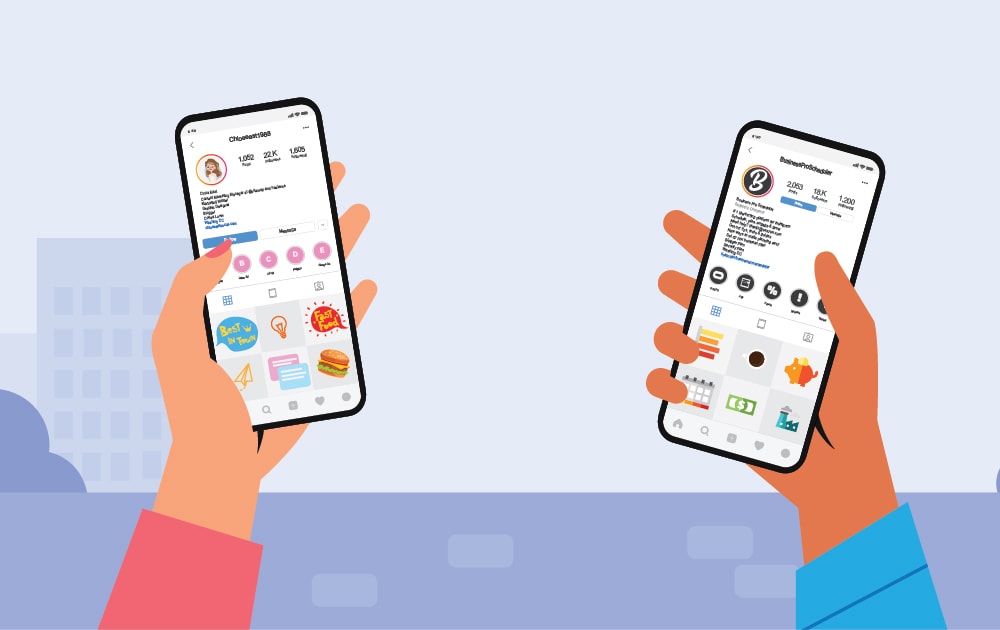 Before we delve into tips to increase Instagram followers, let's tackle the basics first. How does an Instagram business account differ from an Instagram personal account?
First and foremost, the content isn't the same. A business account would have contact buttons on it, allowing followers to contact you directly through email or direct message.
Secondly, a business account provides access to insights. This is Instagram's analytics platform. It presents data on your posts' engagement, impressions, demographics, and other important info.
And third, a business account allows you to run ads or sponsored posts. Akin to Facebook ads, IG enables users to place ads targeting audiences of a certain age bracket, gender, location, and interest groups. This makes it an invaluable tool in reaching your target audience and improving brand recall.
Why Switch to a Business Account?
IG newbies may ask: is it required to switch from an Instagram personal to business? The answer is no. You can create a personal account for a business that you're handling. However, you won't be able to enjoy the perks mentioned above.
Furthermore, a business account doesn't cost anything (unless you're placing ads), so switching can be a practical option if you want to reach more people.
Tips to Increase Instagram Followers in 2020
If your 2020 Instagram strategy isn't updated, then you're doing it all wrong. It's essential to look at 2020 IG predictions and adjust your approach accordingly to get more followers, hearts, and comments. Here are steps to consider on your way to a broader IG community. The best part? Most of these can be done for free!
1. Collab with Other Brands
If you've focused on solely highlighting your brand over the past few years, then it's time to shake things up. Brand collabs can allow for a wider reach and a stronger impact. However, it's essential to partner with ventures that have the same target market as you. Otherwise, you might not reap the full benefits of a partnership.
2. Diversify Your Content
If you want to increase comments and likes on your Instagram posts, post different forms of media. You can post photos of your product or service. You can post infographics or illustrations. From time to time, change it up by uploading videos. It's a common practice done by brands, and it's a tried and tested way to engage with followers.
3. Optimize Your Profile
If you haven't updated your business, and it isn't optimized, then you're missing out on a lot! To optimize your profile, make sure that your contact info is correct and updated. Make sure to categorize the business as well (e.g. clothing store, restaurant, finance, etc). And last but not least, include three hashtags in your bio – the best ones that describe your brand.
4. Stay Consistent
You might have heard this before, but it still runs true in 2020 – it pays to be consistent in social media. Whether you're committed to a theme for every day of the week or your images adhere to a certain theme, stick to it.
5. Use Stories
This Instagram strategy has limitless potential. Using IG stories is a great way to be more spontaneous with your audience. Because it disappears after 24 hours, you can post more candid and raw material. Make your stories fun by getting creative with emojis and GIFs! Post a poll or upload your templates.
6. Don't Forget Story Highlights
Story highlights will continue to be your IG profile's first line of defense in 2020. Put it to good use by including the most important stories you've posted in the past.
7. Partner With Micro-Influencers
Expand the reach of your Instagram strategy and reach more people with partnerships. Instead of turning to tracker software and cheat apps that promise to increase your followers for a cost, consider partnering with micro-influencers. Compared to traditional IG celebs, micro-influencers have a smaller niche. However, they enjoy stronger support from their humbler follower population.
8. Become Visible on Instagram Shopping
Instagram Shopping can drive traffic to your business page and eCommerce site. By using Instagram Shopping, users may tap on your photo and get information about your product. Plus, when users press on the shopping button, they can view related products on another page. It will then redirect users to the website. The app makes it seamless for users without leaving the platform.
So far, the available Instagram Shopping features are:
Checkout on Instagram
Shop Now
Visit Website
9. Consider Promotions or Contests
Instagram is a great platform to promote your products or service. Some brands would run contests or promotions on social media pages. It's how they prompt followers to leave comments and tag friends. Sometimes, they will ask people to share it on their stories or pages. This way, you can widen your reach and visibility on the platform.
10. Learn About AR Filters
This Instagram strategy can be greatly beneficial if you have a dev on your team. If you've played around with IG stories, you're probably familiar with augmented reality or AR filters. These are the digital effects layered over real-life images. If you want to be ahead of the curve this 2020, consider launching an AR filter for your brand. Be sure to integrate elements unique to your business to increase brand recall.
Instagram Strategy Dos and Don'ts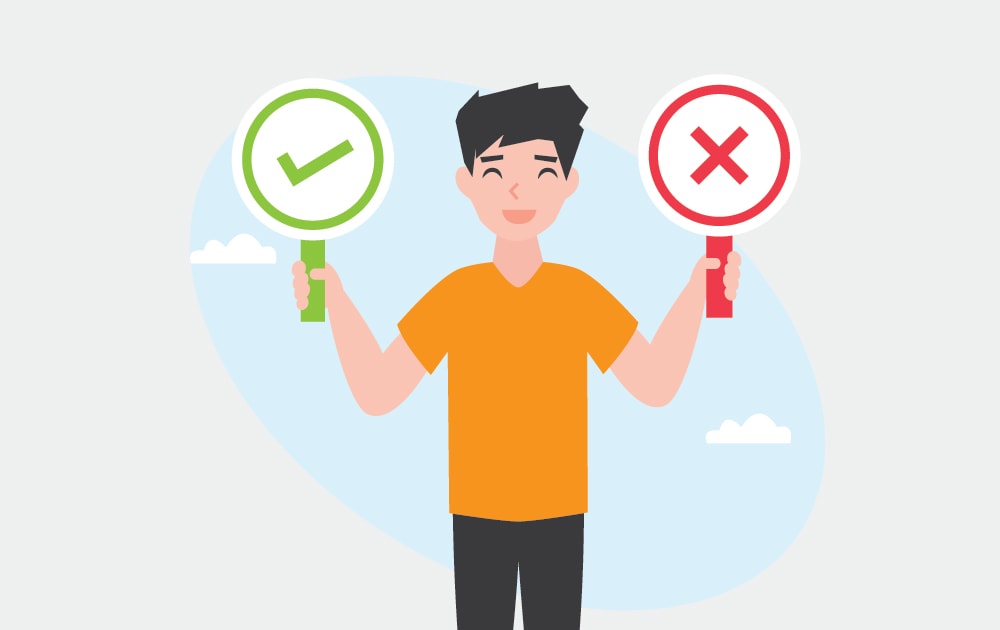 Here's a quick list of dos and don'ts when trying to increase your followers.
Do:
Engage with your community
Keep posts relevant
Watch out for trends and test if they're apt for your market
Carefully curate and plan your daily posts
Don't:
Copy everything your competitor is doing
Rely on apps that promise more followers for a fee
Get stuck with outdated practices
Underestimate what a graphic designer can do to improve your image posts
Remember, all social media platforms continuously evolve depending on trends and emerging consumer behaviors. So it's best to monitor insights to see what tips work best to connect your brand to your target audience.
How to Request Instagram Posts on the Penji Platform?
In three easy steps, you can request a design, revise it, and receive it on the all-in-one Penji platform.
1: Create a Project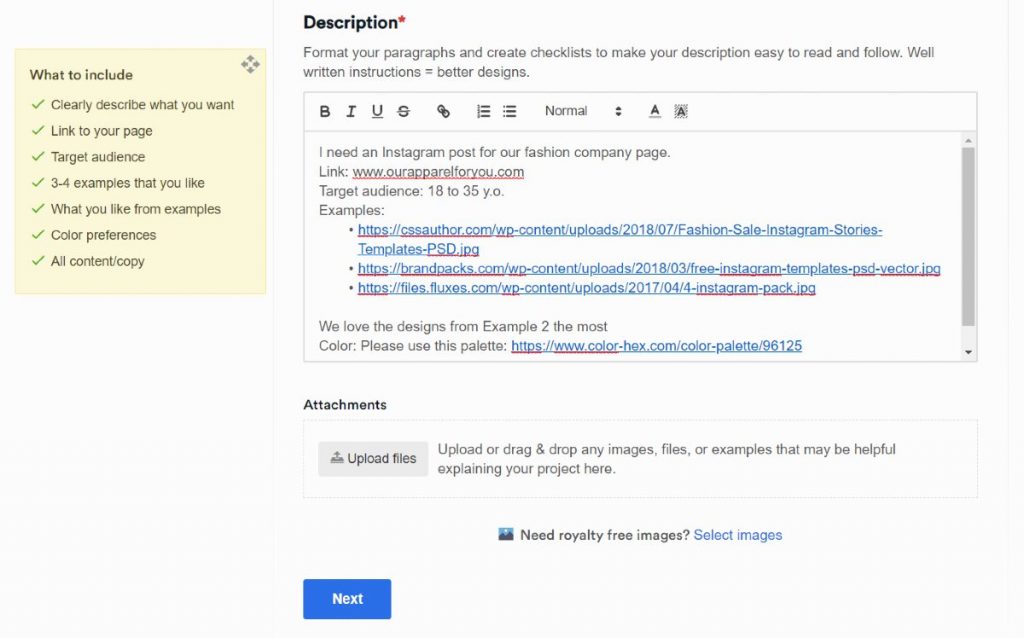 Once you subscribe to a Penji plan, you get access to the platform. By then, you can submit your first request on the platform. From here, click New Project. Make sure to add the Project title & select a Design category.
You can search Social media posts from the drop-down menu. Choose Instagram post, and fill in the Description.
On the Description field, make sure to specify what should appear on the design. You can follow the What to Include guidelines. This way, your designer will get an idea of the design. Feel free to upload files or select royalty-free images if needed.
After that, click on the Levels of customization, file deliverables, and associated brand. Then you're all set to click Create project.
Your project will be assigned to one of our vetted designers once you submit your first project! You'll then receive the first draft of your design within 24 to 48 hours.
2: Review and Provide Feedback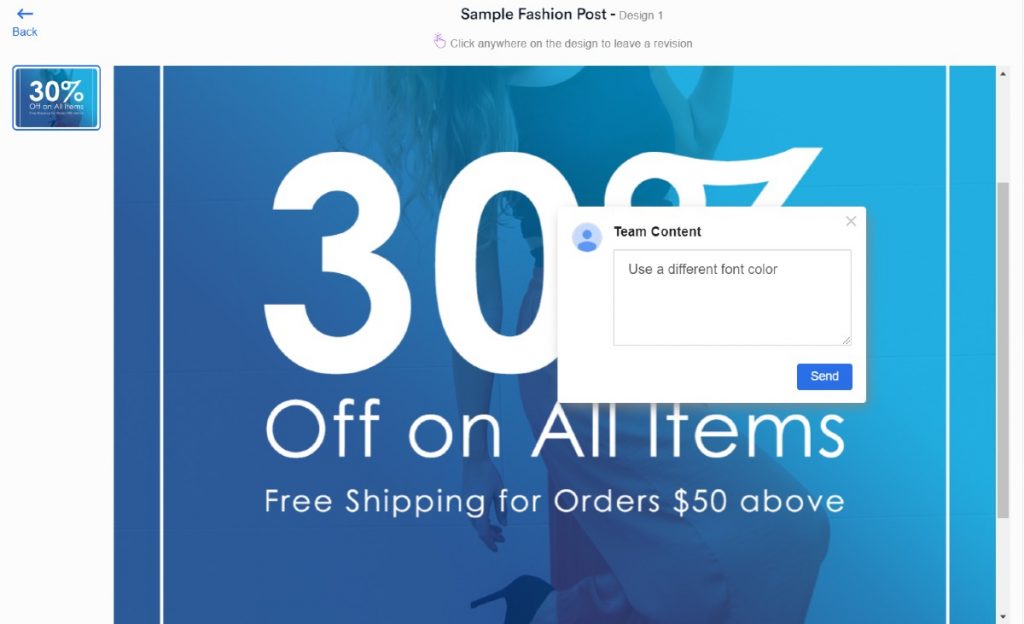 One of the reasons why brands love Penji is the unlimited revisions feature. Unlike other graphic design services, you have limited revisions or pay extra each time. By subscribing to Penji, you can revise until you're 100% satisfied.
Use our handy point-and-click feature built-in on the platform. You can reduce miscommunication issues. No need to backtrack email threads. You don't even have to download the draft and draw on it by using external software.
Plus, expect a quick turnover of the revised design too. You can get it in less than 24 hours.
3: Download the Design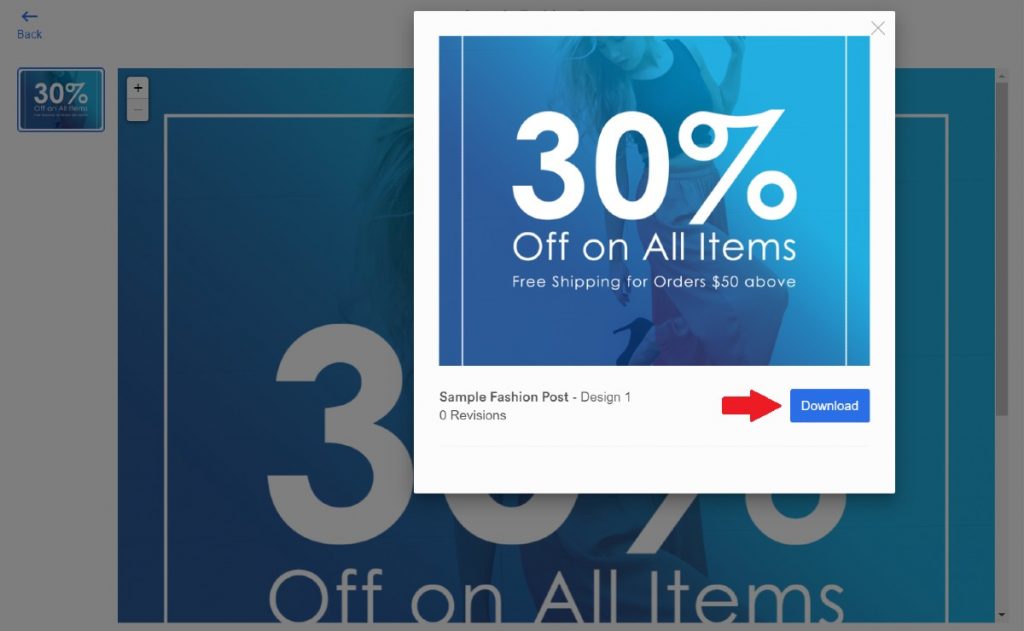 Once you're happy with the design, you can finally download it and save it on your computer. There's no fuss when you download the design. All you have to do is click the blue Download button, and that's it! No external links or send to email. It's all done on the Penji platform.
Plus, your files are also secure on the Penji cloud. If, in any case, you might lose it (we hope not), you can access it again by logging in the platform.
Subscribe to a Penji Plan today
Boost your follower rate by sharing engaging posts on Instagram. One way to do this is posting killer graphic design images that will make you stand out on your followers' feeds. Penji can become your design partner. Don't worry about delayed projects or mediocre designs. We have a reliable and professional team of designers. They're ready to tackle your design requests and submit quality work half the time compared to our competitors.
Get started on a Penji plan today for only $499/mo on the Team plan. It's an all-inclusive plan where you can get access to all design requests possible. Save time by signing up on a Penji plan. No more onboarding, no more contracts, no more hourly billing. Sign up now and test the platform free for 15 days.