With digital media taking center stage and being most people's choice of an information source, online ads have become more significant than ever before.
Facebook ads, specifically, has become a crucial platform for all types of businesses – from small enterprises and eCommerce sites to decades-old, well-established brands.
Statistics tell us that around 7 out of 10 American adults use Facebook in 2019. According to the same report, three-quarters of US adults with Facebook accounts visit the social media platform at least once a day.
That's why you need ads that will generate high engagement and click-through rates. To do that, you need to publish well-designed Facebook ads for your campaign. (Scroll to the bottom of the page for a special promo for Penji!)
In the meantime, here are the top things to avoid when creating FB ads and what you should do instead to gear your campaign for success.
10 Things to Avoid When Creating Facebook Ads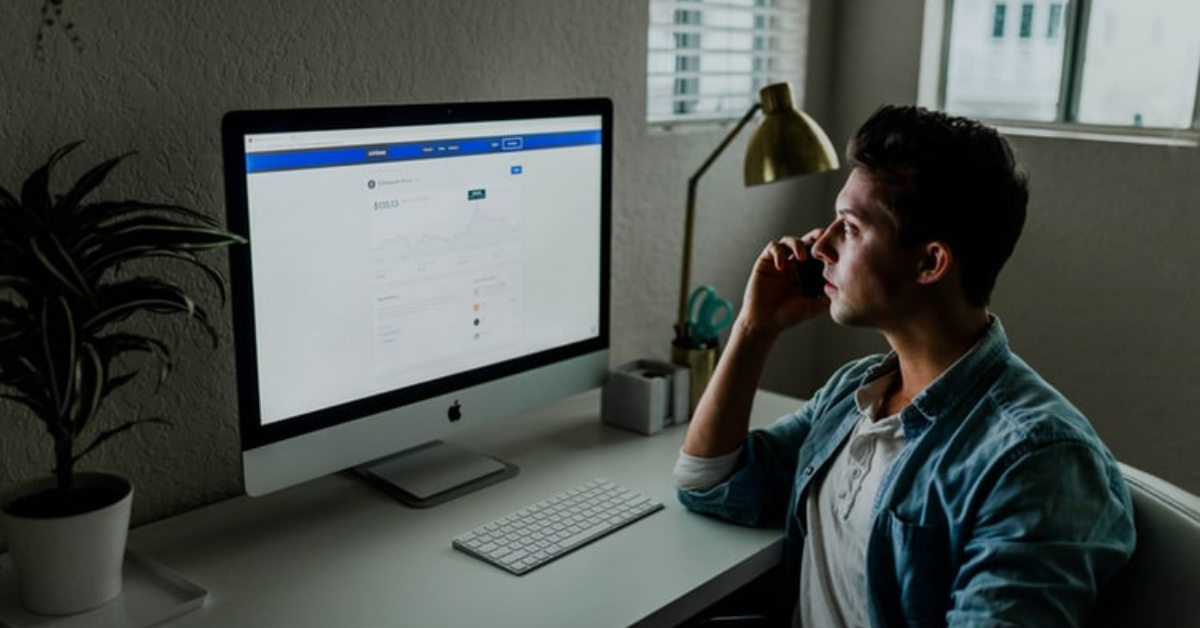 1. Don't Deceive Your Audience
The worst thing you can do to your ad placement is to include deceiving information and unsupported claims about your product or service. You have to write honest Facebook Ad copy in order to achieve your long term goals. Posting a misleading material can cause immense damage to your business even months or years after you release it. The deception can potentially compromise your brand's reputation and paint your business as an irresponsible venture.
Instead, do: be responsible and honest with the information you include in your ads. This measure doesn't only apply to the posts about products and services but also promotions and discounts. Include disclaimers, if necessary.
2. Don't Auto-Pilot Your Campaign
It might sound like a genius idea to auto-pilot your FB campaign. After all, it takes one task off your plate, right? Not quite. Running ads on Facebook without analyzing the data and recalibrating your targeting can result in significant expenditure. Even if an ad doesn't result in massive sales, it can still provide information about what's working and what's not.
Instead, do: take the time to review the information from each ad. Analyze what interests and demographic profile are responsive to your ads, and keep this in mind as you craft your next campaign.
3. Don't Take Budget for Granted
It's easy to create FB campaigns and add more every time you want to experiment using the data gathered by earlier ads. However, not keeping track of your budget can cause your advertising budget to skyrocket. The additional cost can topple over the balance of your income and operating expenses.
Instead, do: set a budget and stick to it. Facebook has a feature that allows users to set a limit on the daily budget as well as the lifetime budget of an ad. Users can also set the campaign spending limit and account spending limit to ensure that they don't spend more than they plan to.
4. Don't Choose Placements Hastily
Never decide on ad placements without fully understanding the options and what each one is good for. Doing so would not let you make the most out of your ad budget.
Instead, do: take the time to learn about placements. Read up on placements on News Feed, Instagram Feed, Marketplace, Video Feeds, Right Column, Explore, and Inbox.
5. Don't Lead Your Audience to a Dead Link
Leading your audience to a dead link is like inviting people to enter your store only to find the door locked as you try to herd them in. This mistake can cause the audience to lose interest, or worse, paint your business as unreliable.
Instead, do: double-check all the links on your ads before submitting for approval to make sure that everything is working.
6. Don't Make Uninformed Assumptions About Your Audiences
Placing ads require research. Placing an advertisement without putting much thought into your targeting can throw money down the drain. Whatever your niche is, it's essential to read up and learn more about who your audience is.
Instead, do: take advantage of Audience Insights. This feature would allow you to fine-tune your targeting better. What are the Facebook pages popular within a particular interest group? Are there specific brands or events they're interested in? These are some of the things you need to consider to make the most out of your ad.
7. Don't Go Overboard With Text
Social media users typically wouldn't bother reading through a massive chunk of text, especially if it's a sponsored post. Avoid putting lengthy captions on your ads.
Instead, do: keep your message short and concise. Lay down the benefits of your products in the briefest way possible without sacrificing clarity. It's also imperative to complement your text caption with an image that displays excellent graphic design.
Penji designers observe the best practices in creating the best Facebook ads. Discover what our designers have produced for our clients.
8. Don't Forget the Call-to-Action
Forgetting to add a call-to-action button on your ad could leave your audience at a loss on what to do next. They could be interested in the product or service you advertised. But if you don't lead them to the next step, they can quickly scroll down and move on.
Instead, do: pick a call-to-action button appropriate for your advertisement. Facebook encourages users to choose a call-to-action in line with their campaign goals. For example, you can use a "Shop" button if you want to lead your audience to your eCommerce site. Or you can use a "Sign Up" button if you prefer to lead them to your email marketing subscription page.
9. Don't Ignore the Significance of Facebook Pixel
Not taking the time to read up on Facebook pixel can make a business lose the chance of optimizing ad delivery to people who are likely to take action.
Instead, do: install a Facebook pixel or have your developer install it on your website. This simple step would allow you to gather data about prospects visiting your website from Facebook and give you information about products they've viewed on your site.
10. Don't Submit an Ad with Typos
This item might sound basic, but it happens sometimes. Even if ads go through quality control before being approved and posted, the responsibility of ensuring that all terms are spelled-out properly still falls on the users' shoulders. An ad with typos reflects a business that haphazardly does its duties. It could also project the brand as an undependable venture.
Instead, do: double-check your Facebook ads before submitting. Aside from typos in the text caption, make sure that any text overlaid on your image is also spelled correctly.
Rest assured that Penji designers are meticulous with their work. Plus, they're professional and reliable too. It's why many customers love subscribing to Penji.
How to Request Facebook Ads on the Penji Platform
It's easy to submit a design project on Penji. All you need to do is click New Project on the dashboard, fill in details, and submit the design. From there, the designers will present their first draft for you to review. Here's a sneak peek on how you can request Facebook Ads once you subscribe to Penji.
Step 1: Create a Design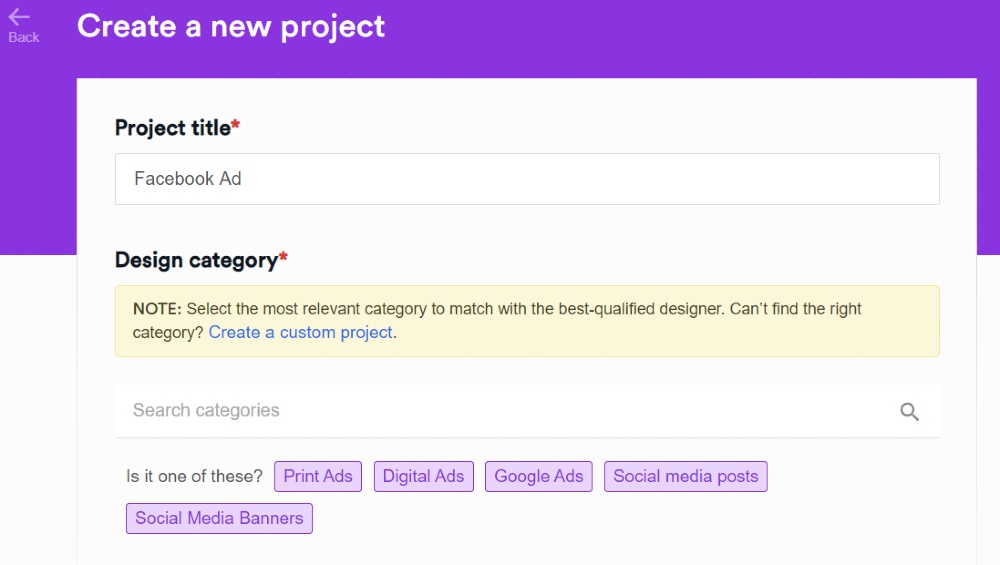 As mentioned before, make sure to click the New Project button to get started. After this, you'll provide details of your project. It begins by adding a Project title and a Design category.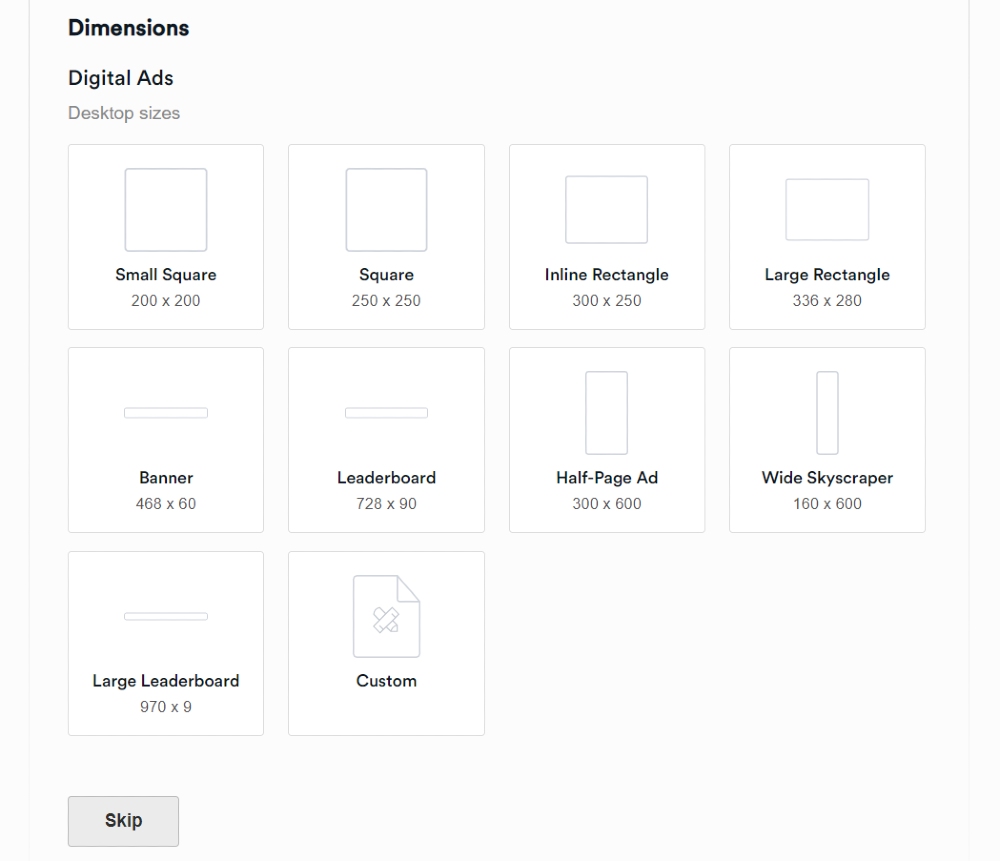 Since this is a Facebook ad, choose Digital Ads. From there, please select Custom because Facebook has specifics on creating an ad.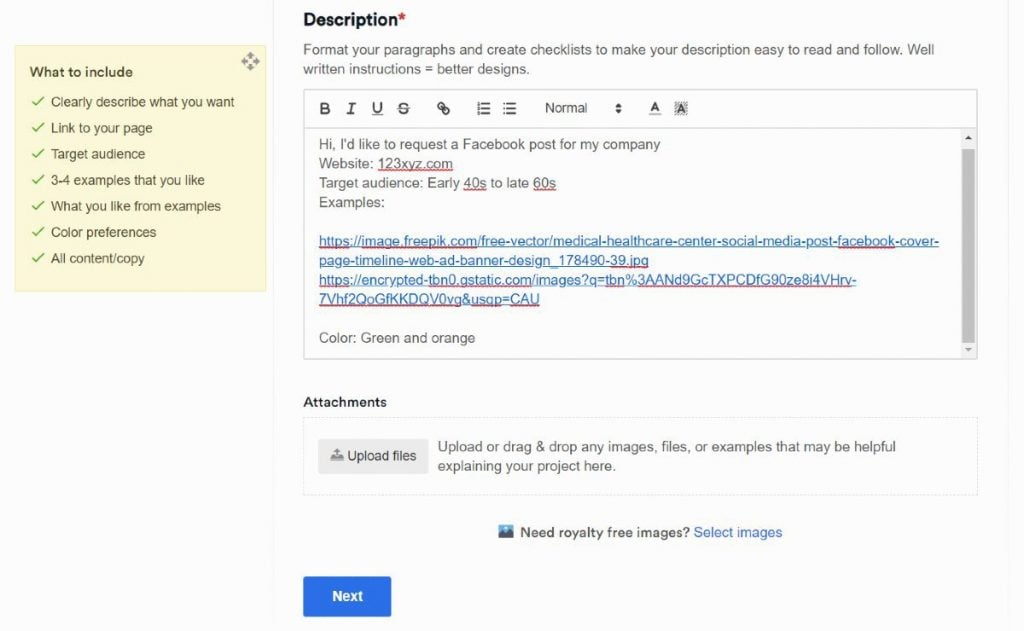 Then, you can finally write the specifics of your design. You can refer to the What to Include guidelines. This may reduce further miscommunication and revisions.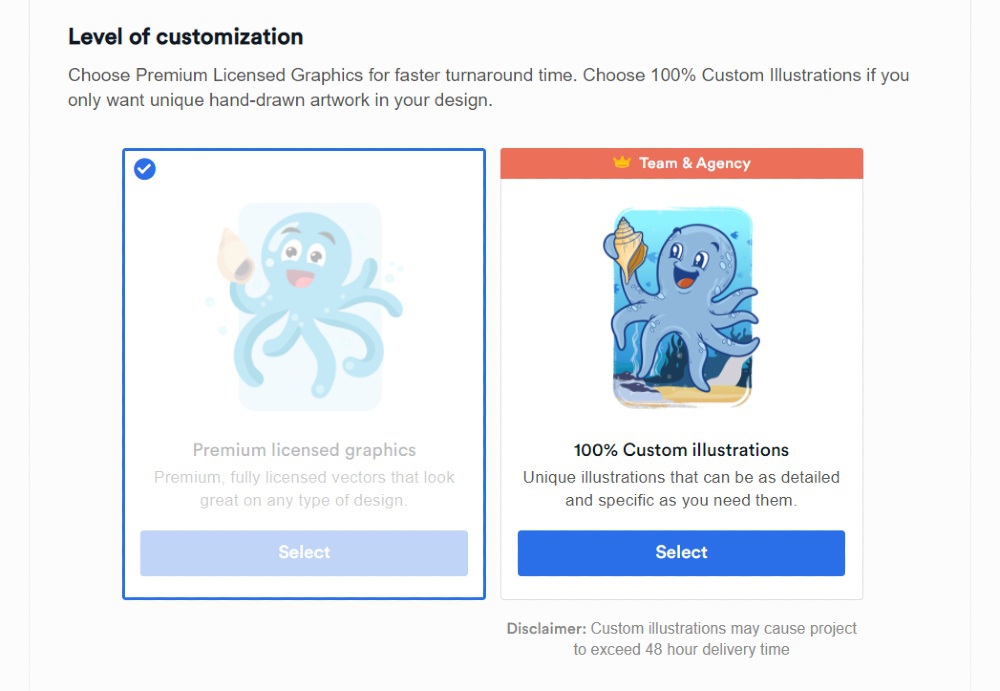 After this, click Level of Customization, File Deliverables, and Associated Brand.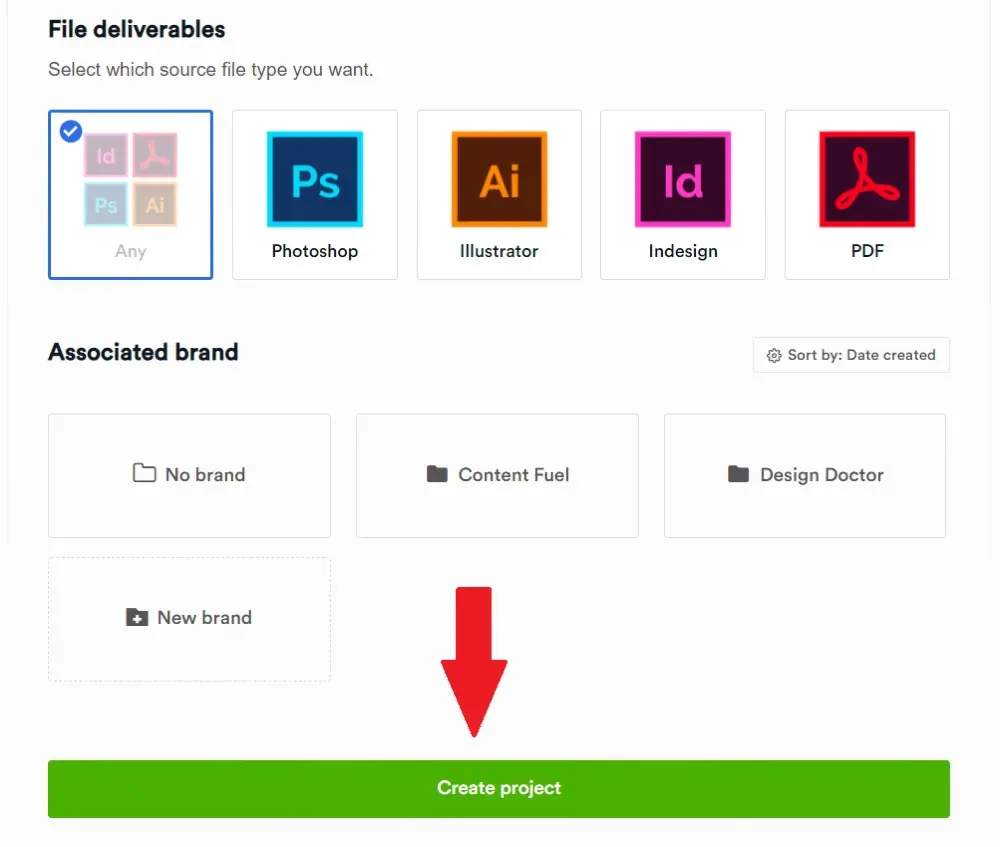 Once done, click Create Project, and you're all set! You finally have your first active project.
After this, a designer will be assigned to your project, and they'll submit the first draft within 24 to 48 hours.
Step 2: Review the Facebook Ad Design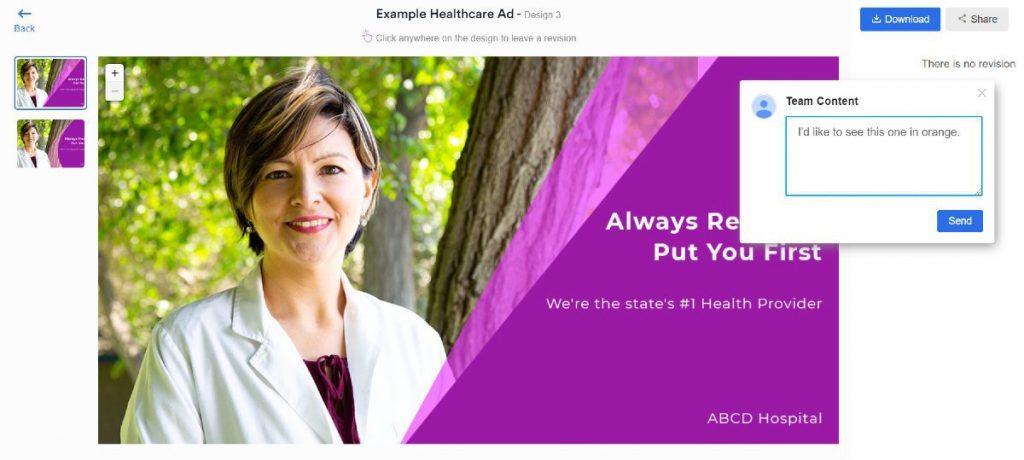 Once the designer submits the first draft, you can finally review it. Here at Penji, we make sure you receive the best design before you upload it. That's why anyone subscribed to Penji has unlimited revisions. Here's the best part: it doesn't cost extra. Other graphic design services charge extra, and it's even limited up to 3 revisions.
Also, don't forget to use our handy point-and-click feature. To use it, click on the design and leave a note on how the designer can improve it. Neat, right?
The designer will be notified of your revisions, and they'll work on it right away.
Step 3: Download the Design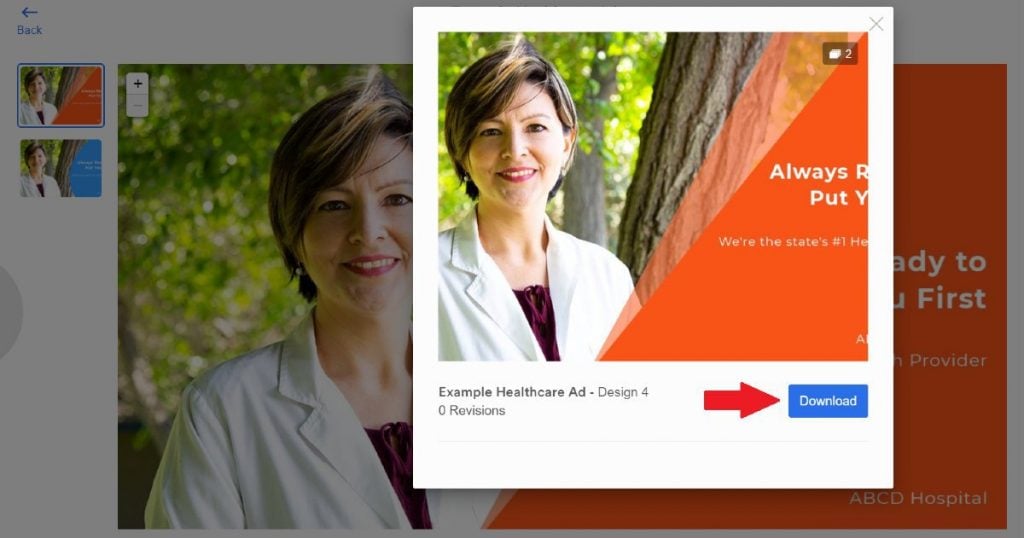 This is everybody's favorite part. If you're 100% satisfied with the design you received, you can finally download it. Simply click the blue Download button, and the files will be saved to your computer. It's that easy!
Not to mention, Penji stores your files too. This means you can access your files anytime! All you need to do is log-in, and download it once more.
Final Thoughts
Don't put your Facebook campaign in jeopardy by getting your ads rejected. To avoid that, you can follow the tips above and use a reliable agency or service that will help produce a successful campaign.
Rest assured that when you subscribe to Penji, you'll get compelling ad designs that your followers will click. Use code "FBADS" for 25% off your first month!