It's time to ring in the New Year with tear-jerking social media posts. Whether you're leveraging this holiday for your brand or breaking a New Year record for your social media following, a New Year social media post could be the quantum leap you've been waiting for.
Before whipping up social media posts, make sure to include New Year designs that pack a punch. No idea where to start?
Find out how you can boost your social media presence by checking out these New Year social media post examples.
New Year Events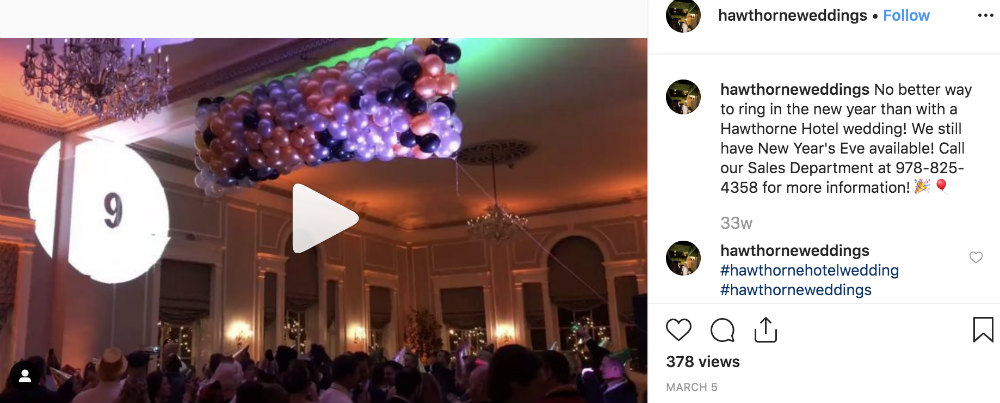 If you're a brand looking for more avid fans, promote your New Year events on social media. This hotel, based in Massachusetts, posted an Instagram video of a NY wedding within their premises.
It's a video of wedding guests celebrating both holy matrimony and a New Year's Eve countdown. This post is an excellent way to get hundreds of guests to share it on their wall. Plus, it's a subtle digital marketing tactic for event organizers, wedding agencies, and would-be brides or grooms.
Throwback Photos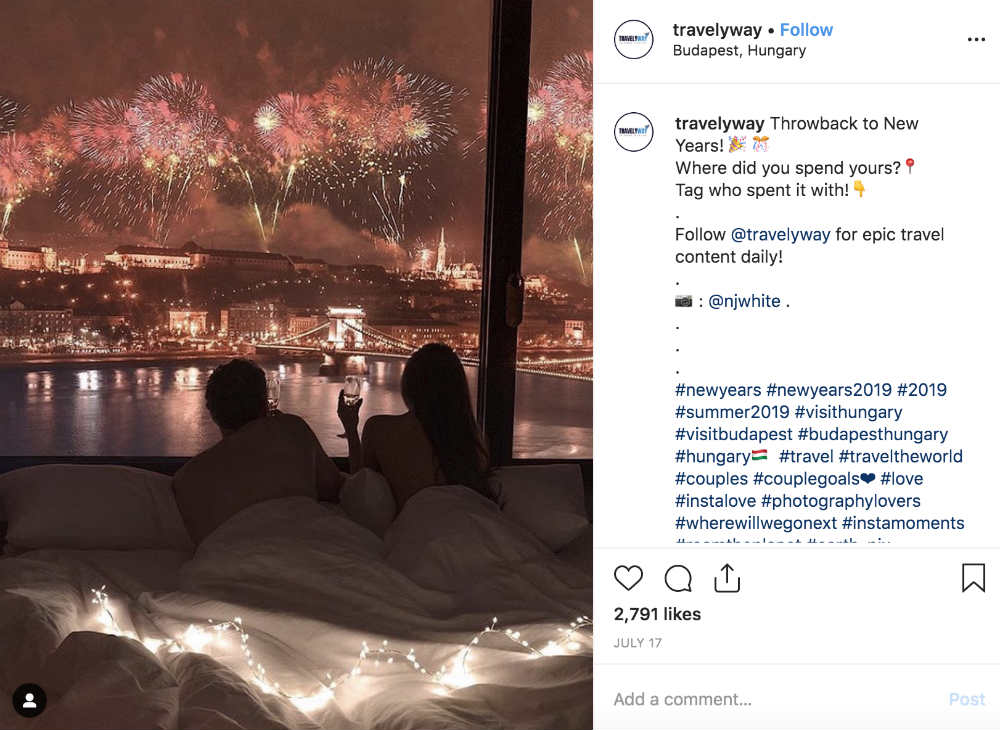 We've all had unforgettable and sometimes embarrassing New Year experiences at one point in our lives. If you've caught them on camera, reminisce the good old memories through throwback photos.
This particular example is of a couple spending quality time together under the beautiful city fireworks. Overall, it's a unique shot with a primary focus on quality.
Share Tips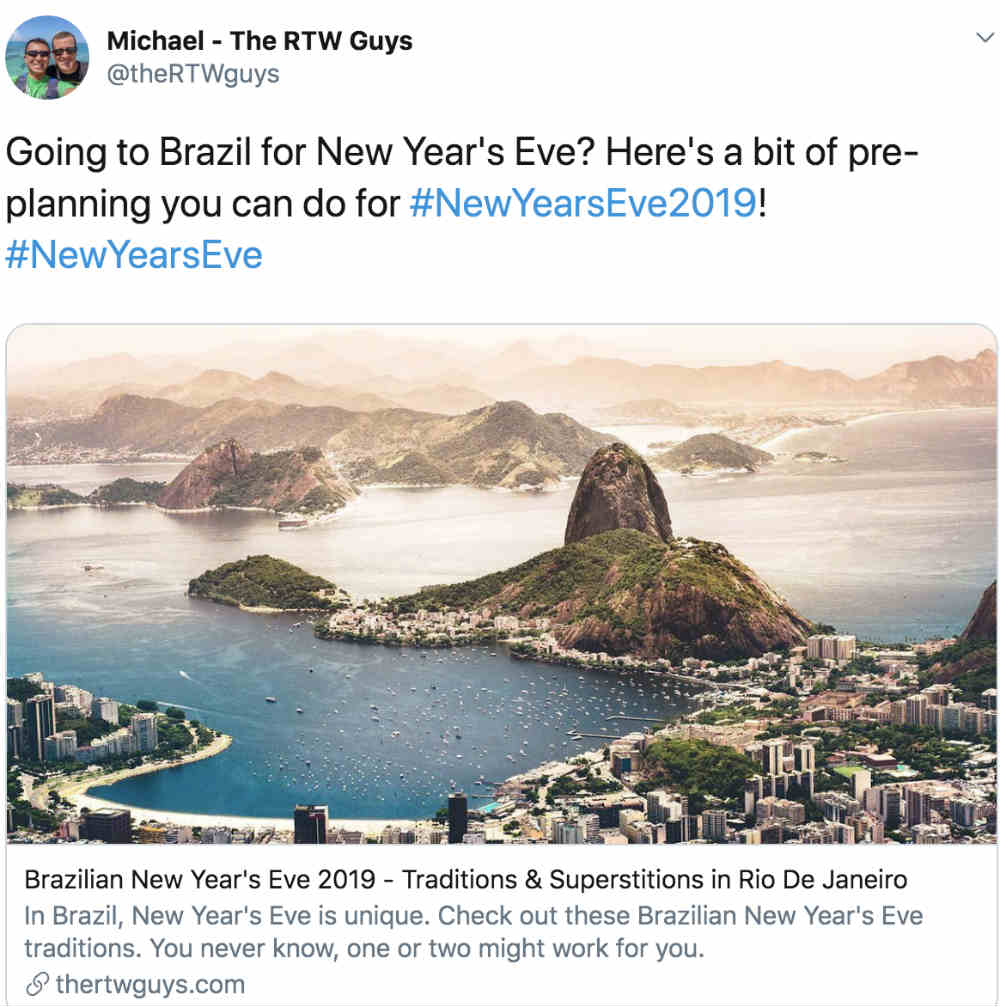 Some people are probably halfway around the world enjoying their NY vacation. The best way you can connect with likeminded people is to share some tricks up your sleeves.
Here's one example from a gay married couple's travel blog, Halef, and Michael. But that's not even the interesting part. Both bloggers have been traveling since 2008, and their ultimate travel goal? Never spend more than $75 per day!
For the travel bugs, these tips will surely come in handy as traveling during the holidays means jacked up prices.
New Year Countdowns
What's a New Year social media post without New Year's Eve countdowns? New Year Eve countdowns are a staple for partygoers who like to celebrate with other people during this festive event.
Of course, we've picked one of the best New Year social media countdowns to date. Here's one from The Telegraph of Dubai's tallest building, the Burj Khalifa.
How-to Guides
How-to guides always emerge as top social media post contenders. Why? Firstly, they provide users with valuable information. Secondly, they're very easy to digest, especially if they're a listicle blog or video. Lastly, how-to posts are incredibly entertaining.
This example from a YouTube channel, Survival Guide to the Dutch, shows how the Dutches celebrate the New Year differently. And when they say different, it involves a man firing a rocket from his ass cheeks!
Striking Photos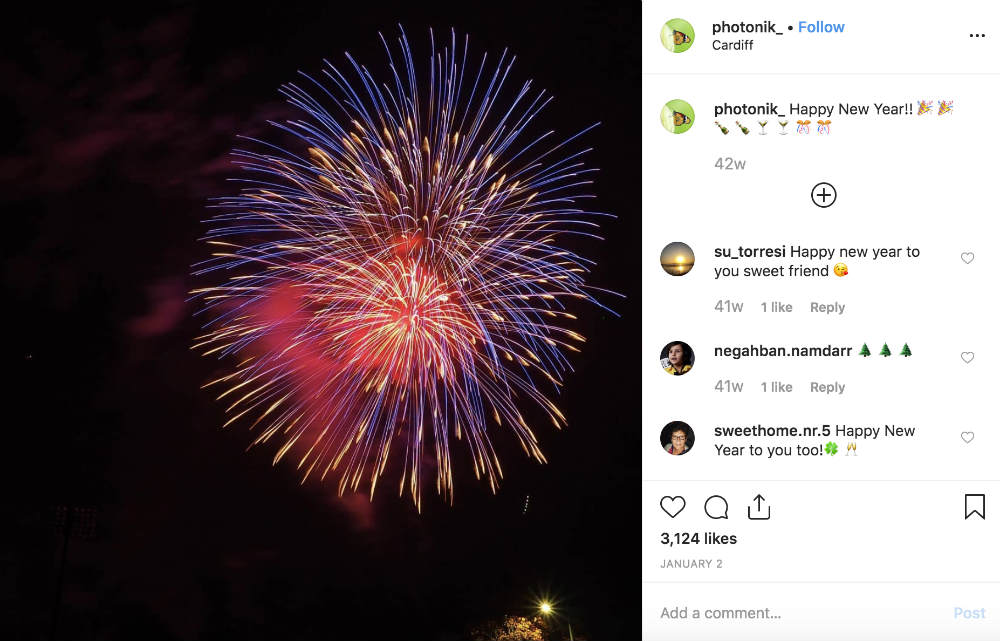 There's nothing more compelling on social media than first-rate photos. If you own a business, quality graphics are of the essence. Stay consistent with your quality posts and try new social media marketing trends that are selling like hotcakes.
This one is an immaculate shot from a personal photography blog. The colors, fine lines, and jovial explosion are all captured exquisitely on camera.
Funny Content
We all have that one friend who's as clumsy as hell. Make sure you post their funny flops in past New Year events. In case you don't have one, funny New Year social media posts are entertaining and shareworthy. Loneliness is one of the reasons why people turn to social media. Make someone's day by posting funny images or videos.
This one from America's Funniest Home Videos will make you burst out laughing. It's a video compilation of all the New Year fails captured on camera.
Special Announcements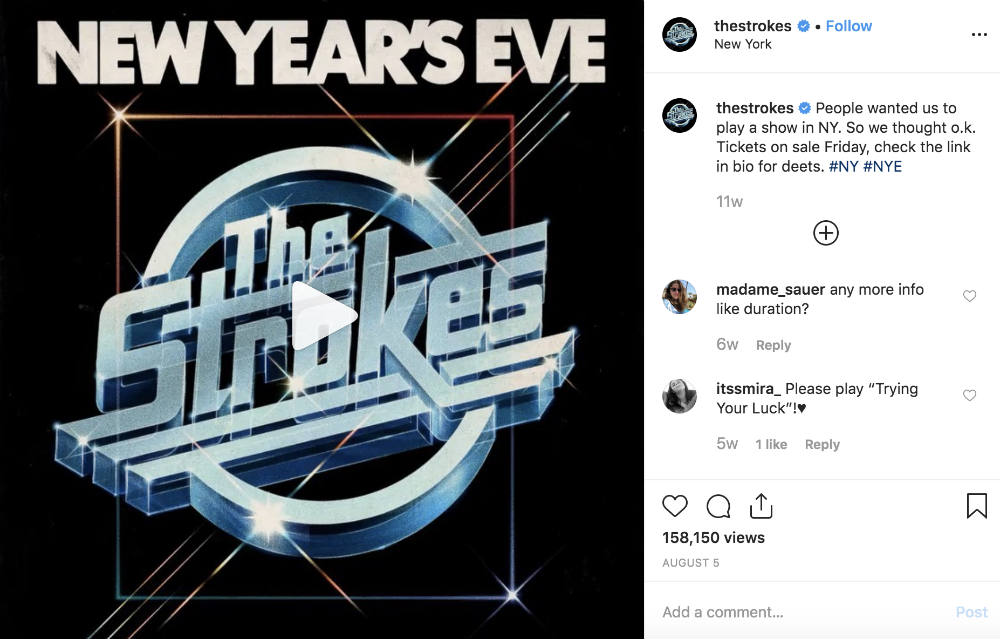 Most brands will undeniably rouse their audience with exciting New Year events. Make sure to reveal the announcement a few weeks before the day of the event. The holidays are a perfect time to advertise an event as most people won't have work commitments. Plus, the extra holiday moolah will urge them to attend.
To all The Strokes fans worldwide, if you didn't get the memo, here's one that'll make your NYE in NY extra special. You're welcome!
New Year Resolution Memes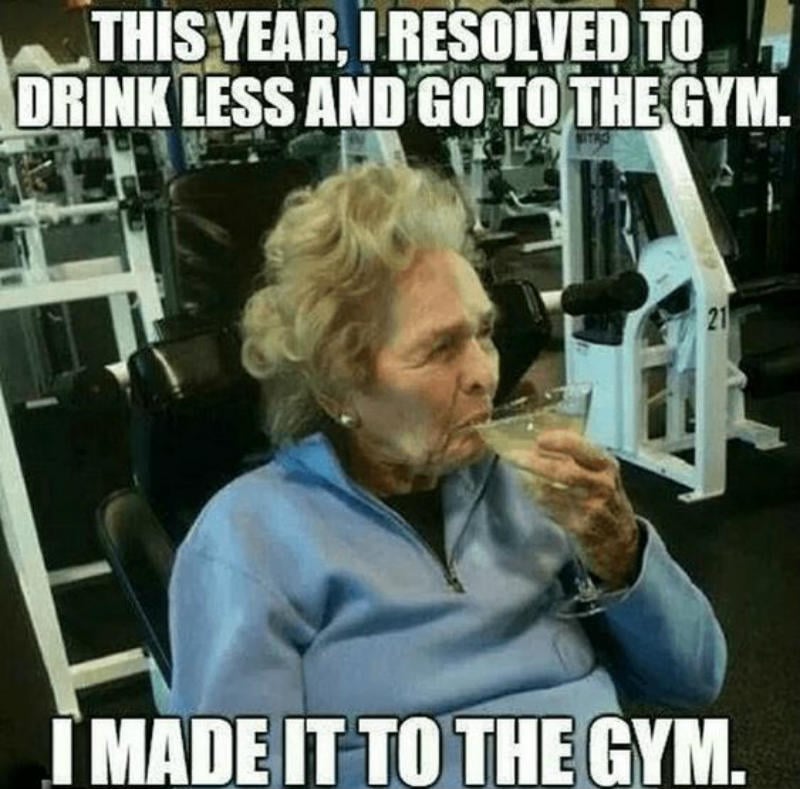 Welcoming the New Year also means getting rid of the bad and embracing the good. Hence, the New Year resolutions. But do we really adhere to them? Most NY celebrants have accepted the fact that NY resolutions are just a bunch of promises people make to feel a tad bit better about themselves and their bad habits.
What better way to entertain everyone guilty than uploading funny New Year social media memes? Ever wanted to take your drinking habit down a notch? Here's one meme that'll probably inspire you (or not).
Well Wishes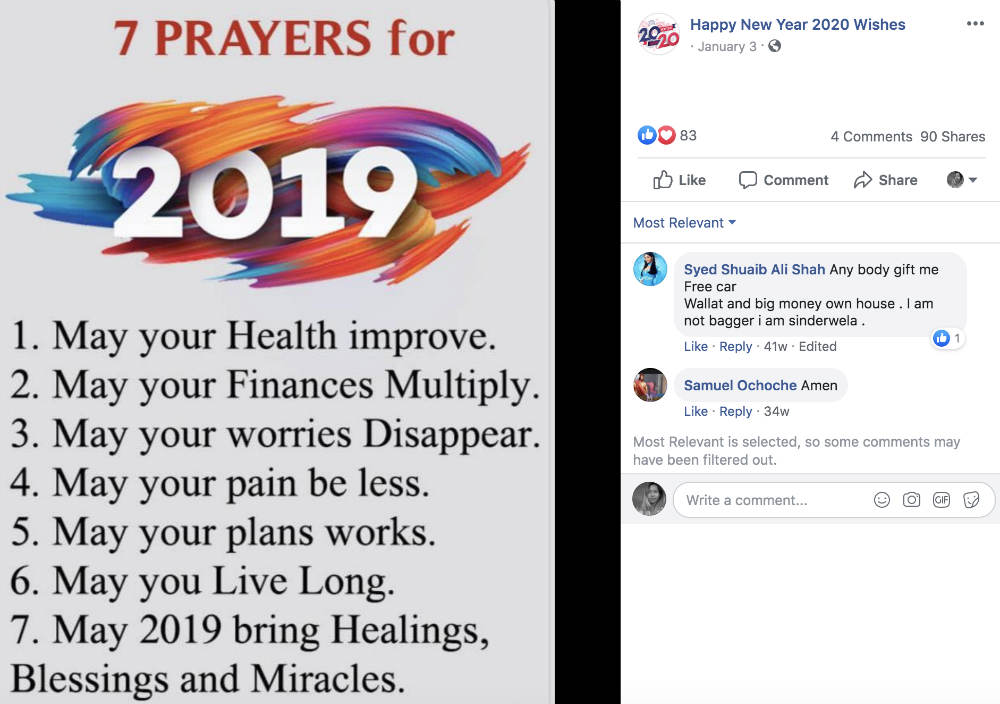 Starting the year anew draws in more physical, mental, and emotional changes for the hopeful. To some, embracing the New Year might be a melancholic experience due to a myriad of unfortunate events. Nothing could be a more inspiring post than wishing everybody a better year with better experiences.
Here's one motivational New Year social media image that'll surely touch some crestfallen hearts.
Blogs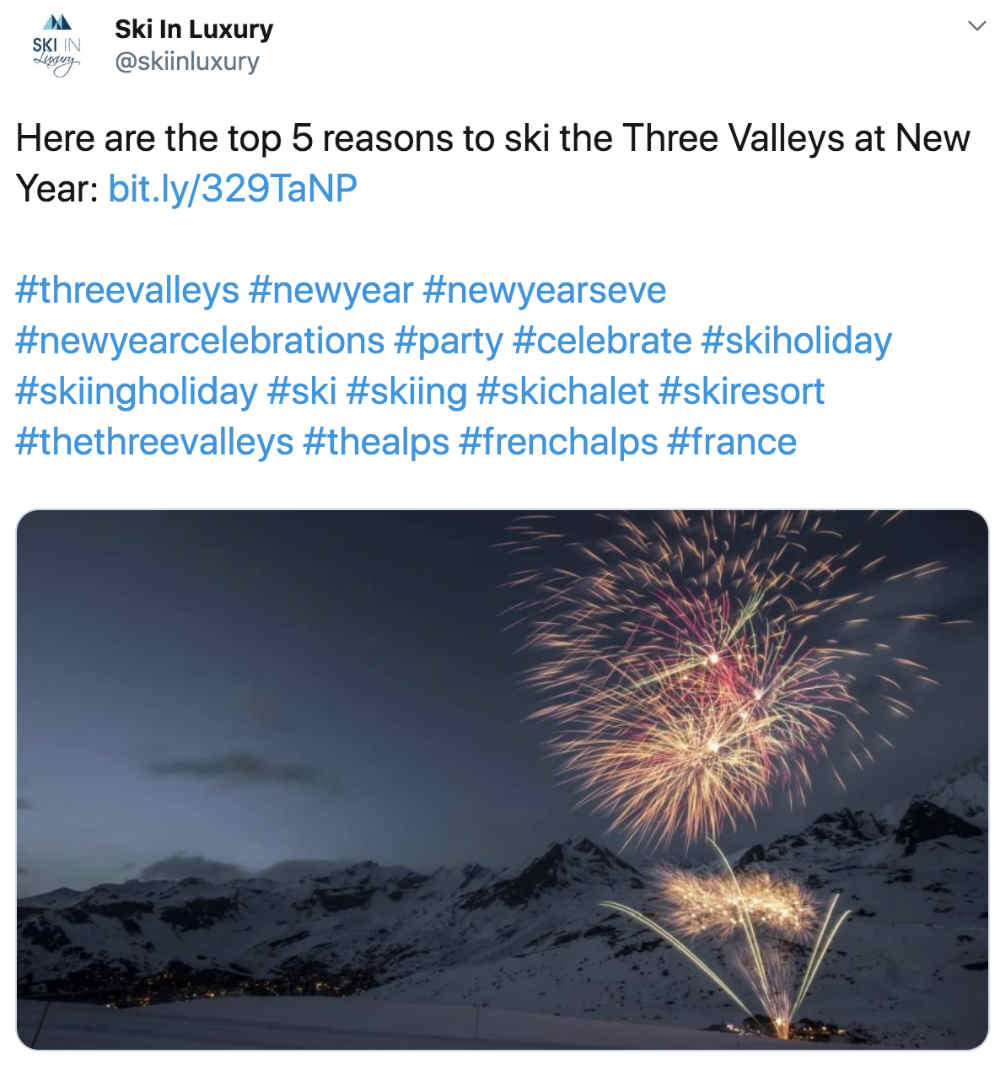 Blogging is gaining traction in digital marketing these days. This sudden rise in popularity is due to the value and convenience it provides. Whether you own a startup or corporation, blogging is an essential marketing approach that'll work side by side with influencer marketing, video marketing, SEO, PPC, and other online advertising types.
Likewise, ensure that your blogs resonate with your audience. Here's an example from Ski In Luxury, a luxury ski agency aiming to help clients find their perfect ski destinations.
Social Media Contests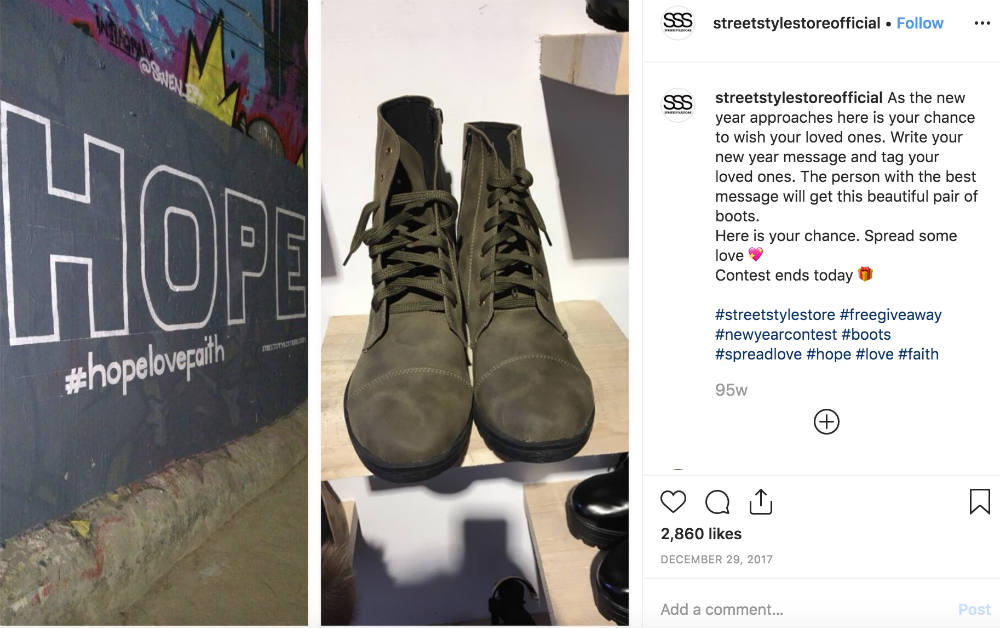 Contests are expected during the holidays. If you're not taking advantage of user-generated contests, then you're missing out on lead generation and conversions.
StreetStyleStore held a New Year social media contest in 2017 by asking its supporters to write a special message and tag their loved ones. They picked the person with the best message and gave away a cool pair of boots!
Conclusion
There are a million and one ways to entice users through New Year social media posts. Videos, images, blogs, memes, GIFs, to name a few. Let your imagination run wild and outshine other mundane NY social media posts through quality graphics and creativity.