It's time to ring in the New Year with tear-jerking social media posts. Whether you're leveraging this holiday for your brand or breaking a New Year record for your social media following, a New Year social media post could be the quantum leap you've been waiting for. Find out how you can boost your social media presence by checking out these 12 New Year social media post examples.
Plus, get FREE New Year's Eve graphic designs here for your upcoming social media posts. There are FREE templates free for use before counting down the new year and some character illustrations and patterns to choose from as well. Download them here!
Stop using templates

Custom social media posts get more shares than overused design templates.

Design this for me!
1. New Year Events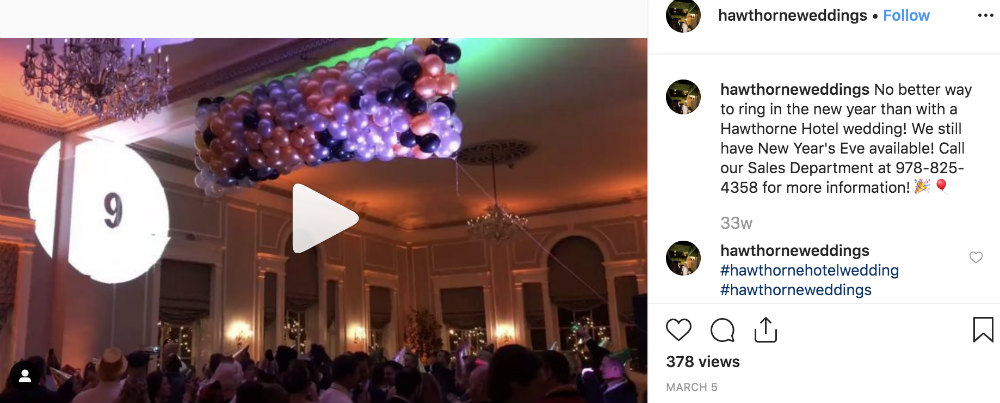 If you're a brand looking for more avid fans, promote your New Year events on social media. This hotel, based in Massachusetts, posted an Instagram video of a NY wedding within their premises.
It's a video of wedding guests celebrating both holy matrimony and a New Year's Eve countdown. This post is an excellent way to get hundreds of guests to share it on their news feeds. Plus, it's a subtle digital marketing tactic for event organizers, wedding agencies, and would-be brides or grooms.
2. Throwback Photos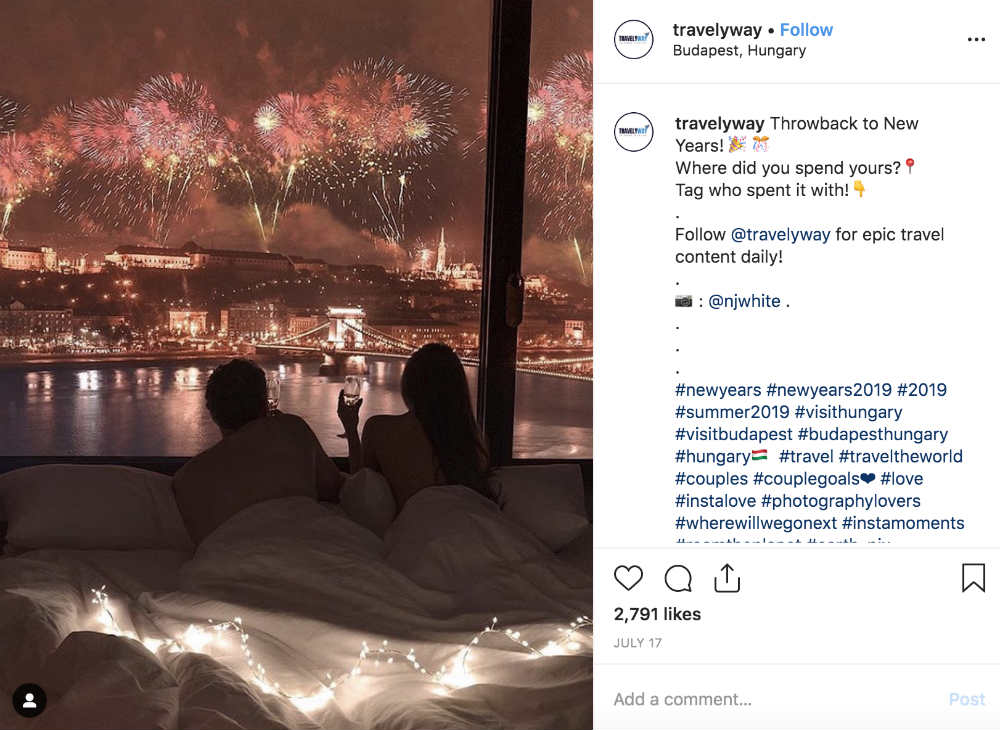 We've all had unforgettable and sometimes embarrassing New Year experiences at one point in our lives. If you've caught them on camera, reminisce the good old memories through throwback photos.
This particular example is of a couple spending quality time together under the beautiful city fireworks. Overall, it's a unique shot with a primary focus on quality.
3. Share Tips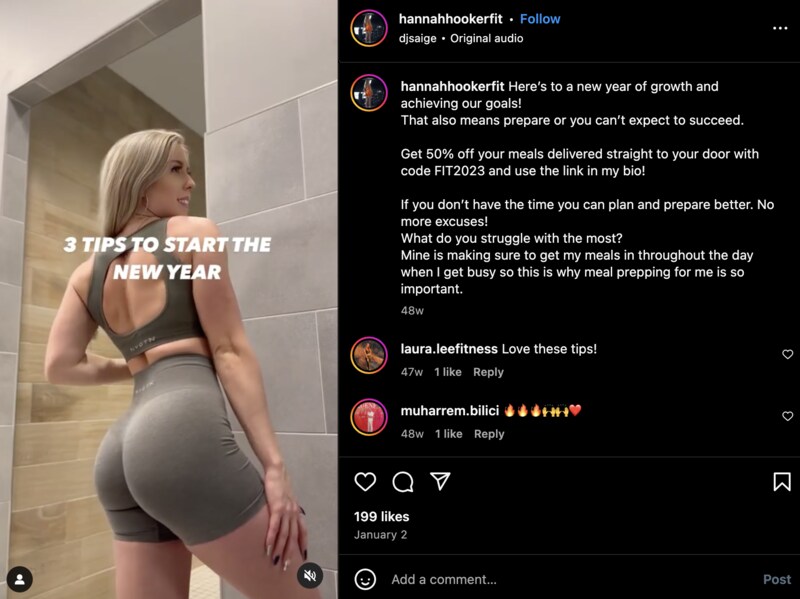 Before the new year hits, people start jotting down New Year's resolutions. And a common one is to turn their lives around and live a healthier one moving forward. Staying healthy and feeling stronger are excellent ways to capture attention on social media before the NY.
You can create a quick reel and list numbered tips on how to feel good inside out. Ensure you're putting captions on your video like the example. You want your video or reel tips to be quick and easily digestible for users.
4. New Year Countdowns
What's a New Year social media post without New Year's Eve countdowns? New Year's Eve countdowns are a staple for partygoers who like to celebrate with other people during this festive event.
Of course, we've picked one of the best New Year social media countdowns to date. Here's a Ball Drop countdown in New York Times Square.
5. How-to Guides
How-to guides always emerge as top social media post contenders. Why? Firstly, they provide users with valuable information. Secondly, they're very easy to digest, especially if they're a listicle blog or video. Lastly, how-to posts are incredibly entertaining.
It can be a challenge to adhere to New Year's resolutions, especially if you're juggling between school and personal life. So this guide is beneficial for students thinking about their New Year's resolutions.
6. Striking Photos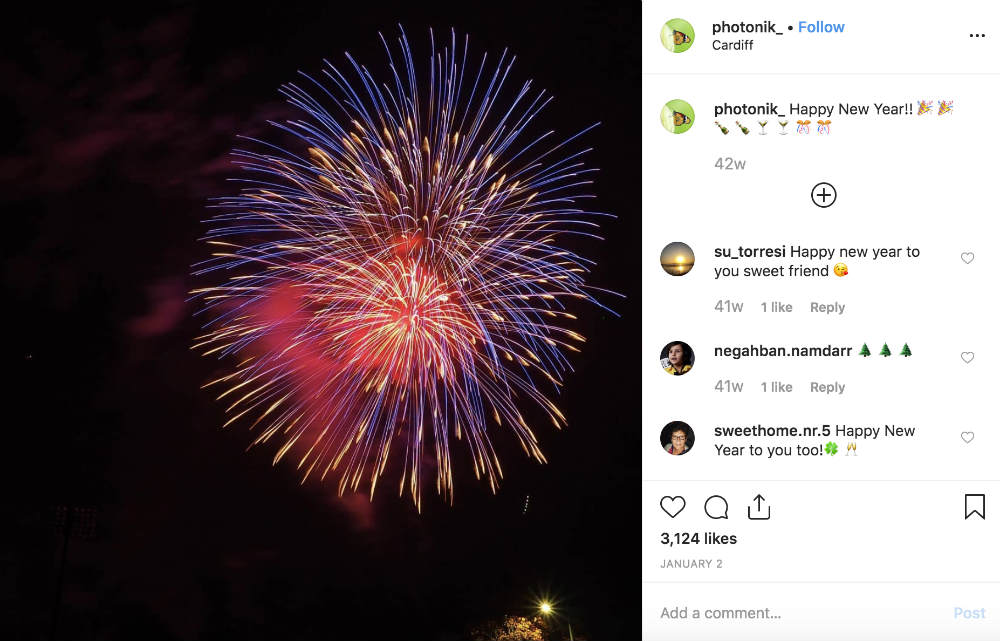 There's nothing more compelling on social media than first-rate photos. If you own a business, quality graphics are of the essence. Stay consistent with your quality posts and try new social media marketing trends that are selling like hotcakes.
This one is an immaculate shot from a personal photography blog. The colors, fine lines, and jovial explosion are all captured exquisitely on camera.
7. Funny Content

Not everyone feels like merry-making on New Year. Capture these audiences' attention by posting hilarious content. It doesn't have to be a video clip or graphics. Even a short funny status update can put smiles on people's faces. Here's an example from a Twitter user relating to everyone's dilemma when setting new healthy habits at the beginning of the year. It implies that most people return to unhealthy habits after a few months.
8. Special Announcements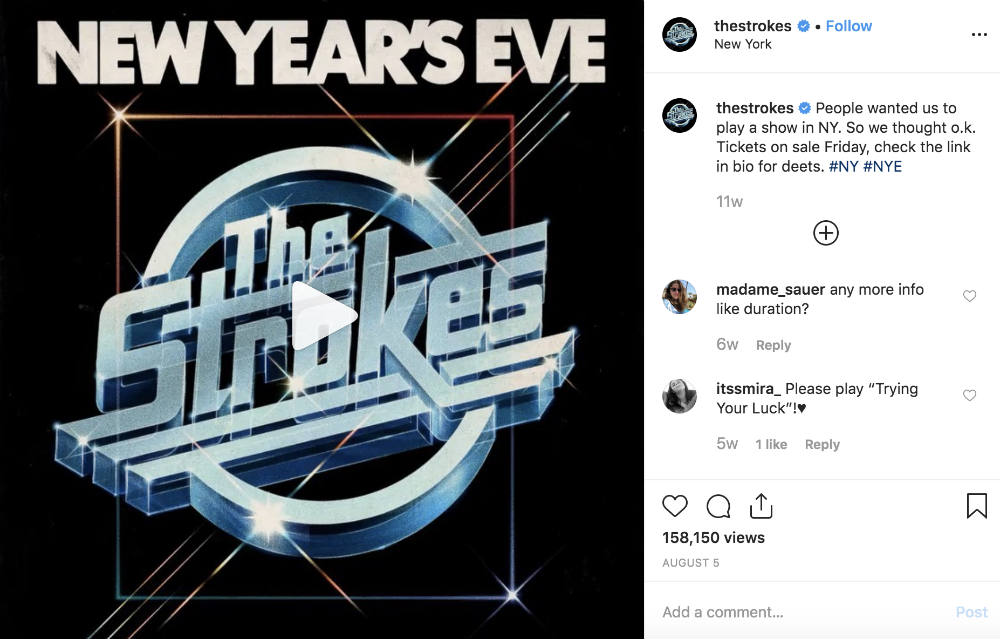 Most brands will undeniably rouse their audience with exciting New Year events. Make sure to reveal the announcement a few weeks before the day of the event. The holidays are a perfect time to advertise an event as most people won't have work commitments. Plus, the extra holiday moolah will urge them to attend.
To all The Strokes fans worldwide, if you didn't get the memo, here's one that'll make your NYE in NY extra special. You're welcome!
9. New Year Resolution Memes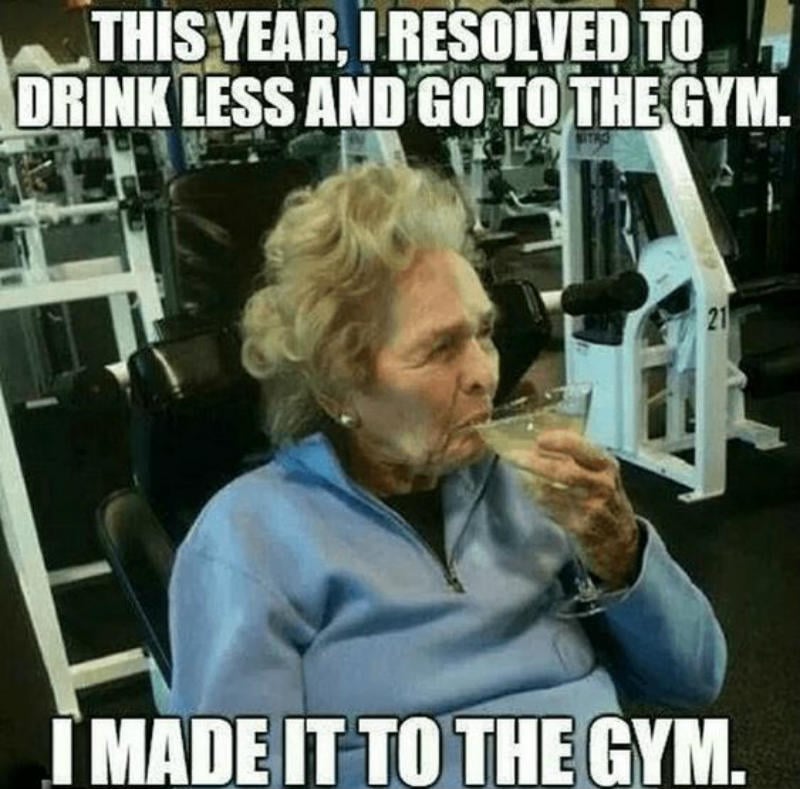 Welcoming the New Year also means getting rid of the bad and embracing the good. Hence, the New Year's resolutions. But do we really adhere to them? Most NY celebrants have accepted the fact that NY resolutions are just a bunch of promises people make to feel a tad better about themselves and their bad habits.
What better way to entertain everyone guilty than uploading funny New Year social media memes? Ever wanted to take your drinking habit down a notch? Here's one meme that'll probably inspire you (or not).
10. Well Wishes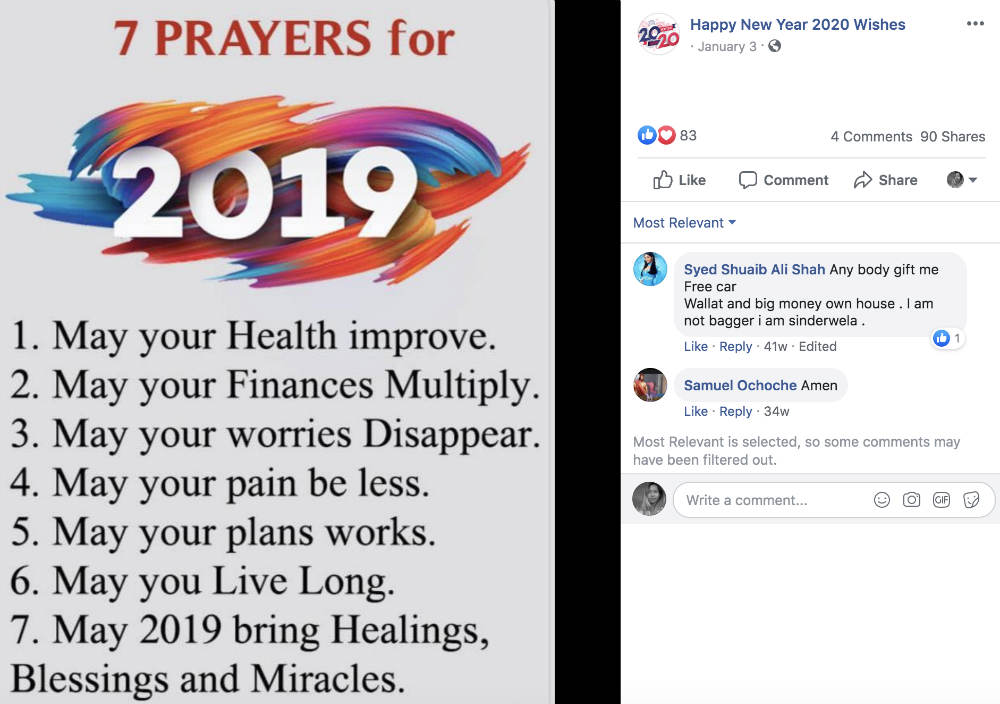 Starting the year anew draws in more physical, mental, and emotional changes for the hopeful. To some, embracing the New Year might be a melancholic experience due to a myriad of unfortunate events. Nothing could be a more inspiring post than wishing everybody a better year with better experiences.
Here's one motivational New Year social media image that'll surely touch some crestfallen hearts.
11. Blogs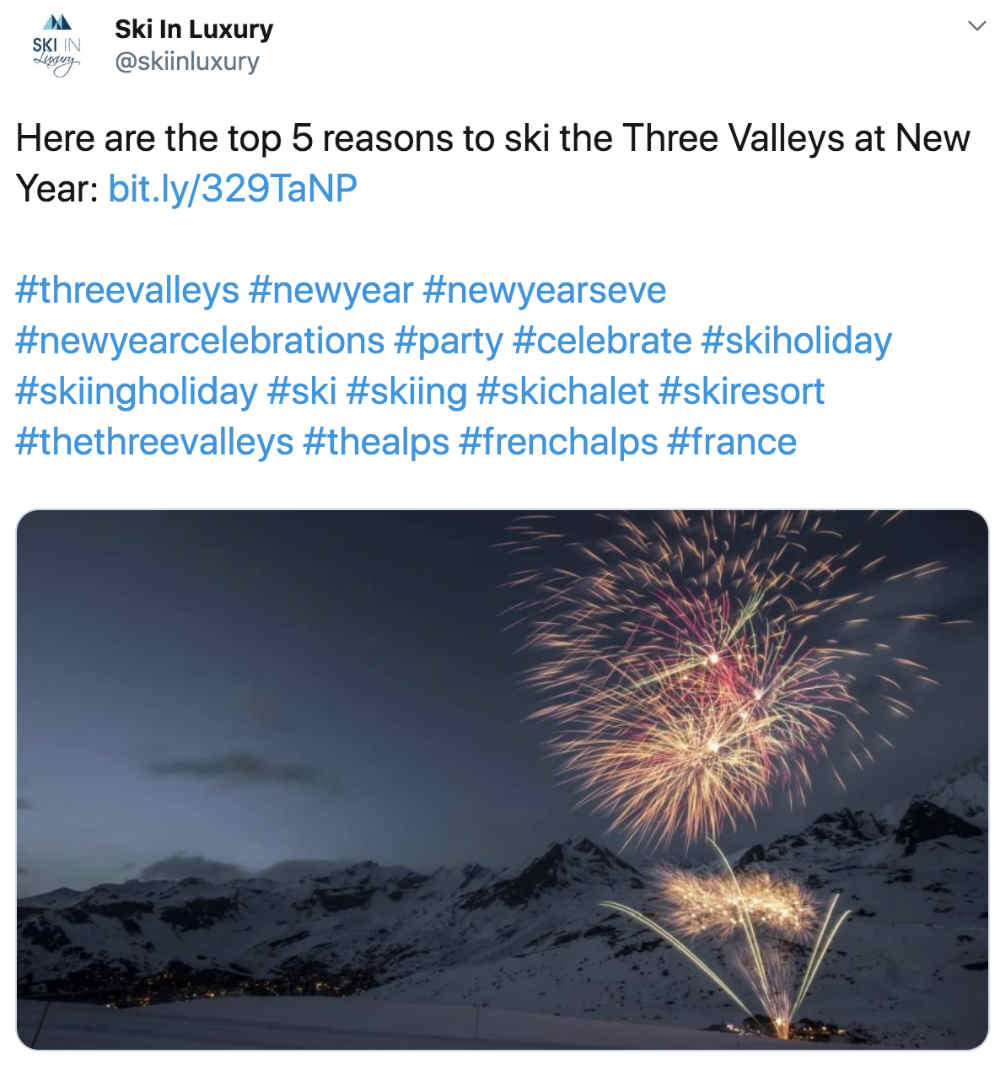 Blogging is gaining traction in digital marketing these days. This sudden rise in popularity is due to the value and convenience blogs provide. Whether you own a startup or corporation, blogging is an essential marketing approach that'll work side by side with influencer marketing, video marketing, SEO, PPC, and other online advertising types.
Ensure that your blogs resonate with your audience. Here's an example from Ski In Luxury, a luxury ski agency aiming to help clients find their perfect ski destinations.
12. Social Media Contests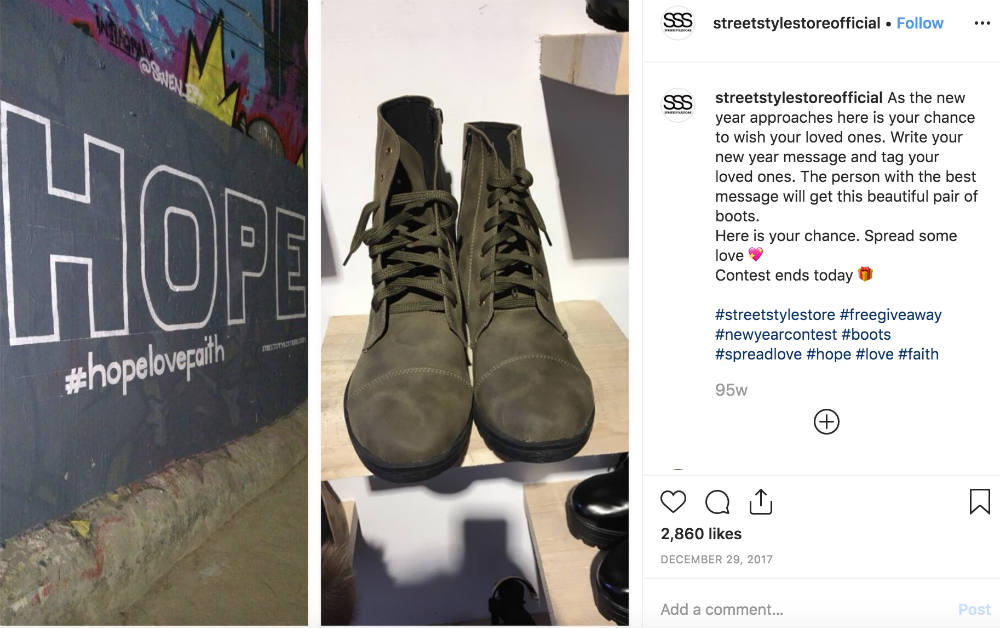 Contests are expected during the holidays because everyone is in a festive mood, and will surely join if there's an irresistable price at stake. Take advantage of user-generated content (UGC), so users will share your New Year promos and giveaways. Getting users to tag their friends, tag your brand in their feed, or reshare your content are all examples of UGC.
StreetStyleStore created a New Year social media contest by asking its supporters to write a special message in the comment section and tag their loved ones. They picked the person with the best message and gave away a cool pair of boots!
13. Set Goals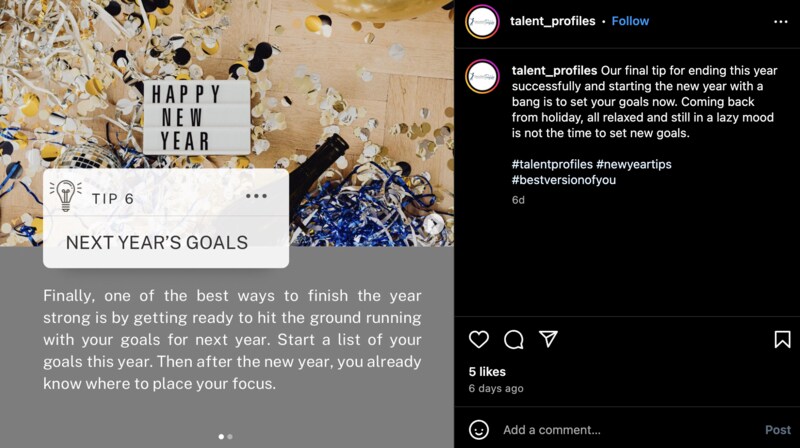 There is another hope that comes with the new year. As people create a better life for themselves, reminding them to set goals is an excellent way to connect with target audiences. Instead of setting goals after New Year, you can tell your followers to set goals before the year ends. This way, they will start working on those goals now, which can make them excited once the big day comes.
You can also be the best example of how to set goals by sharing what your brand's goals are for 2024. For instance, you can tell followers that you're looking to improve customer service or a better in-store shopping experience.
14. Work with Influencers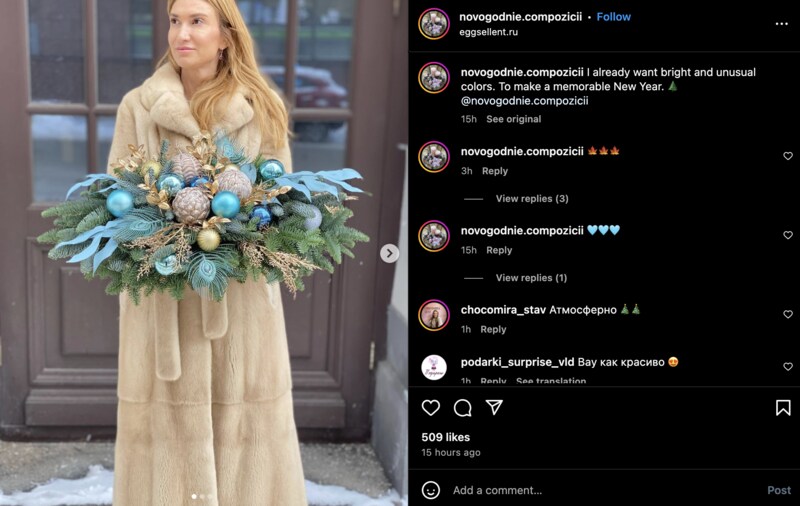 Working with influencers and using their clout to persuade your followers is a way to gain more patrons in 2024. This is an easy social media post idea that will cost you either a minimal or steep fee. However, the heavy lifting will be on the influencer. You can select the most relevant influencer that aligns with your brand's values, principles, and advocacies.
Most importantly, ask the influencer to showcase your product and how it helps them in their routine. Painting a picture in your viewers' minds of how your product can benefit their lives is a smart New Year marketing strategy.
15. Share Your Brand's New Year's Resolution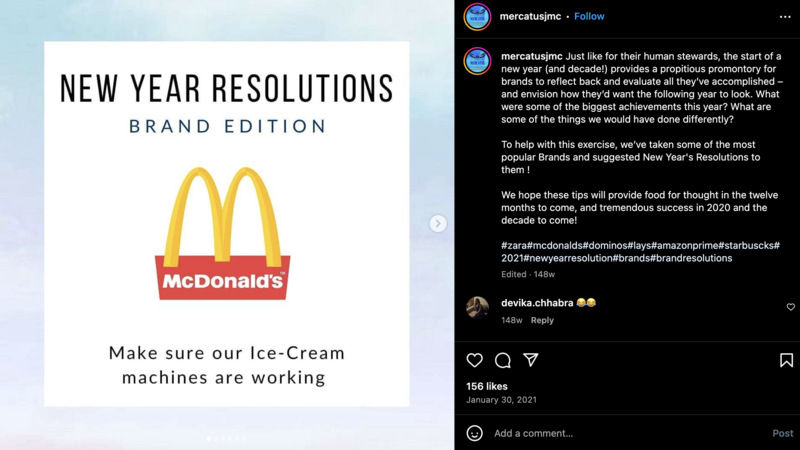 New Year resolutions aren't only for individuals. Brands can also take part in this yearly tradition. For example, you can share your brand's New Year resolutions that prioritize customers. This example shows an Instagram user that compiled various NY resolutions from different brands. Offering a promise and following through is one of the best New Year social media advertising ideas you can do.
16. Showcase Your Product or Service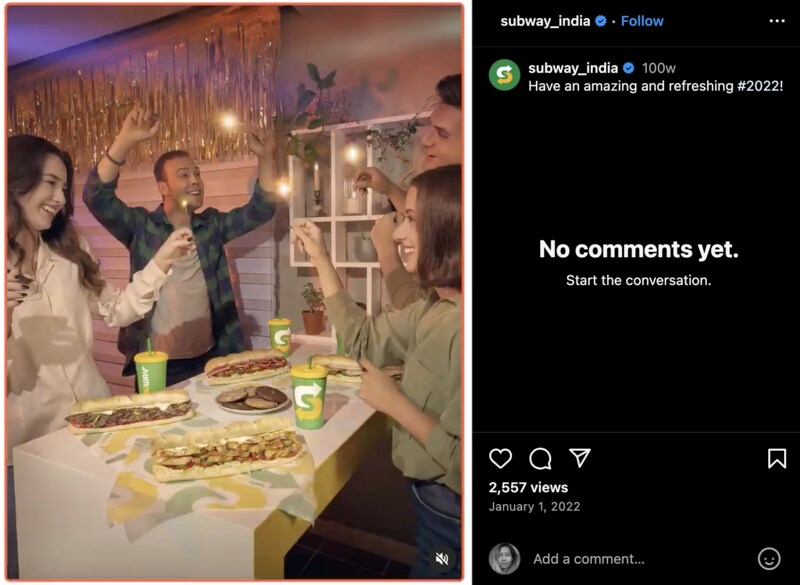 What better way to garner more customers in the coming year than enticing them with your product or service. Showcasing your wares is one of the simplest yet most effective social media New Year posts. The image can be as simple as this example from Subway. It shows people gathering around a table celebrating the New Year and enjoying Subway sandwiches.
You can get creative with how you want to promote your product or service though. Instead of still images, you can create clips on people integrating your product or service in their life. Or how about creating a quick tutorial? The possibilities are endless!
17. Launch a Product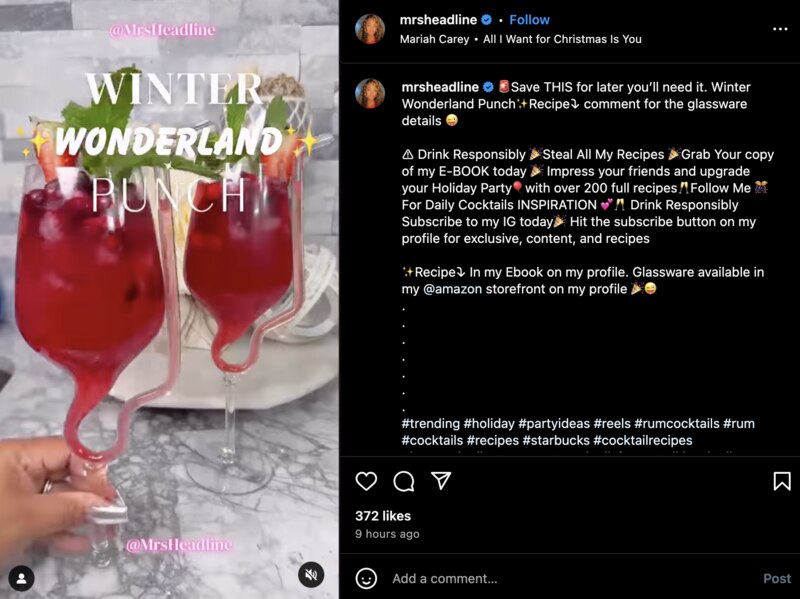 Give your followers a sneak peek of your new product. Create a pre-launch image or video that highlights your products features and benefits. You may also create a fun clip of how your product is made or the reason behind its inception. People are always drawn to heartwarming and interesting stories.
This is an example of someone showing how a winter cocktail is made. She creates a quick clip of pouring various ingredients of this drink in a unique glassware. She then promotes the glassware by telling viewers to comment for the details. Not only does this encourage engagement, but this also leads to sales if you're selling items or including affiliate links.
18. Announce an Exciting Event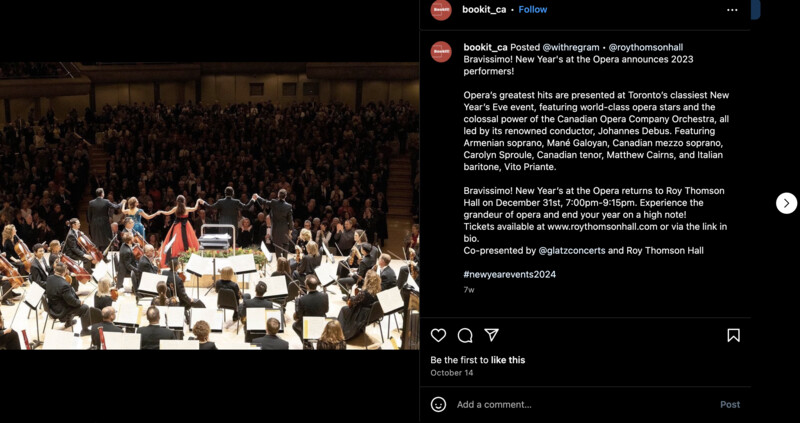 If you have a big upcoming event in 2024, a New Year social media post that announces it is an apt strategy. Even if the event is a few weeks or months away, keeping your informed builds excitement. Also, this is an excellent tactic that can garner word-of-mouth because people will be talking about it.
Here's an example of an Instagram post that announces Bravissimo! New Year's at the Opera's next show. This was announced almost two months early. Integrate a sense of urgency if you're selling tickets to the event, so people would want to get first dibs on the tickets.
19. Include a Personal Touch
Leverage the list of regular clients you have and see if you can personalize your social media post by selecting the most common denominator among all your costumers. For example, if most of them appreciated your company's after sales service, you can mention this on the post or tell a positive customer experience.
Another idea to integrate a personal touch per se is to talk about Chinese astrology like this example. Your viewers will find a good connection by being able to relate to the predictions applicable to them
20. Social Media Countdown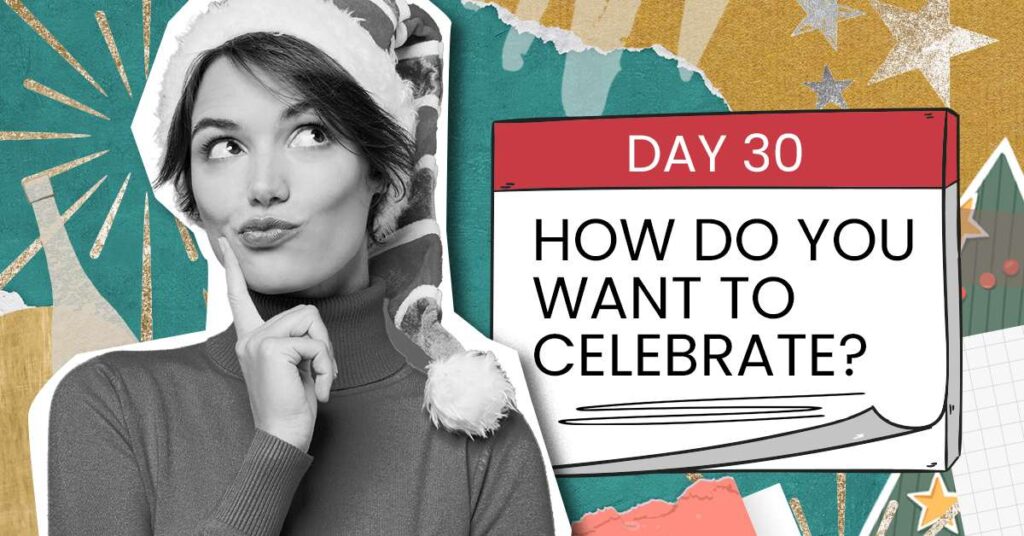 Creating a countdown 30 days before New Year is another way to keep your followers riveted to your page daily until the big event. However, ensure that your social media New Year posts are relevant and relatable to your target audience.
For instance, if you're selling pet products, you can offer 30 ways to celebrate with your dog. Or you may also create a list of possible gift ideas for friends with furry companions. You can post one on your social channels for 30 days until New Year, counting down from the 30th day to a day before New Year.
Use Penji for Your Social Media Posts this New Year
Using the Penji app is so easy. You just need three easy steps to get your designs after 24 hours:
1. Request for Designs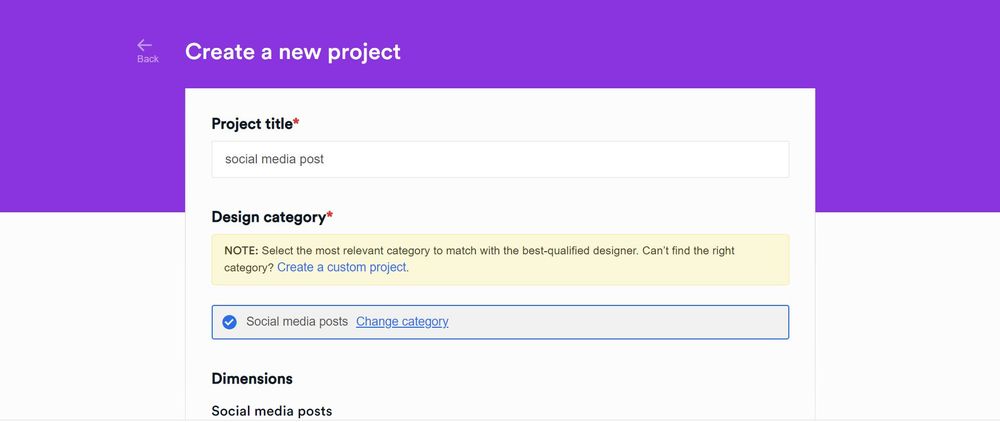 Once you are already logged into the platform, you will notice that the app is straightforward. Just look for the New Project button and click it.
It will take you to a new page where you need to add all the necessary information about your project. You need to be as detailed as possible. If you can add links and images, that would be of great help. That way, the designers will have an idea about the design that will work best for your business.
2. Wait for the Initial Draft and Send it Back for Revision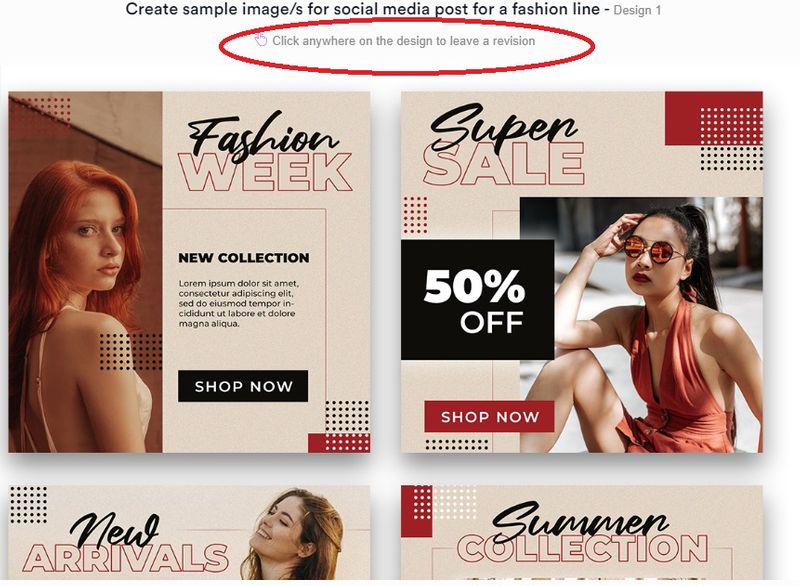 Next, you have to wait for the first draft to be submitted to you. It will take 24 – 48 hours depending on how simple or complex your project is.
When you already have the design, you can take a closer look by enlarging the image. Click on the details you want revised, and type your feedback in the pop-up box.
3. Download and Start Publishing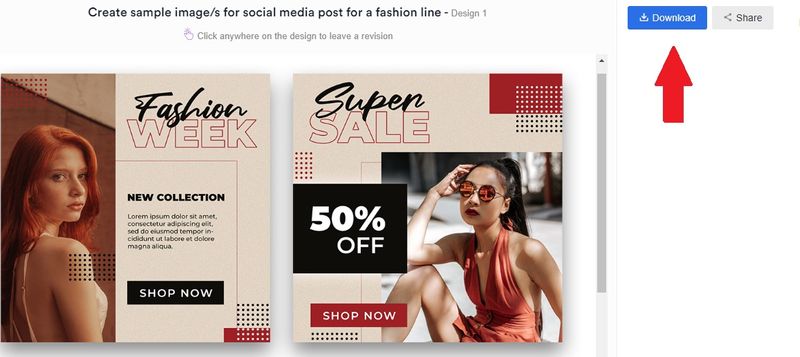 Are you satisfied with the revised design? If yes, then you may download the source files. You can do so without asking your designer to send it to you separately. Click the Download button on Penji's custom design platform and the file will be saved to your computer.
Enjoy the fast and reliable graphic design services of Penji. Subscribe to Penji and choose the plan that's best for you!
There are a million and one ways to entice users through New Year social media posts. Videos, images, blogs, memes, GIFs, to name a few. Let your imagination run wild and outshine other mundane NY social media posts through quality graphics and creativity.
Try Penji by using this code GETPENJI25 and get your New Year social media posts up and running before the year starts!