Stop using stock images for your branding and marketing needs. That won't get you anywhere. These days, using custom illustration for design makes your brand unique and professional. (Plus, custom illustrations are more affordable now than ever!)
Illustrations are excellent in conveying your brand's story. But why do some people confuse it with graphic design? Don't fret. We'll break down the differences between illustrations and graphic design.
Subscribe to an on-demand graphic design service like Penji, and you'll get unlimited custom illustrations at fixed, monthly rates. And if you scroll down to the bottom, we'll throw in a little surprise for more savings!
Graphic Design vs. Illustration: What are the differences?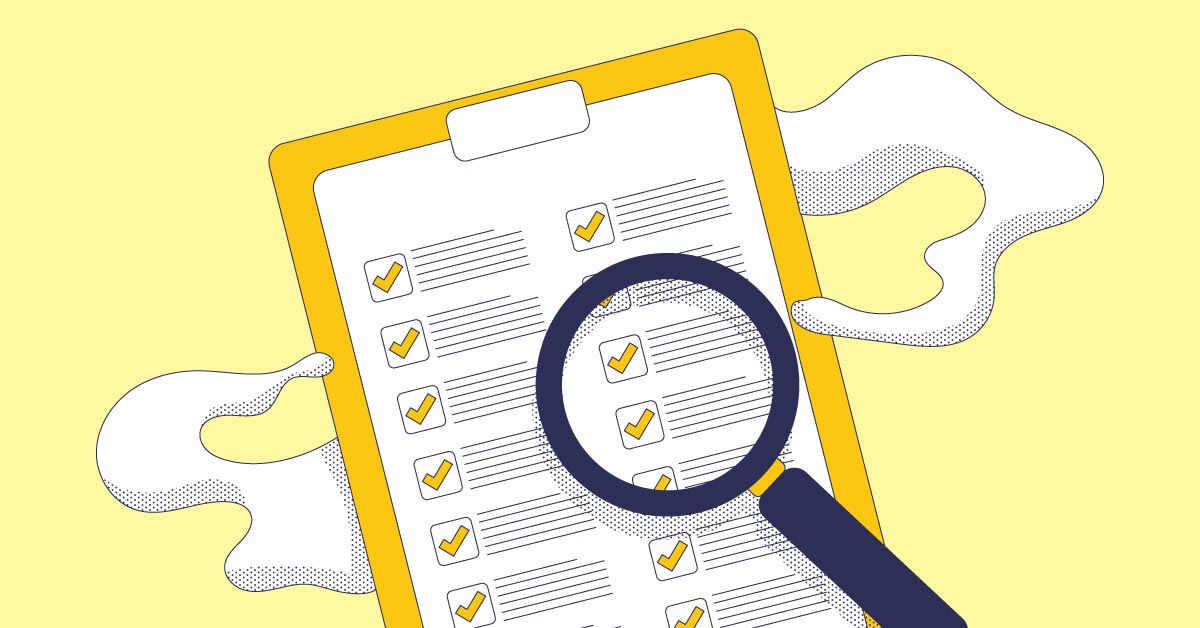 Both graphic design and illustration are a part of every brand aiming for success. However, some advertisers and entrepreneurs interchangeably use illustrations and graphic designs — WHICH IS WRONG.
Graphic design and illustration are based on two distinct creative fields, often confused as the same thing. Here are the differences:
Graphic Design:
Leans more towards commercial art based on trends, principles, and proven methods.
Is considered as a communication art. It requires extensive research about the target audience to communicate the brand's message.
Dwells more on a modern world where brands compete for attention offline and online.
Is a mix of various experiences, ideas, and vision to visualize everything into one concept that is clear-cut and straightforward.
Is a more flexible type of visual that can be used on almost anything such as branding, marketing, advertising, and user interface.
Relies on some basic design principles such as hierarchy, negative space, layout, balance, typography, texture, and colors.
Needs more research about the client's business as it represents everything the company is. One wrong design element can misinterpret a brand's message and turn off prospects.
Involves various design elements that compete with one another, and at the same time, fuse these elements to achieve cohesion.
Depends on the target audience to clearly communicate the message.
Solves a brand's problem through the use of imagery, colors, form, and typography.
Begins with a brand's visual identity. The designers then craft something that embodies this particular identity.
Is geared more towards branding and marketing strategies instead of storytelling, which is why most business owners prefer graphic design.
Demands direct attention from target audiences and draws them in with unique and professional visuals based on graphic design principles.
Illustration:
Dwells more on fine art, instead of commercial purposes. Despite this, more and more brands are now using custom illustrations for their branding and marketing materials.
Is more about creative interpretation as opposed to communication art. It depends on the artist's creative ideas to make something beautiful.
Can be useful in the modern world. However, it's a powerful force that fuels the creative world.
Has the ability to interpret complex text or stories. It acts as complementary imagery to decipher a text, copy, or story.
Is a concept based on the brand's message. However, it's more dependent on the artist's creative prowess than brand experiences, language, or vision.
Can't be used on everything compared to graphic design. Some print and online materials may look awkward with illustrations. However, illustration for design is integrated into published media like animations, books, magazines, flyers, and more.
Utilizes certain techniques that aren't necessarily based on the same basic graphic design principles. It's based on the artist's imagination.
Requires a more extensive thought process, personal design preference, and unique skills, instead of relying only on the brand's visual identity. Overall, the primary goal of illustration for design is to tell the brand's story.
The visual elements don't compete with one another. Instead, they need every aspect to visualize an entire concept or idea.
Relies more on storytelling rather than solving a brand's problems.
Is sometimes ambiguous yet communicative, making abstract concepts more simple and easy to understand.
Is more reliant on the artist's approach. More often than not, business owners choose illustrators who are known for their particular style.
Doesn't demand direct attention from the audience. It doesn't encourage viewers to focus on one element. Instead, illustrations for design let viewers see the imagery as a whole.
Illustration for Design vs Graphic Design: Uses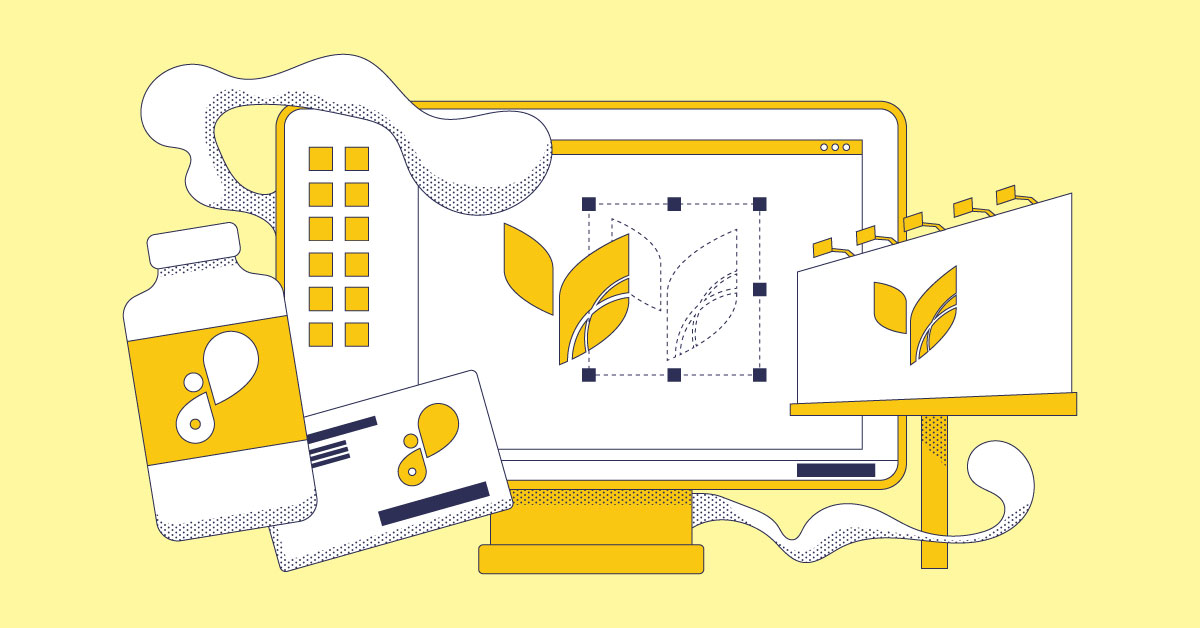 As mentioned, graphic design is a more flexible type of design compared to illustration for design. Although custom illustrations see their way into more modern media, this type is still more preferable on some materials. Here's where to use graphic design and illustration:
Graphic Design:
Branding
Graphic designs are more applicable to branding needs. They are more clear-cut, so brands should use this type in their branding assets. They can create a brand style guide with graphic designs that don their colors, typography, icons, and logos.
Logos
Logos should be versatile and scalable. A good one means you can resize it or display it on various materials without compromising quality. Graphic design does that. Logo illustrations are rare because logos are supposed to be a stand-alone symbol, devoid of all complex elements.
Marketing
Since graphic design dwells more on commercial purposes, brands use this type for their marketing collateral. Professional graphic designers depend on the client's design brief to craft marketing materials such as posters, flyers, catalogs, billboards or online ads.
Business cards
Business cards are another effective and traditional form of marketing material that let brands showcase their identity. However, most business card designs are kept simple due to such limited canvas. This is why brands display their logos and brand names only on their business cards, making graphic design a popular choice for designing calling cards.
Apps
A brand's marketing efforts extend through mobile and desktop apps. And one requirement in app creation is the user interface. A well-designed UI or user interface offers a seamless user experience, which brings in more leads and conversions. App illustrations help guide the users and navigate the website.
Illustration for Design:
Marketing
Illustrations do a bang-up job of telling a brand's story. And this is why custom illustration for design is also applied to print and online marketing materials. With the right use of colors and typography, illustrations provide incredible imagery that emanates beautiful brand stories and personalities.
Packaging
Since custom illustrations are fantastic complementary elements to text or copy, these can be perfect for product packaging. With eye-catching packaging, your products can draw prospects in.
Hero images
Hero images are huge visuals displayed in the middle of web pages. These capture user attention, so they're mainly used on landing pages that are geared for conversions.
Icons
Websites and apps have menu options for easy navigability. Icon illustrations help in letting users navigate to every web page they want to go to. Not only do icons offer convenience, but they also add visual aesthetics instead of providing text-based menu options only.
Infographics
Infographics explain complex ideas in easily digestible chunks of information. This makes illustrations an essential factor in creating well-designed infographics. You can use icons or concept illustrations to explain text through visuals better.
Blog images
If you browse through your favorite blogging websites, you'll notice that most blogs contain illustrations. Why? Simple. Illustrations are more compelling when paired with long-form content.
Web design
Using illustration when designing a website serves as a powerful tool to help a brand creatively convey its story. It's also one of the go-to mediums when a photograph can't fully deliver the intended subject.
Presentations
Pitch deck designs are more captivating when complemented with captivating visuals. Including a chart, infographic, icons, and whatnot make your presentation slide designs more interesting.
Children's books
Illustrations are commonly used in published media. Cartoon illustrations are popularly used in picture books to illuminate and give life to the characters.
Illustration and Graphic Design Creation: The Nuances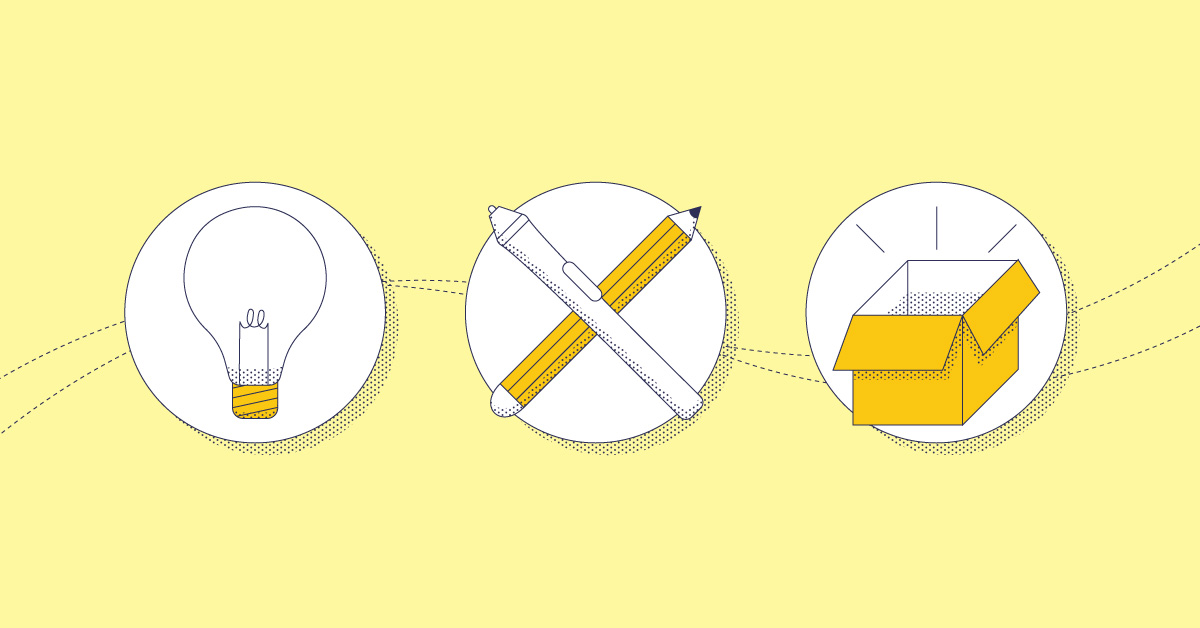 Both illustration and graphic design follow some basic and common steps in the creation process. However, there are some nuances that most creatives or clients overlook.
Step 1: Reviewing the Design Brief
This is one of the most crucial steps, as misunderstanding the design brief can lead to bad results, needing more revisions down the road. This process is pretty much similar for both graphic design and illustration.
Step 2: Researching Key Business Components
Graphic designers then research the following:
target demographic
culture
history
values
vision
industry
Competitors
Although illustrators do the same minimal research, they first determine what type of illustrations fits the project at hand. Professional illustrators choose between watercolor, caricature, realistic, flat, isometric illustrations, and more.
Another nuance in the creation process is that graphic design would rely on the brand's assets, such as colors, icons, shapes, and typography. On the flip side, illustration for design dwells more on the artist's style, preference, and creative imagination.
Step 3: Brainstorming
It's when creatives think of all ideas, motifs, or symbols and sketch these ideas on paper. While graphic design needs graphic design trends to craft an updated look, illustrations would need inspiration from other excellent illustrators. Plus, the illustration creation process considers depth, framing, and details.
Step 4: Refining
After sketching, creatives begin refining the idea and materializing it on digital tools such as Adobe Photoshop or Illustrator. Graphic designers consider creating at least two to three variations, while illustrators carefully craft a final draft.
The Best Source for Custom Illustration for Design
Custom illustration for design should only be done by professionals. By subscribing to Penji, rest assured you'll work with some of the top graphic designers and illustrators in the industry.
Here are some of Penji's illustration work samples:
Subscribing to Penji also means you'll get access to a user-friendly design platform for quick communication and seamless collaboration with illustrators. Moreover, Penji ensures a fast 24 to 48-hour turnaround for your custom illustrations or graphic designs.
If you're ready to sign up, we'll slash 15% off your first month.