Designing a gas station logo requires careful consideration of the company's identity, image, and target audience. An effective company logo portrays the right personality of the brand that resonates with its audience. Research and competitor analysis are two steps in creating an impactful logo so motorists notice your gas station and stop for fuel. Here are some gas station logos to inspire you to create your own.
Entrust your logo design to professional graphic designers. Penji can create a relevant and memorable company logo for only $75.
1. Blaze Gas Station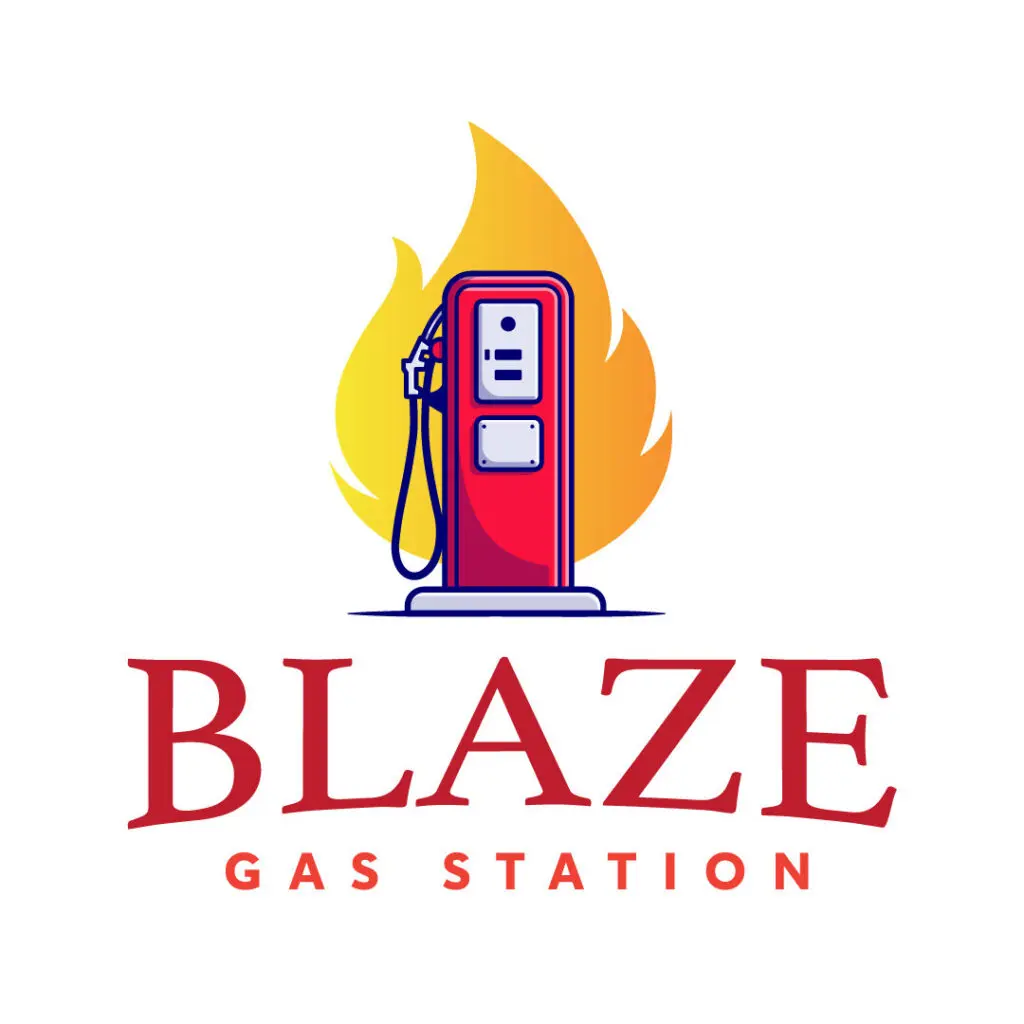 Red is a good color for a gas station logo because it represents fire, apt for a business within this niche. The Blaze Gas Station logo displays a clear-cut picture of a gas pump with a burning flame in the background. The red stands out amidst the yellow-orange flame, making the pump the most evident design element.
Want these eye-catching gas station logos?
Show off your brand's personality with a professional gas station logo created by expert designers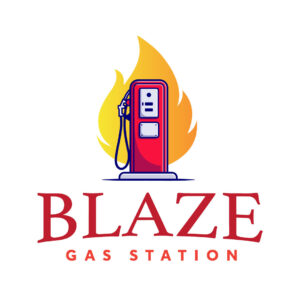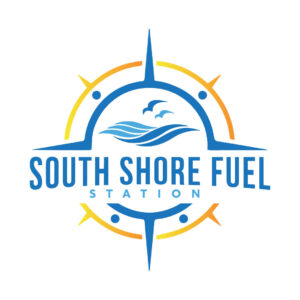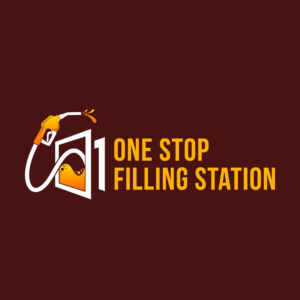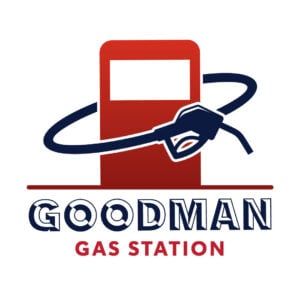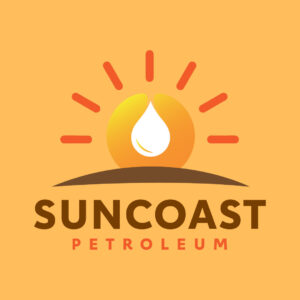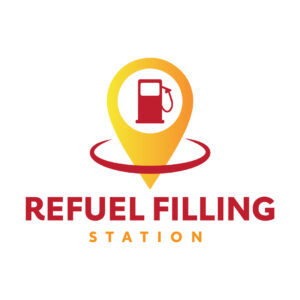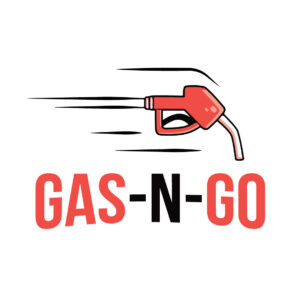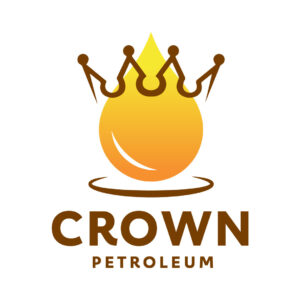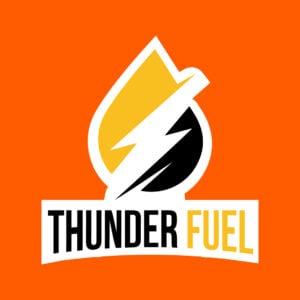 2. South Shore Fuel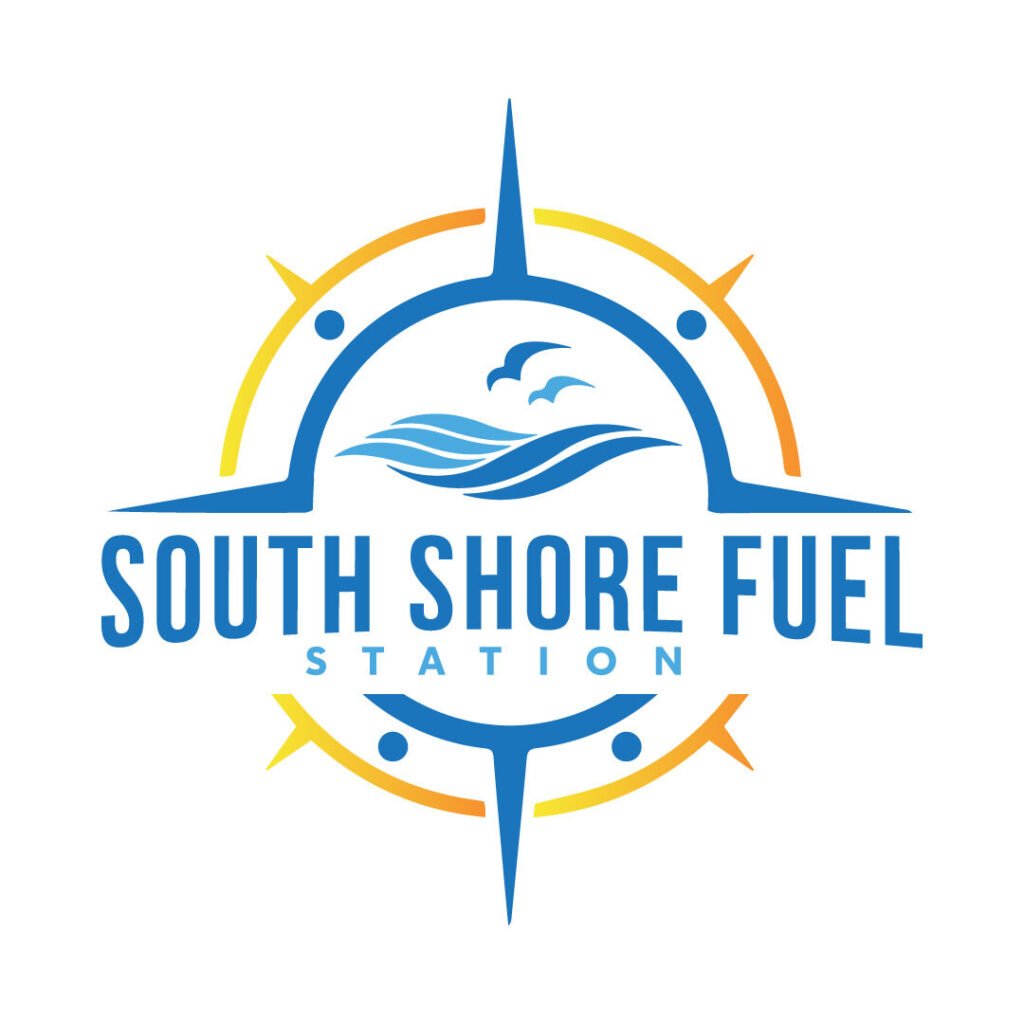 This gas station logo is located in a beautiful paradise of white sand beaches and clear blue skies. The logo design is compact, with several design components that shine independently. The image of a compass represents the business's geographical location, which is in the south. The abstract image of the ocean and birds paints a picture in viewers' heads that a gas station in a heavenly paradise is awaiting them.
3. One Stop Filling Station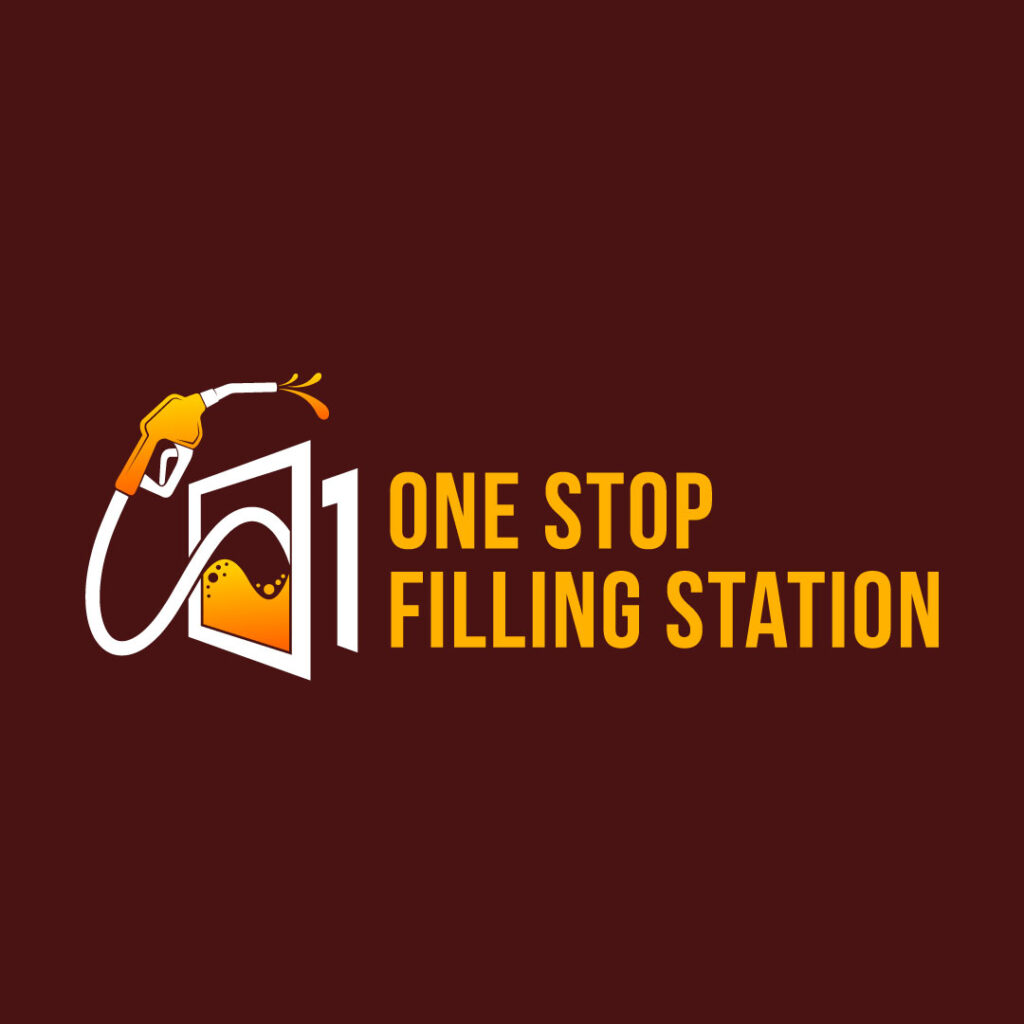 One example of a scalable logo that will look good on almost any branding and marketing collateral is the One Stop Filling Station logo. Penji's professional logo designer put a unique twist on the gas pump by avoiding image cliches. It's a simple square image with gas and attached is a refilling nozzle that's seemingly pumping gas. The logo's primary color is orange, perfect for attracting passersby due to its vibrant appearance.
4. Goodman Gas Station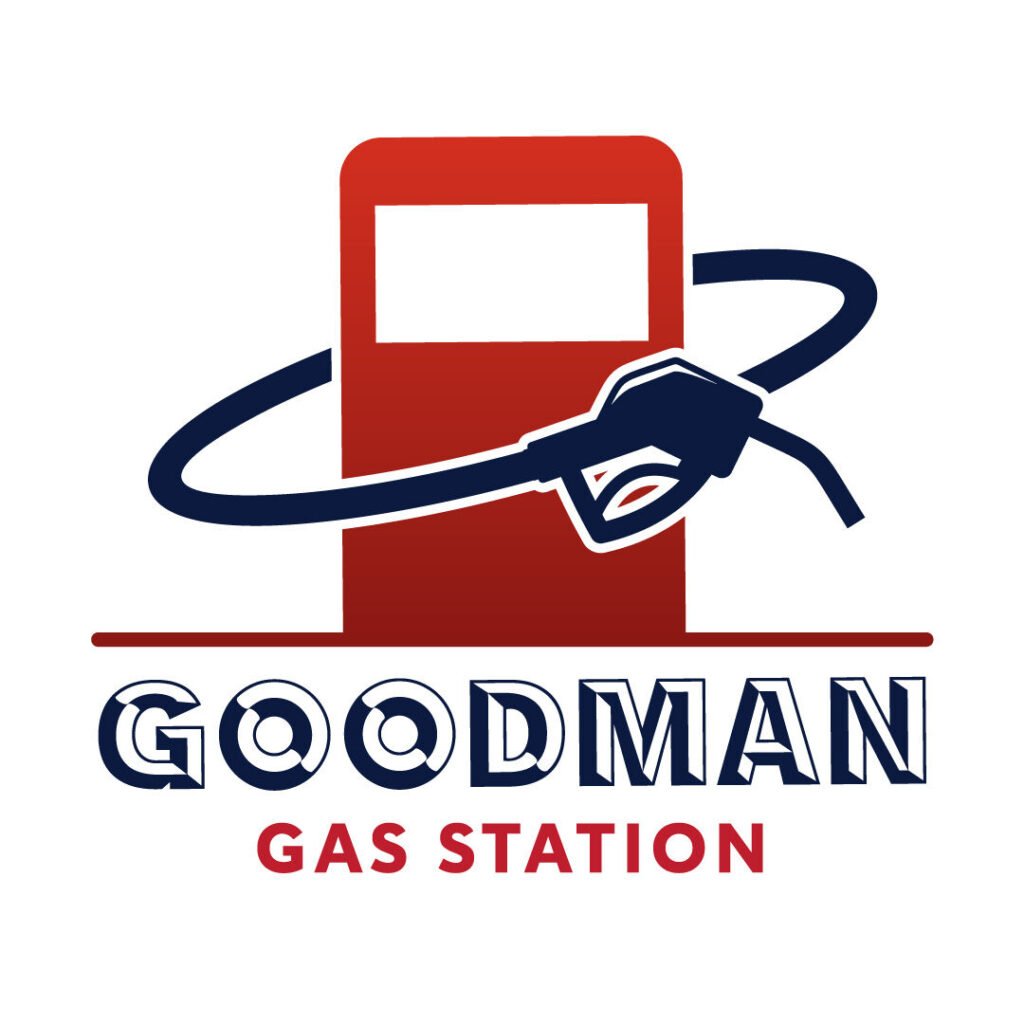 Here's another take on a gas station logo that dwells on a much simpler version of a gas pump. It's a straightforward image of a pump with the refilling nozzle wrapped around it. The red gas pump against the blue nozzle provides a nice contrast that is pleasing to the eyes. The text is a stylized font apt for the company's branding and personality.
5. Suncoast Petroleum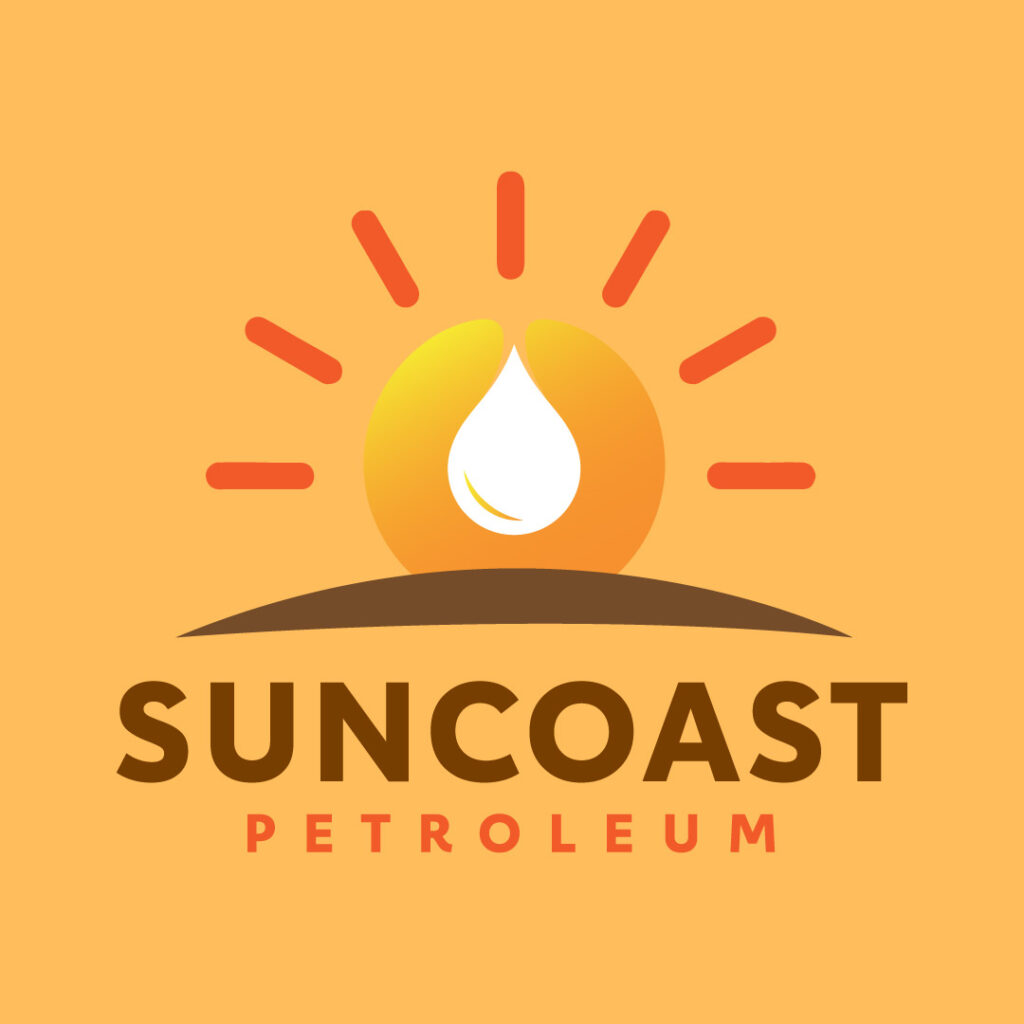 The Suncoast Petroleum logo is one of this list's unique gas station logos. It features the sun rising on the horizon, reminding viewers of the stunning gas station's location. However, the logo sticks to relevance as a droplet icon sits in the middle of the sun. This signifies liquid, which also represents gas.
6. Refuel Filling Station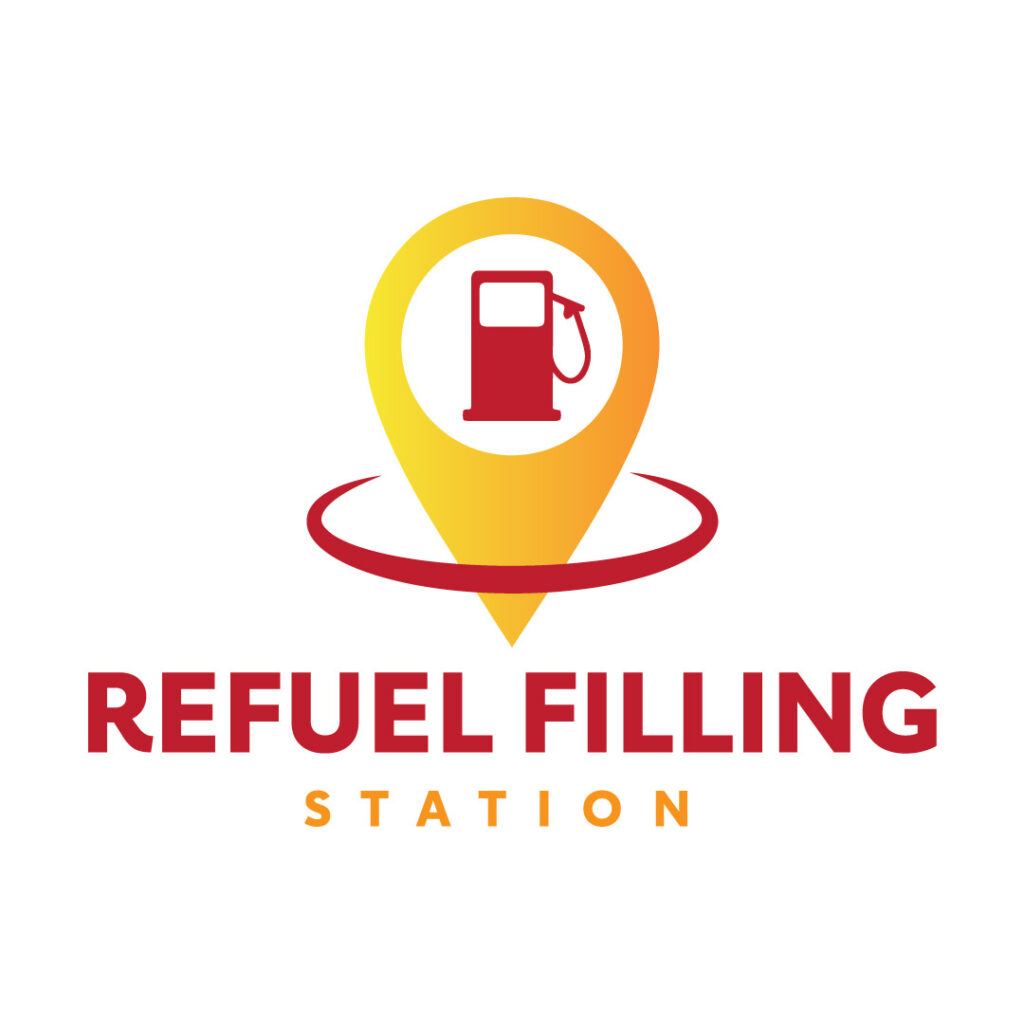 The entire composition of this gas station logo is one that you must emulate. The merging of varying design elements into one makes the Refuel Filling Station's logo creative and well-thought-out. There may seem to be different components, but the clean structure makes the whole ensemble understandable. The droplet is the clearest image, while the gas pump keeps it interesting, and the semi-circle encompasses the entire design.
7. Galleon Oil & Gas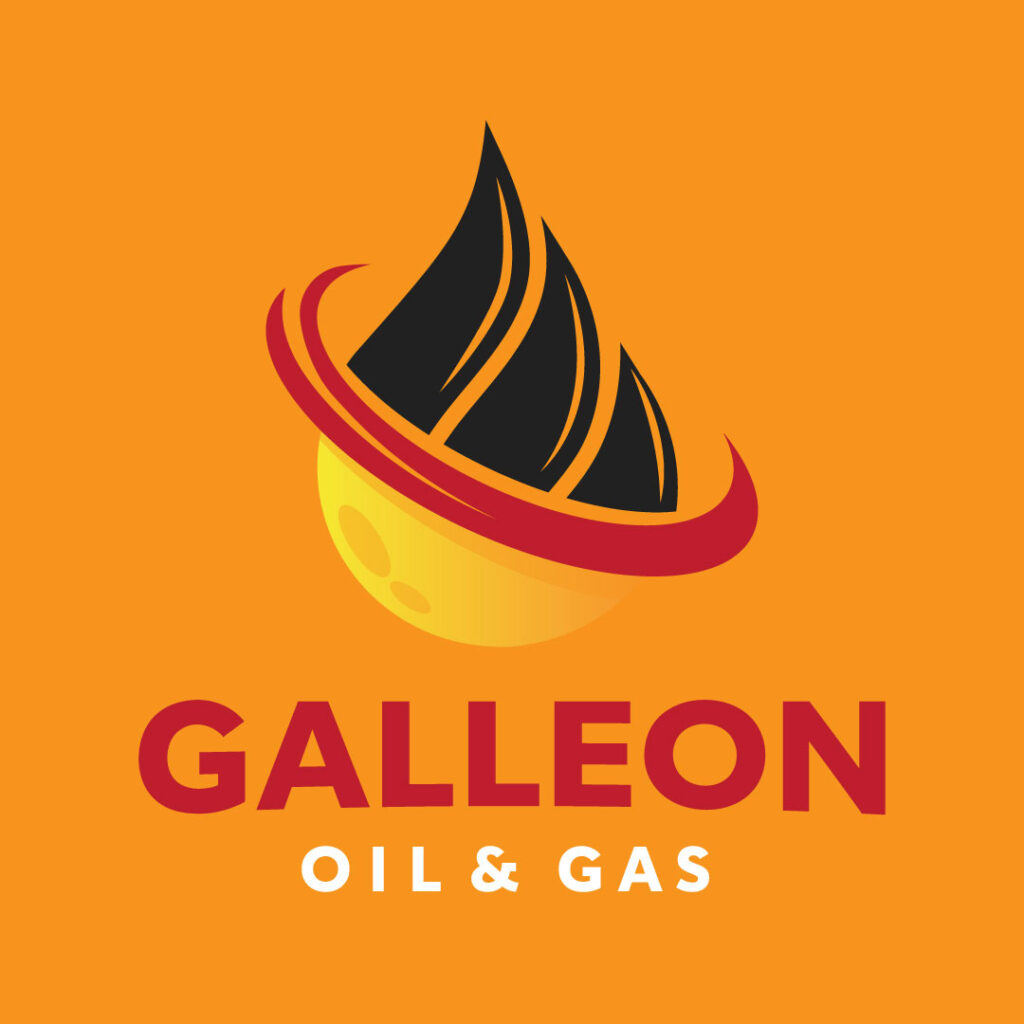 The Galleon Oil & Gas is one of the most compelling gas station logos on this list. The unique take on the droplet that seemingly looks like a blazing flame is eye-catching. Plus, the red semi-circle ties the design elements together, merging this logo into one cohesive unit. The sans serif font choice also gives this logo design a modern touch. Overall, this logo is memorable and has the potential to create top-of-mind awareness.
8. Gas-N-Go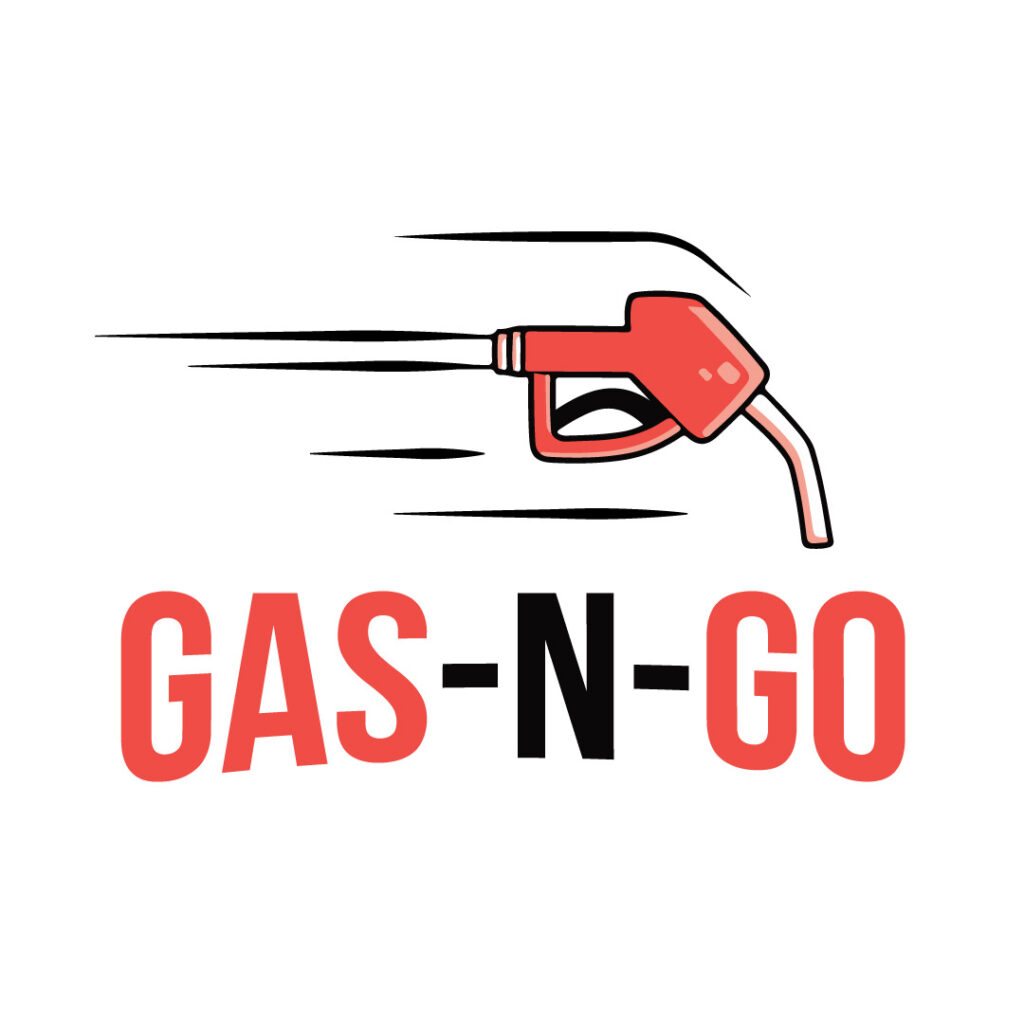 Gas-N-Go is one of the simplest gas station logos, which still creates an impact. The brand name Gas-N-Go establishes its branding immediately. It implies quality and fast service while you gas up and go on with your trip. The icon of a refilling nozzle also creates movement due to the black horizontal lines that look like tire skid marks. Also, the play on typography, which features a combination of red and black colors, is commendable.
9. Crown Petroleum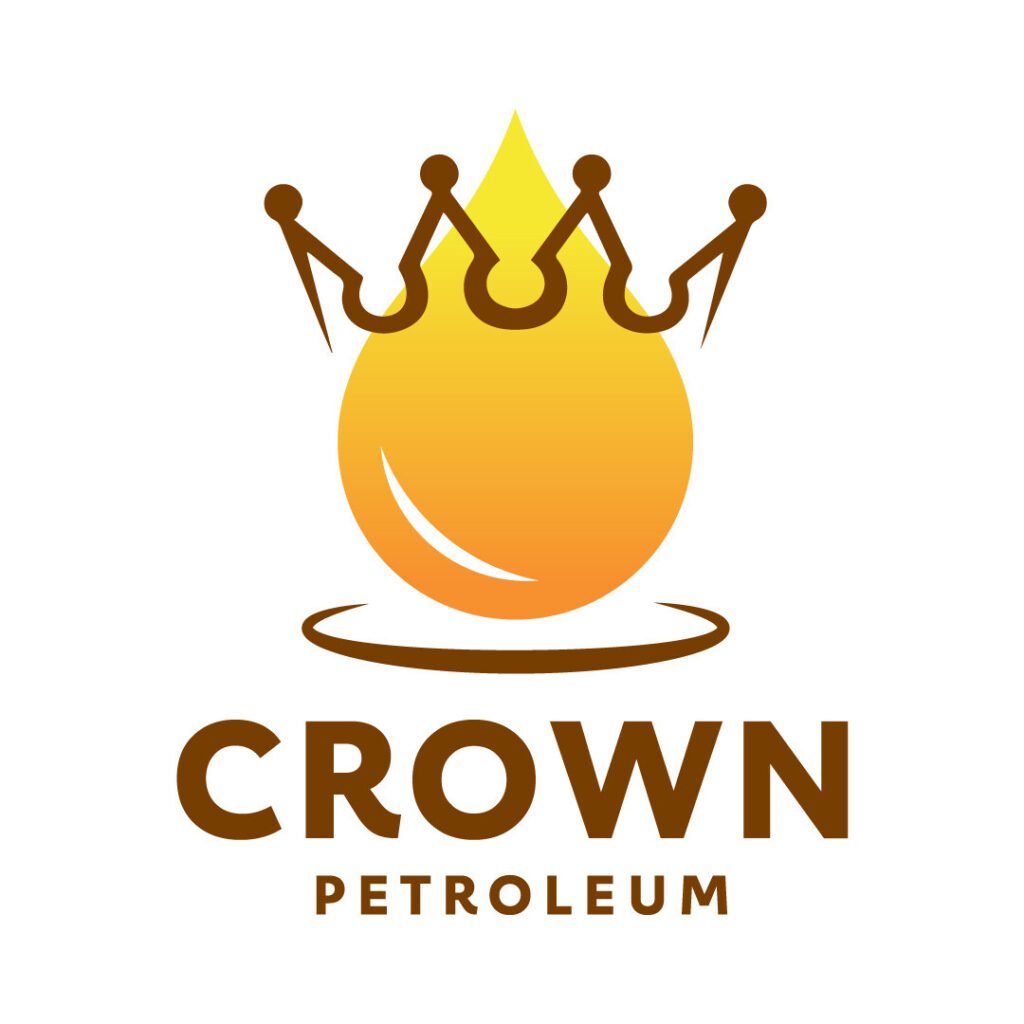 Crown Petroleum is another straightforward logo that represents its brand name. The droplet doubles as a person's head wearing a crown. It's sitting loud and proud on top of a ring that encapsulates the whole imagery. The brown and yellow colors are also an excellent way to break the monotony of creating this logo with only one color.
10. Thunder Fuel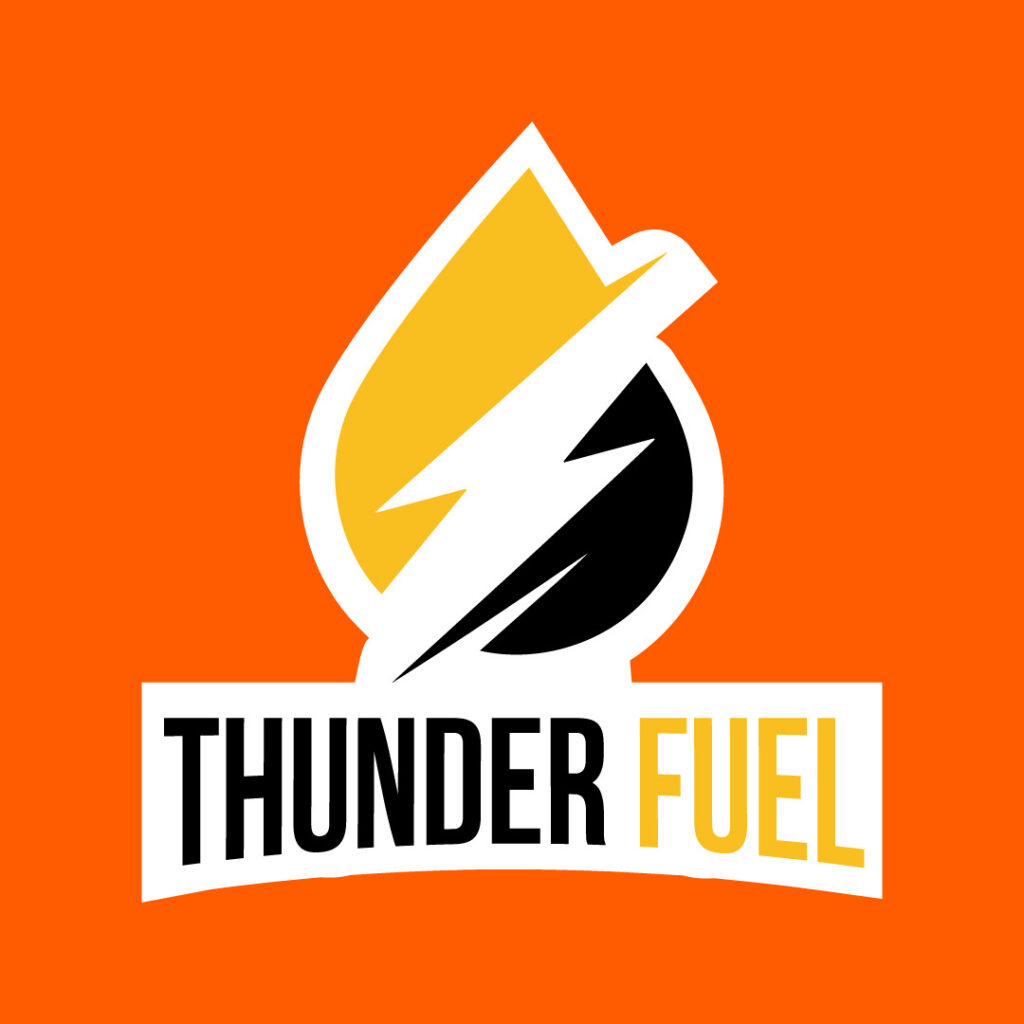 One of the most innovative gas station logos is the Thunder Fuel logo. The icon and text hold the entire logo design together through negative space. The play on white space in the middle of the droplet makes this logo design interesting. As you can see, the droplet dons two contrasting colors, and a lightning symbol sits in the middle of it. Then the designers keep this logo consistent by combining black and yellow colors in the text.
Get Your Gas Station Logo from Penji
It's hard to choose the best professional logo designers who will give you value for your money. But if you want a quality, affordable, and hassle-free logo design process, Penji's design team is at your service. Here's why you need to hire a professional logo designer:
Quality designs
Penji hires only the top two percent of the best designers, which reassures you of quality designs at all times. Check out Penji's portfolio here.
Affordable rates
With Penji, you get unlimited designs for a fixed monthly rate. You get to choose from three plans that will suit your budget.
Unlimited designs and revisions
Once you're subscribed, you can start requesting your designs. Your requests will be put in a queue, and the assigned designer will work on your designs one by one. Plus, you can request revisions as often as possible until you're 100 percent happy with the design.
Dedicated account manager
On top of assigned graphic designers, you'll also get a dedicated account manager on every project. This way, the manager can foresee projects and ensure that everything is taken care of.
Fast turnaround
One of the reasons why clients love Penji is because of its fast turnaround. Once your requests are up next, expect to receive the first draft after 24 to 48 hours.
Get Unlimited Graphic Designs with Us!
Unlike other cloud-based design services, Penji has a custom design platform that makes the design process fast and hassle-free. This is where you can add up to 10 team members to communicate and collaborate on projects.
Ready to sign up? Take this 15-percent discount on your first month now! Or request one logo and pay only $75. Visit this link for more details.