SuperOffice reveals that more than 30% of recipients are influenced to open an email because of convincing subject lines. But a persuasive subject line isn't enough to achieve your marketing and sales goals. If you want to grab their attention, drive more traffic to your site, and bring in more sales, it's through eye-catching email design. Improve your email designs with free email templates! But where can you download or redesign them? We list the 12 best sites to get these email templates.
1. Beefree.io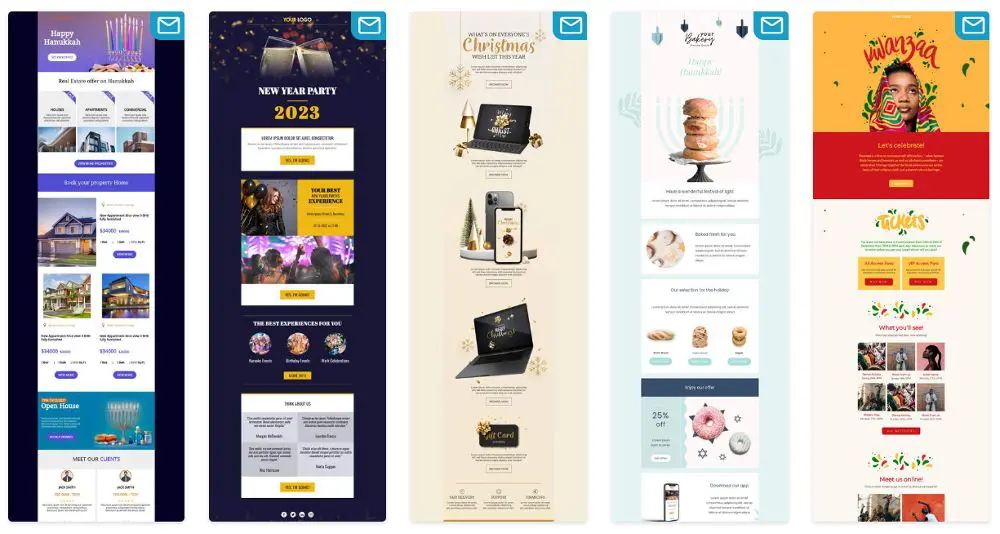 Do you need vibrant and bright email templates for your marketing campaigns? Check out what Beefree.io has to offer. You can find 1000+ compelling and killer email templates for any occasion or purpose. Professional designers produced these emails. And you can be sure that they designed responsive emails too. Plus, you can edit a free template without signing up.
2. Unlayer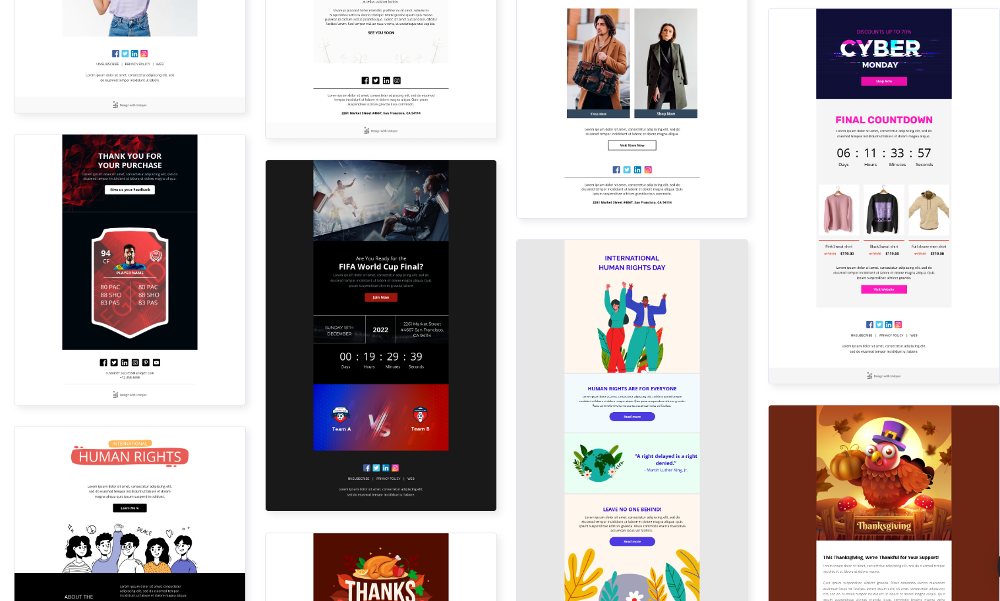 Find other email template options at Unlayer. They organize their email templates with the following categories:
Expect engaging and responsive email templates from Unlayer too. Most emails enable you to add more images than the copy. Even without signing up to Unlayer, their email builder has nifty features, such as content additions (video, image, and social buttons), blocks, and royalty-free image access.
3. Stripo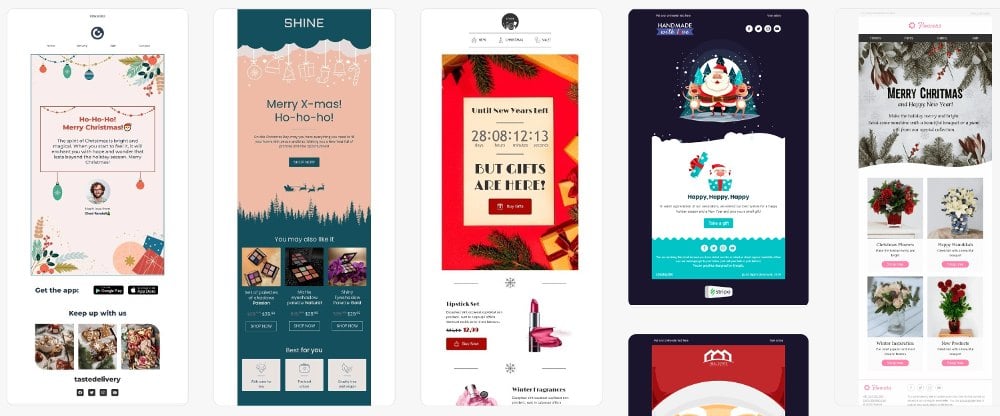 Stripo is another reliable email template creator for small businesses and marketers. On Stripo, you can find over 1100+ email designs for promotional purposes, holidays, new subscribers, and more! On top of that, you can create interactive emails here because of their countdown timer, GIF animation, and carousel features. Plus, you can integrate these email templates into some CRM and marketing platforms like:
Hubspot
AWeber
ClickSend
Constant Contact
Mailchimp
4. Campaign Monitor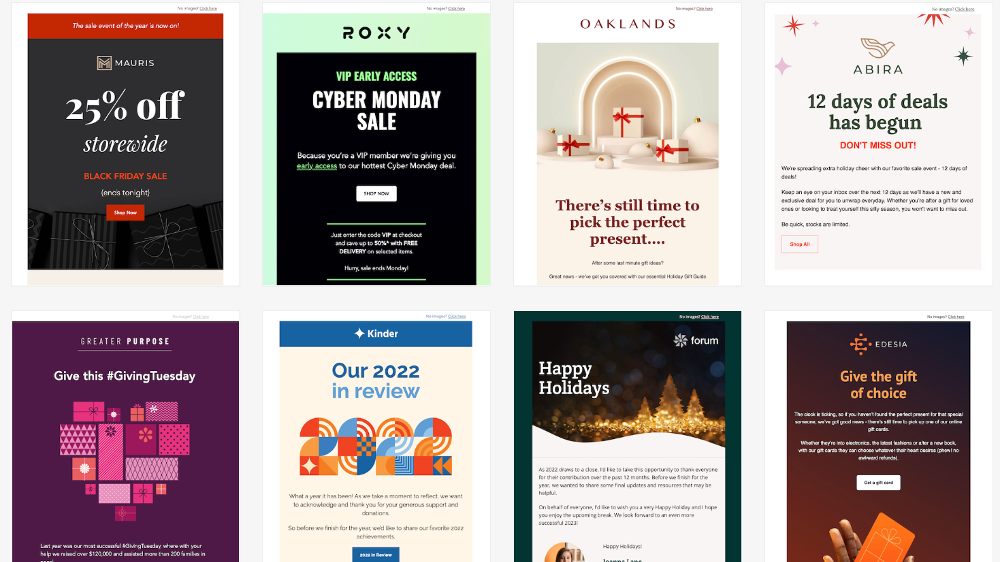 As an email marketing platform, you can expect and depend on Campaign Monitor for responsive and high-quality templates. You can test the email design with their builder and preview the email layout before downloading it. Most email designs from Campaign Monitor use a text-heavy header. However, you can transform it with their email template builder. Here are the email types you can find on Campaign Monitor:
Announcements
Newsletters
Promotional
Welcome
Transactional
Feedback
Events
Holiday
Reengagement
5. Moosend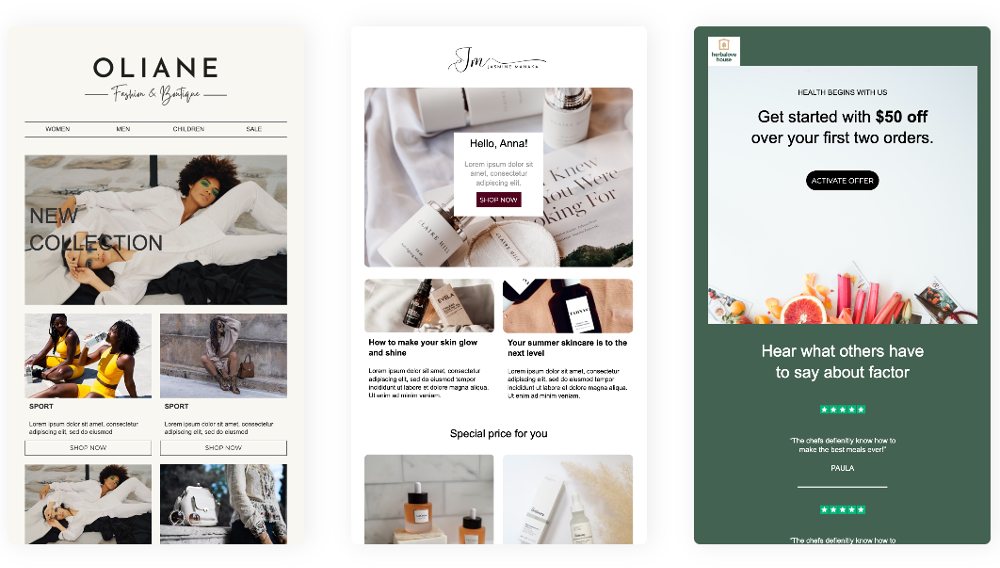 If you're in the eCommerce, hotel, or retail industry, Moosend is one of the best places to access free email templates. Even if they have 70+ templates available, you can expect high-quality designs from them. Plus, before committing to Moosend, you can try their editor for free to see if they're the best fit for you.
6. Litmus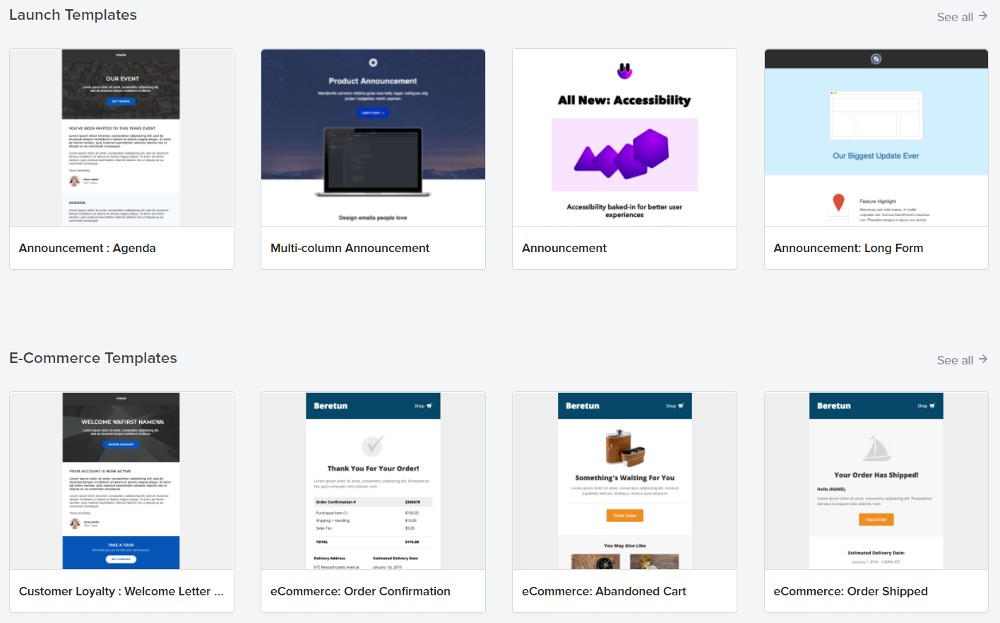 Ecommerce businesses can also browse Litmus for email templates. They don't have hundreds of templates to offer. But rest assured, their free email templates are updated and responsive. eCommerce owners can use their templates for the following purposes:
Welcome
Announcement
Newsletter
Account management
Transactional
Invitation
Personal note
7. Sendgrid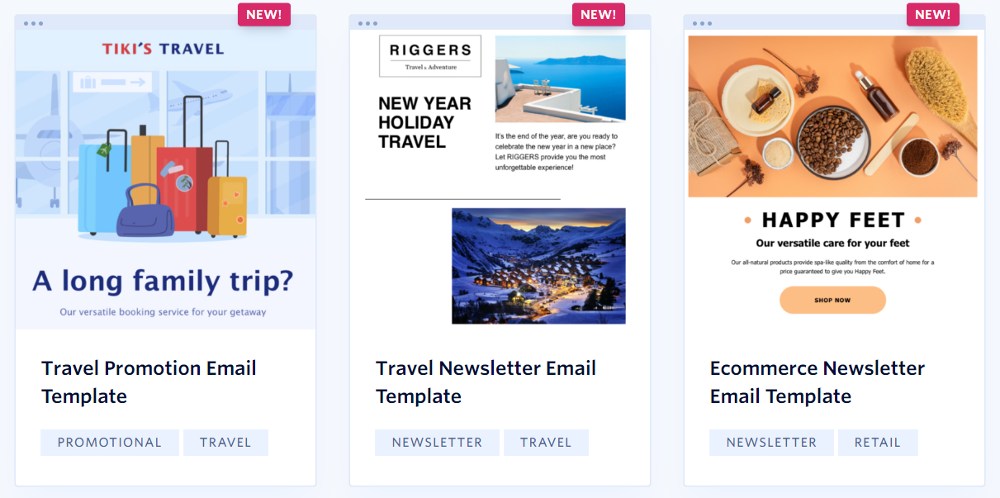 Sendgrid is another great option for browsing marketing campaign emails. Unlike some email design platforms, Sendgrid has around 60+ templates only. However, you can find basic marketing emails, such as promotions, loyalty programs, and seasonal emails. Aside from those, you can also send email newsletters for your content marketing strategy.
8. Canva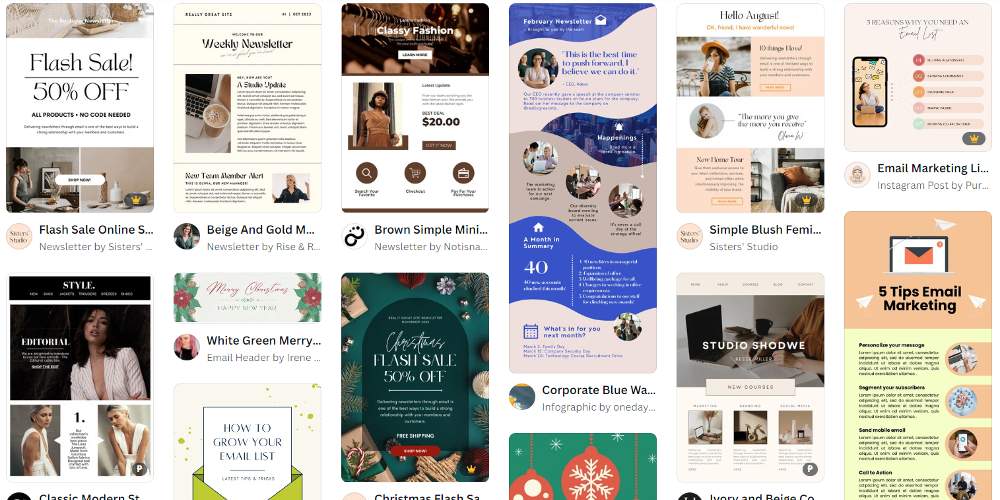 Although Canva is a graphic design software, they have tons of free email templates for your marketing needs. On Canva, you can find modern email designs with pastel or neutral-colored themes. Plus, you'll also notice the traditional email marketing style, which is ideal for simple email designs.
With Canva, it's ideal for preparing your branded assets when designing emails. This way, you can keep designing their free email templates and not pay a single cent to purchase any asset.
9. Chamaileon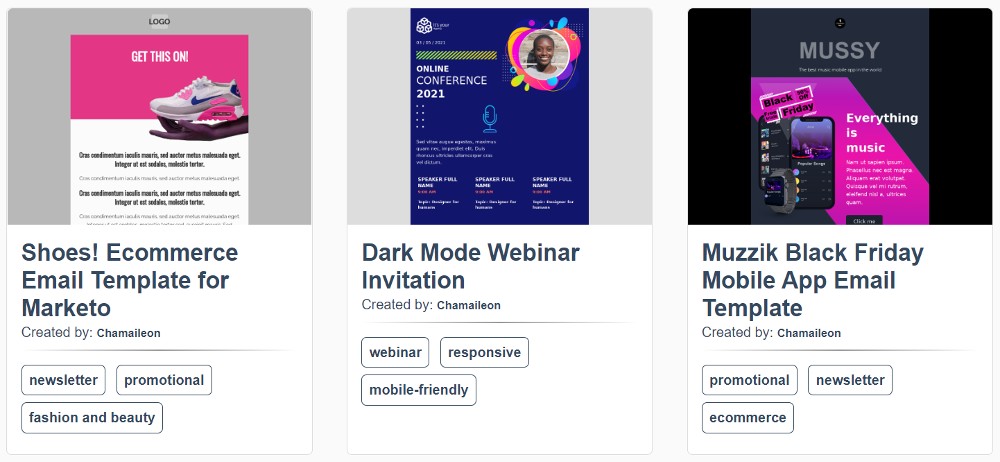 Chamaileon is another site to find simple email templates. Even though it looks simple, they have been optimized. Plus, they are responsive email designs too. They have transactional, welcome, promotional, and holiday emails for your small business. Like other email design platforms, you can test the email design before exporting it. However, you need to sign up to unlock more features and download your free email template.
10. Topol

If you have a visual-heavy email design, Topol has unique email templates! This is ideal for eCommerce businesses considering you want to feature various products in one email. Plus, they have colorful and engaging templates for any purpose or occasion!
When using Topol templates, it's ideal to use high-quality images. Most email templates have a header image focusing on their new or prominent products.
11. Benchmark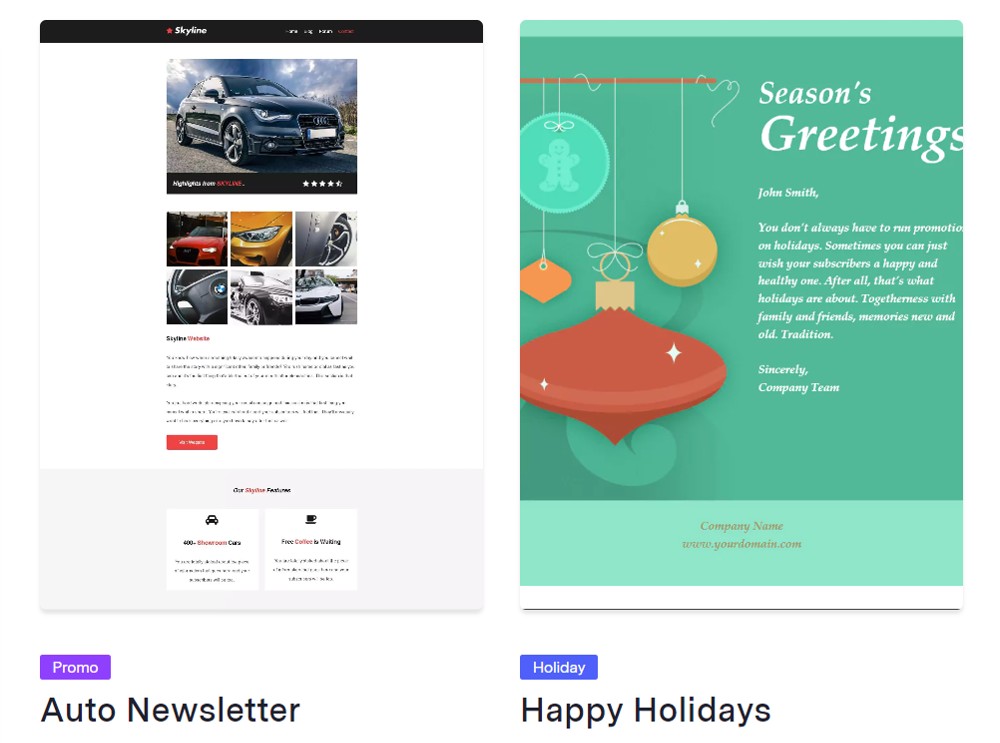 Benchmark is a great starter site for browsing email templates. With only 50+ email templates, you get an idea of what emails you can send to your subscribers. Most templates are promotional holiday ones. But you can also find announcement, invitation, and newsletter emails to connect with your subscribers.
You can download the template immediately and use it on another editor. Or, you can sign up for their platform to edit it.
12. MailBakery

The MailBakery template store is ideal for small businesses, such as restaurants, photography studios, and real estate companies. In Mailbakery, you can't try a template before downloading it. However, you can save the email template only and use it on other email design software applications mentioned above. Plus, you can preview the email design on the web or mobile too.
How Do I Create My Own Email Template?
An alternative to downloading or using free email templates is creating your own. You can design email templates from scratch using an email or graphic design software. Most online design software applications have a free plan, allowing you to create and download email templates. Plus, they use drag-and-drop features making designing smoother and easier.
How Can Penji Help with Your Email Marketing Campaigns
If DIY isn't an option, you can leave the design to the pros. Give your emails a makeover with Penji. It starts with subscribing to any of our plans here. Then, once subscribed, you can submit a design request.
Make sure you have a detailed brief and upload any assets the designer should include while creating your emails. After 24 to 48 hours, you will get the first draft and decide if that's all good for you. If so, you can immediately use the email design in your campaigns to start reaching more subscribers and getting more sales!