Managing a business means having to maximize all of your resources. Nothing should ever go to waste. And so, crafting the perfect marketing strategy needs careful consideration.
One of the best you can do for your business is email marketing. An eMarketer research found out that emails have the power to give you 122% ROI. However, it isn't as easy as coming up with a subject header and sending them to your email list.
A successful email campaign involves excellent email layout and design. Penji has years of experience in graphic design so we got you covered. In this article, learn how email layout can help you lead customers down the sales funnel.
A Short Intro to Email Layouts
Let's first understand what email layouts mean and how it impacts your overall email. The layout is the arrangement of the elements contained in your email. It aims to convey the message in such a way that information is presented correctly, logically, and coherently.
Email layout is the proper placement of your body, images, or graphic design. The layout holds the message, the images, or the graphics to make them interconnected with each other. Simply put, the email layout is everything except for the body.
You know your email layout design is effective when it clearly communicates your message intuitively. We want to wow our recipients enough for them to read through our emails. The right layout can make it easy for them to read from one point to another until they have gone through the whole message.
Primary Types of Email Layouts
Email layouts come in many different forms. The main types are the all-text layout and the visual design layouts. Each serves a specific purpose and both can work well when used correctly. This means you have to understand who your recipients will be and what goals you have for sending them an email.
The Difference
As you can guess from the names of these email layouts, you'll get a good idea what these two are. Here are the differences between them so you can appreciate their use and purpose.
An all-text email layout is generally that, an email containing only texts and not much else. These are the emails you send to people who enjoy reading and will be interested in what you have to say. Emails of this type require a catchy subject line but will need to have a compelling body to have recipients reading till the end. There's nothing in the email to help you get their attention other than the message itself.
To make an impact, an all-text email layout has to depend on the following:
Good formatting
Bolded texts when necessary
Correct sentence placements
Right message hierarchy
Other content writing techniques

On the other hand, visual design layouts have graphic design on their side. Aesthetics can help you pique the recipients' interest. As with the all-texts layout, this type of email layout has a specific purpose and goal. The number of columns alone can help grab the attention of your readers.
You can use pictures, videos, colors, and fonts (although you can use this for all-texts emails), the list is endless. Then again, it's not as simple as it seems. Using all these elements can make your email unreadable. Cluttering and other design faux pas can happen, which could contribute to your email being junked. At the end of this article, we'll show you how Penji can help in this instance. For now, you can watch our demo video here.
Email Templates vs. Custom Email Layouts
You may not be aware of it, but email templates abound online. Pre-made email layouts and templates are so easy to get you'd be confused about which one to choose. Most email providers have them so you don't even have to look far.
In addition, they're ready to use so they save you time, money, and effort. The options are varied so going from minimalist to overly ornate is simple. The problem with this scenario is that you wouldn't know when to stop.
Custom email layouts help you avoid this dilemma. When you entrust your email layout to a professional graphic designer, you get just that: professional-looking design. The pros understand when there are too many elements in your email layout.
Also, custom-made email layouts allow you to include your branding visuals for a more personalized design. You can match your email layouts with your website and social media platforms to give you a unified look.
Related Post: 10 Tips That Will Make An Email Stand Out
Email Layout Examples
Let's now get inspiration from examples of email layouts.
All-Text Email Layout
This all-text email layout from Vidnami, formerly known as Content Samurai, uses only texts and a link to a video. It may seem long but since they sent this out to new customers, it's sure to be read thoroughly. Its effectiveness lies in the fact that the email offers additional instructions to new users.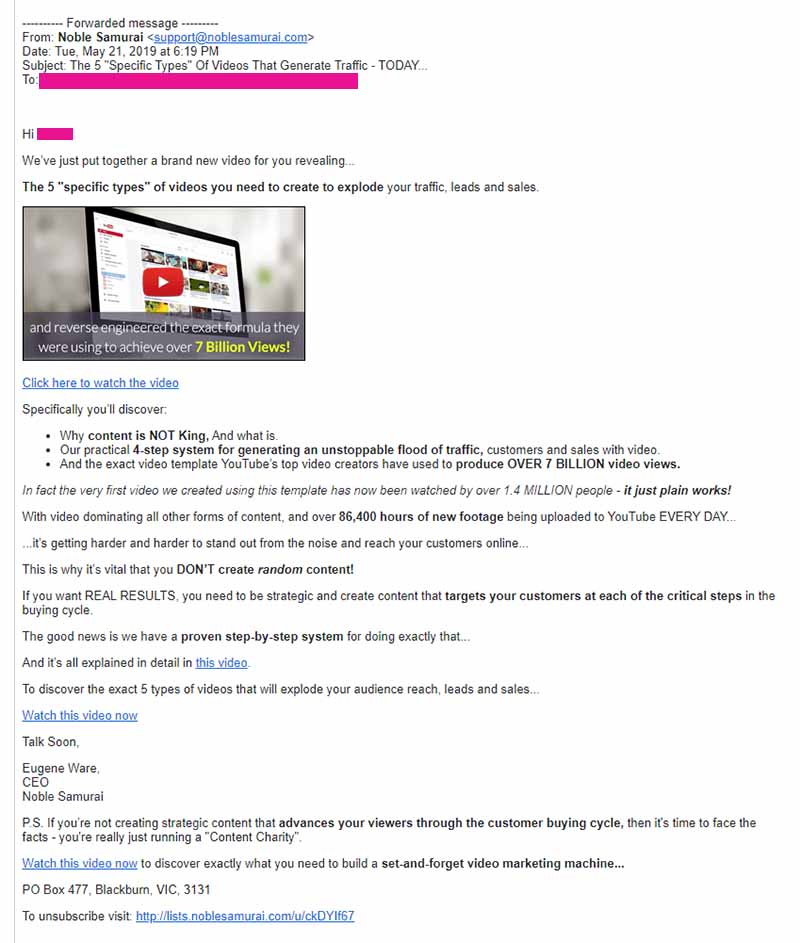 This email was sent to an already captive audience that no other visual gimmick is needed for it to be consumed. However, you'll also notice that some phrases are highlighted to add emphasis. Call-to-actions are also visible throughout the email. This shows that the sender took efforts in creating the email layout.
All-Text with a Splash of Color
Your very important message can still use a good splash of color. If you think an all-text email layout is boring, you can add a color, an image, or a graphic to it. Check this one from Cebu Pacific. This type of email is a cross between an all-text and a visual one, giving you the best of both worlds.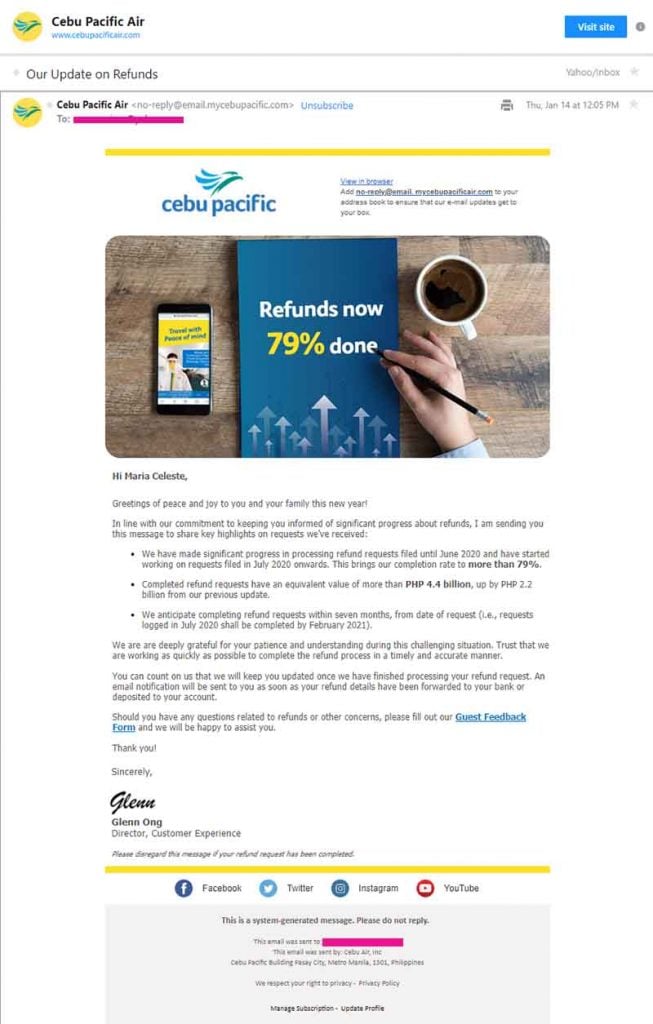 This is effective as the email contains important information regarding refunds. With the image included in it, the email brings about an air of positivism. You can also use this kind of email as newsletters, a welcome email, or an introduction to a new product or service.
Top-Heavy Email Layout
Get right to the point with your email as what Splash Wines did in this example. It starts with a huge discount offer then proceeds to show you an image of their products. They understand that their readers' time is precious and so they cut to the chase.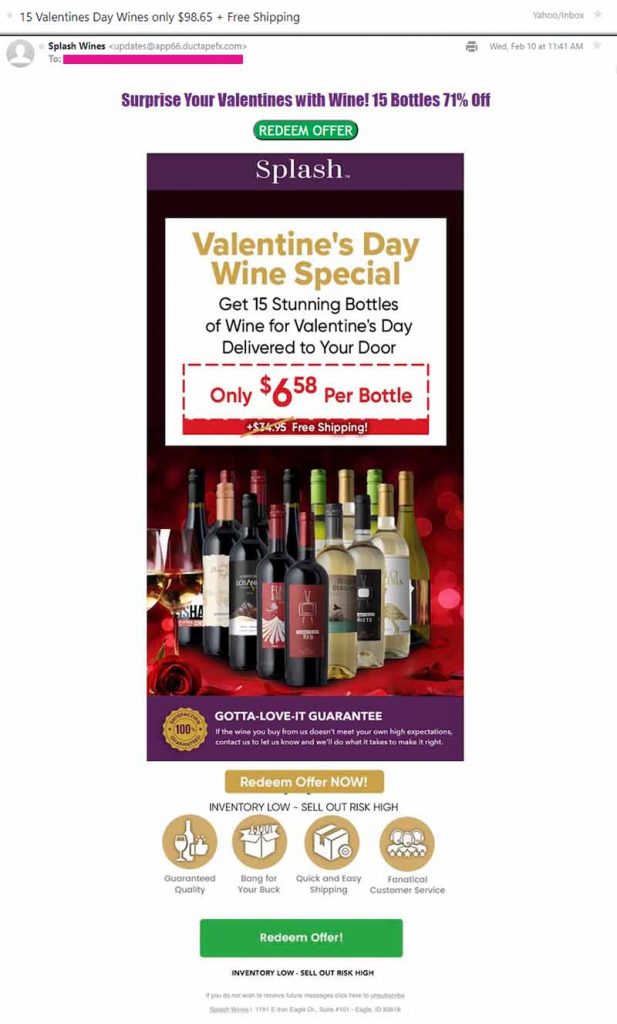 The hierarchy is commendable as the first line got you interested. Next was the image, then followed by the advantages of taking their offer. Underneath all that were the details.
Minimalist Email Layout
This email layout example from Grammarly has very minimal images and texts, yet very cleverly designed and written. It reminds the recipient to use their service in a way that seems personal with a touch of concern.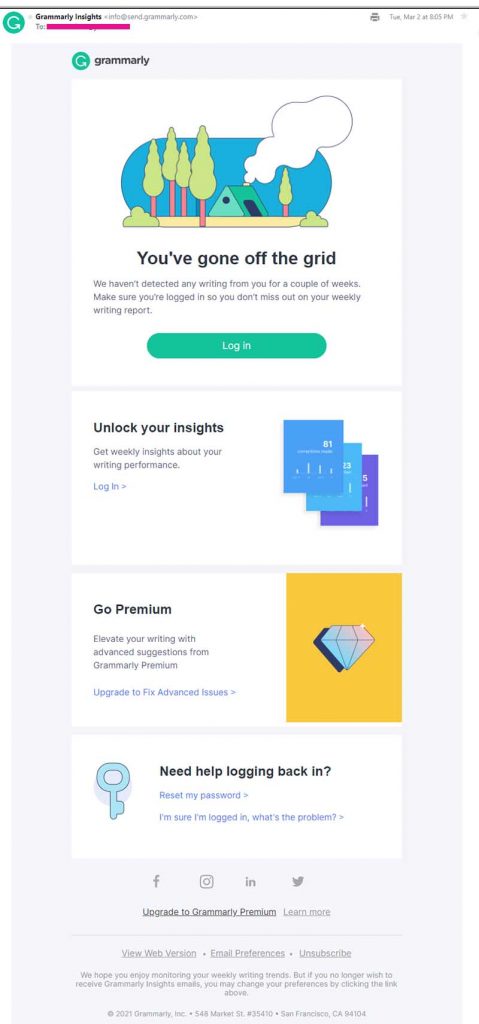 It has ample white space all around making it very pleasing to the eyes. This is what we meant when we mentioned cluttering. The email looks clean and has no unnecessary elements that could distract you. Plus, the calls-to-actions are very helpful as they provide the answers to why the recipient may not be using their service any longer.
Information Sectioning
Sectioning your features is a great way to include various offerings in one email. Although this type of email layout is suitable for existing customers, you can always use this if you have a wide range of products or services to showcase. This LinkedIn email offers courses for business professionals with a bit of info and links to each.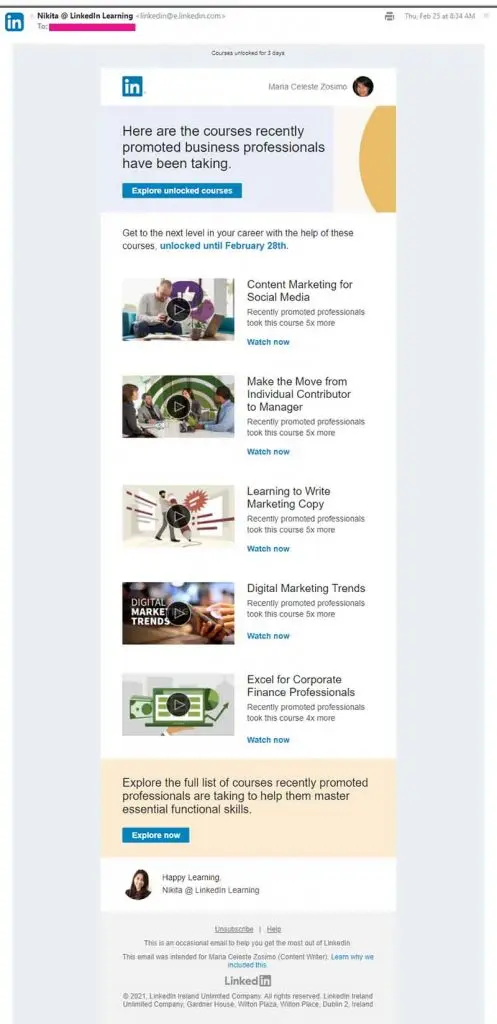 The email has video thumbnails that are eye-catching as well as titles that are compelling. It lists the courses in a single column which makes the eyes flow easily downward.
Reading List
Be it a book-reading, blog, or article list, this email layout is ideal for publications or writers. If you have a blog alongside your website, you can send emails like this to promote your articles. This example from Austin Kleon is worth mentioning as it's interesting, straightforward, and educational.

The overall tone of the email is light, friendly, and isn't a hard sell at all. And with the list it provided, you'd want to check them out one by one.
Humorous Email
When someone subscribes to your email list, make sure that they don't get bored with your weekly newsletter. Add humor when you can to avoid people from unsubscribing. A light and funny email every now and then can get them interested.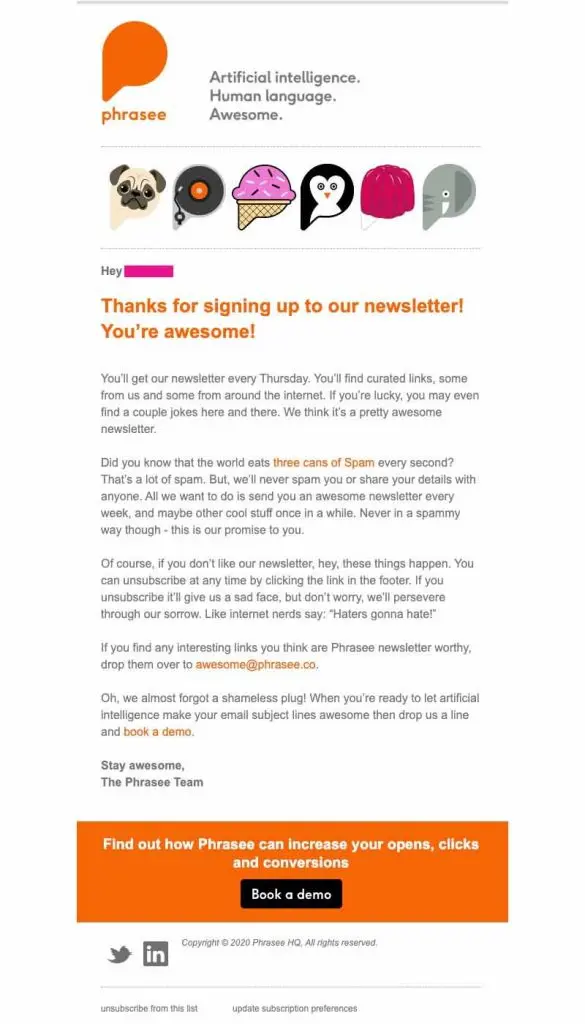 Adding humor to your email layout can be a refreshing welcome in a world filled with sales-driven content. This will also make your email seem human and not automated even if it is. This email from Phrasee uses the all-text approach but with a few images to add to the humor.
Tips on Choosing the Best Email Layout for Your Brand
Seeing all these emails will make you think, which is the best one for my business? Each email layout is fit for a particular purpose. So to answer this question, it depends on what you want to achieve.
If you want to gain new customers, you have to grab their attention first. This will need eye-catching graphic designs, images, and even videos. In this case, using the all-text email layout is out of the question. A block of text may be boring to look at for new email recipients.
On the other hand, an overly flashy email can be too much for your existing customers. This is the part where you need to decipher what their expectations are. This is also the time to determine how you can communicate with them clearly with the most appropriate email layout.
What you can do is to experiment and see what works and what doesn't. You can always choose to use one or more of these email layouts to suit your business needs.
Related Post: 14 Expert Email Design Ideas You Need to Apply
How Penji Can Help
As mentioned earlier, Penji can help you get custom email layouts. You won't have to use templates and ready-made ones that everyone else uses. And since we opened the article with maximizing your resources, Penji is the right choice to do this.
At a flat monthly rate, Penji can provide you with unlimited graphic design, email layouts included. You won't have to hire an in-house designer or scrounge around the internet for a freelancer. These are unreliable ways to get design, not to mention costly.
With Penji, you can have our professional graphic designers create the best email layouts for your business. Not only that, you can send requests for logo, web and app designs, and many other visual assets that your business will need. Sign up today to get the design process started.
Related Post: COMPLETE GUIDE: Hire Graphic Designer Online (Everything you need to know and more)
Penji Email Layout Examples
Here are a few examples taken from Penji's portfolio.