Fonts are an essential element of graphic design, typography, and branding. Using the right font can make your design stand out from the competition. But, finding the perfect font can be expensive, especially if you're on a tight budget. Thankfully, many sites offer free commercial fonts that can help you save money while getting high-quality designs. Here is a list of websites to get free commercial fonts for your next project.
1. The League of Moveable Type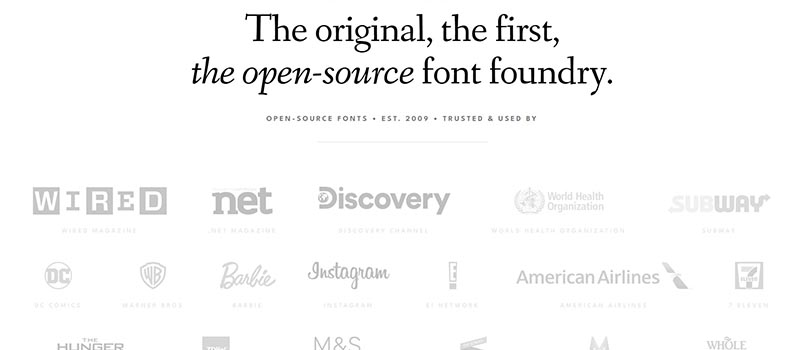 The League of Moveable Type is a collective of designers and developers who created open-source fonts for the web. The platform is launched to raise the design standards of the web. The League of Movable Type offers a catalog of well-curated fonts that are free to use. Likewise, they regularly update the fonts, fix bugs and add new features. The website also offers a newsletter, podcast, and courses to improve typography skills.
2. Google Fonts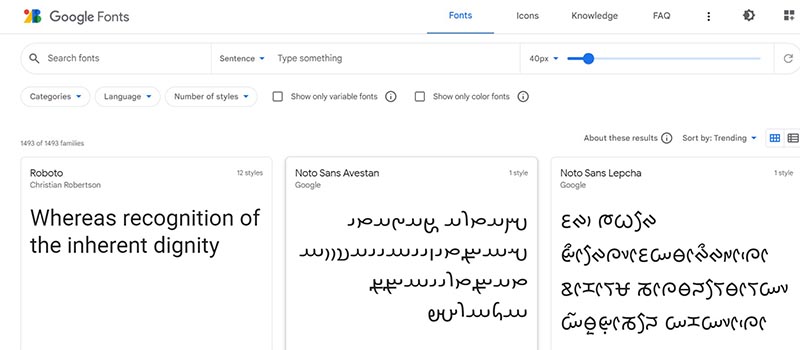 Google Fonts has one of the most extensive free and open-source fonts. It is a reliable option for web developers and designers looking for high-quality, customizable typography for their designs. One of the fantastic features of Google Fonts is that it supports languages, including Latin, Cyrillic, Greek, Arabic, and many others. If you're considering an open-source website that offers easy-to-use free commercial fonts, Google Fonts should be your top option. Once you've found the font you love, download it to your computer or copy the code to embed it on your website.
Google Fonts features the Fonts Knowledge section, which provides original guides about the world of typography. There, you can learn how to achieve the perfect font combination.
3. Font Squirrel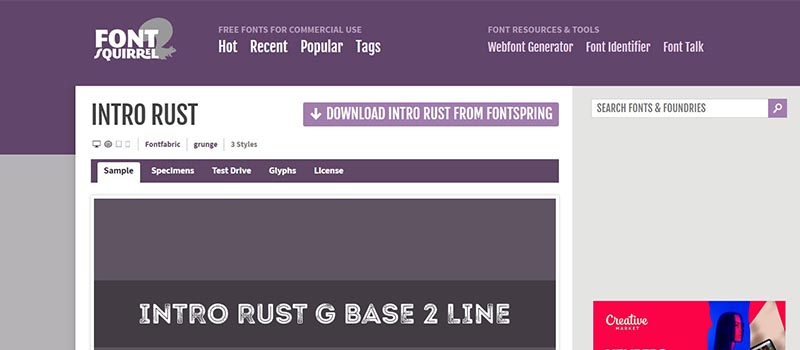 It's time to get trendy fonts licensed for commercial use only at Font Squirrel. Font Squirrel is quite different from the other websites in our collection. They compile fonts from other websites and provide links to them. Meanwhile, all the fonts are free for commercial use and come in OTF or TTF format. At Font Squirrel, you can filter your fonts by type, category, tags, and more.
4. Fonts.com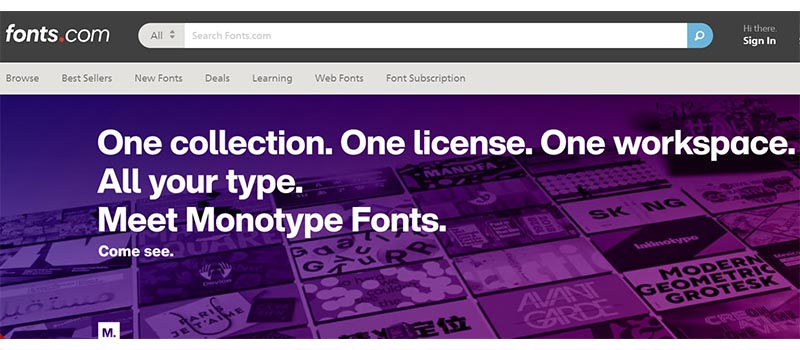 Fonts.com sells various fonts but provides more than 1,300 free font families. The platform allows you to filter these by classification, weight, width, language, etc. As you explore each font, Fonts.com suggests examples of how it will look in your project. They allow you to test it with flyers, banners, logos, and other mock-ups. So, if you're looking for a comprehensive collection of fonts with various licensing options to suit your needs, Fonts.com is a go-to website.
5. DaFont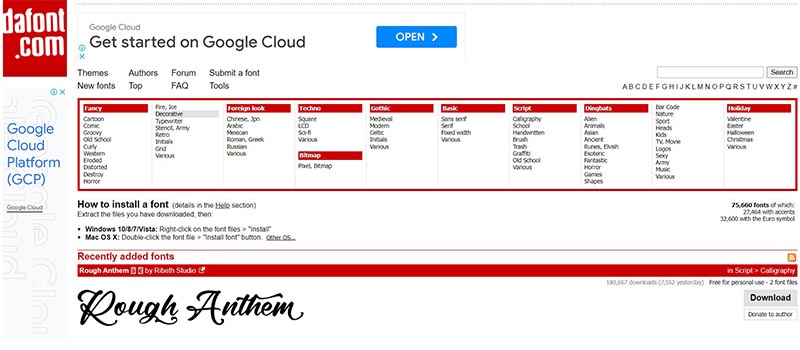 Here's a popular site that offers a massive collection of free fonts that can be used for commercial purposes. DaFont is one of the oldest and best sources for downloading fonts. However, filtering through such a comprehensive library can take time and effort. So, Dafont set up a category system at the top. This is the best place to start. Explore a sub-category like Cartoon or Handwritten.
6. Font Bundles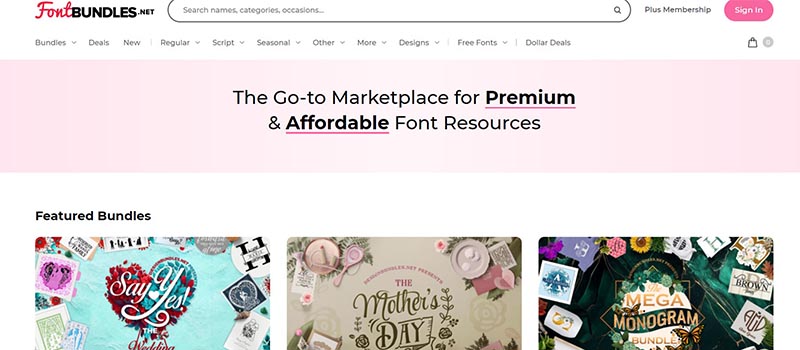 Font Bundles is a website that helps designers save money by curating font bundles. Through the free fonts section, you can download and use it once you sign up for an account.
Unlike other websites on this list, the collection on Font Bundles keeps changing dynamically. Every week, one premium font gets featured on the Free Font of the Week page. If you're a budding typographer, bookmark this page and return to it every week.
7. Behance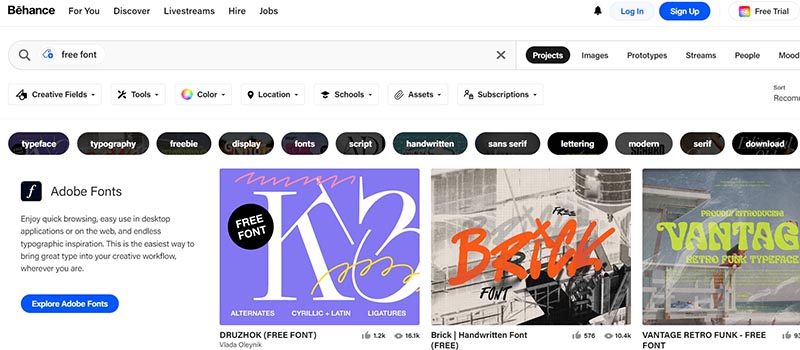 Behance is a platform that runs as a part of Adobe with a mission to showcase and discover creative work. Search for free commercial fonts and inspirational typography, and graphic design. It is where several professional designers share their creative work. Some designers use it as a portfolio website or display and share their work, whether design assets or fonts.
8. Dribbble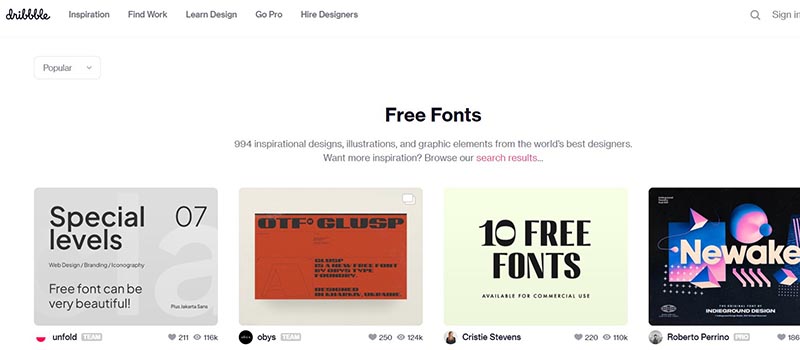 Dribbble is a similar platform to Behance, preferred mainly by UI designers. The fonts available on Dribbble are designed by skilled typographers and designers, ensuring they are visually appealing and easy to read. A wide selection of modern, script, and serif fonts are available. Downloading fonts from Dribbble is quick and easy, with most fonts available in multiple file formats, including OTF, TTF, and WOFF. Search for "free fonts" to get started.
9. UrbanFonts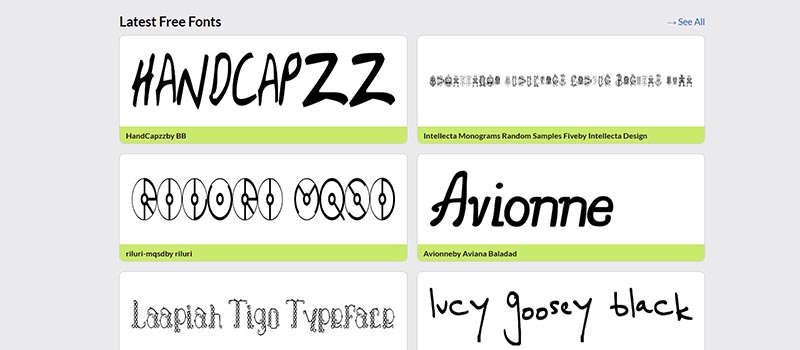 UrbanFonts is an easy-to-use website for free commercial fonts. It has a similar structure to twitch DaFont, which makes it easy to navigate. You'll find a list of fonts you can filter depending on category, popularity, or release date.
You can try out UrbanFont's excellent preview feature. You can preview fonts using custom text on a black background. Then, you'll see the entire alphabet in the preview box when you hover over the preview.
10. Fontext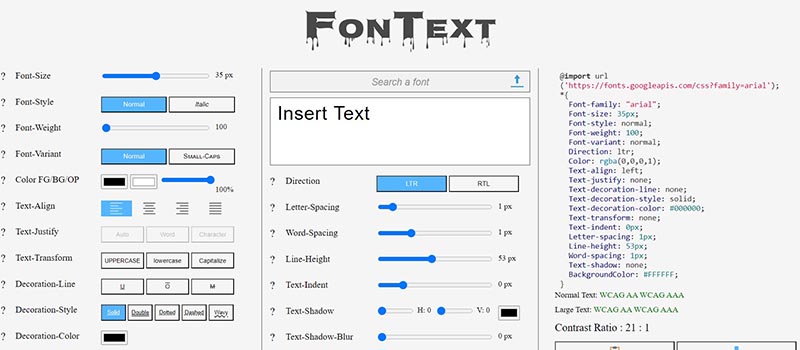 Fontext provides a curated library of free commercial fonts across various styles and themes. All the fonts on the website are available for personal use, with over half of them also free to use commercially—you can easily filter depending on your need. You don't need any registration to download the fonts, and no limitation on how many you can download.
Need help with your next project using these fonts?
If you're a designer, developer, or anyone who needs high-quality commercial fonts, why not try out the websites on our list? These websites provide a vast selection of fonts for your personal and commercial projects without breaking the bank.
After learning that there are plenty of sites to get free commercial fonts, you may start looking for a designer to flaunt your chosen fonts in your project. Penji has a powerful team of expert designers who can handle custom design requests. Whether you need an illustration, logo, ads, social media posts, or websites, we can do it here at Penji!
Start a project today by subscribing via this link and get your designs in 24 hours or less. With a subscription to Penji, you get amazing, custom visuals that help you stand out from the competition and make a lasting impression. Do you want to learn more?