Are you considering publishing an eBook for your business, such as a case study or portfolio? If you have already prepared the content, the next step is designing your eBook. This process takes time. You must organize your content and remember design principles to ensure your eBook is readable and structured. But a handy template can become your savior if you don't have design experience and want to avoid publishing delays. Where, then, can you find the best eBook templates?
1. Visme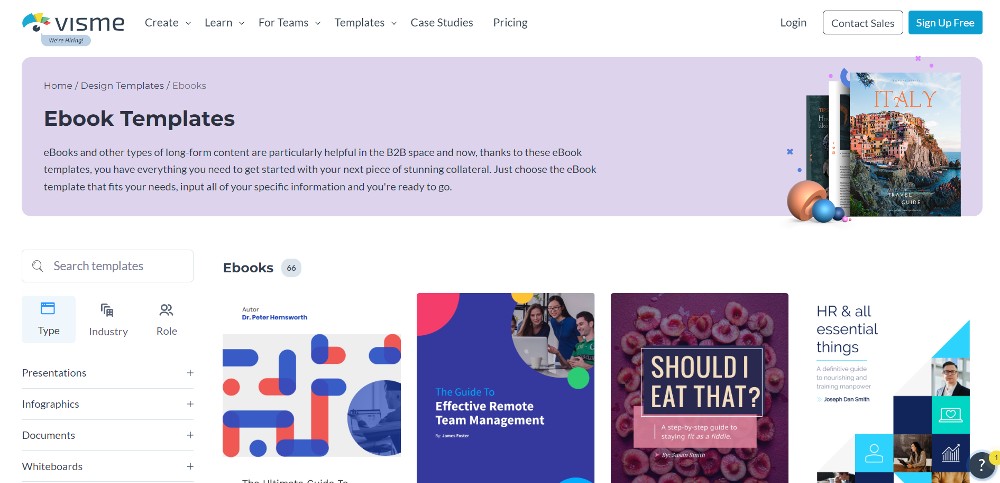 One of the top choices to get eBook templates from is Visme. Even if Visme specializes in presentations and data visualizations, you can download eBook designs from them. You can find educational, how-to, recipe, travel and marketing eBooks, and so much more!
They require you to sign up if you want to use their templates immediately. As for the price, you can edit on Visme for free. But subscribing to their plans will give you access if you need to use premium design assets.
Pricing:
Basic – Free
Starter – $29.99/mo
Pro – $59.99/mo
Teams – Contact sales
2. Canva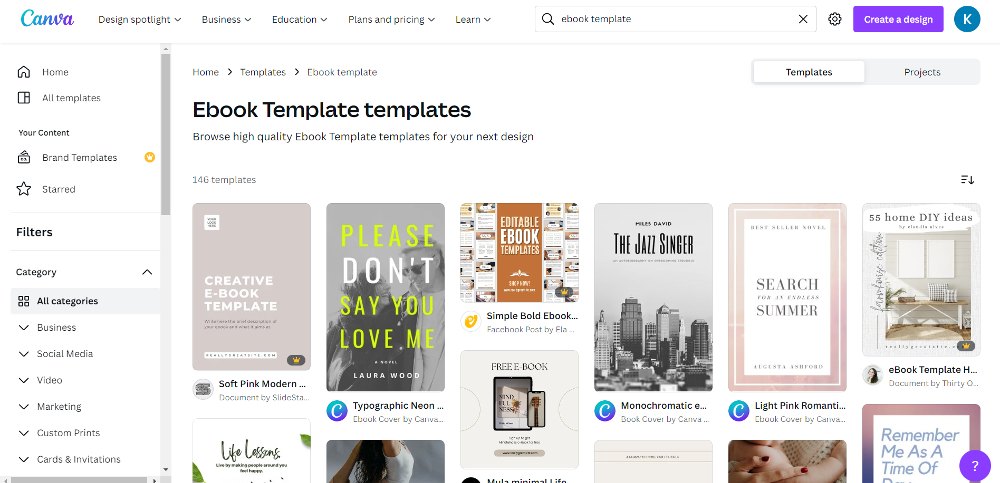 An alternative to Visme to find eBook designs is in Canva. This graphic design software has templates for social media, blogging, website graphics, and more. They have 146 templates to choose from. As for designs, most design themes follow the current graphic design trends. Meanwhile, you can use their templates for:
Novels
Workbooks
Notebooks
Catalogs
How-tos
Although they have a free plan, you need a subscription to use their premium designs. In addition, you can buy templates from other sites on this list to edit on this graphic design software.
3. Marq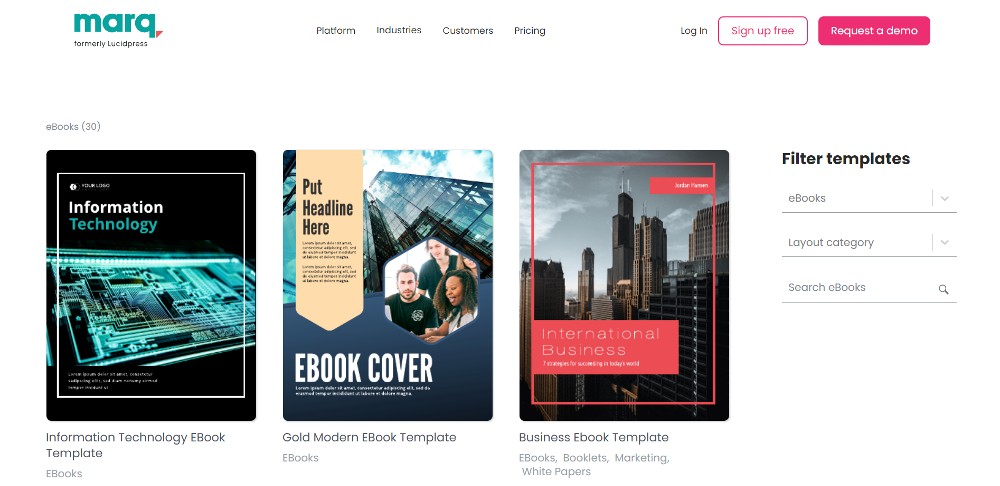 Lucidpress, now Marq, also offers free eBook templates for marketing and sales teams. Before signing up to edit your desired eBook template, you will get a preview.
In addition, some eBook designs are interactive. They incorporated features like CTA buttons and videos. Like other sites here, you can edit the eBooks for free. But to access other elements and features, such as stock photos and icons, more templates, and the branded assets manager, you need to subscribe to their pricing plans.
Free
Pro – $10/user
Team – $12/user (3 minimum)
Business – Contact sales
4. Flipsnack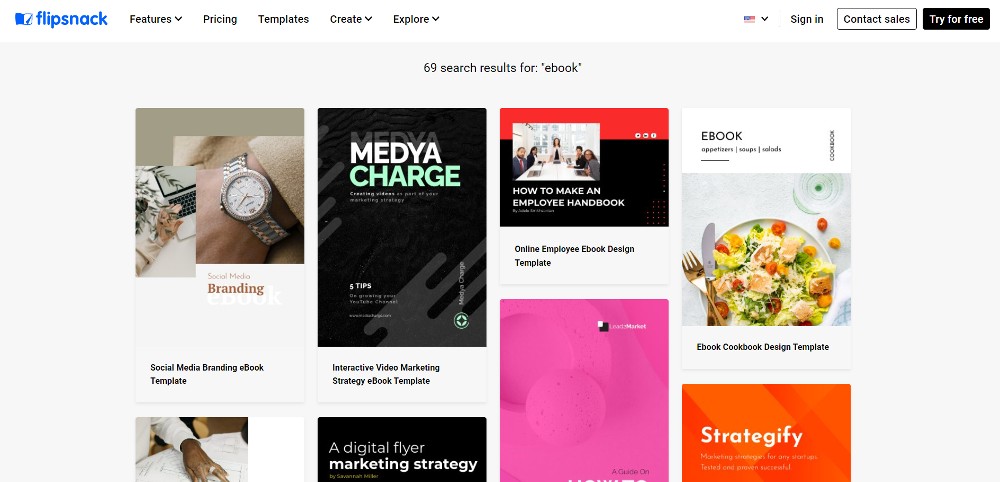 Flipsnack is another option to download and edit eBook designs. Even if they don't have a wide design selection, you can find eBooks for personal or business use. The majority of their selection is for photobooks and marketing. Plus, they offer simple yet trendy designs.
Unlike other graphic design apps here, Flipsnack doesn't have a free plan, but they offer a 14-day free trial before you subscribe.
5. Envato Elements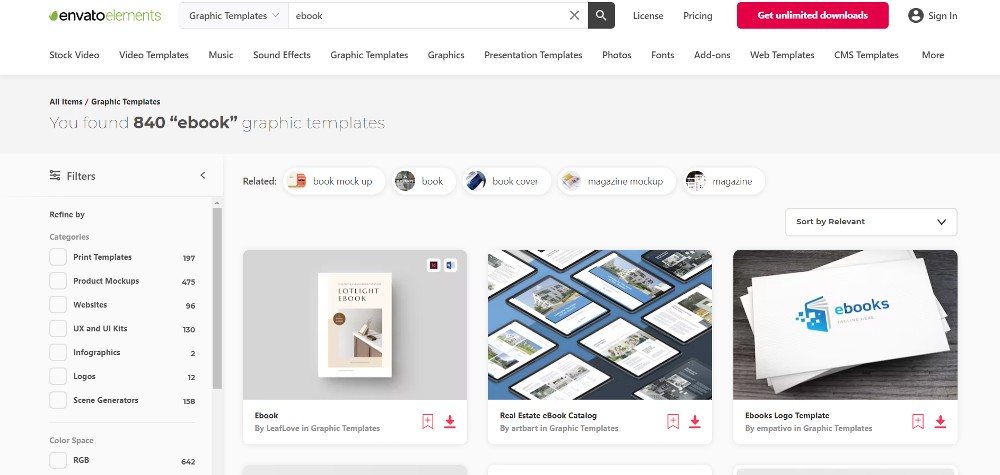 Although Envato Elements is for designers, you can download eBook templates. You can download the following eBook templates on the marketplace:
Company profiles
Workbooks
Guides
Magazines
Portfolios
Business proposals
Cookbooks
Designers have created eBook templates editable on Canva, InDesign, and Microsoft Word. In addition, most eBook designs are minimalist and modern.
To download an eBook template, you need to subscribe. Here are their pricing plans:
Individual – $16.50/mo
Teams – $14.50/mo/member (for two members)
Enterprise – Custo
6. Vista Create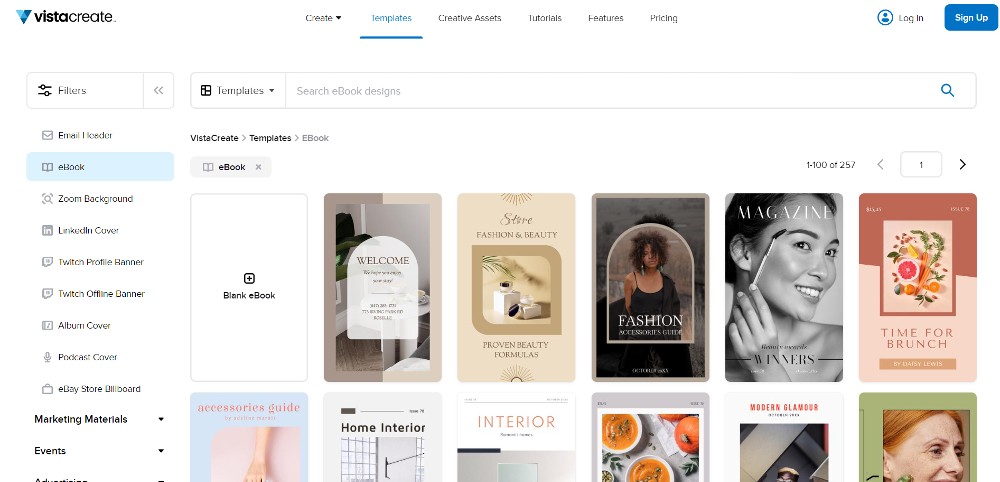 Among the graphic design apps on this list, Vista Create has more than 200+ eBook designs to select from. On top of designing eBook covers, you can also design and edit the content of your eBook on this platform. You can expect high-quality and trendy designs for the following eBook types:
Product offering
Cookbook
Magazine
Educational
Travel guide
Health and fitness guides
Real estate guide
7. Venngage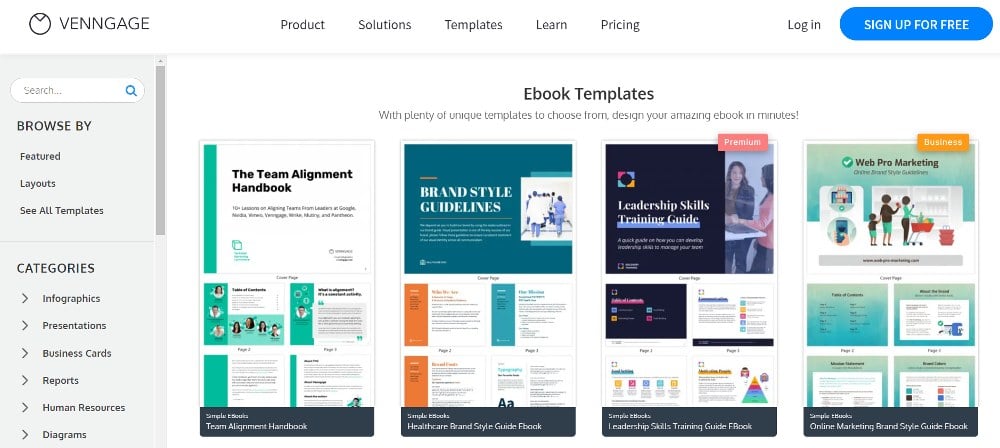 Venngage is a famous infographic maker, but they have expanded to providing templates for marketing and branding assets. They have a small collection of eBook designs. But it's worth browsing since they have templates for marketing, travel, how-to, and non-profit purposes. Not all designs are free to use, so you need to subscribe to their premium or business plans to edit them.
Pricing:
Free
Premium – $19/mo/user
Business – $49/mo/user
Enterprise – $499/mo/user
8. Creative Market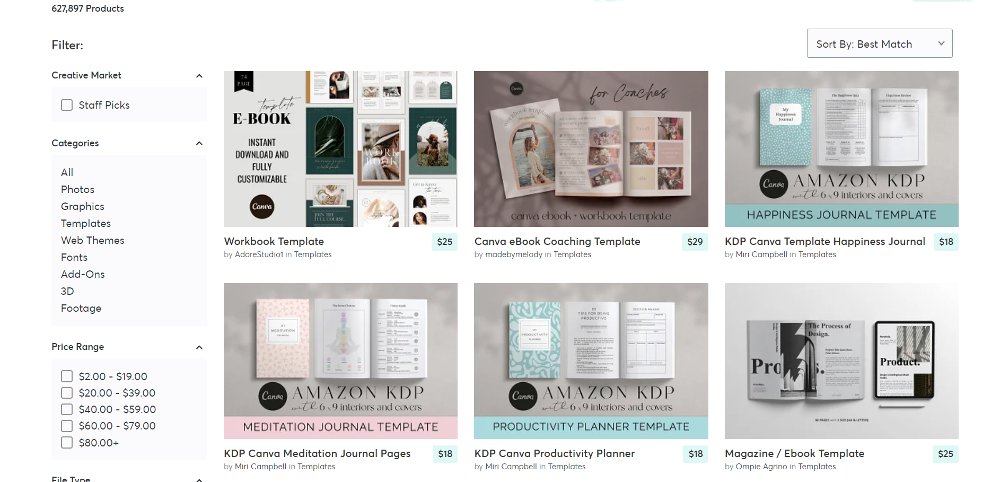 Creative Market is another marketplace made for designers. However, you can also find eBook designs and graphics for your new publication. You can find various eBook types, such as journals, workbooks, magazines, book mockups, and cookbooks. Like other eBook designs on this list, you can use Canva or InDesign to customize your eBook.
Plus, you can buy an eBook template for as low as $10. Or, you can buy a bundle for around $80+.
9. Adobe Express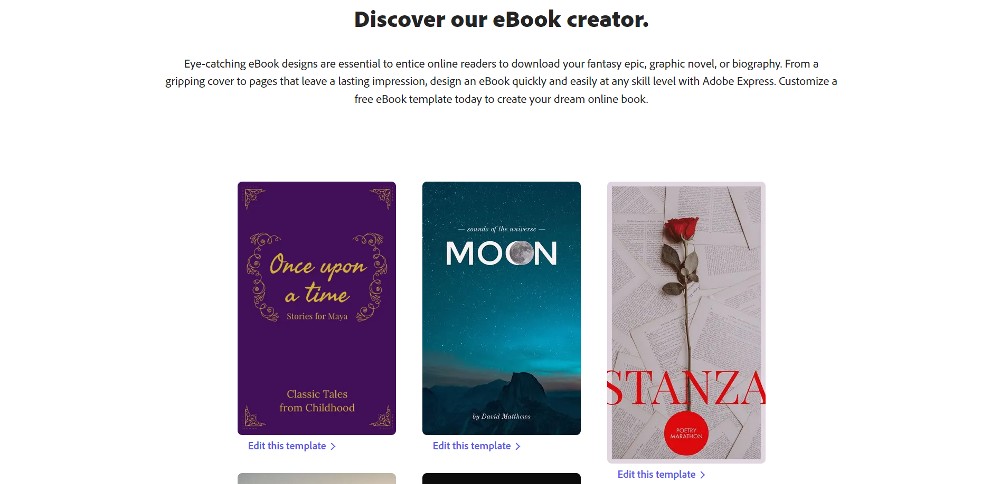 If you've written a new book and need an eBook cover template, Adobe Express is one of the best places to design and download one.
They have limited selections, but you can customize the eBook cover with icons, illustrations, pictures, fonts, and colors. Plus, you can choose between their free or premium options. Aside from designing an eBook cover with their templates, you can design your new fiction or non-fiction book by adding more pages in the editor.
If you want access to their premium eBook designs, you must subscribe to their premium plan. It's $9.99/mo.
10. Etsy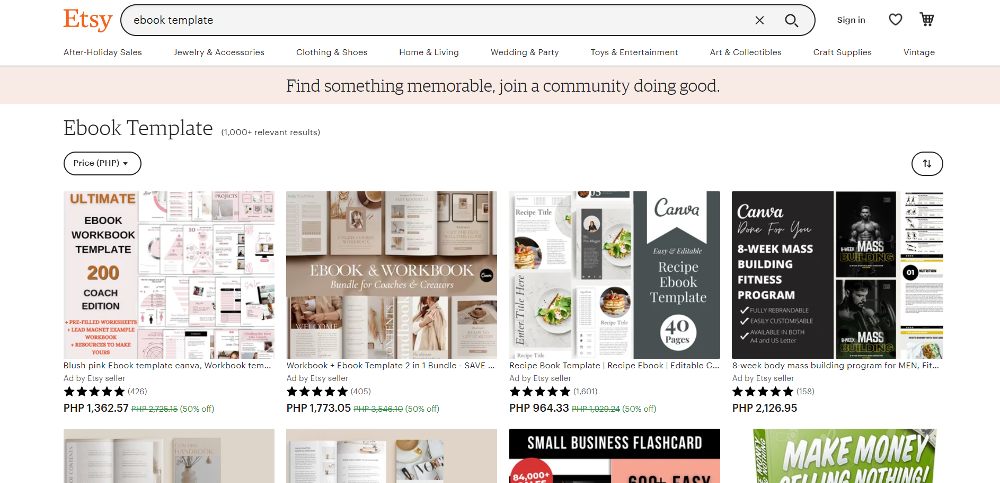 One unexpected place to find and download eBook designs is Etsy. Unfortunately, you won't find anything free on the eCommerce platform.
On Etsy, you can find workbooks and recipe books. Plus, you can save money by purchasing bundles too. You can rely on Etsy sellers for captivating and engaging eBook designs since they're professional designers too. In addition, they've optimized their eBook designs to Canva and InDesign.
11. Xara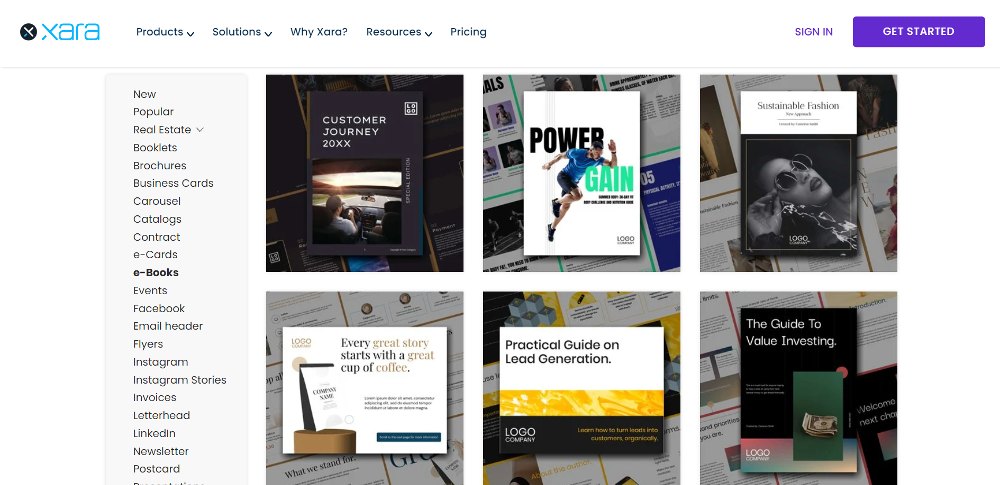 Xara is another design software business owners, and marketers use to edit their eBook designs. The software company has its set of templates to design in a matter of minutes. With Xara, you can edit your eBooks for this purpose:
Customer journey
Digital marketing plan
Milestone
Company portfolio
Key account management
12. Hubspot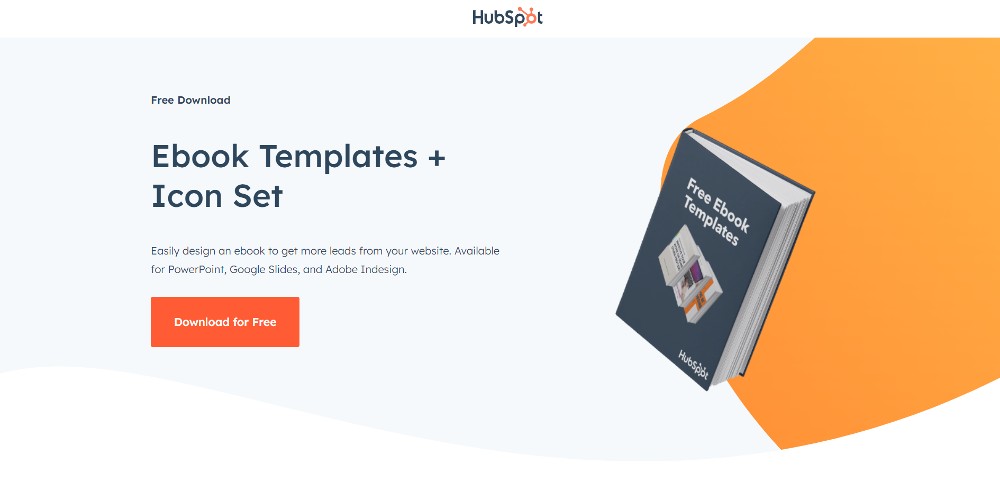 Hubspot is well-known for its educational and in-depth marketing and sales eBooks. That said, they've become an authority on these topics. Plus, they're great at designing their eBooks as well.
On top of their marketing and sales blogs and content, they're also providing small businesses and marketers with simple and compelling eBook template designs. Hubspot offers 30+ templates in a bundle to download for free. Included in the bundle are the following:
Microsoft PowerPoint templates
Google Sheets templates
Adobe InDesign templates
Customizable icons
A guide to creating your eBook
In-page templates
Here's How Penji Can Help
Although it's easy to use and download templates, one caveat is that it's not tailored to your business. Sure, you can customize it or slap your logo on the eBook. But it doesn't have your signature business brand. So, if you need a branded eBook design, you can partner with Penji for your eBook! Penji designers will ensure that you'll receive compelling and killer eBook designs that your readers will love. If you want to learn how Penji can create your designs, sign up for a demo today!