If you work with a Cricut digital die cutting machine, then you'll find Cricut Design Space an amazing tool. It is software that you can use as a companion app for all your Cricut projects. It allows for easy Cricut setup, creation, modification, and customization.
Simply put, Cricut Design Space is what crafters and DIYers use to create designs that they will cut with the machine. Let's get to know this app and learn how it can help you make your work easy, simple, and more enjoyable!
What is Cricut Design Space Used For?
With more than 400 fonts, 75,000 images, and over 800 predesigned "Make it Now" projects, Cricut Design Space is nothing short of magnificent. You can spice up your crafting by choosing free Cricut designs with just a click on the Go button, whether you do it on your laptop, desktop, or mobile device.
Here are the things you can do with Cricut Design Space:
T-shirt designs – Cricut Design Space will let you create designs that you iron on t-shirts
Signages – for simple signs on wood, metal, or plastic, this software is perfect for giving you that professional and clean look
Labels – labeling your products is easy when you have a die-cutting machine and Cricut Design Space
Stencils – when you need to place the same design on various surfaces, this software is ideal for creating stencils
Rubber stamps – for personal or business uses, creating rubber stamps is a breeze with Cricut Design Space
Stickers – bumpers, laptop, walls, windows, whether decorative or functional, you can create unique stickers with this app
Cards – create business cards, greeting cards, and any type of cards
The list of what you can use Cricut Design Space for is endless. Decals, puzzles, earrings, hair bows, paper flowers, face masks, and many others are some projects you can do beautifully with this software. While there are other software applications that you can use to create these projects, Cricut Design Space is more preferable.
It is suitable for beginners and experienced crafters as it has quite a short learning curve. With Cricut Design Space, you can do the following:
First, create layouts of projects with the combination of predesigned images and fonts
Create pre-made projects and edit them
Create original designs
Upload your favorite photos and fonts
Share your creations with the Cricut community
As you can see, designing and creating crafts on Cricut Design Space is only limited by your imagination. You can use it on various devices, even your mobile phone, although this could be limiting. However, if you start getting design ideas outside your home or office, you can sync the app and access your designs on any device. Start creating by downloading Cricut Design Space here.
The Difference Between Cricut Design Space and Cricut Access
For those new in the Cricut designing landscape, there is Cricut Design Space AND then there is Cricut Access. While some will say that these two are practically the same, they aren't. Cricut Design Space is the software (program or application, in other words) that you use to design your projects.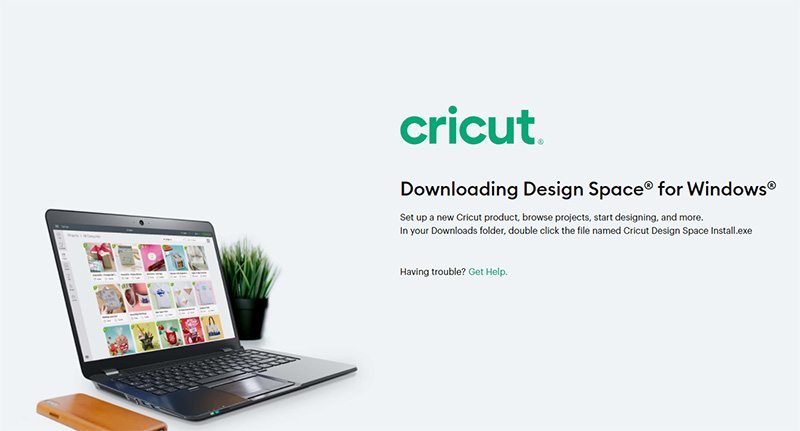 On the other hand, Cricut Access is the subscription you get to give you access to the Cricut library. When you purchase a Cricut machine, you'll automatically get a free month trial using the images and fonts built into Cricut Design Space. There are available design elements that you can use for free, but there are also some that you need to buy separately.
To make it easier to digest, here's a quick list of the differences between the two:
Cricut Design Space:
Completely free
A software that you use with your die cut machine
Includes free images and fonts
Unlimited uploads of images and patterns
Requires no account in Cricut Access
Cricut Access:
Monthly subscription required
Allows access to Cricut's Image Library
Doesn't require you to use Cricut Design Space
How Does Cricut Design Space Work?
Once you download the Cricut Design Space app, you can already start creating designs by installing it in your system.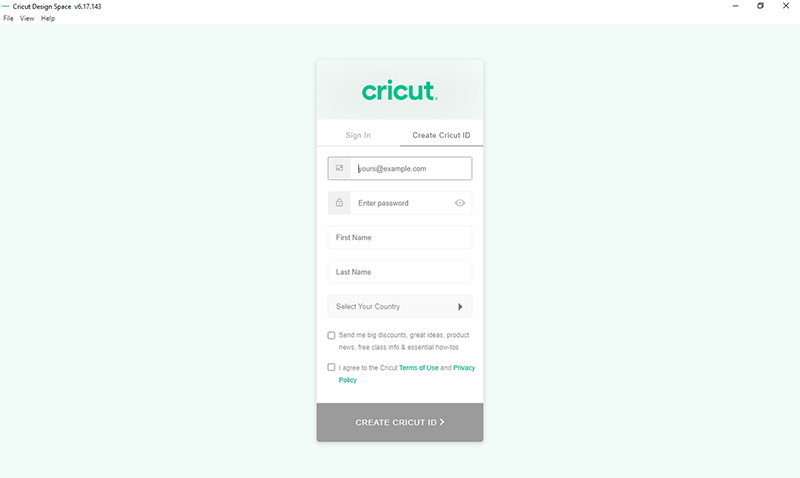 You'll have to select your machine to set up the software.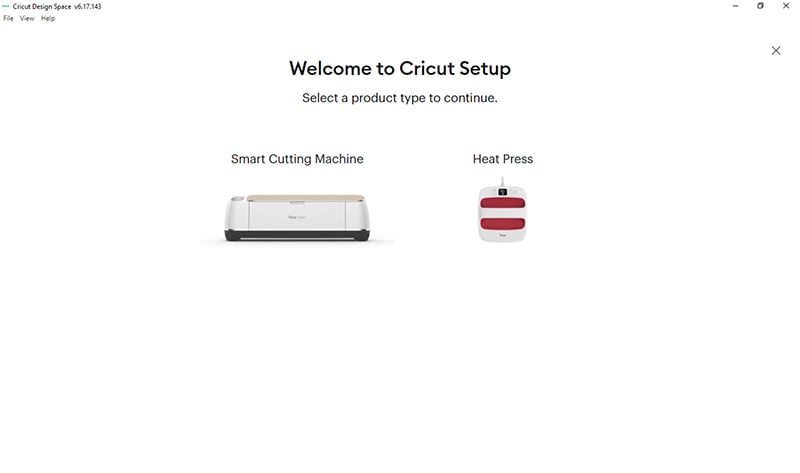 Fill out the form to sign up with a Cricut ID. The app will then walk you through connecting your machine to your account.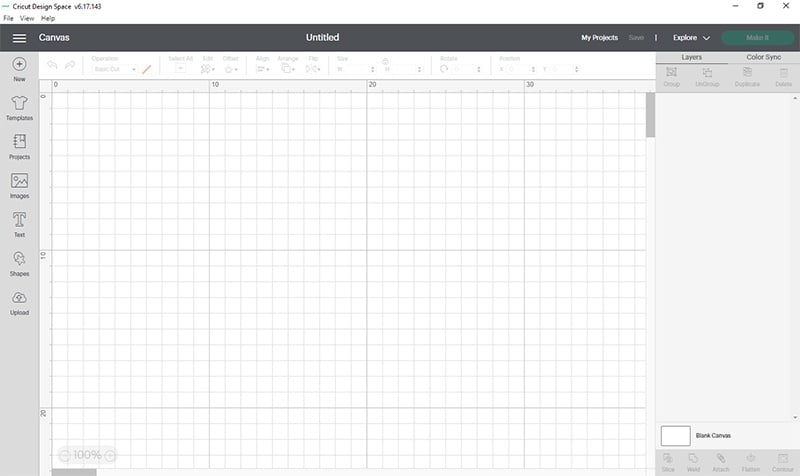 If you don't have a machine yet, you can still create designs and browse through the library by exiting out of the setup process.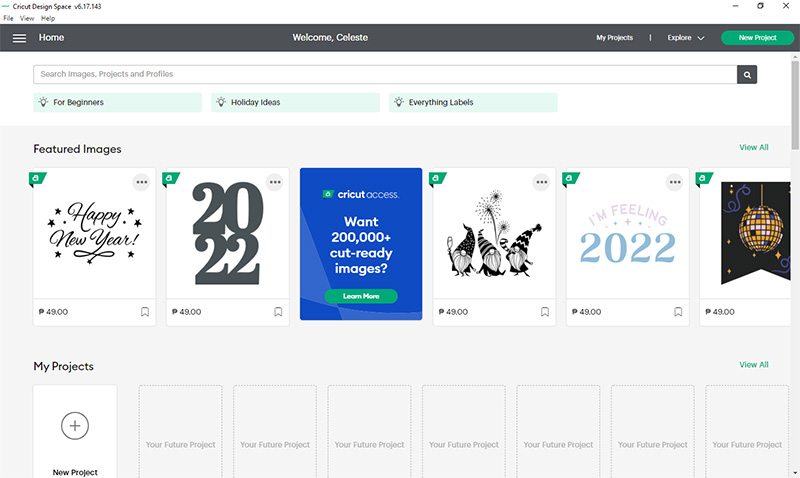 While deciding on which machine to get, you can start designing your projects. This way, you'll familiarize yourself with the tools of the software even before you get your device.
How to Use Cricut Design Space
Unlike most design software like Photoshop or Illustrator, Cricut Design Space is easy to use, especially for beginners. It may seem overwhelming at first, but this is easy-peasy compared to the two design software earlier mentioned.
Under My Projects, click on the New Project or the + button. Start selecting a template or see all the available Ready to Make Projects.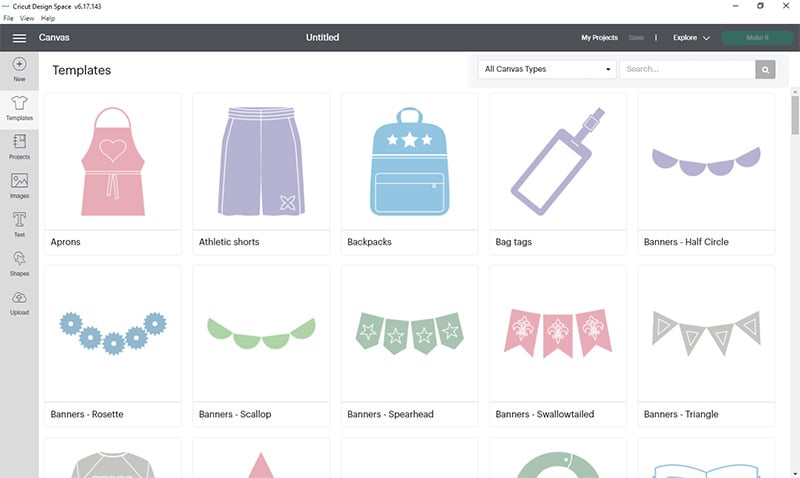 You can start designing or editing them to make them your own.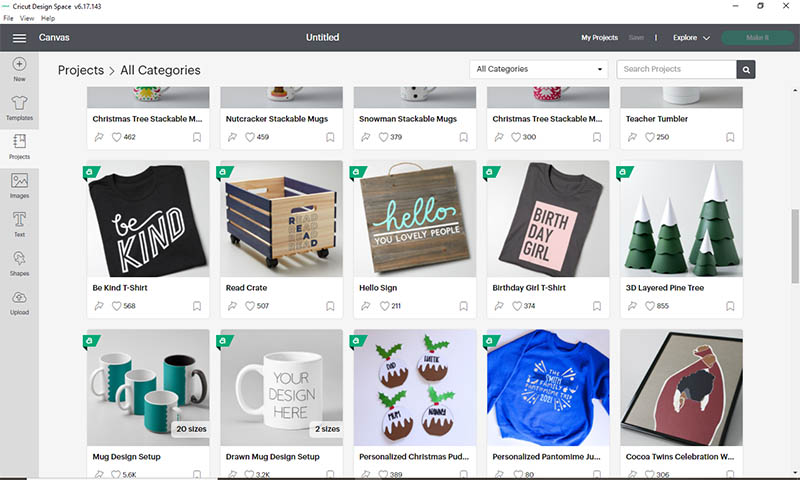 You can also search for images that you can use for your projects, just click on the Images tab.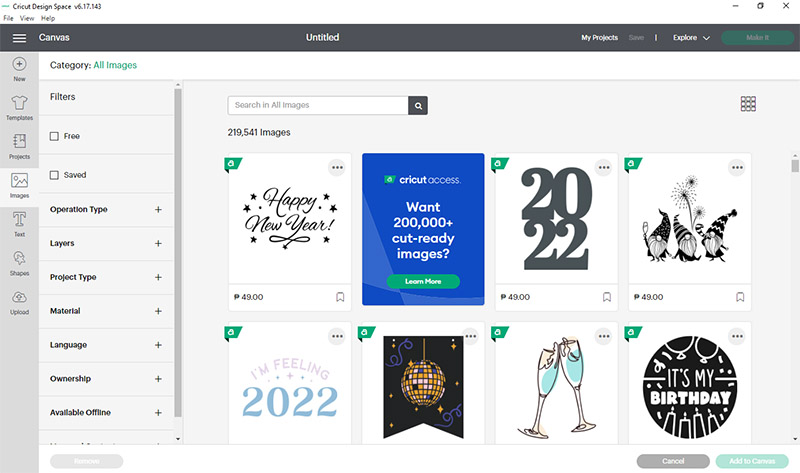 It also gives you the option to use your own images and fonts. Just upload them and start designing.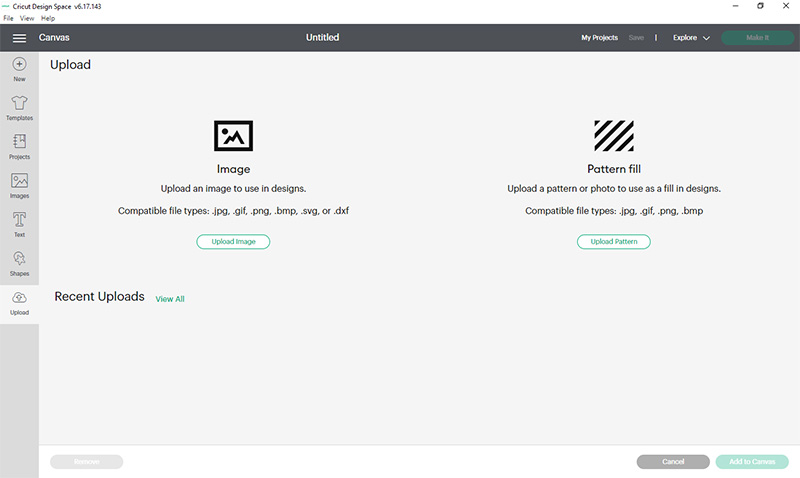 Play around with the software until you discover how to create all the designs and projects you need. It's easy, fun, and satisfying. Don't forget to save your projects!
Important Note: Many of the images in the Cricut Design Space library are available for use however you want to. That being said, you will need to check the Terms of Use as some images are for personal use only. Ensure that you do not sell or give the images away to others to avoid copyright infringement issues.
What are the Costs of Cricut Design Space?
Aside from the cost of buying the die-cutting machine, the Cricut Design Space app is 100% free. What you'll need to pay for is the Make It Now project you'll create, which can cost you around $3 to $7 each. You'll also have to pay about $1 for each image you'll be using. Check out Cricut's pricing here.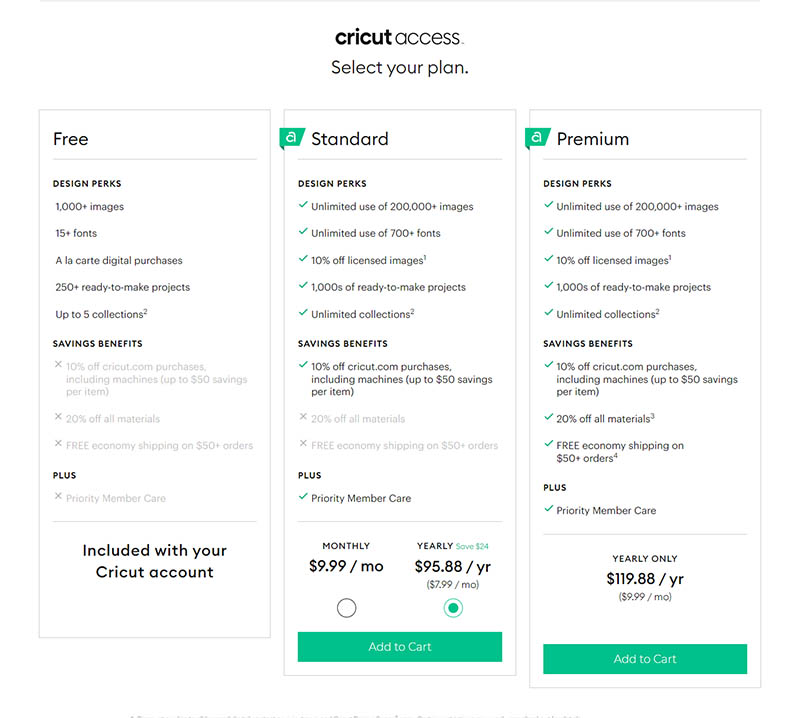 If you don't like the idea of paying for each image separately, there's Cricut Access. While there are freebies included in your free Design Space subscription, these are limited. Cricut Access gives you more designs, options, and perks.
At $9.99 or $95.88 per year (about $7.99 a month), you can get access to the hundreds of fonts and thousands of images the Cricut Library has to offer. You won't have to pay a la carte anymore. There are discounts of up to 10% that let you save more when you order images from Cricut.com or licensed images.
Final Thoughts
Getting a Cricut machine allows you entry to the beautiful world of die-cutting. But having that device means you need a tool to make it work the way it should, which is Cricut Design Space. Whether you get Cricut Access or not, you can still enjoy using your machine with the Design Space software.
If you still find the templates and projects on the app limiting, step up your designs with a subscription from Penji. Our professional designers will whip up designs after designs at just a fraction of the cost. Let our unlimited graphic design services take care of your design assets by signing up here.
Watch our demo video here to learn more.