Your business needs a brand identity upon launch. Without it, you won't have a competitive advantage, and your target audience may flock to them instead. Whether or not you have a branding identity, you need a solid and established one to stand out from the crowd. If you're looking for the best branding services, we've listed the ten best ones for 2024!
What Services Does a Branding Company Offer?
Building and developing a new brand
Rebranding
Brand positioning
Brand discovery
Marketplace research
Competitor research
Brand strategy
Brand identity design
Social media and marketing designs or messaging
But not all branding companies offer ALL services listed. For instance, graphic design services would offer logo or brand identity designs. Meanwhile, branding agencies will provide comprehensive services, ensuring you'll have a strong brand from ideation to launch. However, you can build a branding team with freelancers to build your brand identity.
How Much Does Branding Cost?
Design Rush reveals that branding costs around $16,000 to $60,000+. The price varies, depending on what services a company offers. Meanwhile, some services offer packages or bundles to make it affordable for many small businesses.
Best Branding Services in 2024
1. Penji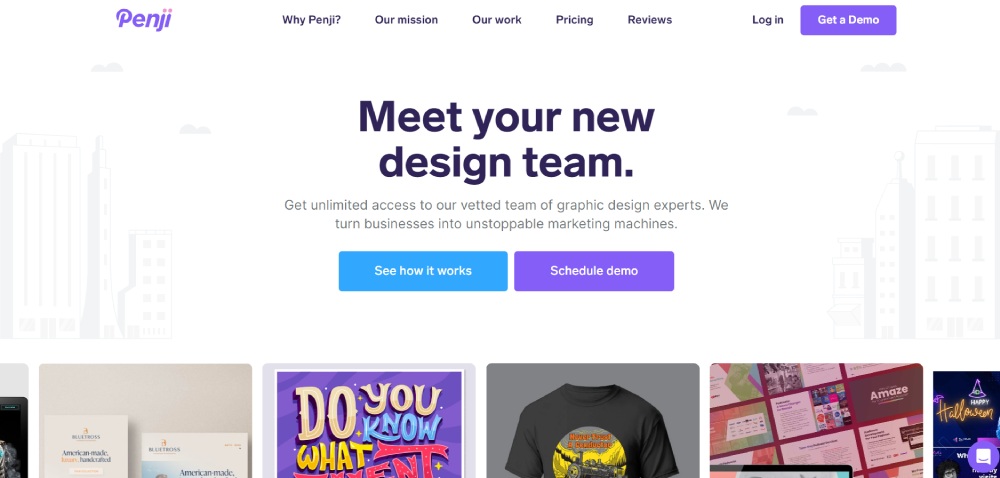 Penji can help you kickstart your branding journey through logos and other branding designs! Our branding identity designers specialize in various logo styles and designs. Additionally, you don't have to worry about hiring since our branding designers are ready to take on your project! You can get multiple logo design variations and other branding assets to make your brand stand out!
However, if you only need one or two design assets from Penji, you can get single designs from Penji Express! You can request logos, packaging, and labels.
For the subscription tier, you can request these branding designs from Penji:
Logos
Typography
Business cards
Labels
Letterheads
Packaging
Stationaries
Brand guidelines
Pricing:
Starter – $499/mo
Marketer – $995/mo
Agency – $1497/mo
Penji Express – starts at $60
Oh, make sure to input this promo code: GETPENJI25 when you subscribe to Penji. You'll get 25% off your first month!
2. Twine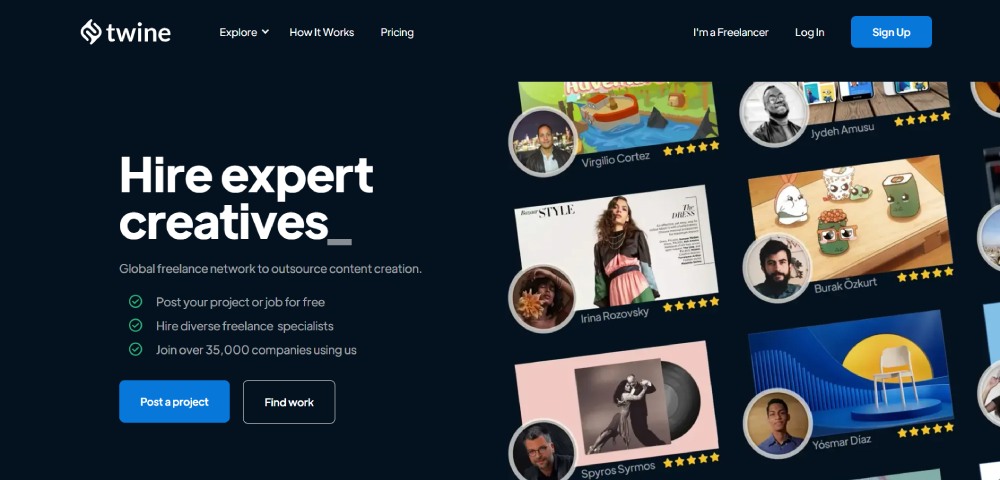 Twine is a tech and creative-focused freelance site. You can connect with top freelancers by posting a job advertisement. From there, receive applications from interested and experienced branding freelancers. You can get help with your branding and marketing strategies. Additionally, Twine helps you connect to video creators, writers, and designers. They'll be the ideal freelancers for creating a fully-developed brand.
One caveat of using Twine is it can be expensive, especially if you want to work longer with them. However, you can hire more people to reduce the service fee.
Pricing:
Standard – Free
Business – $139.99/project/mo
3. Fiverr Pro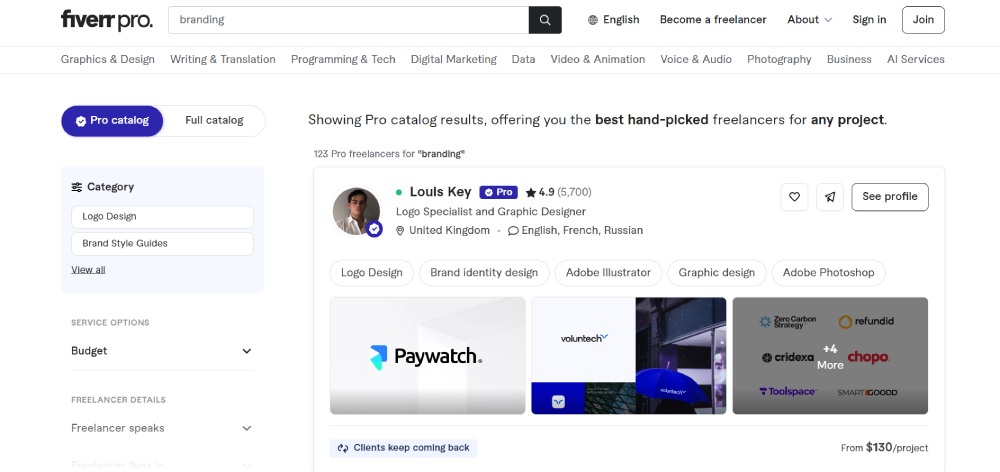 Fiverr can be a hit-and-miss for many businesses. However, Fiverr has an edge over its freelance competitors. A freelancer can apply to become a Pro freelancer to attract more clients. You can find brand designers and writers to establish your brand. Some offer writing and positioning services. Others would provide designs only. Meanwhile, all-around freelancers are helping you with your brand from the ground up.
Considering that you plan on hiring a Fiverr Pro freelancer, note that they work on a project basis. Plus, rates start at $100/project. This could be a tad expensive for small businesses on a budget.
Pricing: starts at $100/project, depending on the service needed
4. Upwork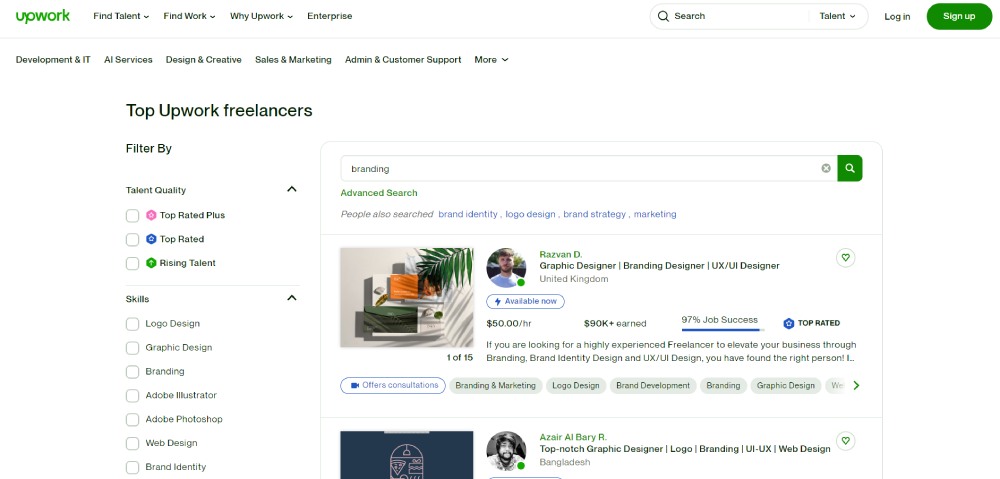 You can also assemble a team of branding creatives in Upwork! It's ideal to hire from Upwork if you need long-term freelancers working on your branding in the long run. You can search for designers, writers, and video editors to build your brand from scratch. Additionally, you can filter the talent quality, languages spoken, and if they're available to consult or open to contract-to-hire. Like most freelance sites, Upwork can waste your time finding the best freelancers.
Pricing: starts at $20/hr
5. Behance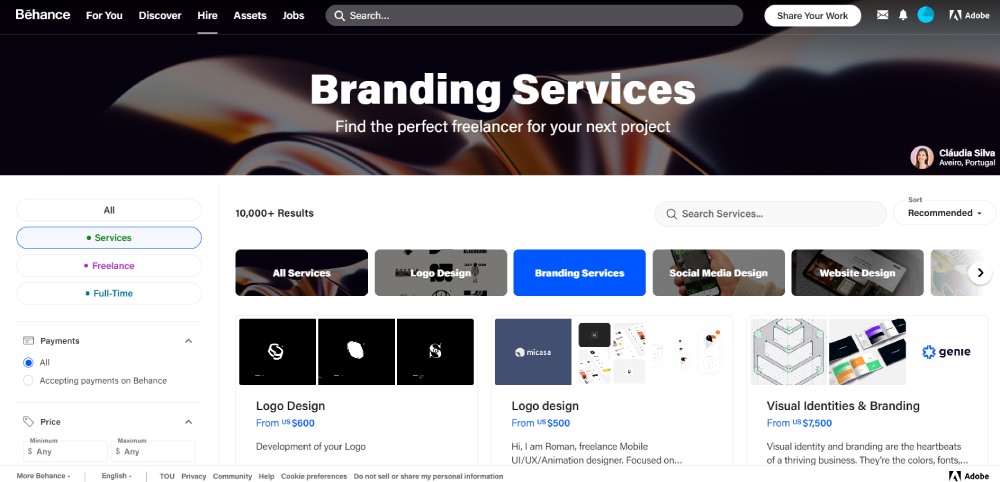 One place to browse the best branding services is Behance. Originally, Behance was a graphic design portfolio site where designers show off their portfolios. However, Behance has enabled hiring. You have two options for getting branding services. First, you can browse freelancers. Additionally, you can filter your search to narrow your choices. Second, you can post a job advertisement to attract top talent to your latest projects.
Pricing: Betterteam reveals that you can post a single job post for $399. However, if you plan on hiring a brand design team, you can opt for unlimited job postings for $1,499/mo.
6. YunoJuno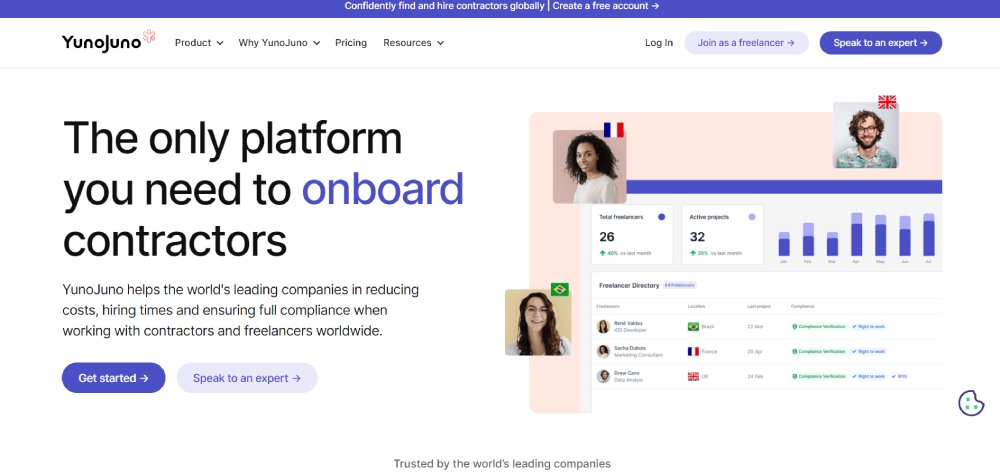 YunoJuno is another site to consider when hiring creatives with the best branding services. You can access a marketplace of over 100,000 freelancers or contractors to hire for your project or team. The freelance site promises you can get matched with freelancers within minutes and hire freelancers within 8 hours. However, considering the number of contracts available for hiring, you might take time to build the branding team you envisioned. Plus, you need to use the YunoJuno management system to manage your team in one place.
Pricing:
Freelance marketplace – 12% fee
YunoJuno Management System – from 4% fee
YunoJuno Plus – Contact sales
7. Wellfound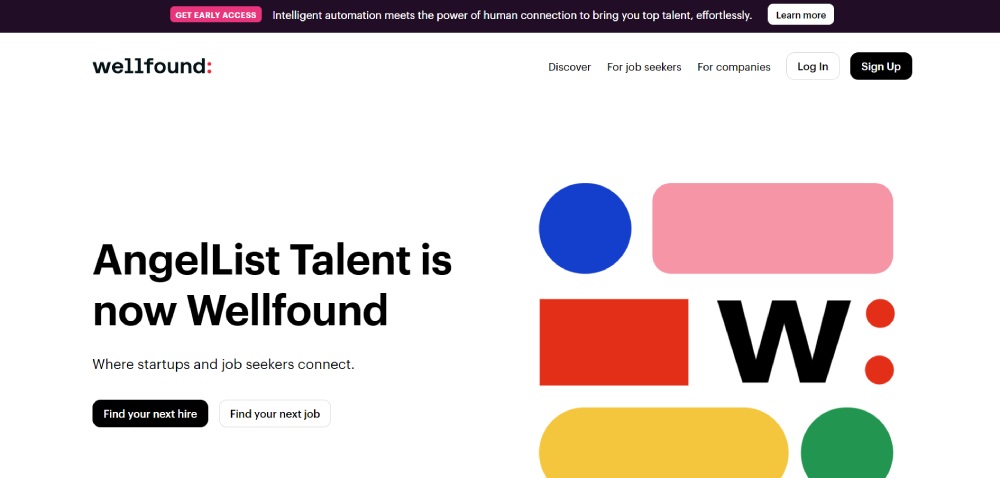 Wellfound is the ideal place for startups to find creatives. The site has made over six million matches and ensures your freelancers are startup-ready. Unlike other sites here, Wellfound can match you quickly to freelancers with their Unlimited Access plan. With this, you can find freelancers offering the best branding services. You can find design and marketing job seekers to help you develop your branding before launch.
Pricing:
Access – Free
Recruit – $499/mo
Unlimited access – Custom
8. Working Not Working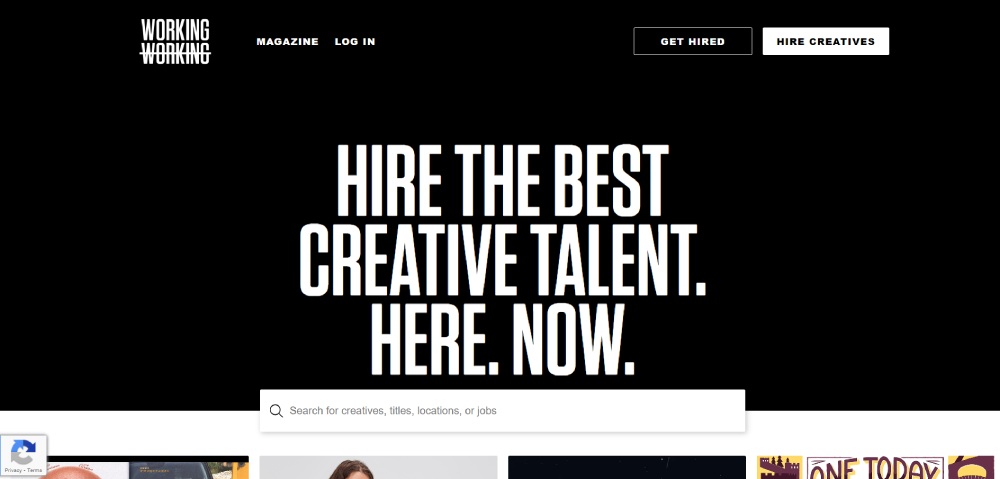 Working Not Working is another creative-based freelance site. But to hire the best creatives, you need to register and browse or post a job listing. The creatives are in production, design, photography, animation, and advertising. That said, you'll have to use a different freelance site to hire writers for your messaging or positioning.
Pricing: Sign up to post a job
9. Workana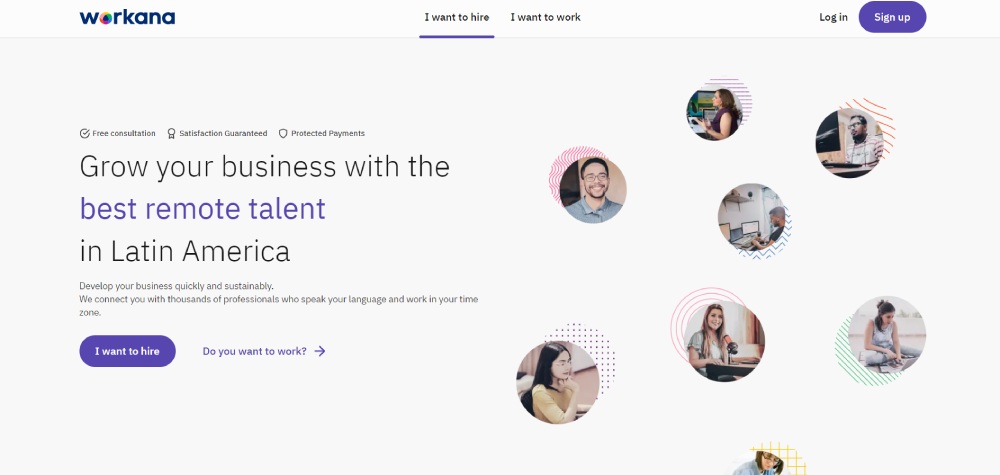 Workana is an ideal freelance site for US-based companies, considering that Workana has the best talent from Latin America. This way, you and the freelancer will still be in the same timezone but allow remote work. Their specialty is building a web developer team, but you can also browse marketing and design freelancers for your branding project.
Pricing: Service cost is 4.5%
10. 99Designs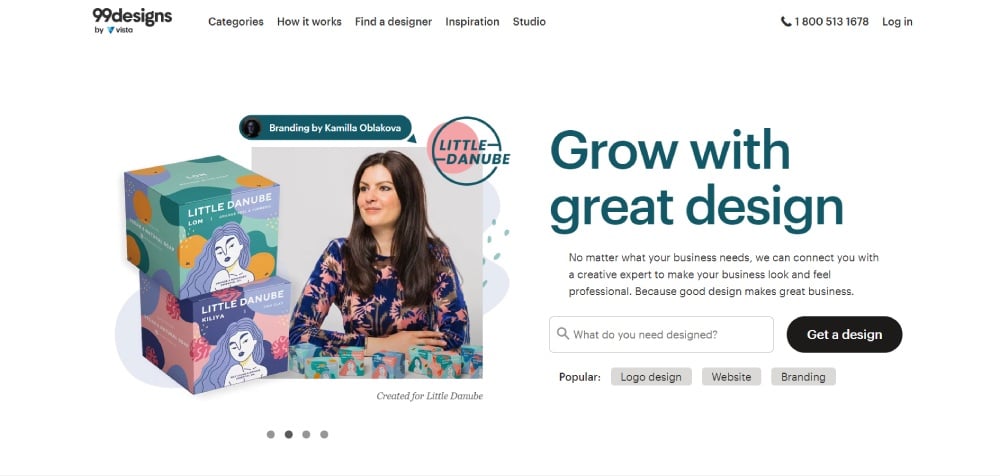 99Designs provides you with an unconventional way of hiring freelancers. First, you can hire via the marketplace, which will be easy to browse and invite freelancers to your project. However, if you want a per-project basis for all branding designs, you can also create a design contest to get designs from various freelancers.
Pricing:
Freelance marketplace hiring – depends on the freelancer
Design contest – depends on the brand design you need