Content, video, and visuals are key to enhancing brand awareness and consistency and promoting your business. The best people for the job are online creatives that can put your business on the map. And if you're looking for the best ones for your business, here are the top websites to hire online creatives.
Best 12 Websites to Hire Online Creatives
1. Upwork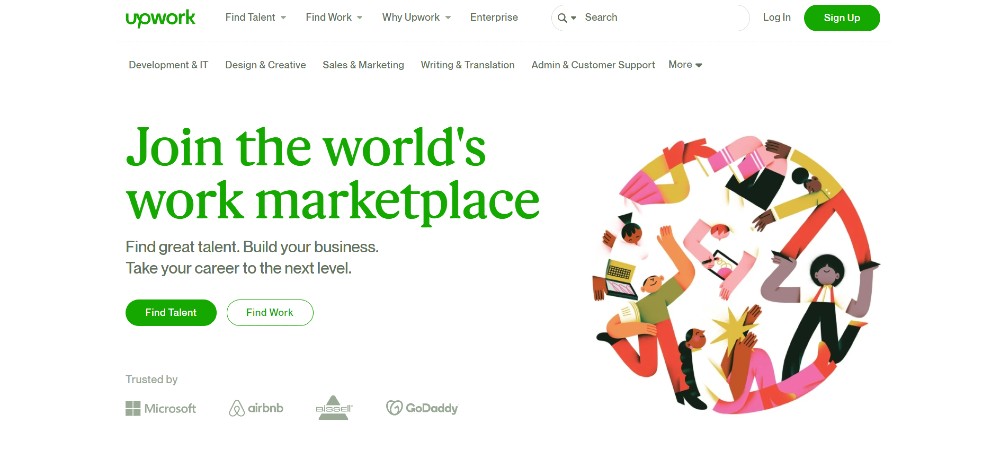 One of the leading sites to hire online creatives is Upwork. There are over 10+ million freelancers on this platform ready to take on work. You can find almost EVERY creative out there. Graphic designers, writers, art directors, animators, voice actors, you name it, there is one you could hire for any project.
Upwork has two ways for you to hire an online creative on the site. One is by browsing through their Talent Marketplace. The second is where businesses can also use their Talent Scout feature, where Upwork does the hiring and recruitment for you.
2. Fiverr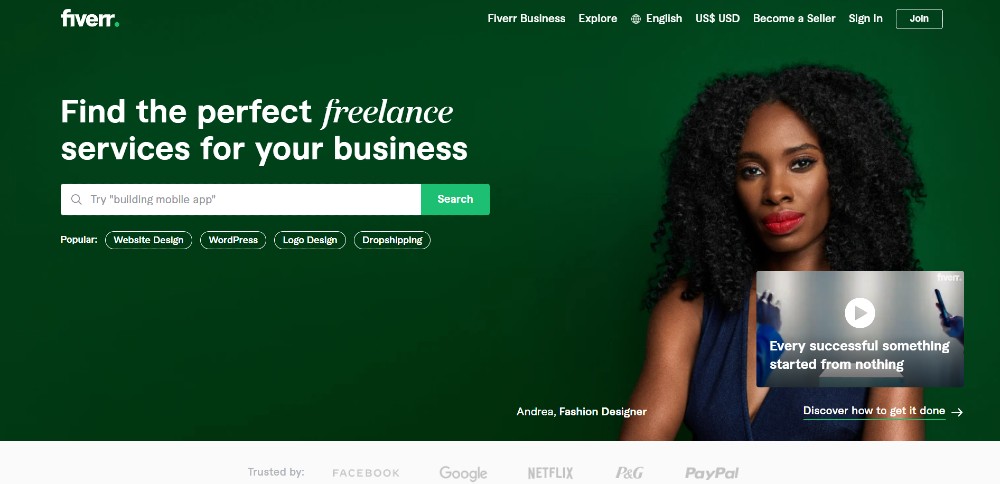 If Upwork isn't your cup of tea, its main competitor, Fiverr, is another place to hire online creatives. Similar to Upwork, you can find creatives for video, animation, design, graphics, music, and other lifestyle-related projects.
Like Upwork, you can hire someone for a gig by browsing different categories. Or, you can avail of the Fiverr Business, which allows you to hire the top freelancers on the site, the so-called "Fiverr Pros." The site conducts a vetting process, allowing the top freelancers to add the label "Fiverr Pro" to their name when a business or client wants to hire them for a gig.
3. Peopleperhour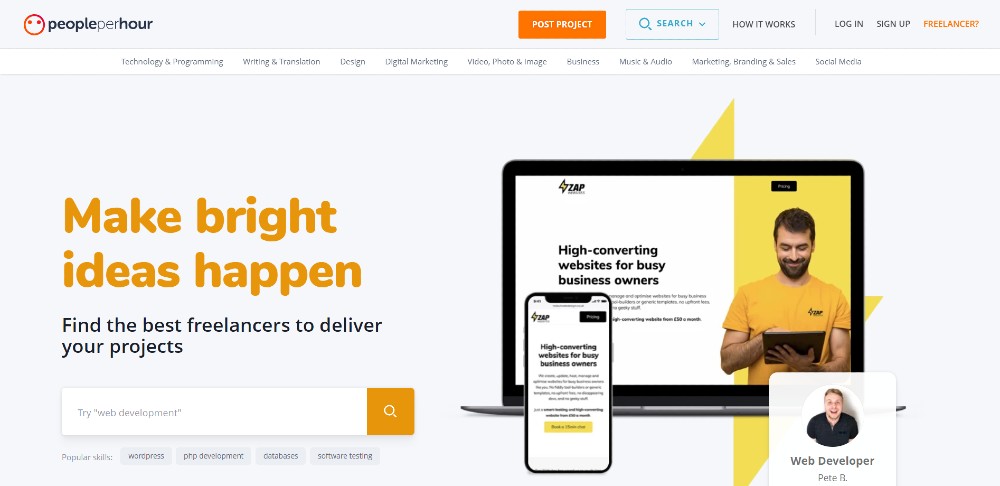 Peopleperhour is another general freelance site where you can find amazing creatives to work with your business. Here, you can find writers, designers (graphic, architecture, 3D), photographers, musicians, and audio-related pros. You can connect with a freelancer or post a project where freelancers can apply based on your set budget.
4. Penji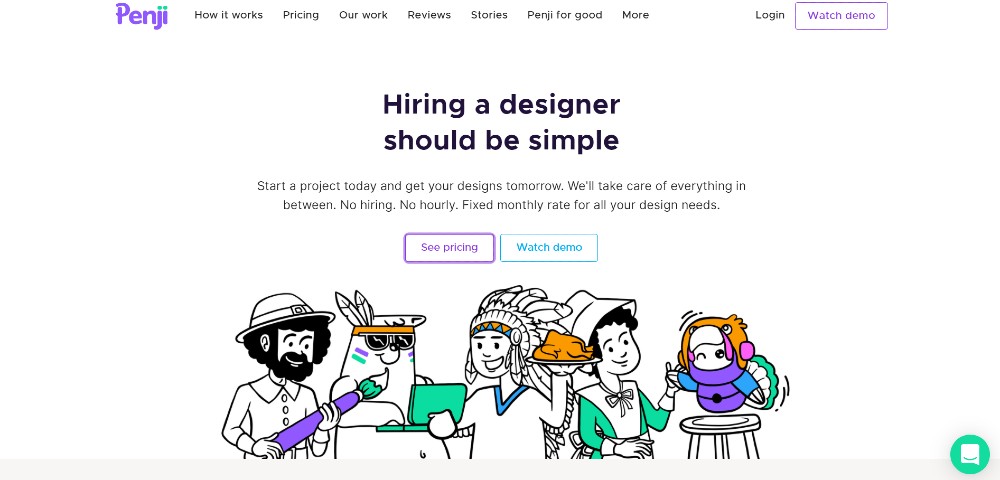 While Penji is an unlimited graphic design service, you can work with the best designers. Instead of looking through different profiles or specialties, Penji assigns you to the best designer for your project once you create your first request. No need to worry about hiring anymore since Penji vets its designers and ensures you work with pros.
Plus, once you subscribe to Penji, you can request different designs, too. For example, you can request for web design, flyers, social media, blog graphics, illustrations, and more! You can save time and money when subscribed to Penji, and you can do that with one click. Decide on the plan that fits your budget, and get started with your first request!
5. Freelancer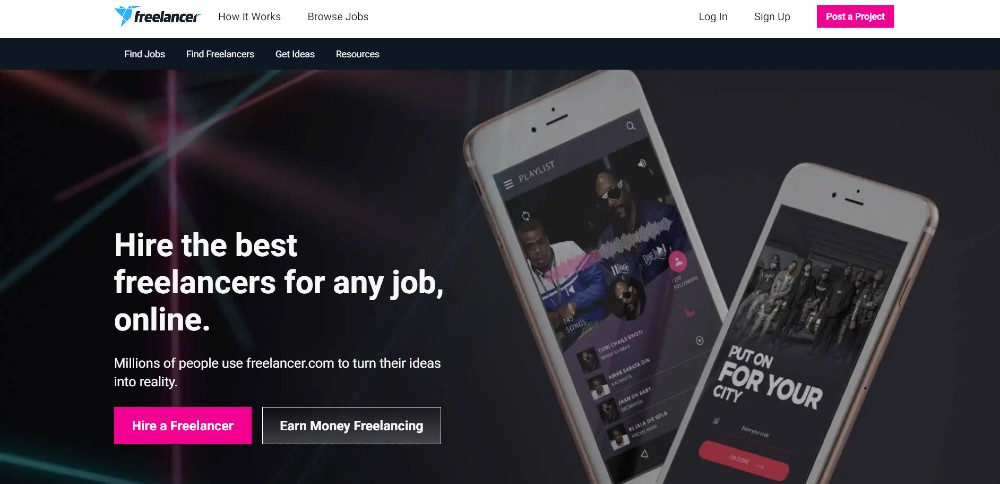 Freelancer also has a wide range of creatives on their site that you can hire. Creatives available on the site are designers and writers, which will help you with your visuals and content. Here, you have three options to hire them.
First is going through the marketplace. The second is to post a job where you can attract freelancers to send in their proposals. The final one is by holding a contest. The contest is only applicable to designers, but it's still another option to consider when you need different designs.
6. Flexjobs
Flexjobs is your typical job search site, but their site can help you find full-time or part-time remote work. Aside from typical online creatives like graphic and web designers, illustrators, and writers, you can hire musicians and composers, photographers, film or theater production pros, gaming developers and designers, and videographers and editors.
The site ensures that you will work with screened candidates, post unlimited job listings, and view resumes. Plus, they can do recruitment work, and you can enhance your employer branding through the site to connect with qualified candidates.
7. Working Not Working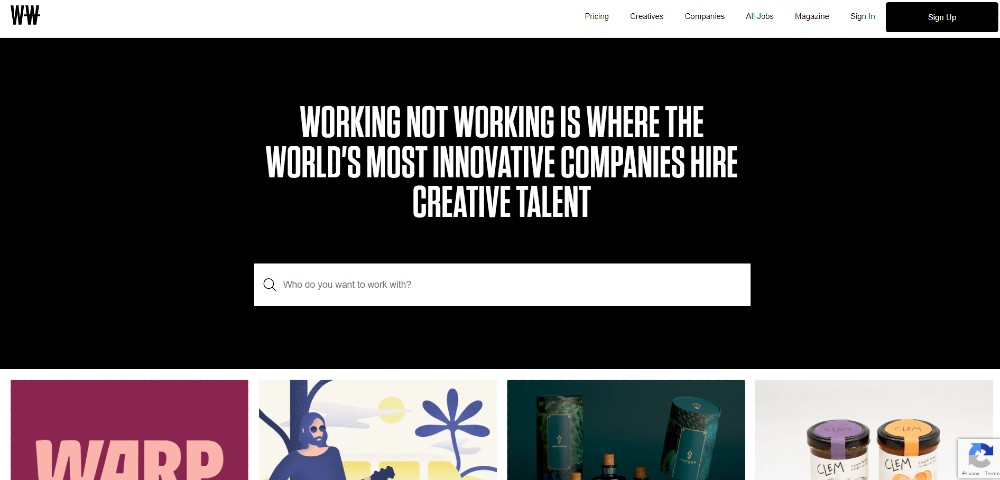 Working Not Working is another freelance site to find creatives, but Working Not Working focuses only on creatives, unlike leading sites like Upwork and Fiverr. You can discover creatives from the United States (NY, CA, OR, IL, MN, WA, TX), Germany (Berlin), Toronto (Canada), England (London), and The Netherlands (Amsterdam).
Here, you can send a freelancer a message to hire them or subscribe to post a job and hire different freelancers for various projects. Businesses or recruiters can choose between two plans and get support from the site to help them when hiring a freelancer.
8. Twine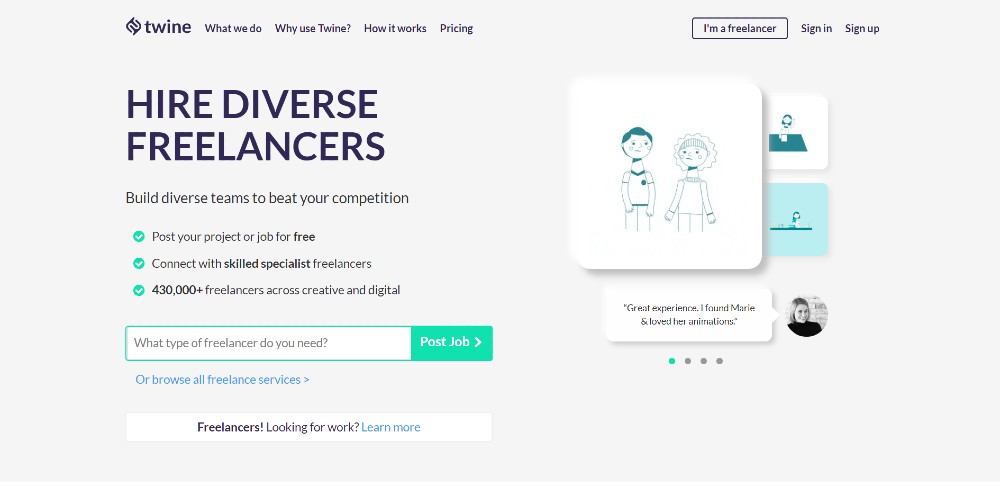 Twine is one of the few freelance sites that focus mostly on listing and hiring creatives. Here, businesses can post a job brief allowing freelancers to submit their pitches and get selected. Or companies can send a message to freelancers they want to work with by viewing their profiles. Creatives available to hire on this site are designers, illustrators, animators, voice actors, and composers.
9. Creative Circle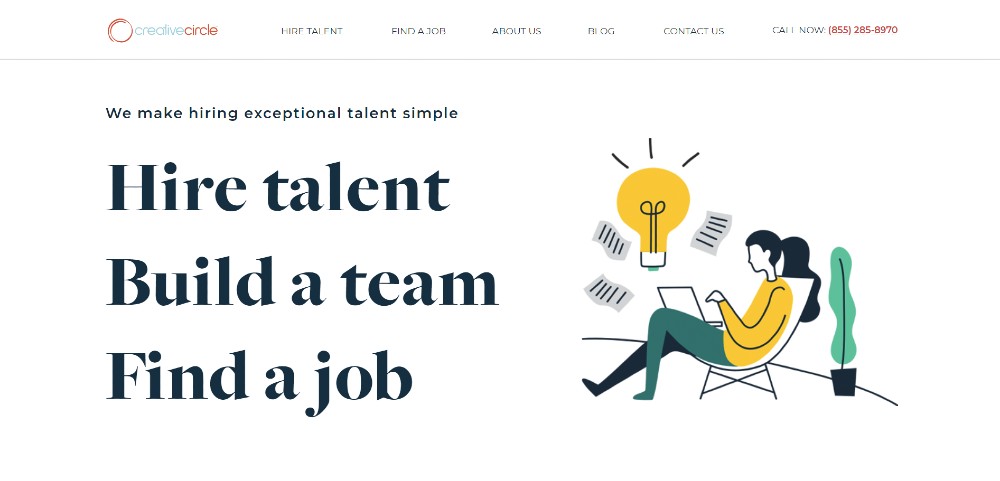 Unlike most of the sites here, Creative Circle acts as a recruiter site where they handle staffing for businesses. At present, their online creatives are limited in the United States and Canada. Businesses may hire online creatives and provide details of the talent they need for a project or a role, and Creative Circle matches them with the best candidate. Their current pool of creative talent specializes in content and copywriting, design and art, motion and video, and web design and development.
10. Toptal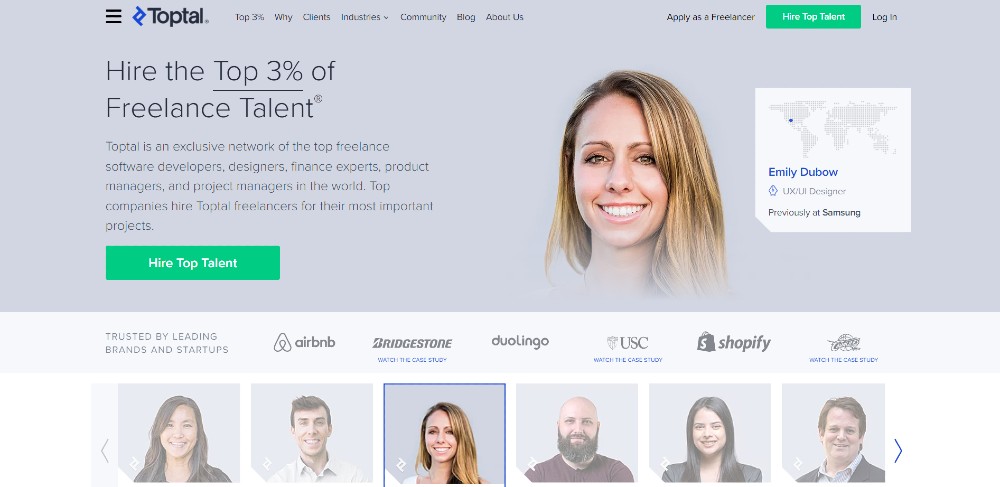 Toptal is another excellent option to hire online creatives. So far, only designers and game developers are the creatives you can connect with if you decide to go with Toptal. A rigorous hiring process has vetted game developers and designers on Toptal that only the top 3% get the chance to be hired. In addition, you can expect that the designers have worked with big-name brands like Microsoft, Bridgestone, and Motorola.
11. Creativepool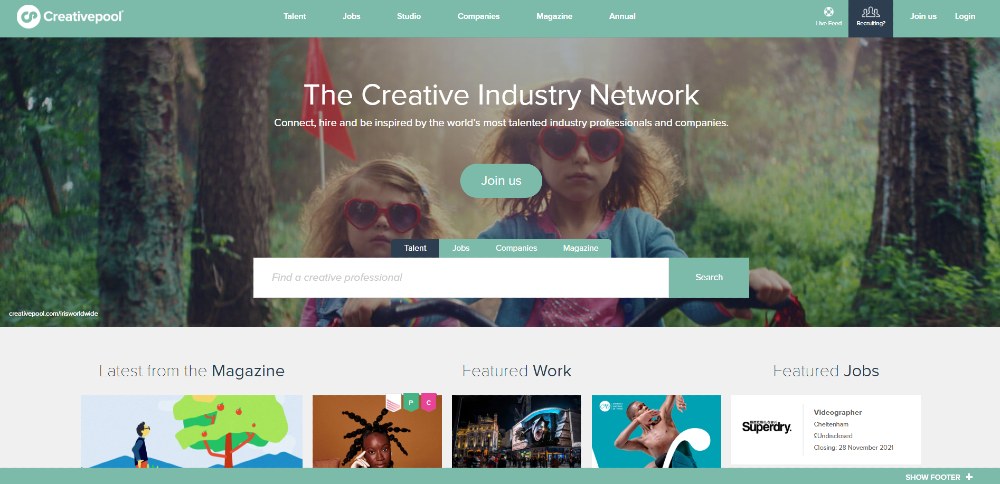 Creativepool works three ways in finding the best online creatives. The first option is to post job advertisements and view resumes of creative talents on their site. This may entice candidates to apply to these job postings.
The second option is to list your business and update it with current job openings. Finally, the third option is to find talent in their marketplace, where businesses can view their portfolio and profiles before connecting and messaging the talent.
Additionally, Creativepool allows your business to advertise on their site or through an email newsletter. This could help your business get noticed by creatives who might be interested in working with you.
12. Authentic Jobs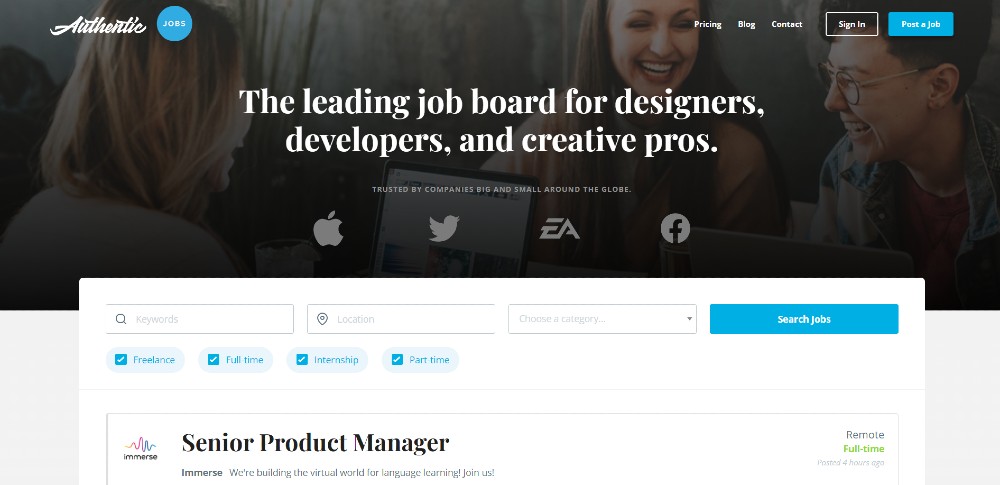 The tagline for Authentic Jobs suggests they're the leading site to find creative pros. Businesses or recruiters can post jobs where creatives can apply to. They don't have the option to find or send a freelancer a message, like most of the other sites above. However, Authentic Jobs doesn't limit their job listing on their site. Businesses can avail a feature to boost their listing to other sites like Dribbble, We Work Remotely, and Startup.jobs to reach more freelancers.
How Penji Makes it Easy for You
As I've already mentioned above, Penji has done the hiring for you. No need for you to search for freelance designers for your projects. Once you subscribe to Penji, you're automatically connected with the best designer for the job. But in any case you want a different designer working for you, no problem. You can request it in your current active project, and you'll definitely get another expert designer working on your project.
Save time (and money) from interviewing freelancers and doing design tests. Penji has got you covered! Click "Choose Plan," and you're all set to submit your first project request on the site.