With AI dominating the online space, choosing the best branding and marketing tools is challenging. And every entrepreneur knows unique and professional images are must-haves in marketing campaigns. This is why some entrepreneurs and marketers resort to AI-generated images for quick and easy AI art. But which free AI image generator is the best? We've done a comprehensive review of the top five free AI art generators and image output examples for each.
1. Canva
Everyone knows Canva as a free graphic design tool for beginners and experienced designers. However, this popular platform recently ventured into AI art creation using the same user-friendly interface. One of the best features of Canva's AI image generator is letting you choose the art style of your generated images.
If you're unsure of the art style that fits your purpose, click the "Surprise Me" button. The platform will choose a random style for you. Canva also lets you choose the perfect aspect ratio for your image, such as portrait, landscape, and square.
Limitations:
The free plan lets you create 100 images daily only.
Output AI art:
Canva's interface lets you choose from different options. For this example, I typed "A dog eating a beef burger," and this is the output AI image: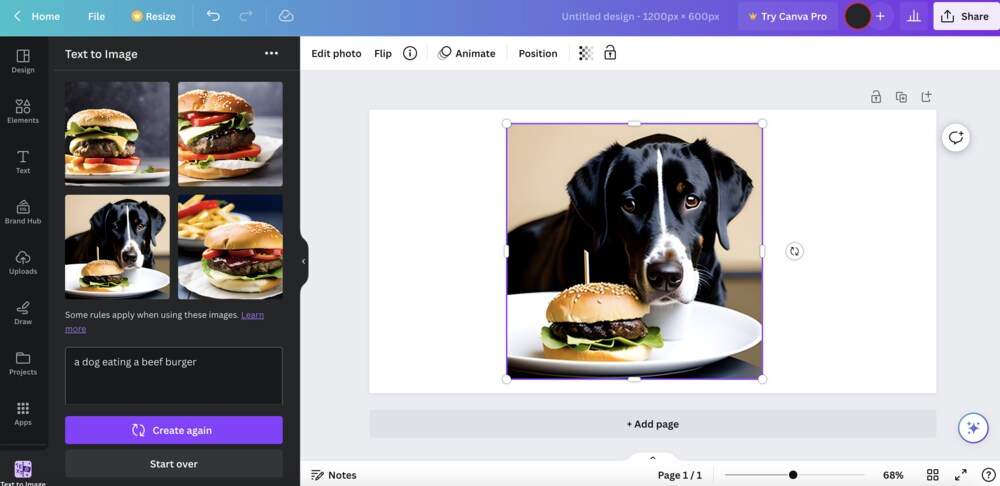 2. Hotpot AI
Hotpot AI's interface is straightforward. It directs you to an uncomplicated web page with a text input field and a few options underneath. Hotpot AI's powerful algorithm is quicker, generating AI art fast. You can toggle the "Vary" option to let the software produce various images based on the text prompt.
Select the "Custom" option in the style menu if you want to use your style. One of the best features of Hotpot AI is its "Ask AI for ideas" feature. This lets users ask the AI image generator for ideas by inputting the goal of their images and topic.
Limitations:
Hotpot AI's software may not be able to follow instructions accurately, such as numbers or colors. The free plan also lets you create only 10 image credits. Plus, you'd have to buy credits for commercial use and bigger, high-quality designs.
Output AI art:
I typed "A girl with wings flying in the clouds," and this is the output art: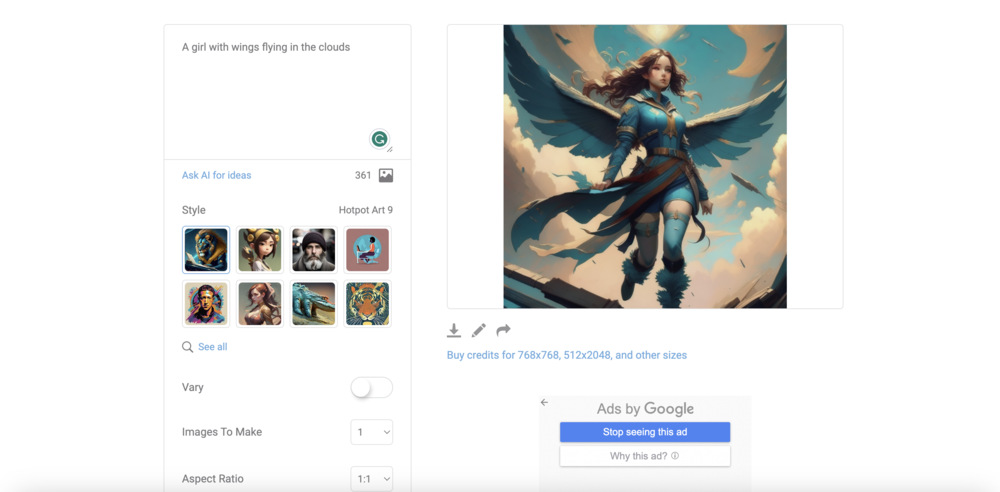 3. Picsart
Picsart is the largest creative platform, with over 150 million monthly active users. This AI art generator has made over a billion monthly edits and about 800 edits per second. It also supports over 30 languages, making it an inclusive AI image software. Picsart is a cutting-edge AI design platform offering intuitive tools and easy-to-use editing features.
You can use Picsart's AI Enhance, which automatically enhances your images with just one click. This enhancing tool is also AI-assisted, letting users enjoy effortless editing. Another feature is AI Avatar, which lets users create digital AI avatars for their novels or social media pages. Finally, Picsart has a unique AI Replace feature, allowing users to transform objects into something else.
Limitations:
Picsart maximum image size limit is only 10MB. There is also a daily limit, which isn't specified on the website. However, a prompt "Daily Limit Reached" pops up once you reach your limit. You may subscribe to Picsart Gold or wait the next day to generate AI images.
Output AI art:
Picsart's output images are incredibly high-quality, with almost a realism effect. I typed "A bear carrying a corgi" for this example: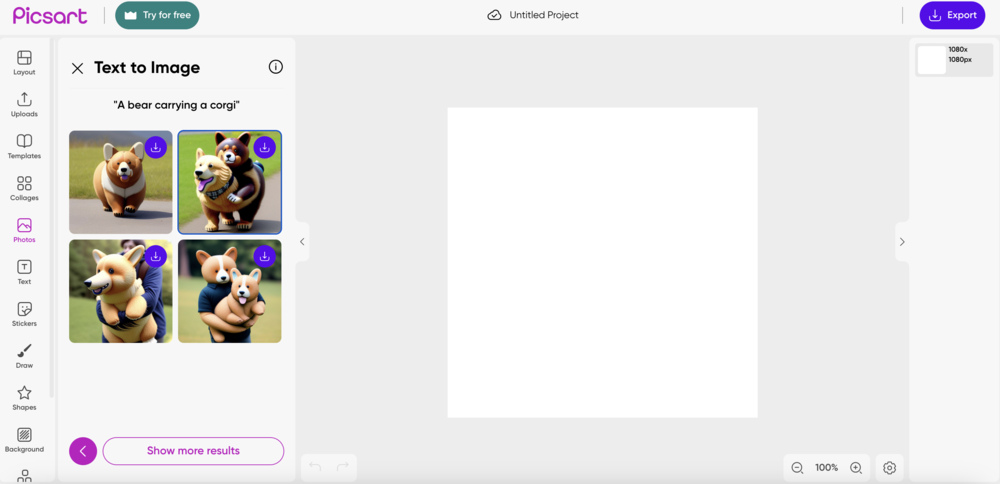 4. Fotor
Fotor's AI image generator works like the others on this list. Within seconds, you'll get matching images to your text prompts. You can generate different images, such as mockups, product designs, anime characters, cartoons, backgrounds, and more. This makes Fotor a perfect AI art maker for businesses, professionals, and marketers.
Fotor lets you create NFT artworks, AI drawings, illustrations, paintings, and more. It also lets you choose from several art styles, such as oil painting, 3D, cartoon portraits, realistic, concept art, digital art, and more. Customize your images on Fotor's easy-to-use interface by enhancing, remixing, upscaling, adding captions, or removing backgrounds for better storytelling.
Limitations:
The free plan offers basic editing and design features. You'll also get a non-HD download with a watermark, which might not be suitable for commercial purposes. The cloud storage limit on the free plan is only 500MB, with only three file formats JPG, PNG, and PDF.
Output AI art:
Fotor's AI image generator interface is also simple with a clean layout. I typed "A disney princess eating ramen," and the output is, surprisingly, very high-quality: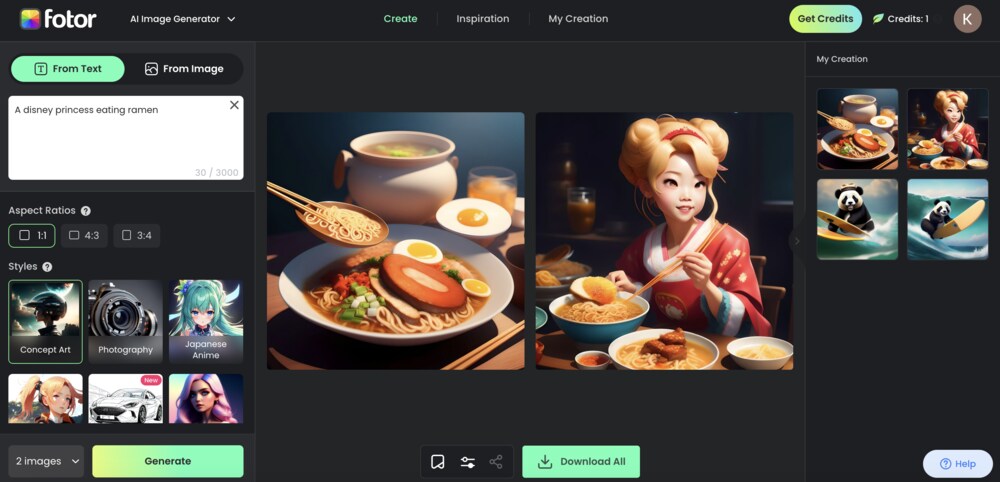 5. Veed
One of the reasons why many users love Veed's AI image maker is its ability to create videos out of images. You can type a text prompt to create the AI art, and Veed will create a video out of the generated art.
Use Veed's incredible suite of tools to transform your graphics into beautiful videos. This is excellent if you want to repurpose your marketing materials on various online channels. Customize your visuals and videos by adding special effects, animated text, sound effects, and more. Although all generated visuals and videos belong to you, it's best to check copyright laws in your area.
Limitations:
Using Veed is ideal for one-off projects that need to be created quickly. The free plan also lets you create videos with a watermark with 720p exports.
Output AI art:
I must say, Veed's output AI art is the lowest quality compared to other AI image tools on this list. I typed "Little mermaid drinking coca cola," and this is the generated image: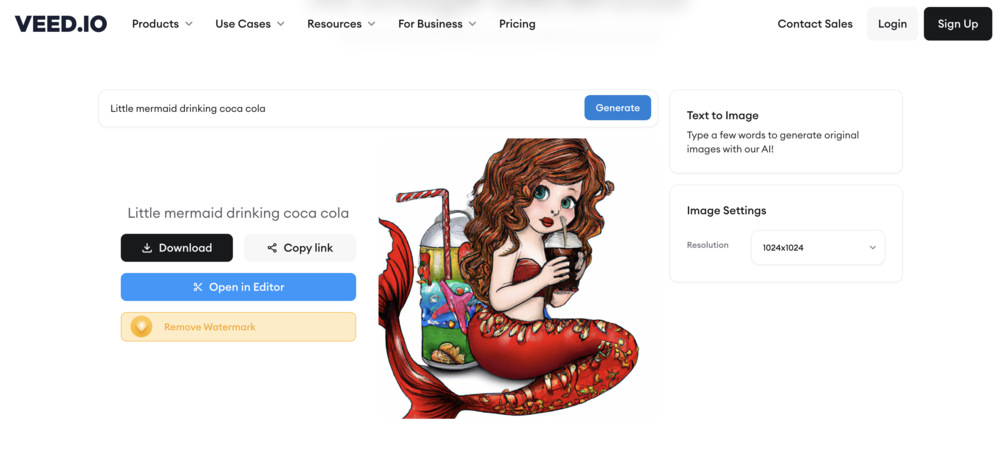 Are AI Image Generators Worth It?
AI image generators are worth using for personal or passion projects. However, these lack the originality and creativity of the human eye. These AI-powered image generators might not be able to analyze text prompts accurately, generating images inconsistent with your branding.
If you want your branding assets and marketing designs to stand out, working with professionals is best. Subscribe to Penji for unique and relevant graphic designs. We offer unlimited designs or one-off visuals for your branding and advertising needs.
Sign up now for a limited 15 percent discount, or try our service for 30 days risk-free.