AI image generators, like DALL-E, have taken the world by storm, captivating professionals and casual users alike. These remarkable tools leverage the power of artificial intelligence to create stunning and often surreal images with a few clicks. With user-friendly interfaces and quality results, these tools have become a hit among individuals, professionals, and marketers. In this blog, we'll showcase AI images from seven free AI image generators with the prompt, "Cute panda surfing a wave."
1. Canva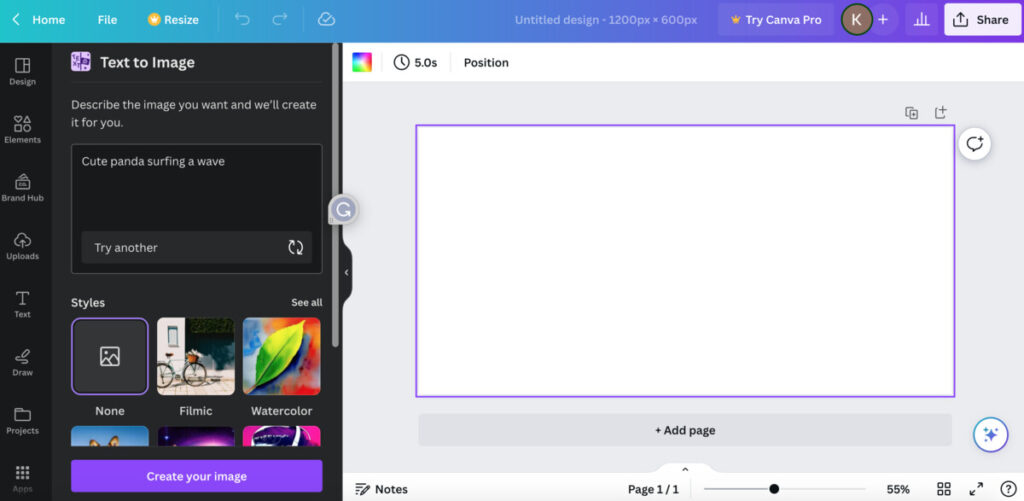 In November 2022, Canva announced its new text-to-image generator. Canva is known in the creative industry as one of the top free graphic design tools. And this juggernaut has joined the AI bandwagon by launching an efficient AI image generator. Since launching, the platform has created over six million images for presentations, logos, business flyers, and more.
From practical descriptions to whimsical ideas, Canva creates one-of-a-kind images with a click of a button. Enhance your photos by modifying brightness, adjusting contrast, or playing with filters. You may also generate AI art in various styles, such as 3D, concept, and paintings.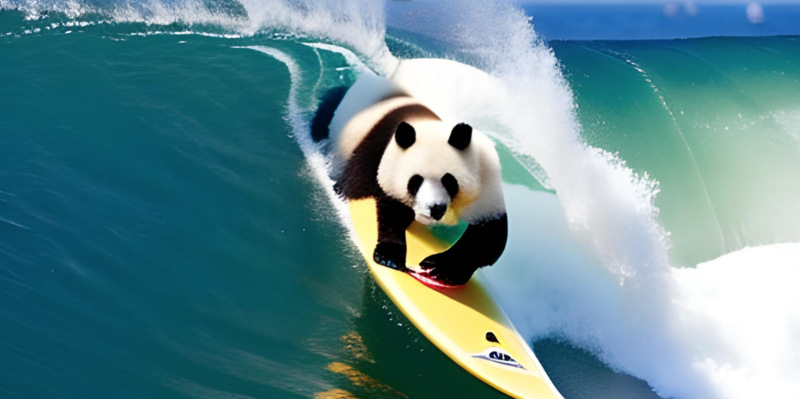 Canva's image result was realistic and straightforward, a perfect tool if you want a no-fuss AI image tool.
2. Getimg.ai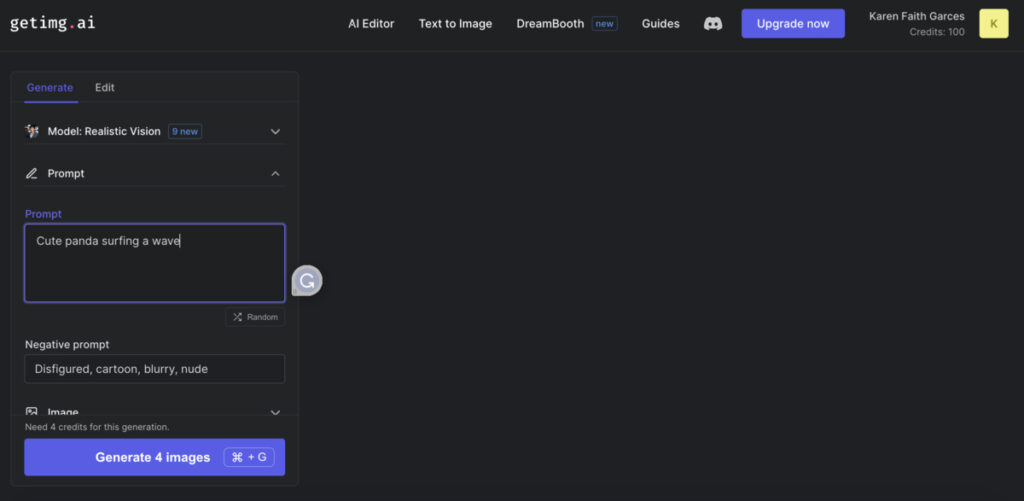 When choosing an AI image generator for free AI images, it's best to check the quality of the results. Getimg.ai is another contender in the AI image editor hemisphere. You must create an account to access the free AI image generator. Getimg.ai offers up to seven powerful "ControlNet" pipelines for the generator to create stunning images.
You can edit the images using text-based instructions, making the entire design process quick and easy. Plus, users will have more than 25 community-trained models and can join the platform's Discord channel.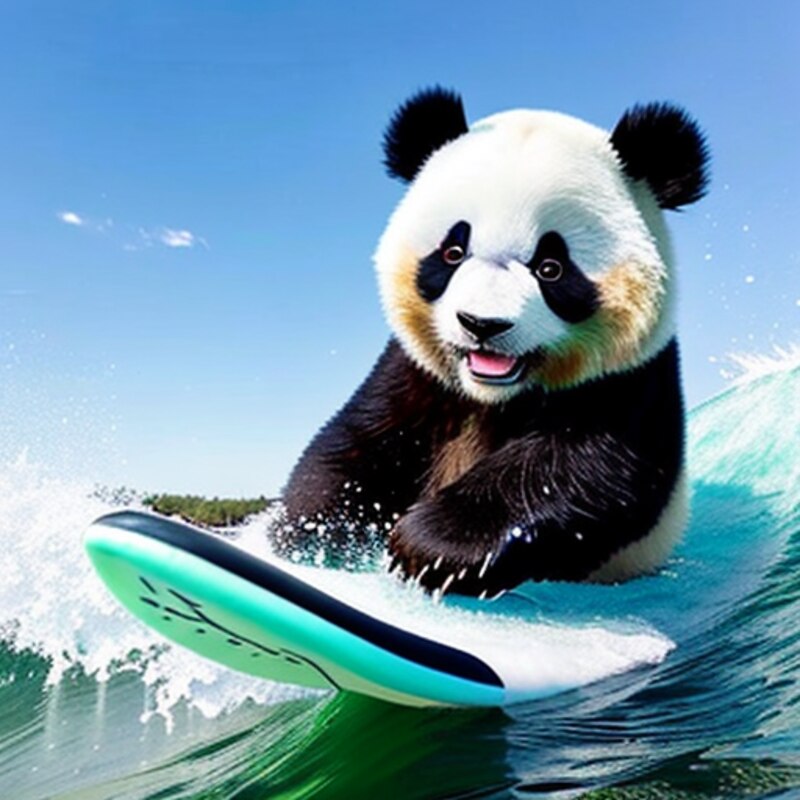 I find the free AI art similar to Canva's concept, with a few flaws. The panda's hand wasn't appropriately positioned on the surfboard, and there was discoloration on its face.
3. Fotor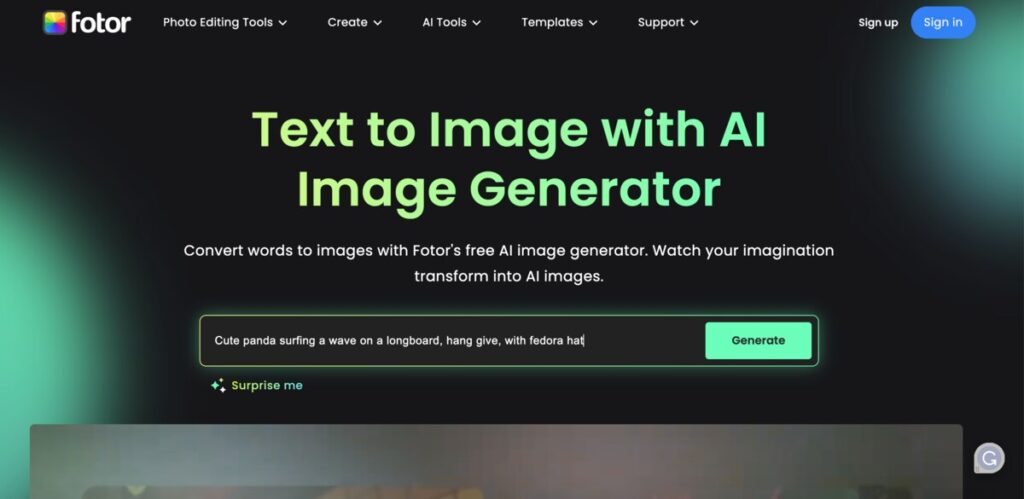 One of the best AI image generators, Fotor has garnered over six million users and generated over 50 million images. Fotor's AI image editor offers a clean and straightforward interface, with the text field displayed in the middle. You can choose various styles for your image results, such as 3D, realistic, illustration, cartoon, cyberpunk, and oil painting.
If you're unsatisfied with the images, you can hit Generate, which will give you other options. Moreover, you may also upload a photo and modify it according to your preference. Fotor also offers tips on how to write the text prompt for better results.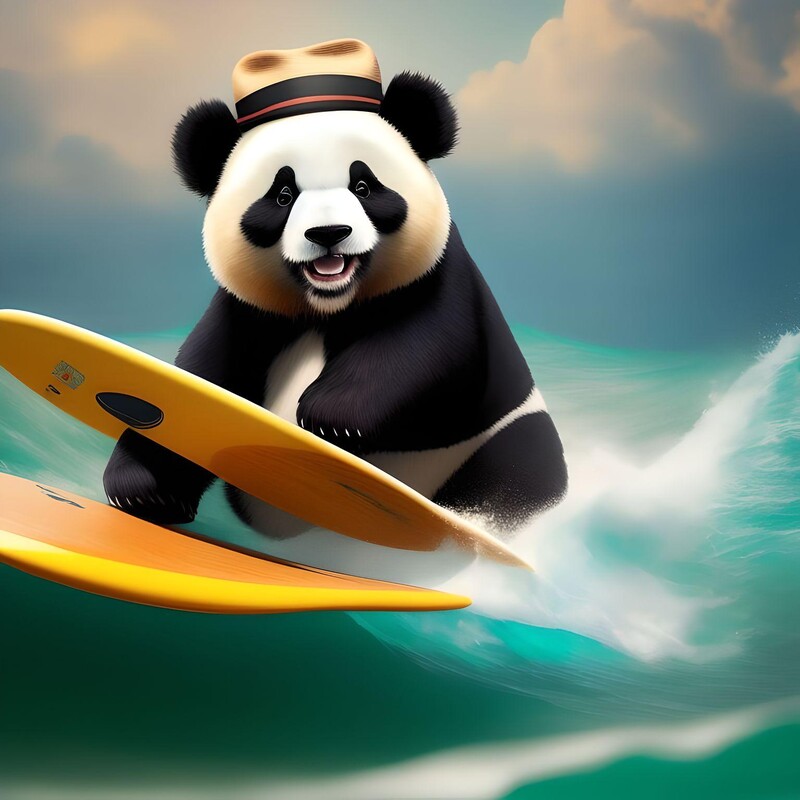 I got creative with this one and chose an oil painting for this surfing panda.
4. Images.ai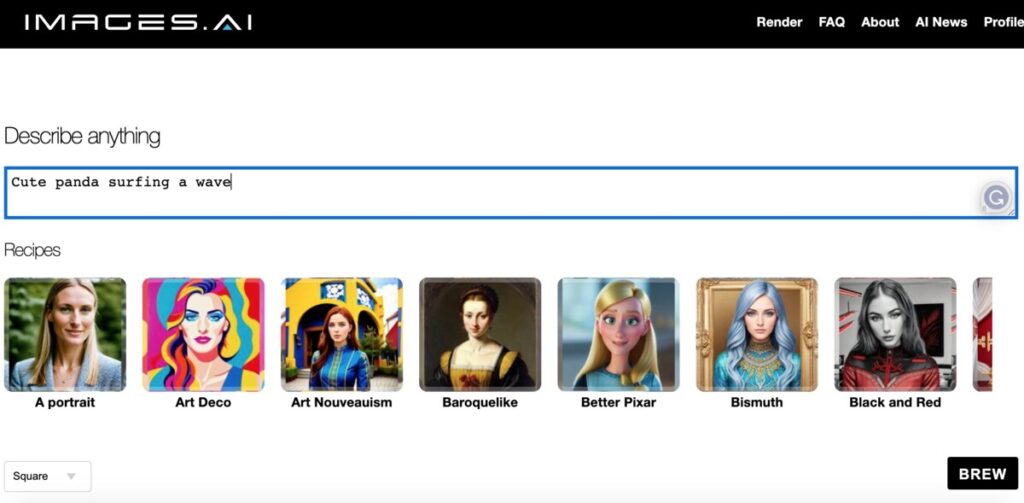 If you want to get free AI images without signing up for an AI image platform, try Images.ai. This AI text-to-image tool takes advantage of the latest generative AI through the diffusion of open-source code. Images.ai aims to improve its algorithm continuously and offers its powerful AI technology for free.
Select from concepts, which are pre-engineered prompt shortcuts that tell its AI how to render images. Click Brew, and Images.ai will do the magic for you. You may use AI photos from this platform for commercial purposes, such as websites, PDFs, and book covers, with no attribution. Get 25 images daily and add more tokens if you need more photos.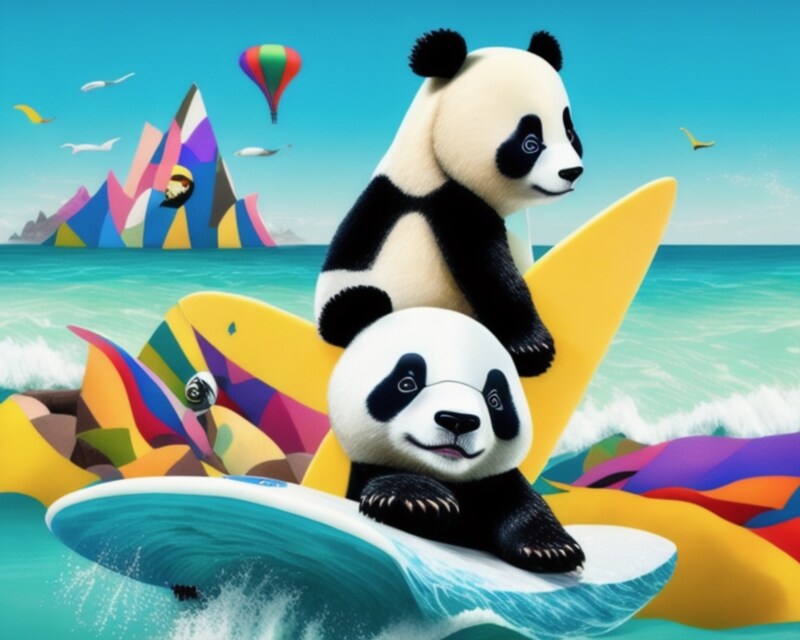 Images.ai's image example shows two pandas with various background elements.
5. Picsart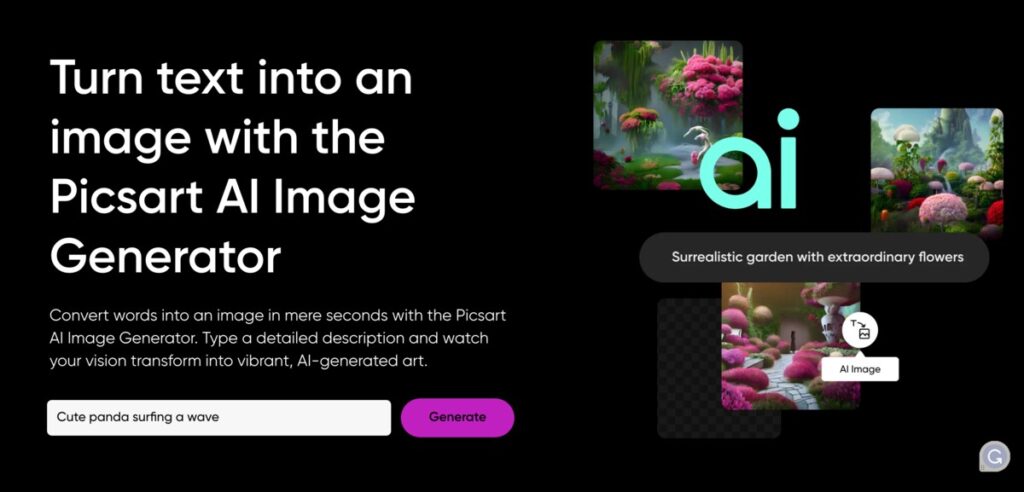 Get your free AI images from Picsart. Enjoy multiple features using this AI image software and enhance photos easily. Use the AI-powered image enhancer to identify and correct low contrast, blurriness, and noise. Increase pixel count for a crispier image in a matter of seconds.
If you're into avatars, Picsart is the platform for you. Create magical AI-generated avatars and bring your artistic vision to life. Turn your profile picture into a stunning avatar, or how about creating an avatar for your furry companion? Another excellent feature is the AI Replace, which lets you infuse a creative twist on your favorite pictures!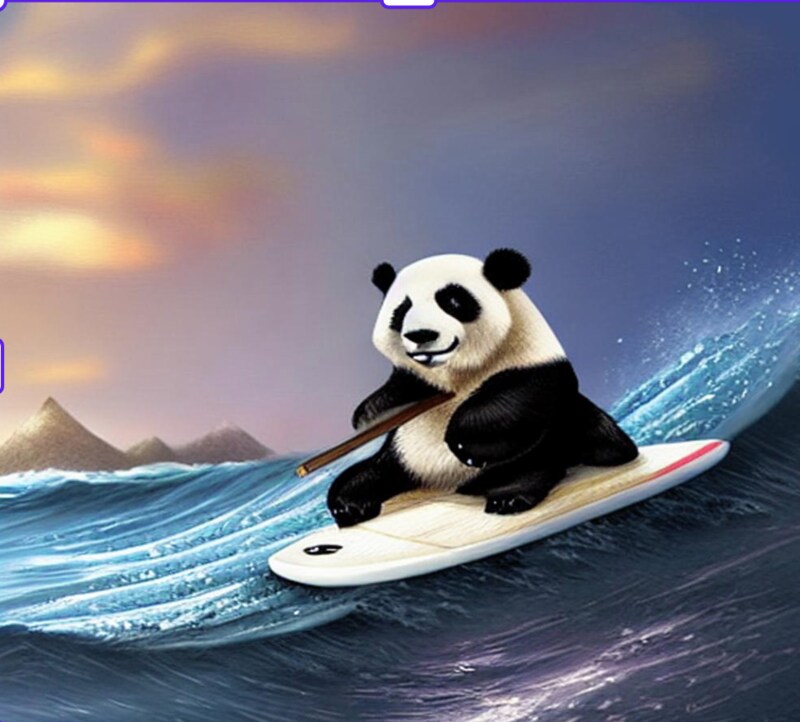 This is the detailed matte painting style for the surfing panda.
6. Hotpot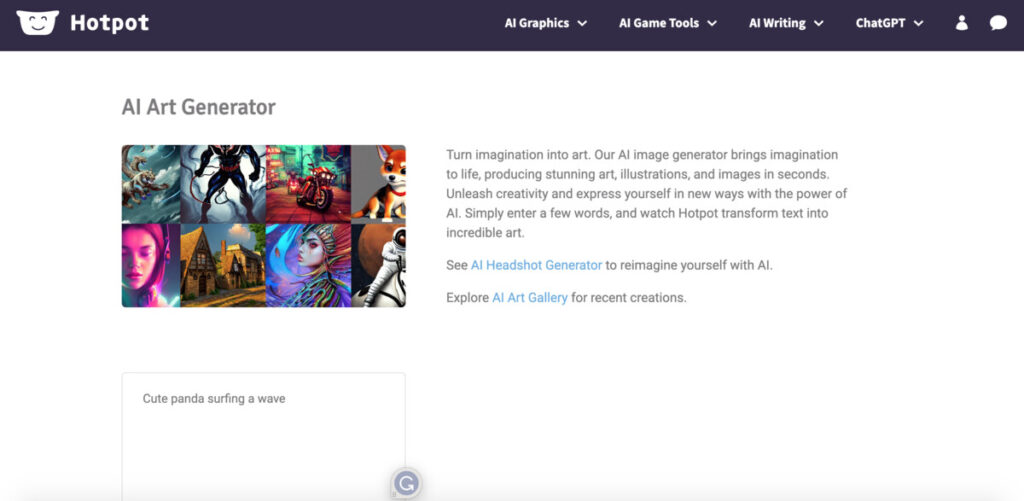 If you're into the NFT niche, Hotpot is the AI image generator to use. It's specifically tailored to create, customize, and share NFTs. Users can create their NFTs using design templates, image filters, fonts, backgrounds, and effects.
Hotpot's Vary feature allows users to get multiple images based on the same text prompt. This AI graphics tool is free to use, but you can buy credits for commercial use. You may also seed images using Hotpot's AI Art Remixer.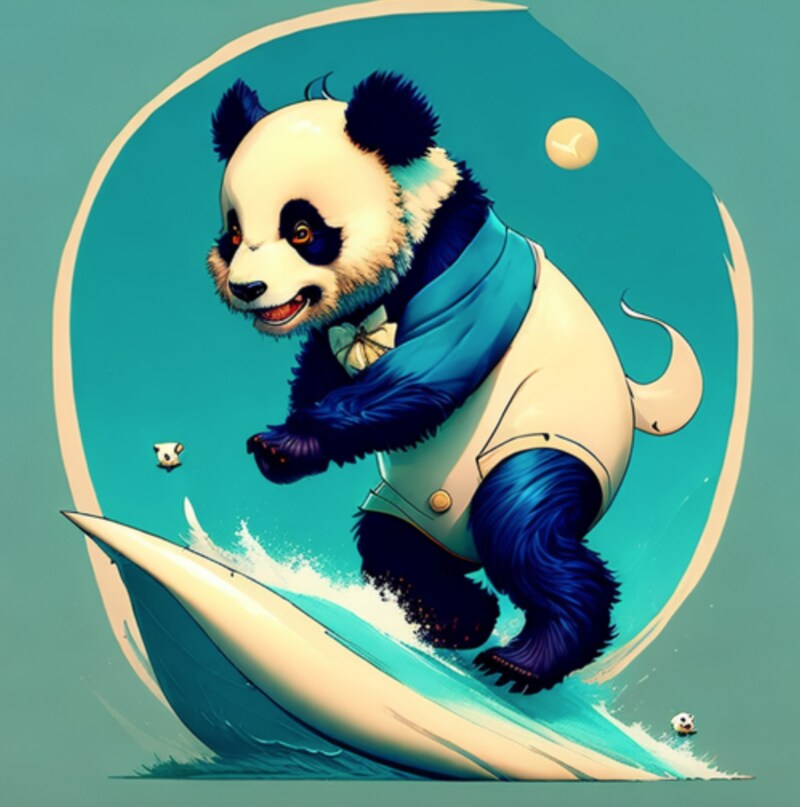 Hotpot's free AI image is my favorite out of all the AI images on this list. The result is unique and dreamy, perfect if you want your image to stand out.
7. Deepai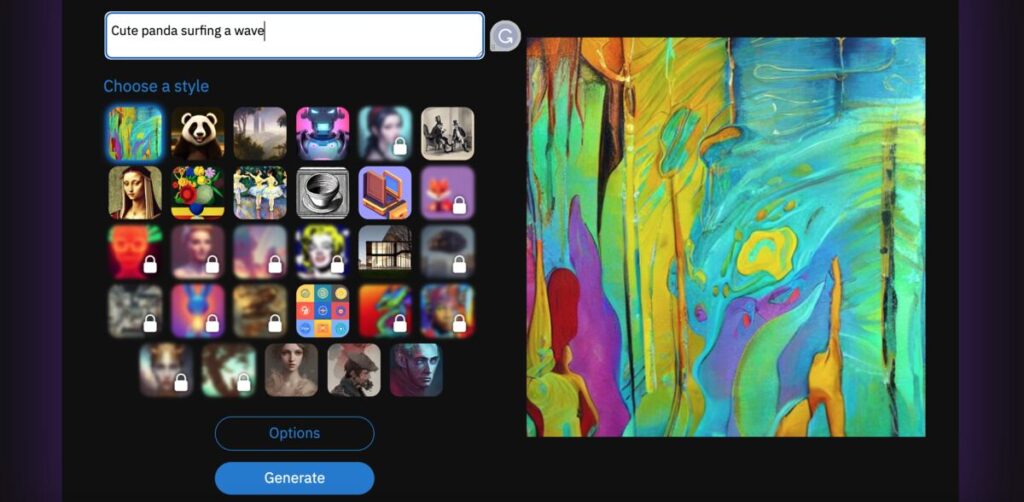 Deepai offers various tools to enhance your creativity. Founded in 2017, Deepai continues to innovate and scale Zendo to do all tasks of an AI agent. The best part is users can publish free AI photos commercially—even for NFT. You'll have a copyright for all generated images as they don't have an owner.
The only downside is the resolution or quality of the photos. Deepai isn't offering a higher resolution for now but promises it will be available soon. Deepai's Pro plan is affordable at $4.99 monthly, with 500 generated images.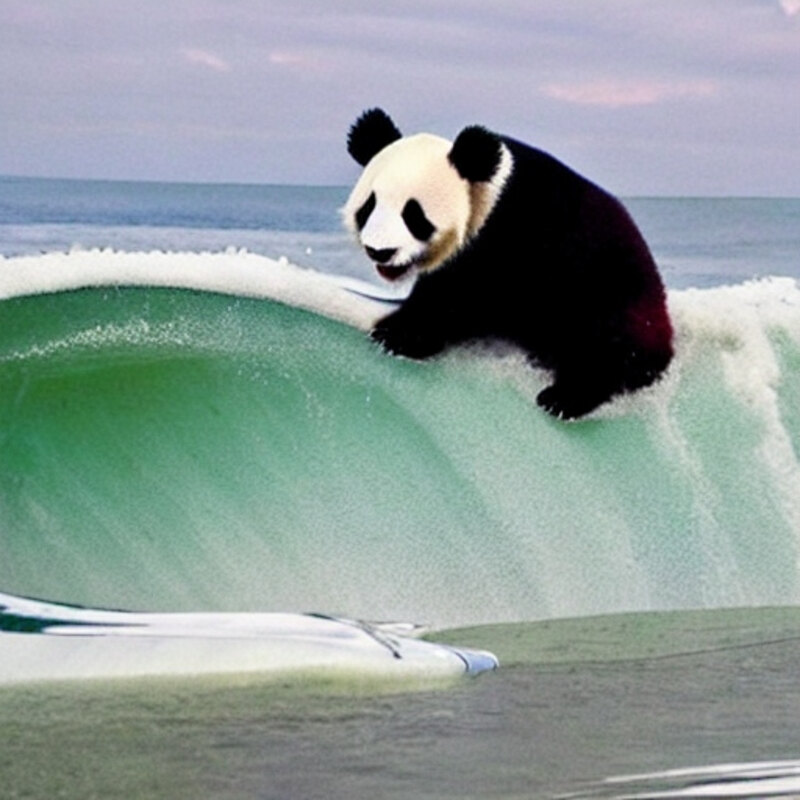 The generated image shows a panda and a wave sans the surfboard. Indeed, the resolution isn't the best.
The Bottomline
Brands and marketing teams can leverage AI text-to-image generators for their advertising visuals. However, choosing the most high-quality AI image tool that produces unique and professional graphics is vital. In the ever-evolving marketing world, the allure of AI-generated images may seem enticing. However, the power of custom images should not be underestimated.
While AI image generators offer convenience and efficiency, they often lack the human touch and creativity that custom images bring to the table. Custom images allow for unique branding, tailored messaging, and a deeper connection with the target audience. They can capture the essence of a brand's personality, evoke emotions, and tell a compelling story. Custom images allow marketers to differentiate themselves from competitors, create authentic visual experiences, and build stronger audience relationships.
Need custom images for branding and marketing visuals? Subscribe to Penji's unlimited plans and get quality graphics unique to your brand.