Graphic design is essential in today's fierce branding and marketing competition. And nothing beats excellent AI graphic design tools to smash the competition. But the question is: Which AI graphic design software should entrepreneurs, marketers, professionals, or small business owners use? The answer is simple. It all depends on your brand's desigan needs. Here are the top seven AI graphic design tools to use in 2023.
1. Designs.ai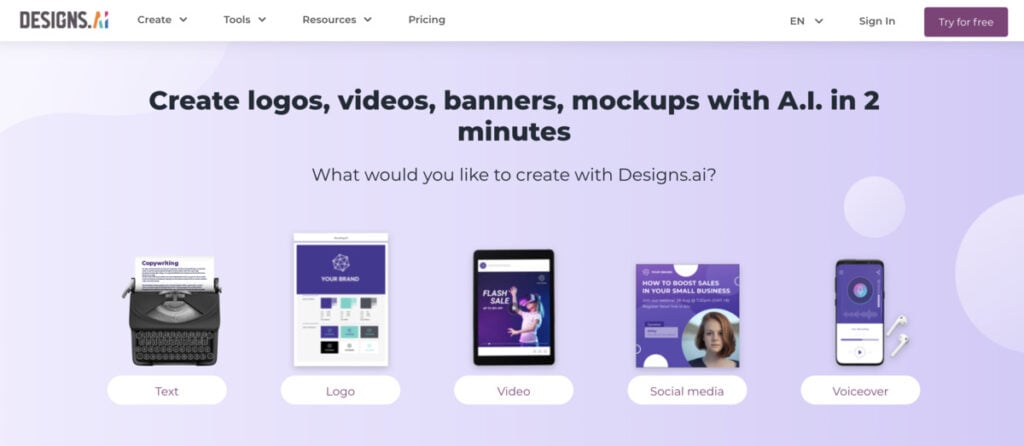 If you want an all-in-one AI graphic design tool, Designs.ai is the name you can rely on. The powerful AI tool can create logos, mockups, banners, videos, and more within two minutes! You can sign up for free, choose from the plans, and use this Agency-as-a-Service platform. With Designs.ai, you can create a logo using its AI logo generator and choose from over 10,000+ icons.
Its video maker is also a robust tool to transform posts, text scripts, and articles into fully-edited videos. This tool also has a speechmaker that converts text scripts into voiceovers in multiple languages and a copywriter tool to create compelling marketing copy to boost sales and engagement.
Pricing:
Basic: $29 per month (Best for individuals, students, marketers)
Pro: $69 per month (Best for entrepreneurs and small teams)
Enterprise: Custom pricing (Best for large teams and agencies)
2. Uizard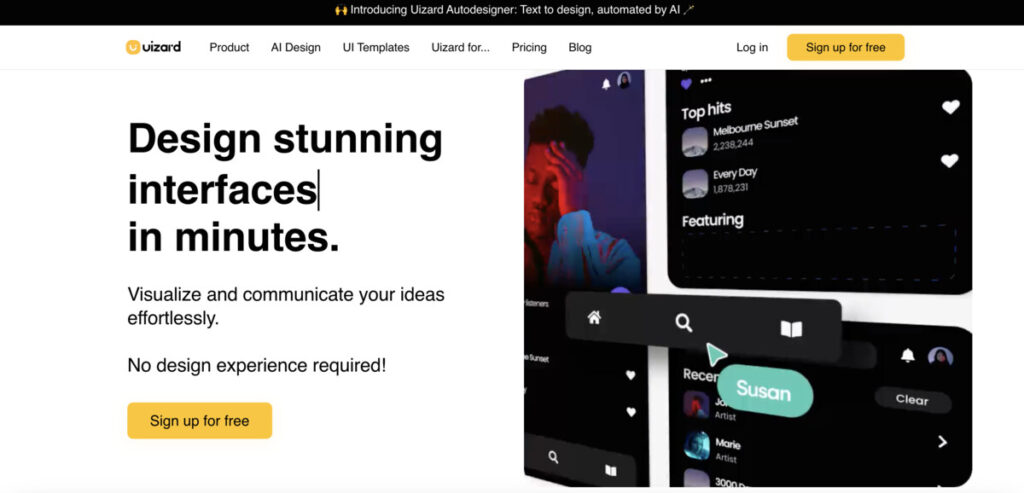 For experienced designers and newbies, Uizard is the tool to use. This platform is perfect for streamlining design and collaborating with your team. Marketing teams and agencies also use this product to work with stakeholders in communicating designs. Uizard is a powerful AI-based UI design tool to create prototypes, mobile apps, websites, wireframes, mockups, and more in minutes! It has a unique, innovative feature to transform hand-drawn sketches into wireframes, then wireframes into prototypes.
With Uizard, non-designers can use its AI-powered platform. Design like a pro by uploading a screenshot and turning it into an editable design. The AI assistant will generate unique UX design styles immediately.
Pricing:
Free plan: 3 projects only
Pro: $12 per creator per month
Business: $39 per creator per month
Enterprise: Flat price for unlimited users (Best for organizations with specific needs)
3. Simplified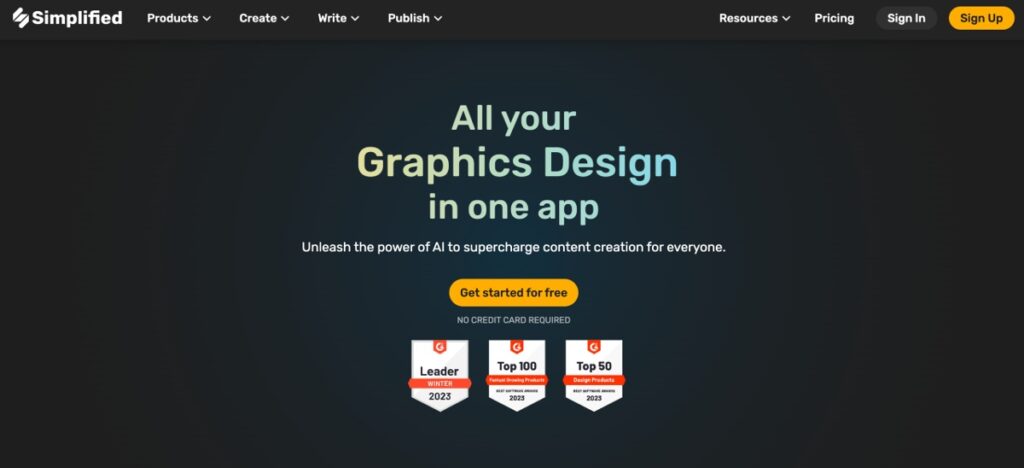 Simplified is another AI graphic design tool everyone needs in 2023. With its one-click AI graphic design features, marketers and entrepreneurs must have this robust platform in their arsenal because it saves time and money. Creating graphics has never been easier with its background remover, magic resizer, and unlimited brand kit creation. If you're banking on video marketing, Simplified lets you edit and transcribe reels, YouTube shorts, and videos in minutes.
On top of graphic designs and videos, Simplified offers an AI writer that can write SEO-driven, plagiarism-free copy. You may also use this tool for social media marketing and collaborating with modern teams.
Pricing:
Free forever (Best for personal use)
Small team: $21 per month (Best for small teams and freelancers)
Business: $35 per month (Best for growing teams, bloggers, creatives)
Growth: $85 per month (Best for big teams and high growth businesses)
4. AutoDraw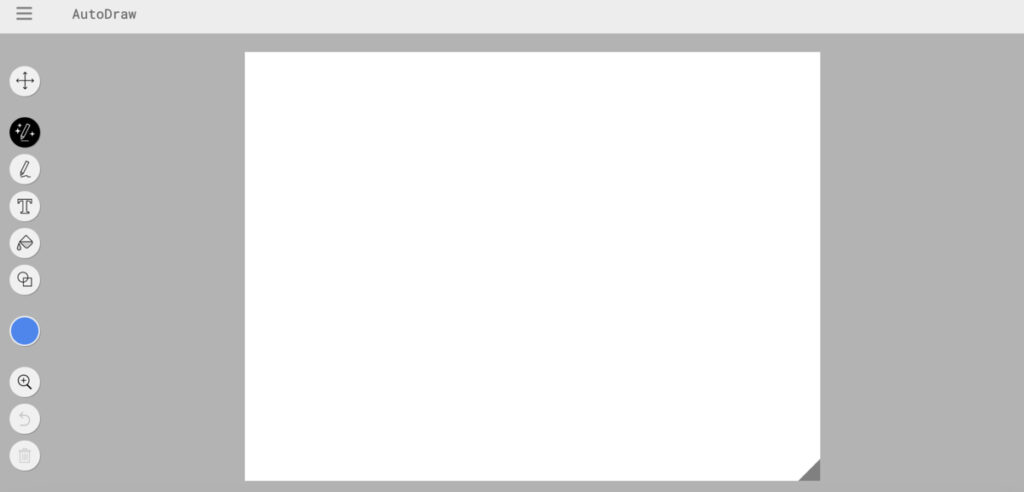 If you don't have enough skill with your hands, you can still pursue your creative dreams by using this AI-powered drawing tool. AutoDraw is a drawing tool that uses machine learning and transforms your sketches into more professional and beautiful doodles. Like QuickDraw, AutoDraw can guess over a hundred drawings and will add more over time.
All you have to do is start with a picture, and AutoDraw's algorithm will work its magic. It matches your attempt and shows you similar or matching images. Click and choose from matching photos, add text, fill colors, change outlines, add shapes, and more. This AI graphic design tool works on any browser and is compatible with a stylus, touch, and mouse. It's similar to a "paint" app but better and more powerful.
Pricing:
5. Let's Enhance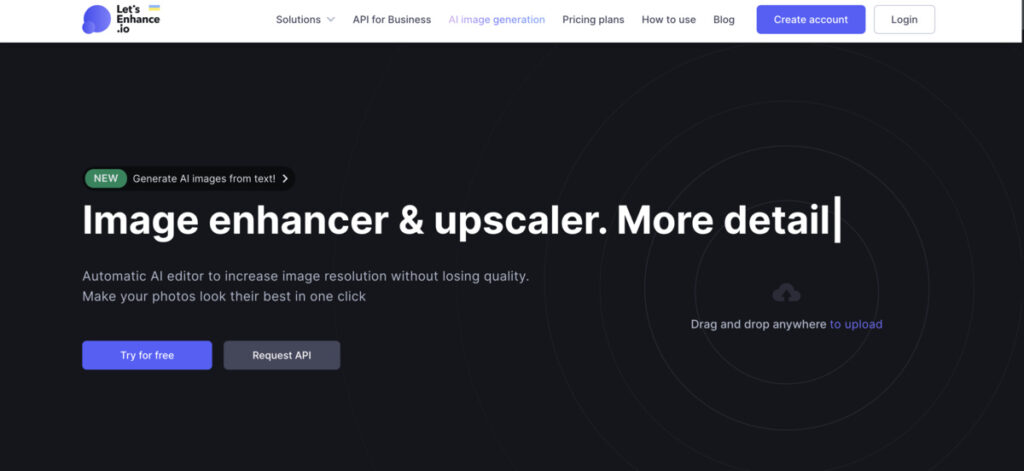 Let's Enhance has enhanced over 100 million images for individuals, professionals, marketers, and entrepreneurs. You can use this AI graphic design tool to upscale pics with AI, fix blur and pixelation, correct lighting and colors, remove JPEG artifacts, and more.
Upscaling pics without losing quality is crucial in branding and marketing. With Let's Enhance, you can upscale quality up to 16 times! This tool best fits creative professionals who need print-ready images, eCommerce owners who want to publish sharp pictures on websites to boost sales, and real estate agents who want to improve property photos.
Pricing:
10 credits: Free
100 credits: $9 per month
300 credits: $24 per month
500 credits: $34 per month
6. Khroma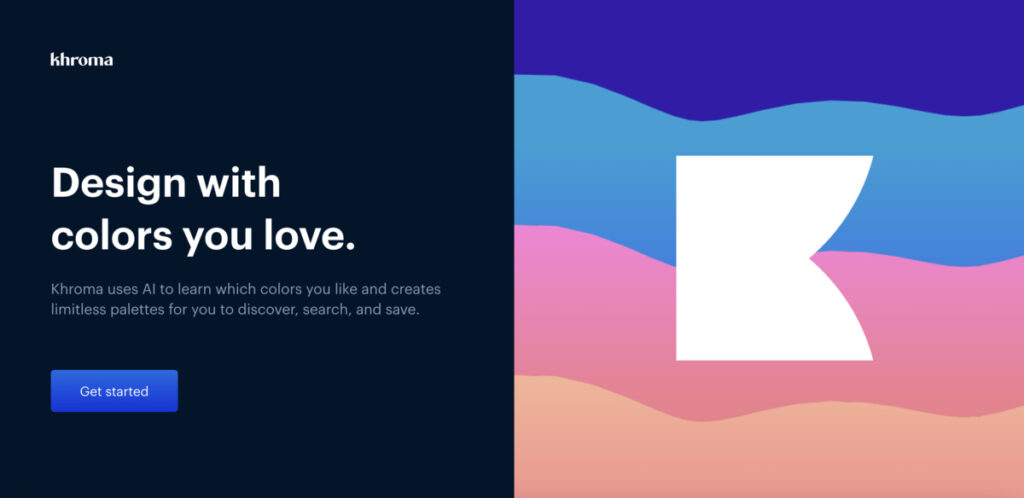 Using a smart AI-powered tool, Khroma lets users discover, search, and save the most suitable palettes for their projects. This tool automatically blocks colors you don't like and uses a network-powered algorithm to show colors you love.
Khroma's personalized algorithm uses machine learning, wherein you'll train it over time, making images more relevant and professional. It also lets you create infinite combos you can view as gradients, custom images, typography, and more. Finally, save your favorite combos in your unlimited library.
Pricing:
7. Fronty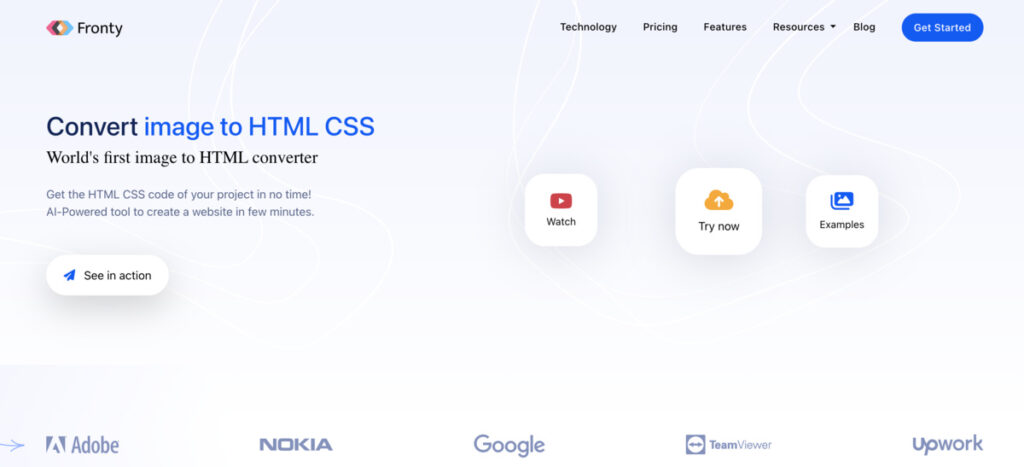 This is another AI graphic design tool for getting into coding and such. Fronty lets you get HTML CSS code from images. It generates a code from the provided screenshot or JPEG and PNG files. You can then maintain this through its no-code editor.
Edit your website using Fronty's powerful no-code editor to create complex websites. Enjoy clean and easy design, UI design features, and more. You can also launch your website by using its hosting service. Attach your custom domain, get backups anytime, enjoy 99.8 percent uptime hosting, and more.
Pricing:
Freemium: Up to three users, five pages, free subdomain, 200MB hosting
Pro: $4.52 per month
Advanced: $9 per month
AI Graphic Design or Custom Design?
Technology opens up new ways to generate graphic designs. But some entrepreneurs and marketers deliberate between using AI-generated graphics or custom graphics. Although the latter is more affordable, the former promises more scalable opportunities. Standing out in a cut-throat competition is tough, and compelling graphics are crucial to success.
If you need help with unlimited custom graphic design, try Penji's bespoke design platform for 30 days risk-free. Get unlimited designs and revisions made by professional graphic designers for affordable, fixed rates! Here's a 15 percent discount to get you started.