Russell Brunson is a marketing guru that has transformed from a kid with a passion for marketing to an industry leader that helped millions of entrepreneurs worldwide. He founded the famous million-dollar product ClickFunnels and disrupted the busineass and marketing world with many other products. Learn how Russell Brunson disrupted the marketing world, top lessons you can learn from him, and more. Here's his story.
How Rusell Brunson's Story Started
Russell Brunson isn't only one of the top marketers in the world today. He is also a best-selling author who sold thousands of copies of his books online. But his best product is the software called ClickFunnels, a tool that helps entrepreneurs build websites, landing pages, opt-in pages and create marketing sales funnels from scratch. And it all started with his love of marketing ever since he was a kid.
At the age of 12, Russell would listen to the radio or watch television and get enchanted by TV commercials. Instead of watching cartoons or other shows kids love, he watched commercials because that was real entertainment to him. Since he got enthralled in marketing, Russell would soon venture into several businesses to learn more about direct audience response. One of the things he did to study this art was collect junk mail at an early age.
Russell learned his hard work, dedication, and the urge to win at life from being a wrestler throughout his high school and college life. He learned valuable lessons from wrestling and became a state-champion wrestler. He soon became one of the best wrestlers nationally, which earned him a spot in the top 10.
He first started by selling the ZipBrander software, which helps increase website traffic and backend profits. However, it wasn't until 2005 that he sold tens of thousands of copies of his "How to Create a Potato Gun" DVD.
This product was a simple instructional video. He also sold a potato gun kit as an upsell. After graduating college, he sold his first million dollars by selling these initial products.
How Russell Brunson Became Famous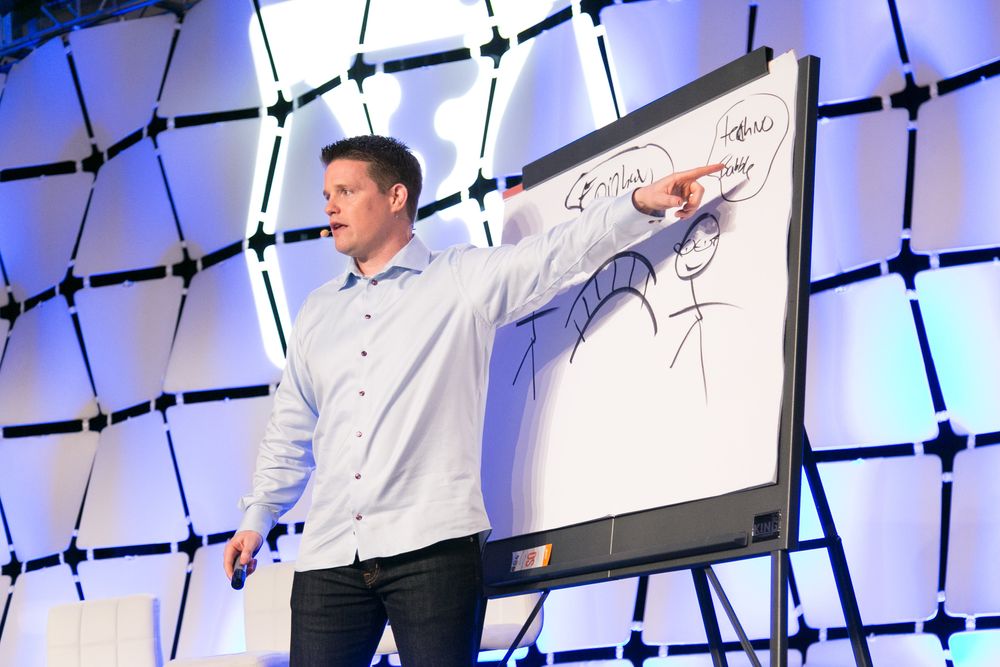 After selling his first million dollars, Russell didn't stop there. He also ventured into various products such as consulting, coupons, coaching, books, technology services, etc.
In 2014, Russell Brunson became a well-known marketer. Despite this, he soon encountered technical challenges in acquiring leads and gaining conversions. He tried many products that cost him so much but didn't even return the investment.
Plus, he struggled with marketing campaigns and sales funnels that didn't quite seem to get him the results he wanted. But he then met his soon-to-be business partner Todd Dickerson and created ClickFunnels. Both geniuses launched this tool in October 2014 and gained over $100 million within the first three years. To date, ClickFunnels has more than 100,000 active users and is considered one of the best sales funnel-building tools worldwide.
Russell and Dickerson didn't promote ClickFunnels the traditional way. At first, Russell leveraged his followership to promote the brand. However, he wasn't able to gain new leads and prospects. So he invested in Facebook ads to offer free trials to customers, which wasn't a foolproof way of converting them.
Because this was a risky investment that didn't offer surefire results, Russell Brunson and his partner thought of another way to promote ClickFunnels. Instead of investing in free trial customers, they promoted Russell's book, which initially costs $12. So after purchasing the book, Russell and his partner upsold ClickFunnels features, costing customers around $32. And this made ClickFunnels a well-accepted concept in the marketing hemisphere.
How Russell Brunson Disrupted the Marketing World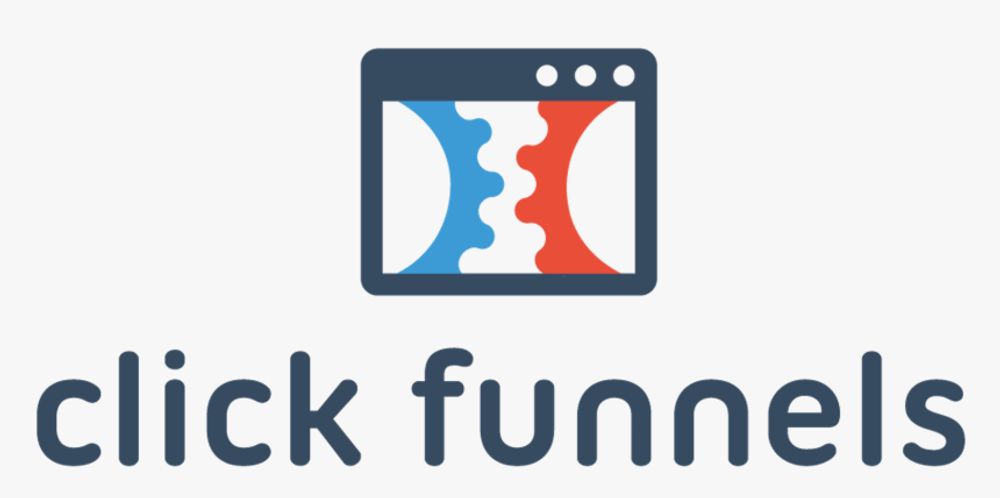 Russell Brunson created a product that is widely used by marketers nowadays. ClickFunnels is the fastest-growing company worldwide, with millions of marketers using it to grow their brands.
As of today, ClickFunnels has already created more than 1,033 millionaires. These millionaires belong to Russell's exclusive club called the Two Comma Club.
This platform is helpful for running a small business or big corporation as it helps automate your marketing and sales process. Instead of wasting money on campaigns that don't drive results, ClickFunnels allows you to promote your products and services. This tool also lets you maximize each stage of the buyer's journey.
When buying ClickFunnels, you'll get features such as web hosting, page builders, shopping carts, content management systems, web analytics, email responders, and more. You can nurture leads until they become real-paying customers by building a sales funnel.
What Products Did Russell Create
Russell created a variety of products that was a success. Here's a list of some of them:
Books:
Dotcom Secrets
Experts Secrets Book
Network Marketing Secrets Book
FunnelHacker CookBook
108 Proven Split Tests Winners
Lead Funnels
Software:
ClickFunnels
Funnel Scripts
Courses:
10X Secrets Masterclass
Funnel Builder Secrets
Affiliate Bootcamp
The Knowledge Broker Blueprint
Perfect Webinar Secrets Training
Coaching and Mentoring
Inner Circle
2 Comma Club Platinum Coaching
What is Russell Brunson's Net Worth
Reading about top marketers' stories is sure to be inspirational. Russel Brunson's is noteworthy as it is one of those zero-to-hero stories. His story shows how he started from nothing to becoming a million-dollar entrepreneur and thought leader.
Since launching ClickFunnels, Russell Brunson has garnered an annual revenue of about $20 to $40 million. His books are also best-selling copies that sell for around $1 million. And don't forget his coaching and mentoring programs that have generated approximately $4 million in profit in the last four years. Overall, Russell Brunson's net worth is estimated at more or less $50 million, making him one of the most successful marketers in online advertising.
Interesting Facts About Russell Brunson:
Here are some interesting facts about Russell Brunson you might not know about.
Russell Brunson was born on March 08, 1980, in Provo, Utah. He now lives in Boise, Idaho, with his wife and five children.
He snatched the second spot in the U.S.A. high school nationals before studying at Boise State University.
He graduated with a Bachelor's Degree in Applied Science with a major in Computer Information Systems.
Two of the books Russell wrote are free, while two are paid. He gets his other income stream from the royalties he receives from these books.
Russell Brunson also co-authored a book with Nick Nanton that talks about child trafficking rings
Russell donates $1 for every new sales funnel created through ClickFunnels to non-profit organizations such as Village Impact.
Russell Brunson created a documentary about the non-profit Operation Underground Railroad that saves children from sex trafficking.
Russell has a podcast called "Marketing Secrets Podcast" that talks about marketing secrets in achieving success. It releases two new episodes weekly.
Top Lessons We Can Learn from Russell Brunson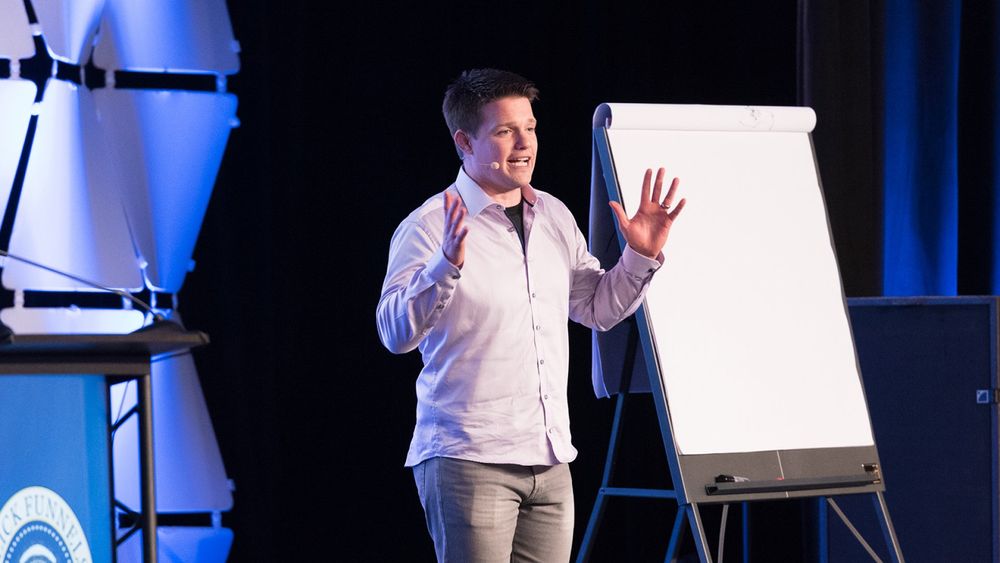 Russell Brunson is a successful entrepreneur and a popular thought leader. He organizes regular business events, coaching, and mentoring. If there's one motivational entrepreneur you should learn from, it's Russell Brunson. Here are the top lessons he imparts to every would-be entrepreneur:
Wealth equals marketing equals sales funnels.
If you don't have enough budget to acquire leads, the easiest solution would be to fix your sales funnel.
One of the rudimentary marketing rules is to always be decisive because a confused mind will often say NO.
A business that can spend the most budget for acquiring customers is the business that can achieve success.
When developing ads or posts that grab attention, note what also gets your attention, what makes you click, and how that ad or post makes you feel. Only then will you be able to create ads or posts that hook customers.
The top secret in marketing is understanding the phrases inside your customers' minds. Move them from pain to pleasure, which will guide you in finding more customers.
Nowadays, people don't only buy something to satisfy their needs. Marketers now have the power to instill desire, so people buy things they never thought they wanted.
Your offer could be as simple as letting viewers like the post, comment on the video, subscribe to the podcast, or join the email list.
Never stop learning. There is always something new to learn every day. Continue to learn new things to improve. This way, you can impact and offer more to the world.
Wrap Up
Make sure every stage of your funnel is optimized for conversion. Many marketers and entrepreneurs worldwide use ClickFunnels, and for a good reason. Millions of successful entrepreneurs have tried and tested this platform's efficacy. So don't get left behind, and try ClickFunnels now.