Moz is one of the oldest known companies offering SEO services. Marketers trust Moz for their updated knowledge and analysis of Google's algorithm. Plus, they offer the must-have resources and tools for businesses for their SEO efforts. There's one man to thank for the creation of Moz, and that is Rand Fishkin. Let's learn about the man behind Moz and SparkToro, and his journey to becoming one of the biggest names in SEO.
Where Did Rand Fishkin Start His Marketing Journey?

Before founding one of the most influential SEO companies online, Rand Fishkin worked as a consultant for his mother's company. Eventually, he founded SEOMoz with his mom. It started as a blog and online community for marketers. But they only offered tools and services to marketers once they received funding.
How Did He Become Famous?
Moz started gaining traction around 2008 to 2009 when they had thousands of subscribers on their blog. But it was the "Beginner's Guide to SEO" that shot Moz and Fishkin into superstardom in the marketing industry.
How Did He Disrupt the Marketing World?
With Moz, Fishkin became one of the leaders and authorities in marketing and SEO. He was consistent in writing blogs about SEO trends and sharing that knowledge with the public and through webinars and conferences too. One such example was in 2009, when SEO wasn't as big yet, he wrote a blog post on Moz about SEO trends in 2010.
What Products Did He Create?
His pitch deck for the Moz software tells you all you need to know about the product he created for Moz. It's an SEO software that will help millions of marketers globally to track their metrics and improve their marketing efforts.
In fact, his pitch deck for the Moz SEO software is regarded as one of the best pitch decks of all time. No wonder he secured that funding.
That was his first foray into creating software.
Let's not forget the current software he created with fellow co-founder Casey Henry in 2018. SparkToro is an audience research software. They aim to help organizations find where their audience spends time, which greatly helps with their targeted marketing efforts.
What's His Net Worth?
The last time he reported his net worth was in 2019. He shares this bit in the Built to Sell Podcast, stating that his net worth at that time was $800,000. Many sources say that he has a net worth of at least $1.5 million in 2022.
Other Ventures, Leaving Moz, and His Current Tenure at SparkToro

Fishkin stepped down as the CEO of Moz in 2014 but left the company four years later. Before leaving Moz, he hosted Whiteboard Fridays. Even if he's no longer the head honcho at Moz, he still contributed his insights and knowledge on the blog.
Before we get to his current endeavor, Fishkin had also co-founded Inbound.org. He established the company with Dharmesh Shah (Hubspot co-founder), and Fishkin sold his shares for that company. It was a social community for marketers.
Even in his absence, Moz is still one of the leading experts in SEO, proof of the impact he made. He's truly left his mark. Although his time in Moz is over, he's busy working on his new company, SparkToro. There, he writes blogs regularly.
Ten Fun and Interesting Facts About Rand Fishkin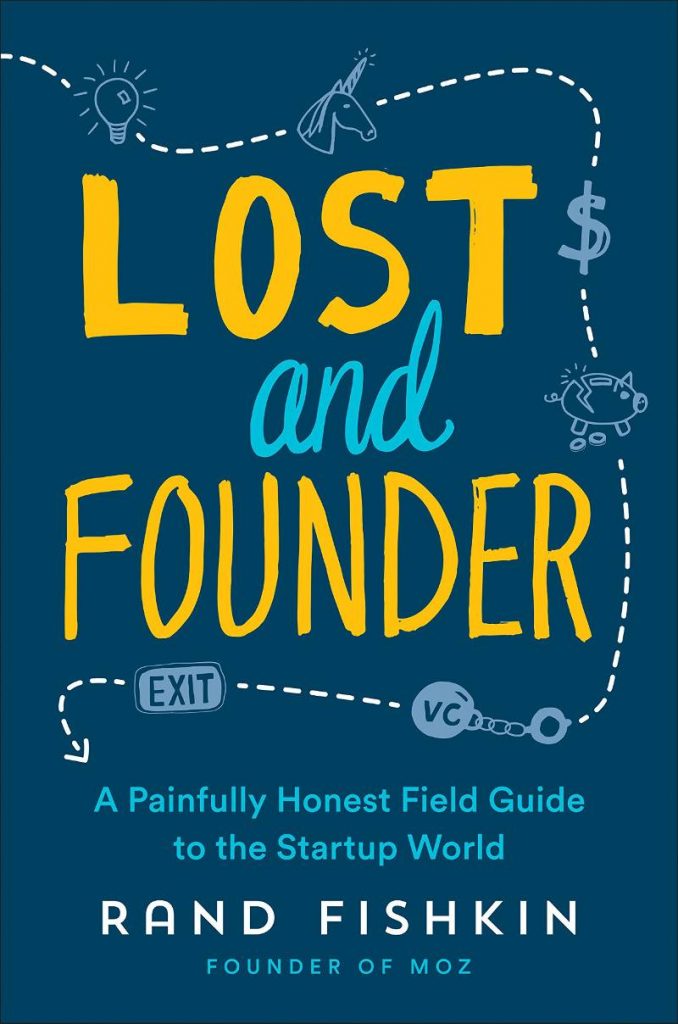 Fishkin has written a book, Lost and Founder, published in 2018. But he's also a co-author of a few SEO books, one being The Art of SEO.
Some of his book recommendations include Product-Led Onboarding (Ramli John), The Content Fuel Framework (Melanie Deziel), and Obviously Awesome (April Dunford).
If you want to read more about his perspectives or insights about marketing, you can follow him on Twitter. He also shares some tidbits of his personal life.
His proposal to his wife, Geraldine, made the news. The ad was shown during a commercial break for Veronica Mars, his wife's favorite TV show then. His original plan was to have it aired during the Super Bowl, but it didn't push through.
"The Billionaire Who Wasn't" is a book that inspired Fishkin over the years, he reveals in the Leveling Up Podcast.
His philosophy: inbox zero email. He shares that in two podcasts, one being Yoast.
Fishkin shared an interest in web design since he was in high school.
He dropped out of college; he had two classes left to finish before graduating.
The SparkToro CEO values openness, transparency, and vulnerability in the workplace.
He's not a fan of hustle culture. But he and his team at SparkToro practice "Chill work". The five aspects of chill work are: work to live, trust and boundaries, outcomes > input, do less & better, and prioritizing.
Eight Lessons We Can Learn
Marketing Audience
Fishkin shared in Reputation that the one thing companies forget when creating marketing plans is that they never ask themselves who the audience is. They might have identified them when creating the first marketing plan. But, Fishkin emphasizes that the audience changes over the years. It's best companies ask themselves questions regarding their audience every time they produce their marketing plan.
Marketing Specialization
He shared on the What's Working in Marketing™ podcast that marketers should think about becoming an expert in a particular field in digital marketing instead of being a generalist. He says it's good to "focus and go deep," which may lead to a contributor or consultant role in the future.
Visuals
Based on what he had said at the Marketing Wild Wild West conference, visuals are important to digital marketing. Branded, viral and share-worthy, and reusable visuals should be created.
Organic traffic
It seems Fishkin's way of generating organic traffic comes from creating an influence map. Once again, it's all about the audience. He says in the Ungated Marketing podcast that It's knowing what your audience likes and finding visibility in the platforms they're present in. He did say he doesn't have an actual process, but he leads with creativity and empathy.
Agencies and consultancies
For Fishkin, it's best to hire or use agencies or consultancies when you're starting a business and want to do well with marketing. And it's okay to switch between agencies or consultancies if projects don't go well.
Entrepreneurship and Startup Launches
His advice to future entrepreneurs and leaders of startups is to be conscientious. And to know the driving forces of why you're launching a company in the first place. He adds by saying that they should focus more on profits over sales and revenues. Plus, he stresses never to compare yourself to other entrepreneurs.
Leadership
On leadership, Fishkin tries to put himself in his employee's shoes. He emphasizes the value of empathy once again. He asks questions, like why is this employee working here? What else can they do to provide their best work? What are they doing this week that may affect performance? It's these questions that help him become a better leader.
He also shared on the Unsiloed podcast that being a better leader means making decisions. It's making decisions on things related to the company.
Key Takeaways
Rand Fishkin has made significant contributions to the SEO and marketing community. He's still recognized as one of the most prominent players in the marketing industry. Plus, his valuable insights on entrepreneurship and startups have made him a popular guest on podcasts, webinars, and other events. If we are to learn anything from Rand Fishkin, it's that we need to welcome vulnerability and embrace openness and transparency in the workplace. Plus, it's good to know where you want to head in terms of your audience and marketing. And if you want to read more blogs from Rand Fishkin, you can check out his blogs on SparkToro.
Featured image from sparktoro.com